Discover more about the hiring process for Air Vanuatu's cabin crew here. This guide covers essential information for interested job candidates, such as the responsibilities of an Air Vanuatu flight attendant, qualifications, and what you need to do to kickstart your application for this position.
Also Read: New York Layover Guide: Best Things to Do in 24 Hours
Air Vanuatu is a small airline service that offers cost-effective and quality flights to its passengers. The airline embodies the spirit of Melanesian hospitality in its services throughout its 40 years long run.
If being a cabin crew for Air Vanuatu is something you're considering, make sure to read this article thoroughly so you will be guided throughout your application process.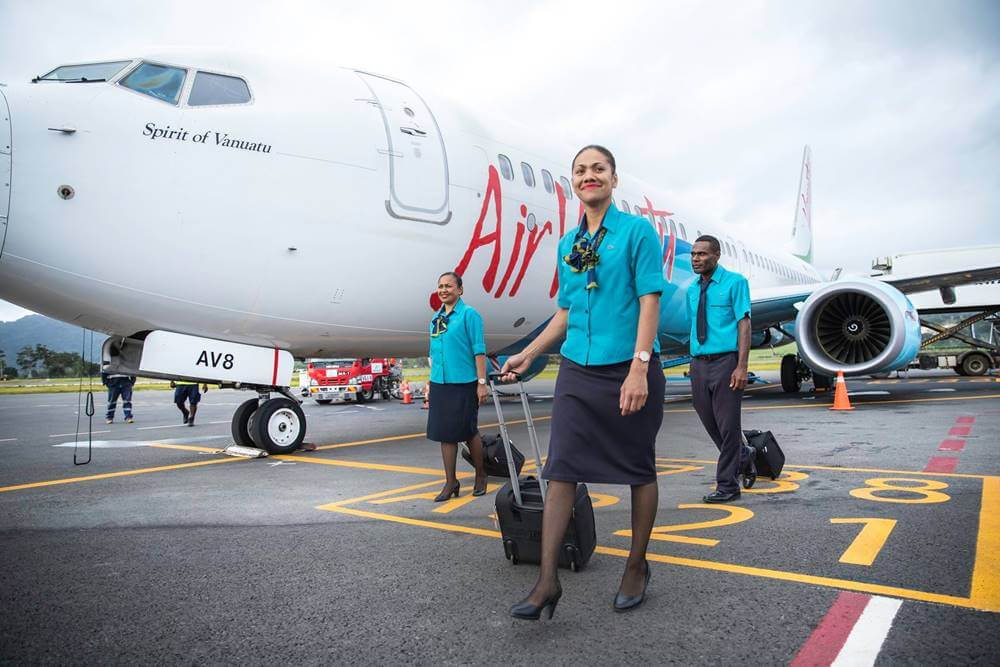 Overview of the Air Vanuatu
Established in early 1981, Early Vanuatu is Vanuatu's national airline, its main office located in the Air Vanuatu House, Port Vila, Vanuatu. It operates scheduled flights across New Caledonia, New Zealand, South Pacific, and Australia. Currently, its main headquarters is located in Bauerfield International Airport, Port Vila.
Air Vanuatu takes pride in being Vanuatu's national flag carrier, striving to offer passengers the warm embrace of Melanesian hospitality combined with efficiency, style, and comfort. It has played an important role in the republic's tourism as it connects visitors from New Zealand and Australia to Vanuatu's wonderful islands. Because of this, Vanuatu has since then become a go-to favourite for families on vacation, explorers, and fiances who want to spend a relaxing time away from the bustle and hustle of the world.
The airline's current fleet comprises four aircraft which operate on domestic and international routes while ensuring maximum passenger comfort and efficiency. Not only that, but Air Vanuatu also has strategic airline partnerships that promise more expansive and smoother connections for guests and passengers who want to spend their time relishing in the wonder of Vanuatu's tropical paradise.
Responsibilities
As a flight attendant, you'll do more than just welcome passengers and travel to different countries and locations now and then. Beyond the luxury and privilege that this career brings, it's also important to recognize the serious responsibilities that come with it, especially since these duties are crucial in ensuring every customer gets the maximum amount of convenience, comfort, and safety they need. Knowing your tasks as Air Vanuatu's flight attendant is essential if you want to be prepared for the processes that lie ahead of your application. You'll need to know what you're getting into and ultimately determine whether you deem yourself the right fit for the job itself.
Conduct safety checks before and after the flight
Provide drinks and food to passengers
Communicate and greet passengers
Direct passengers to their respective seats
Ensure in-flight passengers' comfort and safety at all times
Extend assistance to passengers, especially those with special needs
Write flight reports as assigned
Follow aviation regulations and rules
Handle emergency situations tactfully
Demonstrate how to use emergency equipment
Make announcements during flights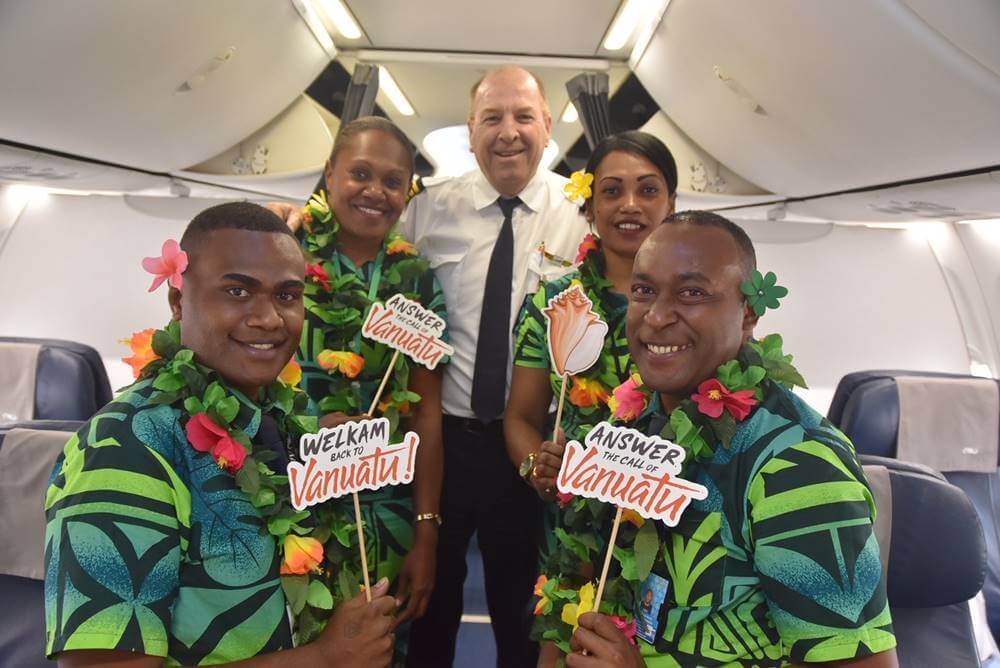 Qualifications
If you've read the responsibilities that come with being an Air Vanuatu flight attendant and decide to go with it anyway, then you'll need to know the set of qualifications for this job. If you want to secure this kind of career, you must follow the company's strict regulations and qualifications, especially since these are a set of traits and qualities that they're looking for in a potential job candidate. As Vanuatu's national airline, it's important for the company to choose their options carefully and arrive with the best individual who is more than willing to deliver his or her duties with utmost efficiency or adapt to various situations professionally.
Here are the eligibility criteria you need to meet as Air Vanuatu's cabin crew:
Strong work ethic and ability to deal with people in a calm and professional manner
Must be excellent in spoken and written English and Bislama. Knowing the French language is also an advantage
High standard of personal presentation and willingness to wear the airline's official uniform
Ability to work as part of a team and work seven days for 24 hours
Must be able to get a valid Vanuatu passport
Must write a short 200-word essay detailing why you like to pursue this career.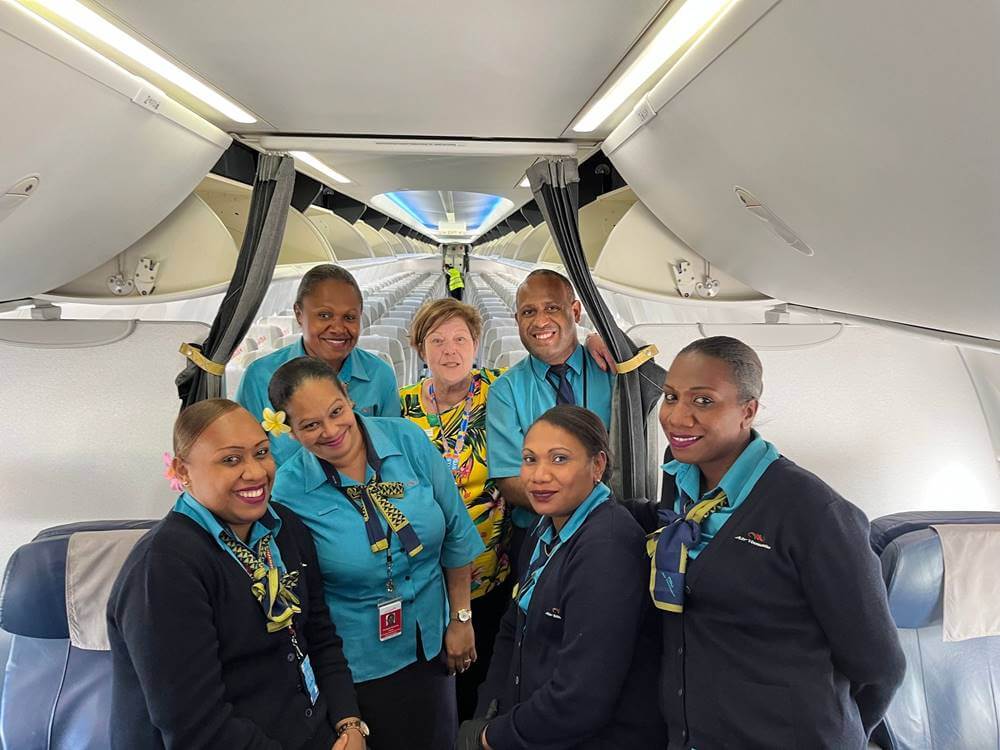 Document Requirements to Prepare
The documents you need to prepare for your application are essential if you want to make it past the initial screening. This is because the recruiters often base on the documents during interviews, and are critical for them to know what kind of individual you are in and outside of work. This already lays a foundation for them to assess and work around on and should be prepared promptly if you want to move onto the interview phase of the application.
Updated CV/resume
Valid Vanuatu passport
Aviation Security Identification card
Where to Apply for a Job for Air Vanuatu Online
You can apply for a job in Air Vanuatu by visiting its official Careers page. You will be presented with a list of available job positions to apply for, and you can start following instructions from there.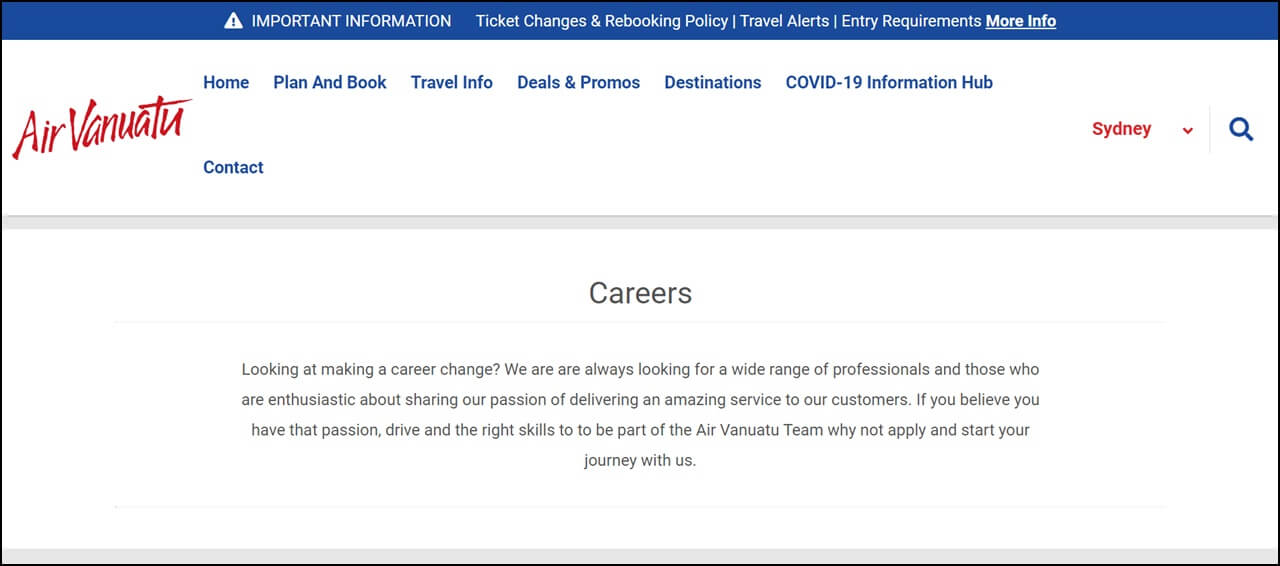 It might also be a good idea to check on Air Vanuatu's social media now and then so you'll stay updated on its latest announcement regarding vacancies or open-day events where you can turn up and apply on the spot.
How to Become a Cabin Crew for Air Vanuatu
Below are simple instructions to guide you on your way to becoming a flight attendant for Air Vanuatu.
Step 1: Visit Air Vanuatu's Career Page.
The first thing you need to do is go directly to Air Vanuatu's official website. Scroll through the bottom and select Careers. This will redirect you to a new page that shows all the available job listings that you want to apply for.
Step 2: Choose the job you like to apply for.
Choose the position that you plan on applying for. You will be shown the job description and what the company expects from you as their cabin crew. Make sure to understand every important information thoroughly before proceeding to the next step.
Step 3: Send your resume and cover letter to recruitment@airvanuatu.vu.
Once you've properly understood your responsibilities as a Air Vanuatu flight attendant, you'll have to draft an email to recruitment@airvanuatu.vu containing your cover letter, CV or updated resume that outlines your relevant experiences and skills. Make sure to put that job position you're applying for as the subject line of the email. Wait until you get contacted for further details.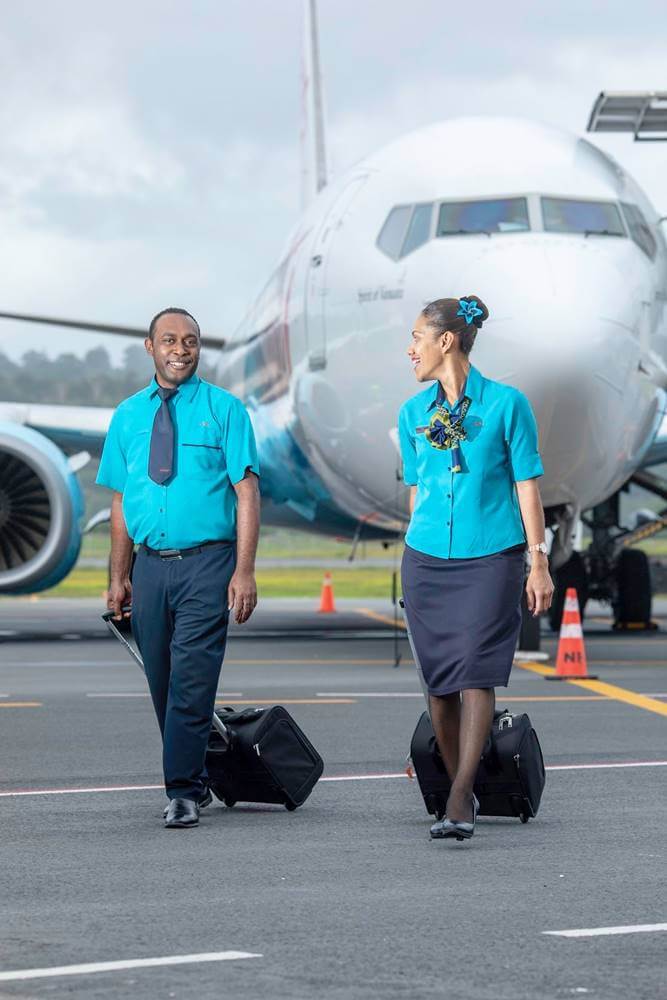 Monthly Salary of Air Vanuatu Flight Attendant
The salary of an Air Vanuatu flight attendant is usually discussed during the interview process; however, former employees state that they earn around VT2 600 a fortnight as a flight attendant.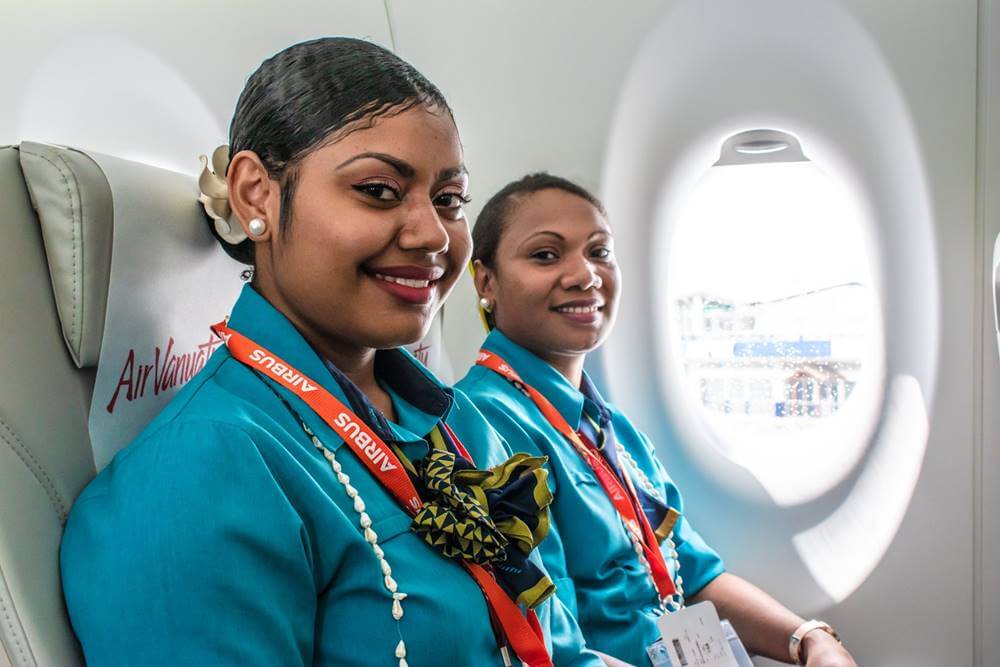 Video: Air Vanuatu Business Class Flying Experience
The short video below shows what it's like flying with Air Vanuatu on Business Class. You'll get to see the Business Class Lounge, flight attendant doing Safety Demonstration Video, interior of their Boeing 737 aircraft, in-flight meal service, different aircraft fixtures and amenities, etc.
The video will hopefully give you a clearer picture of your working environment, expected duties and responsibilities should you work for Air Vanuatu as a flight attendant.
Photos: Air Vanuatu Flight Attendant Photos
Here are some photos of Air Vanuatu's flight attendants in their proper uniform. As you can see, they look very professional and stylish at the same time!
Frequently Asked Questions
Here are some of the common questions applicants have as they go through their application process for Air Vanuatu.
1. How much are Air Vanuatu's flight attendants paid?
Commencement salary is usually discussed during the interview, though a few ex-employees state that they earn around VT2 600 a fortnight.
2. What age should I be to apply?
Usually, you need to be around 19 years old to apply for the job.
3. What are the skills needed to become an Air Vanuatu flight attendant?
Flight attendants generally need to be good at interpersonal interaction. They must also be flexible enough to adapt to the spontaneous nature of the work and must be willing to work during weekends on holidays when necessary.
4. What are my responsibilities as a flight attendant?
As a flight attendant, you're responsible for overseeing the passengers' safety and security, handling emergency situations, writing flight reports, and operating systems and equipment in the cabin, among many others.
5. Where is Air Vanuatu's headquarters located?
The airline's headquarters are located in Port Vila, Vanuatu.
6. How can I apply for Air Vanuatu?
To apply as a flight attendant for Air Vanuatu, simply visit its official website and click on Careers. Browse through the job listing and apply for the job you prefer. Submit the required documents along with your CV and resume.
7. Are flight attendants currently in high demand?
Yes, flight attendants, pilots, and professionals within the customer service industry continue to be in high demand around the world.
8. Does being a flight attendant come with benefits and perks?
Yes, you usually get free flights or discounts as an Air Vanuatu flight attendant.
9. What are my responsibilities as an Air Vanuatu cabin crew?
You are responsible for ensuring passenger and crew safety and security, performing pre-and post-flight checks, and tending to customers' concerns.
10. Is a college degree required?
Most airlines typically require a Grade 12 diploma for you to be eligible to apply for the job. However, it's still desirable if you have a college degree since it can be leverage against others.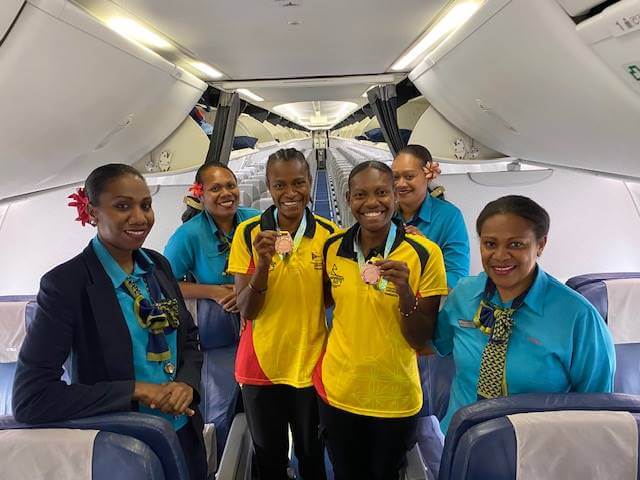 Summary
Being a flight attendant is a worthwhile job since it offers you the opportunity to meet new people and explore places you have never been to before. It's a profession that constantly keeps you in motion since you have to be flexible in terms of sudden schedule changes, among many others. If you find yourself wanting this career for yourself, make sure to follow this guide so you will know what to do during your application.
Contact Information
AIR VANUATU
Address: (of main headquarters) Port Vila, Vanuatu
Telephone Number: 1300 780 737
Website: www.airvanuatu.com
Facebook: https://www.facebook.com/airvanuatu/ 
Instagram: https://www.instagram.com/airvanuatu/?hl=en 
Twitter: https://twitter.com/airvanuaturbx?lang=en