Belavia is a modern and growing company that meets the requirements of the most recent innovations in air transport. The airline is currently focusing on further development and improvement, as well as targeting a larger number of passengers. Belavia's priorities include fleet renewal, resource optimization, the implementation of modern information technologies, and the improvement of service levels both in flight and on the ground. Who knows? You can be part of this improvement plan.
Also Read: How to Answer: Tell Me About Yourself
The airline is customer-oriented and makes every effort to provide air travel options, both through its own direct flights and those of its partners. So if you have a heart for customer service, and you still want to fulfill your bucket list for more travels – this career is for you.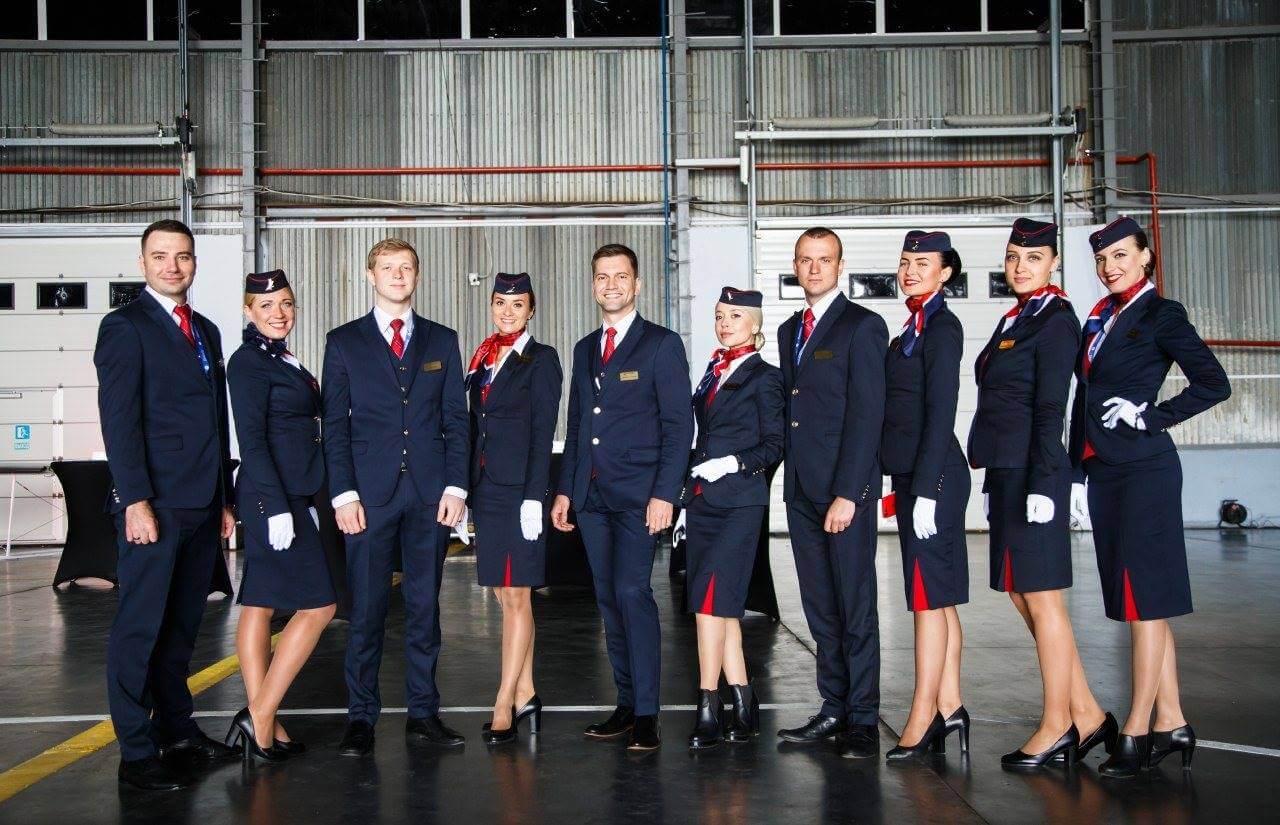 List of Requirements and Qualifications to Become a Belavia Belarusian Airlines Cabin Crew
A valid passport is required.
You need to pass a background check
You need to undergo a drug test.
Correctable vision to 20/40
Meet the job's physical requirements (reach overhead bins, stand for long periods of time, etc.)
A tidy, well-groomed appearance is required for the actual professional presentation.
You must be willing to handle passenger safety and service. Food and beverage service, assisting passengers with impairments, answering questions, and running mechanical and safety.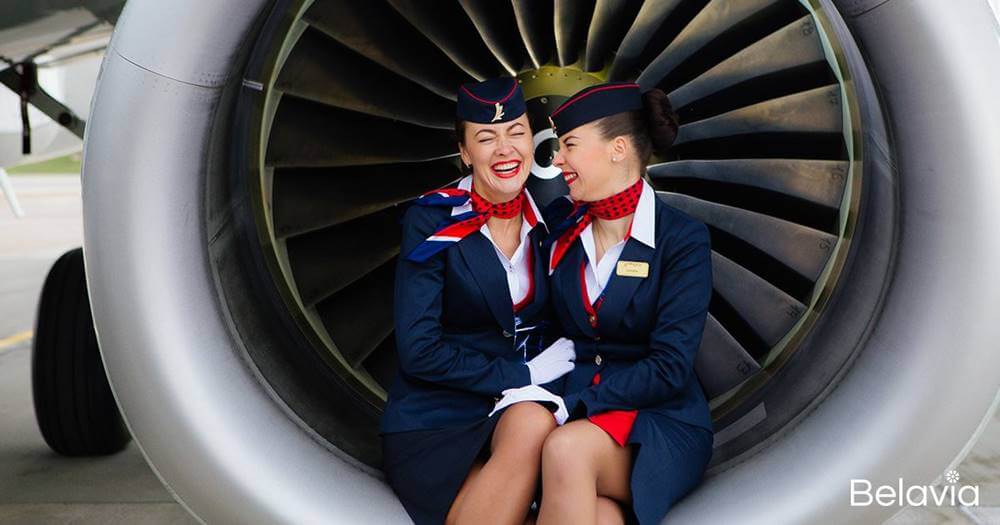 Application Process
Step 1: To get a job inside Belavia Belarusian Airlines, you can go here: https://en.belavia.by/company/. Check for possible updates regarding their job postings. You can also visit their Linkedin Page: https://www.linkedin.com/company/belavia—belarusian-airlines/?originalSubdomain=by and also through their social media accounts for flight attendant job opening alerts.
Step 2: Go on the said web pages and check if cabin crew positions are available. Once a job post is open, apply for the position. If a Flight Attendant vacancy is posted on LinkedIn, make your own LinkedIn account for easy access.
Step 3: Prepare all the requirements or documentation needed for your application. Do not also forget to complete your online application with all necessary information without errors.
Step 4: Once shortlisted, they will notify you through call or email. So make sure to keep your lines up and always check for their message.
Step 5: You need to pass the initial interview so you can proceed to the training process.
Step 6: Complete the designated training and you're good to go!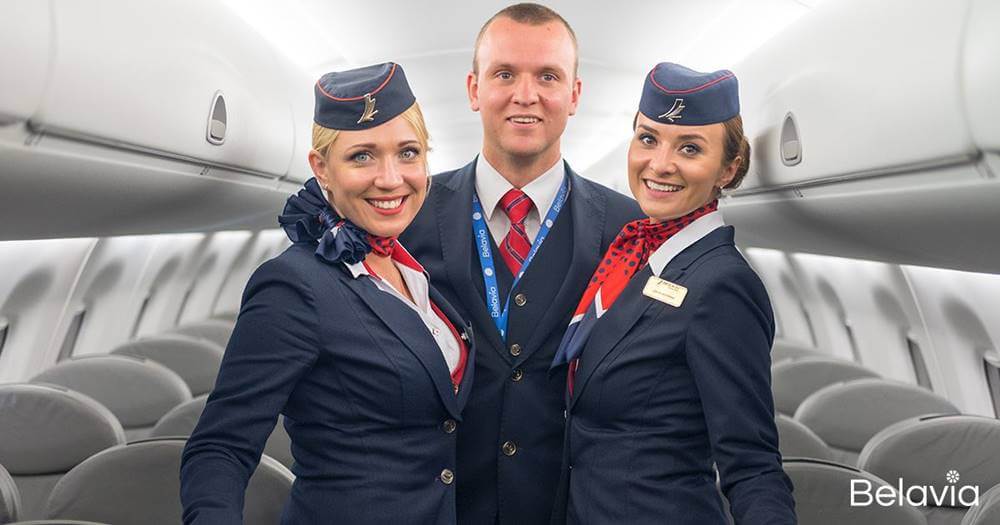 Answering Interview Questions
What characteristics a good flight attendant must have?
This is one of the flight attendant interview questions that allows you to demonstrate your knowledge of the role and your priorities. Respond with a list. Each quality should be listed along with a brief explanation of why it is important. Begin with the "top three qualities" of providing excellent customer service, teamwork, and professionalism.
What Motivates You to Become a Flight Attendant?
The recruiter is looking for three things here: sincerity, passion, and knowledge. They ask this because it's the only way to perfectly find out the agenda of the applicant.
Please tell me about a time when you had to deal with a difficult customer. How did you deal with it?
Expect behavioral questions like this. The reason behind this question is that the interviewer wants to find out how you can provide solutions in certain situations. Your answer will show how you provide good customer service, deal with difficult customers, and so on. This question is frequently asked, so be prepared with a specific example, the approach you took, and why. Finally, describe the outcome as well as what you learned from the experience!
What Would You Do to Calm a Nervous Passenger Before a Flight?
The interviewer is looking for a response that demonstrates your customer service approach, empathy for passengers, and ability to address their concerns.
Check in with the passenger on a regular basis.
Inquire if she has any special requirements.
Assure her that she is not alone in her dislike of flying.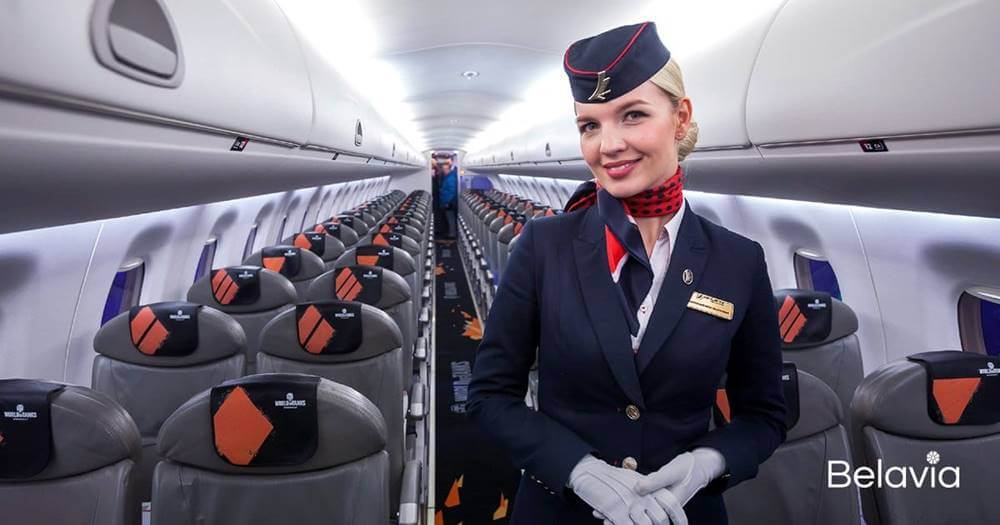 Salary and Benefits
As of the moment, salary and benefits details are not yet available for this airline. But the typical salary range of a flight attendant in Belarus is around 1,970 BYN per month. Salaries range from 960 BYN to 3,070 BYN. Your salary rate may also rely on your level of experience and length of service.
Video: BELAVIA AIRLINES | PROFESSIONAL CABIN CREW
This video shows how Belavia Airlines Flight Attendants demonstrate safety equipment on board. If ever you will be chosen as a cabin crew for Belavia, this will become one of your main duties. Every airline prioritizes safety, and flight attendants know how important it is.
Photos: Belavia Airlines Cabin Crew Uniforms
Check out these pictures of Belavia crew so you can see what they look like in uniforms:
Frequently Asked Questions
Here are some common questions and answers about the job requirements as a cabin crew for Belavia Airlines:
1. Is Belavia Belarusian Airlines located in Russia?
Belavia Airlines is from Belarus, a country in Europe.
2. What should I wear on the assessment day?
Dress smart, and choose colors that are a bit similar to the uniforms of FAs in that fleet.
3. My weight is not proportionate with my weight. Can I still apply?
If your height is good but your weight doesn't match it, this may affect your qualification. Same as if your body weight is good, yet you're too tall or short for the said weight.
4. I can't see job or career postings on their website.
You may go directly to their LinkedIn account.
5. Where can I see Belavia Belarusian Airlines job vacancies?
You can go here to their website or LinkedIn page and see posted vacancies.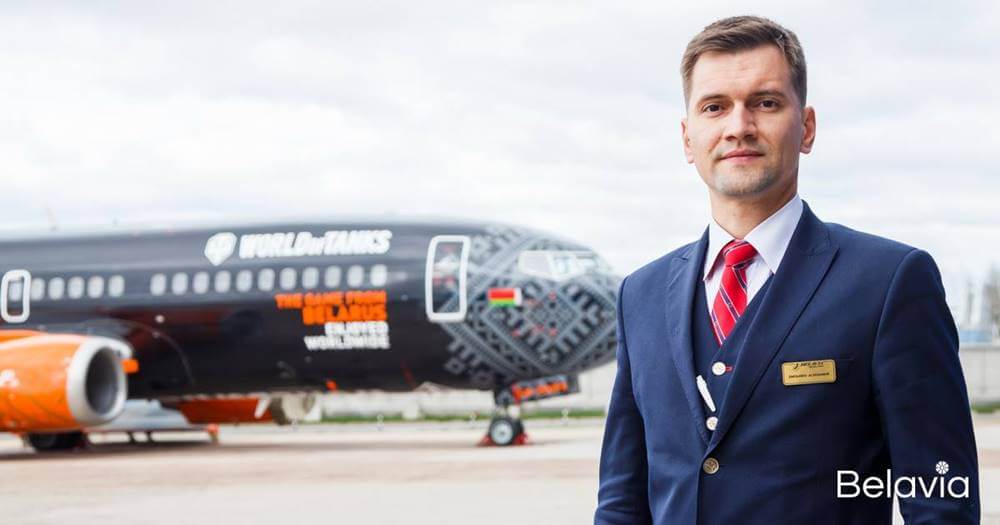 Summary
Belavia – Belarusian Airlines is the flag carrier of Belarus. The said airline is IATA member, IOSA certified, and ERAA member. Belavia operates approximately 50 scheduled flights per week from Minsk to major European airports, Russia, Ukraine, Kazakhstan, the Caucasus, and the Middle. If you want to be a part of this continuously growing aviation company, try your luck now.