It's been awhile since we last posted a cabin crew interview. Sorry about that folks as we've been a bit busy lately. Good news is that it's back and now we're posting our interview with a former flight attendant.
Introducing Sanne or "Mitzie Mee" in the online world. did part-time work as a cabin crew while finishing her business degree. After serving for 8 years and graduating, she took a commercial license to become a pilot and worked for 2 years.
Might we say that Mitzie Mee is a such a hardworking woman who works her way to achieve her goals and dreams! It just goes to show that once you become a cabin crew, the ball doesn't stop rolling. There are other opportunities and there are no limits.
Read on and be inspired to achieve your dreams. Let the cabin crew job become your stepping stone for even greater goals!
Cabin Crew Profile: Interview with Sanne aka "Mitzie Mee"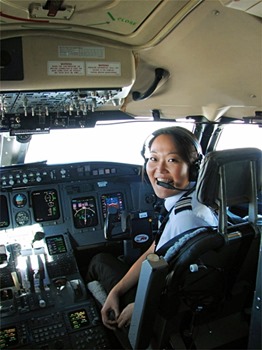 Can you tell us more about yourself?
I'm Sanne, but my online name is Mitzie Mee. I was born in Seoul, South Korea but shortly after birth, I was adopted by Danish parents, so I consider myself Danish. I grew up in a small town with my sister, who is also adopted, and my Danish parents. My dad worked for a construction company and my mom was a kindergarten teacher. We spent most of the school vacations in our family's summer cottage near the Danish west coast, and I was 16 years old, before I went on my first holiday flight.
I worked as a cabin crew for 8 years, but most of the time I only worked part time, as I started studying for my business degree. When I had almost finished my studies, I came to the conclusion that I was not really ready to leave my career in the skies, so I took a commercial pilot license and worked for two years as a pilot. I met my husband at the aviation college, and when he was offered a job in Dubai 2 years ago, I decided to quit my job and come along. Currently, I work full time with my travel website and my blog.
Where was your airlines based?
To start with, I flew out of Billund (the second largest airport in Denmark) but later I got a job for an airline based in Copenhagen.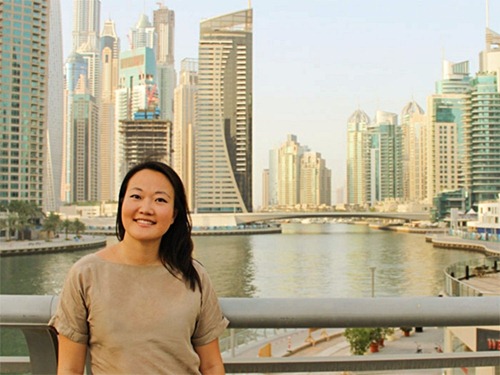 How did you become a cabin crew? How many times did you apply?
After finishing high school, I took a course in sociology in Sweden and then I got a job as a tourist rep in Greece and in Spain. I also worked one winter at a skiing resort in Norway. After almost two years abroad, I was far from ready to settle down and start studying for my business degree, which was my original plan, so when I saw that this Danish airline was recruiting cabin attendants, I applied immediately. I was lucky and got the job the first time I applied.
Why did you apply for this job? – Based on your answer, were those goals justified?
I thought becoming a flight attendant would allow me to see more of the world, but the first airline I worked for only had very few layovers, so all I got to see was the airports. Though, the travel benefits were amazing, so whenever I had a couple of days off, I grabbed my passport and my good friend Rikke and flew away to exotic places. We went on a 4-day trip to Tokyo, just to party and eat sushi, and we went Christmas shopping in New York.
What was the best thing about the job?
The travel benefits and the wonderful colleagues. Cabin attendants are usually very social and fun-loving individuals and very often, the job did not feel like work, but more like an opportunity to hang out with your friends.
What was the worst/hardest thing about the job?
Getting up early…really early! I remember one sling to Latvia, where you got up at 3 in the morning after only 4 hours of sleep. That is one of the things I do not miss!
What were common misconceptions that you found out about cabin crews? Were those misconceptions proven right or wrong?
To be honest, I had never imagined myself becoming a cabin attendant. I imagined cabin crew to be slim and tall and slightly stupid, with no other ambitions than to marry a rich businessman or a pilot. I am really ashamed of how I was thinking, since this proved to be so wrong. First of all, cabin crew come in all sizes and shapes (and genders), and except for some companies in Asia and The Middle East, airlines generally do not have any specific requirements regarding your looks, as long as you appear groomed and do not have any piercings or visible tattoos.
What stroke me the most after I started working as a cabin attendant was how well educated everybody was. My colleagues included lawyers, soon-to-be doctors and people with business and marketing degrees. They would have been able to earn much more money somewhere else, but they had chosen to work as cabin crew because that was the lifestyle they loved.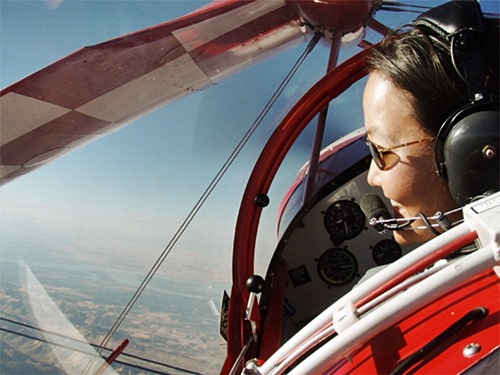 Any favorite place/s that you always visited in your flights?
London. I love that city! Even though it is very close to Copenhagen, the airline I worked for had those 24-hour layovers and we stayed at a hotel in the middle of the city. Every time the bidding was out, I tried to get as many London layovers as possible. My favorite city in the world is New York, but as I was only working part time, I was not allowed to fly long haul, so I went there on vacations instead.
Why did you leave the cabin crew life?
During my entire career as a cabin crew, I have also been studying. I was lucky to have schedules that allowed me enough time to read and attend mandatory lessons. It was tough sometimes, but it was worth it. I had only planned to work as a cabin crew for a year or two, but I ended up staying for 8 years. I left the cabin crew life to become a pilot, and I worked as a pilot for two years, before I moved with my husband to Dubai.
Has your cabin crew background help in fulfilling a career in other fields? How?
Working as a cabin crew provides you with exceptional problem-solving skills. You can't just hang up or walk away from a rude customer, but you have to deal with eventual conflicts immediately,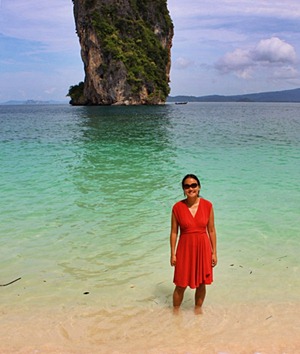 which is an ability I think is very useful and appreciated in most jobs. When I started working as a pilot, my knowledge about the cabin crews' working routines also came in handy (I never called for coffee during the passenger meal service).
During my years as a cabin crew I also got to travel to lots of places around the world, which inspired me to start my blog and my travel website.
What are your tips to cabin crew applicants?
Be yourself and do not get discouraged, if you are not successful the first time you apply. Many of my colleagues applied several times at different airlines, before they finally got the job. Before you apply, try to obtain as much information as possible about the airline. Working for a full-service flag carrier can be significantly different than working for a low cost airline.
How about tips to existing cabin crews?
If possible, try to get an education or take a diploma, while you work. Being a cabin crew is a physically and mentally demanding job and even though it is a lot of fun right now, you might not want to work as a cabin crew when you are 60 years old.
Connect with Mitzie Mee:
My website: www.mitziemee.com
My travel blog: www.mitziemeeblog.com
*Photos provided by Sanne
———————————
Very inspiring words from a woman who worked hard to achieve her dreams. Thank you so much for your time and for this interview, Sanne!
Are you a flight attendant or know someone who is one?
We're on the lookout for cabin crews who want are kind enough to share their stories about their profession. If you want to be featured, drop us a line at admin@cabincrewhq.com.