Be informed about the hiring process for being part of Flair Airlines cabin crew through this guide that we have outlined below. Here, you'll get to know more about the important information related to the application process, from the qualifications, responsibilities, and the documents you need to comply with to land the position.
Also Read: Cabin Crew Layover Maximizing Hotel Layovers as a Flight Attendant
Flair Airlines is known and praised for its commendable track record for reliability and safety. As pioneers of low-cost travel in Canada and customer-focused service, the company aims to hire committed and willing individuals to share their vision with them with utmost passion.  With this in mind, read through the article thoroughly in order to discover some things you need to keep in mind as you venture towards your journey into becoming a flight attendant for Flair Airlines.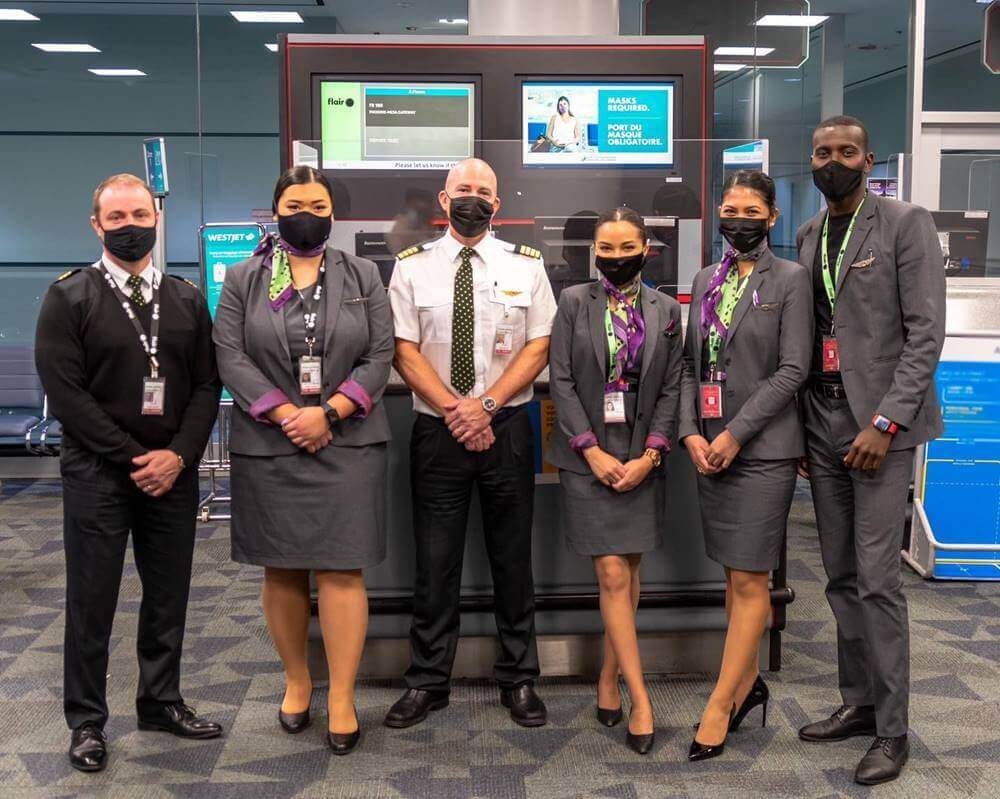 Overview of the Flair Airlines
Flair Airlines is the sole independent ULCC or ultra-low-cost carrier operating domestic and charter passenger flights in the USA, Canada, and also internationally. Flair Airlines is currently a trailblazer through an aspiring, widespread expansion to put an end to Canadian airlines' monopolistic practices.
That said, the company ultimately believes in accessible travel services for all. It is because of this that Flair Airlines aims to make travel more affordable and reachable to each and everyone who needs it – all without compromising the quality of services.
The airline prioritizes its obligations to customers and staff seriously and showcases this by maintaining a solid reliability and safety record. This track record comes without compromise to consumers and promises affordable fares alongside reliable and secure flights.
Flair Airlines constantly expands and grows its route network, flights, and fleet in record time. Since the airline company's official launch in 2017, it has since then brought low-cost travel to over 30 North American and Canadian destinations.
As pioneers of affordable traveling, Flair Airlines continuously commit to its mission of liberating the lives of Canadians by providing them convenient and accessible flights that help them connect to the experiences and people that they love.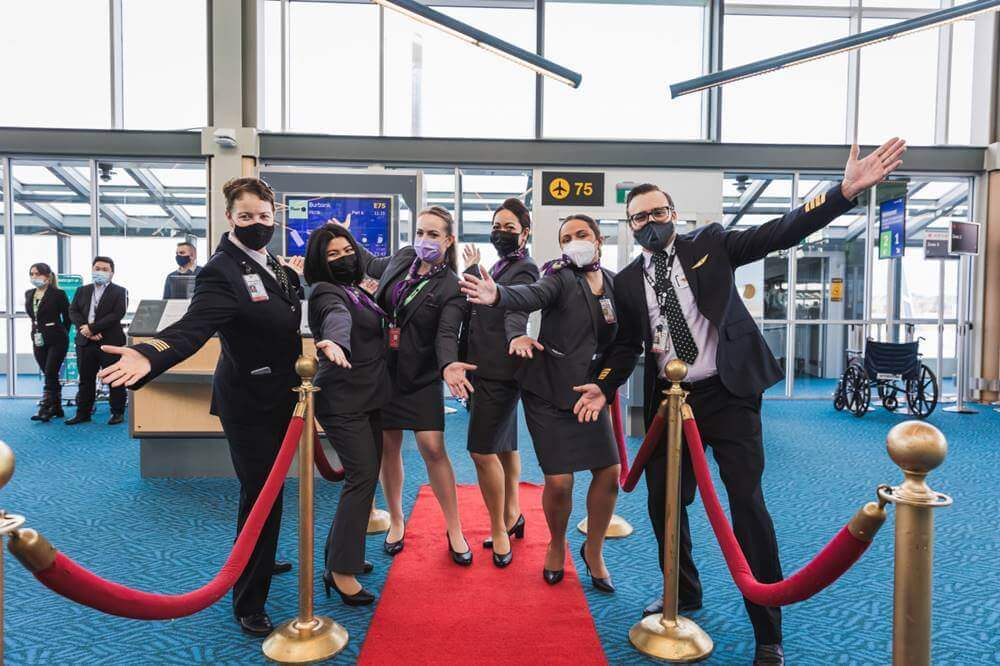 Responsibilities
Being a Flair Airlines flight attendant comes with its fair share of responsibilities. Before applying, it's vital that you know what to expect from the job and the duties you'll be performing upon landing the position. Apart from tending to passengers' concerns and queries, you are also tasked with the responsibility of dealing with emergencies efficiently and writing reports about flights.
Flair Airlines takes its hiring process seriously in order to ensure that it stays on track with the mission that it forwards. Doing so helps make sure that every flight remains comfortable, efficient, and convenient for everyone.
With this in mind, here are the responsibilities of a Flair Airlines flight attendant that you should be aware of:
Perform in-flight tasks: providing announcements, serving refreshments and meals, making transactions, safety demonstrations, greeting passengers
Offer timely communication and assistance to passengers during unusual incidents and emergencies: answering queries, carrying luggage, etc.
Operate emergency and mechanical safety equipment
Provide consistent levels of customer satisfaction and service by anticipating the needs of passengers and exceeding expectations
Light aircraft grooming as required
Adhere to Transport Canada regulations and company policies to ensure maintenance of a safe environment and cabin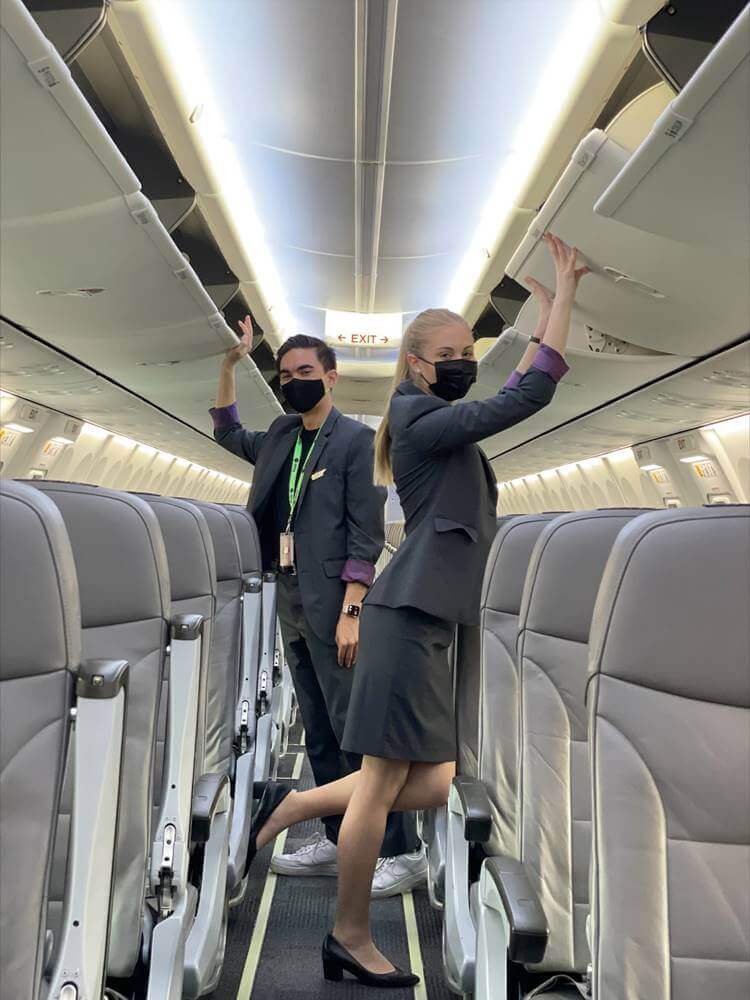 Qualifications
As a company with a stellar track record, Flair Airlines takes great measures to oversee that its employees and staff members are hired according to great standards. The airline believes that having experienced and capable employees under its leadership is vital to providing passengers with comfortable and convenient flights.
That said, Flair Airlines has established eligibility criteria that help determine if you're suitable for the job. This makes it more convenient for the recruiters to choose the best candidate for becoming a flight attendant at Flair Airlines.
Here are the qualifications you need to have to be part of the airline's cabin crew:
Must be at least 19 years old or older to apply
Must be able to converse with an advanced level of spoken and written English
Must be eligible to work in Canada without any restriction
Must have the capacity to be away from home for long periods with a dynamic schedule, typically on short notice
Patient and can work effectively as a team player and as an individual, sometimes under stressful or difficult situations.
Optimistic and cautious about safety
Previous experience in customer service is not required but is considered an asset.
Fluency in other languages is considered an asset.
Must be willing to work any hour of the day, year, or week, as per schedule. This may include weekends and holidays.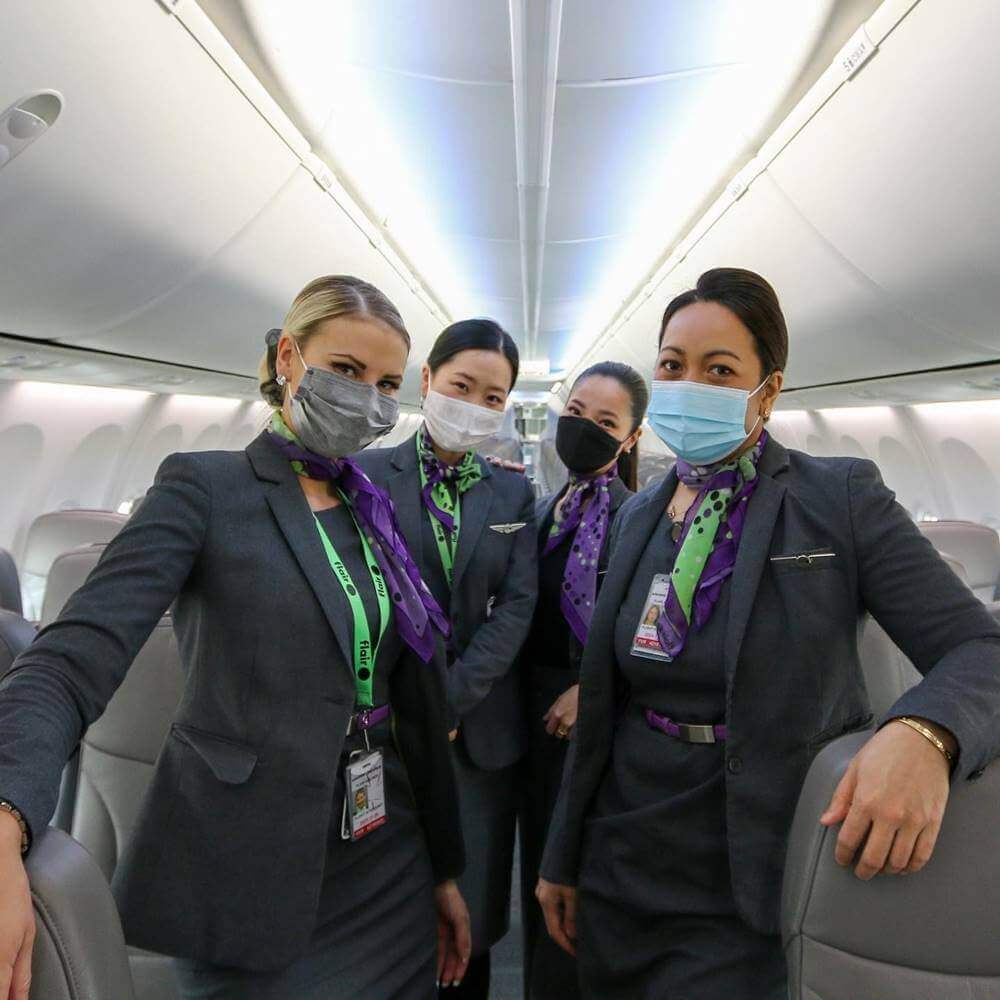 Document Requirements to Prepare
Aside from knowing the qualifications and responsibilities of a Flair Airlines flight attendant, you should also know about the documents you need to comply with for your application. These required documents are essential in helping recruiters decide if you're an appropriate candidate for the job merely through your credentials, experiences, and skill set. Make sure to prepare these documents beforehand if you want to avoid further delays in your application process.
Updated CV/resume
Current valid passport or a Canadian Permanent Resident card
High school diploma or equivalent
Must be able to obtain an Airport Restricted Area Identification card
Pre-employment aviation medical check
Where to Apply for a Job for Flair Airlines Online
You can apply for a job at Flair Airlines online by simply visiting their careers page here. All you need to do is look for job vacancies that the airline is currently offering and then apply directly on the job posting. You can also keep yourself posted on further announcements about job openings through their social media pages which are listed in the last part of this article.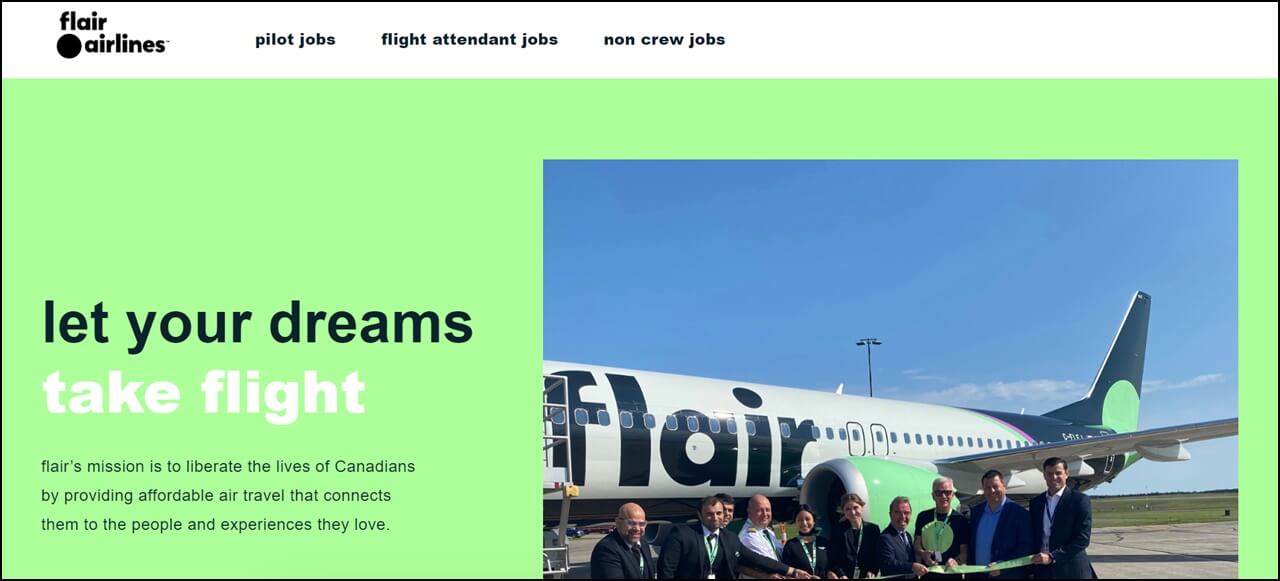 How to Become a Cabin Crew for Flair Airlines
To apply as a Flair Airlines flight attendant online, here are the steps you need to follow.
Step 1: Visit Flair Airlines' official careers page.
Go to Flair Airline's official site and click on the careers section. Here, you will see a list of job openings for which the company currently has a hiring process.
 Step 2: Select the job you wish to apply for.
After this, look for the position you wish to apply for by scrolling or searching through the posted openings and clicking on them. You will see a list of information regarding requirements, qualifications, and the competencies you need to have to apply for the job. Make sure to read carefully through all of these to comply accordingly.
Step 3: Apply directly to the job posting.
Once you have understood what the job position needs in a candidate, you can now apply directly on the posting. Click the green Apply button, which will be found at the bottom part of the page.
Step 4: Fill in all the needed information.
Upon clicking, you will be required to fill in basic information and contacts such as your name, email, and mobile number. Answer these honestly and accurately.
Step 5: Follow the next steps of the application.
Once you have done this, click continue and follow the next parts of the application process. It's also important to remember that the company only contacts those who are shortlisted and won't accommodate any phone inquiries, so you'll just have to wait for a few days to know if you're off to the next phase of the application process.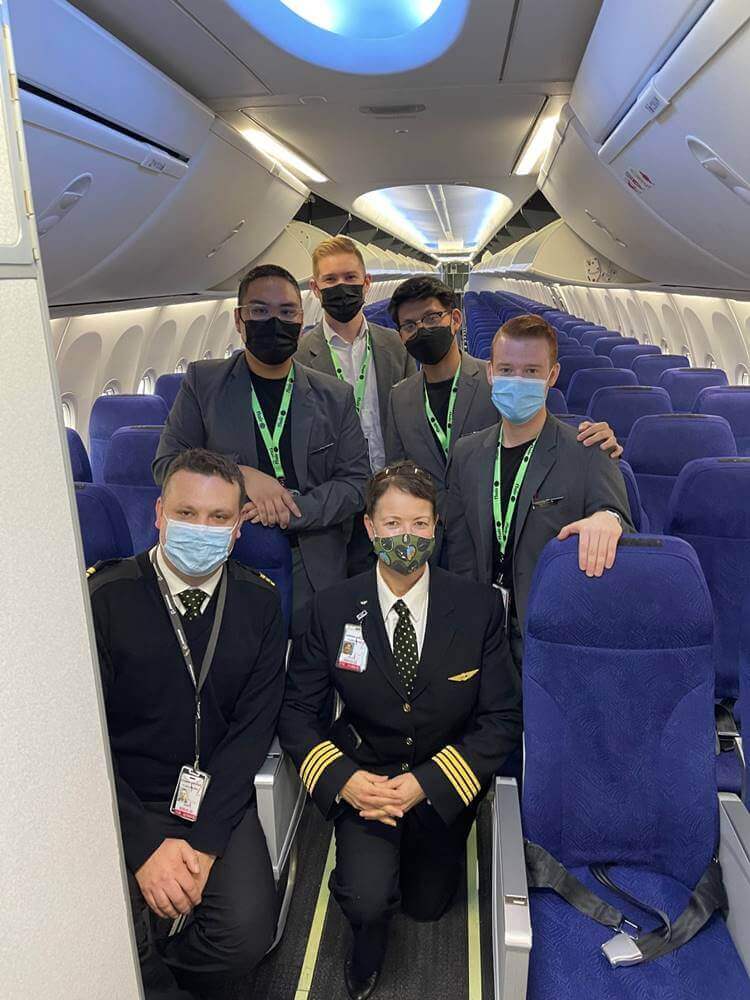 Monthly Salary of a Flair Airlines Flight Attendant
A flight attendant at Flair Airlines can expect to earn around $27 per hour as a starting wage. However, the average annual salary can range from $23 900 to as high as $77 574. Besides this, the airline also provides a competitive compensation package and perks that include dental and medical benefits, dependent life insurance, a staff travel program, a well-defined contribution pension plan, and employee & family assistance programs.
Video: Life of a Flair Airlines Flight Attendant
This video offers a glimpse into the typical day of a flight attendant at Flair Airlines. In the video, you can see how she prepares for her day and the preparations she needs to make prior to a flight. She also shows how she does routine security and safety checks before letting passengers in, as well as how flight attendants serve beverages and meals throughout the flights. This vlog provides a great way with the duties you can expect to perform once you land the position in the company.
Disclaimer: This is a video uploaded by a flight attendant vlogger who shared her experience being a cabin crew member. Take note that every crew has a different experience, but this will help give you an idea what to expect when you work for Flair Airlines.
Photos: Flair Airlines Flight Attendant Photos
Check out these beautiful pictures of Flair Airlines Flight Attendants in uniform. If you wish to picture yourself being a part of this company, check out these photos to give you an idea about working for this airline:
Frequently Asked Questions
Here are some of the frequently asked questions from other applicants that may help you increase your journey's success rate:
1. How much do flight attendants at Flair Airlines generally make?
The general salary for a Flair Airlines flight attendant is around $49 782 annually. However, this can also go as high as up to $77 574 per year as well.
2. Where is Flair Airlines based?
Flair Airlines' main hub is located at Edmonton International Airport and is currently headquartered in Edmonton, Alberta.
3. Is there an age limit in the application process?
Yes, there is. To apply, you need to be at least 19 years of age or older.
4. What documents are needed?
Besides your updated resume or CV, you also need to prepare important documents such as a current valid passport or a Canadian permanent resident card and a high school diploma to be eligible.
5. Is it hard to apply for Flair Airlines as a flight attendant?
Flair Airlines imposes a fairly strict set of qualifications when it comes to the application process. However, it'll be easy as long as you comply with all the requirements and follow all the steps stated in this guide.
6. Are there any salary perks and benefits packages?
Yes. The company provides medical and dental benefits, staff travel programs, insurance, and more on top of a competitive salary.
7. What are my responsibilities as a Flair Airlines cabin crew?
You are in charge of ensuring the safety and security of passengers, serving meals and beverages, and doing pre and post-flight checks.
8. Is there training for flight attendants?
Yes. Training is required before you officially become a flight attendant, and no absences are allowed.
9. How do I apply for a job at Flair Airlines?
To apply, you can visit the company's career page on its official website at flyfair.com.
10. What skills and qualifications do I need to have to apply?
The airlines consider work experience in customer service and fluency in more than two languages (i.e., French) to be an asset for their company. The most essential skills include excellence in customer service, attention to detail, patience, and adaptability to work in flexible schedules.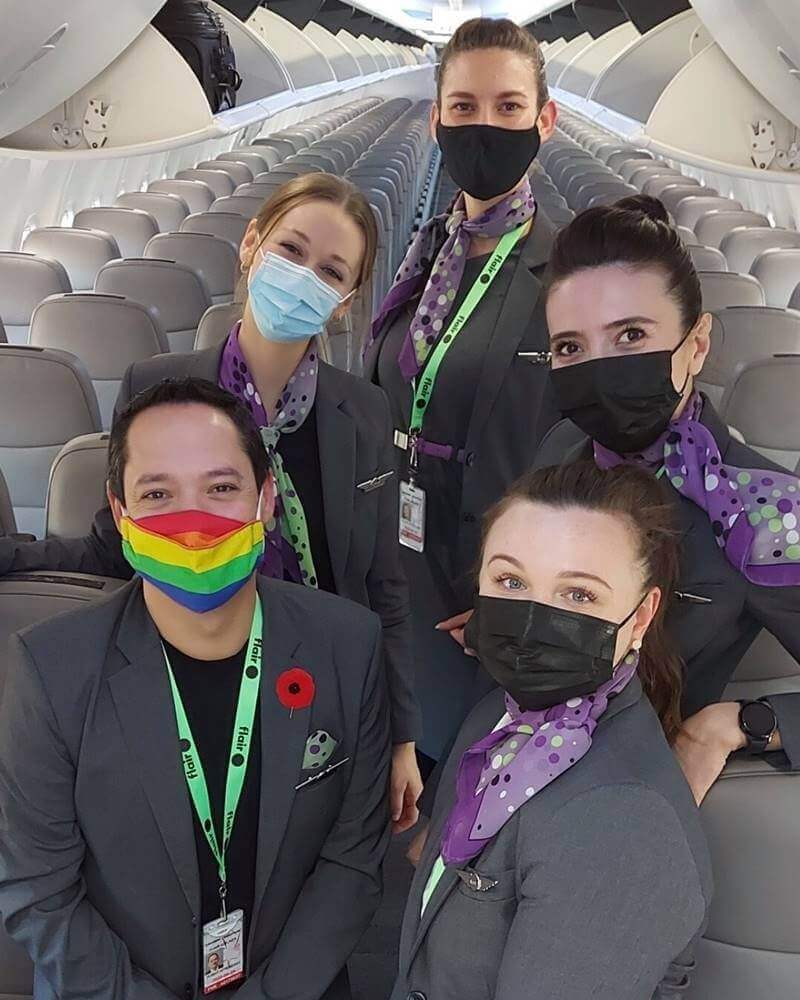 Summary
Flair Airlines is a company committed to delivering accessible and affordable flights to Canadians while ensuring quality service. To do this, they make it a point to hire the most qualified individuals to accompany them throughout the process with their inclusive application and hiring measures. Make sure that you have understood all the necessary information mentioned above to increase your chances of getting hired.
Contact Information
FLAIR AIRLINES
Address: (of main headquarters) Edmonton International Airport
Telephone Number: 1-833-711-2333
Website: https://flyflair.com/
Facebook: https://www.facebook.com/flyflairairlines/ 
Instagram: https://www.instagram.com/flairairlines/
Twitter: https://twitter.com/FlairAirlines