Korea is home to many prestigious airlines, one being the Korean Air Airlines. This is the largest one in the said country, which is why it has the ability to cover hundreds of local and international flights. It's another reason why a lot of aspiring flight attendants want to apply and be a part of the Korean Air team. Please check out this guide on how you can become a cabin crew for this airline company.
Contrary to misconceptions, the application and recruitment process is the same for both Koreans and foreigners. As long as you acquaint yourself with the right information, you'll be welcomed with a career opportunity. These details include the responsibilities, requirements, qualifications, and of course, the specific steps that you have to follow.
If you're interested to know more about Korean Air, its working environment, and how you can be a flight attendant for them, then the following sections will help you with your goals.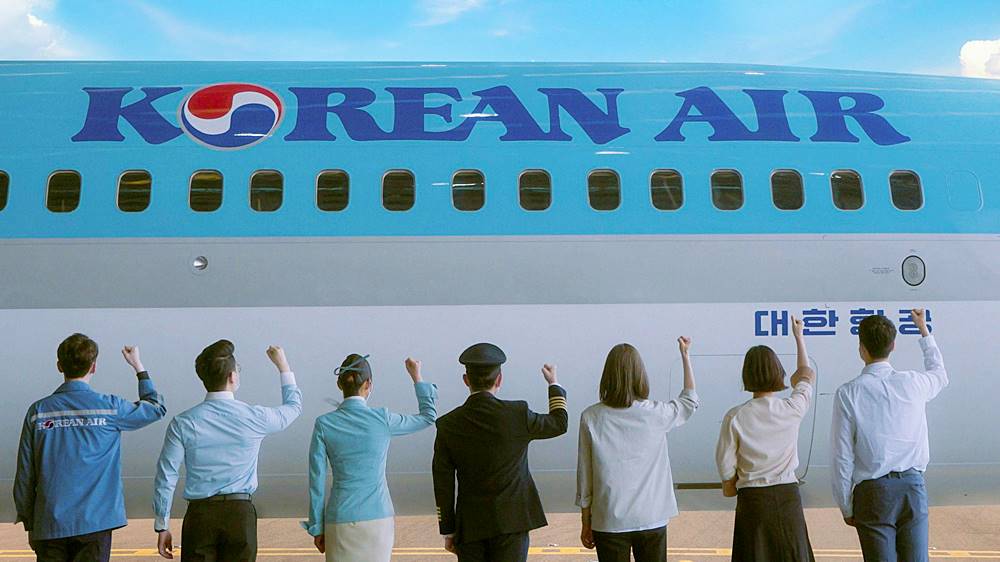 Overview
Korean Air Airlines was founded by Chunghoon Cho Hanjin in 1945. It was originally a sub-branch of Hanjin Transportation, which was then headquartered in Incheon. However, the company eventually became larger. This led to it having its own name of "Korean Air" in 1984.
At the present, the airline at hand is the largest airport in Korea. It is now in Seoul and is recognized for being a 5-star airline. Its flights are also to and from a hundred cities, possibly even more. All in all, this makes Korean Air a part of the top 20 airlines globally.
Responsibilities
Here are the responsibilities that a Korean Air Airlines flight attendant should fulfill:
Maintain safety of passengers within the plane
Demonstrate necessary emergency and safety response before the flight
Assist guests with their requests throughout the flight
Build a friendly and welcoming environment for flight passengers
Provide top-notch customer service
Qualifications
For qualifications, refer to the following list:
Must be at least 18 years of age
Should be at least 5'4″ in height
Should be fluent in both English and Korean
Having a pleasing smile and personality is required
Experience is preferred
A degree is necessary
Document Requirements
If you proceed with the application, here are the documents that you need to have:
Resume
Curriculum Vitae
Fully Accomplished Application Form
Where to Apply for a Job for Korean Air Airlines Online?
To apply for a job or view current openings and results, you can check out the careers page of Korean Air. Here is the link – https://recruit.koreanair.com.
Below is an overview of what you will see: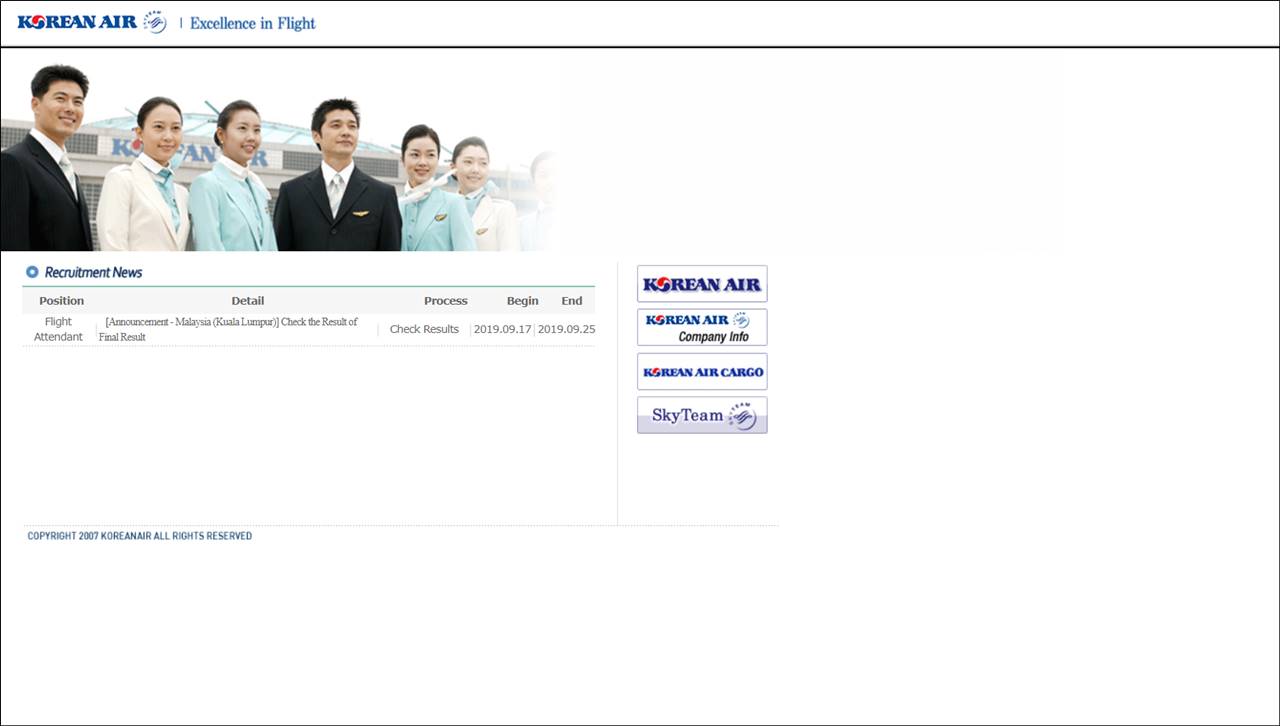 How to Become a Cabin Crew for Korean Air Airlines
If by chance you found a position for flight attendants or crew members on the careers page, then here is a step-by-step guide on how the application will go through:
Step 1: Application Process
The application process will be done online through the given careers page in the previous sections. Here, you will be asked to fill in basic personal details, and submit your updated resume and curriculum vitae. You may have to wait for a few days before you can know if you can go through the next stage.
Step 2: Preliminary Interview
The preliminary interview will serve as a screening and orientation for applications. You may even be gathered at an event hall to introduce Korean Air and what you can expect from the company, but this isn't guaranteed.
What you should mainly prepare for is the interview wherein officials will ask you about your credentials. This involves knowing about your educational background, previous work experiences if any, and other work-related questions.
Step 3: Secondary Interview
The secondary interview will act as an initial assessment exam. You, along with other applicants who passed the preliminary interview, will be grouped into several groups. You will be tasked to complete relevant activities. You will be graded based on your performance, which will ultimately be the basis for this stage's success.
Step 4: Final Interview
If you pass, you will go through the final interview. The final interview is usually one-on-one or one-on-two meetings where questions will be a lot more intense. Expect specific questions about what you want with the job, why you want it, and other topics.
You should also keep the things you wrote in your CV in mind since their questions are usually based on this.
Step 5: Physical Assessment
To wrap up your recruitment, you will be asked to complete a full physical assessment. You need to undergo several health tests to determine if you're really capable of being a flight attendant for Korean Air.
Note that if you're a foreigner, processes may vary depending on the agency that you're tied to. If this is the case, then make sure to check in with your handler to get access to the right steps.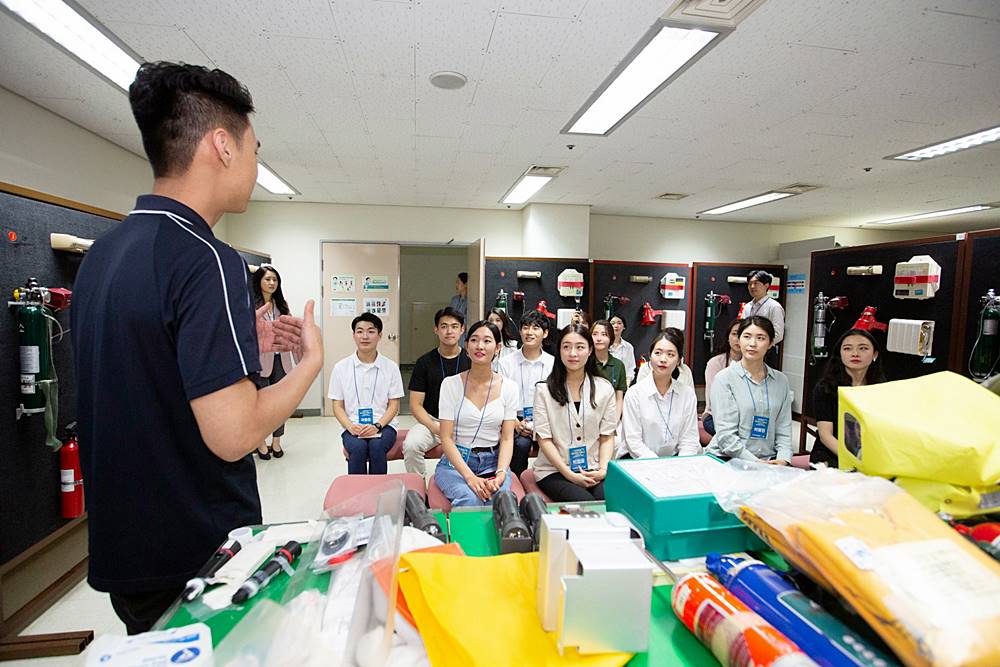 Monthly Salary a Korean Air Airlines Flight Attendant Makes
According to reports, a flight attendant working at Korean Air earns at least $30,000 per year. This is quite lower than the average earnings from American airlines but is still a decent amount to live by.
Other benefits that Korean Air provides include:
Healthcare Insurance
401k Benefits and Plans
Paid Leave and Vacations
Bonuses and Rewards
Again, keep in mind that residential status will affect the kinds of benefits that you can avail of from the company.
Video: Korean Air Jobs
This is a timely video made by Korean Air to show how their flight attendants and cabin crew members do their tasks amid the pandemic. This involves stricter implementations of safety, interaction, and general guidelines.
Although the video may look like a simple slideshow, it showed real-time events and responsibilities of the cabin crew members. Here are some more things that "We, Connect" can help you with:
The current working environment in Korean Air
What the changes in requirements are in relation to the pandemic
Specific steps were taken by Korean Air to protect both passengers and employees
The additional responsibilities are given to cabin crew members
An overview of the implementations set by the airline
You can also gain a lot of new perspectives if you visit the channel itself.
Disclaimer: This is a video uploaded on YouTube. Any information is based on the uploader.
Video: Dream Job for Korean Women
Here's another video from Asian Boss YouTube Channel which features a documentary for Korean women about the job as a cabin crew and how it has become a 'dream job' for most young women.
Photos: Korean Air Cabin Crew in Uniform
Check out these beautiful pictures of Korean Air flight attendants in uniform. If you wish to imagine yourself being part of this company, check out these photos to give you a glimpse of working for this airline:
Frequently Asked Questions
Here are some of the most frequently asked questions about Korean Air Airlines and their terms for flight attendants and cabin crew members:
1. Do you need to be Korean to be a flight attendant in Korean Air?
You don't necessarily have to be Korean to be a flight attendant or cabin crew member in Korean Air. You can apply even if you're a foreigner.
The application, however, may be quite different since you need to be tied to a third-party agency before you can be qualified. This is because the said airline only hires non-locals through them. Note that the employment laws may also be different if you're not Korean or a non-resident.
2. Is there a height requirement to be a cabin crew?
Korean Air requires cabin crews and flight attendants to be at least 5'4 inches.
3. Can I apply as a Korean Air flight attendant without experience?
You can apply to Korean Air without previous experience since it's not required. Note, though, that those with an existing background in the field will have higher leverage in the recruitment process.
4. Is being a cabin crew member in Korean Air hard?
Being a cabin crew member is generally hard, no matter what airline you work for. Don't worry about this too much since you'll still be going through the necessary training and orientation if ever you get accepted by Korean Air.
On a side note, you have to be aware that you will be moving with hectic schedules and strict management under the airline.
5. Can I reapply to Korean Air if I fail the first time?
Korean Air doesn't have specific guidelines about reapplication so you can probably try again if ever your first application gets rejected. Just make sure to look out for new openings in the future. Avoid immediately sending a new application or spamming the site to avoid undesirable impressions.
6. How much can I earn as a Korean Air flight attendant?
On average, you can expect to earn around $30,000 a year by working as a Korean Air flight attendant. This comes down to about $14 per hour. Meaning, your earnings may still differ depending on your schedule and overall working hours.
7. Do I need to have a 20/20 vision to be qualified?
There is no specific requirement about vision when it comes to applying to Korean Air. As long as you can wear contact lenses and it won't disrupt your responsibilities, then you're good to go.
8. What is the age requirement for application?
Korean Air prefers applicants to be at least 18 to 27 years old. If you're older but you're highly credible, then you still have a high chance of being accepted.
9. Is proficiency in the Korean language required?
Since you're mainly going to work with Koreans, both colleagues, and passengers, then it's definitely required to be fluent in the Korean language. You also have to be proficient in English.
10. Do I need to adhere to the beauty standards of Korea to pass?
Unfortunately, Korean Air follows a strict Korean beauty standard. Although not a specified rule, your looks, most especially your teeth and complexion, will be a big playing factor in your acceptance.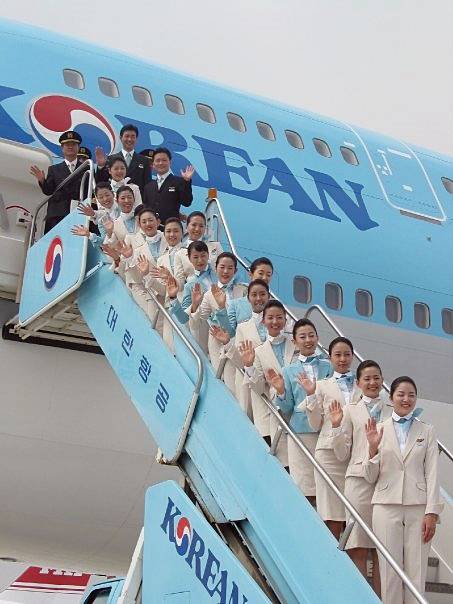 Summary
Applying for Korean Air Airlines won't be easy. This goes the same for every other airline, but because of the scale of the one at hand, you should expect that you'll face a little more difficulty throughout the process. Not only that, but you may also have to spend a lot of time and effort.
The only thing that you can do is to make sure that you're qualified for all the standards set by Korean Air. This involves both physical aspects (age, height, weight, etc.) and characteristic qualities. The documents are also a must.
Nevertheless, it will all be worth it if you really want the position. You can also consider watching other related videos on Youtube or checking blogs of other people who have applied to Korean Air. In this way, you'll have a better idea of what to expect in your future experiences.
Contact Information
Korean Air Airlines
Address: 260 Haneul-gil, Gangseo-gu, Seoul, Republic of Korea
Telephone Number: 1-800-438-5000
Website: https://www.koreanair.com/us/en
Facebook: https://www.facebook.com/KoreanAir.global
Instagram: https://www.instagram.com/koreanairworld/
Twitter: https://twitter.com/koreanair_ke
Youtube: https://www.youtube.com/KoreanAir