In case you wish to work as a flight attendant for Air Arabia, please follow the steps and guidelines below. We have gathered the requirements, qualifications, and step-by-step process on how you can become a crew for this airline.
Having the sky as home has been the dream of some of us ever since childhood. Perhaps not as pilots of wondrous airplanes, but even as flight attendants (FA) or cabin crews. It can't be denied that some people find their purpose in life providing hospitality and serving warm smiles to those journeying along with the clouds.
Identifying a fulfilled life with a career that allows you to travel and meet new people is undoubtedly a dauntless dream. Of course, some people desire to serve in the most prominent airlines like Emirates Airlines, Qatar Airways, or Delta Airlines.
But there are over 5,000 airlines in the world in need of passionate staff who wish to serve just as an incredible air travel experience as the big names. Finding a home in one of these airlines should bring equal joy and satisfaction to a dreaming soul. Is Air Arabia the right airline for you?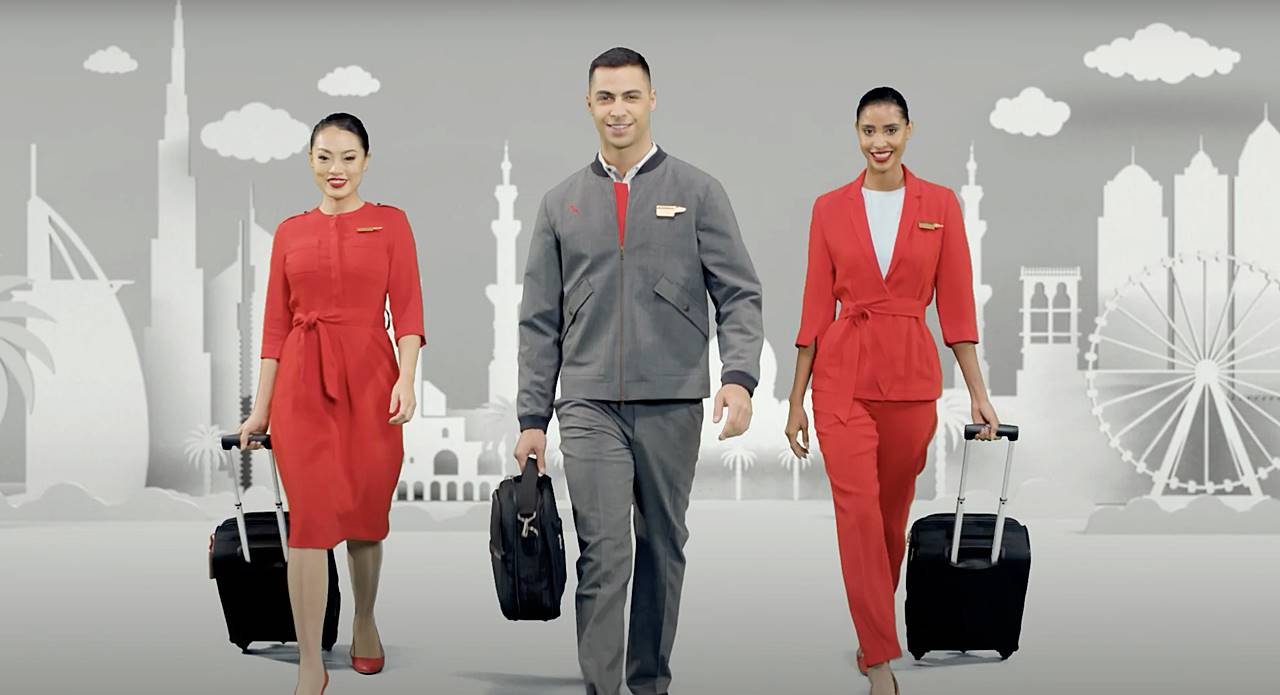 Overview
Air Arabia is an Emirati airline that serves flights across 170 different destinations along the Middle East, Europe, Central Asia, the Indian Subcontinent, and the Middle East. But as of July 2021, with the world still in a burgeoning pandemic, it has opened its doors to 120 airports across Asia, Europe, North Africa, and the Middle East.
Founded in 2003, Air Arabia is a fairly young airline with its headquarters in the Sharjah Airport Freight Center. This airline is considered to be the pioneer low-cost carrier in the Middle East.
Responsibilities
The job responsibilities of flight attendants are uniform across all airlines in the world. Hence, one can expect that an Air Arabia Flight Attendant's responsibilities are identical to that of other airlines, regardless of how major they may be in comparison.
Warm Greeting– Air Arabia Flight Attendants are expected to greet the flying passengers with warm hospitality to provide assurance that they will l be experiencing a great flight ahead and will be graciously thanked after the journey.
Guide and Assist– Flight Attendants aid the passengers towards their proper seats and ensure that they are well comfortable in their positions for the travel ahead. Furthermore, FAs are expected to lend a hand to passengers with special needs.
Safety– FAs guide the passengers, instruct, remind them, and enforce proper safety protocols and standard procedures in the event of unfortunate incidents.
Prepare and Serve – Air Arabia FAs ensure that all passengers are well taken care of in terms of their preferred meals during the flight. Flight Attendants attend to the request and orders of the passengers, prepare the food and drinks and serve them.
Security – Air Arabia Cabin Crew guarantees that all passengers are able to maximize comfort in their flight, and that the security in the cabin is made sure through constant monitoring and service.
Progress – As Flight Attendants share an experience with the passengers, FAs prepare reports and provide feedback and suggestions to possible steps in bettering the service of the airline.
Qualifications
To be an eligible applicant of Air Arabia; there are certain requirements that need to be met to be considered.
Contrary to popular belief, one does not need a tourism or hospitality Bachelor's degree in order to qualify as a flight attendant candidate. So, those interested in becoming an Air Arabia Cabin Crew can check the list provided.
Age: Air Arabia requires that their Flight Attendants are between the age range of 20 to 26 years old.
Education: Again, most people assume that one needs a Bachelor's degree in tourism, management, hospitality, and the likes. However, Air Arabia only required that one achieve and finish the Higher Secondary educational level. Yet, applicants with nursing backgrounds and qualifications can have an advantage over others.
Physical Characteristics: The minimum height requirement of the airline is that applicants be at least 160cm. Furthermore, applicants must have clear skin without any marks and must have no visible tattoos while wearing the crew uniform.
Personality: Flight Attendants should have a pleasing and optimistic personality and must find immense joy in serving passengers.
Other Requirements: Applicants must be medically and physically fit or healthy to carry out all the job tasks. Also, applicants who have experience working in the hospitality industry, customer service department, and prior cabin services have the edge over inexperienced hopefuls. All industries favor team players who can grow with other members and are diligent in the workplace.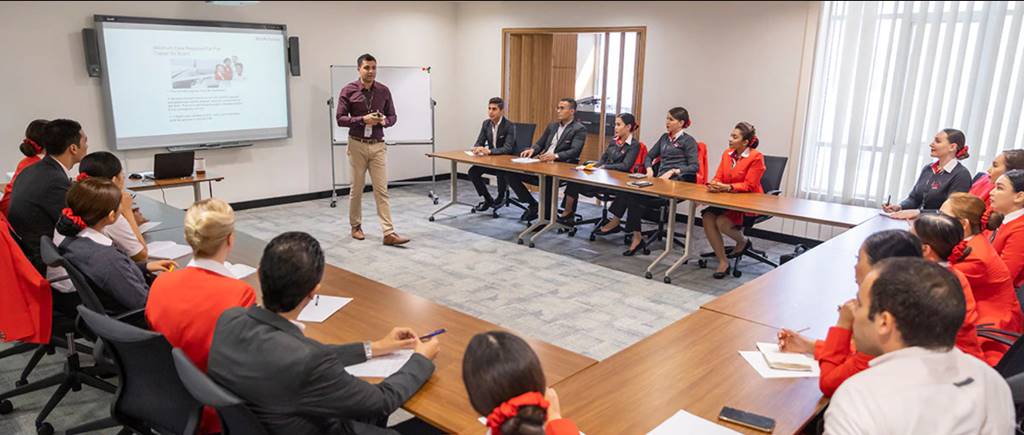 Document Requirements
In every application, the aspirant must see to it that proper and complete documents have been collected. To help you in your process, the following is the list of documents you should have ready when applying for your dream job.
Resumé or Curriculum Vitae (CV)– As in any application, one is required to submit the most updated resumé or Curriculum Vitae that includes all relevant and latest experiences and credentials. Should you not have one, there are countless templates on the internet that you can download for resumé or CV creation.
Full and passport size photographs– Since you are applying for a professional job, the photographs must have you in professional or business attire in front of a plain white background.
Cabin Crew Declaration Form– Air Arabia requires that applicants submit their requirements together with a completely filled-in Air Arabia Cabin Crew Declaration Form that you can download from their official website.
Where to Apply for a Job for Air Arabia Online?
There are two ways to apply and send an application to Air Arabia. One is online, and another is on-site.
On-Site Application – To send your application physically, you can go to the A-One building of the Air Arabia Administration Building in Sharjah International Airport. It is recommended that you take public transportation or be dropped off at the site since parking is exclusive only to Air Arabia employees. Also, bear in mind that only female applicants will be allowed entry and will be entertained.
Online Application – Should you be residing far from the physical site application area, you can send your application online. To do so, check the Air Arabia Cabin Crew Careers (https://careers.airarabia.com/) on the official website of Air Arabia and click on the position you wish to apply for, in this case, that is a cabin crew. Afterward, simply attach your documents and send them to the official email address declared. Also, don't forget to place "Cabin Crew" on the email's subject line.
How to Become a Cabin Crew for Air Arabia
Step by Step Process Application – As a simple guide and to further detail the steps indicated in the section prior, the following are the steps you need to partake in or expect when applying for a cabin crew position in Air Arabia.
Make a checklist of the requirements of Air Arabia for their Cabin Crew
Complete your documents. Make sure that you send your updated resumé or Curriculum Vitae, your filled-in Cabin Crew Declaration Form, and recent photographs in formal attire with white background.
Proceed to the A-One Building or send through electronic mail.
Wait for a confirmation call or email if you passed the initial assessment.
Prepare for an interview. There are cabin crew interview questions online should you wish to know the usual questions asked to aspiring flight attendants. Remember: The templates on the internet can only give you an idea of the possible questions the interviewer or the HR representative may ask you.
Wait for Air Arabia to contact you.
Monthly Salary of an Air Arabia Flight Attendant
It is agreed by society that salary is a private and intimate top. To some, it is frowned upon to ask the worth of salary one person receives. However, it is also important for aspiring professionals to know the range of salary their dream profession or the job they are applying for offers.
And so, based on testimonies from Air Arabia employees, it is estimated that around 69000 AED is the annual salary of an Air Arabia cabin crew. To place this in perspective, such is about 18,000 US Dollars annually or 930,000 in Philippine Peso.
Video: Air Arabia Corporate Clip
To find out more about Air Arabia; you can check the company's corporate video in 2018.
As seen in the video, Air Arabia was established from the vision of His Highness Sheikh Dr. Sultan Bin Muhammad Al-Qasimi for a low-cost airline in the Middle East.
Despite being a low-cost airline, Air Arabia prides itself and strives for operational excellence, innovation, profitability, punctuality, and sustainability. This mission has made it possible for the young airline to become a leader in its industry. With more years to celebrate, passengers to serve, and miles to fly, Air Arabia takes it upon itself to make each journey worthwhile.
Disclaimer: This is a video uploaded by Air Arabia that shared experiences being a cabin crew member of Air Arabia. Take note that every crew has a different experience, but this will help give you an idea what to expect when you work for Air Arabia.
Photos: Air Arabia Cabin Crew in Uniform
Check out these beautiful pictures of Air Arabia flight attendants in uniform. If you wish to imagine yourself to be part of this company, check out these photos to give you a glimpse of working for this airline:
Frequently Asked Questions
Here are some common questions and answers about the hiring process in Air Arabia:
1. Can I apply even without a management or tourism degree?
Yes. Individuals with a higher secondary educational level are eligible to apply.
2. Should I be from Sharjah or from UAE to apply?
No. Foreigners may apply for a cabin crew position in Air Arabia as the company promotes a healthy multicultural environment
3. Is Air Arabia a good company?
Yes. Considered as a leading low-cost airline, Air Arabia has established itself as a competitive airline since its founding in 2003.
4. Do Air Arabia Cabin Crew receive travel benefits?
Yes. Part of the benefits of being a Cabin crew is receiving an annual economy class ticket.
5. Are there additional benefits to being an Air Arabia Flight Attendant?
Cabin Crews are entitled to medical, life, and accident insurances. Furthermore, there are bonus benefits depending on the crew's performance and the company's annual profit.
6. Do Cabin Crews receive leave benefits?
Yes, employees are entitled to a thirty (30) calendar-day annual leave.
8. Can I apply even if I am a fresh graduate?
Yes. Air Arabia requires a youthful cabin crew with immense enthusiasm and optimism hence their 20-26 years of age requirement.
9. I am not from UAE; how can I apply?
Air Arabia cultivates a multicultural work environment; it promotes worldwide acceptance of applicants. If you live far from the physical office, you may apply online on the careers page of the official Air Arabia website and email your documents with the subject "Cabin Crew."
10. Does Air Arabia serve flights during this pandemic?
Yes. As of July 2021, Air Arabia flies to 120 airports across Asia, Europe, North Africa, and the Middle East.
11. Is there a height requirement for aspiring flight attendants?
Yes. Air Arabia has a minimum height requirement of 160cm.
Contact Information
Air Arabia
Address (Head Office): A-One Building Sharjah Freight Center, Sharjah International Airport
Telephone Number (Sharjah Mina Road): (06) 5580000
Website: https://www.airarabia.com/en
Facebook: https://www.facebook.com/airarabiagroup/
Instagram: @airarabiagroup
Twitter: @airarabiagroup