Being a part of Emirates Airline's cabin crew is challenging. Every year, thousands of potential candidates apply for the prestigious airline in hopes of receiving a call-back inviting them to join the team. Think you're up for the task? This step-by-step guide will tell you each part of the process for you to finally join the Dubai-based airline.
Also Read: Emirates Recruitment Video
There are a lot of factors to consider before utilizing, including interpersonal skills, background, and ability to pass requirements.
In this post, we're going to talk about the hiring process in Emirates Airlines. As one of the best airways globally, Emirates Airlines has earned its reputation as the "World's Best In-Flight Experience". Throughout the years, they have always made sure that their passengers receive nothing but quality service. In pursuit of being consistent in providing their passengers with the best, one aspect that sets them apart is how they filter their cabin crew members.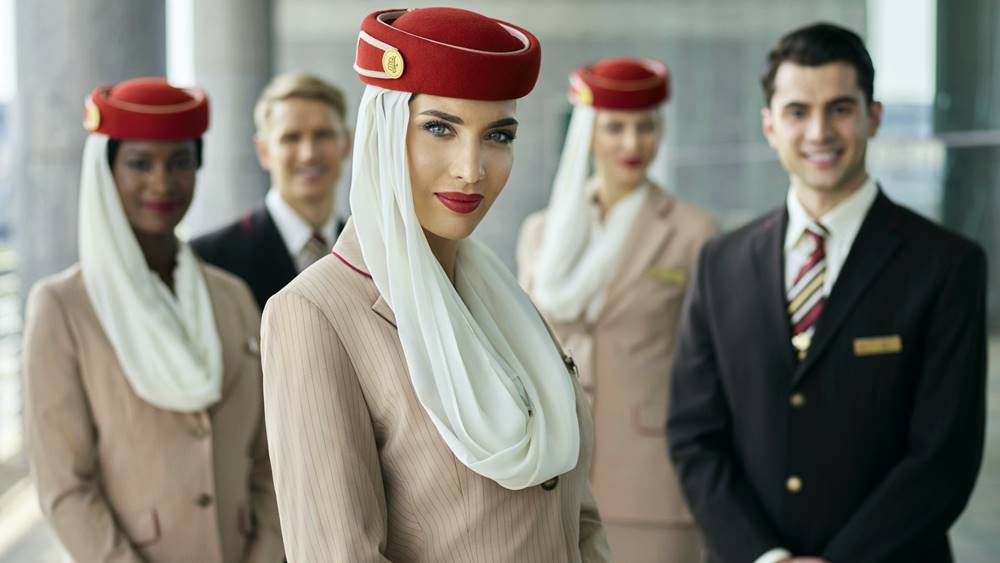 Every dream job has its perks, and one of the most fantastic perks of being an airline cabin crew is travelling to various places. But, just like any other job, there will always be other people vying for the same spot as you. So, if you're someone who has long dreamt of being part of an airline cabin crew, then this article is for you! Applying for jobs always brings a lot of unexpected moments, so the best way to be ready as ever is to read about what you can expect from your application process.
Can you live up to the Emirates Airline standards? Read on to find out, and good luck in reaching your airline cabin crew dreams!
Overview
Named as the Largest International Airline in 2020, Emirates offers its flights to 157 destinations in 6 continents and 85 countries. With a fleet size of 270, it is not a surprise that between the years 2019-2020, they have served over 56 million passengers.
It is the largest airline in the Middle East, which operates over 3,600 flights per week from its hub. As of September 2020, they have 45,040 employees with 172 different nationalities, each committed to living up to the airline's slogan, which is "Fly Emirates, Fly Better".
Its logo, designed by Negus & Negus Associates in 1985, represents self-confidence, passion and leadership, while the white color represents nobility, elegance, and purity. As reflected in their logo, these traits also reflect in the way they provide their passengers with a smooth and relaxing journey towards their destination. After all, their mission is to deliver the world's best in-flight experience.
So, if you're vying for a spot in being part of this fast-growing airline, here are the things that you should keep in mind and prepare for. Every dream requires hard work and preparedness, and this article is your first step towards that.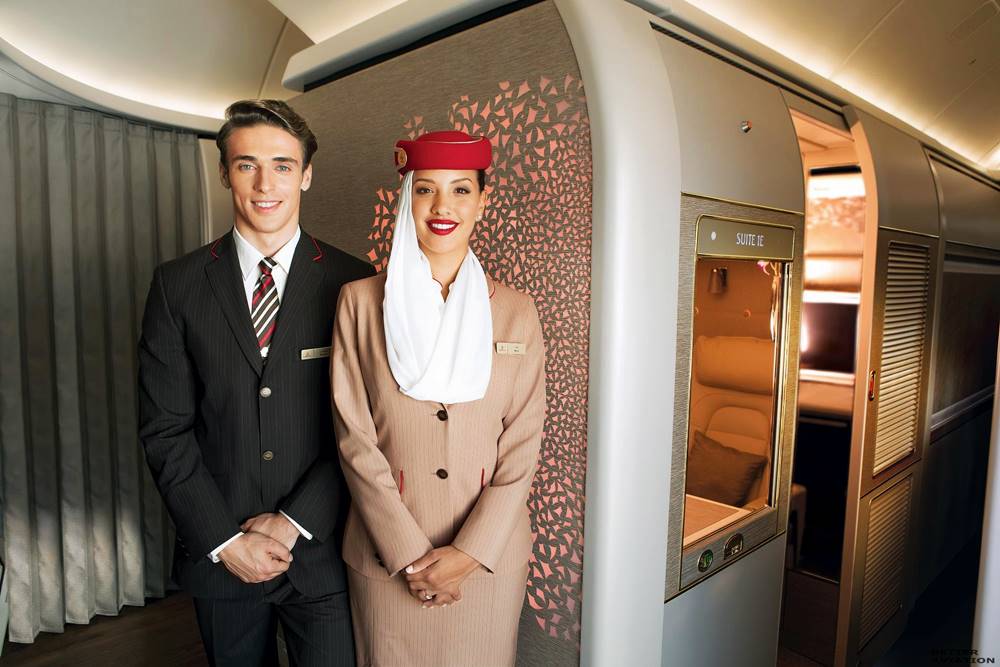 Responsibilities
As a flight attendant, there are several responsibilities you are going to shoulder. Most of the time, passengers will be asking for service and assistance from you, and how you fulfill your obligations will reflect the service quality of Emirates Airline.
In addition to that, living up to the airline's reputation is one of your duties, so these are a few tasks that you have to do well.
First and foremost, is to always show professionalism in everything that you do.
As a flight attendant, you should be well-oriented about where you'll be assigned to, as well as other essential details that you need to remember.
Check safety equipment and do security checks
Ensure that everything is clean and tidy
Welcome passengers and assist them towards their seats until they settle down
Brief passengers about safety procedures
Serve meals and refreshments to passengers
Give first aid in case a situation arises
Qualifications
There is a reason why receiving a call from Emirates Airline is called the "Golden Call". Because it is one of the best airlines in the world, its staff and cabin crew should also offer the best.
So to be worthy of that job you've been eyeing, here are the qualifications you may want to keep in mind. Some of these qualities may make you stand out, while some can make you assess yourself and work on weaknesses.
At least 21 years of age at the time of joining
Arm reach of 212 cm while standing on tiptoes
Minimum height of 160 cm
High school graduate (Grade 12)
Fluency in English (written and spoken)
No visible tattoos while you're in Emirates cabin crew uniform (cosmetic and bandage coverings aren't allowed)
Can adapt to new people, new places and new situations
Physically fit for this demanding role with a healthy Body Mass Index (BMI)
Extra notes:
It is an extra advantage if you have previous experiences in customer service or other related careers.
Being culturally aware is also a great perk since you will be serving different nationalities and will need to answer many questions regarding places of their destination.
May it be reaching luggage placed high or serving trays of food, the ideal cabin crew must be ready for any situation. This is why there is a minimum requirement before being able to join the team.
Aside from this, applicants are expected to embody the airline's values and ethics. He/she must be professional, cosmopolitan, progressive, and empathetic. They must also be ready to take on a busy schedule.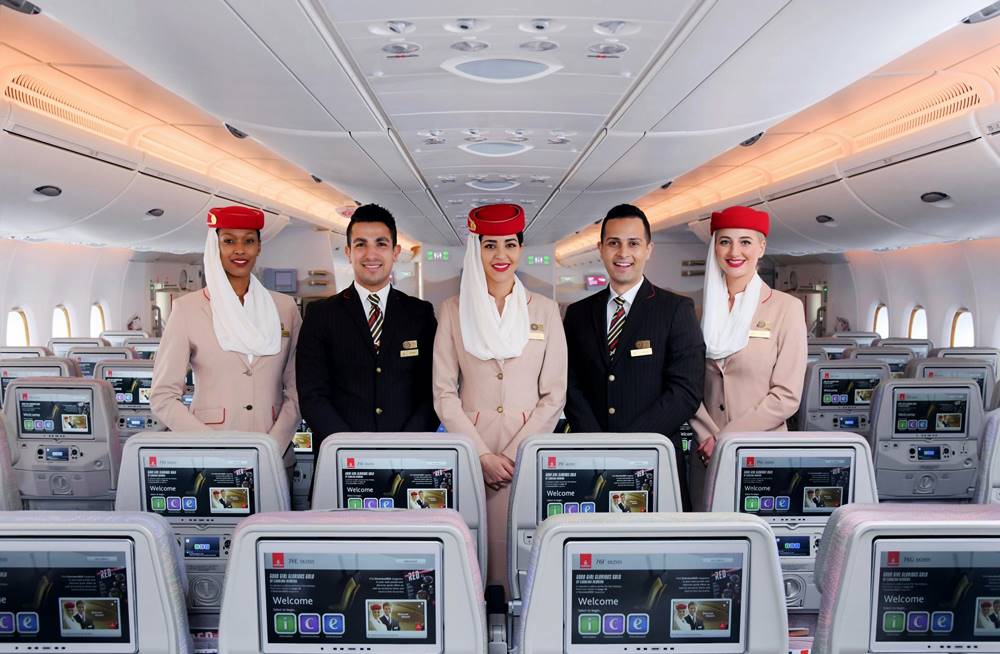 Document Requirements to Prepare
Here are the things you need to prepare as part of the Emirates requirements when you apply as a crew:
Updated CV/Resume
Head and full-body photographs
For photographs, here are their given standards:
You should be wearing professional business attire (including a jacket and tie for men).
You should be standing facing straight towards the camera, with your hands down by your side.
You should be smiling with a large but natural smile (ideally showing teeth).
A white background is highly advisable.
The full-length photographs should measure 6×4 inches (15×10 cm), while the passport-sized photos should measure 45×35 mm (1.77×1.37 inches).
Where to Apply for a Job for Emirates Airline Online?
To check for job vacancies and details, you can visit and view their website here – https://www.emiratesgroupcareers.com/
How to Become a Cabin Crew for Emirates Airline
To become a flight attendant for Emirates, you will undergo a series of recruitment steps. Please follow the guide below for your reference on the hiring process.
Step 1: Register Online
Currently, Emirates is hiring through Recruitment Days. To accomplish the first step, you need to check their jobs board for any vacancies. Browsing the Emirates Career Pages to register would also be helpful for faster access to registration near you.
There should be no problems concerning the form if you will answer all parts truthfully.
The first step is to send your CV, where all background information and works can be seen. Submitting one that is arranged neatly and filled with the related background will improve your chances of being noticed.
Filling your personal information is next. Basic ones like country of origin, contacts inside the company, and contact number will be asked. It is best to fill out every available box.
Your work experience will also be asked. It is not a priority for the airline to look for experienced candidates as the age limit for the job is quite low. Any volunteer works or past employment may aid in your application, though.
Your educational background will be asked. The exact date of enrollment and graduation is also included. You may also choose to include your certifications and awards for you to prove yourself further. It is not a necessity, though.
Attaching a photo will be required for the employers to see your body better. Formal attire is recommended for them to be able to see how you will look in a uniform.
A declaration that allows the airline to review your information will be shown for you to sign in. An e-signature will also be required.
After doing this, all you have to do is wait for an email inviting you to the open day, complete with details and other essential things you need on that day.
Step 2: Open Day
Once you finish the first step, the Emirates Open Day awaits you. An Open Day is a scheduled event for airlines looking for new members for their crew. They can be set anywhere in the world. Short-listed candidates will be immediately notified within the day. You may be asked by the recruiter about your work experience, background, and dedication to the job.
This will then be followed by an Assessment Day for employees to get a better look of the applicant. Being invited for one does not necessarily get you the job, though.
Since this is similar to the traditional assessment day, consider how you present yourself and the impression you give off. The way you carry yourself is crucial to stand a chance and make it to the shortlist at the end of the day.  As a heads up on what you can expect, these are the activities that you can look forward to:
Getting to know the airline
Question and answer portions with the Emirates Crew
Group exercises, role plays and discussions
A reach and height check
Tattoo checks
English language tests (reading, comprehension and vocabulary)
Personality questionnaires
Extra note: If you're wondering what outfit is best to wear for this day, it's an advantage to opt to dress smart. Remember that Emirates gives importance to the personal appearance of their crew. Also, you may want to book your accommodation in advance, and for more than a day if you make it until the next step.
Step 3: The Interview
This is the second to the last step of the hiring process. Usually, the final interview happens on the same day as the assessment day (after applicants have been shortlisted and trimmed down). However, there are cases and locations where you may be called and scheduled for the interview at another date and time.
Nailing the Final Interview is the best way to secure the job. The competition for passing this phase is higher than the others. Interviews last about 30 minutes. Some interviews are done online through webcam. This is where you should shine the best. Tell the employers about all related skills, knowledge, and goals you have for the job.
If you are successful, the airline company will contact you to tell you the news. This will then be followed by a personality test, a medical examination, and then training for the actual job.
After this, the recruitment team will send your entire file to the headquarters in Dubai for extra consideration. So now, you're just a phone call away from the last step!
Step 4: Final Steps
Now that you're a step closer to your dreams, this is where you need to prepare all your important documents. In the final stage of this application process, the Emirates recruitment team will make various medical and background checks. Once they are finished and are satisfied with what they see and find out, their offer of employment to you will be finalized.
During this stage, the management will ask you for your police reports to verify that you have no previous convictions related to the updated visa policies. Your updated dental and medical information will also be assessed to confirm that no issues will affect your health later. If the checks are successful, you will be provided with details to log in to a restricted section of the Emirates career portal. It contains the details you'll need regarding your training and the start of your employment!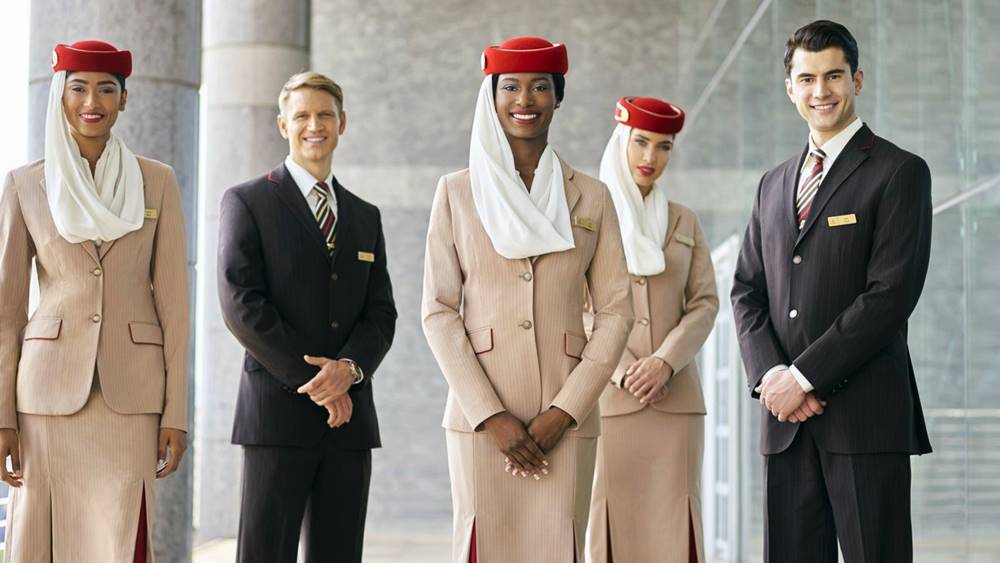 7-Step Training Process
As mentioned earlier, before officially starting to fly and serve as an Emirates Airline cabin crew, you must first undergo proper training. This training is where you will be briefed, trained, assessed, and prepared to serve your passengers according to the Emirates Airline standards. Here are its seven steps.
STEP 1: Induction
Duration: 8 days
During this week, you will be provided with the information to assist and support your adjustment and transition into your new environment.
STEP 2: SEP (Safety and Emergency Procedure Training)
Duration: 13 days
Here, you will learn and be provided with the skills and knowledge to ensure the safety and security of the aircraft and your passengers. Since one of your responsibilities is handling emergencies and ensuring your passengers' safety, this part of your training is essential. Your SEP training involves fire-fighting, in-flight emergencies and evacuation, and Aircraft equipment.
STEP 3: GMT (Group Medical Training)
Duration: 5 days
Your GMP training, related to your SEP training, will hone your knowledge on how to manage medical incidents on board. This third training step will tackle CPR, burns, bleeding, childbirth, and various medical conditions.
STEP 4: Security
Duration: 2 days
During your Security Training, you will learn how to manage acts such as unruly behaviour, hijacking, sabotage, and other unlawful interferences. Various guidelines, skills, and techniques will come in handy for you once the situation arises. Addressing other personal security concerns will also be taught.
STEP 5: Uniform Standards
Duration: 1 day
Emirates Airlines prides itself on having a professional and pleasant image. In your Uniform Standards Training, skills needed to project a professional image will be taught to you.This involves skincare, make-up, hair care, nail care and maintaining an overall healthy lifestyle.
STEP 6: Service Personality
Duration: 1 day
During this one-day Service Personality Training, you will assess, correct, or improve how you deal and interact with your passengers. Having a warm and approachable personality is one of your must-haves as an Emirates Cabin Crew!
STEP 7: Service
Duration: 14 days
In relation to your Service Personality Training, your Service Training involves 14 days up to four months of On the Job learning. This training involves learning product brands, how to serve food, wine, and other tasks related to serving. Usually, there are 3 days of Service Assessments to equip you with the knowledge and skills required to live up to the Emirates' 'World's Best In-Flight Experience.'
Monthly Salary of an Emirates Airline Flight Attendant
In case yo are wondering how much you can earn in this job, an Emirates flight attendant earns about 9,500 AED or 2587 USD (tax-free salary) per month.
Starting Salary
The starting salary of an Emirates Airline Cabin Crew is AED 4,260 or USD 1,159.84 United States monthly, with a flying pay of  AED 61.25 or 16.68 USD per hour based on an average of 80-100 hours per month.
Additionally, you will also be provided with the following:
Free accommodation, utility bills, and transportation.
Housing allowance for non-accommodate flight attendants.
Thirty days of holiday leave with and get the free air ticket to travel personally.
Check out this article for more detailed guide about salary – Emirates Cabin Crew Salary and Benefits
Other Benefits
Your uniform is going to be entirely paid for by the company. Dry cleaning and laundry are free.
Purchasing of unlimited tickets with a 90% discount
Discounts on tickets for family members
You are entitled to a free ticket anywhere, which means that you can visit your country.
You will be provided with 4 or 5-star accommodations to rest. Usually, these are located in the city or somewhere close to the airport. During this time, you are in charge of your own time.
Additionally, you will also receive benefits after your service. Instead of a pension, you will receive what is called the 'end' of service benefits. It is paid as a lump sum when you leave the company. The first 5 years of service is equivalent to 21 days' final basic salary (per year). After that, the amount increases for service for 5 years.
Video: Emirates Airlines Flight Attendant Experience
Siti Nurazlin shares what it's like to be a first-class flight attendant for Emirates Airlines. In this video, you will get a glimpse of what it's like to work as an Emirates flight attendant and cabin crew member.
What is expected from you, such as how you dress, wear your makeup, and interact with passengers, is described and shown. Additionally, extra tips on how to stand out are shared by some flight attendants.
Disclaimer: This is a video uploaded by a flight attendant vlogger who shared her experience being a cabin crew member of Emirates Airlines. Take note that every crew has a different experience, but this will help give you an idea what to expect when you work for Emirates Airline.
Photos: Emirates Cabin Crew in Uniform
Check out these beautiful pictures of Emirates (EK) flight attendants in uniform. If you wish to imagine yourself to be part of this company, check out these photos to give you a glimpse of working for this airline:
Frequently Asked Questions
Below are some common question and answers in the hiring process of Emirates. Please be guided accordingly.
Is it okay if I am only fluent in English?
Yes, it is. Interviews, training, and assessments are conducted in English. Being fluent in English is an advantage!
2. Do I have a chance to be hired if I have visible tattoos I can cover with cosmetics?
Unfortunately, no.
3. Are they open to hiring any nationality?
As mentioned earlier, Emirates Airlines has staff and crew which consists of 172 different nationalities, so there's no need to worry about that.
4. How long is my first contract with them?
Usually, you have a 30year contract with Emirates Airlines, which can be subjected to extension once it expires.
5. Will the results of my personality test affect my chances of being hired?
Yes, it will. One of the things that Emirates Airlines values is personality because how you interact with and serve your passengers will reflect the whole company.
6. Is jewelry allowed?
Yes, they are. But only to a minimum. For female cabin crew members, diamond stud earrings or pearl earrings are allowed.
7. How long does it take to be promoted?
Usually, it takes about a minimum of a year and a half up to three years before you can apply for promotion. But before that, you must apply for an extension first.
8. Will my salary increase?
Yes, it will. As your position upgrades, and depending on your flight per hour, it all plays a role in how much your salary will increase.
9. Can I still reapply if I get rejected the first time?
Yes, you can! As many times as you can, as long as you learn and improve each time.
10. Does age matter when it comes to applying?
As long as you meet the requirements and qualifications, there shouldn't be a problem.
Contact Information 
Emirates Airline
Address: Airport Road, PO Box 686, Emirates Group Headquarters, Garhoud, Dubai, United Arab Emirates
Telephone Number: (02) 7792 6045
Email Address: info@emirates.com
Website: www.emirates.com
Facebook: https://www.facebook.com/Emirates/
Instagram: https://www.instagram.com/emirates/
Twitter: https://twitter.com/emirates