Alaska Airlines is one of the top top-rated airlines globally. If you plan to work as a flight attendant for this airline, please check out the guidelines, qualifications, requirements, and procedures in applying online below. This airline is a 3-star institution and is officially the fifth largest one in the United States in terms of the aviation field. It is located in Seattle, Alaska, and covers daily flights all around the USA, Canada, Mexico, and Costa Rica.
Over the course of Alaska Airlines' history, they managed to achieve a record of flying about 44 million guests every year. Apart from the quality of flights, the airline is also known to provide a healthy working environment for its cabin crews. This makes it an ideal place for flight attendants and cabin crews alike to gain experience and other work-related achievements.
Also Read: Alaska Airlines Flight Attendant Salary and Benefits
If you're one of those who are aspiring to be a part of the flight team of Alaska Airlines, then this article is for you. In the next sections, we'll walk you through all the details that you need to know. These include the current job vacancies, how to apply, qualifications, and the benefits that you may get once you are accepted.
Overview
Alaska Airlines has been around since 1932, first founded by Linious Mcgee. This makes them one of the veterans in the aviation industry. With extensive experience in the entirety of the field, you can expect an established reputation both in terms of the flights they offer and in their career team.
The main values that Alaska Airlines stands for revolves around their customers. Their services are directed to establishing respect, diversity, empowerment around the whole working environment. To do this, the institution follows advocacy they named Alaska LIFT.
The company also focuses on reducing its effects on the environment, which is a big plus, considering that emissions are one of the top contributors to pollution and other environmental issues.
Responsibilities
Alaska Airlines' services are quite different when compared to others. Hence, they have set varying responsibilities that one should fulfill if they want to be a part of the company's flight team. These include both basic and special attendant duties such as:
Greeting flight passengers
Provide assistance before, during, and after the flight duration
Hand out flight meals
Serve alcoholic beverages
Teach and demonstrate emergency response at the start of the flight
Giving thorough explanations about general flight inquiries
Comply with all the safety regulations set by the airline
These tasks are all necessary once you offer your flight attendant services to the company. Note that when serving alcoholic beverages, it is also your task to determine if the customer asking for it is a minor or not. Of course, you should explain why you can't do so if the answer is the former.
Qualifications
Moving on, here are the qualifications that you should meet to become a part of the Alaska Airlines cabin crew:
Should be at least 21 years of age
Should have a high school diploma
Must have 2 years' worth of experience in the field of either customer service or community service
Should be authorized to work in the US
Must have a certification to go in and out of Mexico
Should pass the swimming and training test conducted by the company
Should be 80 inches or 5'2" in height
Should be able to represent Alaska Airlines with pride and integrity
Should be a fan of traveling
Must be tolerant of busy schedules
Must have basic computer literacy
Must be able to work under stress and pressure
Body size should not overrule flight utilities like chair, harness, and likes
Must be aware of the task of serving alcohol
Other unwritten rules include being proficient in English since you will be traveling around the United States.
Document Requirements to Prepare
For documents, here are the ones that you will need to prepare and submit for application:
Copy of current and updated passport
Copy of Certificate of Authorization of US Work
Copy of Birth certificate
Copy of Proof of identification
Copy of High school diploma
If you get called in for an interview, the team may ask for more requirements from you. The basic ones, however, include the ones in the list above.
Where to Apply for a Job for Alaska Airlines Online?
Alaska Airlines updates its daily job hiring page through its official website here – https://alaskaair.jobs/career-opportunities/flight-attendants/
They show the openings for both the main branch of Alaska Airlines and Horizon Air, their starting branch. There is no printable application, and the whole process will be done online. You will need to scan your documents and attach them to the tab provided by the company.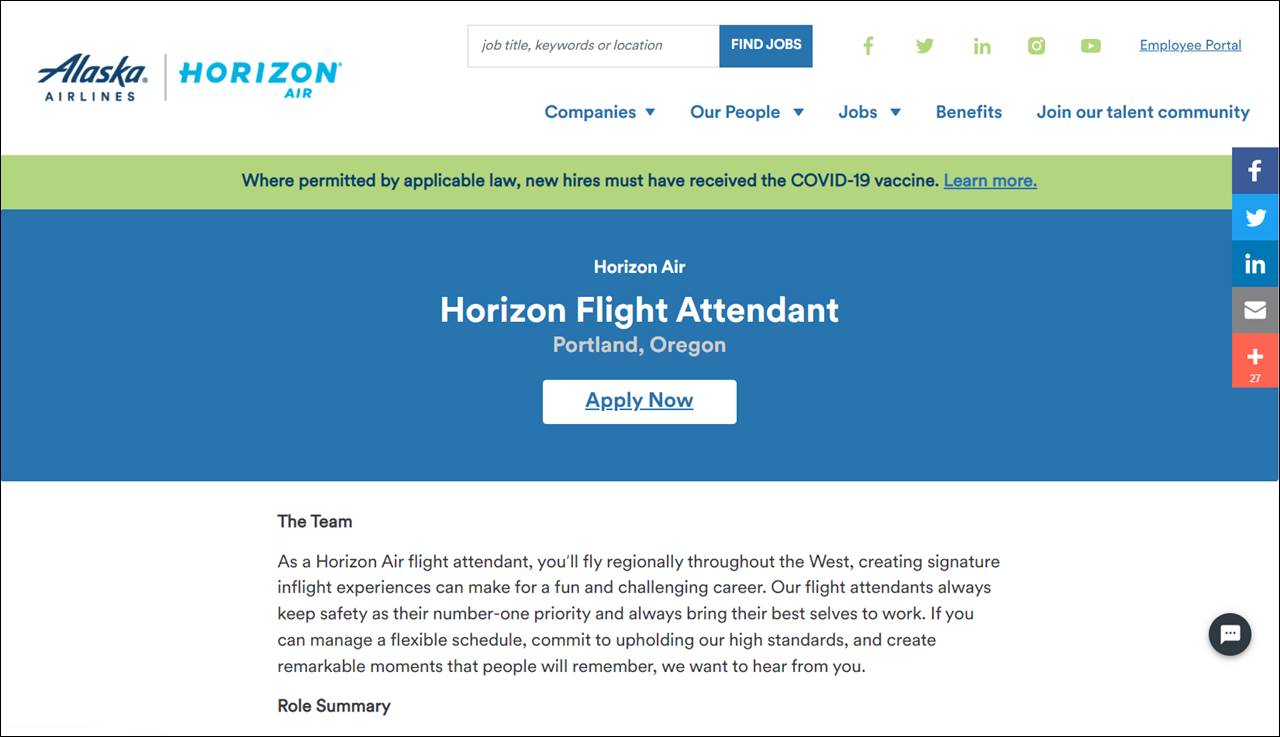 Step-by-Step Process Application to Become a Cabin Crew for Alaska Airlines
Like what we previously said, the application process is done online. Don't worry, though, since this won't be as complicated as you think. Here are the steps that you should follow.
Step 1: Go to the careers page of Alaska Airlines on their website.
Step 2: Look for open flight attendant positions in Alaska Airlines. If there is no vacancy, then consider checking in Horizon Air.
Step 3: Suppose that there is a vacant position in Alaska Airlines, proceed to click the said job. This will redirect you to the full list of qualifications, responsibilities, and requirements that you need to have. The location will also be displayed here.
Step 4: Click the "Apply Now" button. You can easily see this at the top part of the page, no matter the job.
Step 5: Fill out the form and submit the necessary documents.
Step 6: Wait for a call about the interview.
Note that Alaska Airlines specifies that they require flight attendants to start out at Horizon Air. This will serve as the preparation phase for the cabin crews before fully immersing their services at the main branch. This may still depend, though, if Alaska Airlines itself is looking for new cabin crews.
Monthly Salary of an Alaska Airlines Flight Attendant
Alaska Airlines doesn't specify the exact monthly salary that an Alaska Airlines flight attendant will receive. In terms of hourly wages, however, you can expect a starting rate of $22. Hence, it will come up to around $600 if we estimate that you work 30 days a month. There's still a base pay plus allowances.
Keep in mind that the pay will still vary depending on what you agree on with the company. Once accepted, you will have a collective bargaining agreement where you can negotiate about the pay.
Benefits of being an Alaska Airlines Flight Attendant
There are a lot of benefits that you can get by being a flight attendant at Alaska Airlines. See below:
Medical, dental, and vision assistance
401k program
Monthly incentive pay plan
Annual incentive pay plan
Paid time off
5-week paid training
Travel privileges
Health care
Family and medical leave
Programs that focus on our employees' overall physical, emotional, and financial well-being
These benefits are big advantages, especially because it's a full-time position. The best thing that you can get out of it is the guaranteed retirement plan.
Video: What is Flight Attendant Training?
This video from Alaska Airlines itself explains what happens in flight attendant training in detail. Here, you'll get an idea about what to expect from the event, how much you will get, and whether it's worth it to go through all the trouble or not.
You will also see an authentic video of other trainees who underwent the same training that you will go through.
Video: Alaska Airlines Flight Attendant Interview Tips
Here's another video tutorial where it features what an Alaska Airline company is expecting from every crew. She shares a breakdown of what Alaska Airlines is looking for in a flight attendant candidate. Please check out the video to get some interview tips below:
Photos: Alaska Airlines Employees in Uniform
Check out these pictures of Alaska Airline flight attendants to give you an idea what it's like to be in their uniform. They employ both male and female flight attendants:
Frequently Asked Questions
Here are some of the frequently asked questions about Alaska Airlines, its application process, and other relevant topics:
1. Is it safe to work at Alaska Airlines?
Alaska Airlines have long made safety one of their top priorities in working. This applies both to their customers and flight team, so you can expect to be safe when flying with them as a cabin crew.
2. Is working at Alaska Airlines worth it?
Considering the benefits that you'll get from working at Alaska Airlines, we can say that it will be worth it in the long run. One evident con that you have to keep in mind is the busy schedule that you'll need to be tied to when starting out.
3. Will it be hard to apply to Alaska Airlines?
If you meet all the qualifications and requirements, then applying to Alaska Airlines won't be that difficult. The only thing that you need to worry about is the available job openings. The competition can be tight if there are only one or two open positions.
4. Do I need to apply at Horizon Air first?
If there is an open position at Alaska Airlines, then you won't need to go through Horizon Air. However, if there are no positions in the main branch, then you should consider starting out at Horizon Air to build experience.
5. How much can I get by working at Alaska Airlines?
The money that you will get will vary depending on your agreements. However, statistics show that a flight attendant in Alaska Airlines makes around $41,000 on average.
6. Is the flight attendant training difficult at Alaska Airlines?
All flight attendant training is difficult since you will be working with the safety of people. This is true for Alaska Airlines and any other company out there.
7. Is there a beauty standard in Alaska Airlines?
There are no written rules about the relevance of beauty standards and flight attendant applications, so you shouldn't have to be bothered about this.
8. Is Alaska Airlines environment-friendly?
Alaska Airlines stays as an environment-friendly company through its annual environmental activities. They also follow constant advocacy to protect the environment.
9. Is there a weight limit to get accepted as a flight attendant in Alaska Airlines?
Here is no specified weight limit, but you need to fit in the chairs and harnesses to be considered qualified. Hence, instead of a weight limit, it's more of a body size limit.
10. Do I need to have a 20/20 vision to be an Alaska Airlines cabin crew?
You don't need to have a 20/20 vision, but if you have poor eyesight, you need to have vision enhancers that won't be a hindrance to your duties.
Summary
If you feel like you can take on the said responsibilities of an Alaskan Airlines flight attendant, then you should definitely try to apply to the airline once they offer a vacancy for their team.
Since they have a convenient online application process, you won't have to worry about filing in long open-day job hiring. Instead, you can just submit your requirements to the position that you want to have and wait for a call from their interviewer.
One good tip is to make your application stand out, especially if you apply through the usual online means. This is because you won't be there face-to-face with the airline, and it can be harder to catch their attention.
Another thing, note that you will need to relocate once you get accepted. The company will train you in one of their 115 destinations, so keep this in mind if you're sensitive to early location changes.
Contact Information
Alaska Airlines
Address: 19300 International Boulevard, Seattle, Washington 98188, USA
Telephone Number: 1-800-252-7522, 1-800-503-0101, 711 (Relay Services)
Website: https://www.alaskaair.com/
Facebook: https://www.facebook.com/alaskaairlines
Instagram: https://instagram.com/alaskaair
Twitter: https://twitter.com/alaskaair
Youtube: https://www.youtube.com/user/AlaskaAirVids/