If you're interested in how to become a flight attendant in the USA, you may typically need to have a high school diploma or the equivalent, although some airlines may mandate a college degree. Additional qualifications may vary based on the airline. Once a candidate meets the eligibility requirements, they must complete an extensive training program, typically provided by the airline. This program includes emergency procedures, first aid, customer service, cultural sensitivity, and more. Training programs can last anywhere from 4-8 weeks, depending on the airline.
To apply for a flight attendant position, candidates must first find open positions on the airline's website or job search websites such as Indeed or Glassdoor. They will then need to submit a resume, and cover letter, and complete an online application. If the applicant meets the initial qualifications, they may be invited to participate in a group interview, followed by individual interviews, a series of tests and assessments, and a thorough background check.
Also Read: How to Answer: What does excellent customer service mean to you?
Flight attendants play a vital role in ensuring the safety and comfort of airline passengers. In the United States, flight attendants must meet certain educational and physical requirements set by the Federal Aviation Administration (FAA). They must also complete an accredited training program that covers topics such as emergency procedures, first aid, and customer service.
Despite these requirements, being a flight attendant can be a highly rewarding career. Flight attendants have the opportunity to travel to new places, meet new people, and learn new skills. They also enjoy perks such as free or discounted travel. If you are interested in a career that is both exciting and challenging, then becoming a flight attendant in the United States may be the right choice for you.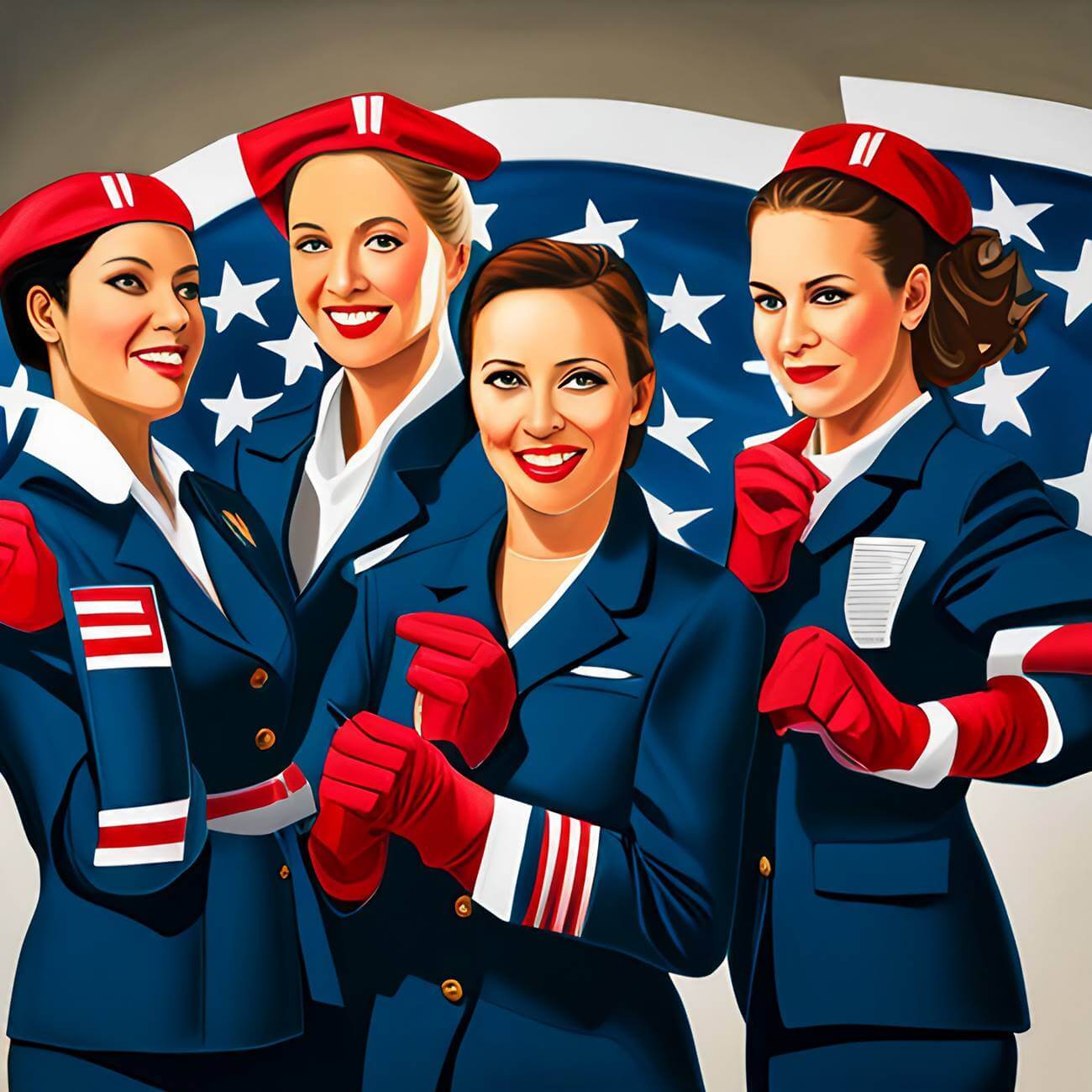 United States Flight Attendant Job Description
A flight attendant's job is to ensure the safety and comfort of passengers on board a flight. In general, their job duties include:
Welcoming passengers aboard, assisting with carry-on luggage, and directing them to their seats.
Conducting pre-flight safety checks, including ensuring emergency equipment is in working order and the cabin is clean.
Demonstrating the use of safety equipment and procedures, such as seat belts, oxygen masks and emergency exits.
Serving food and beverages, including meals and snacks, to passengers during the flight.
Monitoring the cabin during flight for signs of discomfort, turbulence and other safety concerns.
Assisting passengers with any special needs or requests, such as medical attention or assistance with connecting flights.
Maintaining a calm and professional demeanor during any emergencies or disruptive behaviors.
Collaborating with the flight crew to ensure a safe, enjoyable and timely flight experience for all passengers.
Additionally, flight attendants must comply with Federal Aviation Administration (FAA) regulations and company policies regarding emergency procedures, standard operating procedures, and uniforms/personal appearance. They must also attend regular training sessions and pass written and practical exams to maintain certification.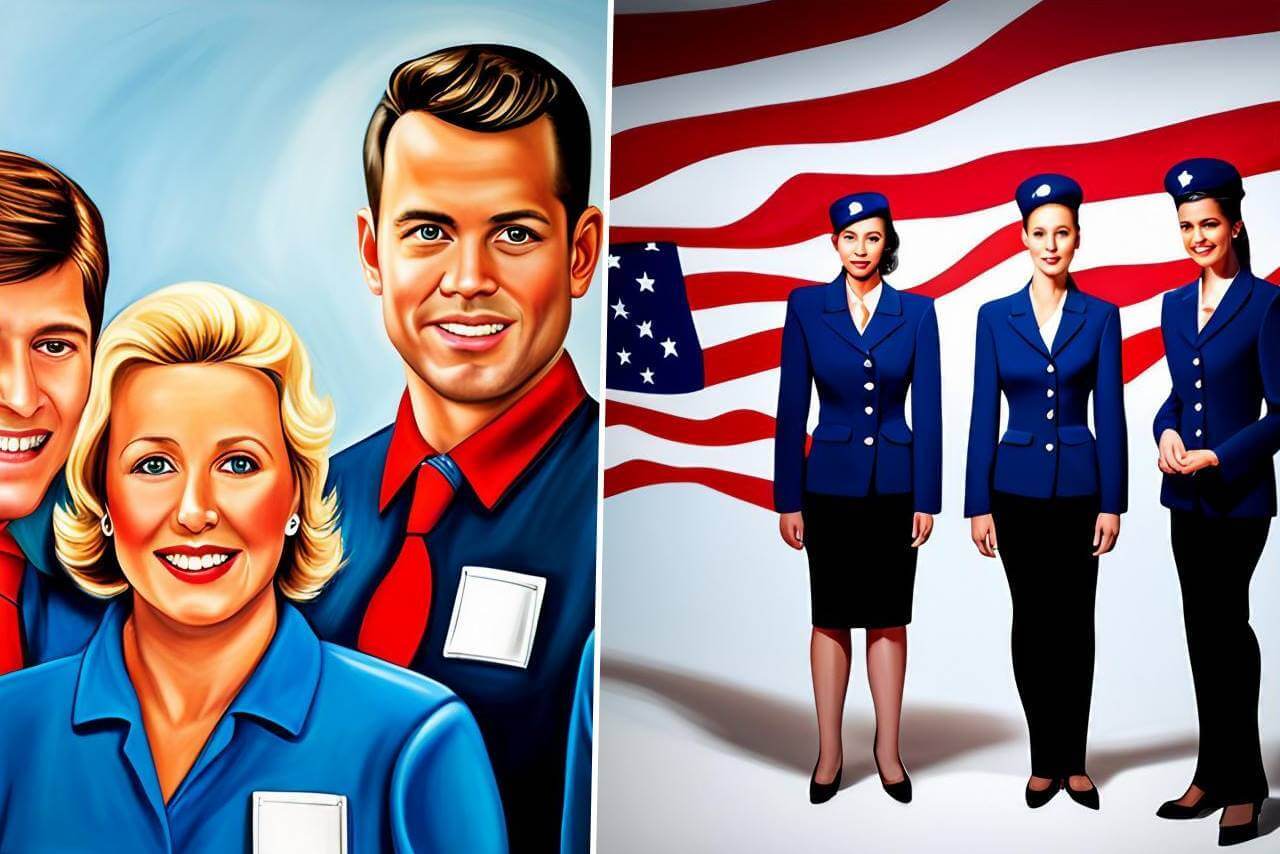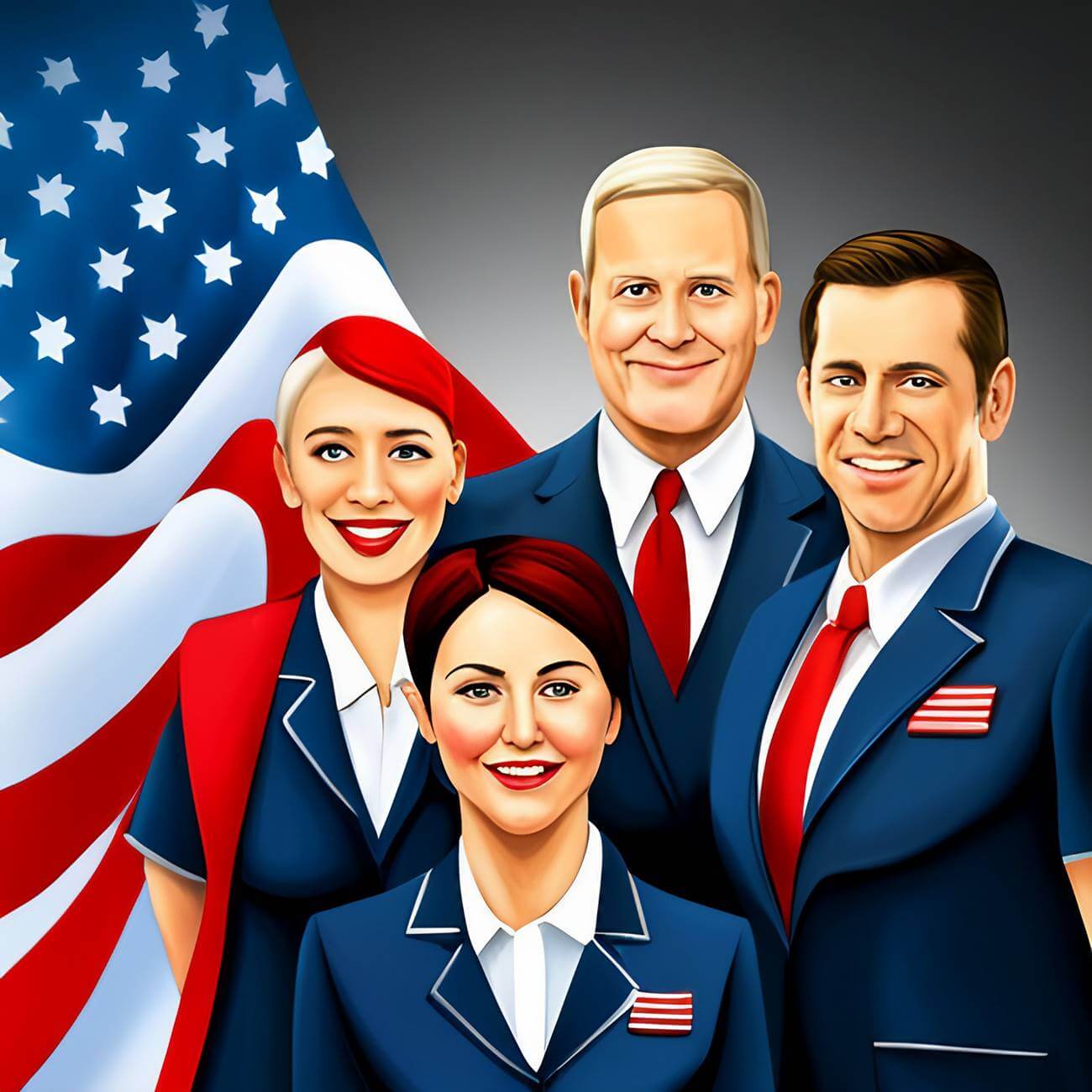 List of Airlines in USA to Work as a Flight Attendant
There are a variety of airlines in the USA where you can become a flight attendant. Some of these airlines include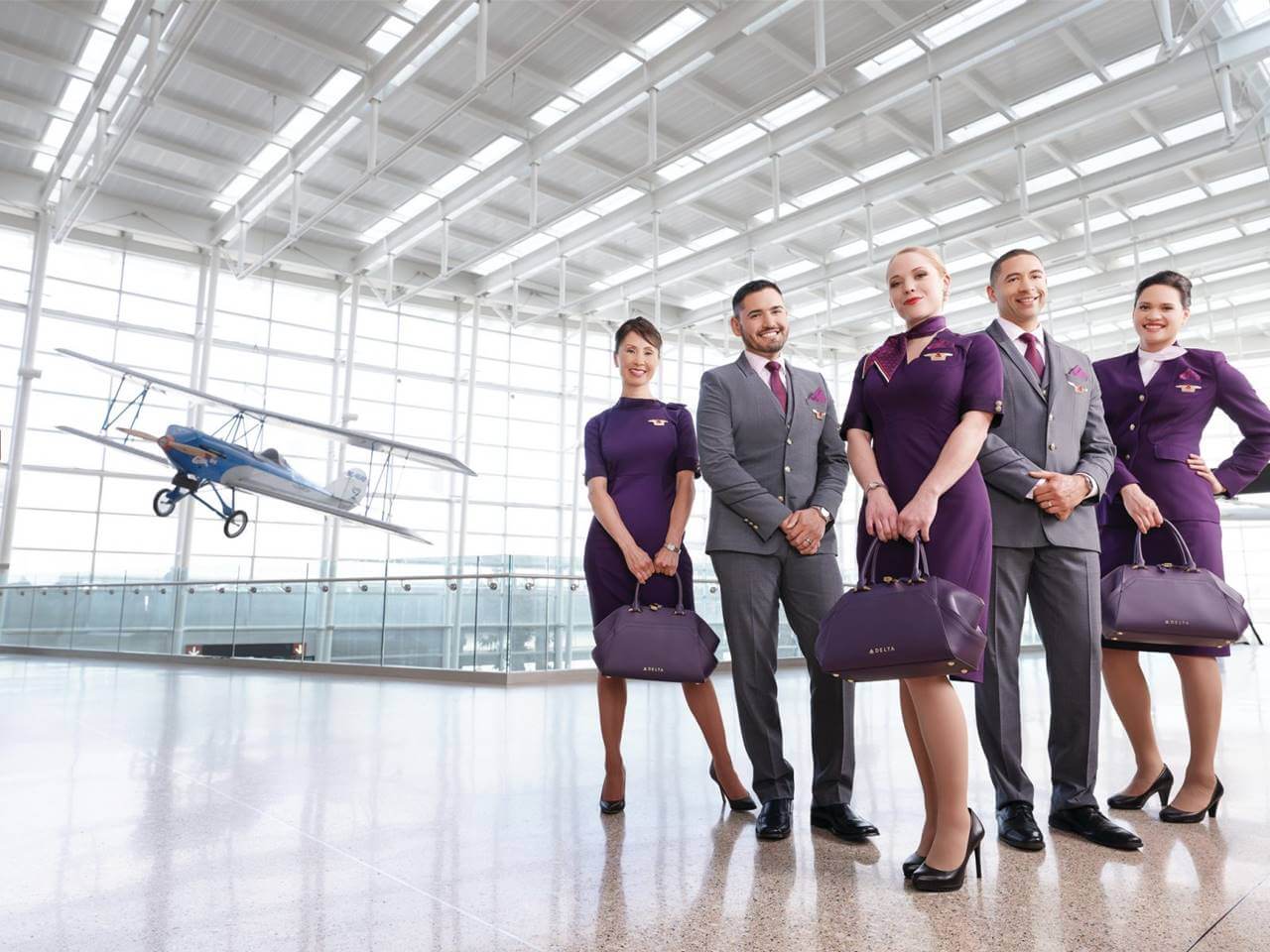 What are the Requirements of a Flight Attendant Job in the United States of America
Becoming a flight attendant in the US requires meeting specific qualifications set by both the airline and the Federal Aviation Administration (FAA).
Candidates must be at least 18 years of age to have a high school diploma or GED equivalent.

Candidates must be able to speak and understand English fluently.

Flight attendants must also possess strong communication and customer service skills, as well as physical stamina for long hours of work.

In terms of physical abilities, flight attendants must have the ability to reach overhead compartments, push and pull carts weighing up to 100lbs, and lift luggage weighing up to 50lbs without assistance.

Airline-specific requirements may include height and weight restrictions, the ability to swim, passing an initial medical exam, and completing training programs set by the airline.

 It is important to note that while some airlines offer training programs for new flight attendants, previous experience or education in the hospitality or customer service industries is often preferred.

As the role of flight attendants continues to evolve, they may also require additional training in areas such as emergency preparedness and cultural sensitivity.

You must have a clean criminal record.
Overall, fulfilling these requirements can help pave the way for a successful career as a flight attendant.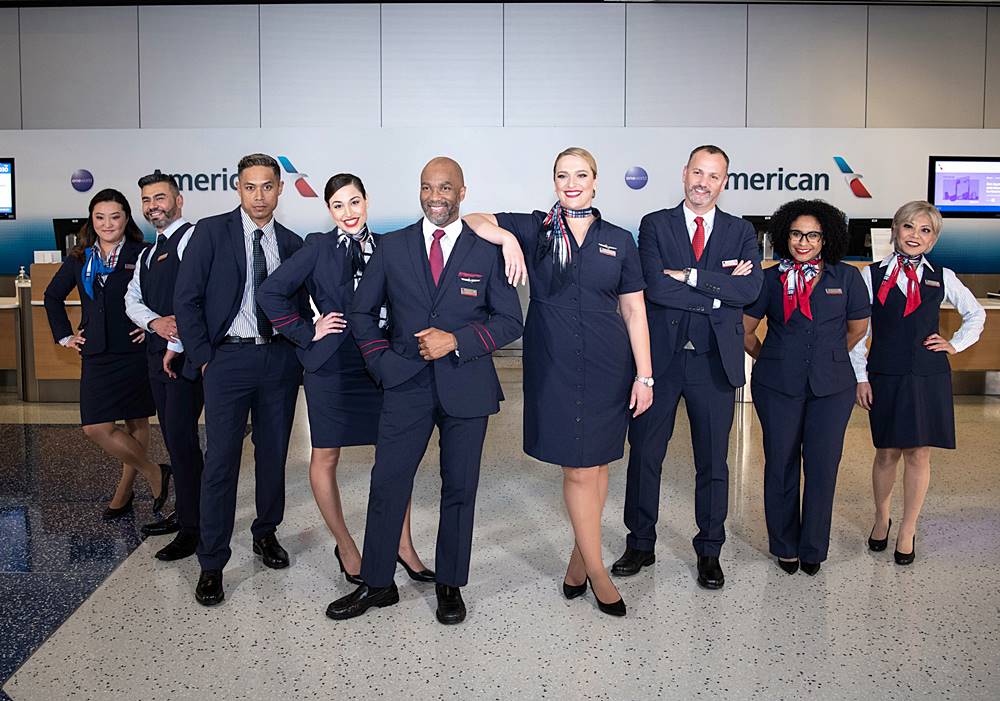 Steps to Apply

for a Cabin Crew Job in 

USA
Once you have determined that you meet the qualifications to become a flight attendant in the USA, the next step is to apply.
Go to their Website
The first step is to visit the website of the airline you are interested in working for. Each airline may have a slightly different application process, so it is important to follow their specific instructions. Generally, the application process may include submitting a resume and cover letter, completing an online assessment, attending an interview, and participating in training.
Being physically fit and having customer service experience can also give you an advantage during the selection process. It is important to remember that there will likely be a high volume of applicants, so persistence and patience will be key as you aim to achieve your goal of becoming a flight attendant. Good luck!  
Check the Requirements
The next step in becoming a flight attendant is to check the requirements for the airline you are interested in. Each airline may have slightly different qualifications, so it's important to go to their website and review the specific requirements.
Fill out the Application Form
This form will ask for your personal information, education, work experience, and other qualifications. It is important to answer all questions accurately and thoroughly as all information will be verified during the background check. Also, be sure to include any additional skills or experiences that may set you apart from other applicants.
Once the form has been completed, it can either be submitted online or sent through the mail to the airline's human resources department. Remember to keep a copy of your completed form for future reference. Completing this step correctly and efficiently is key to making a positive impression on potential employers and moving forward in the hiring process.
Learn More: Korean Air Flight Attendant Requirements and Qualifications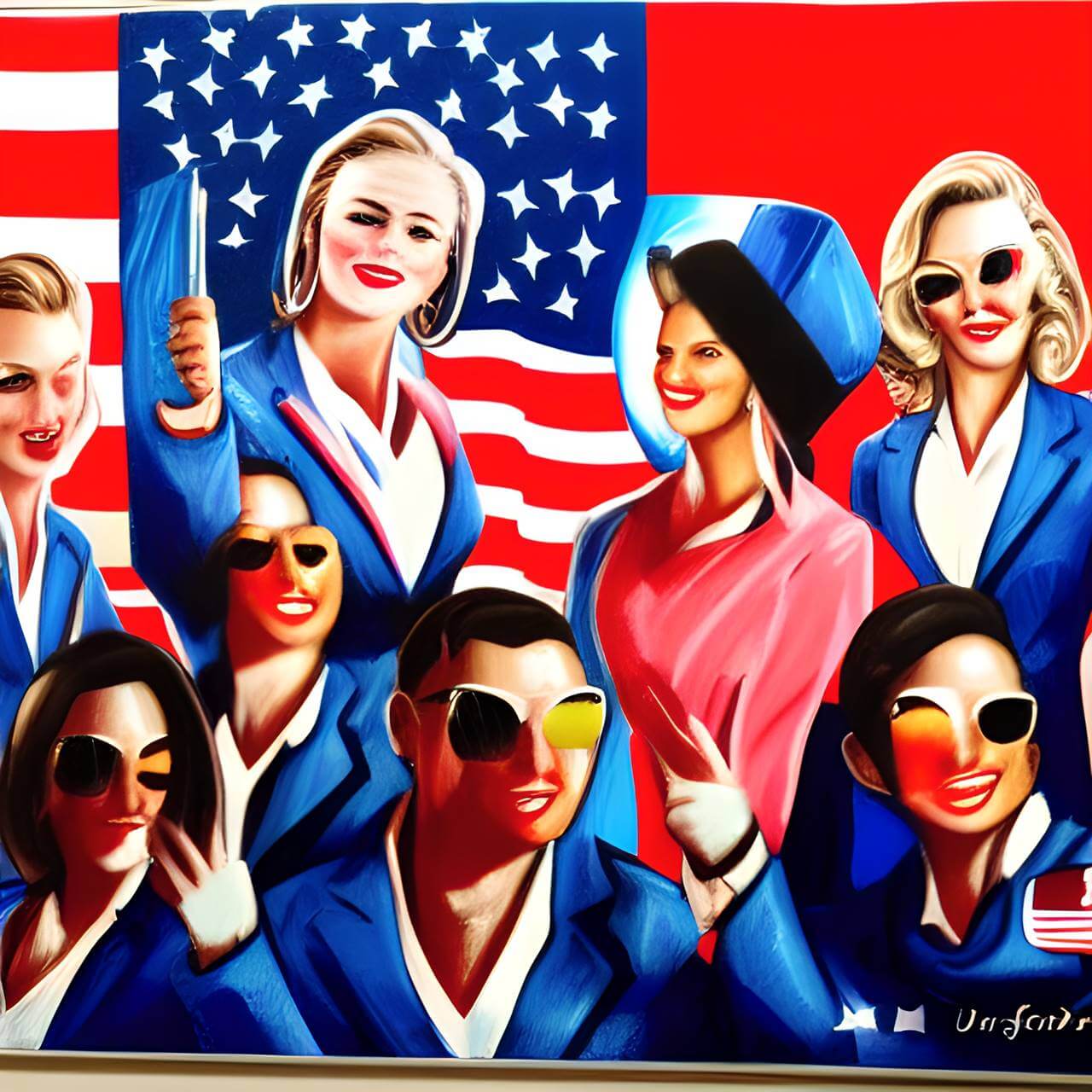 Attend an Interview
Attendance at an interview is the final step in the flight attendant application process. This is your opportunity to showcase your interpersonal skills and demonstrate that you are the best person for the job. When preparing for your interview, it's important to remember a few key things.
Dress professionally and arrive on time.

Be confident and enthusiastic, and have a strong understanding of the airline industry and customer service practices.

Additionally, come prepared with questions about the company or role to show a genuine interest in becoming a flight attendant

As well, be ready to discuss your previous customer service experience and discuss how you would handle common scenarios on a flight.

Finally, remember to highlight any language or special skills that might make you stand out as a flight attendant candidate. 
Attendance at an interview is your chance to impress and stand out from other applicants. Don't miss this opportunity to showcase why you would be a valuable addition to the team.
Learn More: 5-Day Trip to Italy: Milan, Lake Como, and Venice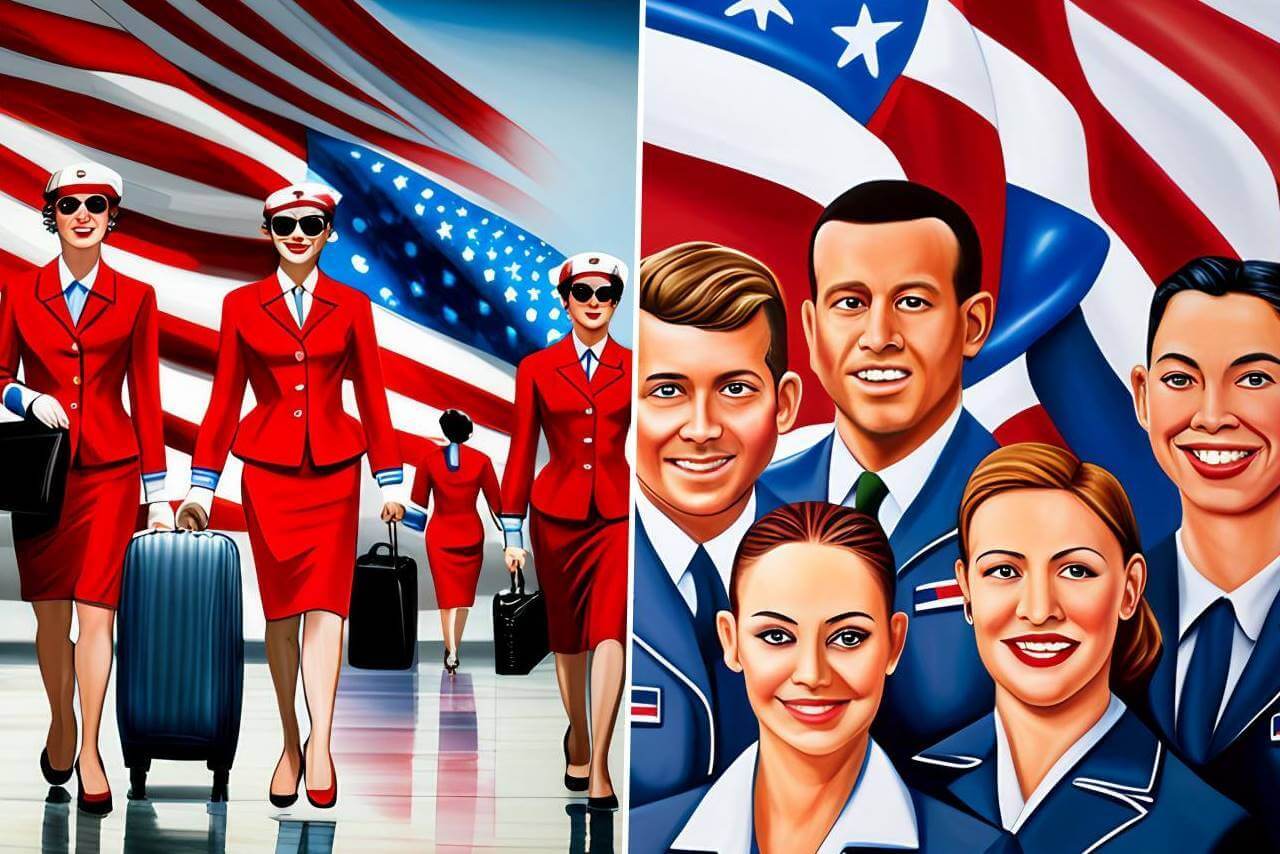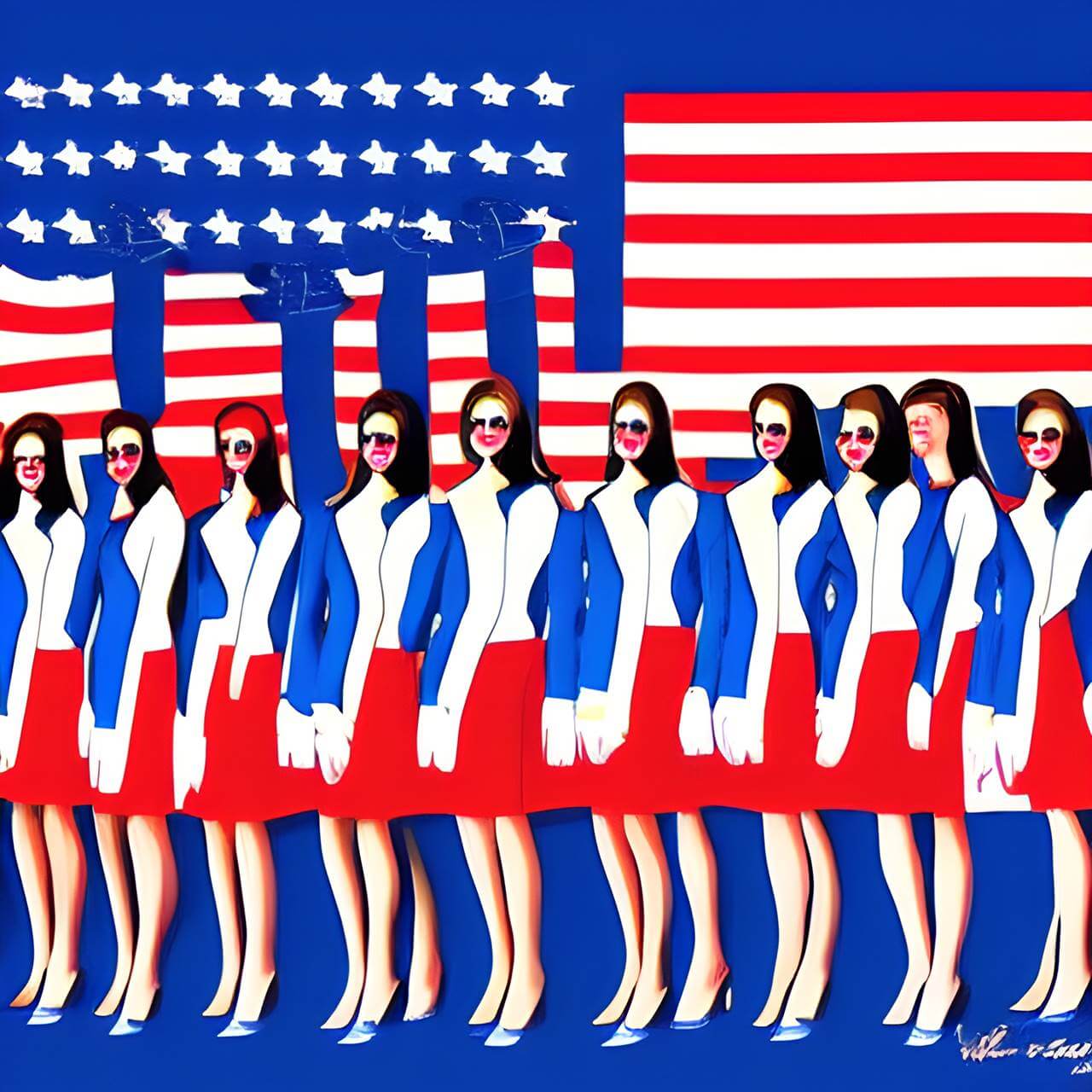 Complete Training
Once you have successfully passed the initial application and interview process, the next step in becoming a flight attendant is to complete training. This typically takes place at a designated training facility and can last anywhere from several weeks to a few months.
During this time, trainees will learn safety procedures, conflict resolution techniques, emergency protocols, first aid, and how to properly serve and assist passengers. Upon successful completion of training, attendants will receive their flight certification and officially become part of the crew. It is important to remember that training does not end upon graduation from the program.
Flight attendants must constantly stay up to date on changes in policy and procedure and undergo regular recertification for certain skills. As such, being a flight attendant requires dedication to ongoing education and professional development.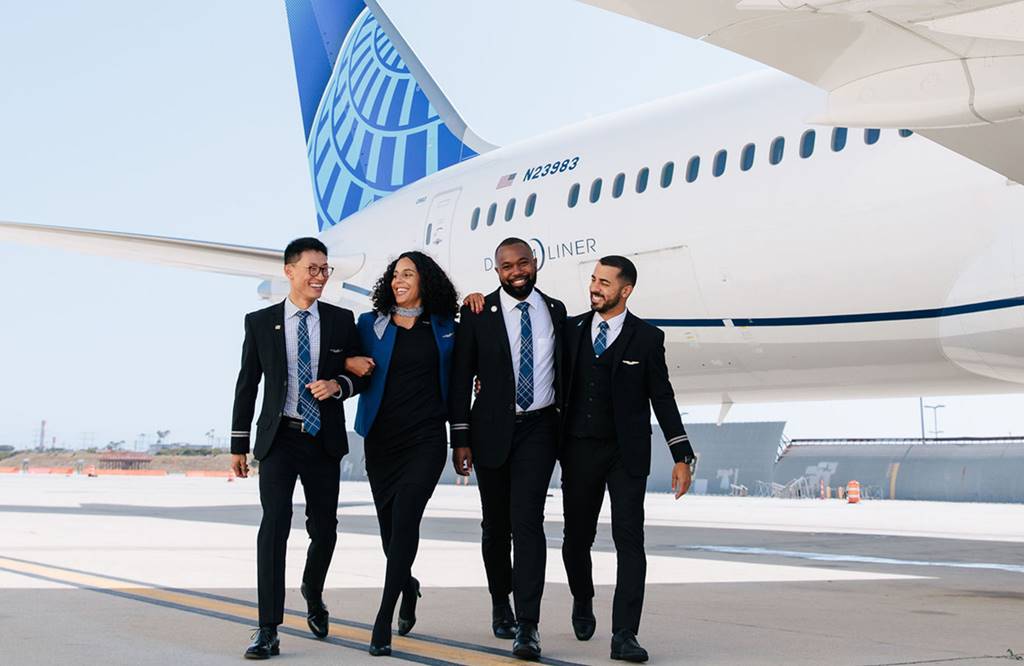 What is the Salary of a Flight Attendant in the USA
The average salary for a flight attendant in the United States is $63,760 per year. This can vary based on factors such as seniority, airline, and location. In addition to their salary, flight attendants also receive benefits such as flight discounts, healthcare coverage, and retirement plans.
As with any job, pay rates also increase with experience and additional training or certifications. To become a flight attendant, individuals must undergo extensive training and be able to handle emergencies and conflicts on board the aircraft.
Despite potential disadvantages such as working irregular hours and being away from home for long periods, the job offers unique opportunities for travel and work-related experiences. Overall, becoming a flight attendant is a rewarding career choice for those who can meet the qualifications and thrive in a fast-paced environment.
Read More: Cabin Crew Interview: How to Sell Yourself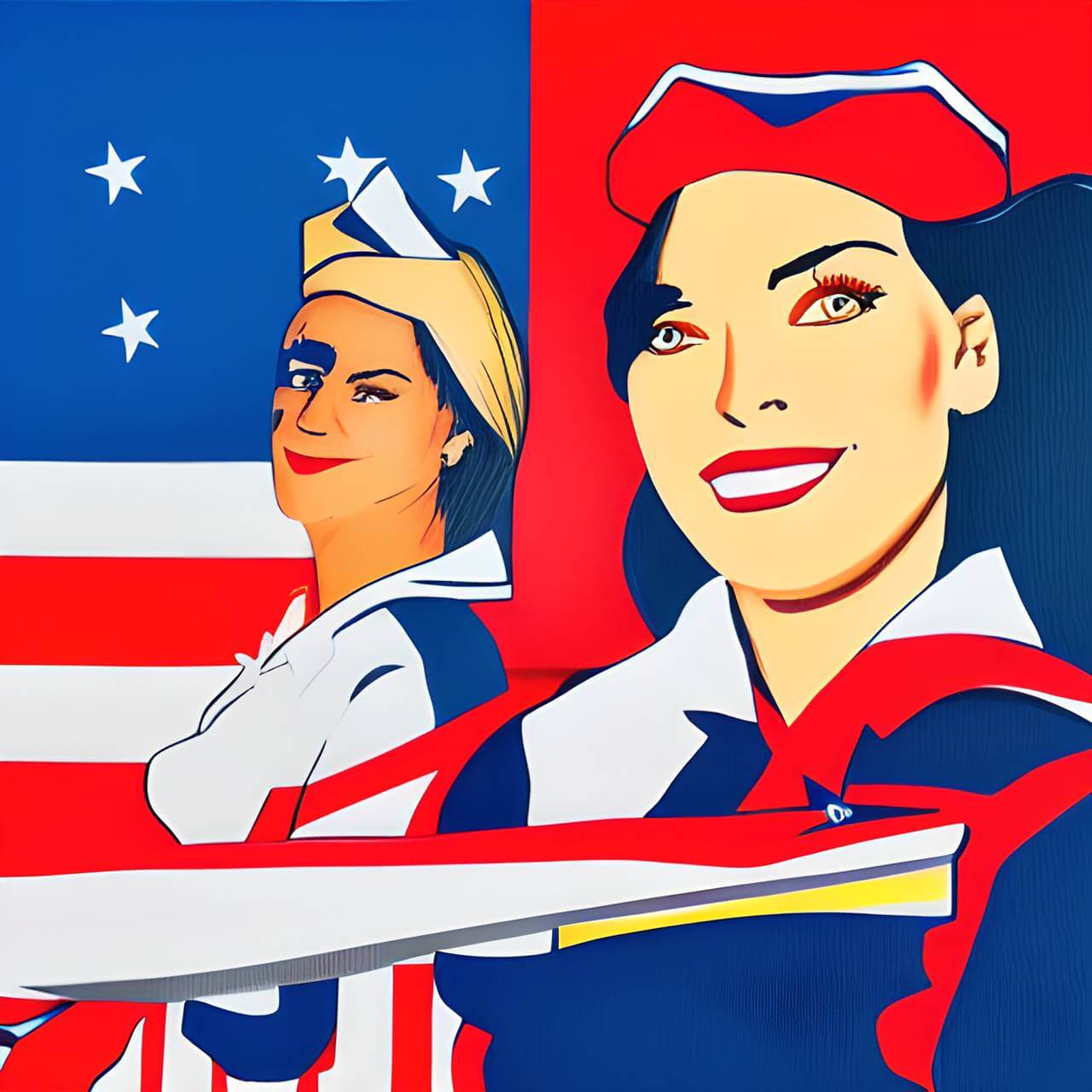 Summary
So, these are the steps you need to take to become a flight attendant in the USA. There is a lot of competition in this field but if you have what it takes then you should go for it. We hope that this article was helpful and informative for you and we wish you all the best in your future endeavors.