Frontier Airlines is a US airline with a strong presence in the domestic market. The company has a modern fleet of aircraft and offers a wide range of services to its passengers. Frontier Airlines is also known for its friendly and efficient flight attendants. If you are interested in becoming a flight attendant for Frontier Airlines, there are certain requirements that you must meet.
Also Read: 5 Common Answers to Why Do You Want to Be a Cabin Crew?
First, you must be at least 20 years of age. You will also need to have a high school diploma or equivalent, as well as a valid passport. Additionally, you must be able to pass a background check and a drug test. Fluency in English is also required, as is the ability to swim. Finally, you must be willing to relocate to any city served by Frontier Airlines. If you meet all of these requirements, then you may be eligible for a position as a flight attendant with Frontier Airlines. Please check out more details and information below.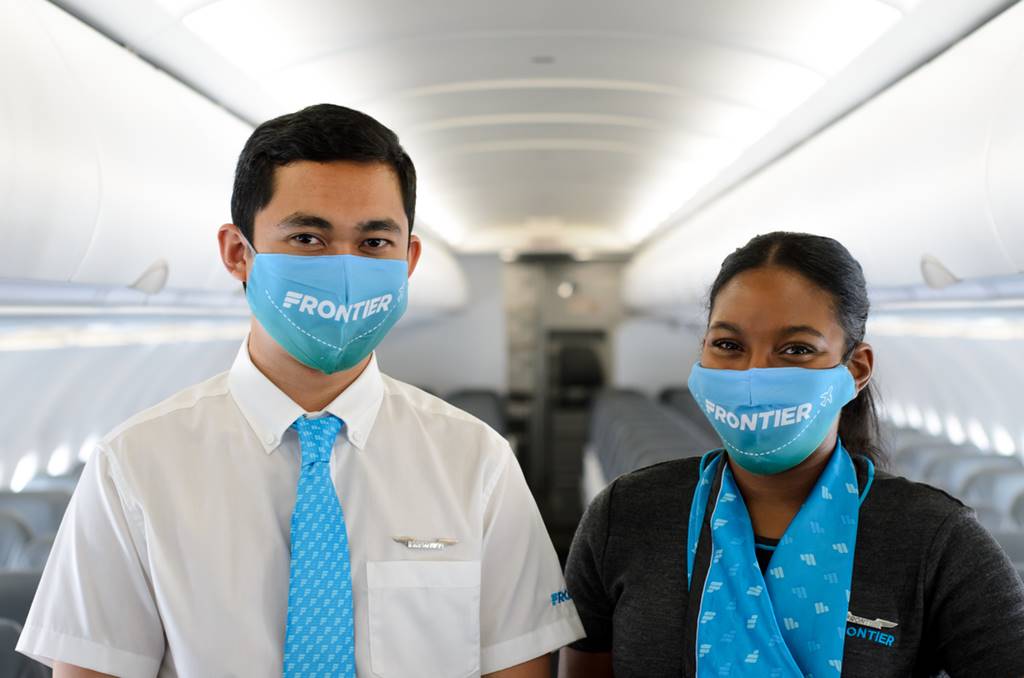 As Frontier boasts of being America's greenest airline, its staff and crew also pride themselves on the company's campaign on bringing awareness to endangered animals. Known for their affordable fares, the cabin crews are still anticipated to "do it right", investing their full capability to assure the passenger's safety. That's why the company strictly hires flight attendants that can administer these two principles in their work ethics.
In a total of 764 routes in 13 countries, Frontier bridges the US to the different parts of the American continent. Since this airline company is estimated to be triple its size by 2029 than it is now, hundreds of flight attendants and other cabin crews are being hired to accommodate the growing airline bases. Listed below are the qualifications and other information you need if you aspire to be a Frontier Airline flight attendant.
List of Requirements and Qualifications to become a Frontier Flight Attendant
Firstly, all applicants must be fluent in English, both verbal and written. Furthermore, Frontier requires interpersonal and communication skills, and optimistic composure to warmingly welcome the passengers on board.
At least a High school graduate or have a GED certification
At least 20 years old
1 to 2 years of customer service experience is advantageous
Valid passport
Eligibility to travel to all bases accommodated by Frontier Airlines
Professional demeanor
Ability to accommodate both international and domestic flights
Flexibility to work on different shifts, holidays, weekends, and extended time period
Willingness to move into the assigned location
Proof of Vaccination
20/20 or sufficient vision
Physical strength to operate equipment and emergency exits, lift luggages, and execute safety procedures
Ability to adapt to changing locations, climate, and fast-paced working environment
Capacity to handle stress and talk in a calm manner to reassure passengers during unfortunate circumstances
Endurance to long hours of working or standing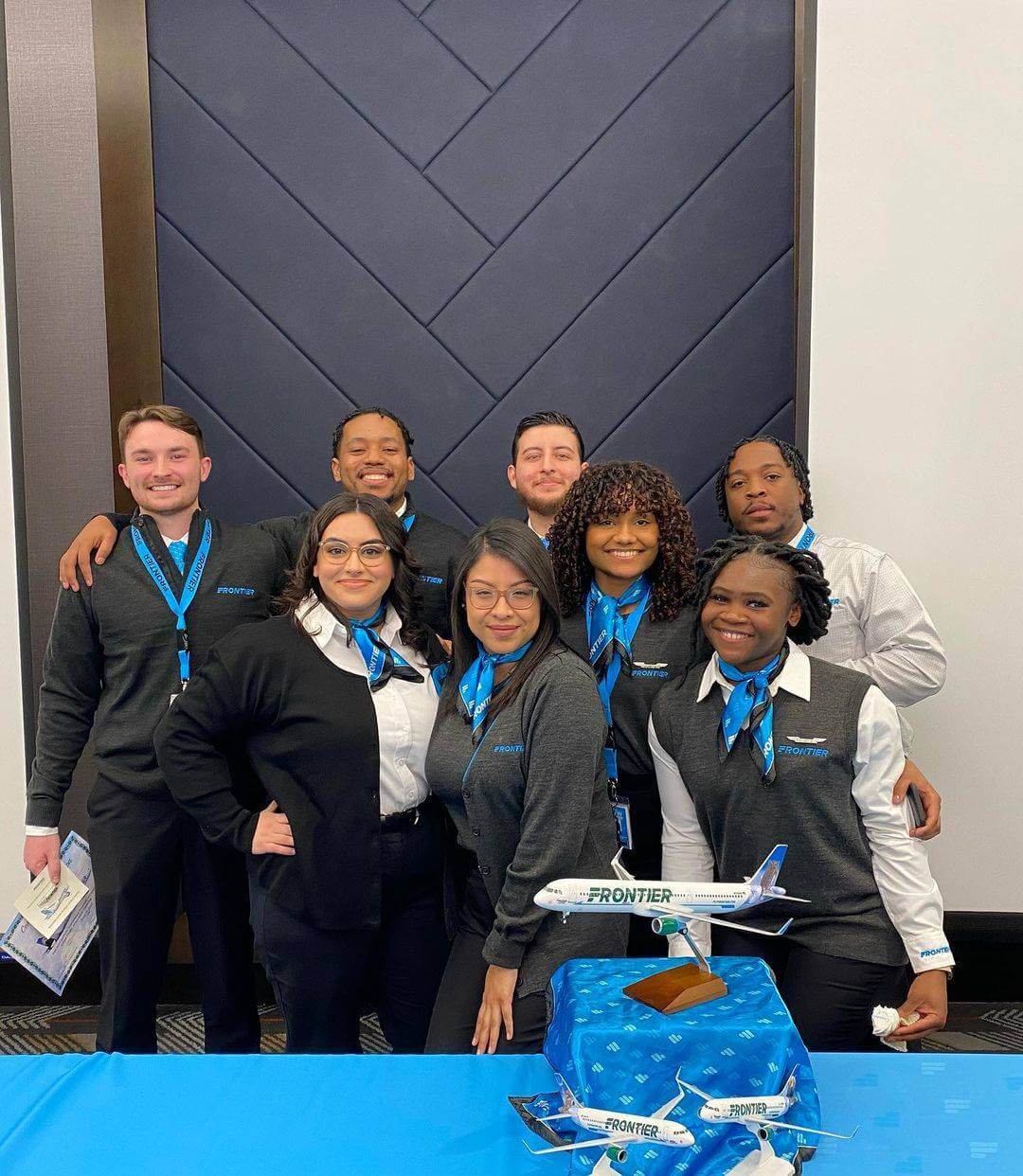 Application Process
Here is an overview of the application process to become a cabin crew member of Frontier Airlines:
Step 1. Submit your resume online
Visit the website: https://www.flyfrontier.com/careers/flight-attendant and click apply now to get started. You need to first sign up for an account in order to apply and submit your resume.
Step 2: Prepare for anOnline Interview
Upon assessment, Frontier airlines will then schedule an online video interview of 15-20 minutes to evaluate your personal and work experiences.
Step 3: Attend an In-person hiring event
An in-person interview will be arranged by the company to further assess your skills and decide whether you qualify for the job. Don't forget to do research prior to the interview. Most importantly, come dressed in professional attire.
Step 4: Get ready for a Training Program
After acing the interviews, you will proceed in a 3 and half-week training program in Cheyenne Wyoming.
Step 5: Graduation
At last, you are now a flight attendant. This graduation marks your new beginning as a member of frontier airlines.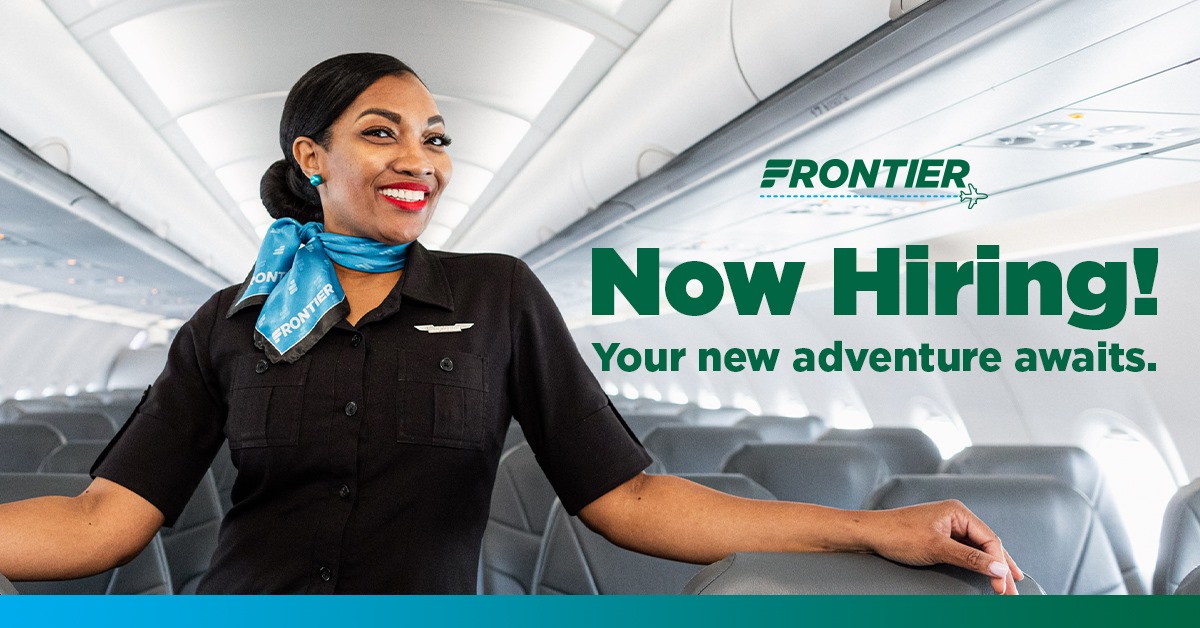 Salary and Benefits
Base salary of $25 per hour on starting employees
Total Rewards program inclusive of 401(k) plan, short and long-term incentives, vacation leave, sick leave, paid holidays, medical, vision, and dental insurance.
Flight benefits for the employees and their families at Frontier Airlines
Guest passes for friends and loved ones
Discounts on hotels, cruises, car rentals, and other perks on the travel sectors
Discounts on baggage, dining, electronics and over 2,000 other services and products
Travel Packages
Experience a "dress for your day" policy
Recipient of nonprofit charitable organizations such as the HOPE league of Frontier Airlines that are intended to support and give financial assistance to employees during calamities
Read More about the salary expectations here – Frontier Airlines Flight Attendant Salary and Benefits
Video: Frontier Airlines Interview Questions for Flight Attendant Job
Check out this video featuring some interview questions for an applicant to apply as a cabin crew for Frontier Airlines
https://www.youtube.com/watch?v=UkehiWrWrig
According to the applicant, the video interview started with basic questions such as "Are you willing to relocate" and "Do you have a valid passport" and then proceeded with the 4 main questions which include:
How do you deal with a customer with unrealistic demand?
What was your experience of most rewarding customer service and what made it so rewarding?
How did you positively influence the action of someone with others?
How would you describe Frontier to someone who doesn't know about the company?
The applicant was given 20 seconds to prepare and 2 minutes to answer with no retakes. We hope this gives you a better insight into the interview questions being asked to cabin-crew applicants who get shortlisted.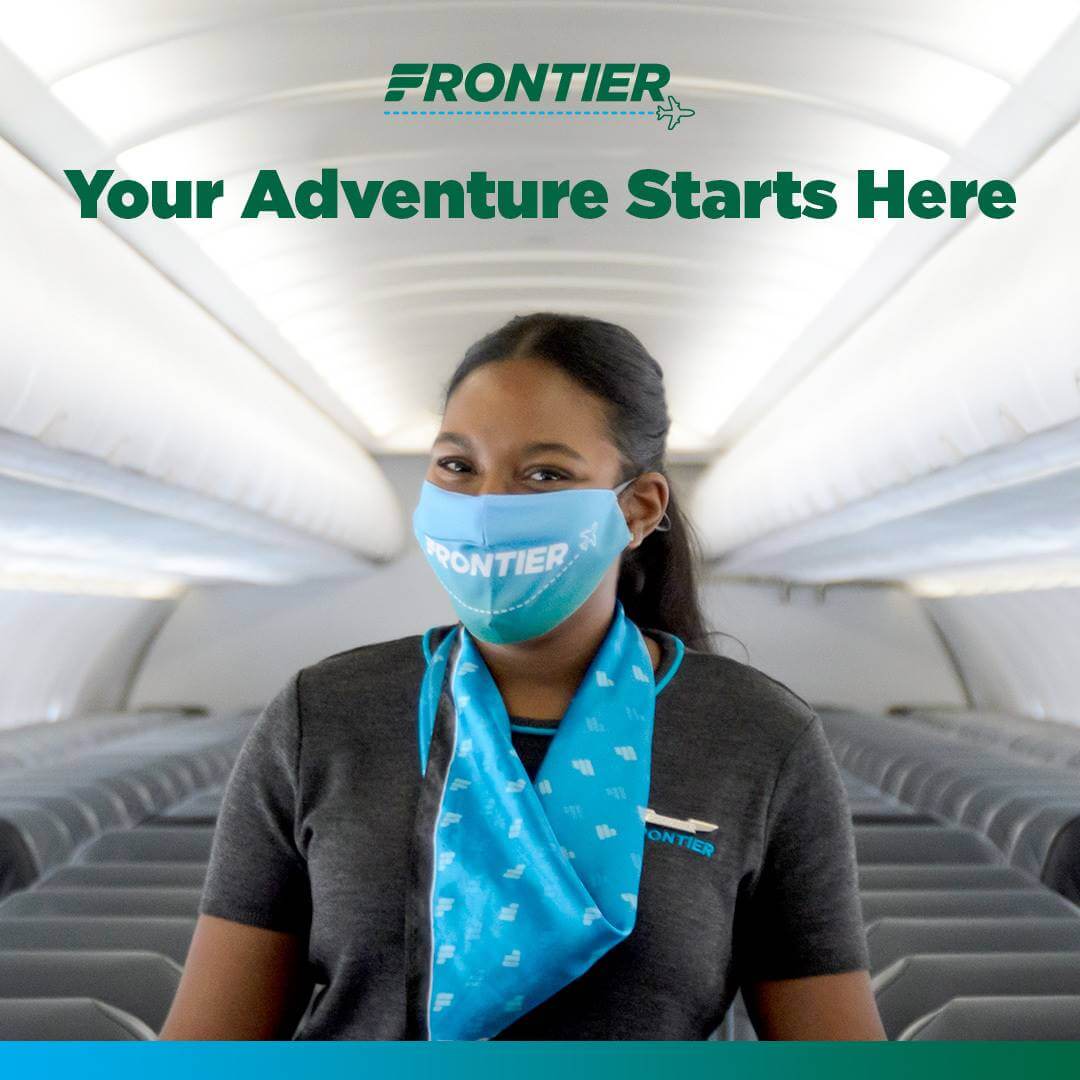 Photos: Frontier Airlines Cabin Crew Uniforms
Check out these pictures of Frontier Airlines crew so you can see what they look like in uniforms:
Frequently Asked Questions
Here are some common questions about the requirements for Frontier airlines flight attendants.
1. Does Frontier Airlines allow piercings and tattoos?
Multiple piercings are not allowed. Applicants must not have visible tattoos (mid-thigh to toes, shoulder to fingertips, neck and chest area, behind the ears) while wearing the Frontier Airlines uniform. Additional clothing or bandage to cover the tattoos will lead to disqualification
2. Is the Frontier training program in Wyoming paid?
Although you will not receive a salary during this training, it will still save you money from paying tuition on flight attendant institutions.
3. Will I be given regular work after graduation?
New flight attendants will be assigned regarding the airline base's staffing and vacancies, meaning you will be on reserve (on call). You will have to wait for a few more months/years to build experience and seniority, and a regular work schedule. Eventually, you will be able to mostly select the flights and time period you desire as well as a higher salary rate.
4. What are the factors that might affect my salary?
Your salary primarily depends on the number of hours you fly each month (inconsistent). The number of years you've served on Frontier will also increase your hourly rate.
5. How many hours do I get to fly each month?
While you are on reserve, you will be guaranteed 75 flying hours without meal allowance and a regular schedule regardless if you fly less than that. If you've served for more than 75 hours, then you will be paid for all the amount of hours. However, if you are on a line, you will be given scheduled trips for the month, where you can request your desired flying hours.
Summary
Frontier Airlines might be seen as a small low-cost operator but it will indeed open doors to new opportunities as you start your flight attendant career. The product of your journey, whether you are accepted or not, can serve as a stepping stone to continue your years in the company or look for possible alternatives.
I hope this brief article helped you gain insights and decide if Frontier is for you. Always remember that the utmost priority of all flight attendants is the safety of everyone on board.