Vueling Airlines is always searching for young, talented and dynamic individuals to join their ever-growing cabin crew team. If you think you have what it takes to be a part of Vueling Airlines, then it's good to apply for the position. The first step in applying for a Cabin Crew position with Vueling Airlines is to fill out an online application form. Once your form has been submitted, a member of the recruitment team will review your application and get in touch if you are successful in being shortlisted for an interview. The interview process is designed to assess whether you have the skills and personality required to excel in the role of Cabin Crew. If you are successful at interview, you will then be invited to attend a training course that will prepare you for your new role. So if you think you have what it takes to become a part of the Vueling Airlines family, make sure to apply today!
Also Read: How to Answer: Why Do You Want to Work for our Airline?
If you're thinking about becoming a cabin crew for Vueling, the whole process may be confusing. Here we'll be giving you the ultimate guide on becoming a cabin crew member of Vueling Airlines. We'll discuss monthly salary, benefits, qualifications, and more.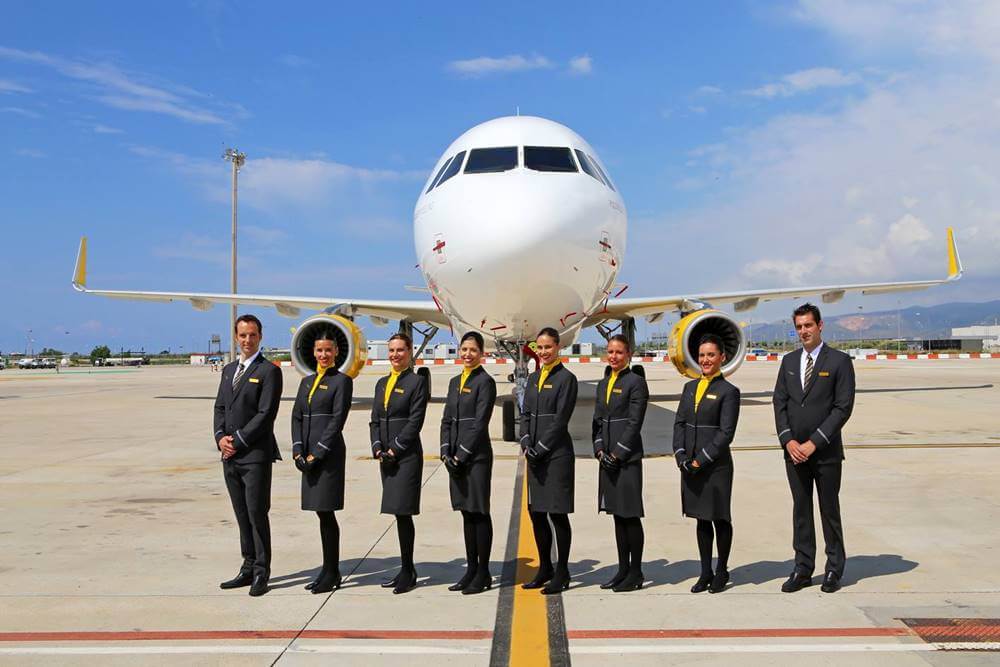 Overview
Vueling, based in Barcelona, is the airport's leading operator, accounting for 36 percent of the market. On July 1, 2004, the airline began its operations with two Airbus A320 aircraft, four destinations, and a mission to provide outstanding customer service at low fares.
British Airways, Level and Iberia, and Aer Lingus are International Airlines Group (IAG) members. Last year, the IAG carried over 100 million passengers, making it one of the world's biggest airline groups. It's Spain's largest airline by the number of destinations and fleet size.
With an inventory of more than 110 aircraft, including A320, A319, and A321 versions, Vueling links El Prat airport to over 160 destinations.
The airline's operational bases are Charles de Gaulle's, the second hub of Rome-Fiumicino, Amsterdam-Schiphol, and Paris-Orly. It is the primary first carrier in numerous Spanish airports, including Asturias, Bilbao, Menorca, and Galicia.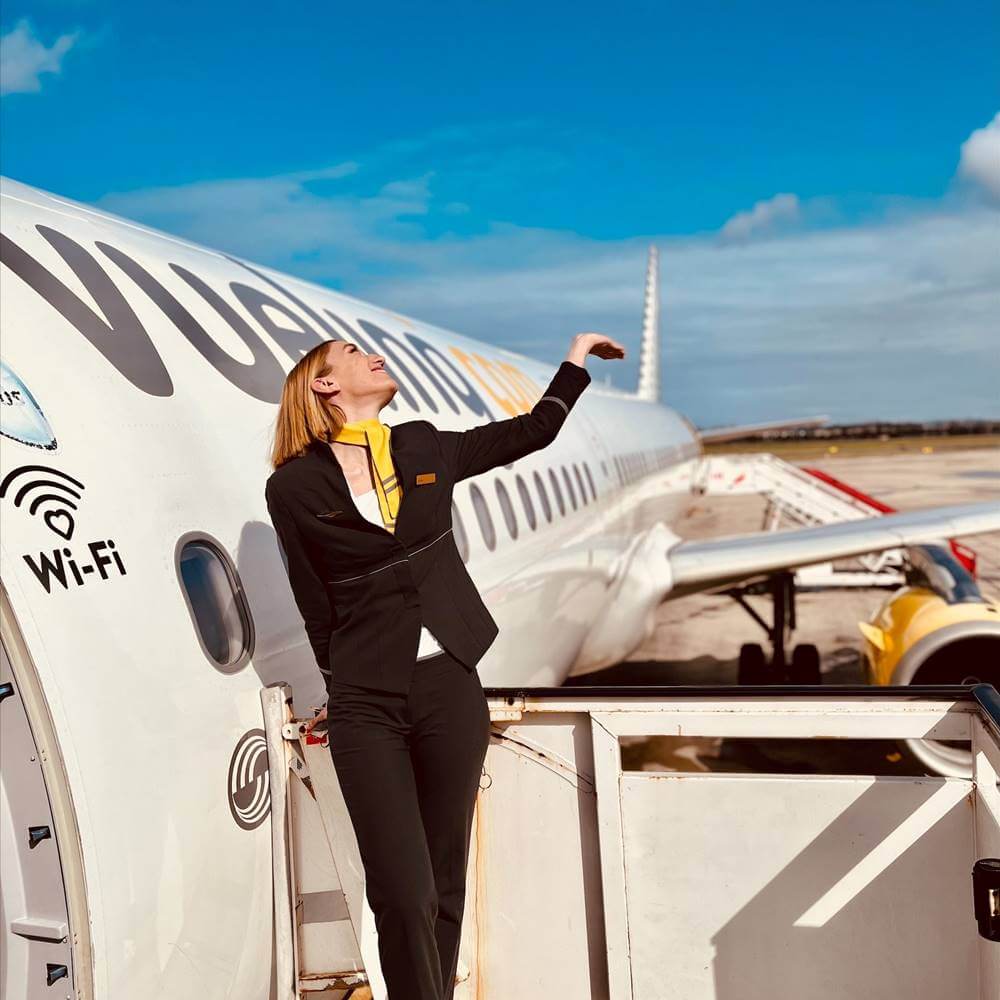 Responsibilities
Seeing you've clicked on this article means you're interested in becoming a flight attendant. Before going any further, the most critical question we should ask ourselves is, "What exactly does a flight attendant do?"
Before going for the job, you must understand what you're putting yourself into. This means having a greater understanding of what being a flight attendant would mean. You must know what you'll be doing for your clients and what you'll be preparing, practicing, and doing before, during, and after the flight.
If you're still confused about what you'll be doing should you get chosen for the job, read the list below and decide whether this job is something you can do.
When you talk or write, you should be able to hear and understand information.
Understand and use standard operating procedures, safety protocols, and crew cooperation.
You must be a team player, self-manager, and eager to grow.
You're required to have thinking skills. Problem-solving attitude and decision-making are examples of this
You must ensure passenger safety and remain in control in all situations during the flight.
Must have a positive outlook
When things go awry, you should be able to remain calm and joyful
You must have excellent communication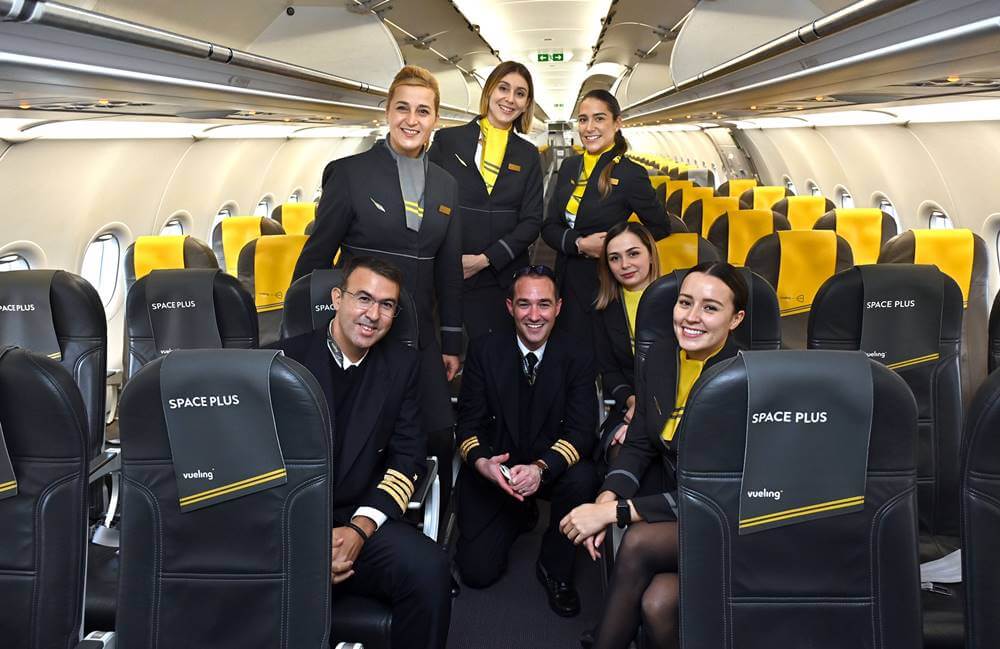 Qualifications
Now that you've taken note of what it means to be a flight attendant of Vueling Airlines, it's time to see if you're qualified. No matter how qualified you think you are because of the responsibilities, the company would still have a set of requirements that you'd have to follow. If you fail to meet them, you won't get accepted.
So before applying, be sure you've met all the qualifications the company requires of its applicants. In doing so, you'll be able to save both your time applying and their time reviewing your application. Both sides would benefit when proper research is practiced.
You should have the legal right to work in Europe.
Candidates who have participated in the Vueling recruitment process within the last six months are not eligible to apply.
The minimum age is 18 (eighteen).
A-Levels or something equivalent to this is the minimum educational requirement.
Attestation from valid cabin crew. As of November 2021, Vueling is only hiring experienced Cabin Crew members.
Outstanding client service
Medical certificate for EASA Class 2 cabin crew
Well-groomed
Fluency in English and other European languages such as German, Italian, Spanish, and French is preferred.
You must have no previous criminal history.
Availability to work on any Spanish base
Must be flexible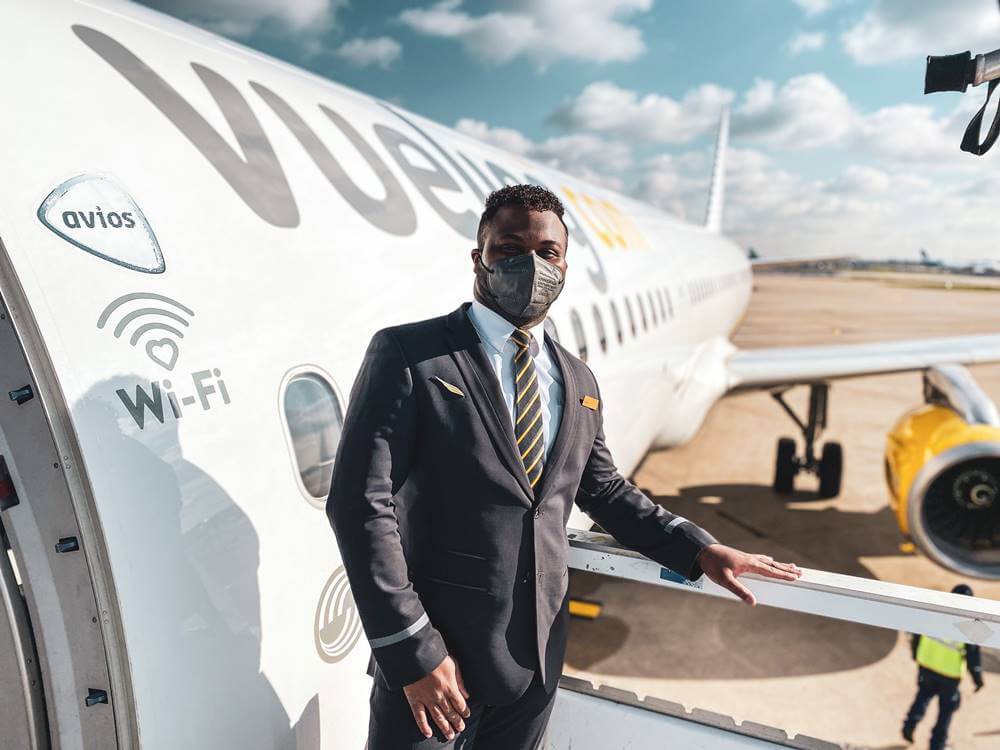 Document Requirements to Prepare
Be sure to take note of the requirements we'll be placing below. Ensure that you'll have a copy of these papers since the airline would be asking you to submit them as verification that you qualify and meet their expectations.
Note that submitting incomplete requirements would more or less prolong your application process and lower your chances of getting hired if not completely rejected. So be sure that before submitting your application, you have filled out and submitted all the documents you're required to submit.
Birth certificate
Valid passport
Updated dental and medical records
Updated criminal record
High school diploma or an equivalent of it
Medical certificate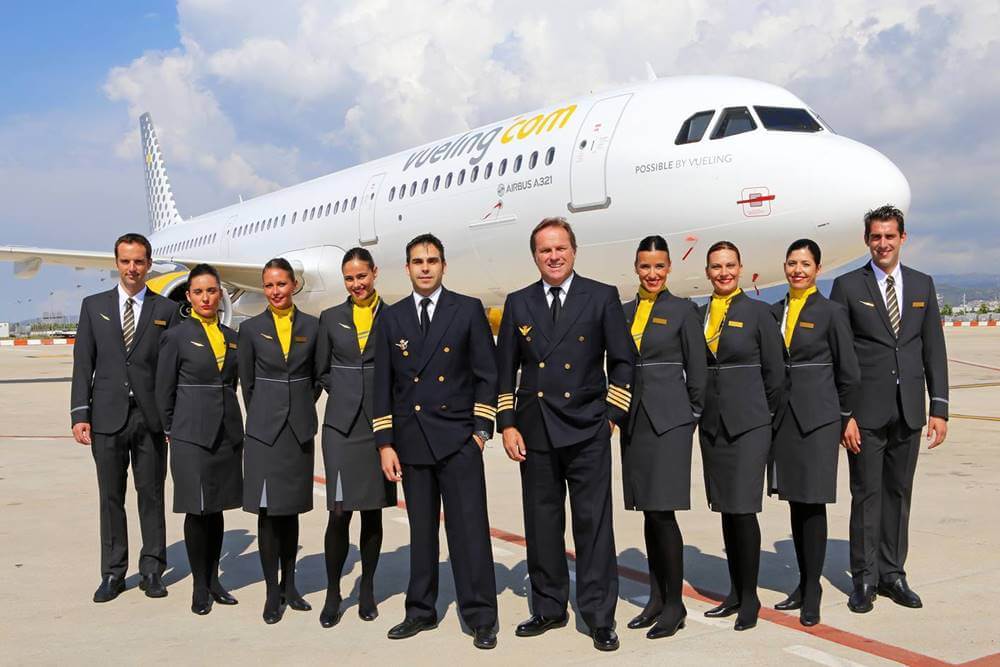 Where to Apply for a Job for Vueling Airlines Online
If you want to learn more information regarding their whole application process, be sure to visit their careers page down below. Here, you'll be able to stay updated on changes regarding job vacancies, application processes, and more.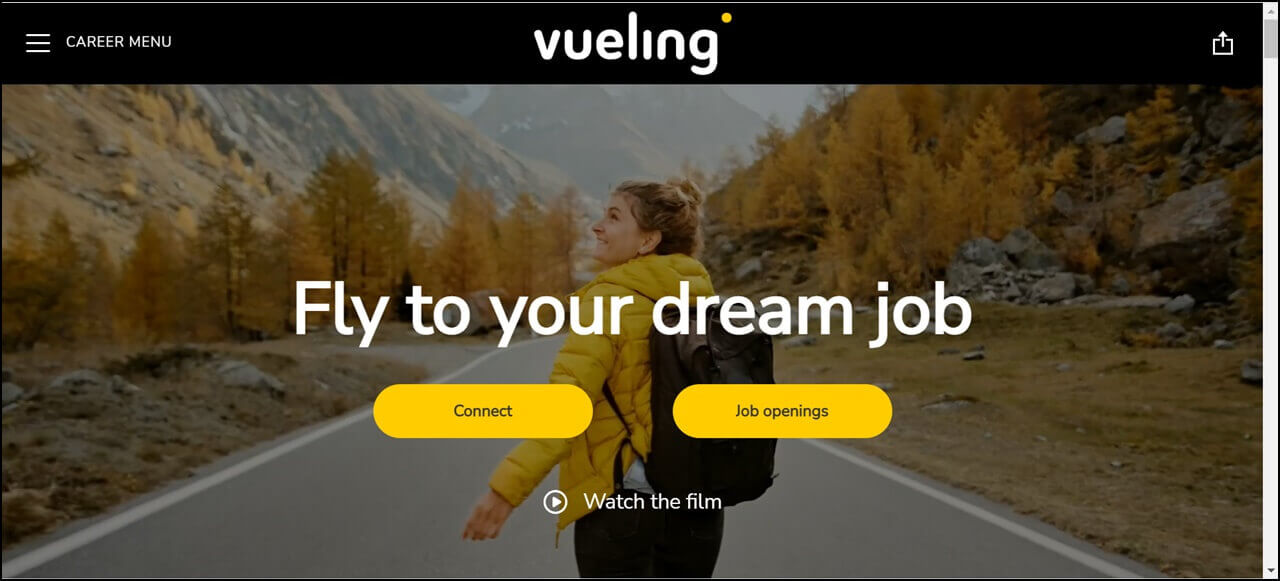 Be sure to check them from time to time so that you can update yourself on any changes as fast as possible. It would also be easier for you to make the necessary changes should there be any.
How to Become a Cabin Crew for Vueling Airlines
Just like any job hiring, one must follow the process of application to have a seamless job application experience. An aspiring Vueling Flight Attendant is expected to do the following:
Step 1: Go to their careers website.
Click on the connect with us button, and you'll be redirected to a new page where they'll ask about your interests.
Step 2: Look for the available job that you'd like.
Once you've been redirected, they'll be giving you a list of jobs to choose from.
Step 3: Apply for the job.
After choosing, go ahead and apply. If the job isn't available, the website will let you know in the future if there will be openings as long as you give your email.
Step 4: Submit the requirements.
If your job is there, you can submit all the necessary documents they're asking of you.
Step 5: Wait for the company to reach out.
After submitting, you can visit the website to track where your application is currently.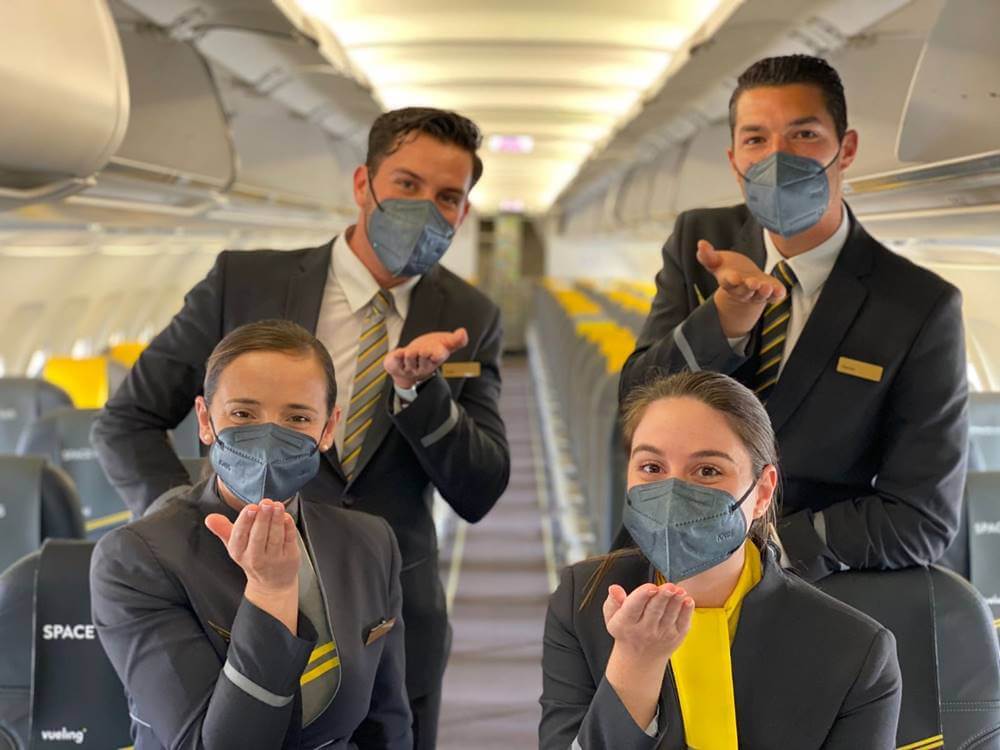 Monthly Salary of a Vueling Airlines Flight Attendant
In terms of salary, Vueling Airlines can give enough for its employees to live comfortably. For flight attendants who are just starting, the most basic pay you could receive would be $1500 every month. This can more or less increase as long as you continue to show loyalty and outstanding service to your clients and rise the ranks.
Moreover, the company also gives plenty of benefits that can significantly help the cabin crew. The benefits would include:
Travel discounts from Vueling and other airlines
Flexible meals, daycare, transportation, training, and medical insurance advantages
Discounts on sports, fashion, and technology, among other things
Cafeteria for the staff
Video: Vueling Cabin Crew New Uniforms
Please take a look at this short video where Vueling Airlines discusses its new cabin crew uniforms. This is perfect for those of you greatly interested in applying, as you can get an idea of your future cabin crew uniform.
The video above shows the new Vueling cabin crew uniform, which was released in early 2019. The new uniform is inspired by the airline's home city of Barcelona, and features a more modern and stylish look. The new uniform is available in both men's and women's sizes, and can be purchased online from the Vueling website.
Photos: Vueling Flight Attendant Photos
Check out these beautiful pictures of Vueling Flight Attendants in uniform. If you wish to picture yourself being a part of this company, check out these photos to give you an idea about working for this airline:
Frequently Asked Questions
Now here are the frequently asked questions about Vueling and the application process for the company's flight attendants:
1. What is the minimum age required to apply to Vueling Airlines?
You should be at least 18 years old before applying to Vueling Airlines.
2. What is the minimum height allowed to apply in Vueling Airlines?
You should be at least 5'2 to be allowed to apply.
3. What is the minimum educational attainment required to apply to Vueling Airlines?
You are required to at least be a high school graduate or something equivalent to this.
4. How much is the salary given to Vueling Airlines flight attendants?
Vueling flight attendants are given a basic pay of $1500 monthly.
5. Can the salary increase?
Yes, your salary can increase over time.
6. Does Vueling Airlines give employee benefits?
The company does give benefits such as travel discounts, dental and medical insurance, transportation, daycare, and much more.
7. What languages are you required to know before applying to Vueling Airlines?
You must be fluent in English, while other languages such as German, Italian, Spanish, and French are considered a plus.
8. If your application was rejected, are you allowed to apply to Vueling Airlines again?
You can apply again so long as you have not participated in the Vueling recruitment process within the last six months.
9. Does Vueling Airlines provide cabin crew training to its employees?
Yes, they do.
10. Do you have to pay for the Vueling Airlines' cabin crew training?
Yes, you have to pay $2,605 for cabin crew training.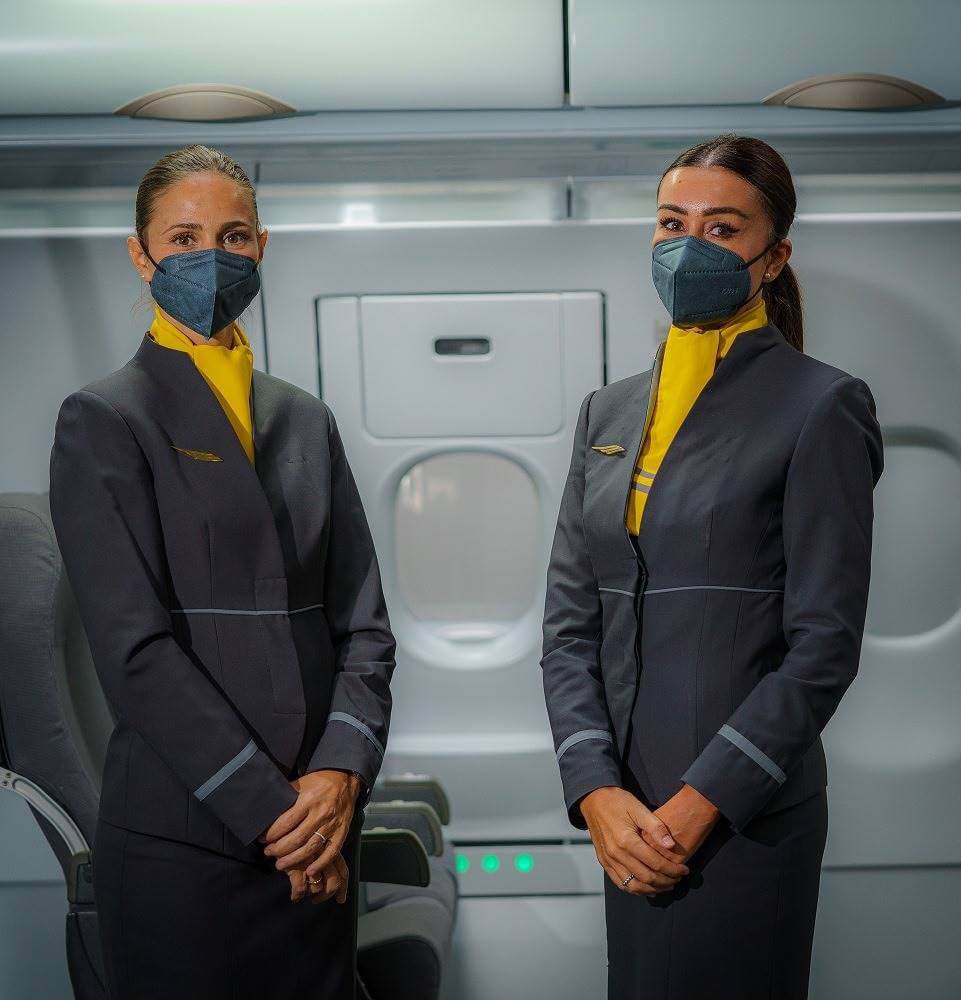 Summary
There's no easy path to achieving your dreams. Whatever career you want to pursue, obstacles will always be along the way. Nevertheless, the most important thing is you never give up. As long you have hope and put in the hard work, you'll eventually get to where you're striving to be.
Things may not go as you plan but believe in yourself, and you'll get your hands on your cabin crew dreams. All this being said, we hope this guide has given you an idea of what you need to do to reach those goals. Keep working hard, and we wish you luck!
Contact Information
VUELING AIRLINES
Address: Parque de Negocios Mas Blau II Pla de l'Estany, 508820 El Prat de Llobregat – Barcelona, Spain
Telephone Number: 00 34 931 51 81 58
Website: https://www.vueling.com/en
Facebook: https://www.facebook.com/vueling.eu/
Instagram: https://www.instagram.com/vueling/?hl=en
Twitter: https://twitter.com/vueling