A job interview is an art of selling. The art of selling yourself. The better you are at it, the more likely you are to get the cabin crew job you want.
Think about it this way: when you go for a job interview, the airline is essentially buying what you're selling – they're buying your skills, your experience, and your potential. Just like any other buyer, they want to know that they're getting a good deal. They want to know that you're going to be an asset to their company and not a liability.
Some people are born salespeople. They can sell ice to an Eskimo. But for the rest of us, selling ourselves can be a daunting task, especially when it comes to a cabin crew job interview.
The good news is that there are some tried and tested techniques that you can use to give yourself the best possible chance of success.
Before you even step foot in the interview room, it is essential that you do your research. This means finding out as much as you can about the airline you are interviewing with.
What is their cabin crew culture like? What are their values? What sort of cabin crew do they look for? The more you know about the airline, the better you will be able to sell yourself as the ideal candidate.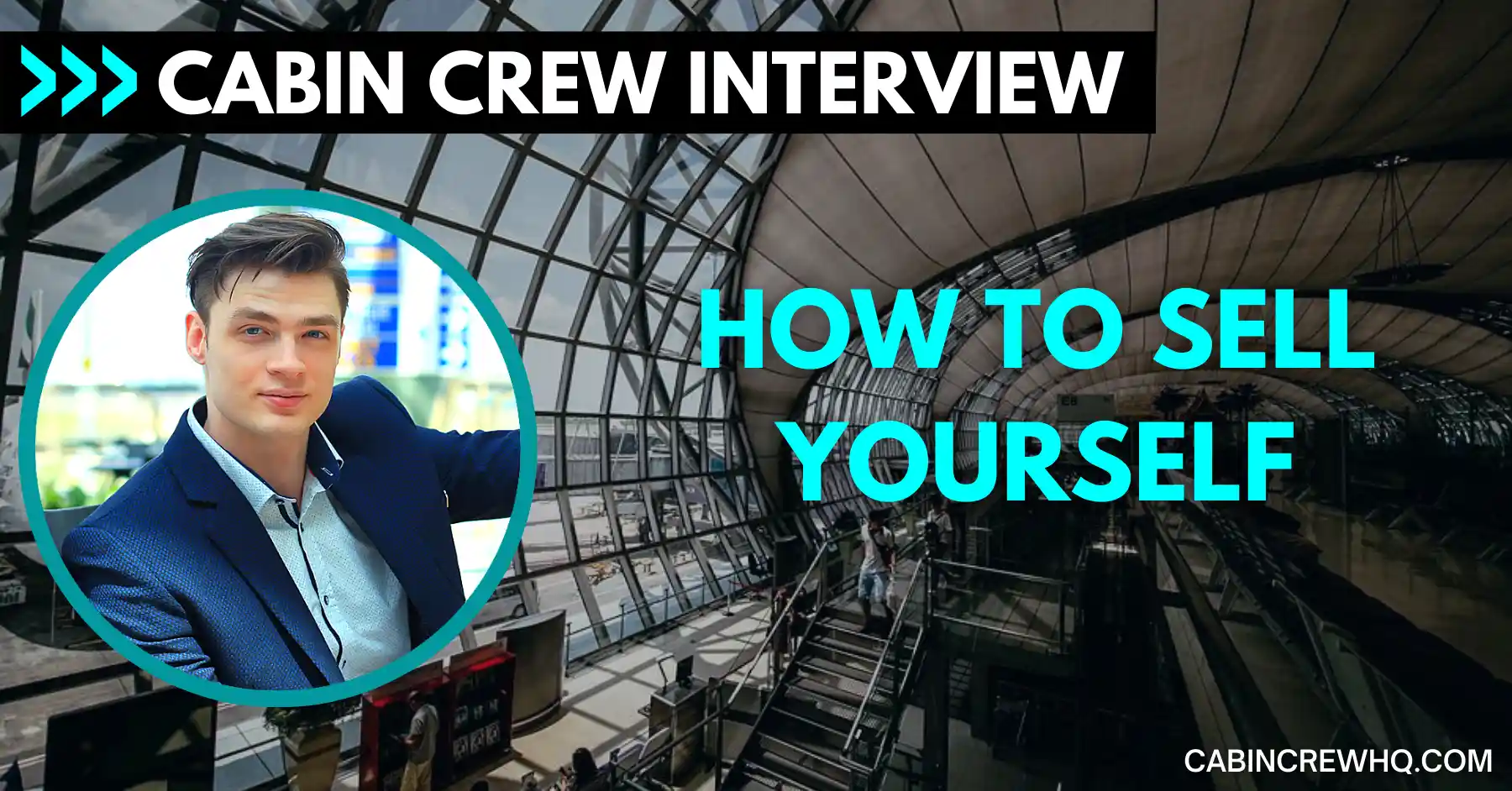 So how do you sell yourself during a cabin crew job interview?
The first thing you need to do is understand what the airline is looking for. Every airline is different, but there are some key qualities that all cabin crew employers look for. These include:
A positive attitude
Good customer service skills
The ability to work well under pressure
The ability to think on your feet
A good level of physical fitness
Once you know what the airline is looking for, you need to make sure that you highlight these qualities in your interview. Talk about times when you've displayed these qualities in the past, and give specific examples of how you would handle different cabin crew scenarios.
Aside from selling yourself, a flight attendant interview is also an opportunity where you can show that you understand the cabin crew role. The airline wants to know that you understand what cabin crew does, and that you're up for the challenge. So make sure you're well prepared before your interview, and be ready to answer any questions the interviewer might have.
What does it mean when you sell yourself for a cabin crew job role?
The term 'selling yourself' is often used in job interviews and it simply means promoting your skills, qualities, and abilities to the interviewer in order to show why you would be the best candidate for the cabin crew role on offer.
Think of it like this: if an airline was recruiting cabin crew and they could only hire one person, they would want to know everything about you before making their decision. This is where you need to do some serious selling!
You will likely only have around 30 minutes to sell yourself during a cabin crew interview, so it's important that you make the most of this time.
How to Give a Positive and Memorable Response
Please take note that a job application is also a sales process. You have to sell yourself to the prospective buyer (the interview/airline company).
When you are asked about your strengths, it is an opportunity for you to talk about what makes you unique and how that can benefit the company.
So how do you do this? Here's a guide to give a good answer:
1. Match the needs of the airlines.
Take a look at the flight attendant job description and match your strengths to what they are looking for. This shows that you have carefully read and understand the job requirements and that you possess the qualities they need.
Be specific. When you talk about your strengths, give examples of how you have used them in the past and how they have helped you achieve success.
This will make your answer more convincing. Use positive words. Choose positive words to describe yourself such as "reliable," "hardworking," "resourceful," etc. This will help create a good impression on the interviewer.
Avoid using generalities. Generalities such as "I'm a people person" or "I work well under pressure" are not as impactful as specific examples. It's better to give a specific example that illustrates how you used your strength to achieve success. Be confident. Believe in yourself and your abilities. This will come across in your answer and make the interviewer more likely to believe in you as well.
2. Solve their problem.
In addition to highlighting your strengths, you should also focus on how you can use them to benefit the company. For example, if the airline is looking for flight attendants who can handle difficult situations well, you could talk about a time when you diffused a tense situation onboard.
Or if you don't have cabin crew experience, you can cite examples of your previous jobs. Let's say you worked in a restaurant, you can talk about how your experience dealing with customers helped you develop strong people skills.
3. Connect with them on an Emotional Level.
In order to really stand out, it's important to make a connection with the interviewer on an emotional level. This can be done by sharing a personal story or experience that is relevant to the discussion. For example, you could talk about how your previous job in a restaurant as a host has helped you develop people skills while managing difficult complaints and inquiries.
You should, therefore, take some time to think about your flight attendant's strengths before the interview so that you can give a well-thought-out answer when asked this question.
Why You Should Sell Yourself when Applying as a Flight Attendant
There are a few reasons why it's important to sell yourself during a job interview for a cabin crew position:
1) It shows that you are interested in the job and have taken the time to research the company and the position.
2) It demonstrates that you are confident in your abilities and have the skills necessary for the job.
3) It helps the interviewer get to know you better and see how you would be a good fit for the company.
4) It can help you stand out from the other candidates.
So, if you want to make a good impression and increase your chances of getting the job offer, make sure to sell yourself during the interview!
9 Do's and Dont's during a Cabin Crew Interview
1) Do your research. It is important to know as much as you can about the airline company you are applying for. This shows that you are genuinely interested in working for them and not just any cabin crew position.
2) Dress to impress. If you are serious about applying for the job, you have to make sure that you are well-groomed and professionally dressed for the interview.
3) Be confident. Cabin crew interviews can be quite daunting, but it is important to remember that the interviewer is just trying to get to know you better. So relax and be confident in yourself.
4) Don't badmouth your previous employer. If you are asked about your previous job, avoid badmouthing your previous employer. Instead, focus on the positive aspects of your experience and what you have learned from it.
5) Be prepared to answer questions about your experience. The interviewer will most likely ask you about your previous work experience, so it is important to be prepared to answer these questions.
6) Don't lie. It is important, to be honest during the interview process as cabin crew members are expected to be truthful at all times.
7) Ask questions. Asking questions shows that you are interested in the position and that you have done your research about the company.
8) Be positive. Always remain positive throughout the interview process and give off a friendly vibe.
9) Follow up. After the interview, make sure to send a thank-you note to the interviewer. This shows that you are grateful for the opportunity and that you are still interested in the position.
Also Read: 12 Cabin Crew Interview Mistakes and How to Avoid Them
Things You Should Never Do during a Cabin Crew Job Interview
But what should you avoid doing? Here are four things you should never do during a job interview:
1) Don't be late. This is one of the most obvious things to avoid, yet it still happens all too often. Make sure to plan ahead and give yourself enough time to get to the interview location.
2) Don't dress inappropriately. Dress for the part! If you're applying for a job as a flight attendant, then wear something that shows off your personality and style. But make sure it's also professional and within the company's dress code guidelines.
3) Don't badmouth your previous employer. Even if you hated your old boss, don't say anything negative about them during the interview. It makes you look unprofessional and bitter.
4) Don't lie or exaggerate about your qualifications or experience. If caught, this will immediately ruin your chances of getting the job offer. So just be honest and let your qualifications speak for themselves.
Also Read: How to Answer: What are Your Weaknesses?
Summary
It is also important to remember that a cabin crew job interview is not just about selling yourself to the airline. It is also about finding out if the airline is the right fit for you. After all, you want to be sure that you are going to be happy in the role before you accept an offer.
Cabin crew interviews can be quite daunting, but it is important to remember that the interviewer is just trying to get to know you better. So relax and be confident in yourself.
Good luck!