SkyWest Airlines is hiring flight attendants in the US. This is a great opportunity for anyone interested in the airline industry, and this guide will show you how to apply. The first step is to create an account on the SkyWest website. Once you have done this, you will need to fill out an online application.
Be sure to include all relevant experience and education. After your application has been submitted, you will be contacted for an interview. The interview process will include a written exam and a panel interview. This post will go over everything you need to know about becoming a cabin crew member, including prerequisites, credentials, required paperwork, and more.
Also Read: 15 Must-Have Qualities of Cabin Crews
SkyWest Airlines and SkyWest Leasing are aircraft management companies, both owned by SkyWest, Inc. SkyWest Airlines has an inventory of over 480 planes that fly to over 250 locations in North America. Because it has been named one of the greatest places to work, the recruitment process can be a bit competitive. However, everything is possible if you want to be a part of this community! Read this post to stay informed, and we wish you well and look forward to seeing you there!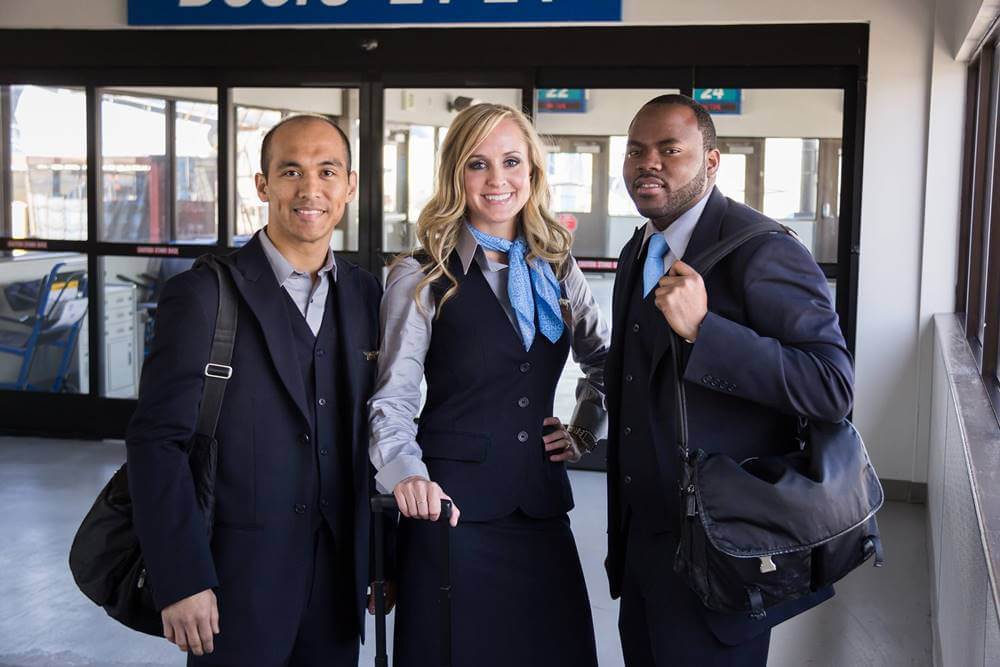 Overview of Skywest
SkyWest Airlines can carry over 21 million passengers last 2020 and 43 million passengers in 2019, thanks to collaborations with Delta Air Lines, United Airlines, Alaska Airlines, and American Airlines. The fleet of approximately 480 aircraft, located in St. George, Utah, brings customers to 250 locations all around North America.
On account of Delta Air Lines, the corporation runs 1,050 trips per day as Delta Connection, 900 flights a day as United Express, 370 departures per day as American Eagle, and 160 destinations as Alaska SkyWest in favor of Alaska Airlines.
Skywest is considered among the most preferred airlines by many of its customers. It has a high reputation for safe transfer, friendly and courteous cabin crew workers, and careful treatment of its employees.
Responsibilities
Skywest is careful to choose someone who can continue accomplishing their airline's vision and goal, as the company is known for its courteous employees and safe journeys. As a result, it is understandable that they're searching for somebody who can demonstrate the best traits and show them to its customers.
You must react quickly and know what to do in an emergency, among other things. These are just a few instances of what they look for in candidates when they hire. The main thing is that as a flight crew, you should look at the part while also being able to contribute to the organization and its customers.
If you want to be a member of their community, make sure you have these skills before applying. This is because they are more likely to hire you if they perceive something within you that they are seeking for. Take notice of these prerequisites because these are precious elements that can help you turn the tide. With that in mind, below are some of a Skywest flight attendant's tasks.
Every SkyWest flight attendant's primary responsibility is to protect the safety of our passengers.
Onboard the aircraft, you must give the most pleasing possible customer experience.
The tasks of a flight attendant include looking out for our passengers and customer service chores such as serving food and drinks.
Able to respond effectively to a variety of challenges, both familiar and new
Passengers onboard airplanes should be given information, guidance, and support for their safety and comfort.
Showcase the emergency gear and provide instructions.
Passengers with special needs should be given extra attention, such as disabled persons, elders, and children.
Before taking off, conduct a safety check.
Customers should be greeted, their tickets checked and shown to their seats.
Reports on flying incidents should be submitted as analytic reports.
Observe and maintain the cabin regularly.
For the sake of safety and protection, follow all flight rules and regulations.
Attend the "brief" and take action based on it.
Prepare and serve refreshments to passengers.
During an emergency, aid passengers and cabin personnel.
If you want to know more about their responsibilities, you can always check it out on their website: https://www.skywest.com/skywest-airline-jobs/career-guides/flight-attendant-jobs/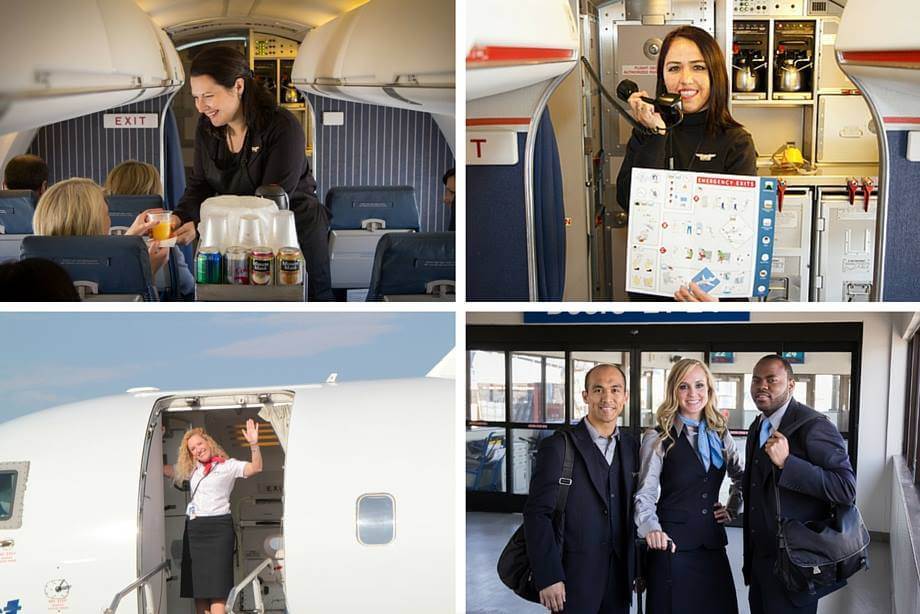 Qualifications
Now that you have learned about the responsibilities of this position, it is time to evaluate and see if you're qualified for it. Responsibilities are not the only thing to keep an eye on. It is critical to understand whether or not you are eligible to join. Qualifications are typically the first thing they consider. If you do not meet specific requirements, such as height and weight, your application will most likely be denied, and they will not get a glimpse of what you are capable of.
They form first impressions based on your qualifications and physical appearance, among other factors. So, if you are missing any qualifications, make sure to get them before moving on to the next step. With that in mind, here are some of the credentials you should possess.
Willing to be moved to different crew locations
At the time of the interview, you must be at least 21 years old.
Without shoes, you must be somewhere around 5 feet and 6 inches tall.
keep in mind that regarding height, there would be no exceptions because of the aircraft's internal size
GED or high school diploma is required.
You must be willing to work weekends, holidays, and nights.
You must have good English verbal communication skills.
You have to be able to lift up to 45 pounds.
You must be able to sit in a designated seat with the seatbelts and straps attached, execute jobs that require continuous pacing, stooping below ankle level, and stretching above shoulder height.
Can open and close airplane doors bearing up to 45 pounds, move beverage carts weighing up to 60 pounds, and stow, transfer, and reach for objects even without reasonable accommodations.
Having the ability to stroll along the aircraft aisle and fit easily while looking forward, as well as fit rapidly through the over-wing exit
Experience with customer service is preferred.
Has a current and valid passport (and any relevant visas) that allows them to travel in and out of the United States freely, Mexico, the Bahamas, and Canada (driver's license or state ID, social security card, passport, and work visa if applicable must all be supplied with the same last and first name)
English verbal communication must be excellent.
Must be able to complete multiple background investigations such as criminal pasts, drug tests, fingerprints, and the like
Tattoos must also not be seen when wearing the cabin crew uniform as they are also not allowed to be covered by makeup, jewelry, etc.
If you want to know more about their qualifications, you can always check it out on their website: https://www.skywest.com/skywest-airline-jobs/career-guides/flight-attendant-jobs/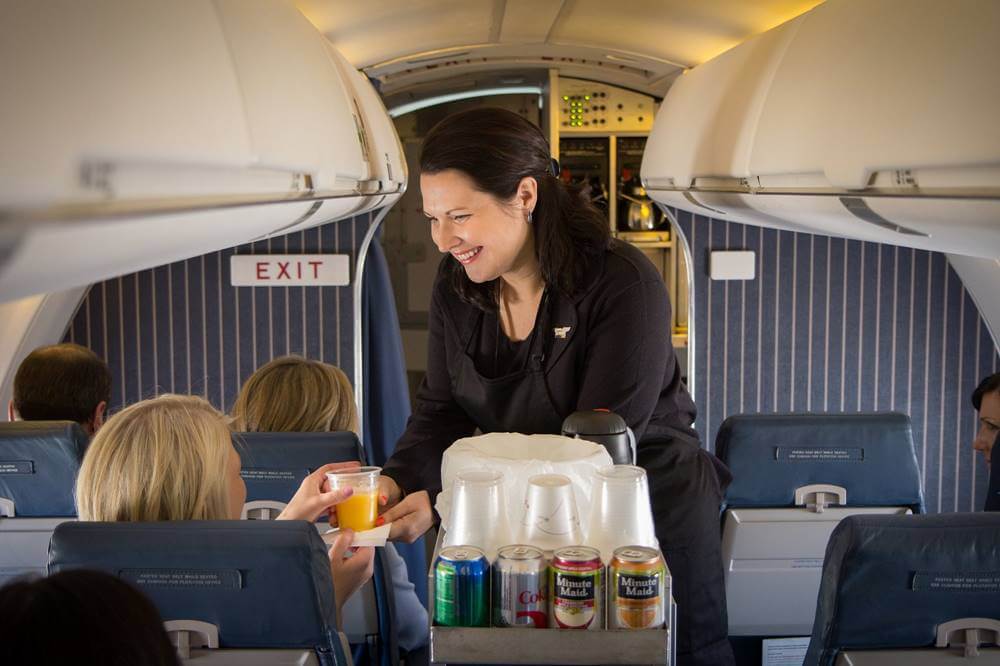 Document Requirements to Prepare
We have developed a list of documentation that you will need to provide to the organization when you apply to help you submit your application in a pleasant and thorough manner. It is critical to submit all required documents, as missing files may cause your application to be delayed or even rejected entirely. Following that, below are the papers you must send.
The latest version of your resume
Application File
Up-to-date medical and dental information
State certified birth certificate or a Social security card
Driver's license
US Work authorization (if you are a non-US citizen) or a permanent residency card
Criminal activity records
Previous employers' work references
Information about your current wages, along with any benefits you may be eligible to.
A valid passport is required.
It is critical that your photographs exude professionalism. These are going to be their first impressions of your physical appearance. Your application may or may not be successful depending on how you showcase yourself in those photos. With that mentioned, we have put up a list of suggestions you can use to offer them a more highly professional picture of you.
It would be ideal if you were naturally smiling. This gives recruiters an idea of how you can look when interacting with passengers.
For a work like this, it would also be better if your photos had a white background.
Keep a correct tone in mind when presenting your paperwork.
Remember to look presentable because your first impression will be based on images.
Also, keep your arms by your sides when taking the pictures.
Where to Apply for a Job for Skywest Online?
You may always go to their website to learn more about their recruitment procedure and see a sample of their application forms. There, you will be able to receive regular information on their employment process, any modifications, and so on.
https://www.skywest.com/skywest-airline-jobs
https://www.linkedin.com/company/skywest-airlines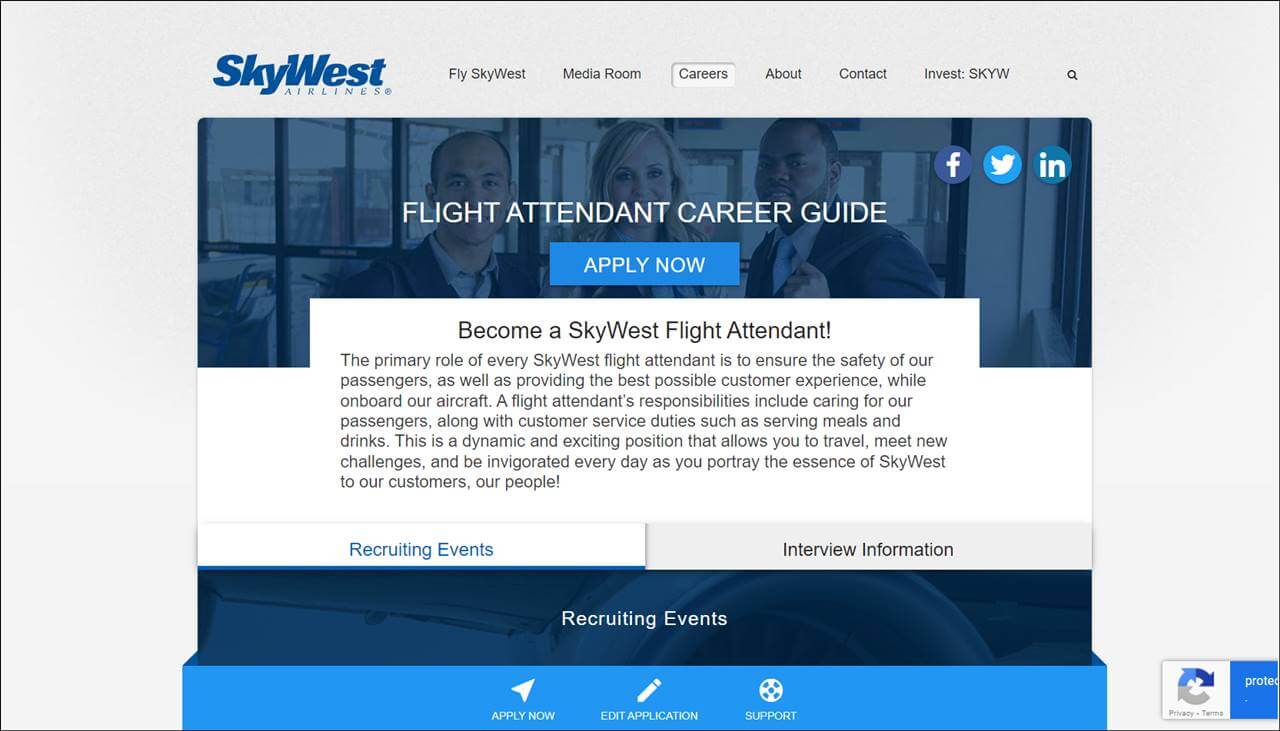 Step by Step Process Application to Become a Cabin Crew for Skywest
Step 1: Go to their website and apply for the job.
To find their application form, go to their website and scroll down. You'd be able to see what kinds of positions they want to fill as well. Choose the one you want to apply for and fill out all of the required information and papers.
Step 2: View their online information and prepare your documents.
The second step in becoming a Skywest cabin crew member is to complete an online application. Throughout this method, you must ensure that the information you provide is correct and accurate.
Keep in mind that the organization may require more verification, such as identity or personal information, so give as much information as you can. Before filling out their form, make sure you're ready for any base transfers or other possible modifications if you're accepted to the following level.
Step 3: Fill out the online application
It is time to submit all of your needs online once you've double-checked that you have met all of their standards. Before submitting your email, double-check that it is well-written, free of grammatical errors, and adheres to the guidelines. Also, take note that the manual reviewing of your application can take up to 3-10 business days.
Monthly Salary of a Skywest Flight Attendant
Since we have already covered all of the company's requirements, it is time to find out what they have to offer. Are the rewards worth it, aside from the ability to travel across the world? Is the compensation worth it with all of the qualifications they are looking for? The salary of a Skywest Flight Attendant varies from position to position. But, a typical FA could receive $3,386 per month.
Don't worry; Skywest will provide you with a variety of advantages as well as a competitive salary while you work there. Without any further ado, here are a few of the fantastic perks you may receive simply by working there.
Employees and qualifying relatives have boundless room travel privileges on SkyWest's extensive route system, as well as the option of traveling with other carriers at significantly reduced costs.
All full-time SkyWest personnel have the choice of choosing from a variety of health plans, including PPOs and customer health plans with HSAs. There are also dental and vision coverage offered.
Employees can participate in the company's financial and operational success through 401(k) plans with significant matching, a company stock plan, and a quarterly firm's Performance Rewards program.
At no expense to the employee, SkyWest provides life insurance to all authorized full-time employees. There are also other life insurance choices present. SkyWest additionally protects employees in the event that they will not be able to work because of sickness or accidents. They have a long-term disability program that is completely paid for by SkyWest and two short-term disability programs that are entirely voluntary.
SkyWest offers qualified employees a variety of services, such as user hours, holiday hours, and LOA programs, that encourage scheduling versatility and allow them to take funded time off from work.
Employees at SkyWest have access to a free employee help program. The plan helps you and your close relatives overcome factors that may impact you at work or at home, such as substance addiction, marital troubles, family counseling, or psychiatric treatment, in a confidential manner.
Video: Flight Attendant of SkyWest talk about Working for the Airlines
In this video, the FA of Skywest talks about what it is like to work as a flight attendant for her company, the salary, perks, and so much more. This video is highly recommended because it provides an overview of what it is like to work for Skywest.
They also offer advice that could guide you to become one of the company's best employees. Tips like these can make your time there much easier, life-changing, and unforgettable.
Here are some of the topics that the video talks about:
Life as a Skywest flight attendant
HIstory of Skywest
Salary for Skywest cabin crew members
Benefits of working in Skywest
Information about the company's website
Reasons why you should apply for their company
Interview tips
The application process of both online and face to face interview
Working on the plane
Disclaimer: This is a video uploaded by a flight attendant vlogger who shared her experience being a cabin crew member. Take note that every crew has a different experience, but this will help give you an idea what to expect when you work for Skywest.
Photos: SkyWest Cabin Crew in Uniform
Check out these beautiful pictures of Skywest airlines flight attendants in uniform. If you wish to imagine yourself being part of this company, check out these photos to give you a glimpse of working for this airline:
Frequently Asked Questions
Here are some common questions and answers about the hiring process in SkyWest Airlines:
1. How long can the hiring process last?
It can last up to about four weeks.
2. What is the minimum age requirement to be able to apply?
You must be at least 21 years old.
3. What is the maximum age requirement?
They have no maximum age requirement.
4. Do they accept applicants of all nationalities?
Yes, the company makes it clear that they choose their applicants fairly and have no bias towards race, age, gender, and such as long as they meet the requirements.
5. What is the minimum height allowed?
You must be at least 5 feet tall or 152 centimetres to apply.
6. What is the maximum height allowed?
You must be no taller than 6 feet to apply
7. Do they strictly follow the rules regarding height?
Yes, they strictly follow this to ensure that there would be no problems revolving around the applicant's height in the aircraft.
8. Are tattoos allowed?
Yes, they are as long as they can be covered by the uniform and are not visible at all.
9. Can you use cosmetics to cover your tattoos?
No, the airline does not allow you to do this.
10. Do they offer benefits?
Yes, they offer multiple benefits to you, and some of them can also extend up to your family.
Summary
Whatever your goals are, achieving them will always require a significant amount of effort. Even if things are not going your way, the essential thing is never to lose hope. Additionally, if you believe you have the skills and qualifications to work as a cabin crew member, you should always give it your all and go for it. You will never know unless you give it a shot.
Becoming a flight attendant may provide you with a multitude of perks and moments that you will never fail to forget, so if you are still on the fence about becoming one, do not be. It could be one of the best choices you ever make. With that stated, we hope you found this article to be informative, and we wish you the best of success as you attempt to tackle the fascinating work of the air transportation industry.
Contact Information
SKYWEST
Address: St. George, Utah, United States
Telephone Number: 800.335.2247
Website: https://www.skywest.com/
Facebook: https://www.facebook.com/SkyWestAirlinesJobs/
Instagram: https://www.instagram.com/skywestairlines/?hl=en
Twitter: https://twitter.com/SkyWestAirlines
LinkedIn: https://www.linkedin.com/company/skywest-airlines
Youtube: https://www.youtube.com/channel/UCThSYjSoN1lI4APSqfT12lA