Republic Airways Holdings, the airline holding corporation based in Indiana, USA that owns Chautauqua Airlines, Republic Airlines, and Shuttle America is looking to hire Flight Attendants. The company will move around different states and visit different cities to seek potential candidates who are dreaming to become cabin crew.
Republic Airways operates a fleet of more than 250 aircraft among its 3 airlines. It also offers scheduled passenger service on more than 1,300 flights daily to more than a hundred cities in the United States, Canada, and the Bahamas. Their partner airline partners include American Eagle, Delta Connection, United Express, and US Airways Express. Currently. this company employs approximately 6,000 aviation professionals.
Also Read: Republic Airways Flight Attendant Salary and Benefits
To those interested applicants who wish to pursue a career in the aviation industry as flight attendant or cabin crew, this is your chance to apply and be hired by Republic Airways.
Make sure you know the job requirements set by this airline company in the US in order to qualify as a cabin crew and be hired. If you want to find out how to join Republic Airways' fleet, refer to the links below in order to prepare yourself for this important job event. Also, the information on the recruitment venues are listed for your reference.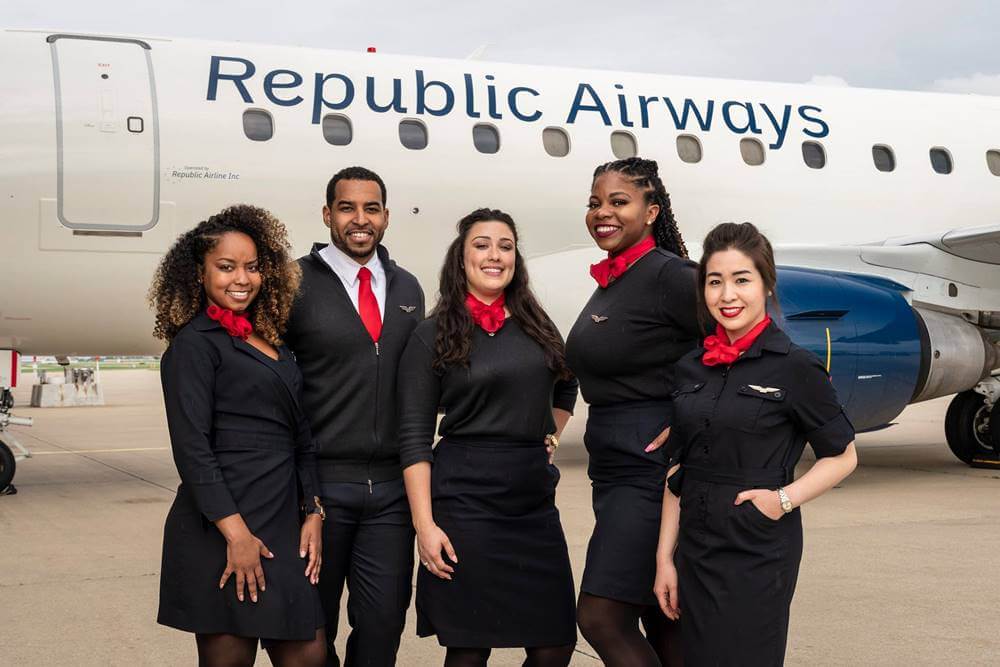 Overview
Republic Airways is a company based in the United States, operating out of the city of Indianapolis, Indiana. It is a subsidiary of Republic Airways Holdings and has flights that service the US, Canada, and countries in the Caribbean and Central America. Their fleets operate under several brand names, such as American Eagle, Delta Connection, and United Express.
With fifty years in the airline business, Republic Airways prides itself as one of the best flight providers in the world. Not only does it service cross-state flights in the United States and Canada, but it also provides services to countries like the Bahamas, Costa Rica, Honduras, and Mexico. The company has over 6,000 employees working to ensure quality services to passengers daily.
Republic Airways values the safety of its passengers. The company puts passenger safety as a cornerstone of its brand philosophy and checks all of its fleets routinely. Both hangars and aircraft are well-maintained, and all safety protocols are strictly implemented. All flights follow a Safety Management System that identifies hazards and risks right away. 
With all these things at the forefront, Republic Airways leads the charge as one of the most reliable airlines in the Americas.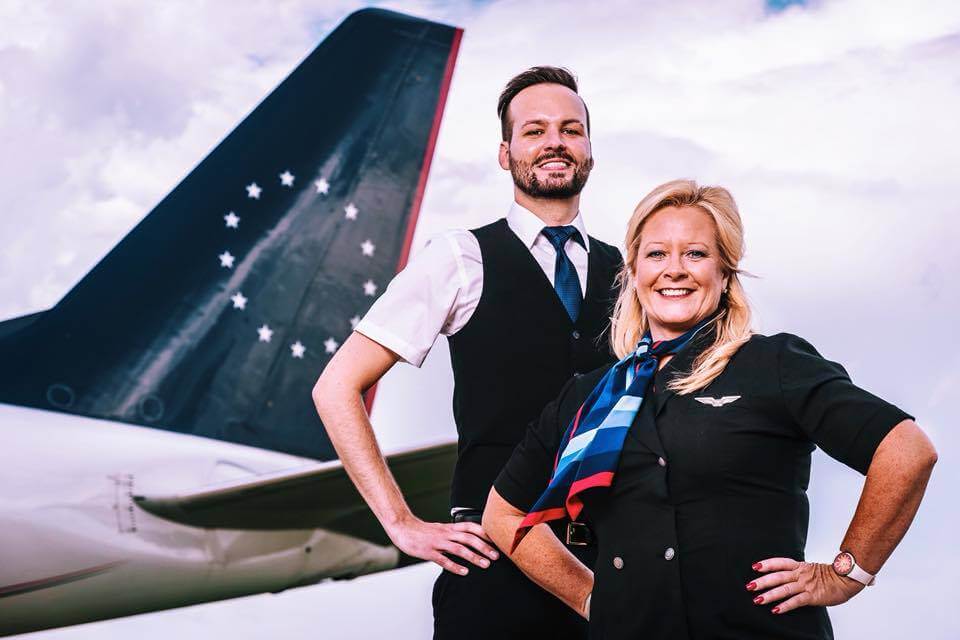 Responsibilities
As a member of the cabin crew, flight attendants have to pay close attention to everything that happens during travel. Several factors have to be accounted for during boarding, takeoff, and landing. Flight attendants must know the right protocols and course of action when dealing with passengers.
Republic Airways flight attendants have the following tasks and duties:
Cabin duties. These include all protocols related to guests and passengers, such as safety and comfort practices. 

Safety knowledge. Flight attendants have to maintain correct knowledge of Republic Airways' safety protocols. They must also know how to operate emergency flight equipment, exit mechanisms, and other aircraft paraphernalia.

Food and beverage preparation. Flight attendants must know how to serve food and drinks to passengers, which includes pushing and pulling carts.

Baggage assistance. They are also in charge of assisting passengers with their carry-on luggage, which may weigh up to 250 pounds.

Order and cleanliness. The cabin environment must be clean and orderly at all times.

Punctuality. Flight attendants are expected to report to the premises at the assigned call time, and they cannot be the cause of delays. The report, departure, and turn times must be strictly followed.

Promotions. Flight attendants must be prepared to deal with sales and promotional responsibilities from time to time.

Customer service. Attendants should also be prepared to help customer service staff if they encounter matters relating to passenger handling.

Branding and image. Flight attendants are expected to carry a reputable image, especially in their conduct and appearance. The dress code must be followed at all times.

Inventory handling. They are also tasked with handling guides, manuals, and other inflight items that are distributed to individual seats.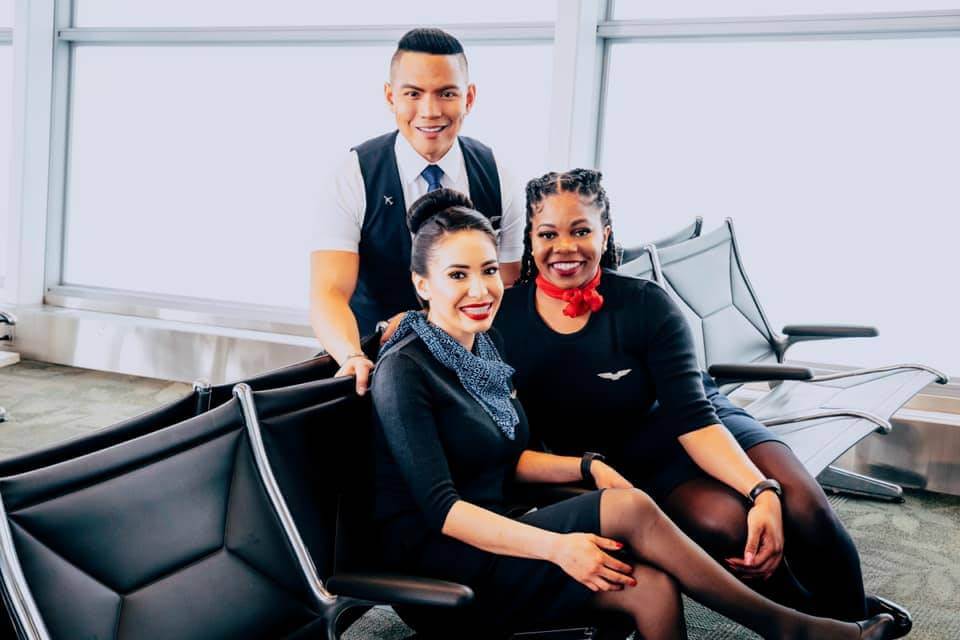 Qualifications
Much like other job employers, Republic Airways has specific metrics to filter out potential flight attendants. Their hiring process carefully considers multiple aspects, such as knowledge, stillness, and other abilities.
Applicants should have at least a high school diploma or GED, alongside at least two years of customer service experience.

All candidates should at least be 20 years old.

Those with previous experience as flight attendants will be prioritized over other candidates.

Strong interpersonal and intercultural skills are a plus, especially positive customer management techniques.

Alcoholic beverage handling is also necessary.

Flight attendant candidates should be able to serve specific food items, such as peanuts, seafood, beef, and pork. 

Tattoos and piercings cannot be visible while wearing the company uniform.

Verbal English skills are required. Proficiency in the language is important to properly communicate signals and inflight commands.

Timeliness and punctuality are strong suits.

Calm was and the ability to think clearly during emergencies are also required.

Capable of carrying, pushing, and opening heavy items.

Ability to work at all times, including weekends and holidays, depending on need.
Document Requirements to Prepare
The following requirements must be prepared:
Resumé or curriculum vitae

Two valid IDs, with one photo

Employment history with updated contact information
Other requirements will also be disclosed when candidates get past the initial review. All applicants must come in professional attire.
Where to Apply for a Job for Republic Airways Online?
Now and then, Republic Airways puts up job openings for flight attendants. The company's careers page includes the necessary information to help prospective applicants on their journey to become cabin crew members.
Interested people who were previously interviewed in the last six months may not attempt another application.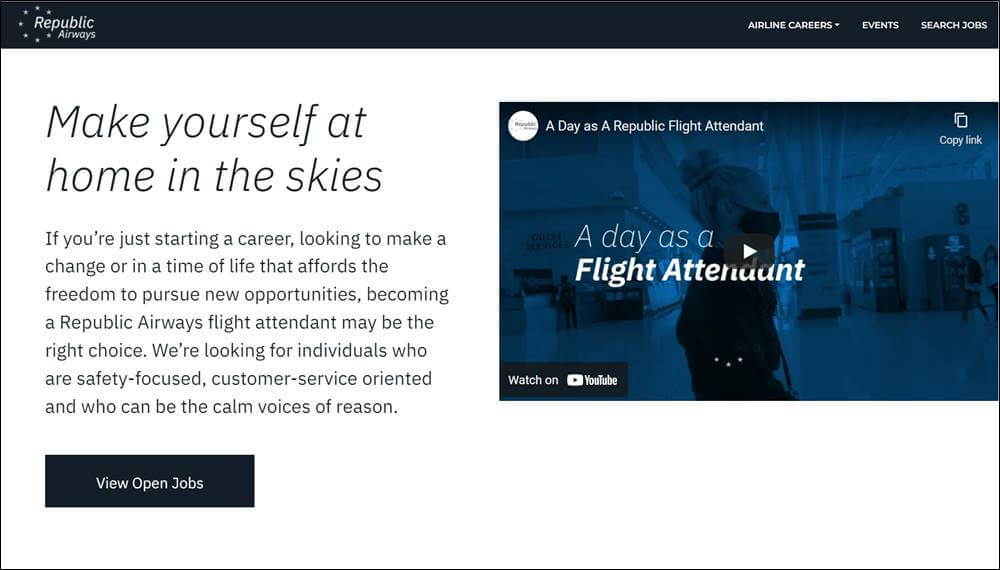 How to Become a Cabin Crew for Republic Airways
Republic Airways has a strict step-by-step process in selecting its candidates. Their application process is as follows:
Step 1: Interested applicants must look out for job openings on the Republic Airways website. They issue notices on the Careers page whenever openings are available.
Step 2: The company has a registration portal for prospective applicants. This webpage will be the gateway to directly apply for the job postings. Create a user profile and accurately fill out all necessary information.
Step 3: Once you have registered for an account on their jobs portal, you may proceed to send an application. 
Step 4: Republic Airways has a unique recruitment event. This is where candidates can have the chance to secure a slot in potential job interviews. Applicants must email them at FArecruiting@rjet.com to get a seat at the event.
Step 5: The turnaround time for emails is three business days. Expect to get a response during this timeframe.
Step 6: If you receive the notification from Republic Airways, you are eligible to attend the recruitment event.
Step 7: Double-check the event details. Proceed to the venue on the scheduled date and time, and present your invite to the front desk. You must have all the necessary documents.
Step 8: Follow all instructions stated during the event. Await further details regarding interviews and shortlisting.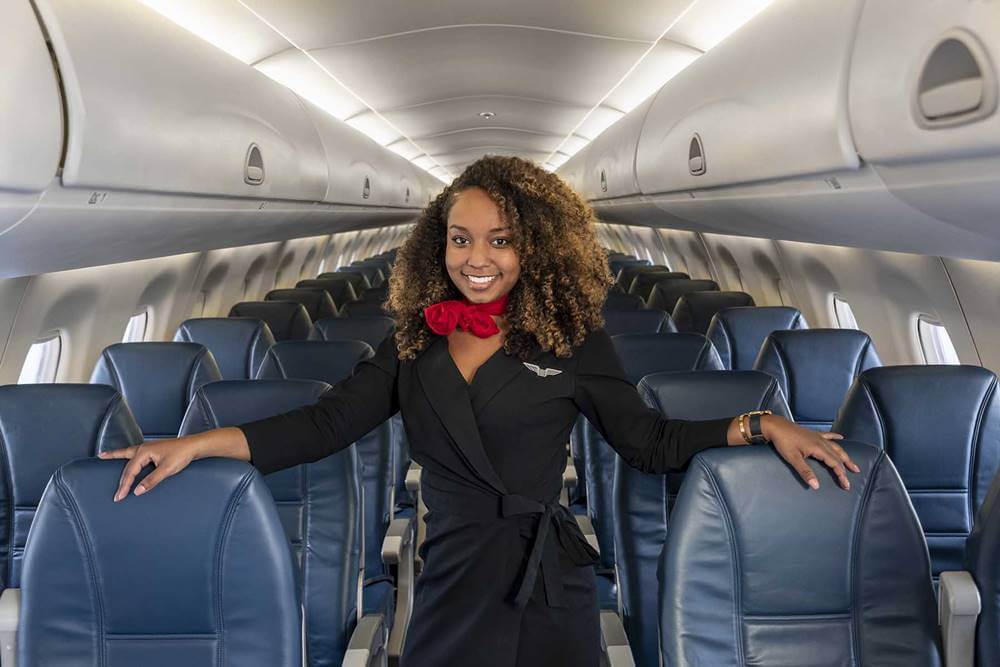 Video: What Is It Like to Be a Flight Attendant?
Being a member of the cabin crew is a responsibility that a lot of people want to experience. However, it is not all fun and games. People tend to have a rose-colored view of the profession, but there are aspects of the job that can be demanding. If you want to become a flight attendant for Republic Airways, it is helpful to prepare yourself for the many experiences that come with the job.
The usual routines include the following:
Strict adherence to company policies

Passengers of different backgrounds, with various cultural and social habits

Work hours that go beyond the usual range

Fluctuating amount of passengers, especially during the holiday season.
Disclaimer: This is a video uploaded by a flight attendant vlogger who shared her experience being a cabin crew member. Take note that every crew has a different experience, but this will help give you an idea what to expect when you work for Republic Airways.
Photos: Republic Airways Cabin Crew in Uniform
Check out these beautiful pictures of Republic airlines flight attendants in uniform. If you wish to imagine yourself being part of this company, check out these photos to give you a glimpse of working for this airline:
Frequently Asked Questions
Here are some common questions and answers about the hiring process in Republic Airways:
1. Does Republic Airways travel outside the United States?
Yes. The company has flights in Canada, the Bahamas, Costa Rica, Mexico, and Honduras.
2. Does the company have an age requirement?
All applicants must be 20 years old by the time they have their first interview.
3. Is there a dress code for flight attendants?
Republic Airways has a strict dress code. Besides uniforms, tattoos and piercings cannot be visible during flights.
4. What are the work hours like for flight attendants?
Since flights happen every day, expect to encounter shifts during nights, weekends, and holidays.
5. Does Republic Airways always have job openings?
Like all companies, job postings depend on availability and need. These are posted on the Careers page on the Republic Airways website.
6. Is there an educational requirement for flight attendants?
Yes. Flight attendants should at least have a high school diploma or a GED certification.
7. Are flight attendants expected to speak good English?
Yes. Flight attendants must have a good command of the English language, particularly while speaking.
8. Will flight attendants undergo training?
Yes. Republic Airways prides itself as a company that puts passenger safety at the forefront. Proper orientation of safety regulations is included in the training for flight attendants.
9. Does Republic Airways accept walk-in applicants?
No. The company strictly follows an online process. They use this in tandem with their recruitment events, which are scheduled ahead of time. Invites are necessary and can be secured through the application.
10. Are flight attendants in charge of things other than announcements and passenger care?
Flight attendants are also expected to assist with customer service concerns, as well as sales and promotional duties.
Summary
Around the world, people enjoy flights from airlines that strive to give the best services. Passengers receive high-quality care and comfort, all with the help of top-notch cabin crew personnel. It is not surprising that many people want to become part of these airlines, making their dreams and life goals a reality. As cabin crew members, flight attendants can be part of flights within the same country, or cross borders internationally.
Overall, Republic Airways is a leading airline that has flights across the Americas. They have excellent flights, made possible by a capable cabin crew that values passenger satisfaction. They have a strict application process designed to filter candidates. If interested, be on the lookout for openings on their website.
Contact Information
Republic Airways
Address: 8909 Purdue Road, Suite 300, Indianapolis, IN 46268
Marketing Email Address: marketing@rjet.com
Telephone Number:  317.484.6000
Website: https://rjet.com/
Facebook: https://www.facebook.com/RepublicAirways/
Twitter: https://twitter.com/RepublicAirways
LinkedIn: https://www.linkedin.com/company/republic-airways