American Airlines is looking for Flight Attendants who are willing and able to work in the USA and be based on one of their headquarters. The company proudly offers competitive employee benefits, travel privileges, training, career development, and much more. This article will guide you on the application process, requirements, qualifications, training expectations, and all you need to know on how to become a flight attendant for this airline.
This airline is a major airline in the United States which operates in an extensive network, both domestic and international. In fact, American Airlines is considered the world's largest airline by fleet size and revenue. It is also considered the second-largest airline in the world with the most number of destinations flown.
The company is calling out aspiring flight attendants out there who want to join their team. If you are highly customer-focused, goal-oriented, and willing to travel to different destinations under varying climate conditions and work schedules, then this is the right job for you.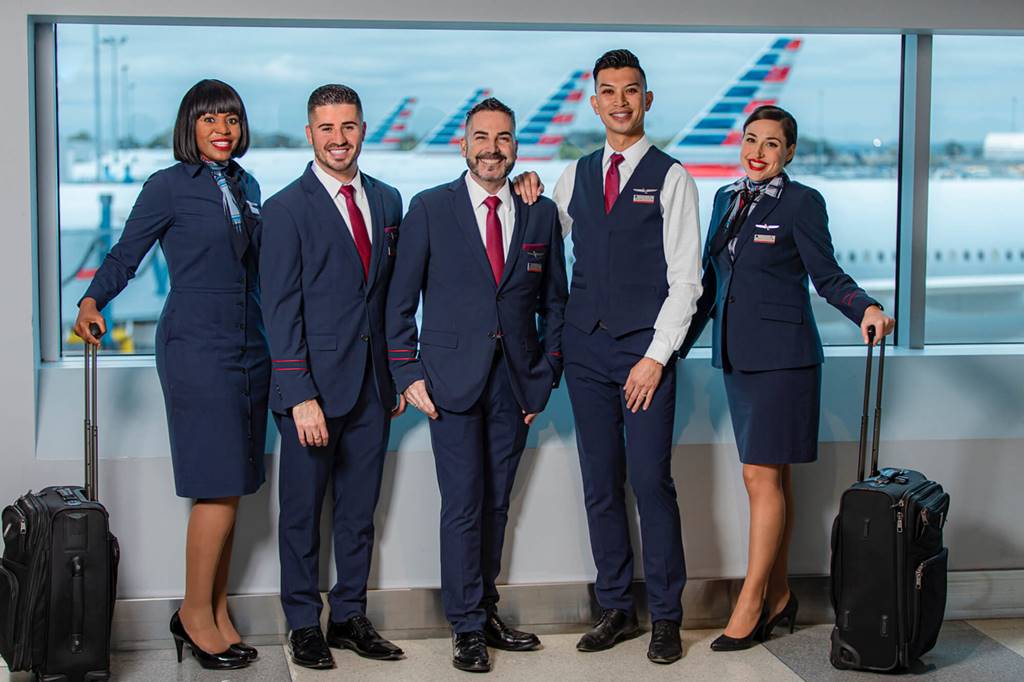 Responsibilities
The main responsibility of a cabin crew is to ensure the safety and security of its passengers. For American Airlines, please see the other tasks required from cabin crew of American Airlines:
Make sure that our passengers are safe and comfortable.
Provide a high level of in-flight service and customer care.
Respond to a wide range of emergency and non-emergency incidents.
Qualities
Excellent communication and interpersonal skills are required for this job.
Can work alone while still belonging to a cooperative group
Assume a variety of situations while constantly engaging with passengers, both on and off the aircraft.
Follow all necessary regulations and work standards.
Capable of transforming problems into solutions or alternatives.
Professional and can represent the airline brand in uniform.
Adaptable – you can work in a variety of climates and locations across the world, as well as variable shifts at different time zones.
Expectations at Work
It is important to know what are the expectations when you become a flight attendant for this airline. Take note that this work entails physical demand and specific work conditions.
This is a physical job and will require you to perform expectations such as lifting items, reaching for things, pushing carts, and doing a lot of walking
You will have long periods of standing and speaking to passengers.
This is an airport and flight job which is considered hazardous so it requires you to be extra careful and alert.
Requires extensive travel, as well as the ability to spend numerous nights away from home and endure all types of weather.
No work schedule is the same and you may have duties even during at night, weekends, and even holidays.
You can be on call and ready to report for duty in your assigned base (reserve duty). Reserve service may last for an indeterminable length of time.
Requirements
Check out the documents and requirements needed to be a crew for this airline.  You may check this post here for detailed guide – American Airlines FA requirements
Must be a high school graduate or have GED equivalent
At least 20 years old
Those who have a college education or 2 years of customer service experience are preferred
Excellent English communication skills
Has a valid USA passport (or foreign passport with applicable visa)
Allowed to travel without restriction between all USA states and country routes in the American Airlines flight network
Have valid travel documents
Allowed to legally work in the United States
Able to join up to 7 weeks of unpaid training in Dallas/Fort Worth, Texas.
What to Expect as an Applicant for American Airlines
As an overview, here's a brief step by step idea of what to expect when you want to become a flight attendant for American Airlines
1. Apply for the position
2. Virtual Group Interview
3. In-Person Interview
4. Training
5. Get your wings.
Here's a photo shared by American Airlines on their website on the expectations in the job application process: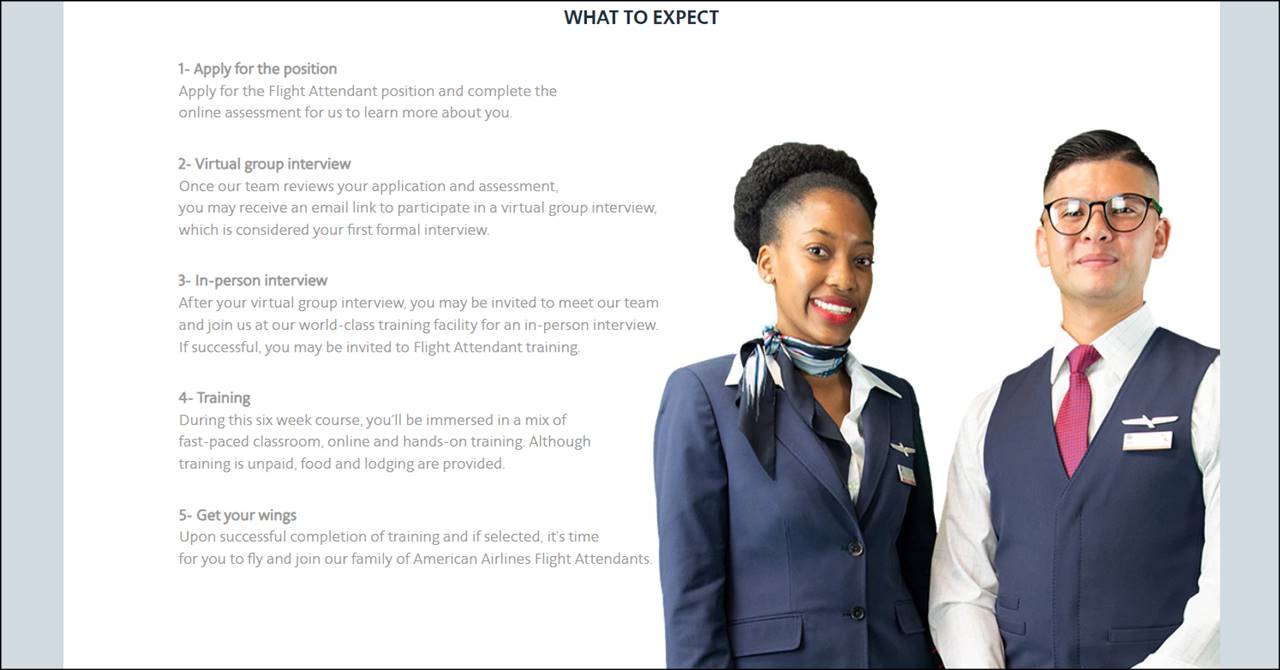 How to Apply for American Airlines Flight Attendant Job Online
In order to look for a job online as a cabin crew for American Airlines, you can visit the Careers Page of the airline company through their website here – https://jobs.aa.com/go/Flight-Attendants/2537300/
Step 1: Go to the Careers Page for Flight Attendants in the American Airlines website.
Step 2: Scroll down to the bottom of the post for the job listings. You may also search for the "Flight Attendant" position/job role.
Step 3: Choose the available vacancies and click the job posting.
Step 4: Go over the job description and Click the "Apply Now" button. You will need to register an account.
Step 4: Follow the application steps.
Step 5. Submit your application online and wait for a response from the American Airlines team.
Here is an example of the recruitment page and job description for the Cabin Crew title for American Airlines. Please visit this page for details on the next recruitment exercise.
Title: Flight Attendant Trainee Greek and English Bilingual
Location: Dallas, TX, US
Date: November 8, 2021
Nearest Major Market: Dallas
Nearest Secondary Market: Fort Worth
Job Segment: Trainee, Flight Attendant, Entry Level, Aviation
Training Process for American Airlines Cabin Crew Job
Once you have passed all the interview and screening stages for the job, you will then be assigned a day and schedule for your flight attendant training. You will also be required to undergo a medical exam as well as submit your documents.
The training will be for about 6.5 months at the main office in Dallas, Texas. Or you may be assigned a different location for the training. You will need to pass the training exams and exercises.
Check out this video series shared by a vlogger about the American Airlines flight training process. She details her experience every week of her training. This is the first video she uploaded on this topic:
So as you can see, the hiring and training process is quite a challenge and only the best will be able to earn their wings.
Video: Tutorial about American Airlines Flight Attendant Application
Here is another video that shares the details about the qualities, qualifications, how to apply, and the monthly salary of a cabin crew for American Airlines. The steps are quite specific and should give you a better idea about what to expect when you apply for this airline company. Check out the video below:
Video: American Airlines Flight Attendant Recruitment Process
Check out this video with a vlogger about the recruitment process for a USA Airline. She shares resume tips, the application process, and what to expect in the hiring process:
Photos: American Airlines Crew in Uniform
Check out these pictures of American Airlines flight attendants to give you an idea of what it's like to be in their uniform. They employ both male and female crews:
Summary
So this is the process of applying as a flight attendant for American Airlines. We hope that you learned something about how to apply and what you can expect in the application process. As usual, we stress that you must know all of the company's essential hiring requirements before applying for a position with them.
American Airlines has a long training period and this is unpaid, so you have be sure that you want this job as a flight attendant. Think hard about the process if you really want to apply for this job.
The best of luck if you choose to go after this opportunity with American Airlines!
Contact Information
American Airlines
Address: 1 Skyview Drive, Fort Worth, TX 76155 (adjacent to the Dallas/Fort Worth International Airport)
Telephone Number: +1-800-433-7300
Email: info@aa.com
Website: https://www.aa.com/
Facebook: https://www.facebook.com/AmericanAirlines
Instagram: https://www.instagram.com/americanair/
Twitter: https://twitter.com/americanair
YouTube: https://www.youtube.com/americanairlines