There are things you should consider before applying at Sun Country Airlines to ace your application. It's important to learn more about the company, the responsibilities, and qualifications of the role, document requirements, and the process of application. If you have all this information, your chance of joining Sun Country Airlines' growing team will increase. You will learn all of those as you read the content below.
Also Read: 4 Guilty Pleasures of a Cabin Crew
Sun Country Airlines is one of the established and trusted airlines in the US, providing 39 years of service to the people. Moreover, even with decades of experience, the company is continuously growing, and they need more skilled crews to provide excellent services to their customers. Sun Country Airlines is looking for people dedicated to working with the safety, security, and comfort of the passengers. You can take this excellent career opportunity if you think you're perfect for the role.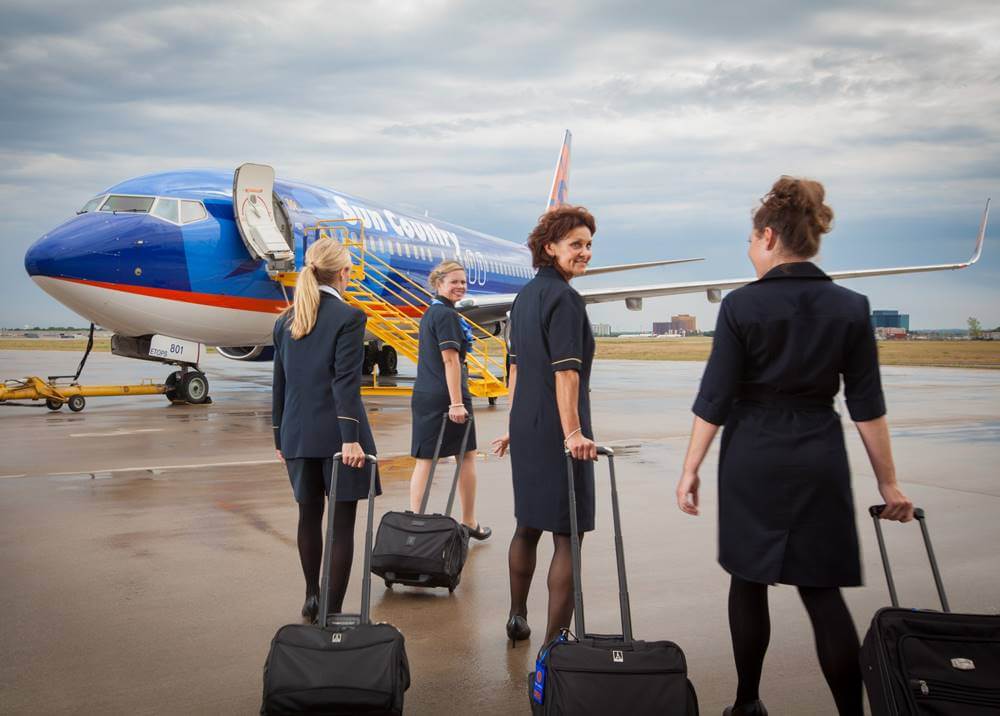 Overview
Sun Country Airlines is a Minneapolis-based passenger and cargo carrier. It's offering affordable and efficient flights to passengers going to the United States, the Caribbean, Mexico, and Central America. Additionally, the low-cost airlines of Minneapolis provide services to some cities in Las Vegas and Dallas Fort Worth. It's also one of Amazon's partner cargo carriers to deliver packages to customers conveniently.
With Sun Country's continuous expansion with its passenger and cargo services, there are job positions that need to be filled in. The company is looking to hire pilots, ramp managers, and flight attendants. If you're planning to kickstart your career in this industry– below are the responsibilities, qualifications, and requirements you need to know for the application.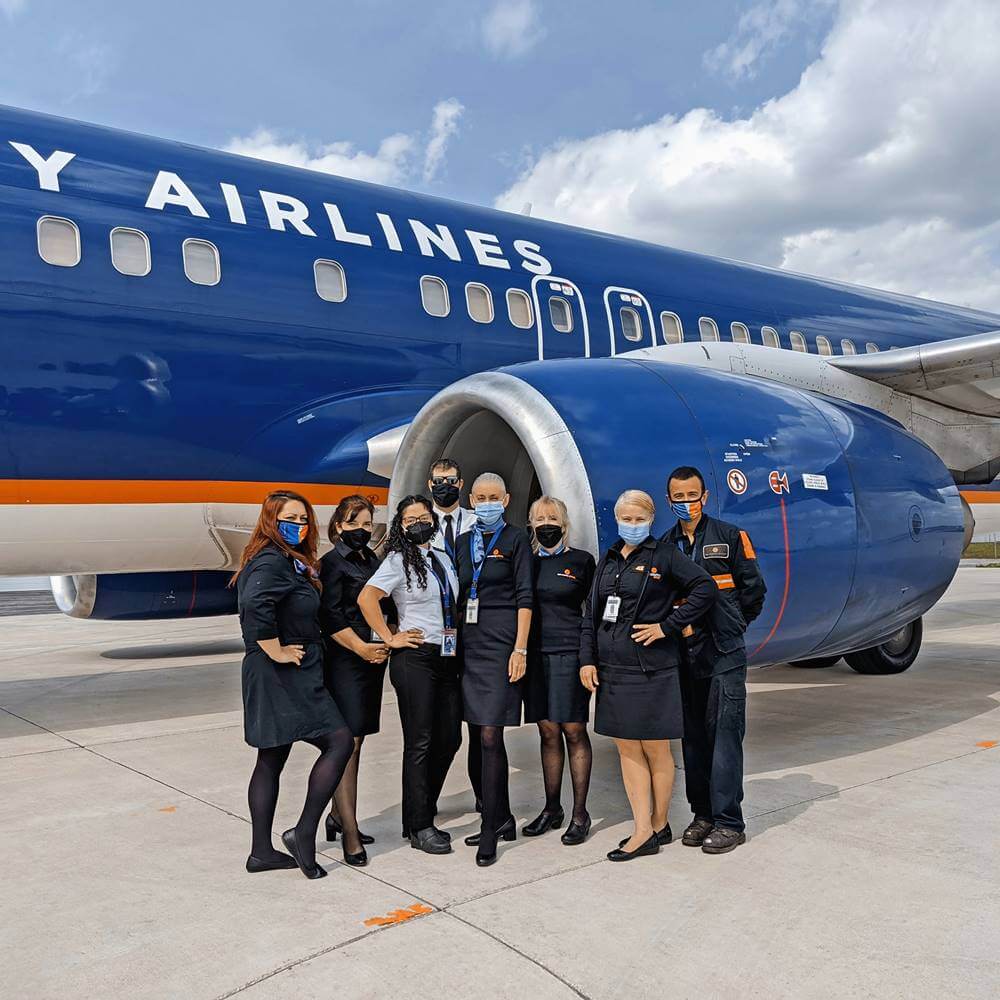 Responsibilities
As a Sun Country Airlines flight attendant, you are expected to have comprehensive knowledge of the tasks you'll handle once you get hired.
Greet and welcome the passenger with a warm smile and guide them directly to their seats.
It's your job to conduct flight checks before and after Sun Country Airlines' craft takes off.
You are expected to brief the passengers about the flight rules and safety measures in case of an emergency.
As a flight attendant at this company, it's also essential to assist the customers with their needs while on board.
Sun Country Airlines also expects its flight attendants to ensure everything before the plane takes off, including safety equipment, food, and cleanliness.
Making announcements and answering passengers' queries about the flight, weather, routes and other matters is also part of the job.
You are also expected to make the flight reports.
The company also expects its crew to handle emergency situations properly.
It's also part of your job as a Sun Country Airlines flight attendant to prepare, offer and serve meals to passengers on board.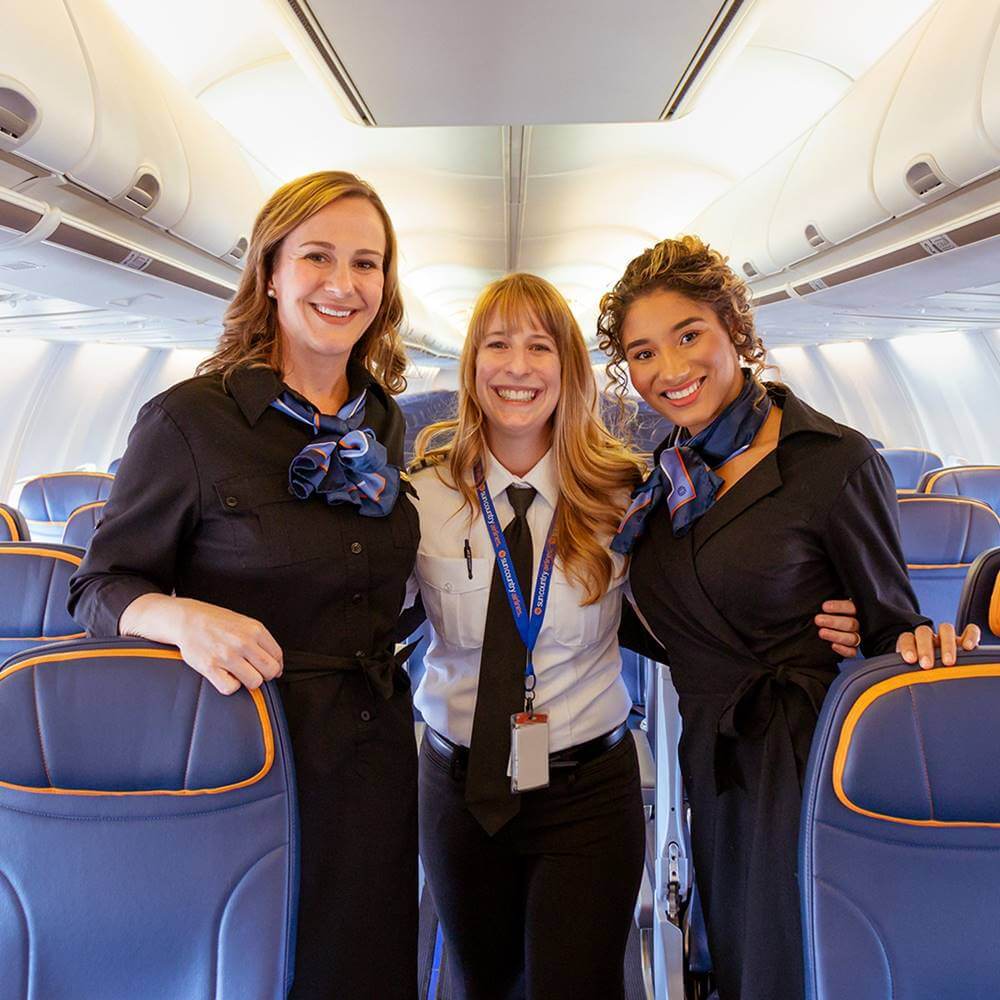 Qualifications
Here are the required skills, quality, and experience to become a Sun Country Airlines cabin crew.
You must be at least 21 years old or above to apply.
In terms of height, you need to be at least 157.5 centimeters tall and be able to reach upper cabins.
Weight should be appropriate to your height.
You must have the basic knowledge of navigating a computer.
Sun Country Airlines requires applicants to be fluent in speaking and writing English.
You should be a high school graduate with a diploma or equivalent.
You must be comfortable with being away from home for a week or so.
The company expects someone who is willing to relocate near its respective base, approximately within 2 hours of distance.
You must have the ability to navigate the aircraft door in varying situations.
You should be presentable and without visible tattoos and piercings when wearing the uniforms.
The company also requires a minimum of 2-year experience in direct customer service.
You need to have the authorization to work in the country.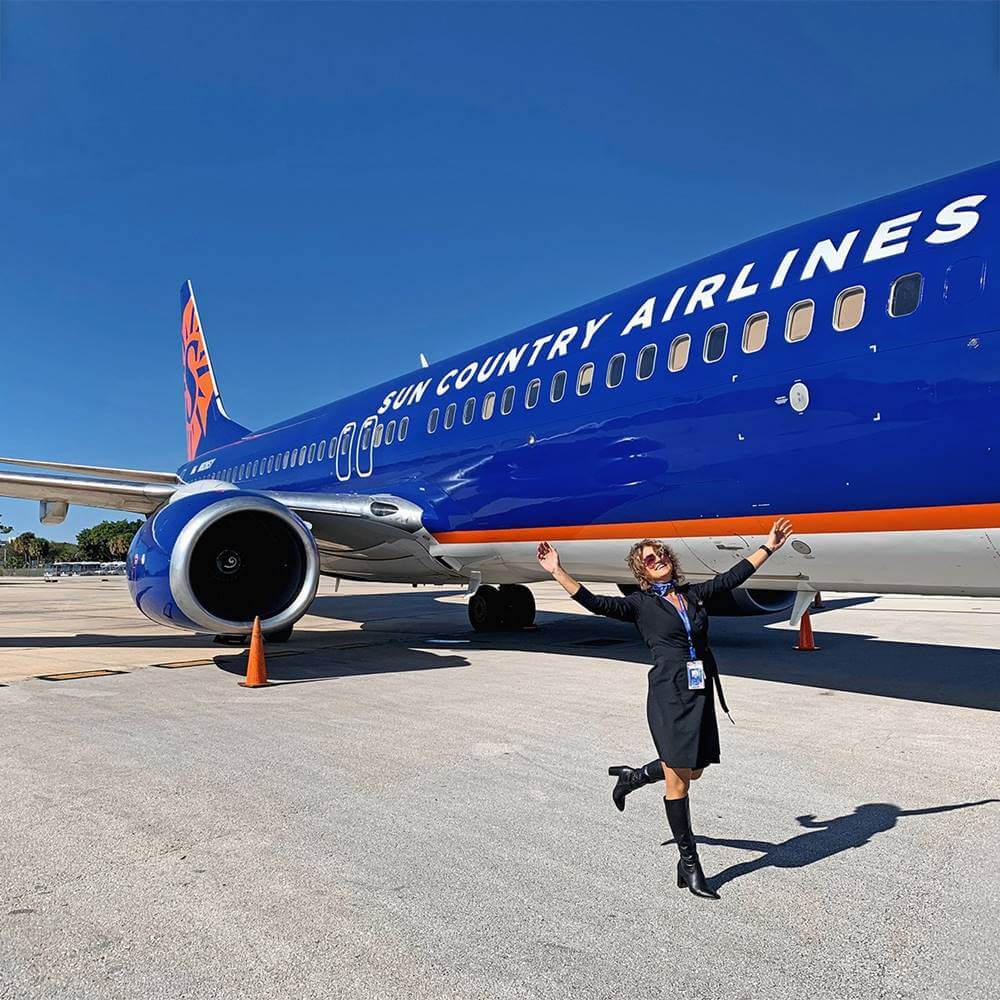 Document Requirements to Prepare
When applying for a job at Sun Country Airlines, submitting and bringing the required documents is essential. You have to collect and prepare them to make your cabin crew application at the company convenient. Sometimes presenting incomplete requirements can be the reason for a failed application. So, take note of these requirements to get ahead of other applicants.
Complete and comprehensive CV
High school diploma or equivalent
Certificate of authorization to work in the country
Certificate of employment if you have previous related experience
Valid passport from the respective country
Identification cards such as valid government IDs and photo IDs
Airport security clearance
Clear FDA criminal history record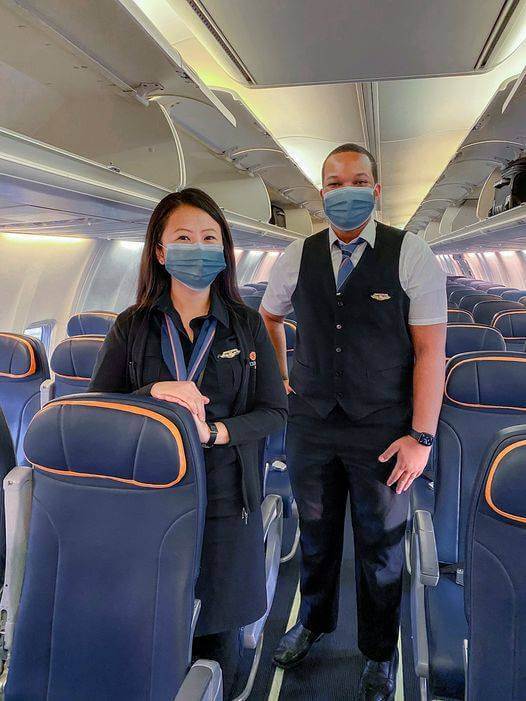 Where to Apply for a Job for Sun Country Airlines Online
Applying for a job for Sun Country Airlines is straightforward, you can even do it online. The company has a dedicated website page where you can submit your application conveniently. To do that, you can visit their career page on their site. You can create an account, search for a job and submit your application. It's fast and convenient.
However, it's important to check if you're applying for a suitable career opportunity. Moreover, you need to be careful with job openings from other sites using the name of Sun Country Airlines. Some sites are not reliable and you might end up risking your personal information. So, it's essential to apply directly on the official site of Sun Country Airlines.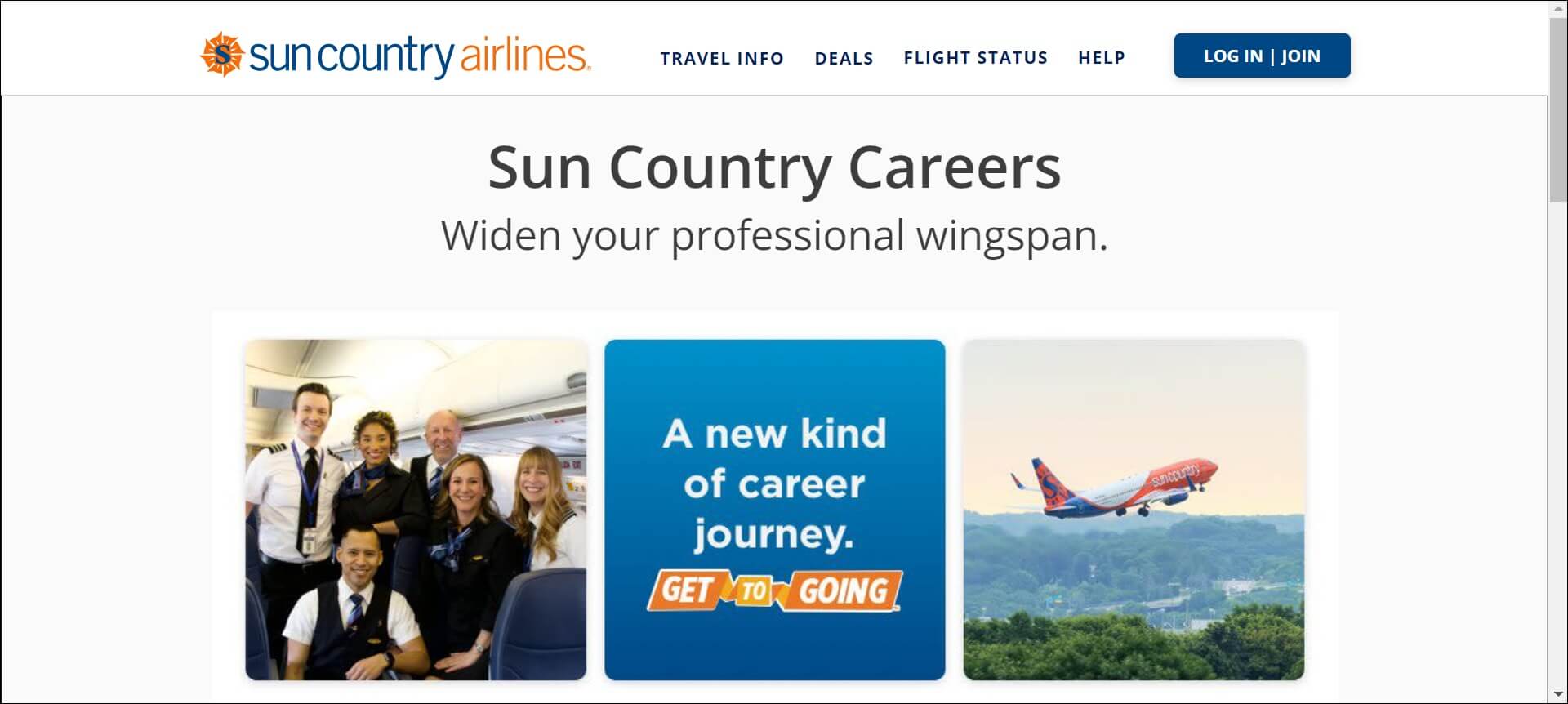 How to Become a Cabin Crew for Sun Country Airlines
Applying to be part of the growing airlines in Minneapolis requires you to follow various steps to get a career at Sun Country. Below is a step-by-step guide on how to apply to become a cabin crew for this prominent airline.
Step 1: Visit the official website of Sun Country Airlines at www.suncountry.com and look for flight attendant job vacancies. You can find this information in the Career Section at the bottom part of the site.
Step 2: Once you find an available job offering for the flight attendant role, check for the requirements in the job description to know if you have what it takes to be Sun Country Airlines next cabin crew.
Step 3: If you're sure that you are qualified for the role, create an account on the website with your working email address, correct name, and a valid password.
Step 4: Once you have an account, you can log in to the site and fill up the application form with your information.
Step 5: Submit other required documents such as your CV, certifications, passport, and other requirements.
Step 6: Wait for the response of the company. If your application passed the initial assessment you will receive an invitation to proceed to the next level of the application. Usually, the airline will conduct various interviews and tests before you get to be part of the company. There is also a series of training you need to pass.
If you prepare enthusiastically for the assessments and interviews before applying, your chance of getting hired is high.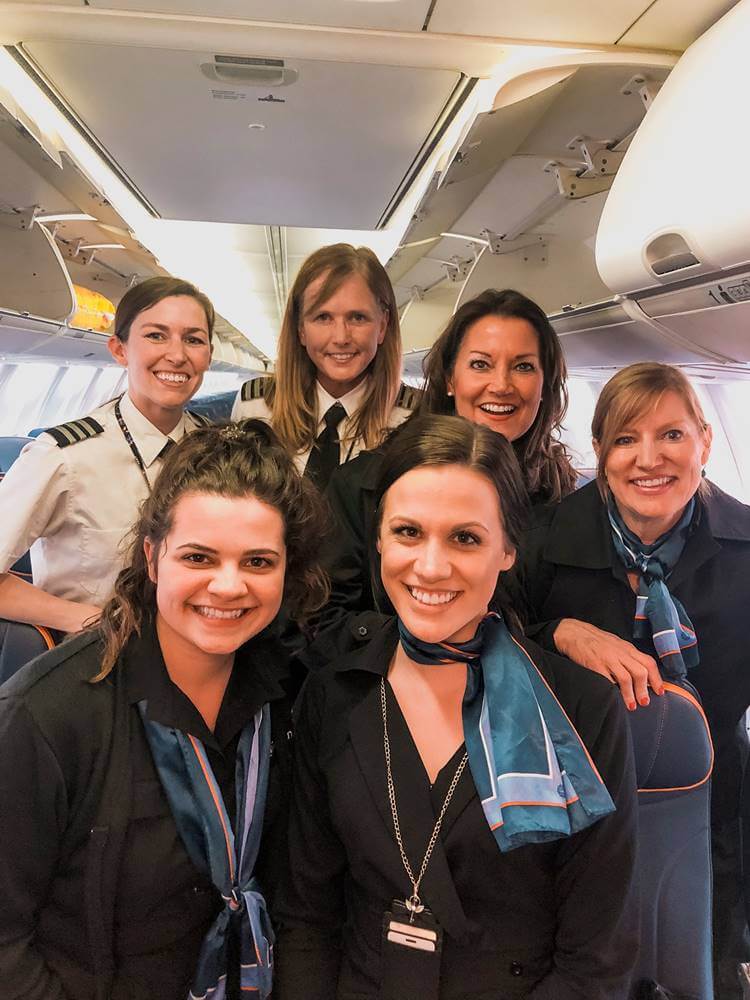 Monthly Salary a Sun Country Airlines Flight Attendant
When you start working as a flight attendant at Sun Country Airlines, you can expect to earn an estimated amount of more than $21,000 to $39,000 annually. It can vary depending on factors, such as experience, skills, and seniority level.
Aside from the competitive salary at this airline, they also offer significant benefits for their employees to enjoy. Sun Country Airlines' benefits for flight attendants include travel incentives, a 400k retirement plan, insurance policies, and paid leave.
Video: History of Sun Country Airlines
In applying for a job at Sun Country Airlines, it's essential to get to know the background and history of the company. It can be your edge over other applicants, especially during interviews since some questions can be about how the company became one of the well-known airlines in the US.
In this short video of DJ's Aviation, he presented the brief history of Sun Country Airlines and all the basic information that you can use for your application. It will also help you to have a connection with your future work if you get hired. Don't forget to take notes while watching the video for future reference.
Disclaimer: This is a video uploaded by a transport blog channel that shares the history of Sun Country Airlines. You can use this information to get to know the company more and use the data you gathered to ace your application. However, there is no guarantee that this will help you get the job.
Photos: Sun Airlines Flight Attendant Photos
Check out these beautiful and exciting pictures of Sun Country Airlines Flight Attendant. If you wish to be a part of this company, check out these photos to give you an idea about working for the airline:
Frequently Asked Questions
Below are common questions asked by applicants interested in the position of Flight Attendant for Sun Country Airlines.
1. How to Become a Cabin crew at Sun Country Airlines?
To become a cabin crew at Sun Country, you have to follow the process, be qualified and submit complete documents.
2. Can I apply at Sun Country Airlines online?
Yes, you can apply online on their official website at www.suncountry.com on their Career Section.
3. Do I need to have a University diploma to apply for a job at Sun Country?
The minimum educational requirement to apply at the airlines is a high school diploma or equivalent credentials.
4. Do I need to undergo training to become a cabin crew at Sun Country Airlines?
Yes, the company requires the selected applicants to undergo training.
5. Can I apply even if I have tattoos or piercings?
Yes, you can apply as long as your tattoos and piercings are not visible when wearing the company's uniform.
6. What is the height requirement?
You have to be 157.5 tall to apply.
7. Can I apply even if I'm still 18 years old?
No, the minimum age requirement of the airline is at least 21 years old and above.
8. Do I need to be relocated when I apply to Sun Country Airlines?
The company requires relocation near the respective bases you will be assigned. So, you should be willing to do so.
9. Do I need to have the experience to apply as a flight attendant at SCA?
Sun Country Airlines requires at least 2 years of experience in direct customer care or any related experience.
10. Can I apply even if I can't speak English fluently?
No, the company requires applicants to have the ability to speak and write English clearly.
Summary
Sun Country Airlines has been a prominent airline in the USA, providing high-quality services to people with dedicated teams. So, it's a great company to start your career as a flight attendant especially if you're living near Minneapolis. You will not worry about relocation. Moreover, the airline offers a competitive salary and benefits that you can enjoy as a flight attendant at Sun Country Airlines. However, before applying be sure to go over this guide to prepare everything you need to get hired easily.
Contact Information
SUN COUNTRY AIRLINES
Address: Sun Country Airlines
2005 Cargo Road
Minneapolis, MN 55450
Website: www.suncountry.com
Twitter: https://twitter.com/SunCountryAir
Instagram: https://www.instagram.com/suncountryair
Facebook: https://www.facebook.com/suncountryair/