Envoy Air is a regional airline that is a subsidiary of American Airlines. The airline operates flights for American Airlines and American Eagle. Envoy is headquartered in Irving, Texas. Requirements for flight attendants at Envoy are similar to those of other airlines. Applicants must be at least 21 years of age and have a high school diploma or equivalent. They must also be able to pass a background check and a drug test. In addition, they must have the ability to lift 50 pounds, be proficient in English, and have the ability to swim.
Furthermore, flight attendants must be willing to relocate to one of Envoy's base cities, which include Dallas/Fort Worth, Miami, and Chicago. Those who meet these requirements will be considered for an interview.
Also Read: Cabin Crew Interview: How to Sell Yourself
The interview is conducted by a panel of Envoy representatives and typically lasts about 45 minutes. During the interview, applicants will be asked questions about their customer service experience and their ability to handle difficult situations. Successful candidates will then be offered a position with the company.
Envoy Airlines is a regional airline that is headquartered in Texas. It has over 3,000 employees and provides service to more than 140 cities in the US. Envoy is a subsidiary of American Airlines and is one of the largest regional airlines in the world.
The airline's flight attendants must meet certain requirements to be hired and to keep their jobs. In this article, we will give you an overview of the requirements Envoy Airlines has for its flight attendants. We will also provide a glimpse into what the job entails and what you can expect as an employee of Envoy Airlines.
List of Requirements and Qualifications to become an Envoy Air Flight Attendant
As an airline, Envoy is committed to the safety and well-being of its passengers and crew. To ensure a safe and enjoyable flight experience for all, Envoy Airlines has strict requirements and qualifications that all potential flight attendants must meet. As such, Envoy's requirements for their flight attendants are very specific and stringent.
To be a flight attendant for Envoy, such requirements and qualifications include:
You must be at least 21 years of age.
The minimum height requirement should be 5'0 with or without shoes.
You have a high school diploma or equivalent.
You have a valid passport and the legal right to work in the United States.
You must also be able to read, write, and speak English fluently.
You must also be able to pass a criminal background check and a physical examination.
In addition, Envoy Airlines requires that all potential flight attendants complete their training program, which includes classroom instruction and hands-on experience. After completing the training program, you will be eligible to work as a flight attendant for Envoy Airlines.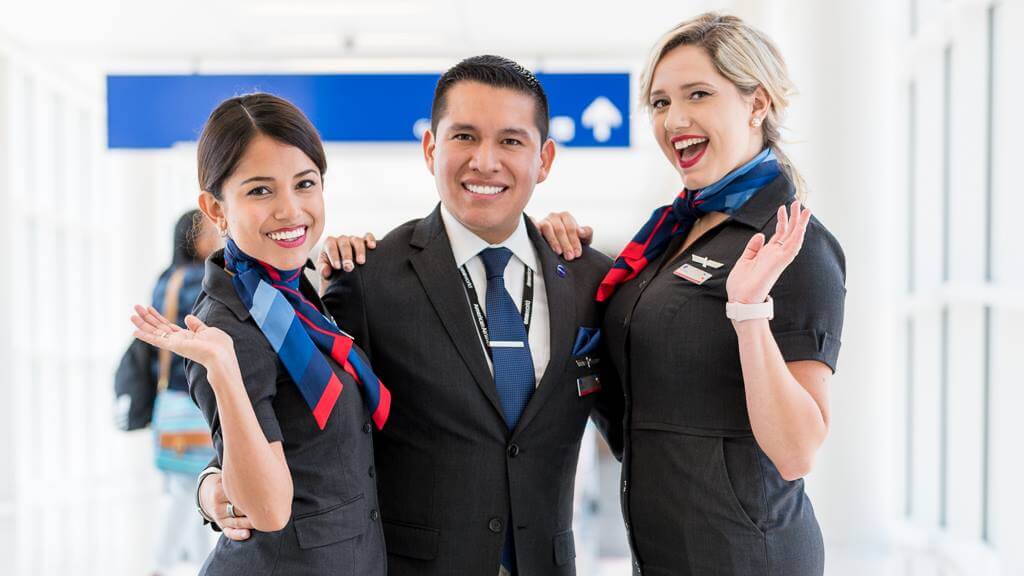 Application Process
The application process to become an Envoy Air flight attendant is relatively straightforward. Here is an overview:
Step 1: Fill out an online application and submit it here – https://www.envoyair.com/flight-attendants/
Step 2: After your application has been reviewed, you will be contacted for a phone interview.
Step 3: If you are selected to move forward in the process, you will be invited to attend an in-person interview.
Step 4: You will also have to complete a training program and certification process before you can begin working as a flight attendant.
Please check out this guide on the full procedure to become a flight attendant for Envoy Air.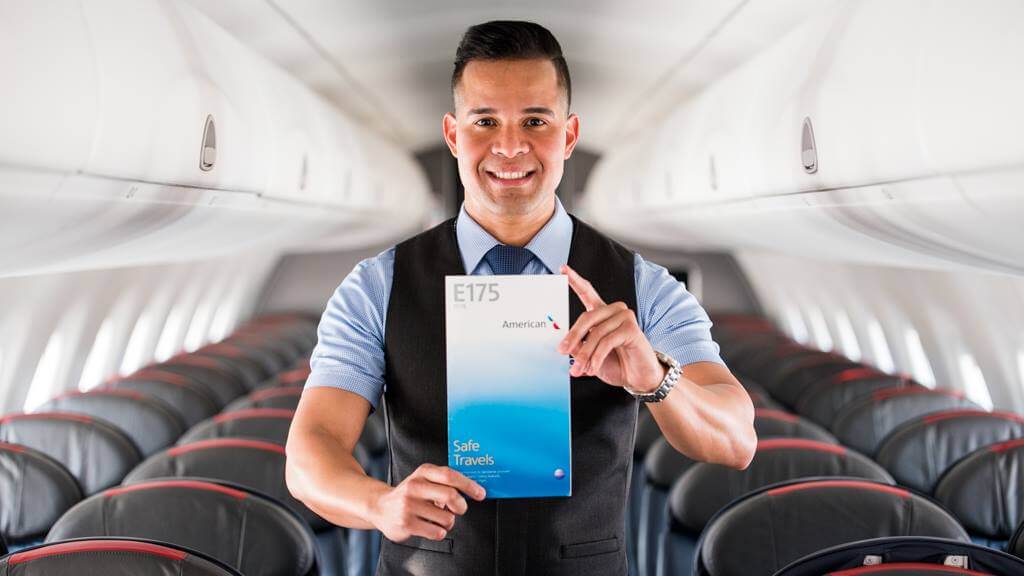 Salary & Benefits
Envoy Airlines offers a competitive salary and benefits package for their flight attendants. Flight attendants with Envoy Airlines can expect to receive a base salary, as well as per diem pay and other perks such as free or discounted travel.
Flight attendants for Envoy airlines are paid an hourly wage of $21.00 and they have increased this now to $27 as entry-level compensation for newly hired flight attendants plus additional bonuses that awaits them.
Aside from their hourly wage, flight attendants also receive per diem pay of $2.13 per hour, which is used to cover the cost of food and lodging while on a trip.
Envoy airlines' benefits package includes health insurance, dental and vision coverage, and a 401k retirement savings plan. Flight attendants at Envoy airlines are also eligible for bonuses, stock options, and other rewards based on customer satisfaction and performance metrics. On top of their salaries and benefits, Envoy Air flight attendants also receive perks like free travel on American Airlines flights.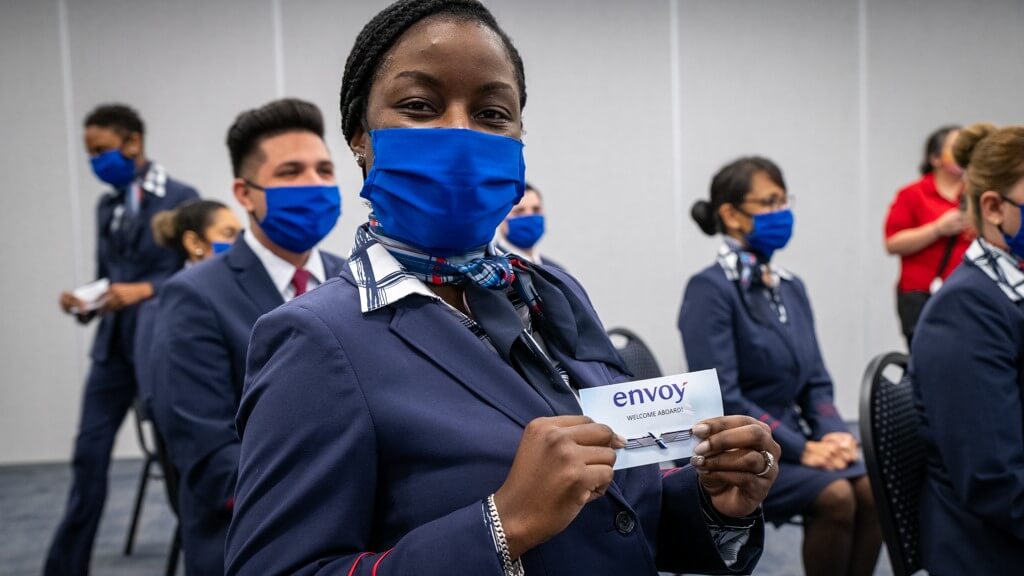 Video: Becoming an Envoy Flight Attendant
In the video, newly hired flight attendants shared their experiences with Envoy Air from the very first time they submitted their online application up to their graduation and completion of pieces of training.
Here, they shared what the application process was like and their training from virtual or classroom instruction and hands-on training with their instructors. They also shared the type of training they had such as for emergency and safety purposes.
They have also shared the reason why they had chosen to start their flight attendant career with Envoy Airlines and what it's like to become a part of Envoy. You can refer to the link above to check and watch the video yourself to know more about becoming an Envoy flight attendant. You may also go to their official website to submit your online application and start your flight attendant career with Envoy Airlines.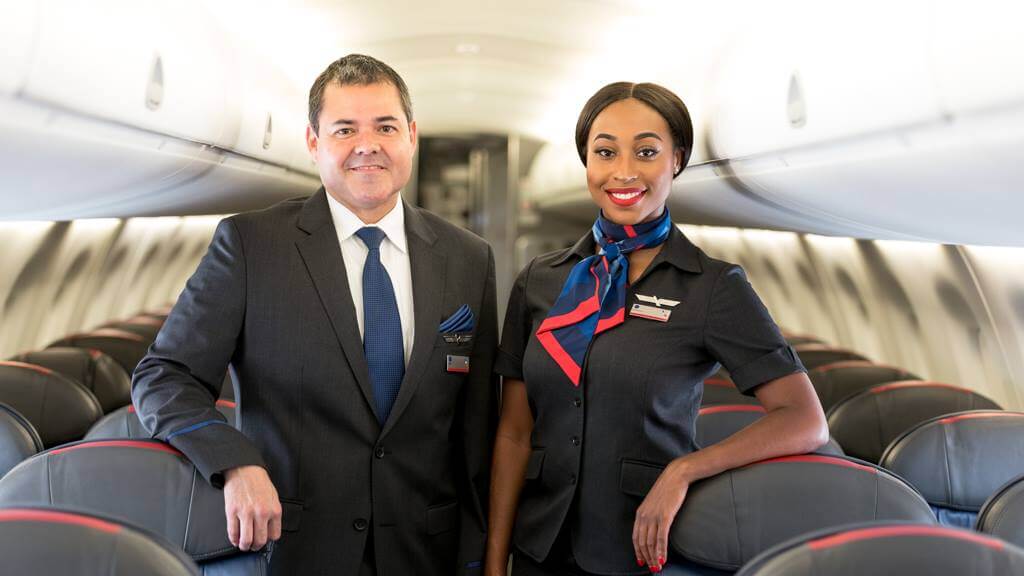 Photos: Envoy Air Airlines Cabin Crew Uniforms
Check out these pictures of Envoy Air Airlines crew so you can see what they look like in uniforms:
Frequently Asked Questions
Here are some common questions about the requirements for Envoy Air flight attendants.
1. How long is Envoy flight attendant training?
Flight attendant training lasts approximately one month
2. What kind of training do Envoy airlines flight attendants receive?
Training in Envoy airlines as FAs is conducted partially through virtual classroom instruction and hands-on training experience. In line, they undergo training about safety precaution measures in times of an emergency. They must also complete ground school and Initial Operating Experience (IOE).
3. Does Envoy accept applicants with tattoos?
Yes, but Envoy Air does not allow visible tattoos while in cabin crew uniforms.
4. What are the top qualities that Envoy Airlines looks for in its flight attendants?
Envoy looks for FAs that possess the skills and qualities to do the tasks safely and elevate passengers' experience through outstanding customer service.
5. Can I become a flight attendant with no experience in Envoy Air?
Yes, you will undergo and complete the training process to become a skilled flight attendant.
6. Can I still apply even if I'm not a college graduate?
Yes, you can. Envoy Air has a minimum qualification of at least a high school level diploma.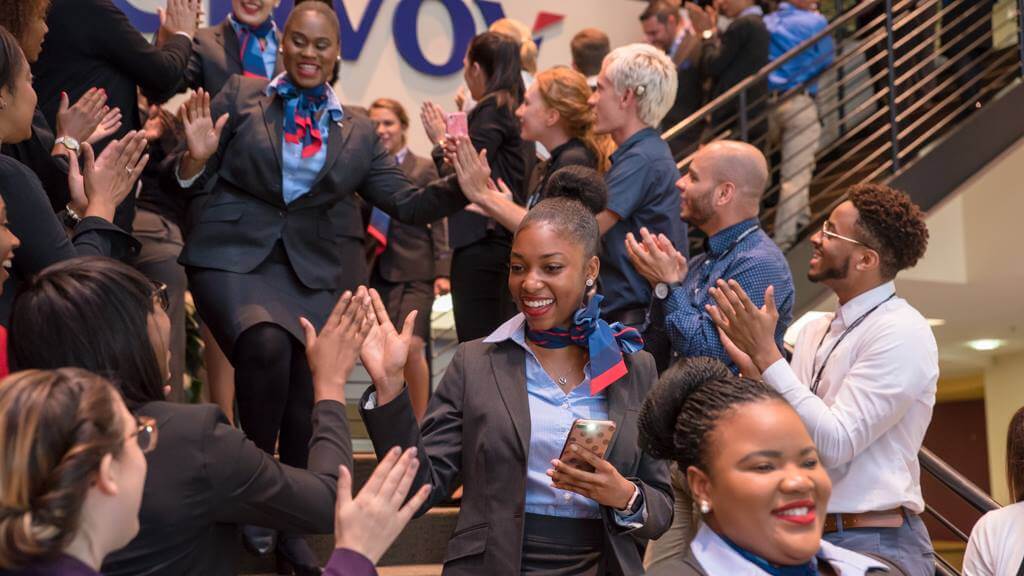 Summary
In conclusion, to become an Envoy Airlines flight attendant, you must meet the requirements and qualifications. Some of these include being at least 21 years of age, having a high school diploma or GED, being able to pass background checks and drug tests, and being fluent in English. You will also need to have a clean appearance and be able to communicate effectively with passengers. If you meet all of these requirements, you will be well on your way to becoming an Envoy Airlines flight attendant.
Envoy Airlines is a great place to start your flight attendant career. The requirements are not too difficult to meet and the qualifications will allow you to grow within the company you can expect to receive good pay, great benefits, and the chance to travel the world.