Are you interested in landing a flight attendant job at Endeavor Air? If yes, we have prepared this guide with everything you need to know about how to apply for Endeavor Air cabin crew hiring, including the qualifications and requirements you need to meet and prepare beforehand.
Also Read: BuzzFeed and Cabin Crews Reveal the Most Shocking Airplane Secrets
Endeavor Air is a Delta Air Lines-owned subsidiary that operates 193 jets on over 900 daily flights across North America and the United States. Being a company known for high-quality and customer-focused travel experience, flight attendants must ensure to render quality services to clients while upholding the company's image and reputation. Read on if you think you have what it takes to get hired.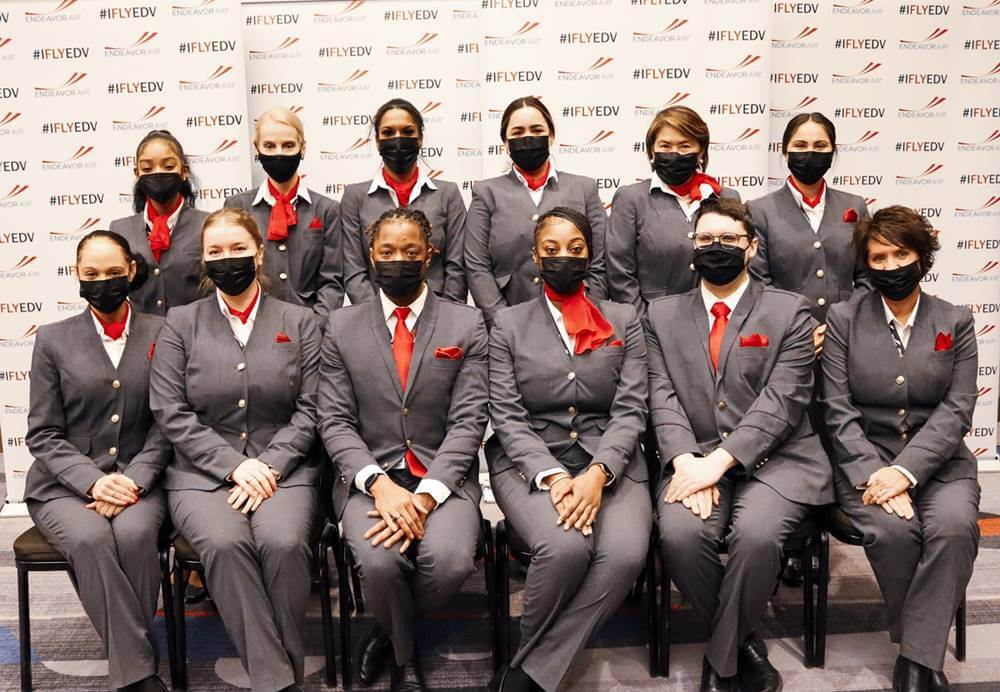 Overview of the Endeavor Air
Founded in 1985 as Express Airlines 1 and then Pinnacle Airlines in 2002, Endeavor Airlines emerged in its current name in 2013 as a fully-owned subsidiary by Delta Airlines.
Presently, it schedules over 900 daily flights in 193 regional jets to 140 cities located across North America and in the United States. Its headquarters is situated in Minneapolis, Minnesota, and also has hub operations in New York City, Atlanta, Minneapolis, Cincinnati, and Detroit.
Endeavor Airlines commits itself to its aim of offering a cost-competitive, safe, and customer-centered flight experience for the communities that they take pride in servicing. The airlines believe that staying true to their mission and vision is what ultimately allows them to elevate in-air experiences for passengers.
Because of this, Endeavor Air consistently makes sure that its staff remains attentive and sensitive to customers' needs, all so that they can provide them readily with quality services putting safety at the center of its goals. Moreover, the company also prioritizes inclusion and diversity in all aspects of flight operations, setting integrity and respect as foundational values for what they do.
Apart from valuing customer experience, they also take good care of their employees, making sure that each and every one is appreciated, empowered, and compensated accordingly. For this, the company initiates a culture where the crew can enjoy going to work every day, providing various incentives and rewards through celebrations all year round.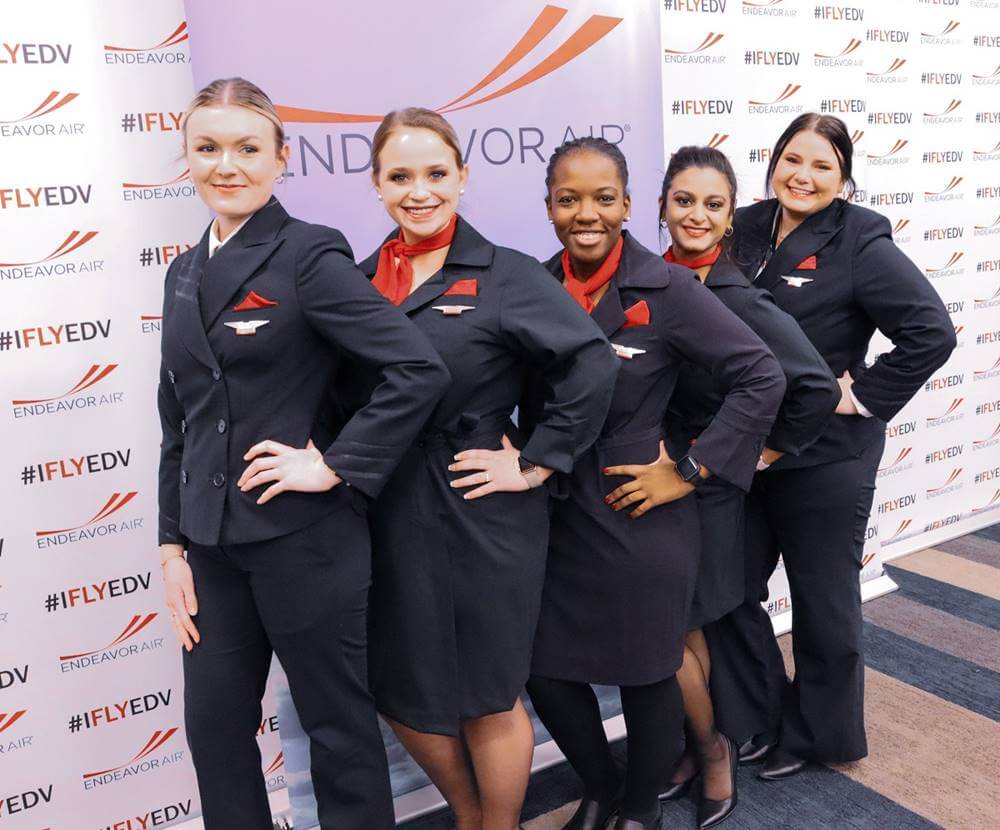 Responsibilities
Endeavor Air constantly sees to it that its passengers are offered comfortable and high-quality services throughout their flight. As a subsidiary of one of the largest operators of the CRJ-900 aircraft, they make sure that their employees are skilled enough to deliver services effectively and efficiently.
From providing memorable and safe onboard experiences for customers on a daily to creating detailed paperwork, a flight attendant's job can be quite challenging. For this, here are the tasks and responsibilities you can expect in the job:
Ensure the comfort and safety of customers by providing each passenger with the best service possible.
Project and keep a positive composure and attitude at all times.
Prepare and serve meals, snacks, non-alcoholic or alcoholic beverages while receiving and processing payments for the purchased items at the same time.
Render customer assistance like transporting, lifting, or stowing luggage into storage areas or overhead bins.
Answer customers' queries and provide assistance when necessary, especially to those who require special assistance (elderly, minors, individuals with special needs)
Communicate effectively verbally when making public address announcements, providing timely updates and instructions, or performing safety demonstrations
Work both as part of the team and independently to accomplish tasks.
Maintain professional appearance and compliance with appearance guidelines and uniforms.
Ability to be flexible, committed, and dependable to complete work assignments according to the airlines' standards.
Communicate in writing to accomplish detailed reports and paperwork regarding discrepancies or incidents.
Adjust work activities to adapt to dynamic work conditions or schedule changes.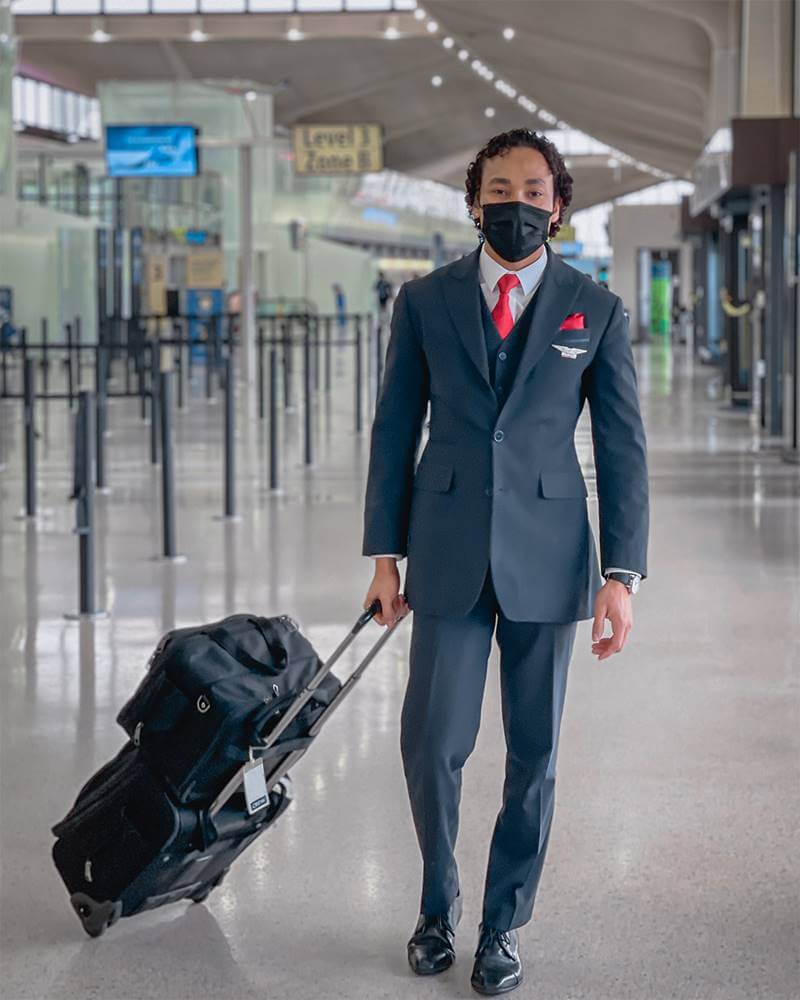 Qualifications
Every company has its own established standard when it comes to recruitment. Of course, they'd want to remain consistent in rendering effective services while upholding the reputation of their company. For this, selecting recruits and new additions to the team is a crucial aspect in the hiring process. To become a flight attendant, you must be determined enough to meet their qualifications to secure a chance to get hired. Here are some of them:
Minimum 21 years of age.
Authorization to work in the U.S.
Ability to report to your assigned work base in 2 hours.
Ability to write, speak, read, and understand English fluently.
Must be successful in accomplishing a comprehensive background check. (government-required fingerprint-based criminal history records, DOT pre-employment drug screen).
Ability to work in a flexible schedule including holidays, weekends, or nights as required
Ability to comply with Endeavor Air's Professional Appearance Guidelines
Covering visible tattoos with makeup while in uniform
Read More: Endeavor Air Flight Attendant Requirements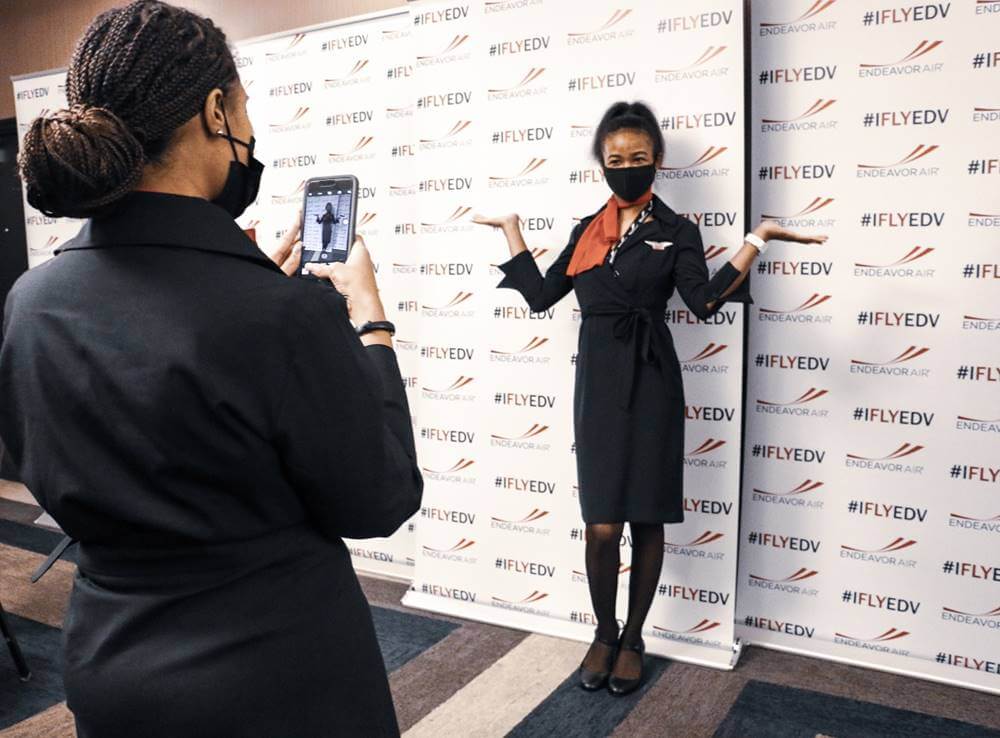 Document Requirements to Prepare
No goal remains impossible, that is, if one is willing enough to work their way towards it. Preparation is always an essential factor in being a step closer to your dream of being a flight attendant. Because of this, it's vital that you are well-informed about the required documents that you'll need to comply with to become an Endeavor Air Flight Attendant.
High school diploma, GED, or equivalent BS/BA college degree preferred or a combination of education and related experience.
Must have a valid passport and necessary travel documents to enter and exit all Endeavor Air-operated destinations
Where to Apply for a Job for Endeavor Air Online
To look for possible job openings and details, you can visit their official careers page here or apply through their LinkedIn page as well. You can also check their social media pages listed at the end of this article for upcoming announcements about recruitment events or open-day hiring.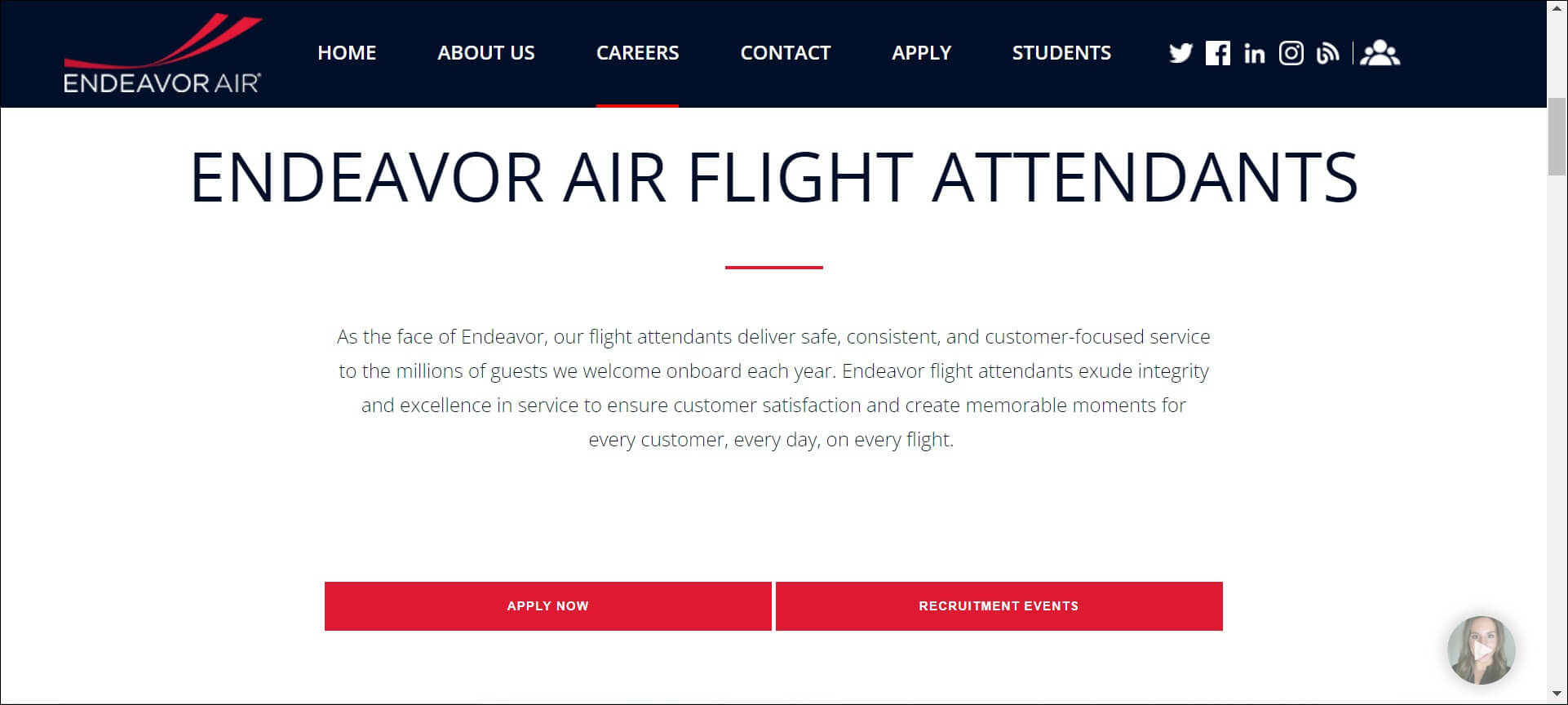 How to Become a Cabin Crew for Endeavor Air
Below is a step by step, easy-to-follow guide on how to successfully process your application for the role of Flight Attendant for Endeavor.
Step 1: Go to Endeavor Air's career page. Here you can see the open positions where you can apply. If you don't see your preferred position yet, you can visit the page from time to time for updates.
Step 2: Search for the job you'd like to apply for and look for possible vacancies. More often than not, the airlines post the open positions here. If there are no available positions, the airlines will likely post an announcement.
Step 3:  Read through all the necessary information and click Apply Now.
Step 4. Follow through with all their instructions and questions. In this stage, you will usually be required to submit personal information and your resume for consideration.
Step 5. Wait until the company reaches you via your contact details.
The company also holds open-day recruitment events once in a while. If pandemic restrictions are already manageable in your area, you can regularly check their careers page for upcoming events you can attend in person.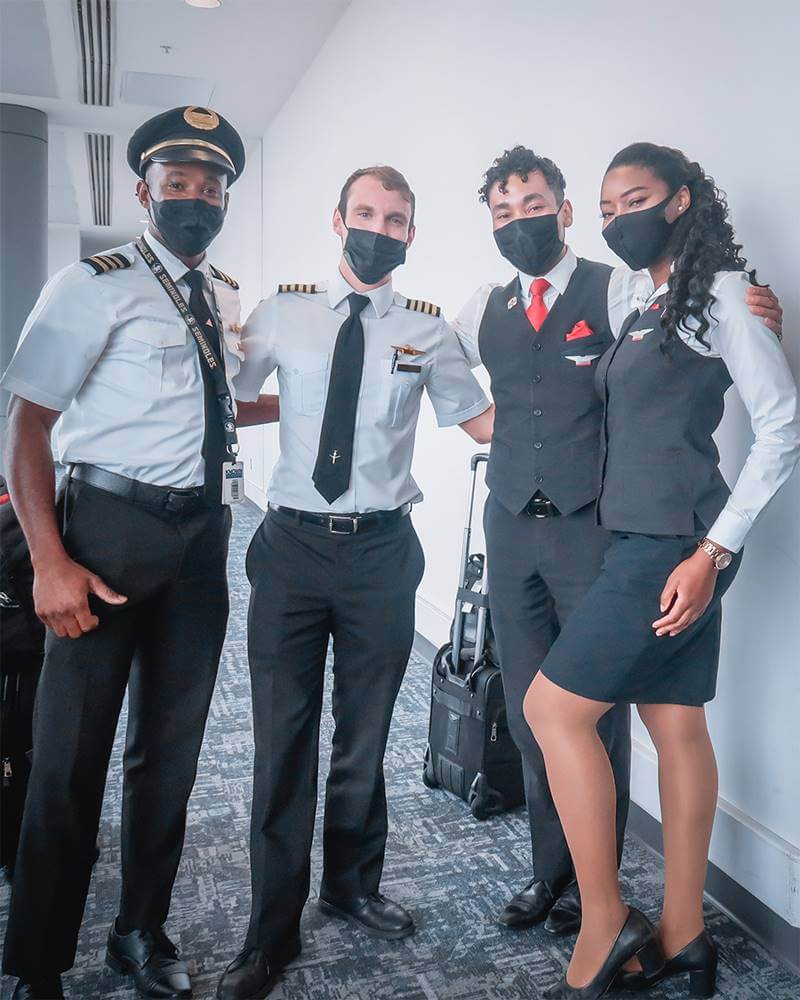 Monthly Salary an Endeavor Air Flight Attendant
The annual earnings of newly recruited flight attendants at Endeavor Air is about $22,000, with the hourly rate being $19,29 per hour for zero to six months. After a six-month period, credit hours range from $20.30 to $24.71 after a year and so on. There are also countless employee benefits such as:
401k with company match
Health, Dental & Vision
Travel Privileges
Basic Life & AD&D Supplemental Insurance
Airline Employee Discounts
Short and long term disability
Flexible spending accounts
Critical Illness & Cancer benefit
Voluntary Accident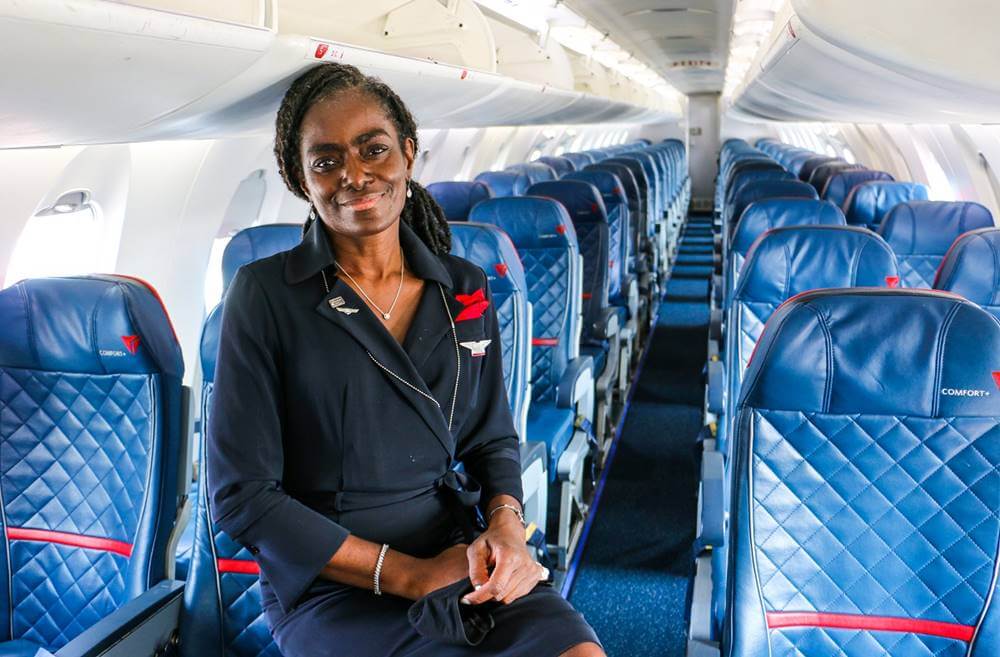 Video: Things to Know About the Endeavor Air Flight Attendant Job
In this video uploaded on the official YouTube of the airlines, Endeavor Air's very own flight attendants tell you seven important things to consider before applying for the airlines. These are:
Must be 21 years old, 5'10.5" or less
You'll handle all sorts of situations
Have valid passport, can travel
Flexibility in your schedule is a must
No visible tattoos, please
Pass drug, criminal history screening
Pay increases the more you fly
Photos: Endeavor Air Flight Attendant Photos
Check out these beautiful and exciting photos of Endeavor Air Flight Attendants. If you wish to be a part of this company, check out these photos to give you an idea about working for the airline:
Frequently Asked Questions
Below are of some the common questions applicants have when applying for the Flight Attendant job for Endeavor Air. It is advisable to read through them to prepare yourself for some of the basic important information needed for the job role.
1. How much do flight attendants make at Endeavor Air?
New flight attendant recruits earn about $22,000 annually. However, the pay increases the more years you fly with the company.
2. How long does it take to hear back from Endeavor Air?
After the interview, recruiters will ask you more about yourself, and you can expect to hear back in the same day or about two or three days later.
3. Where is Endeavor Air flight attendant training?
Classes for the training are typically held at the Endeavor Air Training Center situated on the Delta Campus in Minneapolis, Minnesota.
4. When does per diem begin?
Flight attendants will start to earn per diem of about $1.90 an hour after the IOE. This starts at the time of your report in domicile until the release time back.
5. How will I get paid for reserve days?
The pay for reserve comes with the 75-hour per month guarantee. After reaching 75 credit hours for the month, you will then be paid the above guarantee for additional assignments at your hourly rate.
6. How long is flight attendant training at Endeavor Air?
The initial ground school training takes up to four consecutive weeks and can even include weekend classes.
7. Do I get paid during training?
Yes, you will receive a $400 training stipend for about two to three weeks into training, depending on your date of hire. No hourly pay is applicable during training.
8. How many flights can I expect to fly on a regular day?
The number of flights usually differ based on the trip assigned to you. However, you can fly about one to six flights a day on average.
9. How many days off can I receive?
Reserve flight attendants get a minimum of 10 days off every month while line-holding flight attendants get 11 days.
10. How much time do we spend away from home as a flight attendant on reserve at Endeavor Air?
Depending on your assigned trip, you can be assigned to at least a one to five-day trip.
Summary
If you love going to new places or meeting and assisting people in the name of service, then being an Endeavor Air flight attendant may be a good career choice. But before you fulfill your dream of becoming a flight attendant, it's necessary to consider important factors such as qualifications, responsibilities, and requirements so you'll be knowledgeable about what this field of work entails.
While there may be inevitable hurdles along the way, remember that no dream is unattainable unless you put in the required work needed to achieve it!
Contact Information
ENDEAVOR AIR
Address (of main headquarters): Endeavor Air 7500 Airline Drive Minneapolis, MN 55450
Telephone Number: 800.603.4594
Website: www.endeavorair.com
Facebook: https://www.facebook.com/9EAir/
Instagram: https://www.instagram.com/endeavorair/?hl=en
Twitter: https://twitter.com/EndeavorAir