If you are thinking of becoming a flight attendant for Silver Airways, there are a few requirements you will need to meet. First, you must be at least 21 years of age and have a high school diploma or equivalent. You will also need to have a valid passport and be able to pass a background check. Please follow the guidelines on the qualifications and requirements below.
Also Read: How to Answer: What are Your Strengths?
Founded in 2011, Silver Airways is an American airline and a subsidiary of United Airlines with its headquarters in Fort Lauderdale, Florida. The carrier operates regional flights within the United States, as well as to the Bahamas and Cuba. As of 2019, the airline had a fleet of 48 aircraft and employed over 600 flight attendants.
When it comes to flight attendants, Silver Airways has a very different philosophy than other airlines. They believe that the flight experience should be fun and relaxing, not stuffy and stressful. To that end, they have designed their uniforms to be more comfortable and allow for more self-expression. The airline's flight attendants are also known for their exceptional customer service. They are often lauded by passengers for their kindness and professionalism. In addition to providing excellent service, Silver Airways' flight attendants also have a strong commitment to safety. They undergo rigorous training on a variety of safety procedures and are always prepared to handle any emergency that may arise during a flight.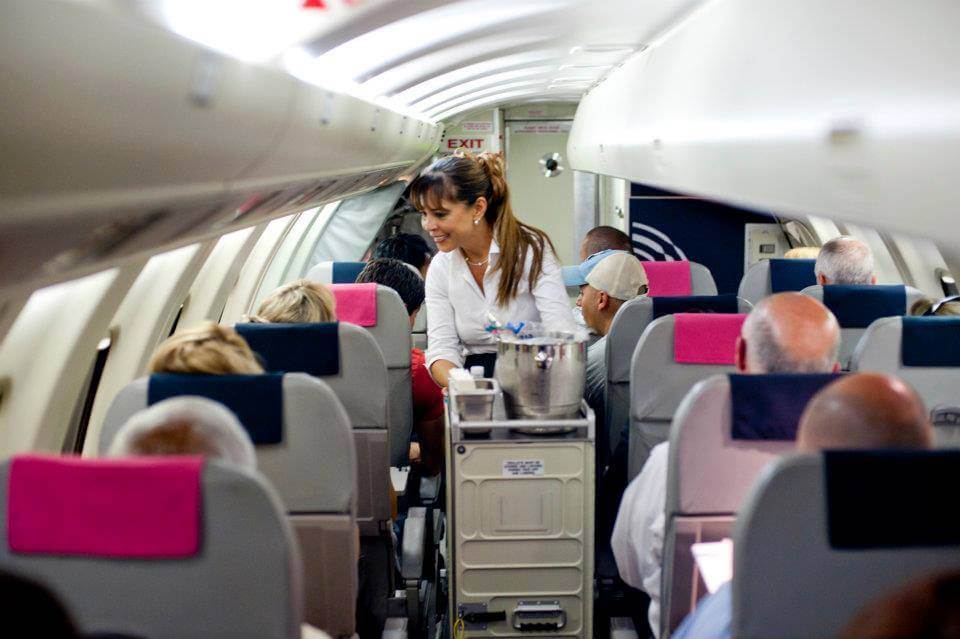 List of Requirements and Qualifications to become a Silver Airways Flight Attendant
Airlines' flight attendants are responsible for ensuring the safety and security of passengers during a flight. To become a flight attendant for Silver Airways, applicants must be:
at least 21 years of age
have a high school diploma or equivalent
must also be able to pass a background check and drug test
must have a valid passport that is unrestricted to travel in the U.S
must be able to lift 50 pounds and be comfortable working in close quarters
have the ability to swim 50 yards unassisted
fluency in speaking and writing in English, and basic computer skills
must be able to work long hours, including overnight shifts
Customer service experience is preferred, but not required.
at least 5'2" tall but not taller than 6'0"
have no visible tattoos while in uniform
weight must be proportional to the height
have excellent medical and dental records
no multiple ear piercings and hairstyles with extreme and vivid colors
can easily adapt to new people, environments, and situations
Silver Airways offers paid training for new hires. Silver Airways training lasts for four weeks and includes both classroom instruction and on-the-job training.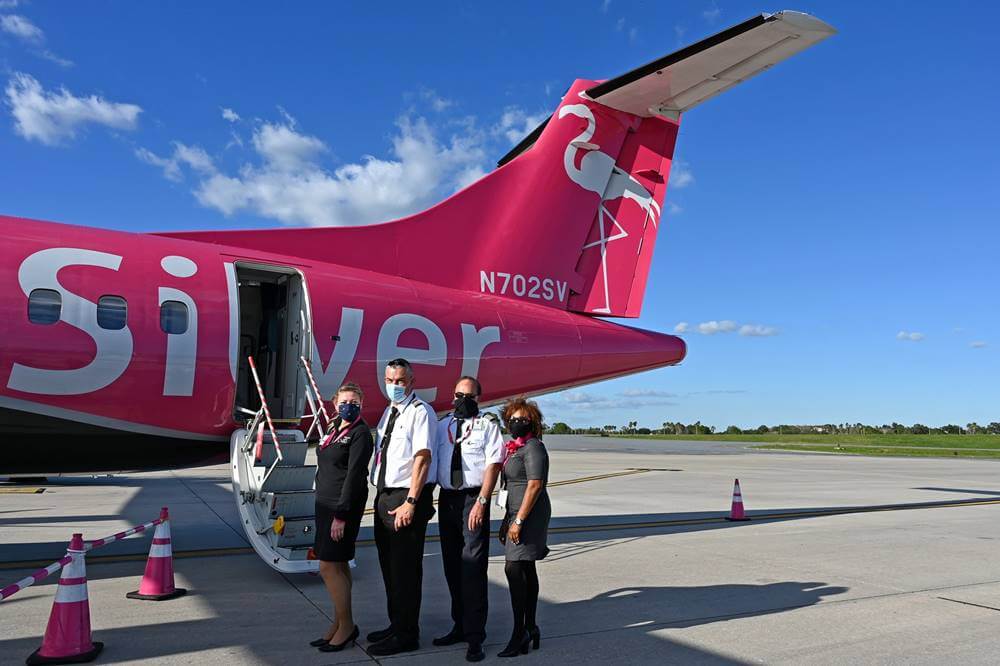 Application Process
When applying to be a flight attendant with Silver Airways, applicants must go through an initial screening process which includes a video interview and an online assessed test.
Step 1: Fill out an online application here – https://www.silverairways.com/careers
You will need to include your resume, contact information, and a headshot with your application.
Step 2: Submit your application.
Once your application is submitted, you will be contacted for an interview if you are selected.
Step 3: Interview
Your interview will include a group discussion and a one-on-one meeting.
Step 4: Training
After your interview, you will be notified if you have been chosen to move on to the training program. Applicants who pass the initial screening will then be invited to attend an in-person assessment day, where they will undergo a group exercise, interview, and simulated flights.
The entire process from start to finish usually takes around 6-8 weeks. Those who are successful in becoming flight attendants with Silver Airways can expect to receive on-the-job training as well as some classroom instruction.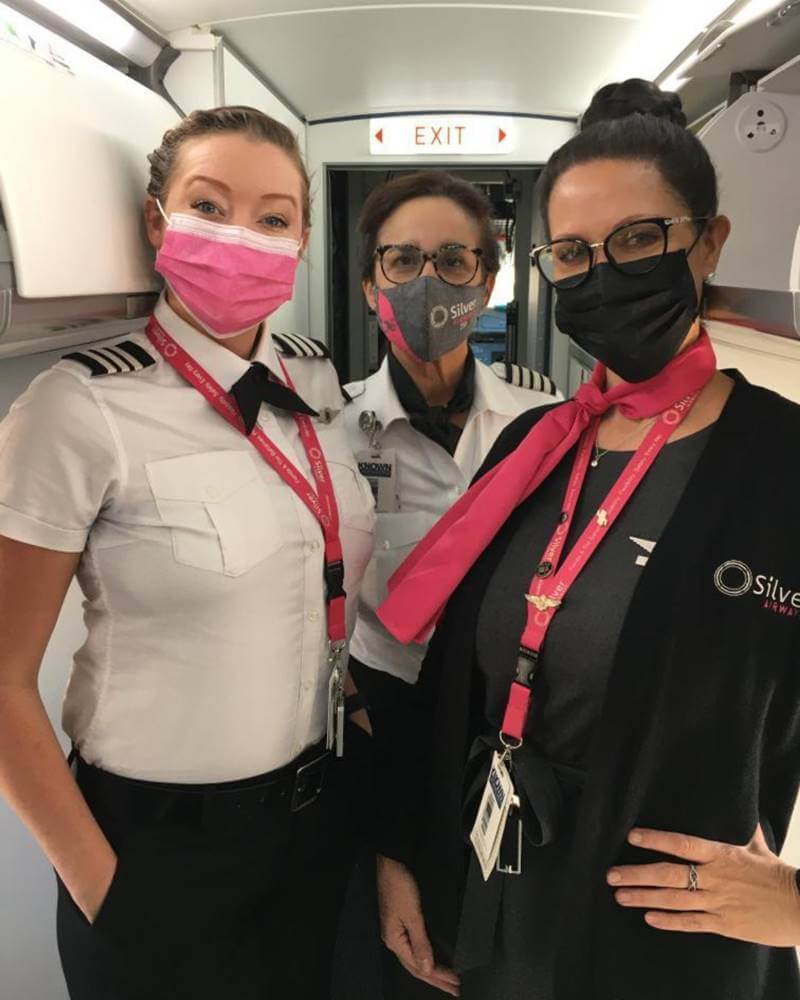 Salary & Benefits
Silver Airways offers a competitive salary and benefits package for their flight attendants. Flight attendants at Silver Airways can expect to earn a base salary, as well as additional compensation for flying time and other perks. Flight attendants at Silver Airways can expect to earn a base salary of $27,000 per year. In addition to the base salary, Silver Airways also offers flight attendants a per diem rate of $1.50 per hour, which can add up to an additional $4,200 per year. Benefits for Silver Airways flight attendants include medical and dental coverage, a 401k savings plan, and paid vacation days.
Flight attendants at Silver Airways are eligible for paid vacation days, sick days, and personal days. Other perks of the job include free or discounted travel on Silver Airways and other airlines, as well as discounts on hotels, car rentals, and more.
Video: Welcome to Silver Airways
In this video, employees and staff of Silver Airways discussed and shared what it is like inside the airline company. They also shared the vision as well as the mission of the company.
Most of them shared great experiences while working at Silver Airways and the core of its business which is the people and to offer them the best customer service they can. Their Chief Executive Officer also shared the benefits their employees and staff enjoy while working in the company. He also gives some insights about the company such as its commitment to safety, reliability, and responsible for good customer service. He also mentioned some of the partners of Silver Airways such as American Airlines and United Airlines and others.
To know more about Silver Airways, just visit the link provided on the careers page.
Photos: Silver Airways Airlines Cabin Crew Uniforms
Check out these pictures of Silver Airways Airlines crew so you can see what they look like in uniforms:
Frequently Asked Questions
Here are some common questions about the requirements for Air New Zealand flight attendants.
1. What are the educational requirements for Silver Airways flight attendant applicants?
You must have at least a high school diploma or equivalent.
2. What are the physical requirements for Silver Airways flight attendants?
You must be at least 5'2" tall and not taller than 6'0". Your weight must also be in proportion to your height. You must have no visible tattoos or multiple piercings while in uniform and you must be able to lift 50 pounds.
3. What is the minimum age requirement for Silver Airways flight attendants?
You must be at least 21 years old.
4. How long is the training process?
The training program usually took four weeks but may also last for six to eight weeks including the application process.
5. What is the hiring process for Silver Airways flight attendants?
The hiring process is simple. You just have to meet all the requirements and qualifications to become eligible for the position and submit an online application and wait for a response from Silver Airways.
6. Are tattoos allowed in Silver Airways flight attendants?
Yes, but visible tattoos not allowed. Hence, it must be covered while in uniform.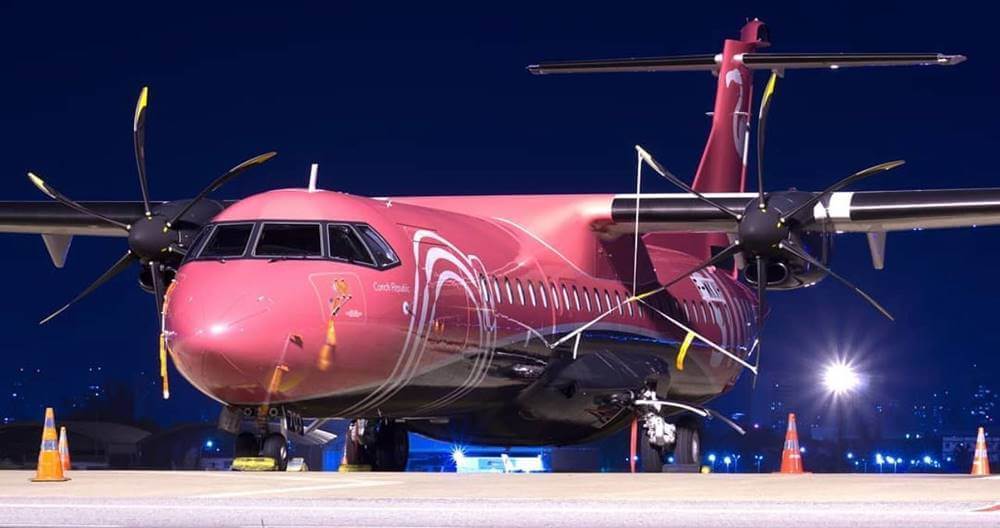 Summary
Silver Airways is currently hiring cabin crew members! This is an excellent opportunity for those who enjoy working with the public and are interested in the airline industry. As a cabin crew member, you will be responsible for providing outstanding customer service to our passengers. You will also be responsible for safety procedures and ensuring that all passengers are comfortable during the flight. Don't hesitate to apply if you possess the important qualities to become a crew member.
To conclude, applicants for the position of flight attendant at Silver Airways airlines must be at least 21 years of age, have a high school diploma or equivalent, and complete an accredited training program. They must also have a current passport and the ability to swim unassisted. Successful candidates will be well-groomed, articulate, and possess excellent customer service skills.
The above requirements are the general guidelines provided by Silver Airways. Note that these may be subject to change at any time, and it is recommended that you check with the airline directly to make sure you have the most up-to-date information. Good luck in your career as a flight attendant!