A job has a thousand meanings. For some, it is the reason they stay alive day by day. For others, it is their life-long dream come true. Regardless of what a job means to you, all jobs start with enough preparation and dedication to deserve it. Out of the many companies out there, one of them will contribute greatly to your growth–as long as you are an asset to their growth too.
Also Read: Cabin Crew Layover – Maximizing Hotel Layovers as a Flight Attendant
In this article, we're going to talk about the hiring process in Silver Airways. While regional airlines don't have a wide reach compared to international airlines, their customer service and smooth flights are the same. Just like any airline out there, Silver Airways is committed to thriving and expanding. Can you see yourself as part of their cabin crew? If yes, then read on for more information!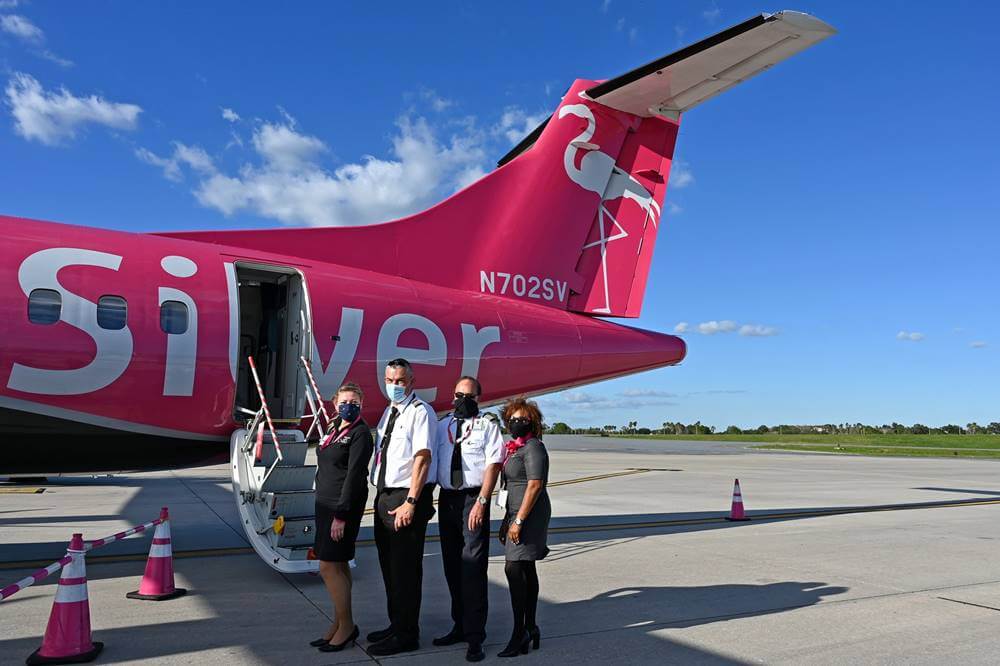 Overview of the Silver Airways
Founded in May 2011 and having its first flight in December of the same year, Silver Airways is one of the most affordable and reliable regional airways in the industry. Its headquarters is located in Fort Lauderdale–Hollywood International Airport in Broward County, Florida, and currently has hubs in Fort Lauderdale, Orlando, Tampa, Florida, and in San Juan, Puerto Rico. At present, it has a signed contract with Amazon Air, which is why they now offer flights from Albuquerque, New Mexico and Des Moines, as well as from Iowa to Amazon's hub which is near Fort Worth, Texas. At present, they have more than 1,000 employees and are planning to hire more in the future.
Responsibilities
As an aspiring Silver Airways Flight Attendant, here are the responsibilities that you should do well.
Conduct safety checks before each flight
Scan the cabin for any safety hazards
Greet your passengers warmly
Escort and assist your passengers with their luggage
Help them find and settle into their seats
Prepare and serve drinks and food to your passengers according to what is requested.
Take note of any medical needs, likes, and dislikes of passengers
Present emergency equipment and brief passengers on how to use the equipment
Monitor, manage and secure the cabin
Adhere to all aviation rules and regulations
Assist passengers and cabin crew during emergencies
Assist passengers with special needs (children, disabled persons, elders, etc.)
Attend briefings before each flight
Submit and prepare reports concerning flight incidents
Extend help and assistance as many times needed
Become culturally aware
Treat passengers with respect and without discrimination.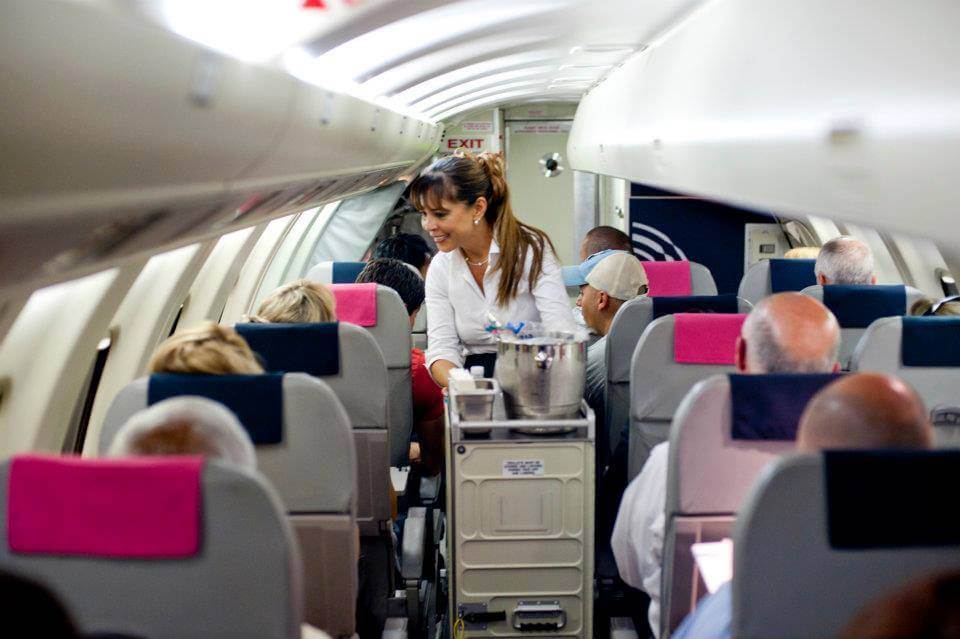 Qualifications to become a Silver Airways Cabin Crew
Must be at least 21 years of age at the time of application
Height must be 5'2" but not taller than 6'0"
Must have no visible tattoos, especially when wearing a uniform
No multiple ear piercings and extreme hairstyles or vivid colors
Willing to work up to 15 hours a day
Willing to work during weekends and holidays.
Must be able to read, write and speak English fluently
Must have a valid passport for unrestricted travel to/from the United States
Must have a high school diploma or GED
Must have a valid driver's license
Able to serve passengers with hospitality
Excellent dental and medical records
Weight must be proportional to the height
Must not have bad acne (should be coverable or unnoticeable with makeup)
Can adapt to new people, new places, and new situations
Thrives in a fast-paced and changing environment
Excellent personal presentation, style, and image
Must be successful in taking the Emergency First Aid Course and Airways Emergencies courses before the training period
Document Requirements to Prepare
Here are the documents which are commonly asked from you during your application process:
Updated CV/Resume
Head and full-body photographs
Good Conduct Certificate or Criminal Record
Medical and Dental Records
For your photographs, here are the common standards you may want to keep in mind:
Should be wearing professional business attire (including a jacket and tie for men).
Should be standing facing straight towards the camera, with your hands down by your side.
Should be smiling with a large but natural smile (ideally showing teeth).
A white background is highly advisable.
The full-length photographs should measure 6×4 inches (15×10 cm), while the passport-sized photos should measure 45×35 mm (1.77×1.37 inches).
Where to Apply for a Job for Silver Airways  Online
To check for job vacancies and details, you can visit and view their website here.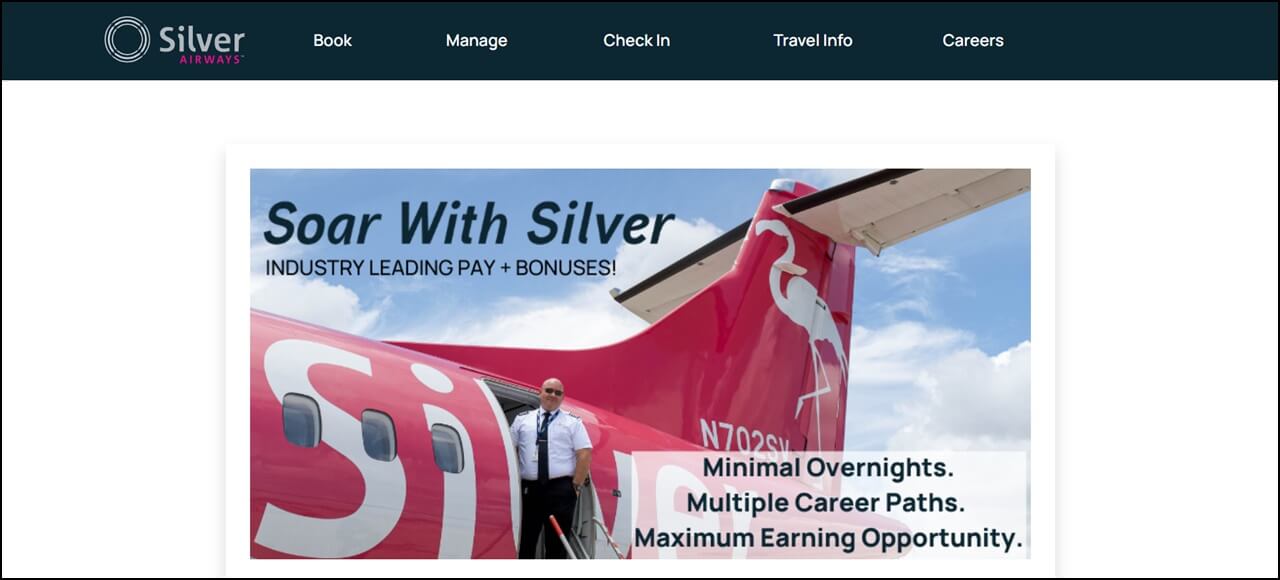 Moreover, you can also check their LinkedIn profile for other important announcements. Just click the link.
How to Become A Flight Attendant at Silver Airways
If you meet Silver Airways' flight attendant qualifications, you can now start applying for the said job position. These are the following steps you need to follow when applying for a flight attendant position at Silver Airways:
Step 1: Prepare all the Necessary Documents Required
The hiring process at Silver Airways is conducted online, so you have lots of time to prepare the requirements needed. Before anything else, double check your resume, records, and your pictures before attaching them to your application form. Be wary of any grammar mistakes or typos, as this can affect the impression of you.
Step 2: Open Silver Airways' Website and Register
Once you've checked your documents, the next step would be to log in to Silver Airways' website. Scroll until the bottom of the window, and on the bottom left, click "Careers". It will automatically redirect you to a new window where you will see other details and information about the job openings.
Click "Apply" and then register. You can register or log in using your LinkedIn, Google, or Glassdoor account. Registration will require you to fill out a few personal information such as name, sex, and birthday. Once you've submitted your application form, you can now proceed to the next step.
Step 3: Wait for Notifications from the Company Regarding Your Application
If you made it through the online application and screening, you will receive an email or notification from Silver Airways. Important details and other information will be provided to you by the company.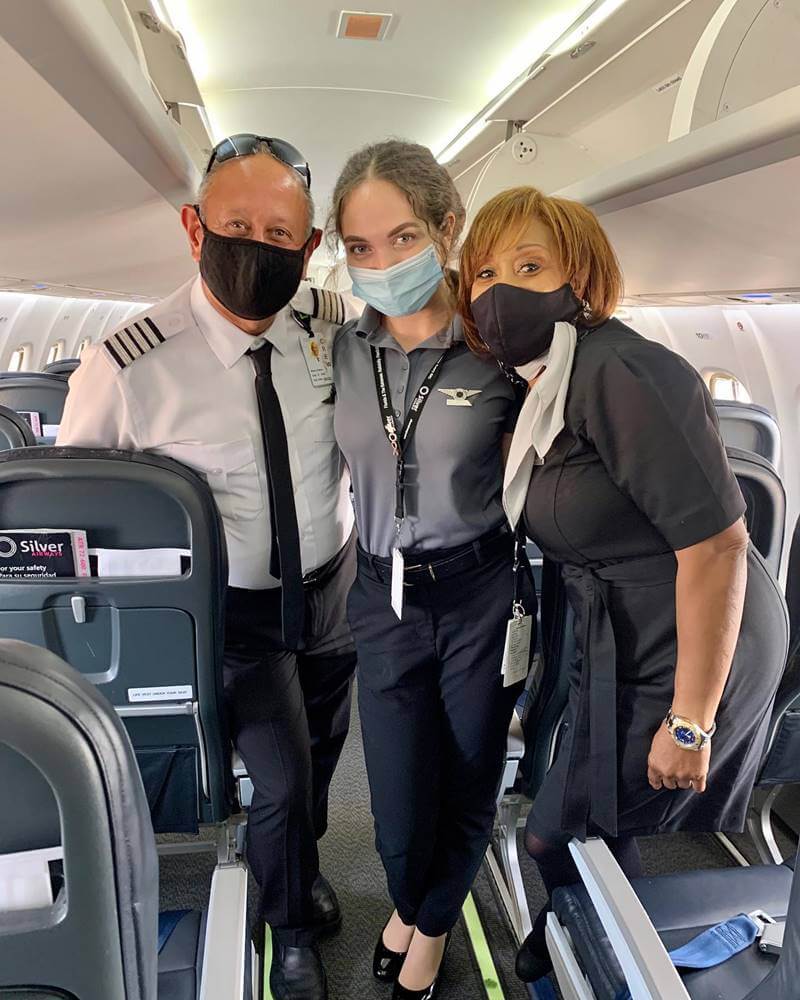 Monthly Salary of a Silver Airways Flight Attendant
The average starting salary of a Silver Airways Flight Attendant salary is $22 per hour. Flight Attendant salaries at Silver Airways can range from $9 – $24 per flight. Of course, the number of years in service, position, extra hours in service, and bonus pay all play a role in a flight attendant's salary.
Additionally, you are also entitled to these benefits:
Profit-Sharing
Holiday Pays
Paid Sick Days
Travel Discounts/Free Travel
Dental coverage
Life and disability insurance
401(k) plan
Video: Silver Airways Flight Attendant Job Requirements
In this 3-minutes video, various insights, tips, and other relevant information about applying as a flight attendant at Silver Airways will be discussed. Qualifications, requirements, up to sample questions are included in the video.
Disclaimer: This video is uploaded by a YouTube channel that focuses on reviewing airlines around the world. You may follow the tips they provide but this doesn't mean that everyone has the same results.
Photos: Silver Airways Flight Attendant Photos
Check out these beautiful pictures of Silver Airways Flight Attendants in uniform. If you wish to picture yourself being a part of this company, check out these photos to give you an idea about working for this airline:
Frequently Asked Questions
Now here are the frequently asked questions about Silver Airways and the application process for the company's flight attendants:
1. What if I am a temporary resident? Will it affect my chances of being hired at Silver Airways?
Unfortunately, Silver Airways is strict when it comes to this requirement. You must secure a permanent residence card or apply for residency to be considered.
2. Will my salary increase at Silver Airways?
Yes, it will. Many factors play a role in increasing your salary, including how long you are in service, your position, and incentives.
3. Is training required before working at Silver Airways?
No, it isn't. You will simply undergo briefing or orientation, and then you're good to go. You will immediately serve in-flight.
4. Do I have a chance at getting hired at Silver Airways if my vision cannot be corrected anymore?
Unfortunately, you don't. Excellent vision is a strength when it comes to jobs such as this, so it is understandable that it is one of the requirements for a flight attendant.
5. Is it okay with Silver Airways if I am fluent in English but not in other languages?
Yes, it is. What matters the most is your fluency in English. Mastery of other languages is only an advantage.
6. Will my nationality affect my chances of being hired at Silver Airways?
No, it won't. As long as you hold a permanent residence card, your nationality will not affect your chances of being hired. Silver Airways values diversity, especially in the work environment.
7. Can I reapply at Silver Airways in the event of my application being rejected?
Yes, you can. As many times as you want! Just make sure you work on your strengths and weaknesses. An interval of six months is advised before reapplying.
8. Is it okay to wear makeup and jewelry to the interview?
Yes, it is. As long as you look neat and professional.
9. What happens if there are complications found during administered tests?
If these are minor complications, the company may require you to recover or resolve it first. However, if major complications are found, your job application won't be processed anymore.
10. Will separate background checks and medical and dental assessments be administered?
Yes, it will. This is just a precautionary measure to ensure that your records and state are up to date.
Contact Information
Silver Airways
Address: 2850 Greene St, Hollywood, Florida 33020, US
Telephone Number: +1 801-401-9100
Website: https://www.silverairways.com/
Facebook: https://www.facebook.com/SilverAirways
Instagram: https://www.instagram.com/flysilverairways/
Twitter: https://twitter.com/silver_airways
LinkedIn: https://www.linkedin.com/company/silver-airways/