Allegiant Air is a premier airline in the United States which is based in Las Vegas, and it is always looking for talented and dedicated individuals to join its team. If you are interested in becoming a flight attendant for Allegiant Air, there are a few things you should know. First, Allegiant Air requires all applicants to have a high school diploma or equivalent. Secondly, Allegiant Air prefers candidates who have previous customer service experience. Finally, all applicants must be able to pass a background check and drug test. If you meet these qualifications, we encourage you to apply for a position with Allegiant Air today.
The airline is known for its low fares and friendly service, and it is consistently ranked as one of the best airlines in the country. If you're interested in becoming a flight attendant for Allegiant, there are a few requirements you'll need to meet.
First, you must be at least 21 years old. You'll also need to have a high school diploma or equivalent and a valid US passport.
Also Read:How to Answer: Why Should We Hire You?
In addition, you must be able to pass a background check and a drug test. Finally, you must be able to lift 50 pounds and be comfortable working in a fast-paced environment. If you meet all of these requirements, Allegiant Air may just be the perfect place for you to start your career as a flight attendant.
Image: Allegiant
A Flight Attendant is one of the most sought-after careers in the aviation industry.  Simply because it allows people to travel for free while getting paid. Allegiant Air might be one of your choices? Allegiant Air, headquartered in Summerlin, Nevada, is one of the main airlines in the United States.
It is classified as an ultra-low-cost airline, and it is North America's fourteenth-largest commercial airline.Flight attendant positions in this airline are ideal for people who have a strong desire to travel, value serving people, and discovering new things. For Allegiant Air Flight Attendants – It's not just a job; it's a way of life! To experience this, find out what they are looking for in a candidate.
Allegiant Flight Attendant Requirements and Qualifications
Minimum age of 21 years old
high school diploma, a college degree, or an equivalent level of education is necessary.
Minimum of one year of direct customer service is necessary.
Good decision-making abilities are essential.
Basic computer skills and the ability to utilize a tablet are required.
All documentation supplied must be properly identified.
Applicants must be able to read, write, and speak English.
Applicants must be available to train in Las Vegas for a minimum of 4.5 weeks.
Applicants must be competent to perform all flight attendant tasks.
Applicants must be able to stand, sit, reach, talk, hear, see, kneel, and operate equipment within an aircraft using their hands and fingers.
Applicants must work varied shifts/days in a 24-hour environment.
Applicants must be able to lift, push, pull, and carry 100-pound loads.
Past experience as a Flight Attendant will give you an edge
Image: Allegiant
Application Process
Step 1: First and foremost, you must search the Allegiant Air official website for active flight attendant vacancies. If there are any open positions, you must apply online. You can go here: https://www.allegiantair.jobs/careers/flight-attendants/
Step 2: If you meet all of the qualifications, the HR staff will contact you after examining and analyzing your online application.
Step 3: Allegiant Air will require applicants to take one or more of the following examinations.
Job Assessment
Informational Videos
Job Assessment
Informational Videos
Step 4: You must take one of these examinations and pass it in order to be eligible for initial flight attendant training.
Step 5: Candidates who pass the employment assessment, informational films, pre-recorded video interview, or virtual group interview are qualified for the four-and-a-half-week Initial Flight Attendant Training program.
Image: Allegiant
Salary & Benefits
If you are an Allegiant Air Flight Attendant, expect to earn a minimum of $24 per hour. This is the salary rate depending on experience and seniority, the pay scale might range from $9 to $39 per hour. Allegiant Flight Attendants earn roughly $33,079 per year, which is comparable to the national average.
Flight attendants and other Allegiant Air employees receive the following benefits in addition to their regular salaries:
Accident insurance, critical illness insurance, short-term disability insurance, and life insurance are all available, as is 24-hour access to Telehealth services.
401(k) investment schemes that provide instant vesting
Allegiant Air offers limitless and space-available flights to you and your qualified dependents.
Buddy passes allow you to fly with your best friends, long-lost cousins, and other family members for a modest cost.
Additionally, Allegiant Air employees receive discounted flights with other partner airlines.
You can participate in the employee stock purchase program.
Profit-Sharing
Allegiant Air provides a variety of discounts for auto rentals, gyms, restaurants, entertainment, hotels, and other services.
Employees can also enjoy free performances in Las Vegas and 50% off ice cream in Punta Gorda.
Employees can enroll at Allegiant University, which provides a variety of courses like Microsoft Excel, personal branding, and accountability.
Video: How to Become an Allegiant Air Flight Attendant
Before an Allegiant Air flight attendant can begin their career, they must first complete an intensive training program. The program is designed to not only teach the attendants the necessary safety procedures but also to instill the company's customer service philosophy.
During the training, attendants learn how to deal with a wide range of potential emergencies, from medical emergencies to in-flight fires. They also receive instruction on how to best provide customer service, including handling difficult customers and diffusing tense situations.
Upon completion of the training, attendants are required to pass a rigorous final exam before they can begin working. As a result of this thorough training process, Allegiant Air flight attendants are some of the most prepared and professional in the industry.
During the 4 ½ week program, candidates undergo Air Craft Familiarization, Emergency Procedures, On-board Fire Fighting, Water Evacuations, and many more. The training program will be conducted at the Las Vegas Training Center. Allegiant Air's Inflight Field Instructor explained that their training program is designed as building blocks – starts with the most basic concepts first and builds from there.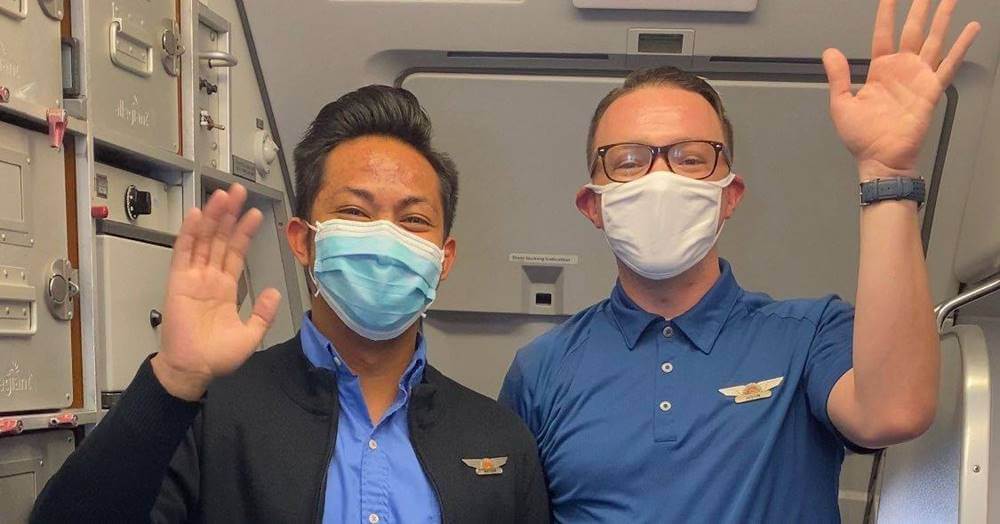 Photos: Allegiant Airlines Cabin Crew Uniforms
Check out these pictures of Allegiant Airlines crew so you can see what they look like in uniforms:
Frequently Asked Questions
Here are some common questions and answers about the job requirements as a cabin crew for Allegiant Air:
1. Where is the training program being conducted?
All flight attendant applicants who have passed all the assessments and interviews will move forward to the training program which is conducted in the State of the Art Training Facility in Las Vegas.
2. What will be the main focus of the training program?
Training for successful candidates will focus on Aircraft Familiarization, Aviation Product Introduction, Emergency Handling, In-flight Service, and fire-fighting skills.
3. What is the passing score for all written and oral exams?
Flight Attendant Trainees should get a minimum of 90% score. You also need to pass all the physical requirements such as emergency and evacuation drills.
4. Is the Allegiant Air training a paid training?
This initial flight attendant training will not be paid.
5. How many bases does Allegiant have for Flight Attendants?
There are seven major bases for Allegiant Flight Attendants:
Las Vegas
Asheville
Cincinnati
Nashville
Phoenix
Fort Lauderdale
Indianapolis
Summary
Anyone who has ever traveled on an airplane has probably interacted with a flight attendant at some point. Flight attendants are responsible for the safety and comfort of passengers during a flight, and they play an important role in ensuring that everyone arrives at their destination safely. For many people, becoming a flight attendant is a dream come true.
The first step to becoming a flight attendant can be quite stressful, especially if it's your first time entering the world of aviation. But if you have the qualities an airline needs and you love to be in this job, give your best.
Allegiant Air is one of the best stepping stones for starting flight attendants. A lengthy process will be worth it because there are a lot of perks you can get from being a flight attendant.