Known for being one of the most reliable airlines in the United States, GoJet is somewhere many people aspire to work. Their values, together with their commitment to grow and improve consistently, are a few of the many reasons why their job application process isn't as easy as it seems. There may be other jobs out there, but is it the job you really want? Do you have what it takes to be a GoJet Airlines cabin crew member? Read on and find out.
Also Read: 13 Tips on How To Become a Flight Attendant
All people are born dreamers, but not everyone has what it takes to make their dreams a reality. Applying for a job can be challenging, especially if your goal is to land a job at a big company. But, challenging isn't equivalent to impossible, which means that as long as you're equipped with the right knowledge and skills, you stand a better chance than anyone else. To make your dreams soar, you have to work hard enough to deserve it.
Overview of the GoJet Airlines
At GoJet Airlines, a job is more than just something that helps you provide for yourself. Apart from a source of income, one of the most admirable values that they have is that they believe that a job helps a person grow, as well as establish good relationships with others. Founded in 2004, they served passengers from the United States and all around the world. At present, GoJet has four hubs: St. Louis, Missouri, St. Louis, Chicago, and Newark. In 2017, the Airline was awarded as the most reliable airline, especially in terms of customer satisfaction and excellent customer service. With a workforce of 1,100 employees, they provide service to over 1 million passengers and have more than 165 daily flights to over 50 destinations.
Responsibilities
GoJet Airlines takes pride in being reliable, which is why they are looking for people who share the same principles as them.  As a flight attendant, these are your responsibilities:
Conduct safety checks before each flight
Scan the cabin for any safety hazards
Greet your passengers warmly
Escort and assist your passengers with their luggage
Help them find and settle into their seats
Prepare and serve drinks and food to your passengers according to what is requested.
Take note of any medical needs, likes, and dislikes of passengers
Present emergency equipment and brief passengers on how to use the equipment
Monitor, manage and secure the cabin
Adhere to all aviation rules and regulations
Assist passengers and cabin crew during emergencies
Assist passengers with special needs
Attend briefings before each flight
Submit and prepare reports concerning flight incidents
Extend help and assistance as many times needed
Become culturally aware
Treat passengers with respect and without discrimination.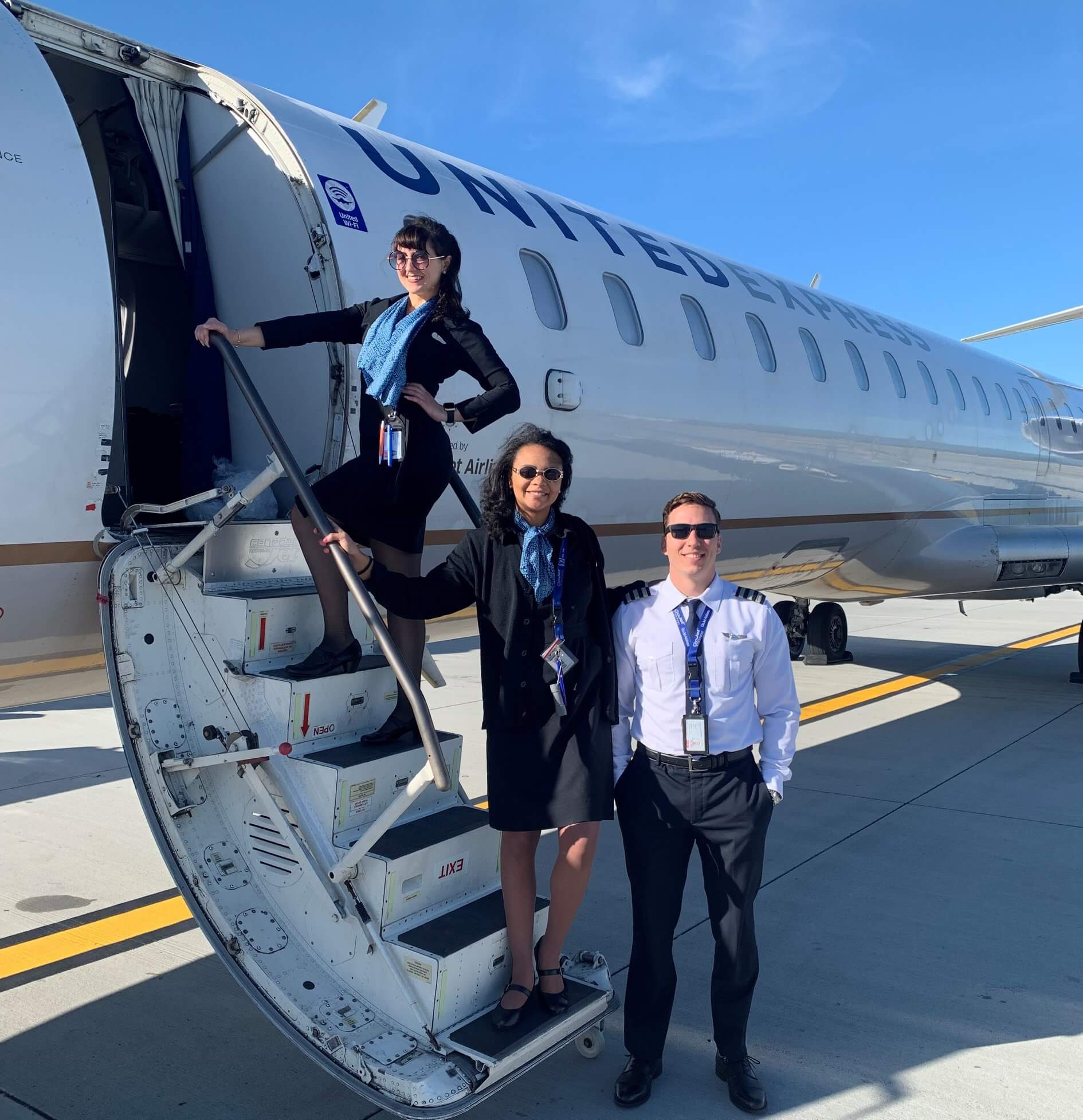 Qualifications
Being qualified is another way to increase your chances of being hired. And the earlier you know about it, the more you can work on reaching these qualifications. Here are the qualifications to become a GoJet Cabin Crew:
You must be a minimum of 19 years of age at the time of your application
Must have a minimum height of 4'11" and a maximum height of 6'0″ (without shoes, and you will also need to pass an arm's reach test)
Must have 20/40 correctable vision in each eye
Excellent dental and medical records
Must be fluent in English (written and spoken, fluency in other languages is a plus!)
No visible tattoos while you're in your uniform (cosmetic and bandage coverings aren't allowed)
Comfortable to work irregular hours
Weight must be proportional to the height
Can adapt to new people, new places and new situations
Excellent personal presentation, style, and image
Willing to become culturally aware
Ensure onboard safety and follow all procedures
Must possess a valid driver's license or state ID
Current passport or other travel documents allowing you to freely exit and re-enter the United States (multiple reentry status)
Must have a clean criminal background (background checks will be done!)
Must complete a physical test administered by the airline
Possess a high school diploma or general education degree (GED)
Must have the ability to work days, nights, holidays, and weekends and extended hours away from home
Must be willing to work on-call
Extra Qualifications:
Must pass the DOT required pre-employment drug test
TSA required fingerprint check for Criminal History Records Check
Must be willing to be relocated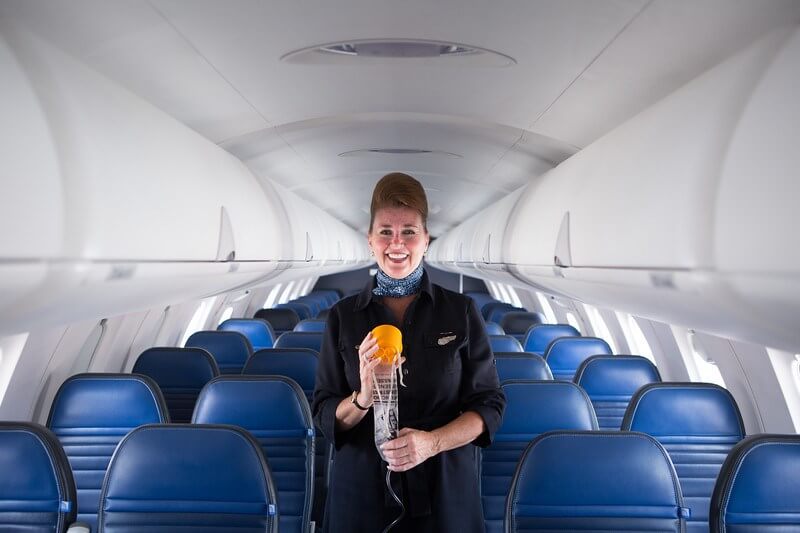 Document Requirements to Prepare
Here are the documents which are commonly asked from you during your application process:
Updated CV/Resume
Head and full-body photographs
Good Conduct Certificate or Criminal Record
Medical and Dental Records
For your photographs, here are the common standards you may want to keep in mind:
Should be wearing professional business attire (including a jacket and tie for men).
Should be standing facing straight towards the camera, with your hands down by your side.
Should be smiling with a large but natural smile (ideally showing teeth).
A white background is highly advisable.
The full-length photographs should measure 6×4 inches (15×10 cm), while the passport-sized photos should measure 45×35 mm (1.77×1.37 inches).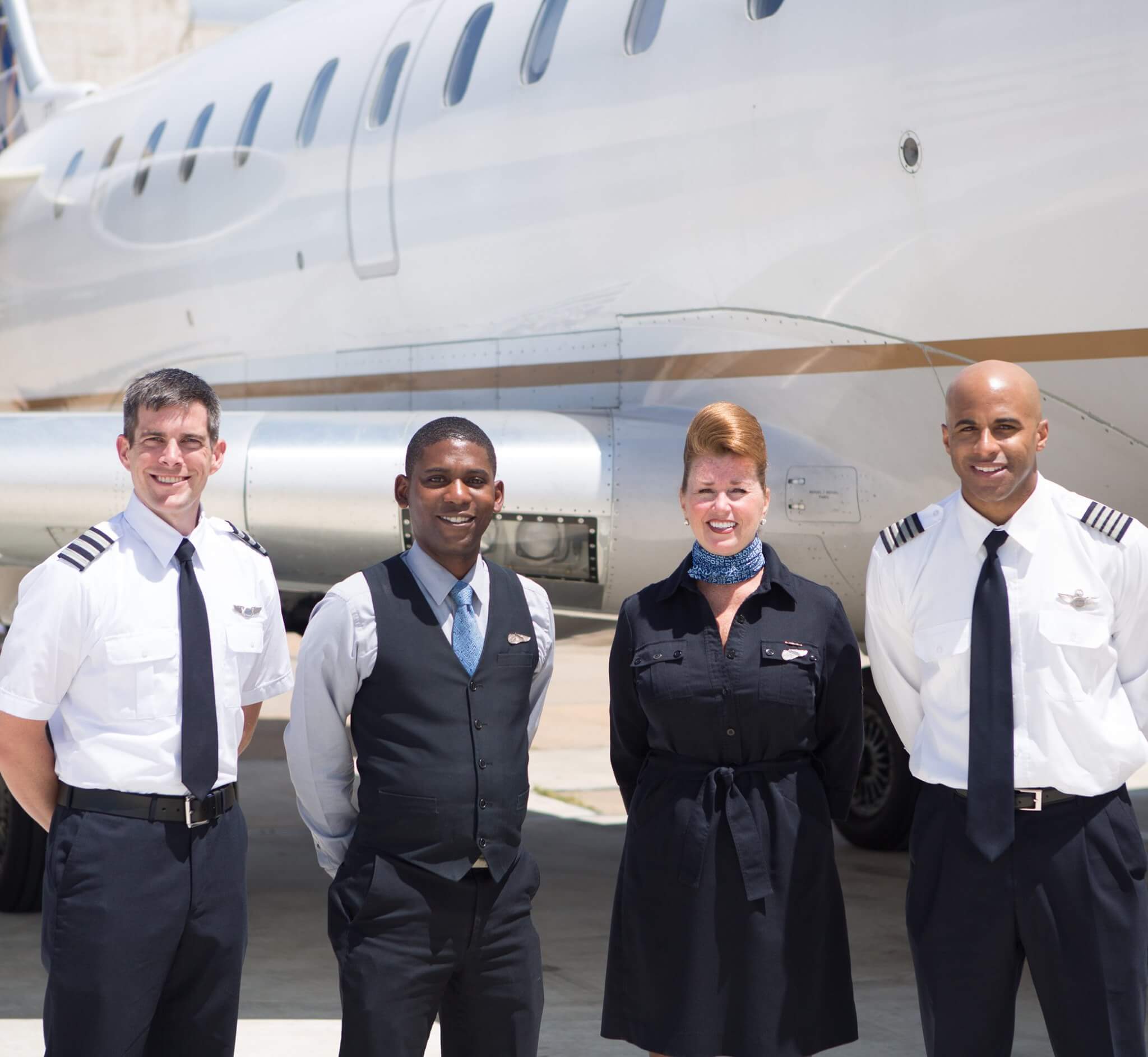 Where to Apply for a Job for GoJet Airlines Online
To check for job vacancies and details, you can visit and view their website here.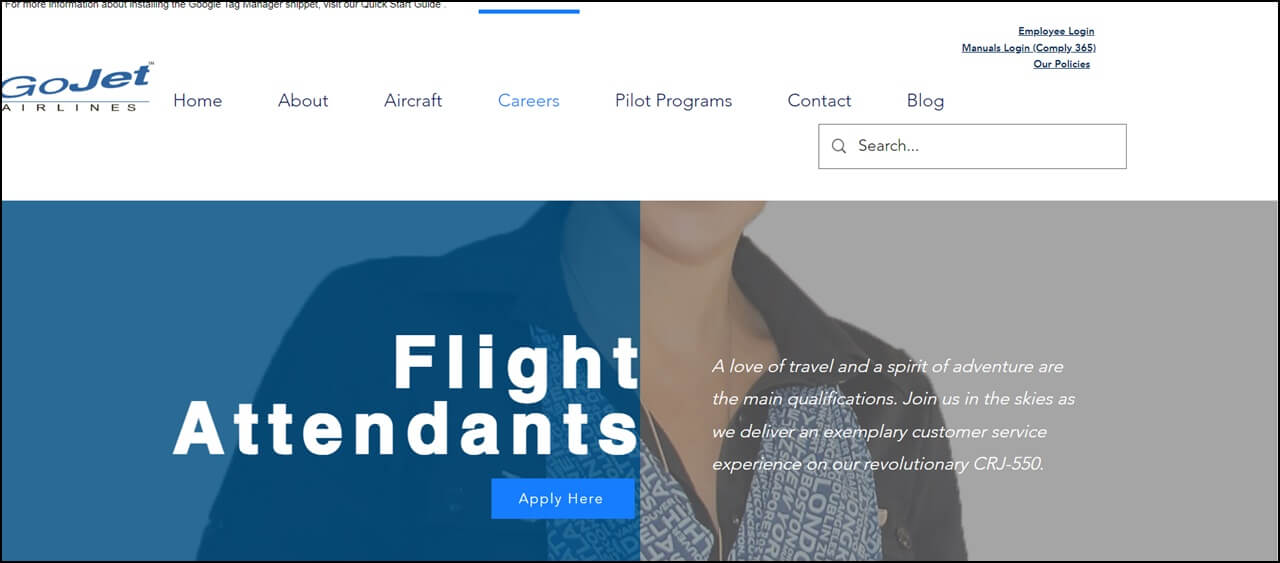 Moreover, you can also check their LinkedIn profile for other important announcements. Just click the link below.
How to Become a Flight Attendant at GoJet Airlines
Here's a step-by-step guide in order to send your application for this airlines. Please check out the procedure below:
Step 1: Prepare the Necessary Documents Required
Since the hiring process at GoJet Airlines is conducted online, you'll have to prepare your documents ahead of time to avoid being rushed or stressed. Keep in mind that this opportunity can quickly pass if not done correctly, so make sure to update your resume, records, and your pictures before attaching them to your application form.
Step 2: Open GoJet Airlines' Website
Once you've checked your documents, the next step would be to log in to GoJet Airlines ' website and click "Careers". Here, you can navigate job vacancies: click "Flight Attendant". You will then be redirected to a new window where other vacancies and hubs can be seen. Click the position you want to apply for. You will be asked to answer a few questions such as Gender, Nationality, and other information.
Step 3: Fill out Information and Submit Application
After you've finished answering the questions from the earlier step, you will be directed to the application window. Here, you will be required to fill out important information such as name, address, contact information, employment history, and many more. This is also where you will attach your resume. Here's a shortlist of the details needed.
Current or Recent Employer
Education/Training
General Questions such as reasons for leaving or resigning
At the end of the application period, you will be asked to sign a mutual arbitration agreement. Read thoroughly before proceeding. Once finished, click submit.
Step 4: Wait for Notifications from the Company Regarding Your Application
If you made it through the online application and screening, you will receive an email or notification from GoJet Airlines. Of course, before you officially start your duty as a GoJet Airlines employee, you will need to attend a 6-week training first. After this step, you are now ready to serve in-flight.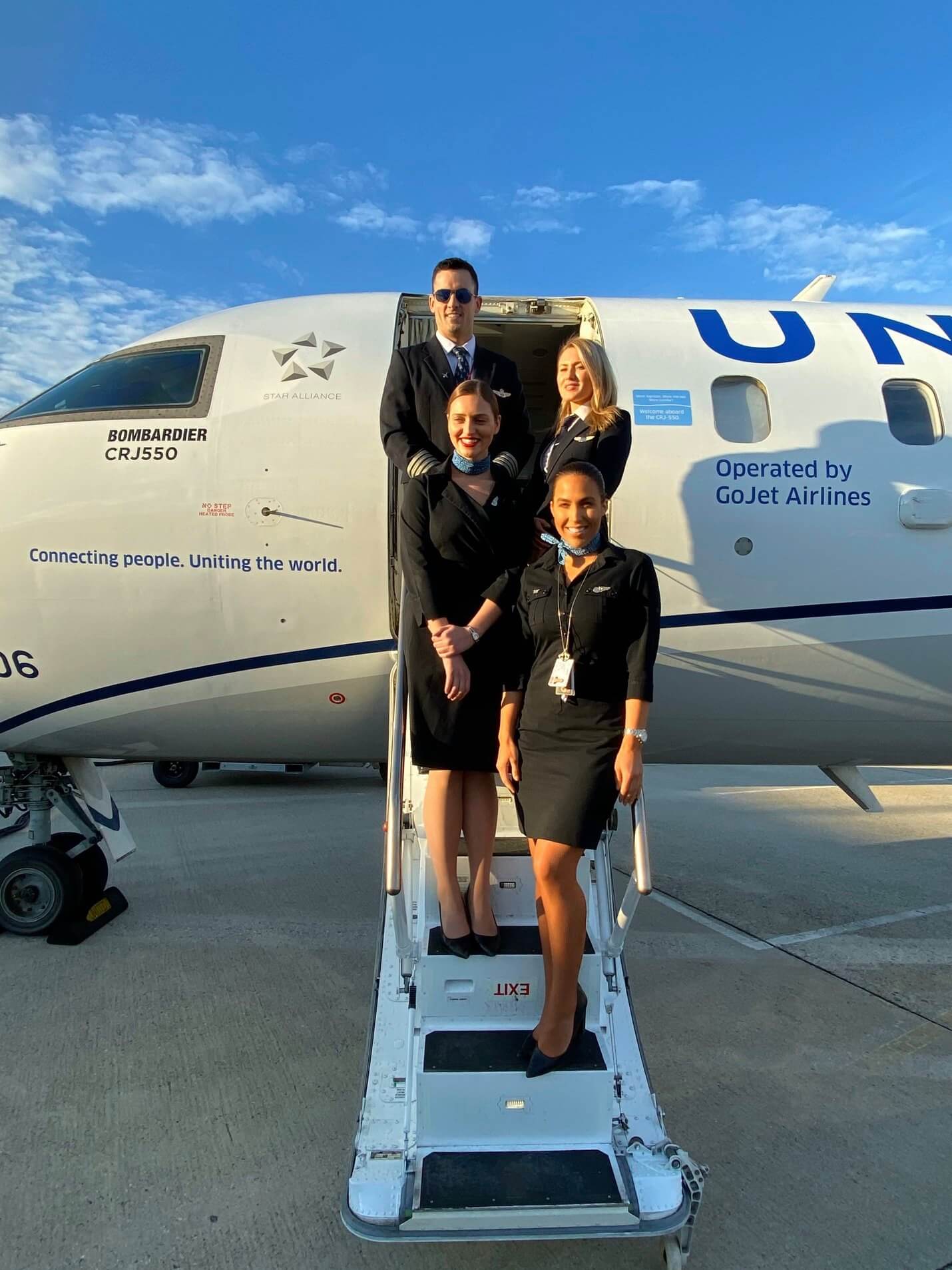 Monthly Salary of a GoJet Airlines Flight Attendant
The starting salary of a GoJet Flight Attendant is $19.29 per flight hour, which will eventually increase to $21.42 after one year of service. Each month, you have a guaranteed 75 hours of service. Just like any job, the number of years in service, position, extra hours in service, and bonus pay all play a role in a flight attendant's salary.
Additionally, you are also entitled to these benefits:
Free laundry of uniform
Training for Hospitality and Customer Service
Training for Safety and Emergency Procedures
Paid parking and hotel
Paid training
Medical, Dental, and Life Insurance
Flight benefits
Discounts on hotels, cars, and other services
Video: GoJet Airlines Flight Attendant Requirements
This four-minute video talks about the GoJet Airlines Flight Attendant Job Requirements and Qualifications and contains a few details about the job application process. Additionally, it also gives a glimpse of the Airline's history and its different bases.
Disclaimer: This is a video uploaded by a YouTube Channel focusing on airlines. Take note that the opinion of this channel is not the same as other. You may, however, follow the tips provided in the video as you see fit.
Photos: GoJet Flight Attendant Photos
Check out these pictures of GoJet Flight Attendants as shared by the airline so you can get an idea what it's like to be in their uniform and work as a flight attendant:
Frequently Asked Questions
Here are common queries applicants have when applying for the role of a Flight Attendant job at GoJet Airlines:
1. What if I am a temporary US resident? Will it affect my chances of being hired?
Unfortunately, GoJet Airlines is strict when it comes to this requirement. You must secure a permanent residence card or apply for residency to be considered.
2. Will my salary increase?
Yes, it will. Many factors play a role in increasing your salary, including how long you are in service, your position, and incentives.
3. Is the job application process purely online?
In adherence to the present health protocols, the job application process will be conducted online to adhere to present health protocols. The safety and security of everyone is also GoJet's priority.
4. Will I get adequate training from GoJet?
Yes, you will. Before officially serving as a cabin crew member or a flight attendant, you will undergo a 6-week training period shouldered by the company.
5. Is it okay if I am fluent in English but not in other languages?
Yes, it is. What matters the most is your fluency in English. Mastery of other languages is only an advantage.
6. Is it okay to apply at GoJet Airlines despite having tattoos?
Yes, it is. As long as it cannot be seen in your cabin crew uniform, you can apply.
7. Can I reapply in the event of my application being rejected?
Yes, you can. As many times as you want! Just make sure you work on your strengths and weaknesses. An interval of six months is advised before reapplying.
8. Is it okay to wear makeup and jewelry to the interview?
Yes, it is. As long as you look neat and professional.
9. What happens after I get hired by GoJet?
Aside from undergoing training, you'll be able to start working as a cabin crew member at GoJet Airlines.
10. I have a minor offense which can be seen in my criminal record. Can I still be hired?
Unfortunately, no.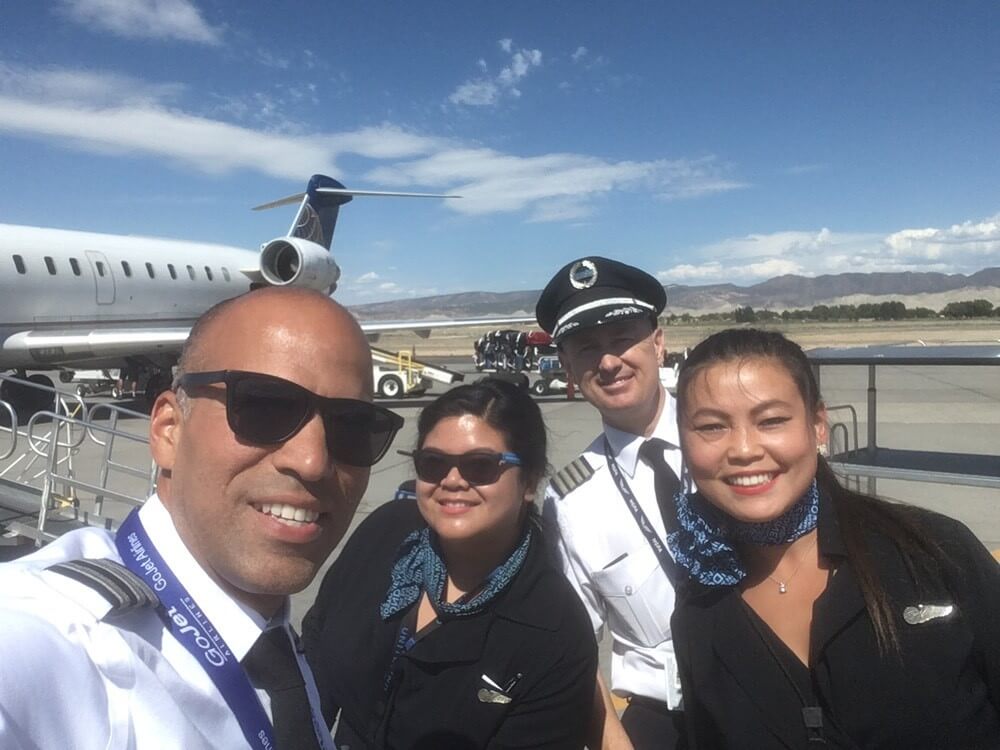 Contact Information
GoJet Airlines
Address: ​GoJet Airlines, 11495 Navaid Road, Bridgeton, Missouri 63044
Telephone Number: (314) 222-4300/ (314) 222-4314 (Fax)
Website: https://www.gojetairlines.com/
Facebook: https://www.facebook.com/gojet
Instagram: https://www.instagram.com/gojet_airlines/
Twitter: https://twitter.com/GoJet_Airlines
LinkedIn: https://www.linkedin.com/company/gojet-airlines/