If you are interested in working for Emirates as a cabin crew member, there are certain job requirements that you must meet. In order to be considered for the role, you must be at least 21 years of age, have a high school diploma or equivalent, and be able to speak English fluently. Additionally, you must be willing to work shifts, including overnight shifts, and have the ability to swim.
Other cabin crew job requirements include being physically fit and able to lift heavy luggage, being able to pass a medical examination, and having no visible tattoos. Emirates also has strict grooming standards for cabin crew members, so you must be willing to adhere to these standards if you are selected for the role.
If you meet all of the job requirements and are interested in working for Emirates as a cabin crew member, the next step is to submit an online application. Once your application has been reviewed, you may be contacted for an interview.
We already have a page listed for the general job qualifications of a cabin crew. This time, we are going to be a little more detailed to know what are the flight attendant requirements for Emirates airlines.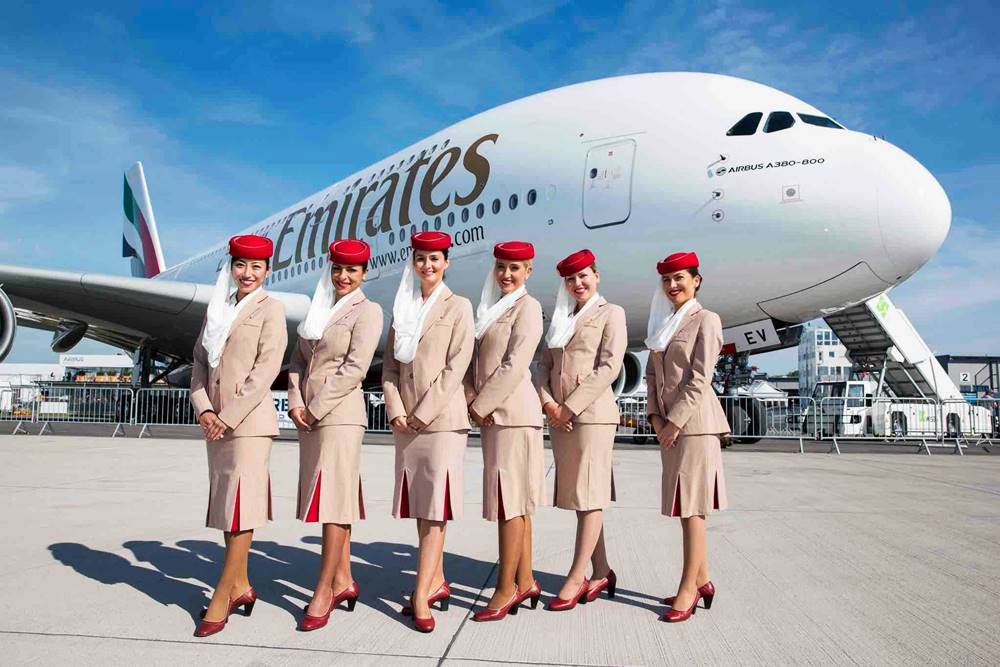 Being a flight attendant for Emirates is a great way to start your career. Known as one of the best airline in the world by Skytrax,you are sure to begin your employment with a prestigious airline with a great salary and benefits!
Emirates connects the entire world to and from their global base in Dubai. And this would never be possible without their cabin crews, especially Flight Attendants. Being an Emirates flight attendant can give you the most luxurious working life. But before you can join this elite team of hospitality experts, you just need to pass specific standards.
In order to become an Emirates flight attendant, one of the requirements is having an arms reach of 212 cm. Having a pleasing personality wouldn't be enough because Emirates has strict requirements for all job applicants. Here are the requirements and qualifications you need to become and be one of Emirates Airline Flight Attendants
List of Requirements and Qualifications to become an Emirates Flight Attendant
A charismatic personality, and the capacity to adapt to any circumstance and put others at ease – this is just one of the characteristics you need to become a Flight Attendant (FA) for Emirates Airline.
Being a member of the cabin crew is more than just a service function; safety is the first priority. When it comes to handling aviation services, security, and safety procedures, you'll need to lead fearlessly and take command.
You must be at least 21 years old.
Stand on tiptoes and have an arm reach of 212 cm.
5'2″ minimum height (160 cm)
At least a high school education
English proficiency is required (written and spoken)
Having visible tattoos on your uniform is not allowed
You must be physically fit (Inside and outside) and have a normal BMI
Capable of meeting UAE employment visa criteria
Possessing a positive mindset and the ability to provide outstanding customer service
At least one year of experience in hospitality/customer service
Strong Awareness to Various Cultures
Flexible to work schedule (Knows how to manage time)
Strong ability to adapt to environments
Demonstrates the Qualities of an Emirates employee: Professional, Empathetic, Progressive, Visionary, Cosmopolitan
Note: The job requirements are based on the Emirates website and may change without prior notice. Check out the cabin crew employment qualifications on the Emirates page here.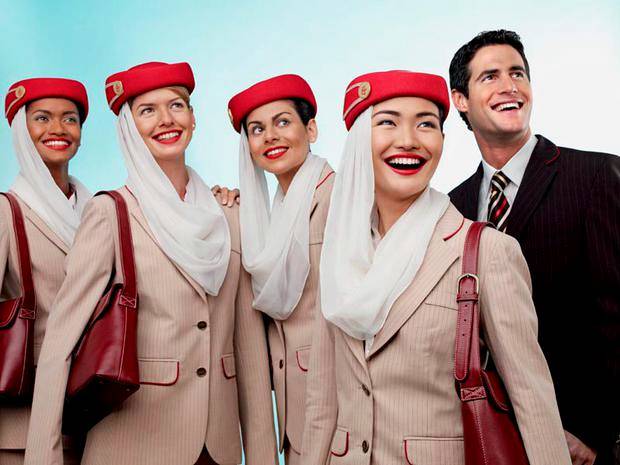 Application Process
This is an overview process of the application procedure to join this airline:
Step 1: Submit an online application
Fill out an online application with a few personal details and upload a recent English CV with your picture.
Step 2: Assessment Day Invitation
Candidates who have been shortlisted will be invited to an assessment day. This is your chance to ask anything about life in Dubai as a Flight Attendant.
Step 3: Conduct a digital interview (online)
On the same day, shortlisted candidates will be sent a link to complete an online Video Interview. Prepare an answer for these questions, "Tell me something about yourself" and "Why do you want to work for Emirates"
Step 4: Wait for a confirmation
Our Human Resources staff will contact you to walk you through the full hiring process and keep you updated on the status of your application.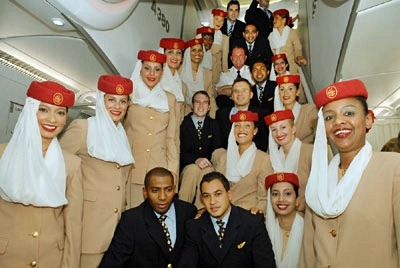 Salary & Benefits
Emirates flight attendant salary has three bases; basic pay, hourly rates, and overnight flights.  EK (Emirate) will pay you in cash in that country's local currency. As a result, your monthly compensation varies based on how many hours you fly that month and how long you stop.
Emirates flight attendants may earn approximately 9,500 AED or $2587 USD (tax-free salary).
Provide free housing, utilities, and transportation.
EK cabin personnel will be given 30 days off and a free plane ticket to go on their own.
Free Accommodation (Usually with 1 or 2 co-FA in one room)
Tax-free salary
Travel around the world
Travel allowances
Housing bills like Electricity, Water, Internet
30 days' work leave per year
1 free ticket to your origin country for annual leave
Discounted tickets for friends and family
Video: Guide to Becoming an EK Cabin Crew
Here's a video about how to become a flight attendant for this airlines and features the requirements, overview of the company, and insights about the lifestyle:
Video: What It Takes to Be a First Class Flight Attendant for Emirates
Flight Attendants for Emirates Airlines say that being paid to travel the world is one of the best jobs they could have. But their job is not always as glamorous as everyone thinks. Passing the minimum requirements such as minimum age of 21, English fluency, high school degree, and minimum height for FA is just the beginning of the qualifying round.
Just like any other newbie at work, you will start at the lowest. For emirates flight attendants, the start of the journey will be at the Economy Class, then after years, you will be assigned to Business Class, and then First Class. Knees should be ready because flights may last from six to sixteen hours. Though you can change from heels to your flats after take-off.
Flight attendants for Emirates keep to natural makeup and of course a red lipstick trademark. Hairstyles, Jewelry, and Nails should follow some rules. While male flight attendants have to be clean-shaven and style their hair with mineral products.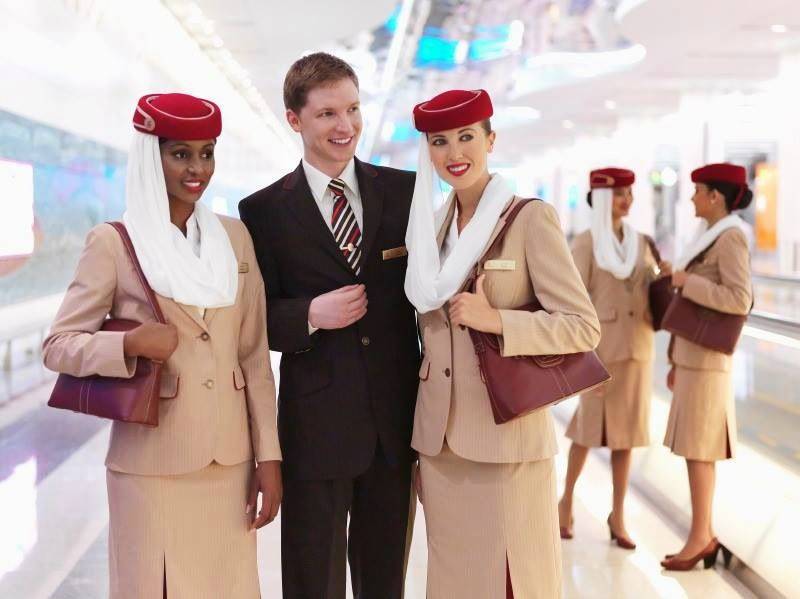 ---
Helpful Reads When You Apply as a Cabin Crew. Click the links below!
SALARY & BENEFITS | JOB REQUIREMENTS
OPEN DAYS  | ASSESSMENT DAY  | FINAL INTERVIEW
EMIRATES OPEN DAY SCHEDULES
You want to know more information how you can become a cabin crew for this airline in the Middle East? Check out this highly recommended eBook by Kara Grand! – How to Become a Flight Attendant in the Middle East
---
Photos: Emirates Airlines Cabin Crew Uniforms
Check out these pictures of Emirates Airlines crew so you can see what they look like in uniforms:
Frequently Asked Questions
Please be guided on these FAQs about the requirements of being a cabin crew for Emirates:
1. Does Emirates accept applicants with tattoos?
Yes, Emirates like many international airlines, allows Cabin Crew to have tattoos as long as they are not visible while wearing the airline uniform.
2. Is there an age requirement to qualify as a flight attendant for Emirates?
Yes, you must be 21 years old and above.
3. Does Emirates require its flight attendants to know how to swim?
Emirates flies all over the world, and most flights last more than 10 hours, almost 80% of that travel time will be spent flying only above water. So in case, there is a plane crash in the water, the cabin crew must be able to swim.
4. Do I need to learn other languages?
Emirates FAs know more than one language. So yes, you need to. In fact, there are sixteen languages spoken across the Emirates cabin crew.
5. I have all the standards they need but I didn't finish college, can I still apply?
Yes, Emirates has a minimum education requirement of a high school level diploma.
Summary
Being a cabin crew is a customer service job, and you are representing the brand of the airlines as an ambassador. So it is important that you are able to live up to the name of being an Emirates flight steward/stewardess.
May this post guide will give you an added insight into what it takes to be an Emirates Flight Attendant. More perks will come once your position gets higher. As they say, you can always start small.
So if you are dreaming to become a Flight Attendant for Emirates in the future, better take note of the requirements and policies they have, and don't forget to encourage yourself by remembering all the perks or benefits you can have inside this airline.