Perhaps, you're here because you are looking for a career in Qatar Airways. While a lot are interested to become a cabin crew in this 5-star airline, only a few can pass the qualifications. If you are planning to apply at any time soon, we prepare a guide that can help you jumpstart your career as a cabin crew in Qatar Airways. Read the article for more information.
Also Read: How to do Your Make-up like a Qatar Airways Cabin Crew
Qatar Airways is one of the most sought-after airlines around the globe – which is why a lot of aspiring cabin crews try their luck and send in their application hoping that they become a part of this ever-growing company.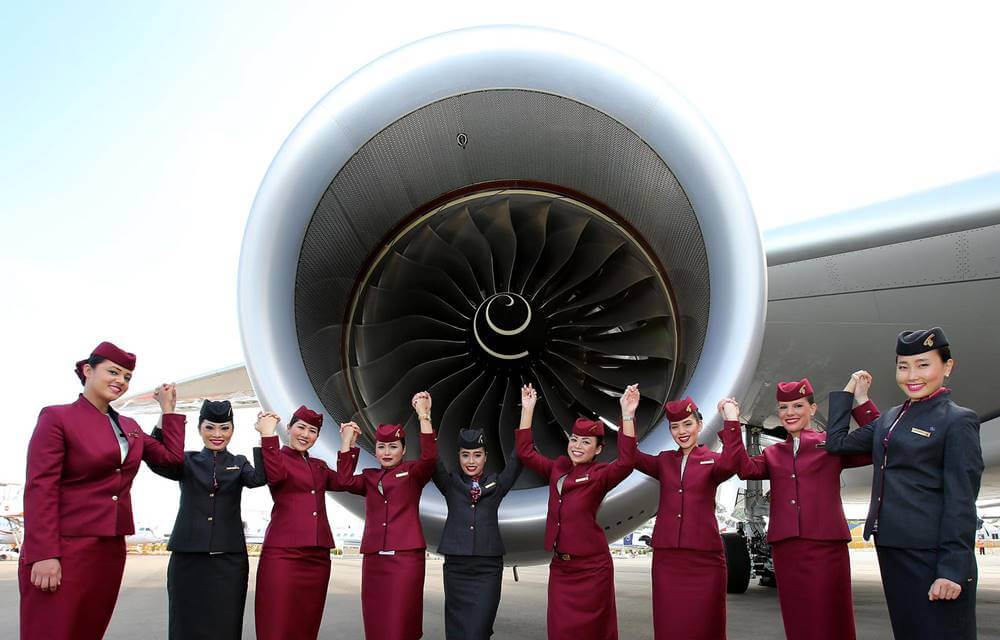 Overview
Qatar Airways is an airline that was founded in 2007. It has been connecting all the continents since then, with over a hundred flights a day. The airline currently has over fifty thousand employees, and it has more than two hundred planes circling the world at any given time.
Airbuses and Boeings are two of their primary aircraft, and the Qatar Executive Fleet uses Bombardiers and Gulfstreams for their aircraft. Aside from people, Qatar Airways also carry cargo such as animals and vehicles.
Responsibilities
A female Qatar Airways flight attendant can be recognized by their burgundy uniform, usually made up of a burgundy jacket that is buttoned up, a white blouse, a burgundy pencil-cut skirt that covers the knees, a pair of simple, low-heeled, closed-toe black shoes, a hat, and a burgundy scrunchie. A male Qatar Airways flight attendant wears a similar jacket, a white long-sleeved polo, a burgundy tie, epaulettes on the shoulders, and black pants.
Flight attendants are often seen smiling, and they are very accommodating to passengers and guests on and off the plane. Here are some responsibilities of a Qatar Airways flight attendant:
They must guide passengers and provide assistance for comfort and safety.
Before a flight, they must conduct all necessary safety checks.
They must always greet guests and communicate whenever needed.
They must help all passengers find their designated seats.
They must prepare food and drinks and serve them to all in-flight guests.
They must take orders from guests.
They must present all emergency equipment, show where they are located, how they can be accessed, and how they can be used.
Each flight attendant must manage, secure, and monitor all areas of the plane.
They must adhere to all the rules and regulations of aviation.
They must assist everyone on the flight, including cabin crew and passengers, during emergencies.
They must help passengers with special needs, such as disabled people, elders, children, and pregnant women.
They must be able to prepare and submit flight incident reports.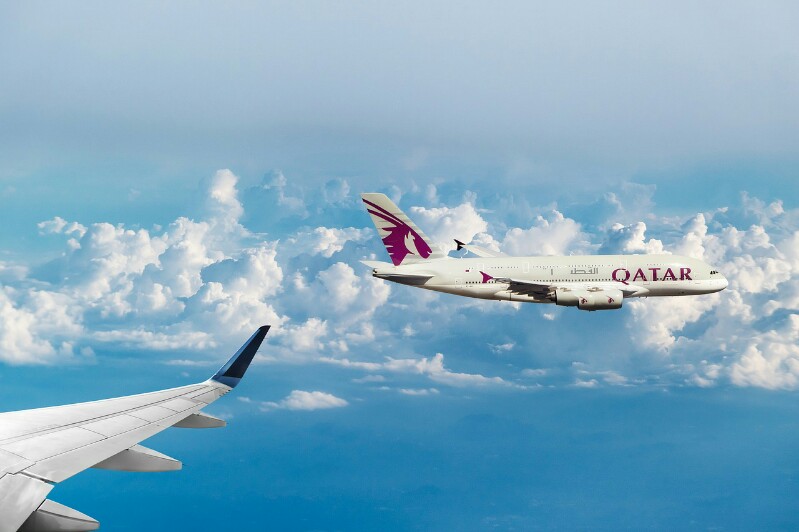 Qualifications
To become part of the Qatar Airways cabin crew, there are several qualifications for men and women. Before you send your application to them, it is a must for you to read what's indicated in their minimum eligibility so you can easily assess what kind of cabin crew they are looking for and if you're a good fit for the role.
Must be at least 21 years of age. Females between the ages of twenty-one and thirty are most considered, but Qatar Airways state no maximum age limit.
Must be able to have an arm reach up to 212 centimetres on tiptoes. Females will be required to remove their shoes and stand on their toes with their arms outstretched to reach the designated height. This is to demonstrate their ability to reach the overhead cabins called the hat racks. Anyone who fails to do so will automatically be disqualified.
Must at least be a high school graduate. Being a flight attendant of Qatar Airways won't require you to be a university graduate, but you have to show proof of graduating from high school.
Must be fluent in written and spoken English. There will be several English tests comprised of four parts: writing, reading, comprehension, and filling in blanks.
Must possess strong interpersonal skills.
Must be able to work with a multinational team. Qatar Airways has employees from all around the world, and a flight attendant applicant must demonstrate the ability to work with people from all cultures.
Must be passionate about travelling and customer service.
Must be fit and in excellent health. Flight attendance is a physically taxing job. You will go on long, sometimes red-eye flights, and your body must be able to weather all sorts of physical situations.
Must be willing to relocate to Doha, Qatar. The airline provides lodging in Qatar, at the base of operations. All employees must demonstrate a willingness to live in the country.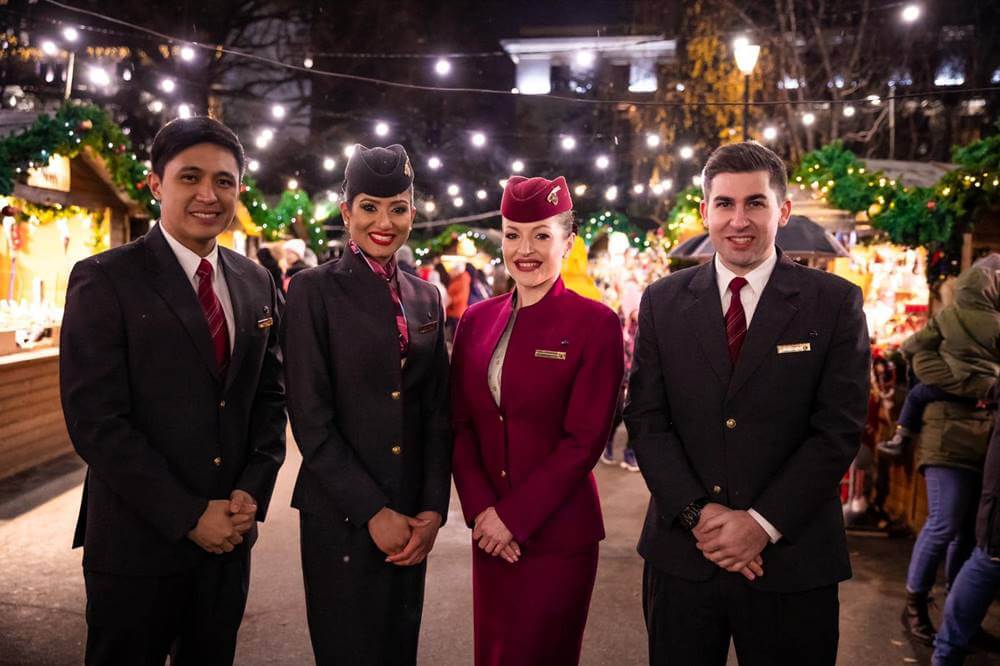 Document Requirements to Prepare
There are a few document requirements that an applicant must submit during the application process for the flight attendant position. Here are the document requirements:
1 copy of the accomplished application form
1 copy of CV in English
1 photocopy of passport
1 passport picture with formal business attire minus glasses
1 photocopy of highest educational attainment
1 copy of the accomplished medical slip
Where to Apply for a Job at Qatar Airways Online
Anyone interested to apply as part of the cabin crew of Qatar Airways can visit the official Careers page of the airline here – https://careers.qatarairways.com/global/en/c/cabin-crew-cabin-services-jobs
There you will see the open positions, the updated requirements, where to apply, and where in the world you can go to put in your application. Usually, the Careers page indicates countries where there are openings, so you can check if a location in your country is included. Otherwise, you can apply online and check where to go for the required physical appearance in your city.
Just like any other job, an online application is now available for Qatar Airways. You may submit your application through the career section of their website, and you will receive an invitation for their Open Day. However, anyone can attend the airlines' open day regardless of whether they did receive an invitation or not.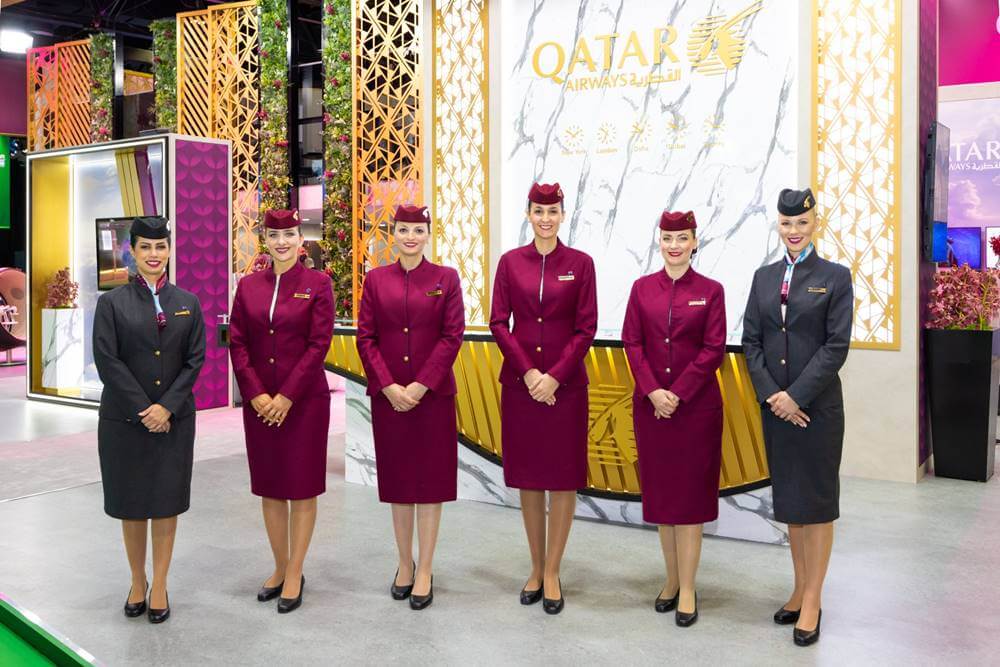 How to Become a Cabin Crew For Qatar Airways
In order to look for a job online as a cabin crew for QR, you can visit the Careers Page of the airline company through their website. Please follow the rest of the steps below:
Online Application
Online applications are done via the official website of Qatar Airways. Unless specified, you should only submit your application form and required documents via the website. Otherwise, your application won't be processed. Here are the steps to proceed with your online application:
Visit the Careers page on the Qatar Airways official website.
Choose your desired position.
Prepare all required documents.
Fill up the application form and submit your documents.
The recruitment team will get back to you in three business days to inform you if you are to proceed to the next step of the application.
If you are selected to proceed, wait for the phone interview. You will be asked a few questions about your desire to become a Qatar Airways flight attendant or cabin crew member.
If you pass the phone interview, you will be requested to come in person for a face-to-face interview, where you will have to undergo several interviews and some group activities and presentations to prove your mettle.
The entire recruitment process can take up to three months, and you will undergo several interviews during the recruitment period.
You can check the status of your application on Sonru.
Open Days/Mass Hiring
Open days are also known as mass hiring days. The open day is an initial interview, wherein candidates get the chance to know more about the airlines and vice versa. Usually, candidates are given the chance to meet the recruiters who will give them some short questions and then decide if they will be selected to participate in the Assessment Day.
Before you show up at the venue, you should bring a copy of your resume, a full-length photograph and another passport-sized photograph of yourself, and a copy of a certificate of the highest level of education you've attained.
Here are the steps to applying for a flight attendant or cabin crew position for Qatar Airways:
Fill up the application form online.
If you are shortlisted, you are invited to Open Day, which includes the time, date, and location.
Make sure to print a copy of the application form you filled out online if someone from the recruitment team asks for it.
On the day of your physical appearance, make sure to wear clean and presentable casual business attire. Tie up your hair in a bun if you are female, and make sure to have combed and slicked back hair and no facial hair if you are male. Your initial appearance says a lot about you as a person, and the Qatar Airways recruitment team will notice that about you.
Make sure to bring all the required documents. You will not be allowed to rush out and print a missing document since you will be asked to stay in the venue until Open Day is done. Have all your documents ready in a discreet folder.
Make sure to wear comfortable shoes since you will be walking around the venue all day. However, don't wear sneakers or sandals. Your shoes must be closed-toe and with modest heels. Don't wear stilettos as they can be highly uncomfortable.
Recruiters will ask you a few questions about your age, your current profession, and where you live. Try to answer these questions as clearly and concisely as possible. Do not stray from the query by adding unnecessary information.
Usually, the reach test is conducted on Open Days to assess whether an applicant is fit for the job. If you fail, you will be disqualified from the remaining application processes. If you pass, you will be given an invitation to Assessment Day.
There are only two things that can happen after your open day. First is, you will be given the information regarding the Assessment day, which will be asked for you to keep it confidential. Otherwise, you will be told to wait for an email or phone call regarding the result. If that happens, it means you failed to meet their qualifications.
Assessment Day
The Assessment Day will have you answering a few more questions, undergoing one-on-one interviews, and doing some tests. Here are the specifics of Assessment Day:
You will be asked to answer an English test and a basic mathematics test.
There will be another reach test, along with a body inspection for scars and tattoos. It's best to declare any other scar or tattoo that you might have, even if they are hidden. The medical test will usually reveal these, and if you don't declare them during the body inspection, you might lose the chance to continue with your application.
You will be asked a few questions specific to the position you are applying for. It's best to give short but concise answers so that the recruitment team can assess your communication skills and your desire to apply for the position.
There will be group activities and individual presentations where everything else about you will be assessed. Think of it as having cameras tracking your every move. Be on your toes, be pleasant at all times, and be participative.
Once you pass this round, you will move on to a basic briefing about Qatar Airways, and you will be asked to fill up a few more forms.
You will then be given a schedule for your final interview.
Once you pass your final interview, the next thing is to accomplish the medical exam.
Once you pass the medical exam slip, wait for the results of your application. You can check your application status on Sonru.
In a previous post, we revealed what happens during a cabin crew assessment day. Just to summarize it, you will be introduced to the airline and will be given a short introduction about what to expect on the job. Next, you will be given a series of tests which you will do individually and with a team.
If you have successfully passed the tests during the assessment day, you will immediately be called for the final interview – which usually happens on the same day of the assessment day. There are a lot of people who shared that the time spent during the interview was quite short, but there's no need to worry as it is not a determinant of whether you will get the job or not. Afterward, the recruiter will provide you with instructions regarding your application so take note of that.
You will be asked to take the medical examination and upload the results into your online account. Usually, the tests include a self-evaluation survey, blood tests, and a medical screening performed by a healthcare specialist. If the results are favorable to the airlines, you will receive further information about the job and the date when you will start.
More often than not, the whole application process would take 3-4 months or earlier. It varies from the list of candidates they possess and the other factors. Nonetheless, remember to be patient because a cabin crew job is worth waiting for, isn't it?
Monthly Salary of a Qatar Airways Flight Attendant
A Qatar Airways flight attendant typically earns about 1,600 to 1,800 US Dollars per month. However, it may be reduced slightly during the first six months of probation before being promoted to a full-time team member. Along with the monthly salary, a flight attendant or cabin crew member will receive these benefits:
Hotel accommodation
Allowance for transportation
Allowance for uniforms and shoes
Suitcases every two years
Health benefits for the team member and their dependents
13th & 14th-month pay
Attendance awards, including unused sick leaves and days off
The opportunity to travel
Performance bonuses
Allowances for meals
Insurance for health and dental
Productivity bonuses
Pension plans
Video: Qatar Airways Cabin Crew Talks about Job and Experience
In the video, a Qatar Airways flight attendant discusses her knowledge and experience about her profession, which potential applicants can learn from. She talks about the requirements, qualifications, application process, and a few other things not mentioned in this article. Here are some of the things she talks about that are not indicated in this article.
If you speak another language, that would be a valuable asset, and you will be assigned to flights in the country where you are fluent in the language. However, it doesn't mean that you won't be able to go on other flights.
You may be required to live in Qatar, but you are granted one free flight a year to go home and visit friends and family.
Aside from tattoos, you have to declare any scars, visible or not.
You have to have clear skin, naturally-coloured hair and have a pleasant smile, which means braces and crooked teeth are not allowed. Men cannot be bald and have facial hair.
Being able to swim is not mandatory for joining Qatar Airways.
You have to learn basic CPR.
Photos of Qatar Airways Flight Attendants in Uniform
Check out these cool photos of QR airline flight attendants so you can see what their uniform is like.
Frequently Asked Questions
Here are some common questions and answers you may have if you want to know more information about applying as a cabin crew for QR airlines:
1. How long will the recruitment process take?
It will take about three months with several interviews.
2. What are the steps of the recruitment process?
You would have to go through an online application to fill out an application form and submit all required documents. Then you will undergo a phone interview where the recruiter asks you a few questions related to the job. After that, you will have to do an in-person interview with several stages.
There is a panel interview, a one-on-one interview, group activities, presentations, and tasks. Lastly, you will have to undergo a few aptitude tests to determine your personality, cognitive abilities, and skills.
3. What should I wear to an interview?
Casual business attire is best when showing up for an in-person interview. Women can wear simple blouses in a plain colour, a pencil-cut skirt that hangs below the knees, and modest heeled shoes. Men can wear a long-sleeved polo shirt in a plain colour, button-down pants, and conservative shoes.
4. If I pass the application process and become a flight attendant, will I be allowed to get married or get pregnant?
Qatar Airways has an unspoken policy about marriage and pregnancy. Women cannot be married or get pregnant during the first five years of their employment. If they find out that they are pregnant, they must immediately tender their resignation. Otherwise, they will be sanctioned.
5. Am I required to live in Qatar?
Yes. Qatar Airways provide board and lodging for all their employees, especially cabin crew members. It's easier for them to distribute flight attendants on flights coming out of Qatar that way.
6. Am I allowed to have tattoos?
Yes, you can have tattoos as long as your uniform can cover them. Wrist tattoos must be covered with a watch, and the shoes must cover ankle tattoos. Any other visible tattoos such as facial, hands, neck, and calves will automatically disqualify you from the job application process.
7. If I wear glasses, can I still pass the application process?
Qatar Airways will have you present proof that you need the glasses. Otherwise, you will be asked to wear contacts that are not absurdly coloured or far from your natural eye colour.
8. What is the height requirement for a flight attendant?
As long as you can reach 212 cm while tiptoeing, you will be able to pass the height requirement.
9. If I have HIV, would I still be considered to apply?
Since all applicants must undergo a medical check-up, you would have to be HIV-negative and some other major diseases to qualify. If you fail the medical test, you will no longer be considered as an applicant.
10. Can I have painted nails during a flight?
Nail polish for women is allowed, as long as it matches the uniform, a deep burgundy colour. Nudes are allowed as well. However, blue, green, bright pink, and other similar shades are strictly prohibited. You must look clean, well-dressed, and presentable to guests at all times, and that includes your nail polish and hair colour.
11. Why do a lot of people dream to work at Qatar Airways?
Aside from the good working environment, another thing that airline crews love about them is the generous compensation and the benefits that come along with it. However, Qatar Airways doesn't just hand them over easily. You certainly need to prove that you are one of their best assets and that you will also help them to provide their passengers with high-quality service.
Given that you're reading this, it simply means that you have a strong desire to be a part of Qatar Airways. If you're unsure how the application process on Qatar Airways will go, we've got you covered! For this post, we will share everything you need to know about their hiring process to get rid of any confusion that you might have.
Summary
Qatar Airways, along with other airlines, require their flight attendants and cabin crew to perform all the duties and responsibilities assigned to them. This includes maintaining decorum even on the ground.
Flight attendants and cabin crew members are expected to maintain the personality of a Qatar Airways team member even when out of uniform, which means that one cannot engage in unsightly activities that might reflect poorly on the airline.
Contact Information

Qatar Airways
Address: Discover Qatar, Qatar Airways Tower 3, Airport Road | P. O. Box: 22550 Doha – Qatar
Telephone Number: +974 4423 7999
Website: www.qatarairways.com
Facebook: https://www.facebook.com/qatarairways
Instagram: https://www.instagram.com/qatarairways/
Twitter: https://twitter.com/qrsupport