If you want to become a cabin crew for Qatar airways, you need to know what are the things needed for you to qualify for the role. This is the first step to ensure that you are fit for the position. Qatar cabin crew must be at least 21 years of age, and they must have a high school diploma or equivalent. Qatar cabin crew members must also be able to speak English fluently. Below are the following job qualifications needed for the flight attendant job by Qatar airlines. Take note that it's always best to visit their main website for a more updated list.
Also Read: Qatar Airways Salary and Benefits
Flying to over 150 destinations, the award-winning airline Qatar Airways has been named Skytrax's 'Airline of the Year six times, most recently in 2021. Now, the said airline is back to hiring qualified individuals to fill their cabin crew positions. But unlike any other airline, Qatar Airways is a bit more strict with the physical appearance of their flight attendants because they do not allow applicants with tattoos to apply, even though they will be hidden under their uniform.
To work for Qatar Airways and other Middle East airlines, the minimum age is 21 years old. This airline has long been regarded as the top pick for aspiring flight attendants. Now, here is the requirement you need to become a cabin crew of a "Skytrax" airline.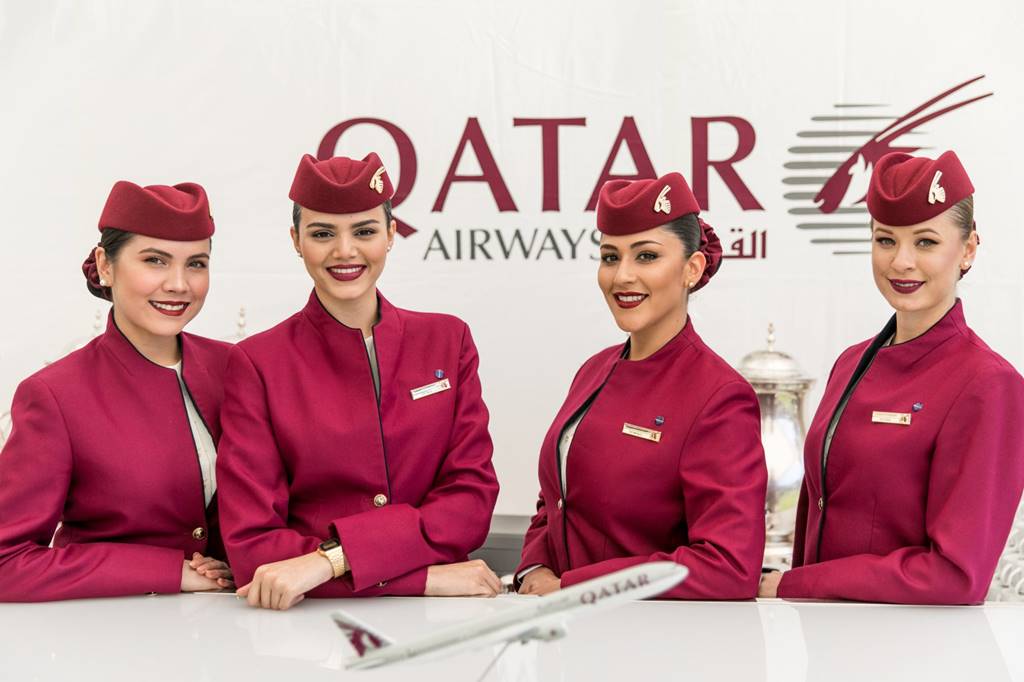 List of Requirements and Qualifications to become an Qatar Flight Attendant
Qatar cabin crew members play an important role in ensuring that passengers have a comfortable and safe journey.
Age: Minimum of 21 years old
Arm Reach: Can reach a height of 212cm on tip-toes.
Education: High School Education
Communication Skills: Fluency in Written and Spoken English Language
Health and Fitness: Excellent health and fitness
Outgoing personality and has good interpersonal skills.
Can work with a multi-cultural team
Willing to be relocated to Doha, Qatar
The required information is taken from the Qatar Airways website.
In addition to these general requirements, Qatar cabin crew members must undergo comprehensive training before they can begin working. Qatar Airways provides all-new cabin crew members with training that covers safety procedures, customer service, and cultural awareness. As a result, Qatar cabin crew members are highly skilled and professional individuals who are dedicated to providing outstanding service.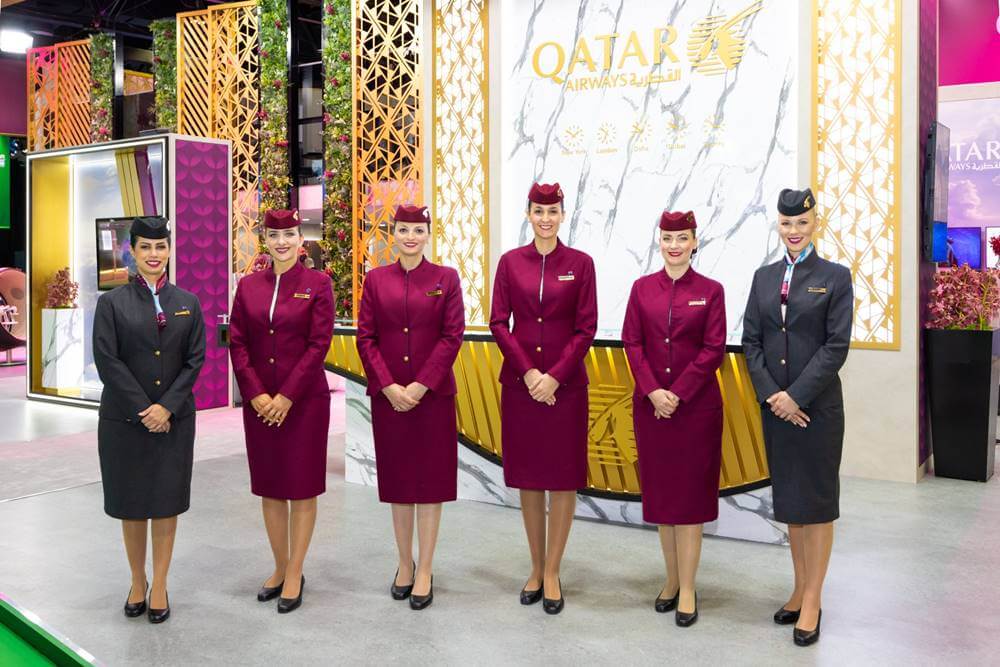 Application Process
A number of people have some preconceived notions on what the requirements to apply as a flight steward are. But all they have to do is apply online or submit their resume when they visit one of our Open Days events.
Career prospects and personal development opportunities are tremendous in this dynamic and vibrant environment. We, at Qatar Airways take our recruitment and selection process very seriously. While every effort is taken to treat all our candidates fairly, it is vital that we select people with the desired capabilities that are essential to our continued success.
Here is a brief overview of the application procedures for becoming a crew for EY airlines.
Finish your online application through their career website.
Recruitment staff will analyze your CV and send you an email inviting you to their Open Day.
Get prepared for the possible questions and make sure to attend the Open Day.
When you receive an invitation to an Open Day, meet the Recruitment team and present the following:
ID of the Applicant
A current CV in English
Make a photocopy of your passport.
A passport-sized photo
If you want a more detailed post about the hiring process, please read this article here – How to Apply Qatar Airways Flight Attendant Hiring
Salary & Benefits
So, if you're wondering how much Qatar Airways pays flight attendants, the salary ranges between QAR 9,000 and QAR 10,000. This is not, however, the exact wage for the cabin crew. The salary range is determined by the country and your geographical location. Furthermore, as the world's leading airline, Qatar Airways gives various additional benefits to its cabin crew, including:
      During layovers, you will have your hotel room
      They provide medical services to their employees.
      They offer pick-up and drop-off services for their personnel.
      There are also some additional incentives added to entice you to apply for
      Discount tickets
      Overtime pay
      No taxes
      Free Accommodation
      No bills to pay (except for internet and mobile)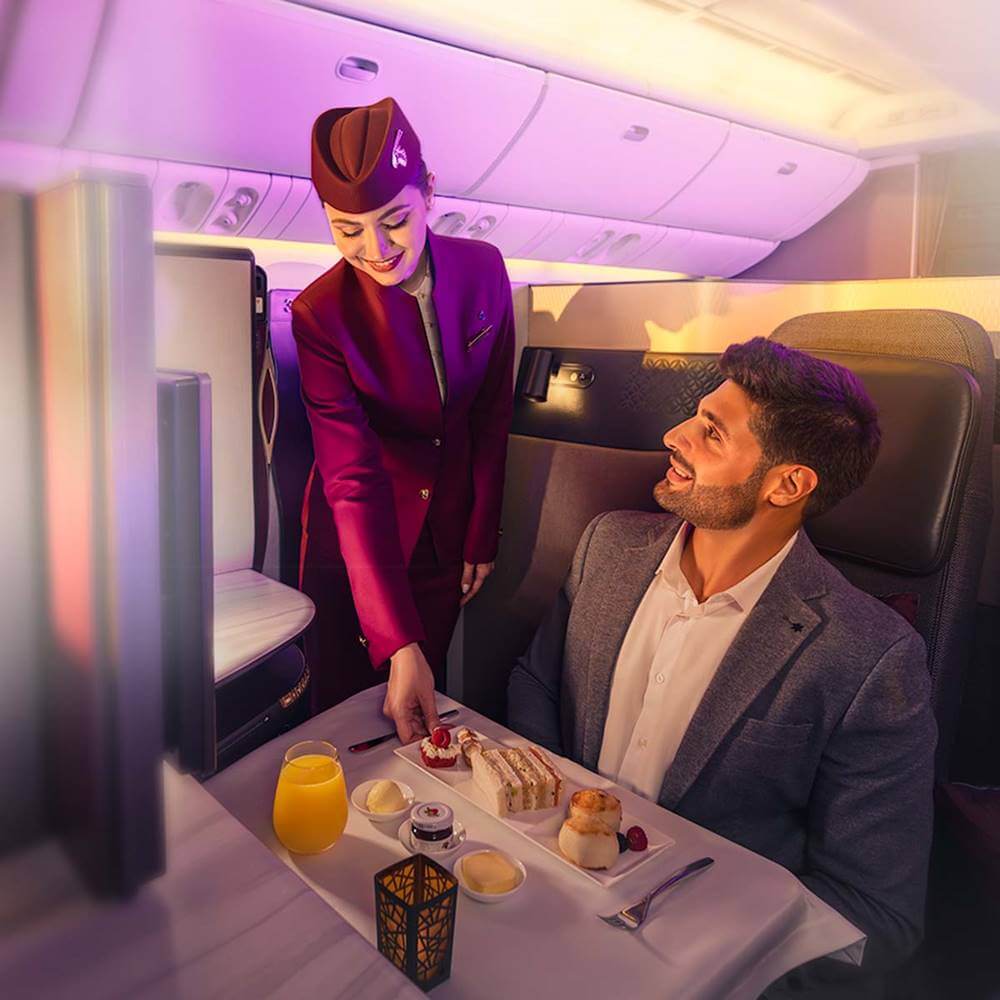 Things to Bring During an Open Day by Qatar Airways
When you apply as a cabin crew and you will drop by the Open Day event, you need to bring these with you:
Resume or CV
Photocopy of Passport
Passport-sized Photo in Formal Business Attire
Full-Length Photo in Formal Business Attire (Without Glasses)
Photocopy of Highest Educational Attainment certificate
Dress Code: Formal Business Attire
Note: On the venue of the Open Day, you will be submitting your CV to the recruitment team. If you are shortlisted, you will be asked to attend the Assessment Day with the Qatar Airways team.
So these are the minimum requirements needed. Please do visit the website for more information as well as apply as a Qatar cabin crew.
Video: Qatar Airways Cabin Crew Requirements
Here's a video clip that details the requirements and explains the qualifications you should have in order to be accepted and be part of the QR airlines:
If you are dreaming of becoming a flight attendant for a Middle East airline such as Qatar Airways, learn more about their qualifications and standards. Just like any other airline, Qatar Airways start its cabin crew requirements with age and height reach. For the age, it would be better if you're still under 30 years old. Though there are crews above this age working inside.
How tall should be a cabin crew? Many people always think that you need to be tall to become a flight attendant, but this is just an old belief. The real standard set by many airlines is that you need to have a height reach of 212 centimeters.
During the measurement of the applicant's height, you have to be barefoot, but you can stay on your tiptoes. Another important thing is your weight. Your body must be proportional to your height for a more pleasant appearance.
If you exceeded the proportional weight of your height by 5 kg. this will be tolerable. If you have more than this 5 kg. extra weight, you need to reduce before your open day. When it comes to language, English is the only language you have to know. Though fluency in any other language you know can become an advantage to your interview.
Photos: Qatar Airways Airlines Cabin Crew Uniforms
Check out these pictures of Qatar Airways Airlines crew so you can see what they look like in uniforms:
Frequently Asked Questions
1. Does Qatar Airways accept applicants with a scar?
For females, the type of uniform won't conceal the scar and it may be an issue, but it all depends on the officer and management's approval, and it's always preferable to declare before coming to Doha.
2. Is there a married cabin crew on Qatar Airways?
They don't, they don't. Qatar Airways still does not allow its employees to marry; if they want to marry, they must resign.
3. How can I apply for Qatar Airways?
To apply for a position on Qatar Airways as a Flight Attendant, go to their official career page. However, the majority of the time, they are organizing a walk-in-interview. In that situation, you must confirm the interview location and date before proceeding with the interview.
4. Does Qatar Airways accept male applicants?
Yes, they hire, but you must check the most recent update on the Qatar Airways cabin staff careers page. If a male opening is specified, you can attend the interview or apply online.
5. What is the minimum age for a Qatar Airways cabin crew?
If you wish to work as a cabin crew member with Qatar Airways, you must be between the ages of 21 and 35.  Yes, they have minimum and maximum age requirements.
6. I have a tattoo, but it's not visible when wearing clothes?
As a Qatar Airways cabin crew, you are not allowed to have tattoos, visible or not visible. Don't try to hide it because they will check during medical. To proceed with your application, you need to remove the said tattoo.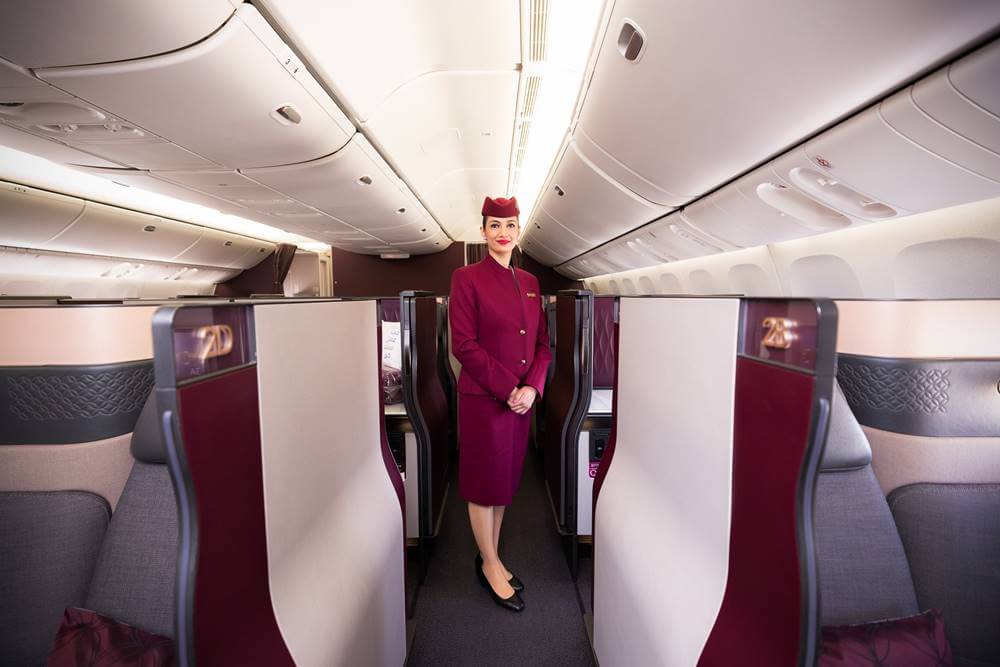 Summary
Just like any other airline, Qatar Airways is very strict with the physical appearance of their Flight Attendants. For some airlines, they allow applicants with a tattoo as long as it can be covered by their uniform, but for Qatar Airways – it shall be removed.
Well, you can't blame them because those qualifications for their applicants will contribute hugely to the image of their company. Airlines want to be seen perfectly not just with their service but also with the physical appearance of their cabin crews.
If you meet all the above requirements, then you can apply for the position by filling out an online application form or attending the Open Day event. After that, you will be called for an interview. If you are successful in the interview, then you will be asked to take a training course which will last for about If you meet the requirements and are interested in applying, please visit the Qatar Airways website for more information.