Delta Airlines is a major US-based airline with its headquarters in Atlanta, Georgia. If you are planning to become a flight attendant for Delta, please follow the guidelines, requirements, qualifications, and step-by-step process for the application to become a Delta crew.
Also Read: 15 Must-Have Qualities of Cabin Crews
There are a lot of airline companies where you can apply as a flight attendant or cabin crew. We know it's a dream for many to fly and go to different countries while doing the job they love. Luckily, you have many options to choose from and Delta Airways is one of them.
So, if you are looking for a detailed guide on how you can apply as a cabin crew in Delta Airways, we've prepared something for you. As you read this article, you will know more about the company, your responsibilities when you get hired, your salary, and other questions that you might have.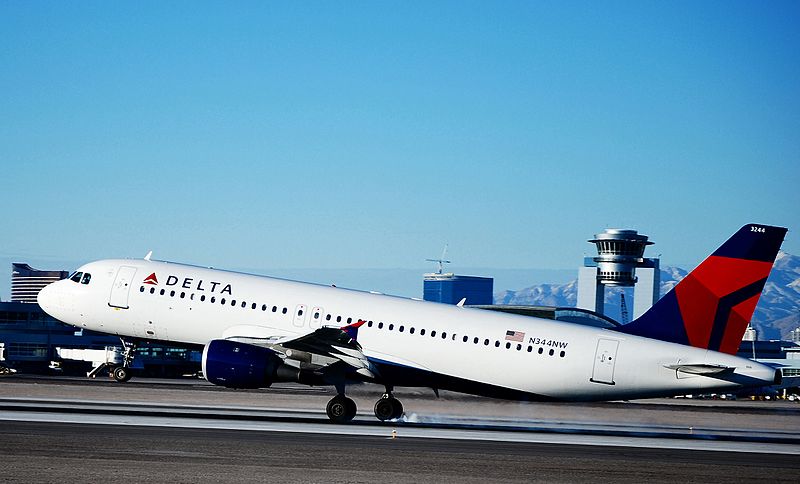 Overview
To work at one of the best airlines, you have to prove your best is enough. With over 100,000 applicants vying to be hired as cabin crew members, making it to the 1% of those hired would be a challenge. Fortunately, this article aims to help you prepare to make your dreams come true while giving you a glimpse of what it's like at the same time. So read on, and keep in mind all the important details and information below!
Headquartered in Atlanta, Georgia, "Delta" or Delta Airways, Inc prides itself on being the oldest functioning airline operating in the United States. It is also a founding member of the SkyTeam airline alliance, an alliance that prioritizes offering passengers an ideal travel experience throughout their journey. Together, these 19 member airlines work to serve over 676 million customers each year, with more than 15,445 daily flights to 1,036 destinations in 170 countries.
At present, Delta is ranked as the world's number one by total revenues. With nine hubs having Atlants as its largest when it comes to its total number of departures and passengers, Delta has earned its spot as the second among the world's largest airlines. The basis for this was the number of passengers served, the total kilometers flew, as well as its size. Another great feat of Delta Airways is landing 69th place on the Fortune 500, an annual list made by Fortune magazine.
With all that said, you can probably picture how much this corporation values good service and prioritizes giving their customers the best and is one of the best. If you've got your eyes set on working here and being part of its objectives, then these are the things that you can use to your advantage.
Given the fact that the airline is only hiring a few crews this time, you should get catch their attention as early as possible – which we discussed in a post about resume tips.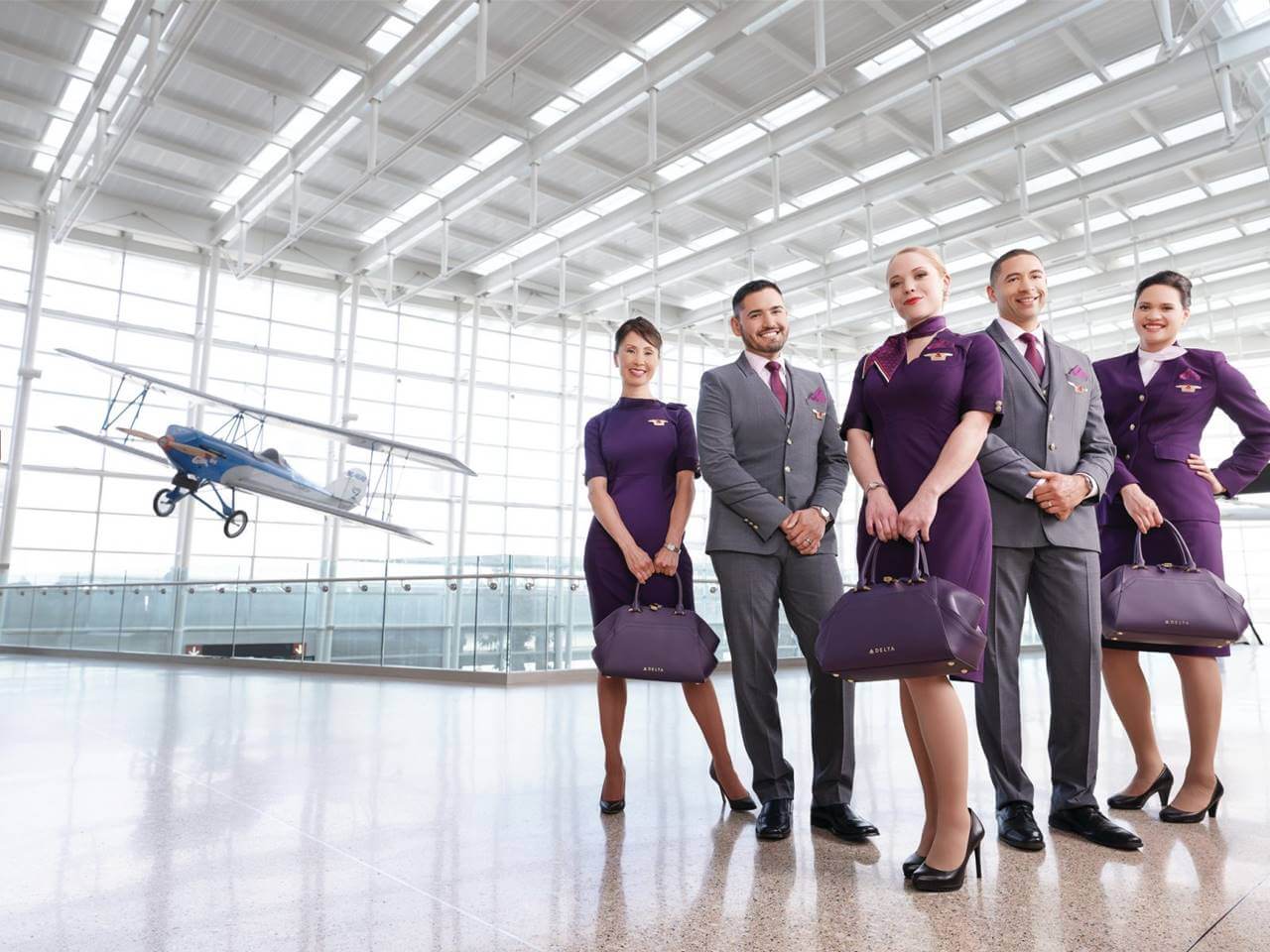 Responsibilities
With being hired comes great responsibility, and once you are, you now play an essential role in maintaining the airline's reputation when it comes to service. Just like every flight attendant out there, here are the duties and responsibilities you must be able to perform well.
Perform safety checks before flights take off
Offer food and beverages to passengers
Demonstrate emergency procedures (this pertains to putting on oxygen masks, buckling seat belts, using exit doors, etc.)
Remind passengers about what is allowed and prohibited
Tend to the passengers' needs
Help passengers in the event of an emergency
Qualifications to become a Delta Airways Cabin Crew
To stand a chance to be hired as one of Delta Airways Cabin Crew, having a grasp on what qualities you must possess is a great starting point. To become a Delta Airways Cabin Crew, here are the qualities you must have and qualifications you must pass in.
Must be a minimum of 20 years of age
Must have the legal right to work and live in the US
Must have High School Diploma or equivalent
Must be able to pass a full medical, including sight and hearing tests.
Must be able to complete a 10-year background check and a pre-employment drug test
Must have a reach of 6ft 2 inches (74 inches arm reach)
Must have a good level of health and fitness
Should weight proportion to height
Must be able to swim 50 meters.
Must have impeccable grooming standards
Must be flexible and adaptable, with a commitment to excellent service
More details about Delta Requirements here.
Here's a photo uploaded online in the official Facebook page of Delta Air Lines featuring cabin crews training in their in-flight service learning:
Document Requirements to Prepare
There are three common recruitment methods in Delta Airways: Assessment Day, Recruitment Day, and a face-to-face interview.
The assessment day is usually described as the hardest part of the whole recruitment process, as the atmosphere during this method can be very competitive. This is because assessment day is the part of the application process where you are scrutinized from head to toe and assessed on your hygiene.
These are the requirements that you should bring with you during this process:
Valid passport
Copy of your CV and cover letter
Pen and notepad
Makeup or lipstick to refresh or touch-up appearance
Anything that can boost your confidence and leave a great impression!
Other notes:
Arrive at the interview location early. This can impact their first impression.
Remain composed.
Be aware of how you portray yourself; people are watching.
Practice answering the interview questions you might ask, especially if you haven't mastered answering in English yet.
Research and read about your potential future company and job! Being familiar will do you well during the interview.
During recruitment day, these are the documents that you need to bring:
CV/Resume (Note that your CV/Resume will be checked at the beginning, so you need to make sure that your information are up to date)
Documents that will prove your identity
Bringing along recent photos of you would also be helpful because there is a tendency that the recruiters would ask one from you
The last step is the face-to-face interview, which requires nothing but yourself and your confidence.
Where to Apply for a Job for Delta Airways Online?
Brief intro and share the 'careers' page where the airline applicant can apply for the job online. Please check out this Link for the Careers page – https://delta.avature.net/careers/SearchJobs/%22flight%20attendant%22?2884=75195&2884_format=3665&listFilterMode=1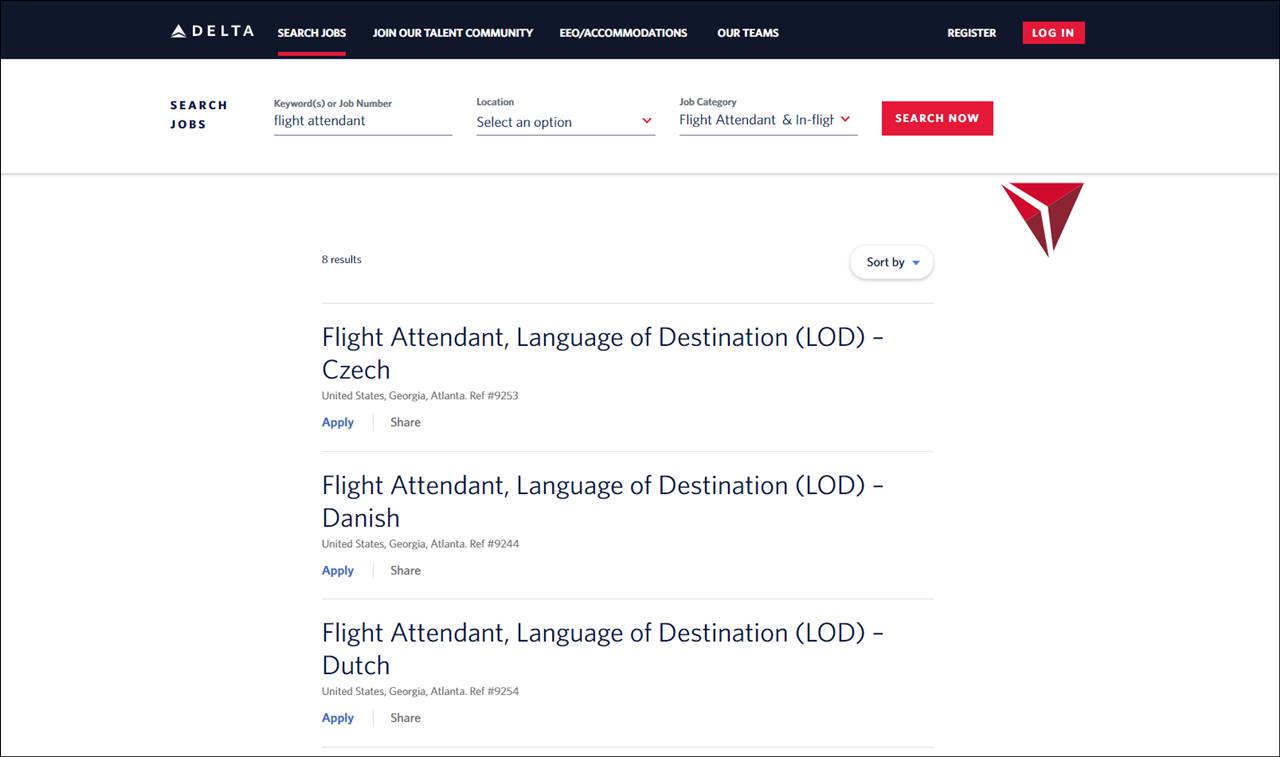 How to Become a Cabin Crew for Delta Airlines
Here's a detailed guide on the step-by-step procedure to become a flight attendant for Delta Airlines:
Step 1: Get an Interview
To obtain an interview, check and read through the various job openings on Delta Airway's website. You can check the Careers Page online here – https://delta.avature.net/careers/JobDetail/Flight-Attendant-Language-of-Destination-LOD-Czech/9253
Before you reach your first step towards the hiring process, you must first secure managers' interviews. Waiting for a schedule and other preparations usually takes a few weeks, while some positions take several months.
Extra note: You'll be able to stand out if you have at least one year of work experience in customer service, as well as experience in a role or job ensuring the safety and/or care of others.
Step 2: Prepare for the Interview
Once chosen for a Delta job interview, you now need to prepare for your meeting. One of the best ways to do this is to read through your resume and check if all your information is updated and correct. Additionally, reading through common interviews and practicing how to answer them can increase your confidence.
Step 3: Prepare for the three parts of the application process.
As mentioned above, there are three methods that Delta Airways assesses and hires their future employees. Once the interview is finished, it would be helpful for you to know about what each method requires from you.
Additional Requirements in Application:
The airline requires a group of aptitude tests, which consist of math, verbal, and personality exams. It is best to also refresh your memory regarding answering these questions.
For other information and application submission, visit this website.
Delta Flight Attendant Bases and Hub Locations
As a flight attendant for Delta Airlines, having a base is vital. A base is where your trips start and end, and it plays a crucial role in determining your schedule and lifestyle. The choice of base can impact your commuting time, layovers, and the overall quality of your work-life balance. Here are some of the key bases for Delta Airlines flight attendants:
Atlanta (ATL): This is Delta's largest hub and the world's busiest airport by passenger traffic. Based in Georgia, Atlanta offers a vibrant cultural scene, rich history, and southern hospitality. Flight attendants based here have access to numerous international and domestic flights.
New York City (JFK & LGA): As one of the world's most influential cities, New York offers endless opportunities for exploration on your days off. JFK is an international hub, while LGA focuses more on domestic flights.
Minneapolis (MSP): Located in Minnesota, MSP is another major hub for Delta. The city is known for its friendly locals, exciting food scene, and beautiful lakes. Flight attendants here have a mix of domestic and international flights.
Detroit (DTW): Based in Michigan, Detroit is a city undergoing rapid transformation with a rich music history and bustling arts scene. DTW serves as a significant connection point for many international and domestic flights.
Los Angeles (LAX): LAX is a key gateway for flights to Asia and the Pacific. Based in sunny California, Los Angeles offers a glamorous lifestyle with its beaches, Hollywood, and diverse culinary scene.
Seattle (SEA): Seattle, situated in Washington state, serves as a primary gateway for flights to Asia. Known for its coffee culture, tech scene and beautiful landscapes, there's plenty to enjoy in the city.
Salt Lake City (SLC): Located in Utah, SLC is surrounded by stunning natural beauty, including mountains and the Great Salt Lake. It's a smaller hub but serves many domestic flights and some international ones.
Boston (BOS): Based in Massachusetts, Boston offers a unique blend of historic and modern attractions. Flight attendants here have access to many domestic flights as well as some international ones. No matter which base you choose for your career with Delta Airlines, you'll find plenty of adventure and opportunity. From exploring vibrant cities to taking advantage of new cultures and experiences, becoming a flight attendant at one of Delta's hubs or home bases will be a rewarding journey. Good luck!
Remember, the base you choose will play a significant role in your life as a flight attendant. Each offers unique benefits and opportunities, so consider what is most important to you when making your decision.
Monthly Salary of a Delta Airways Flight Attendant
At present, 20,000 Delta Airways Flight Attendants are working and have varied salaries. There are a lot of factors that affect how much their salary is, and these include seniority, flight hours, incentive pay, special positions, and deduction. It is important to remember that seniority plays a big role when it comes to paying rate and schedule so that you wouldn't be surprised if you find out that some attendants have bigger salaries than others.
The starting salary of a Delta Flight Attendant ranges from $33,000-$45,000 per year and eventually increases until they can earn an average of $118,000 per year.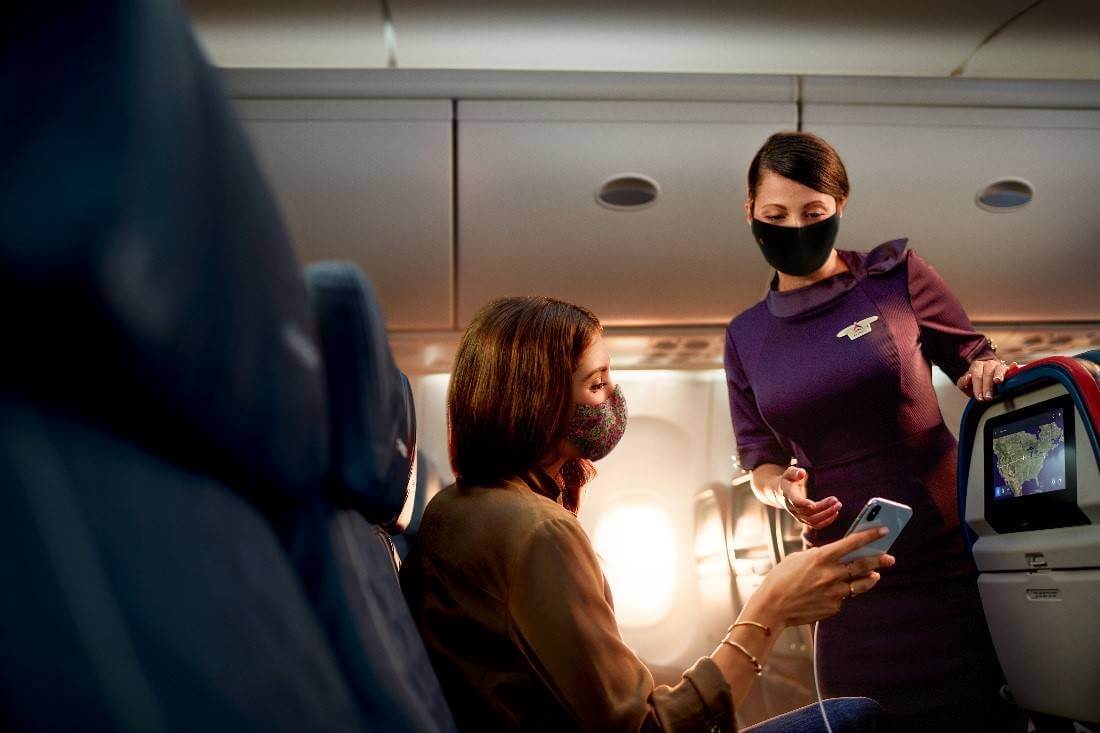 Benefits of a Delta Airways Cabin Crew
As a Cabin Crew Member of Delta Airways, your starting salary would be about $35,800 per year.
Once you get hired, Delta Airways will also grant you a lot of benefits for your secure and stable career ahead. These are the benefits that you will receive:
Staff travel opportunities
Flexible working hours
401k plan
Staff Discount Programme
Employee Stock Purchase Plan
Comprehensive insurance scheme and medical coverage
Security of working for a financially stable airline.
Post-employment training and development opportunities
Video: A Day in the Life of a USA Flight Attendant
Check out this video below to get an idea about the life of a flight attendant and what you can expect if you work for a US-based airline.
In this four-minute video, Melissa Pittman, a Delta flight attendant based out of New York, shares with you what it's like in a day of a flight attendant. She defines her day-to-day job as an FA, from departing to landing. She also specifically mentioned what she does while on a plane. This video is a big help, especially if you are looking for inspiration to apply to this airline company.
Photos: Delta Cabin Crew Team
Check out these pictures of Delta flight attendant team:
Frequently Asked Questions
Below are some common questions and answers about the job and applying to become a flight steward/stewardesses for Delta Airlines:
1. Will my height affect my chances of being hired?
While Delta Airways has its standards regarding height requirements, it is not the sole quality that will determine whether you'll be hired or not. If you're not that confident when it comes to height, you may pass many more tests regarding assessing your skills and qualifications.
2. Will my salary increase?
Depending on how long you've been serving in Delta airways, your salary is highly likely to increase the longer you've been working. It also has its perks, such as having more power on your schedule.
3. Does passing assessment day guarantee that I will continue up to the interview?
The assessment day is only the first part of the process. If you make it through this part, then you still have to go through recruitment day and the face-to-face interview. Only then will you be guaranteed a job in Delta Airways.
4. Will I get adequate training?
Yes, you will. Before officially serving as a cabin crew member or a flight attendant, you are expected to attend and complete an eight-week paid training in the Atlanta Training facility.
5. Once I apply for an interview, will I land a guaranteed schedule?
Almost 100,000 applicants are vying for a position in Delta Airways. That means that you're not the only one who wants to land an interview and get a job. Once you apply for an interview, you still have to impress the managers for them to contact you.
6. How else can I stand out?
Aside from noting your work experience needed for the job you're applying for, you can also stand out by making a good impression on your appearance.
Delta Airways value personal hygiene a lot, so make sure that you'll cross that off on their checklist.
7. Can I apply even if I'm not fluent in other languages?
Yes, you can! There are a lot of choices to choose from, and all you need to do is to find a position that indicates a particular language fluency.
8. Can I reapply in the event of my application being rejected?
As many times as you want! Those who never give up eventually end up where they are meant to be.
9. Is it okay to wear makeup and jewelry to the interview?
As much as possible, keep things minimalistic. Managers are going to look for a neat-looking applicant and potential future flight attendant or cabin crew member.
10. Does age matter when it comes to applying for a job?
No, it doesn't. As long as you meet the requirements and prove that you can offer the best services to your future customers and passengers, you stand a chance, just like everyone else.
11. What happens after I get hired?
Aside from undergoing training, you'll be able to receive all the benefits that Delta Airways promised from the start.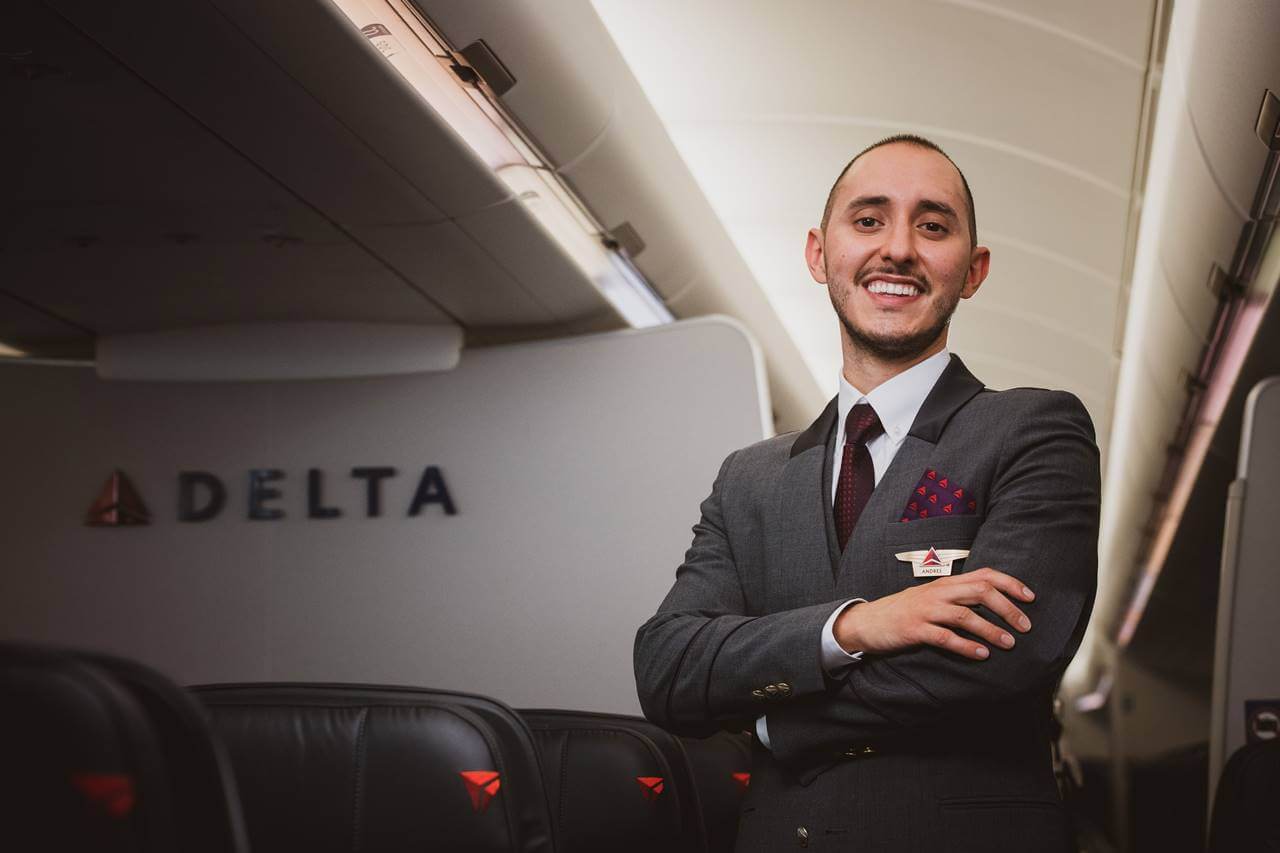 Summary
There are thousands of aspiring cabin crews around the globe who dream to become a part of an amazing airline and fly to different parts of the world. For that reason, the competition sure is tough. In fact, in every job ad, the airlines would usually receive tons of applications. Not to mention that during open days and assessment days, a huge number of crowds would be noticeably present.
If you still haven't landed a job at the moment, you might want to grab this opportunity as Delta Air Lines is currently on a search for cabin crews to earn their wings.
Contact Information
DELTA Airlines
Address: 1030 Delta Boulevard Atlanta, GA 30354-6001 USA
Telephone Number: (404) 715-2600
Website: https://www.delta.com/
Facebook: https://www.facebook.com/delta
Instagram: https://www.instagram.com/delta/
Twitter: https://twitter.com/delta