Delta Airlines stands out as a real trailblazer among the airlines that have made their mark on the skies. Delta Air Lines is one of the biggest and best-known airlines in the world. Based in the United States of America, it has over 90,000 workers and offers many jobs in the air and on the ground. If you've ever looked longingly at an airplane flying across the sky, working at Delta gives you a unique chance to be a part of this fast-paced, ever-changing world. 
Also Read: DeltaWiFi: Delta Inflight WiFi Internet and Entertainment System
As one of the world's most prominent and trusted airlines, Delta has been soaring through the skies for decades, connecting people and cultures across the globe. Beyond its reputation for reliability and service excellence, Delta Airlines is where passionate individuals come together, driven by a shared commitment to deliver an unparalleled travel experience.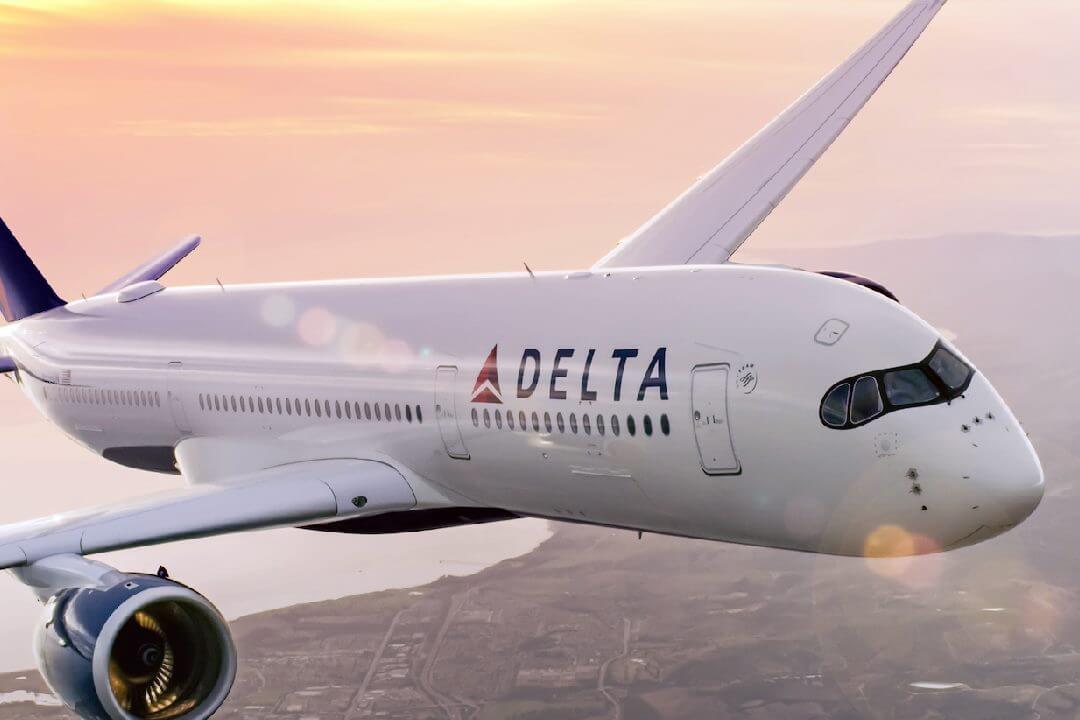 Quick Facts
Airline Name:

Delta Airlines

Airline IATA Code:

DL

Headquarters:

Atlanta, Georgia, USA

Founded:

March 2, 1925

Number of Destinations:

280

Fleet Size:

931

Fleet Types:

Airbus A350, Airbus A220, Airbus A319, Airbus A320, Airbus A321, Airbus A330, Airbus A350, Boeing 737, Boeing 717, Boeing 757, Boeing 767, CRJ 200, CRJ 700, CRJ 900, Embraer E170, Embraer ERJ-175

Location Hubs/Bases: Boston Logan International Airport (Boston), Detroit Metropolitan Airport (Detroit), Los Angeles International Airport (Los Angeles), Minneapolis-St. Paul International Airport (Minnesota), John F. Kennedy International Airport and LaGuardia Airport (New York), Salt Lake City International Airport (Utah), Seattle–Tacoma International Airport (Washington)
Brief History Overview
Delta's origins can be traced back to 1924, when it was founded as "Huff Daland Dusters" in Macon, Georgia. The company primarily focused on agricultural dusting services to combat crop-damaging boll weevils in the Southern United States. The company shifted its focus from agricultural operations to passenger services in 1928, when it was renamed Delta Air Service. The name "Delta" was inspired by the Mississippi Delta region, famous for its fertile soil and the birthplace of blues music.
During the 1980s, Delta continued its international expansion, establishing itself as a major player in the global aviation market. The acquisition of several international routes and partnerships with other airlines further solidified Delta's position as an industry leader. With a modern fleet, a strong focus on customer service, and a commitment to sustainability, Delta remains dedicated to providing a safe, efficient, and enjoyable travel experience for millions of passengers worldwide.
Products and Services
Flight Class:

Delta Airlines offers different flight classes for various passengers. Delta One is A premium business class offering luxurious amenities, lie-flat seats, dedicated service, and access to Delta Sky Clubs and airport lounges. Premium Select is an elevated premium economy class featuring extra legroom, priority boarding, and enhanced dining options. The main cabin is the standard economy class providing comfortable seating, complimentary snacks, and in-flight entertainment.

Inflight Entertainment:

All fleet has Delta Studio, a vast selection of movies, TV shows, music, and games available on seatback screens or through the Delta mobile app. It also offers in-flight Wi-Fi on most domestic and international flights, allowing passengers to stay connected during their journey.

Delta Sky Clubs and Lounges:

Delta operates Sky Clubs at major airports, providing a comfortable and relaxing environment for premium-class passengers and eligible SkyMiles members. These lounges offer complimentary snacks, beverages, Wi-Fi, workstations, and shower facilities.

Delta SkyMiles Program:

Delta's frequent flyer program allows members to earn miles through flights, credit card partnerships, and other activities. Passengers can redeem these miles for flights, upgrades, and other travel-related benefits.

Pet Travel Services:

Delta Airlines allows small pets to travel in the cabin with their owners, subject to specific guidelines and fees. For larger pets, the airline offers safe and reliable transportation for pets as cargo.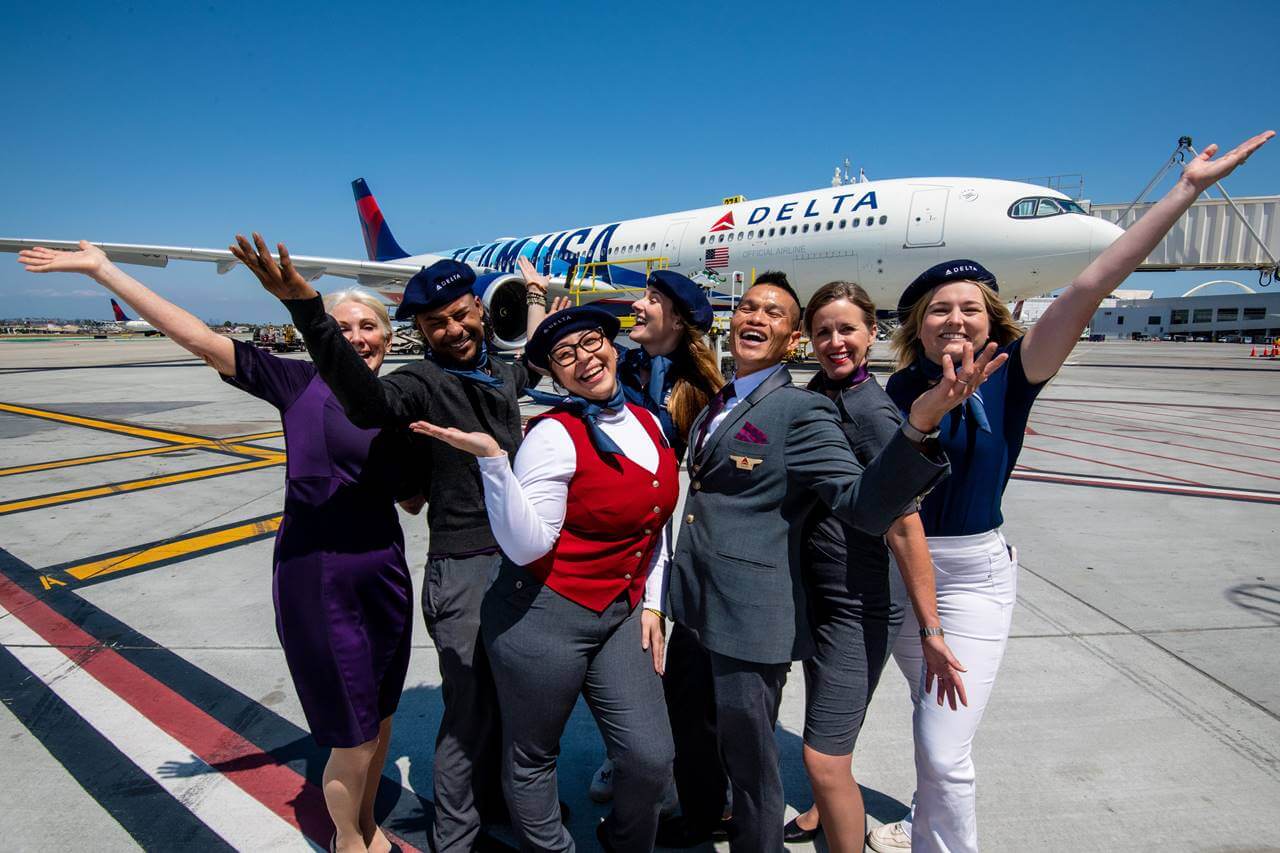 Work Culture
Delta Airlines is committed to keeping a workforce that is both diverse and open to everyone. They create a workplace where people from different backgrounds and experiences are accepted and valued. The company believes that diversity of thought and experience is essential to success, and it provides its employees with opportunities to learn from and collaborate with people from different backgrounds.
The airline company encourages its employees to work together as a team. The company believes teamwork is essential to success, and it provides its employees with opportunities to collaborate and learn from each other. Employees work together cohesively to contribute to the airline's success.
Delta understands the importance of work-life balance and endeavors to accommodate its employees' personal needs when possible. It is particularly significant for employees with demanding schedules, such as pilots and flight attendants.
Benefits
Medical, Dental, Vision, and Wellness Plans:

Delta Airlines provides comprehensive health coverage for employees and their eligible dependents. Initiatives to promote health and wellness are available for employees, such as fitness discounts and wellness challenges. The airline offers employees confidential counseling and support services for employees and their families.

Financial Wellness Program:

Employees can get help with financial literacy when starting or need advice on saving for the future and retirement. Delta and Operation HOPE have offered full-time financial coaches to help Delta employees get out of debt, improve their credit scores, make a budget, and start an emergency savings fund. They can even help you buy a house.

Travel Privileges:

Employees and eligible family members enjoy standby travel benefits on Delta flights, allowing them to fly at reduced rates. Delta Airlines also has Zonal Employee Discount, where employees have discounted travel benefits on other partner airlines.

Retirement and Financial Benefits:

Delta offers a 401k retirement savings plan, allowing employees to contribute and receive matching contributions from the company. Eligible employees may also receive a portion of the company's profits as an annual bonus.
Video: How Delta Airlines Recovered From a Financial Downfall
This video focuses on Delta Airlines' bankruptcy filing in 2005 after a decade of financial struggles. US Airways was trying to buy Delta Airlines to merge and become the largest airline operator in the world. However, Delta Airlines remained independent and made an impressive comeback featuring positive changes, which made them build a better reputation.
Summary
Delta has earned its place among the world's leading airlines through its unwavering commitment to excellence, innovation, and customer service. The airline's work culture and benefits are pivotal in attracting and retaining top talent within the industry. Delta values its employees and invests in their growth, recognizing that a happy and motivated workforce leads to a better customer experience.
Contact Information
Company Name: Delta Airlines, Inc.
Address: Hartsfield International Airport, Atlanta, Georgia 30320
Telephone No.: +1 800-221-1212
Website: https://www.delta.com/apac/en
Facebook: https://www.facebook.com/delta/
Instagram: https://www.instagram.com/delta/
Twitter: https://twitter.com/Delta?s=20