If you want to get a job as a cabin crew for Finnair, there are some requirements you'll need to meet. Firstly, you must have a high school diploma or finished vocational school. You'll also need to be able to speak English fluently, as this is the language of communication on board. In addition, you should be willing to work flexible hours, including weekends and holidays. Some experience in customer service would be beneficial, but it's not essential.
Also Read: Prague Layover Guide: Best Things to Do in 24 Hours
Since 1923, Finnair, one of the oldest airlines in the world, has been connecting Finland to other continents, Europe, Asia, and North America.  For almost 80 years, they've adhered to their core value of providing top-notch service while upholding sustainability through less carbon footprint in air travel.
All of this was made possible by their team of dedicated cabin crew members. Their Flight attendants were trained by professionals to assure that they'll be able to handle and manage difficult situations on board.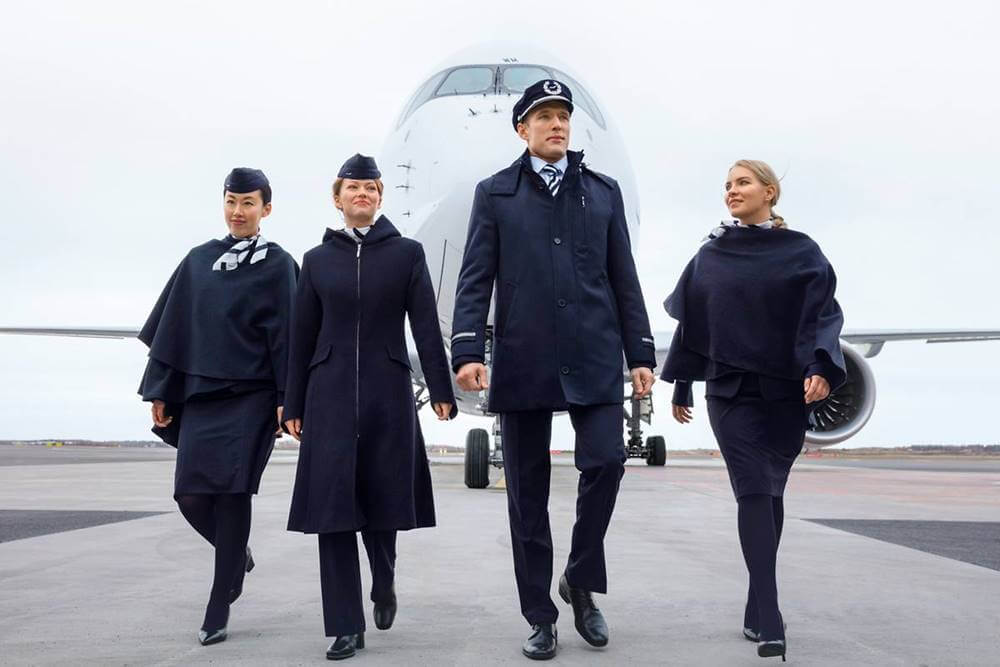 List of Requirements and Qualifications to Become a Finnair Flight Attendant
The scheduled training for flight attendants and other cabin crews is arranged depending on the needs of Finnair. From time to time, they search for candidates who have a genuine passion to serve and synergize with others.  If you have a positive outlook on life and meet all the qualifications below, then you can might as well, send them an application:
At least a high school graduate or has finished vocational school
Customer service experience
At least 160 cm tall without shoes
Physical endurance to swim up to 50 cm
Proficiency in English in both writing and communicating
Fluency in Finnish is advantageous
Willingness to dedicate oneself to the tasks and responsibilities assigned by the management
Multi linguality is an asset
Distant visual acuity of at least 0.7 in both eyes (with or without corrective lenses
Normal trichromats
Normal hearing
Ability to pass the
Good health overall
Without long-term medical condition that requires continuous medications and follow-ups
Ability to pass the  EASA Part Med Cabin Crew and Finnair regulations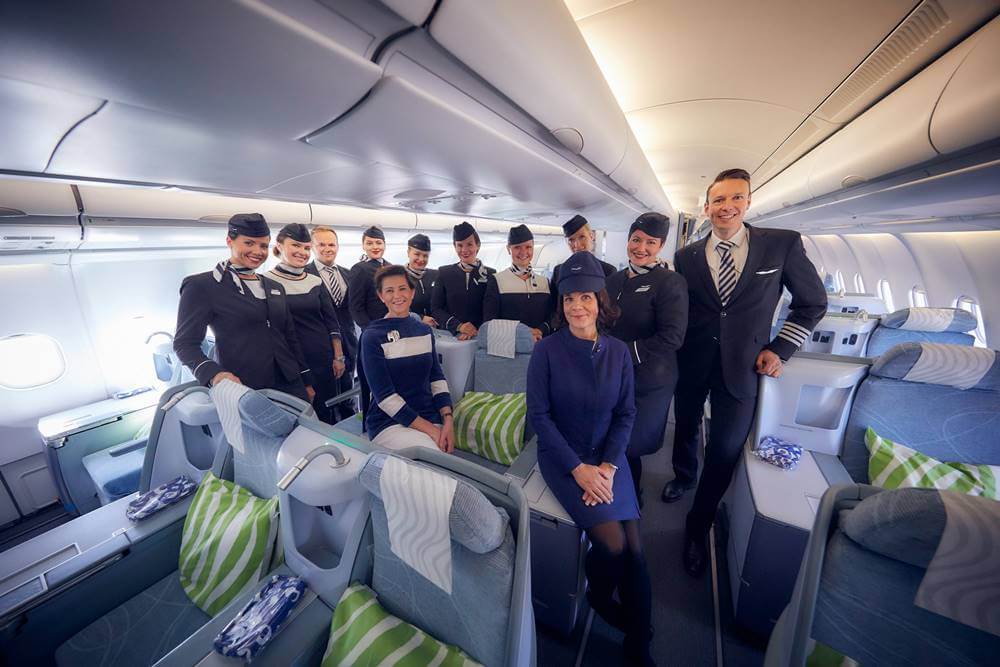 Application Process
Step 1: Fill out your online application
Prepare and scan all the necessary documents such as certificates and your resume. This is the official career website of Finnair – https://company.finnair.com/en/careers
Scroll down and you can see all the available job positions that you can apply for. However, if a flight attendant is not on the list, you can email them at their address: jobs@finnair.com to inquire about the recruitment process
Step 2: Accomplish all remote online assignments
Once you have sent your application, Finnair will send you remote tasks as your initial assessment.
Step 3: Attend an interview arranged by Finnair and participate in group tasks
You will be invited to an interview where your communication and technical skills will be evaluated to the qualifications they are looking for. Finnair will also task you to work on group tasks with other applicants to assess how well you synergize and lead in groups.
Step 4: Pass the Medical Assessments
Finnair is particularly stringent when it comes to the overall health of flight attendant candidates. Applicants must not have any chronic health condition that can interfere with their job and must be able to maintain good physical and mental health.
Step 5: Complete the Finnair cabin crew training program
You are expected to attend the training program invitation that will last 8 weeks. However, being qualified to participate in the training program does not guarantee that you will be selected amongst the candidates. You have to successfully comply with all the rigorous phases of the training including the exams, drills, and lessons, and develop your skills and competence. The professional instructors will teach you the company's policies and train you in customer service, first aid and other safety service scenarios.
Step 6: Congratulations! You're finally hired as a flight attendant
The recruitment period is just a start; The real challenge starts when you're hired. During your career, you will still need to participate in annual training events and comprehensive courses while also practising a professional demeanor by wearing the Finnair's uniform. This will ensure that all flight attendants adhere to the company's policies and principles when it comes to working.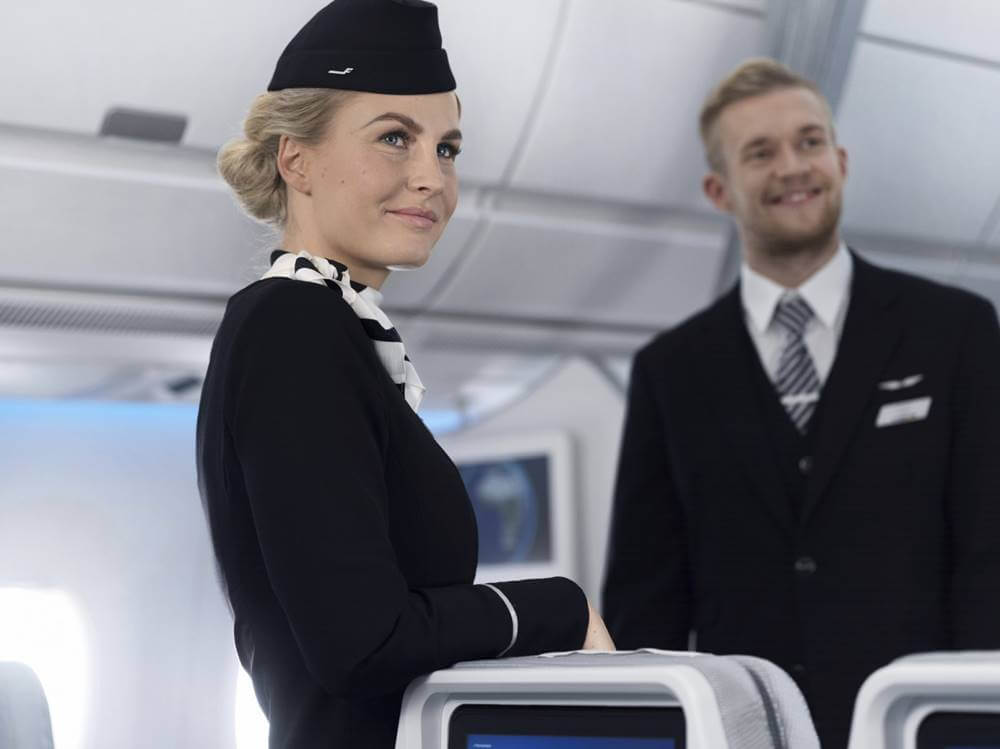 Salary & Benefits
Extra Salary for weekends, night shifts, and holidays which is 40% of the basic salary
Tax-free daily allowance
Salary increases depending on experience and seniority in Finnair
Overtime pay
Medical Insurance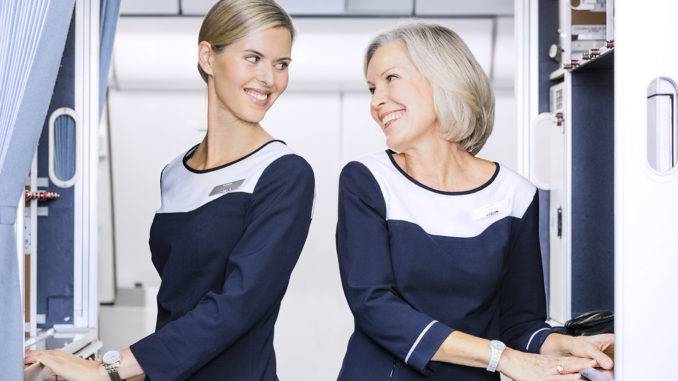 Video: Finnair Aviation Service in the Perspective of a Flight Attendant
Watch this short clip to see what a typical day looks like from the perspective of a flight attendant:
Chris is a flight attendant in Finnair, serving for 10 years and is currently in Shanghai Base. Through the years of her decade of service, she has put the customer's safety and comfort as her utmost priority. Sometimes, she encounters anxious passengers and other customers who need assistance. One example is when she handled a passenger who had a broken hand, a baby, and luggage. She knew that it was her responsibility to assist the passenger so she volunteered to prepare the baby's milk and stow the other luggage.
She also stated Finnair's dedication towards their employees played a significant role in her pursuit of service. As a senior flight attendant, she gave a powerful insight that if "you want to do something, you must continue and go ahead".
Photos: Finnair Airlines Cabin Crew Uniforms
Check out these pictures of Finnair Airlines crew so you can see what they look like in their stylish uniforms:
Frequently Asked Questions
Here are some common questions about the requirements for Finnair airlines flight attendants.
1. Does Finnair accept applicants with tattoos?
Finnair does not accept applicants with tattoos that are visible while wearing the flight attendant uniform. Visible tattoos cannot be covered using additional clothing but make-up can be used to hide them. Lastly, they prohibit flight attendants from wearing dental jewellery or multiple piercings.
2. Where are the bases of Finnair?
If you are accepted to work as Flight Attendant in Finnair, you will be asked to relocate near the assigned base which could be in Helsinki, Finland. However, since they also offer international flights, you can request to be assigned to Hong Kong, Singapore, or Delhi.
3. Do applicants get paid during the training period?
The training itself will be fully funded by Finnair but applicants will not receive any payment during this period.
4. When and Where will the training take place?
The training location will be in Finnair Flight Academy in Vantaa at the airport area for 8 weeks. The schedule and further details regarding the training will be thoroughly explained during the recruitment process.
5. What will my job as a flight attendant in Finnair look like?
You will have different schedules depending on the shifts assigned to you. Sometimes, you will be scheduled to fly on long flights or be able to fly twice on a shift.
6. Can I choose my flight schedule?
All flight attendants are required to work on both domestic and international flights.
7. Should I relocate to Helsinki, once I am hired?
Proximity should be your personal preference. Employees can live in another nearby city as long as they can arrive at the designated time and accomplish all tasks.
8. Can I request specific days for my day off?
Yes, you can select the 6 days on which you don't have work.
9. How many hours will I fly each month?
If you are a full-time flight attendant, you will be working 110 hours a month and 45-90 hours part-time.
10. Do they ask for passport during the application period?
Yes, since Finnair also offers services for International flights, applicants should have the eligibility to travel through all the routes and destinations served by the airline company, both domestic and international.
Summary
If you love to travel and meet new people, a job as a Finnair flight attendant might be the perfect career for you. As a member of the cabin crew, you would be responsible for providing excellent customer service to passengers while ensuring their safety and comfort during flights. In addition to serving food and drinks, you would also be responsible for assisting with luggage and other items, providing information about the aircraft and its amenities, and performing emergency procedures if necessary.
Because of the demands of the job, Finnair flight attendants must be able to work long hours, often on irregular schedules. However, they are also rewarded with free or discounted travel, as well as other perks like hotel stays and meals. If you are interested in a career that combines excitement, adventure, and service, a job as a flight attendant might be the perfect fit for you.
Finnair's 90 years of aviation service would not be possible without the visage of the company— their flight attendants. The recruitment process for applicants will take some time, from the online application, assessments, interviews to the 8-week training program. However, Finnair promises to provide a competitive salary and benefits for their dedicated employees.
If you feel you have the crew qualities, you may submit an application once job openings are available.