If you wish to apply as a flight attendant for Plus Ultra Lineas Aereas, there are some requirements such as the need to have a valid passport. The applicant must be able to pass a background check. Additionally, Plus Ultra requires cabin crew to have a certain level of physical fitness and become a team player. If you meet all of these requirements, you will be well on your way to becoming a Plus Ultra flight attendant.
Also Read: Cabin Crew Interview: How to Sell Yourself
Plus Ultra Lineas Aereas is a Spanish long-haul airline based at Madrid Airport, Spain. It was established in 2011 and started operating regular flights in June 2016 to destinations such as Lima, Peru, Santo Domingo, and the Dominican Republic. The airline is also known as "Plus Ultra". It operates several long-haul routes with a modern fleet of A340 aircraft, serving main airports and with an excellent on-time record. In addition, it seeks to provide passengers with a true sense of pleasure when flying, where lower fares do not mean lower service standards or comfort.
To achieve its objectives, the airline has a team of highly skilled professionals with broad experience in the airline industry, and flight staff who aim to exceed all expectations. Plus Ultra's flight attendants are highly trained and experienced professionals who provide a high level of customer service and safety and they are these skilled individuals that are vital to the company's success.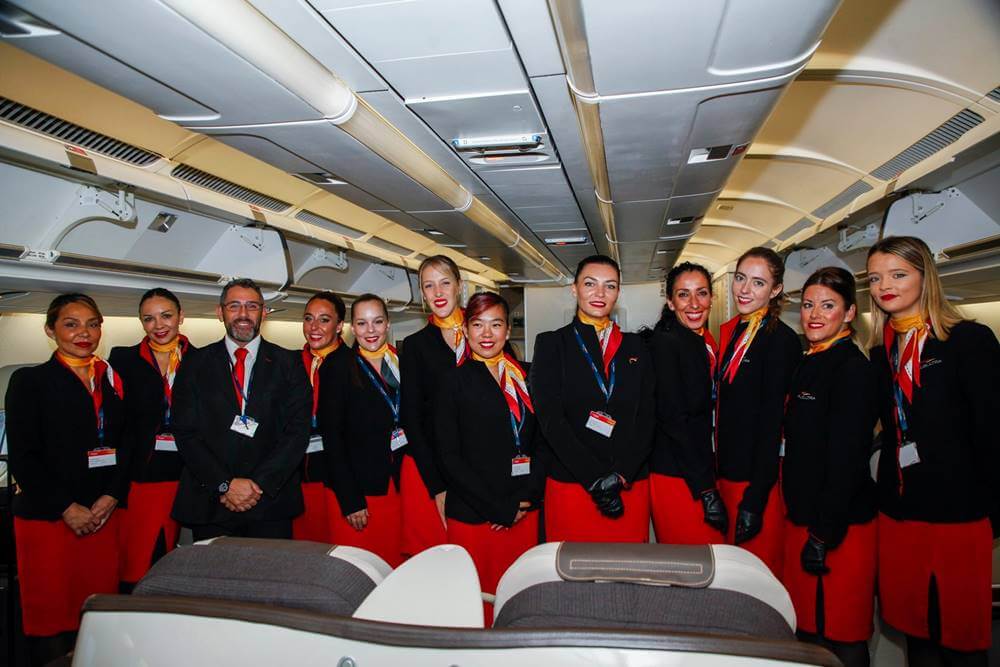 List of Requirements and Qualifications to Become a Plus Ultra Lineas Aereas Cabin Crew
The company is committed to providing the highest level of safety, comfort, and customer service to its passengers. Its flight attendants are widely considered to be some of the best in the business and known for their friendly and professional demeanor, as well as their impeccable grooming standards. As such, they are looking for candidates that can carry on the tasks with the following qualifications and attributes:
Applicants must have a strong commitment to customer service and preferable experience in a face-to-face role.
A team player with the ability to build consistent and sustained working relationships.
Must be an energetic, proactive, and resourceful individual.
Must also be trained individuals and have confidence in aircraft safety procedures and first aid when needed. This is provided by the company.
Can adopt flexible working hours and schedules as well as work at weekends and holidays.
Applicants must also have the willingness to relocate when required.
Must also be fluent in English and can speak the native language. The ability to speak more than one or two languages is considered an advantage.
Must have no visible tattoos or piercings.
Have excellent grooming standards.
Physically fit and healthy. Weight must be proportionate to height.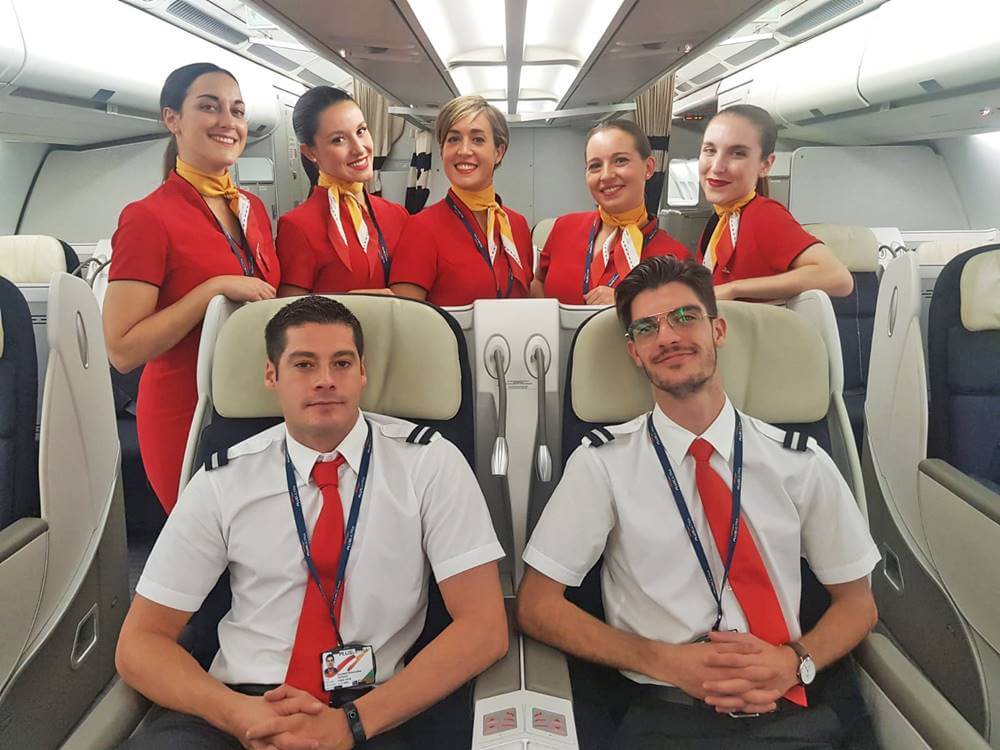 Application Process
Here is a step-by-step guide to help you out with your application.
Step 1: Visit the company's website here – https://plusultra.com/.
Step 2: Scroll down and click "Work with PlusUltra" to view available positions.
Step 3: Look for a cabin crew job vacancy and click it.
Step 4: Read thoroughly the information displayed and apply for the position.
Step 5: Wait for a response and prepare for an interview after a successful application.
Note: Plus Ultra does not have vacancies as of now for a flight attendant position. To keep updated, you can check out their official website here – https://plusultra.com/ and check their other social media pages for job openings.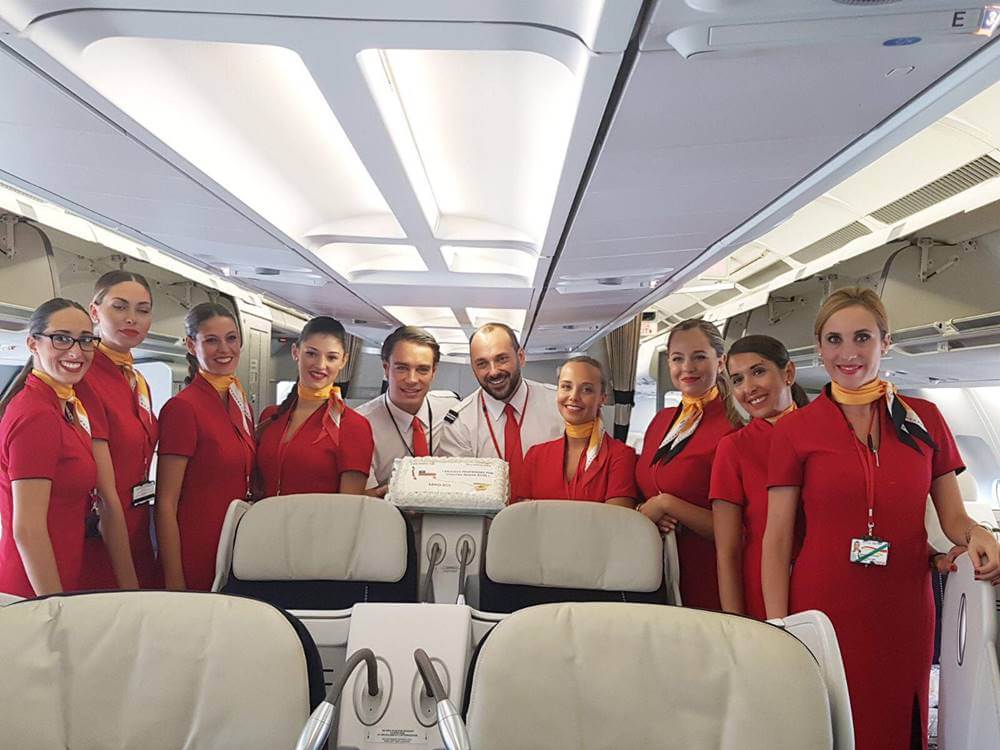 Salary & Benefits
If you're looking for an exciting and rewarding career, becoming a flight attendant for Plus Ultra Lineas Aereas may be the perfect choice for you. In this role, you'll get to travel the world while providing first-class service to passengers. Aside from that, you'll enjoy competitive salary and benefits packages.
The company also provides a competitive remuneration package, including allowances; staff travels benefits and other benefits. They also provide flexible working arrangements and contracts for their flight attendants, training following the latest industry practices, and a close-knit family environment where you will become part of the team. More career opportunities, growth, and development also wait for you once you joined the company.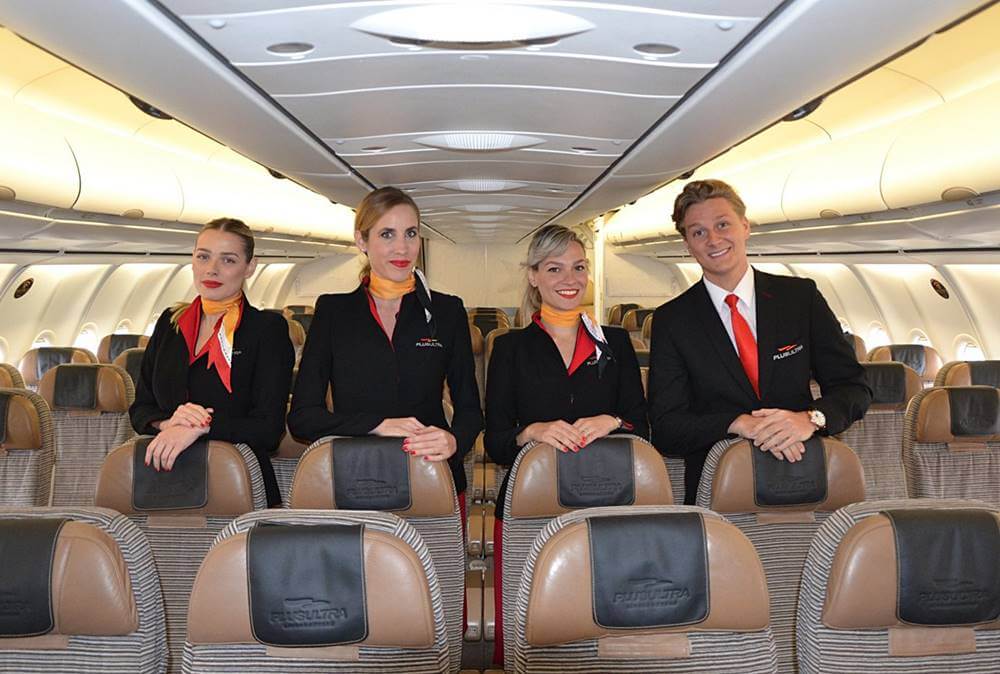 Video: The Plus Ultra Lineas Aereas Airlines Family
This video was uploaded by Plus Ultra on its Official YouTube channel. This video is quite helpful to any aspiring individuals who want to pursue their cabin crew career because this video gives you an insight into the airline's mission, especially during this time of the pandemic.
Hence, by watching this video, you will gain an understanding of what kind of people they look for to join their cabin crew team.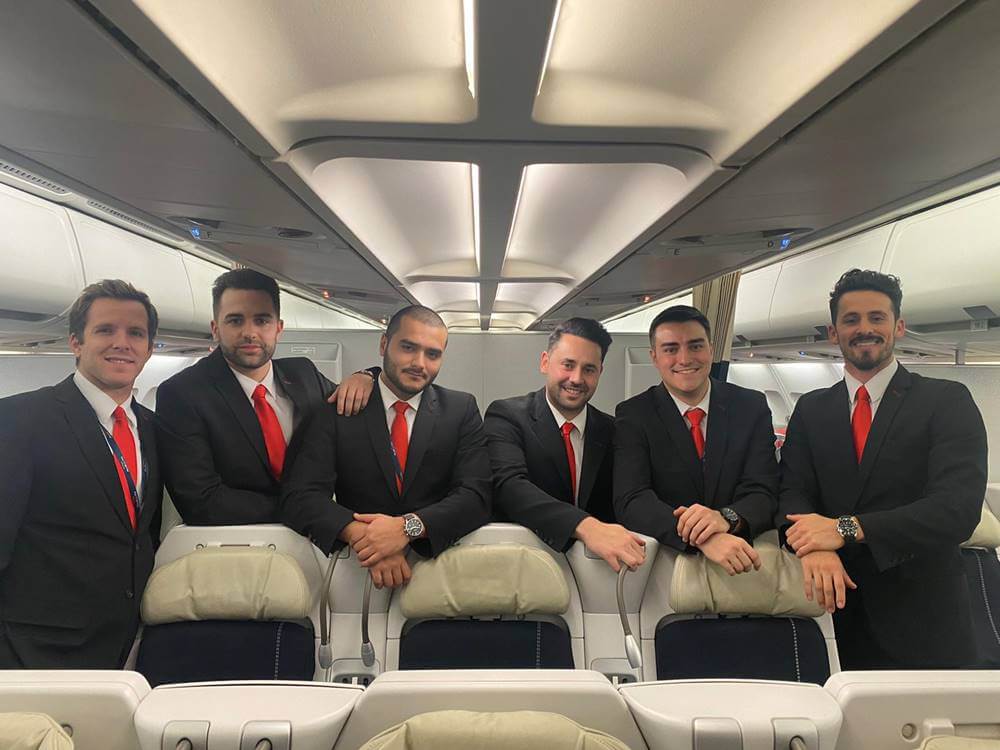 Photos: Plus Ultra Lineas Aereas Cabin Crew Uniforms
Check out these pictures of Plus Ultra crew so you can see what they look like in uniforms:
Frequently Asked Questions
The following are some of the common questions asked about Plus Ultra Air:
1. How can I apply for a flight attendant position at Plus Ultra?
You can apply by visiting their official website and checking for the available cabin crew position on their Careers page here – https://plusultra.ofertas-trabajo.infojobs.net/.
2. What type of personality is best suited for a career as a flight attendant?
The airline is looking for individuals who can do the demanding job of a flight attendant. They must be warm, energetic, proactive, decisive, and service-oriented.
3. Is it hard to get hired as a Plus Ultra flight attendant?
As long as you can meet the minimum requirements set by the company for the flight attendant position, you are eligible to apply. In addition, if you have the skill set that the company is looking for, there is a huge chance that you will be hired.
4. What are some of the duties and responsibilities of a flight attendant?
The duties and responsibilities of a flight attendant are broad and demanding. It requires a lot of patience while they assist passengers throughout the flight. Some of their duties are to perform safety measures and instructions and to serve food and drinks to passengers.
5. I have tattoos. Can I still apply for a flight attendant position?
You can still apply but bear in mind that visible tattoos are not allowed while wearing the cabin crew uniform.
6. Do they require previous customer service experience?
The airline does not require previous customer service experience but if you have one, you are still eligible to apply and that is your huge advantage.
Summary
In conclusion, Plus Ultra's flight attendants must be qualified to perform their duties on board. They are responsible for the safety and well-being of the passengers and crew during the flight. Although the flight attendant requirements are not as stringent as some other airlines, they still hold their candidates to a high standard. Their ideal candidate will be physically fit, have excellent customer service skills, and be able to work well under pressure.
Overall, the airlines' flight attendant requirements are not too strict and most people should be able to meet them. However, it is important to note that the interview process is very competitive and you will need to make sure that you are well-prepared to have a chance of being successful. Hence, if you think you have the qualities that it takes to be a flight attendant for Plus Ultra, then check out their website and other official pages to keep updated with their job openings and vacancies.