Ryanair is an airline that is known for its low fares and strict adherence to the rules. As a result, Ryanair cabin crew must be able to provide excellent customer service while also remaining within the airline's guidelines. One of the most important Ryanair cabin crew requirements is the ability to speak English fluently. This is essential in order to communicate effectively with passengers from all over the world.
Also Read: How to Answer: What are Your Strengths?
In addition, Ryanair flight attendants must be at least 18 years old and have a high school diploma or equivalent. They must also be able to pass a background check and a drug test. Furthermore, Ryanair requires that all cabin crew members complete a training program prior to beginning work. This program covers topics such as emergency procedures and customer service. By meeting all of these requirements, you can be ensured that the airlines can provide a safe and enjoyable experience for all passengers.
Affordable yet excellent service, this is how many passengers describe Ryanair Airlines. While Ryanair's headquarters are in Dublin, the airline's major hub is at London Stansted. Ryanair currently has 82 bases, with plans for further expansion in 2021. Three new bases will open in the Greek Islands alone this summer. Though it is an ultra-low-cost carrier, employees inside its fleet get more than enough.
The airline was established in 1984. Ryanair was Europe's largest airline in 2016. Ryanair's holding company includes Ryanair UK, Buzz, and Malta Air, which serves as a sister airline. Unlike any other airlines, their requirements are a bit generous, especially with height and age qualifications.
List of Requirements and Qualifications to become a Ryanair Flight Attendant
Have exceptional customer service abilities
Possess a strong work ethic
Be adaptable in terms of rosters and holidays.
Have the legal right to reside and work in the UK/EU
Stand between 5′′2 (157 cm) and 6′′2 (188 cm) tall.
Be able to swim 25 meters independently.
Have a strong command of the English language
Be at least 18 years old.
Can-do mentality
You must be able to:
Demonstrate emergency equipment preflight inspections.
Demonstrate how to use safety and emergency equipment.
Ensure that all passengers wear their seatbelts and that all other safety precautions are followed.
Serve and sell drinks, meals, and snacks.
Take care of the needs of passengers, especially those with special needs.
Reassure passengers during the journey, especially when the plane encounters turbulence.
As needed, administer and organize emergency medical care.
Provide passengers with instructions, including how to escape the aircraft in an emergency.
You must provide:
Most recent Resume/CV
Application Form
Supporting documents proving you have the right to work in the United Kingdom
Work References from previous employers
A valid Passport
Updated Medical and Dental Data Sheet
Records to prove you have no criminal cases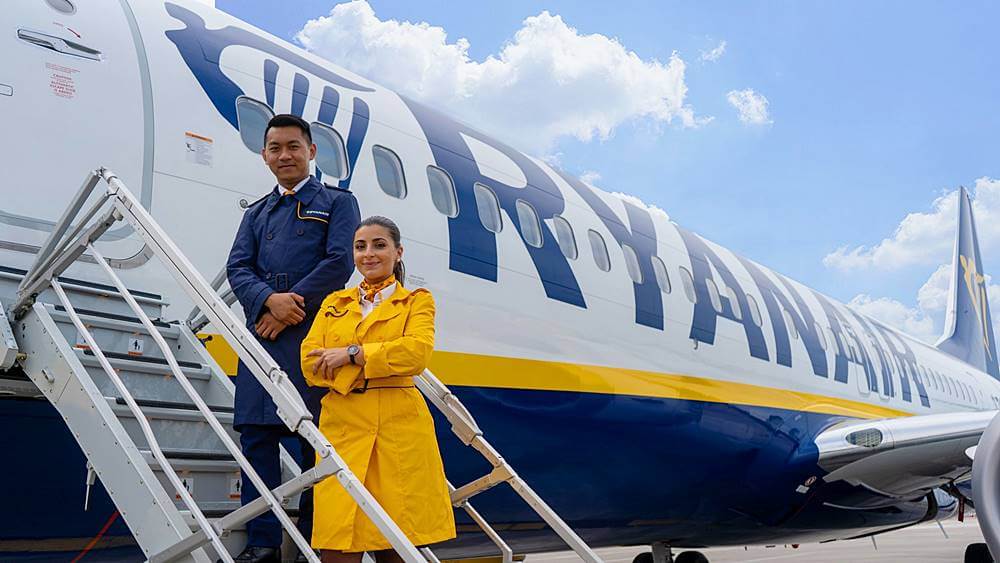 Application Process
Here's an overview process of the application when you become a crew for this airline company:
Step 1: Browse on your mobile phone or desktop and go to https://careers.ryanair.com/cabin-crew/. Then submit your application form and upload the required documents such as your resume/CV.
Step 2: Make sure to double-check your application form before submitting it. Ryanair will check all the details you are entering to their website, it must be grammatically correct and accurate.
Step 3: After that, you must wait a few days. If your application is shortlisted by the airline's human resources department, you will be contacted for a walk-in-interview. This means that you have passed their online screening.
Step 4: They will then invite you for a personal interview, and if you passed the said face-to-face screening, you will then proceed to the training.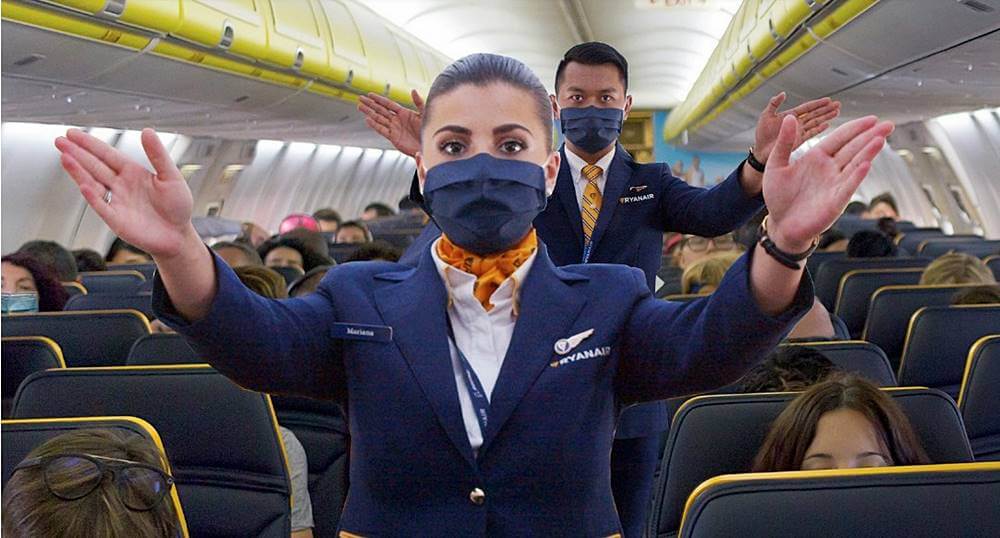 Salary & Benefits
No-Cost Training
A per diem allowance is provided during training.
One year of free uniform
Competitive starting salary
Roster flexibility
Flight duty pay/sales incentive
Excellent prospects for promotion
Employee travel benefits
The security of working for a well-known, financially secure airline
Long-term contract (depending on position)
Video: What is it like to train as Cabin Crew for Ryanair
Working as cabin crew for Ryanair can be a challenging but rewarding experience. The training process is intense, but it is designed to prepare you for the demands of the job. You will spend time learning emergency procedures, first aid, customer service, and how to deal with difficult situations.
You will also have to pass physical tests to make sure that you are able to safely evacuate an aircraft in an emergency. Once you have completed your training, you will be ready to support passengers on Ryanair flights. You will be responsible for their safety and comfort, and you will need to be able to think on your feet and deal with any situation that arises. It can be a demanding job, but it is also incredibly rewarding.
Ryanair cabin crew workers describe their job as everyday socialization. They got to learn new things, meet new people, and travel the world – all of these for free. New FA's may undergo a lot of training like simulations for evacuation and safety, rescue drill in water, and many more. But at the end of the day, all this training will become armor on the fleet whenever it is necessary.
Ryanair's new flight attendants have to face a two-part training. First is the Initial Training, which focuses on the background and aviation knowledge. Then the second one is the Conversion Training Path, which focuses on the aircraft type to teach the cabin crew how to work on specific aircraft of the airline.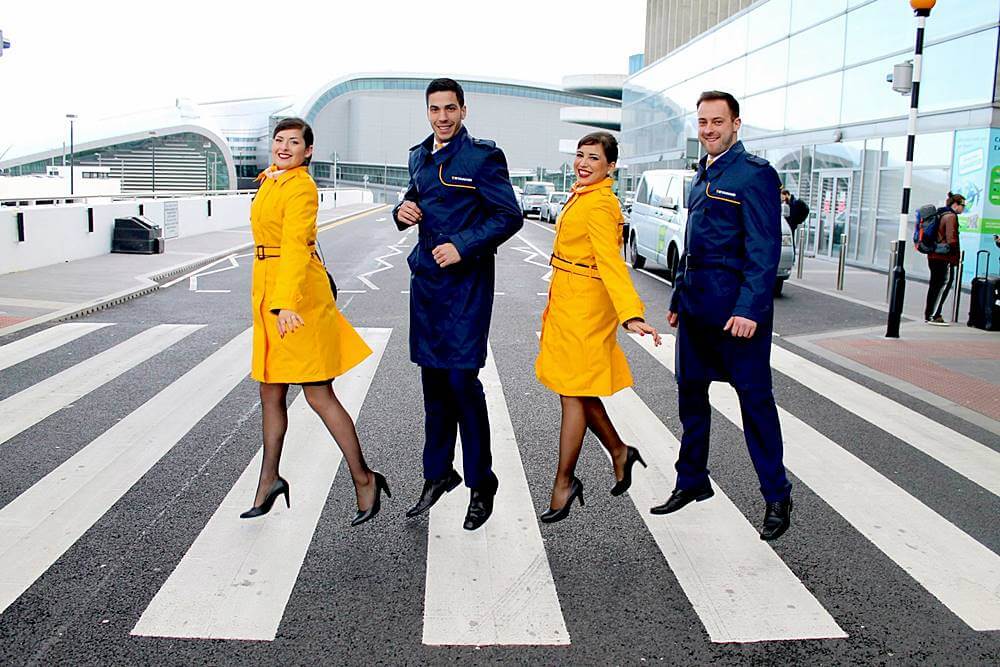 Photos: RyanAir Airlines Cabin Crew Uniforms
Check out these pictures of the Ryanair Airlines crew so you can see what they look like in uniforms:
Frequently Asked Questions
Here are some common questions and answers about the job requirements as a cabin crew for Ryanair:
1. What is the minimum age to apply for Ryanair?
Ryanair's minimum age requirement is 18 years of age.
2. Can I contact Ryanair to check on my application updates?
You are not allowed to contact anyone who is part of the recruitment team. If you haven't received any notification from the, assume that your application is still on review.
3. Should I send my CV with the application form?
Do not do this unless you are asked. You must send the application form with your resume, not your CV.
The minimum height is 5'2, but you can't be taller than 6'2.
5. Do they accept other nationalities?
Yes, any nationality can apply as long as you meet their qualifications and requirements.
6. I have a tattoo, can I still apply?
Ryanair allows tattooed flight attendants inside their fleet, as long as it can be hidden in their uniforms, and not visible to people.
7. Is Ryanair paying as much as other small airlines?
The company offers more than the salary wage in the UK. In fact, the minimum salary rate implemented by the UK was doubled for Ryanair's cabin crew.
Summary
If you possess all the traits above and you have all the requirements needed to become Ryanair's flight attendant – start now. The good thing about this airline is they accept different nationalities to work for their fleet, which means giving chance to many people around the globe.  A lot of aspiring FA's may be in the line, so be patient while waiting for their confirmation.
Just make sure you have submitted all the required documents and qualifications so that waiting will be worth it. Being a flight attendant in one of the best airlines in the world can be a prestigious job. So don't mind the lengthy process, instead, focus on the qualities they need from you, apply them to yourself, and show them what you got.