Ryanair is a well-known airline considered a go-to flight for many. Because of its affordable prices and excellent services, it has quickly become one of your fellow Europeans favorites. If you wish to become a flight attendant, you might be what Ryanair needs, stay with us and read through this article to keep you informed on everything Ryanair-related. With that, we wish you all the best as you pursue a career in the airline and transportation industry.
Also Read: 5 Common Answers to Why Do You Want to Be a Cabin Crew?
For many people, traveling has always been a dream. We know that if it were up to us, we would go as far as we could, visit as many countries as we could, and meet as many natives as we could.
If you want to land the job of your dreams while also fulfilling your travel goals, this article will answer all of your questions. Known for its cheap flights around the United Kingdom, Ryanair might be the perfect flight attendant job you are looking for.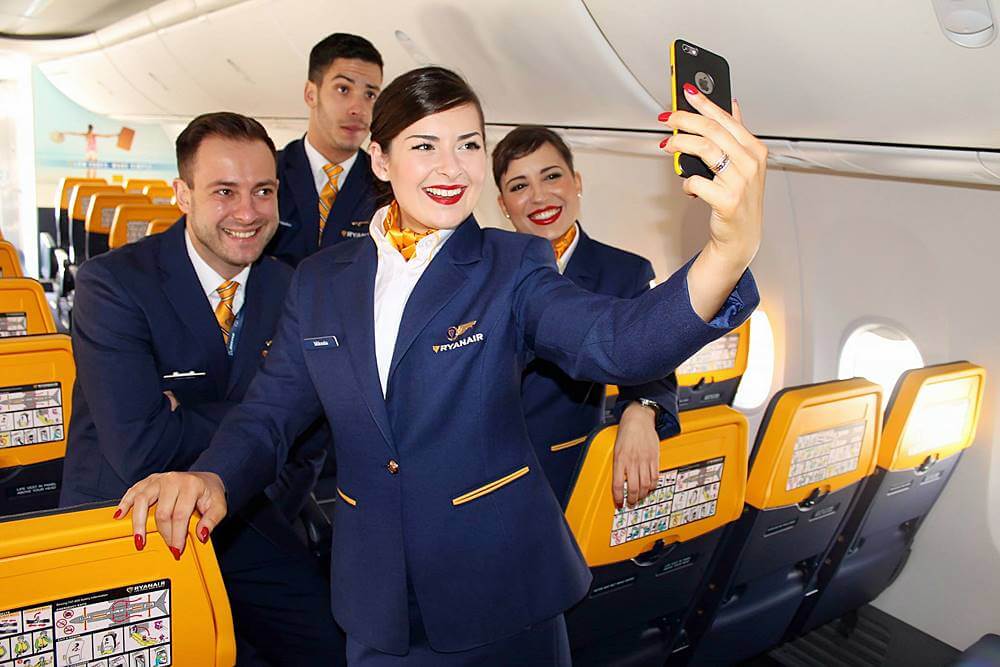 Overview
Known to be one of the largest airlines in all of Europe, Ryanair is a cheap and affordable airline prepared to offer you great benefits and help you create an unforgettable traveling experience. Serving its customers for about 35 years, Ryanair has made quite an impact on Europe's airline and transportation industry.
Buzz, Lauda, Malta Air, and Ryanair are owned by Ryanair Holdings plc, Europe's largest airline group. With a fleet of 450 aircraft, the airline connects over 225 locations in 37 countries and carries 149 million passengers on over 2,500 daily flights from over 80 bases.
With the most exemplary on-time performance in Europe and industry-leading 35-year safety record, the firm is acknowledged as an expert in aircraft. Compared to the other Big 4 European major airlines, Ryanair is Europe's greenest and cleanest airline group, and consumers who switch to Ryanair can save up to 50% on CO2 emissions.
Ryanair, which has employed approximately 16,000 people, is a business keenly attuned to the necessity and interests of both its workers and clients. By ensuring that all of this is implemented correctly, the airline will be able to live up to its firm's name and practice all of the principles it wishes to promote.
Also Read: 3-Day Trip to Spain: Madrid, Toledo, and Segovia
Responsibilities
Being a flight attendant necessitates a thorough understanding of and proficiency in those areas. While the prerequisites for becoming a flight attendant vary by airline, the general requirements are more or less the same when it comes to the responsibilities of a flight attendant working for Ryanair.
If you want to be a part of the company's team, you need first to understand what it entails. What is the scope of your responsibilities? What should you be on the lookout for? And so forth. With that in mind, these are some of the duties you'll be responsible for:
You should attend the pre-flight meeting for British Airways cabin staff, where cabin employees are given their responsibilities for the upcoming flight.
The flight data and schedule are communicated to the crew.
Before boarding, the British Airways stewardess will be informed of any passengers with special needs, such as special meal requests, passengers with accessibility or communication issues, wheelchairs, VIPs, frequent flyer passengers, and the number of infants requiring infant seats, to name a few.
Pre-flight activities include checking safety equipment, ensuring the aircraft is clean and tidy, and ensuring that all required refreshments are on board.
This includes particular dietary demands, loading relevant landing cards, and checking and replenishing first aid equipment as needed.
Cabin staff members like greeting passengers, directing them to their seats, and assisting them in securing all handbags in the proper location.
For the flight duration, the cabin crew must ensure that all paths and exits are clear.
Before taking off, cabin personnel must handle any seating concerns quickly and gracefully.
All passengers are informed of the aircraft's safety precautions by the cabin staff.
The cabin crew double-checks that each passenger's seat belt is securely fastened.
Before taking off, the cabin staff double-checks that the galley equipment is safe and secure.
It's possible that cabin crew may need to make clear, timely announcements and keep passengers updated on any delays.
During the flight, the cabin crew must be visible to passengers to address questions.
At all times, the cabin crew provides prompt, professional service to passengers, such as while serving meals and refreshments.
Cabin workers may be asked to offer duty-free items and inform passengers of any duty-free allowance limitations or restrictions at their destination.
The cabin crew may be called upon to provide first aid to the passenger/s. Medical emergencies should be handled discretely and professionally if/when they arise while keeping the scenario and passengers calm and reassured.
At the end of a flight, the cabin staff must ensure that passengers disembark safely. To guarantee that no one has left their items on board the plane, thoroughly inspect all overhead lockers, public spaces, toilets, and galleys.
Before leaving their shift, the cabin crew must complete all relevant paperwork, including stock control and reporting any faults, incidents, or difficulties that may have occurred during the flight.
The cabin crew must communicate with the ground crew, as they are an integral element of the team.
Cabin crews work as a team, and effective communication is critical to maintaining a happy workforce. Passengers will be more satisfied as a result of this approach.
Happy, pleased clients may become frequent loyal airline fliers with your Cabin Crew team.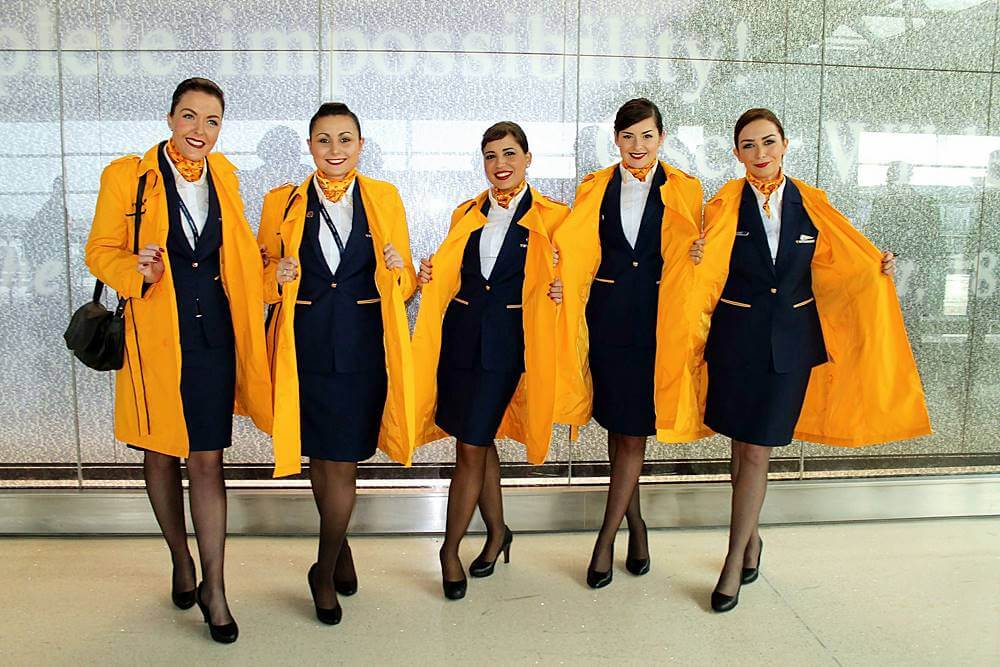 Qualifications
Now that you know what a Ryanair flight attendant does, you must check to see if you are qualified to apply for the job.
This company pledges to make its customers' travels as affordable and stress-free as possible. To uphold that guarantee, they must ensure that the individuals they hire are qualified to deliver on the promises they have made to their clients. As a result, they have stringent requirements for cabin crew members, such as:
Being over the age of 18
Being experienced when it comes to dealing with the public
Comfortable in a sales position
They are physically fit and have a solid attendance record at their current job
Hardworking, adaptable, and willing to work a shift schedule
Has a good swimming ability
Height ranges from 5'2 (1.57m) and 6'2 (1.88m), with weight in proportion to height
Normal vision (contact lenses are acceptable)
Have English as your first language (both written and spoken)
You must have a valid EU passport
Possess the ability to work in both the United Kingdom and Ireland
Prepared to deal with consumers in high-pressure situations
Must have a cheerful demeanor and be friendly and outgoing
If you want to know more about their qualifications to be a cabin crew member, you can always check out their website at https://www.ryanair.com/gb/en.
Document Requirements to Prepare
You will need to provide some evidence to prove that you've met all of the requirements. With that said, here are some of the documents you'll need to prepare:
Your most recent resume
Information on your right to work in the United Kingdom
Information on your current pay, including any benefits to which you are entitled
Work references from previous employers
Form of Application
A valid passport
Medical and dental data that have been updated
Records of criminal activity
To better advise you on what it is exactly your images should convey about you, you should keep track of those mentioned below:
You should use a white background as much as possible
Should be dressed in professional attire
It is great if you're standing straight in front of the camera with your hands at your sides
It would also help if you were naturally smiling
Where to Apply for a Job for Ryanair Online?
You can apply for the position you are interested in by visiting their website's careers page here – https://careers.ryanair.com/
You would be kept up to date on any changes that might occur, as well as any essential news.
You may also check out their Linkedin Company Page here – https://ie.linkedin.com/company/ryanair
Below is a screenshot of the Careers Page: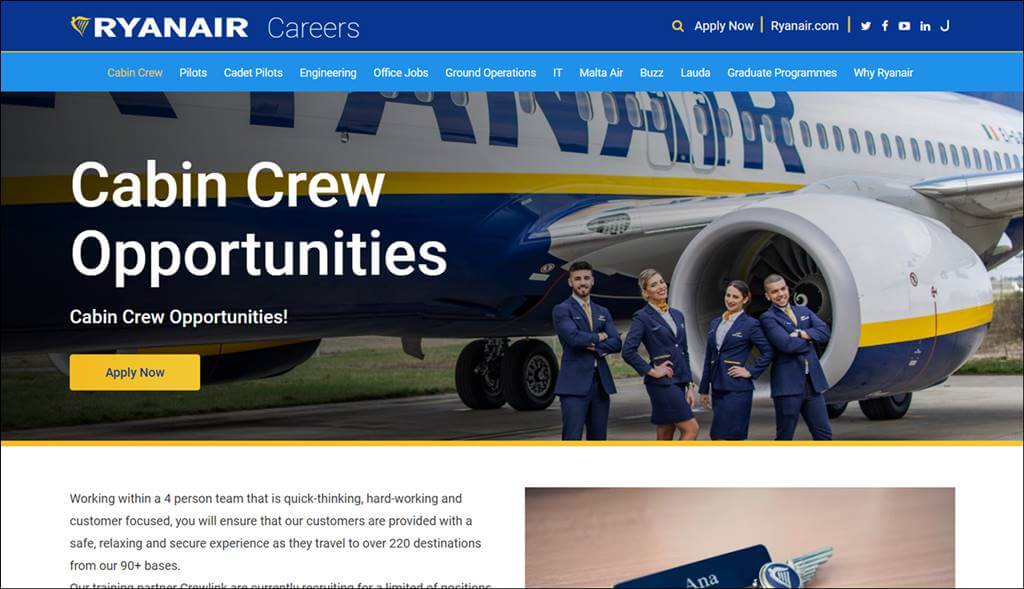 How to Become a Cabin Crew for Ryanair
Step 1: Apply for the position on their website
You must go to their online website and scroll down to look for their application form. With that, you would also see what positions they are looking for. Click the one you would like to apply for and answer the necessary information and place the documents that they are requesting.
Step 2: Fill out their online application
The second step in becoming a member of a Ryanair cabin crew member is to complete their online application form. You must ensure that the information you are entering is grammatically proper and accurate while going through this process.
Keep in mind that the organization may want more verification, such as identification or personal data, which is why you must provide the most precise information possible. It is also essential to note that Ryanair is hiring people in the United Kingdom such as Manchester, Birmingham, Edinburgh, London, Liverpool, and Leeds.
Step 3: Submit your online application form
It's time to submit all of your requirements online once you've double-checked that you've met all of their requirements. Make sure your email is well-written, clear of grammatical errors, and fulfills their criteria before submitting.
You will have to wait for any more feedback or concerns after submitting your application. If you have passed their online screening or have been selected to be part of their shortlist, you will be contacted for further instructions on what to do next.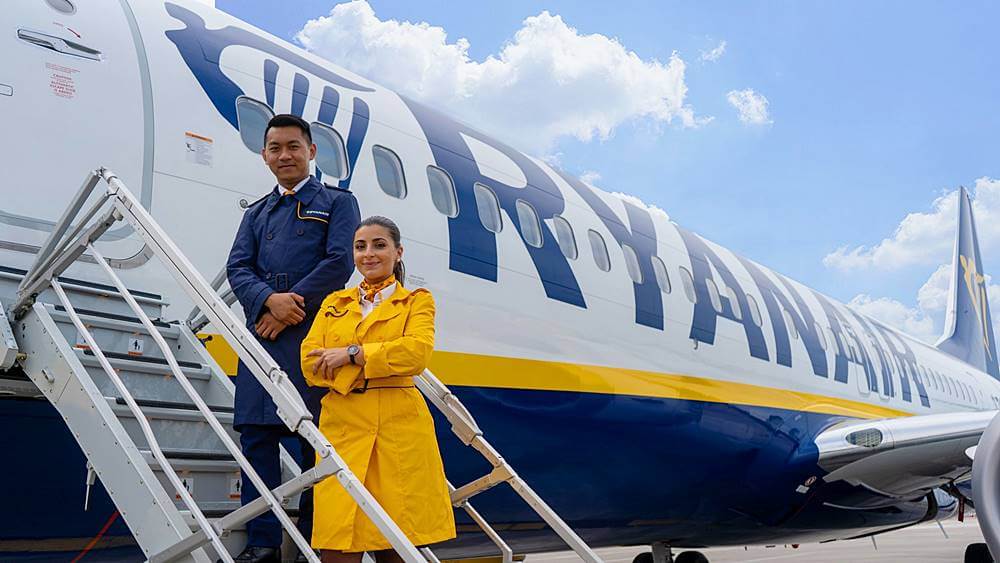 Monthly Salary of a Ryanair Flight Attendant
Now that you know everything you need to know about applying, including qualifications, requirements, and the step-by-step process, it's time to see if the company's offer fits your needs. This entails determining if the wage will cover all of your monthly expenses.
Benefits
As a flight attendant, you would have numerous benefits, including a salary, bonuses, and flight privileges. The list below are some more advantages:
Training is provided for free.
Payment of a stipend during training
You will be given a free uniform in year one, and there would also be a uniform allowance in year 2
Basic pay is competitive.
Pay for flight duty/sales bonus
Year 1 earnings objective of €17-€25k/£16-21k
Fantastic marketing possibilities
Excellent selection of foundations.
Off the roster, a stable five on three situation
Traveling by staff
Working for a financially solid airline provides security.
Permanent, Contract, and Seasonal opportunities are available depending on the country.
Video: Training as a Crew for Ryanair
If you have been looking for a job exactly like this, you are in luck because a career as a flight attendant makes all of this possible. Here are some videos uploaded on YouTube about the training for Ryanair:
Check out these videos about Ryanair below:
This clip will give you an idea of how Ryanair cabin staff works. This is specially catered to those interested in what their cabin crew training is like. It will show you their do's and don'ts, typical behavior, and more.
Wanting a profession that requires you to fly across the world, explore areas you've never been before, and have the ability to respond to every passenger's requirements, that is exactly what a flight attendant would do.
The video will give you a sense of what it's like to work on the plane. You will acquire much-needed insight into how to be the best cabin staff member in their company by watching their video.
Every profession in the world necessitates perseverance and hard work. Working as a flight attendant is no different. As a flight attendant, you'll need talents from various fields. While this may seem intimidating, don't worry; we'll be there for you at every stage of your journey.
Photos: Ryanair Cabin Crew in Uniform
Check out these beautiful pictures of Ryanair airlines flight attendants in uniform. If you wish to imagine yourself being part of this company, check out these photos to give you a glimpse of working for this airline:
Frequently Asked Questions
Here are some common questions and answers about the hiring process in Ryan Airways:
1. What ages could apply to be a member?
You must be at least 18 years of age to apply.
2. Do you have to submit all the documents that they are requesting?
While you wait for your final documents, you can already build a profile on their website. But unfortunately, your application will not be considered complete until all required documents have been uploaded.
3. Who can I contact regarding my online application?
Please take note that applicants are not allowed to contact them even if they have not been notified for quite a while. You should assume that your application is still being reviewed. Only the company can contact you and give you instructions on what to do after the selection process.
4. Do they accept CVs?
According to their website, you cannot submit any CVs unless they have specifically asked you to.
5. What is the minimum height to apply as a Flight Attendant?
You must be at least 5'2 or 157.48 cm to apply.
6. What is the maximum height to apply as a Flight attendant?
You must be no taller than 6'2 or 187.96 cm. Also, keep in mind that your weight should be proportionate to your height.
7. Can you re-apply again?
The company suggests you update your already submitted application form as they can view this, and you can be contacted once they deem you fit their requirements. However, note that there would be no specific date as to when they will view this again.
8. Do they accept applicants from different nationalities?
Yes, they do.
9. How long would it take before they contact me regarding my application?
They don't have an exact date and would contact you once you have passed the first stage. Incomplete documents can also delay the process.
10. Are tattoos allowed?
The company only allows them if they are not visible and can be covered by their uniform.
11. Do they earn well?
The company offers a salary double the minimum wage of the UK.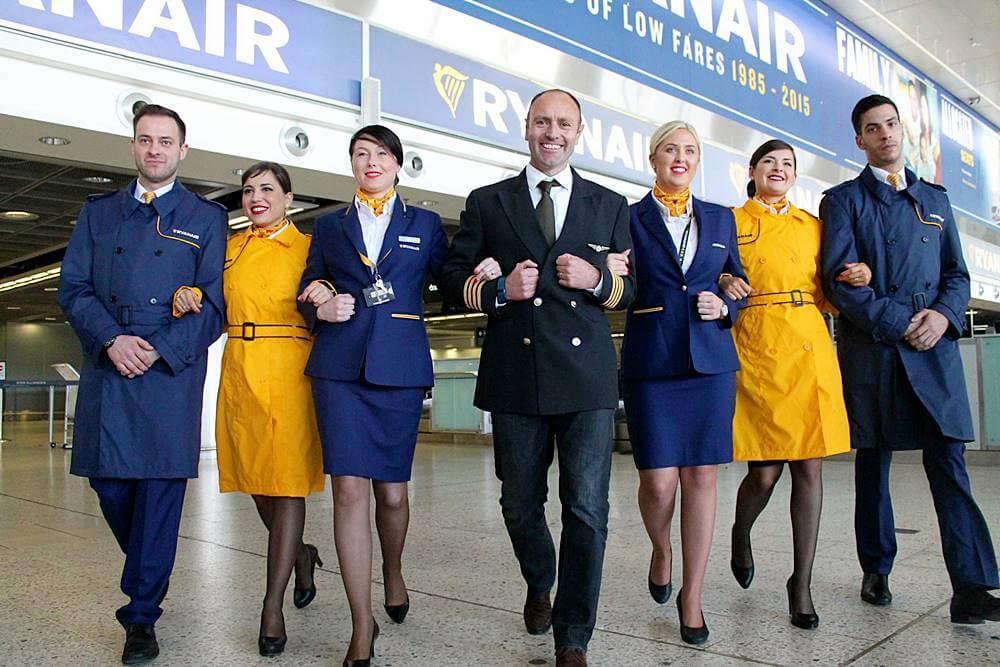 Summary
After reading this post, applying to be a cabin crew member may seem a little stressful. However, if you sincerely think you possess the traits that this organization seeks, you should apply for one of the available opportunities.
If you are serious about this field, have faith that a position will open up, and you will be able to pursue your dream job. Once you are there, you will understand that being a Ryanair cabin crew member would benefit you in so many ways as you make new connections and memories.
Furthermore, you will realize that, despite the lengthy procedure, this job is well worth your effort. Even though most of your attention appears to be on your customers, remember that the company also thinks about its employees. With that said, we hope you found this article to be informative, and we wish you luck as you apply for one of the world's most prestigious jobs.
Contact Information
RYANAIR
Address: Ryanair DAC, Dublin Office, Airside Business Park, Swords, Co. Dublin
Telephone Number: +44 871 246 0002
Website: https://www.ryanair.com/gb/en
Facebook: https://www.facebook.com/ryanair/
Instagram: https://www.instagram.com/ryanair/?hl=en
Twitter: https://twitter.com/ryanair/
LinkedIn: https://ie.linkedin.com/company/ryanair