Titan Airways was founded in 1988, and the staff has always been the key to its success. The company is operational 24 hours a day and 365 days a year. With its headquarters at Enterprise House at London Stansted Airport, Titan Airways is one of the well-established British charter airlines. The said airline specializes in VIP and corporate travel, as well as airline sub-charter and aircraft leasing. It has a diverse fleet of passenger-carrying aircraft. Titan Airway's adaptable, contemporary fleet of passenger and freight vehicles meets a wide range of charter and lease requirements.
Also Read: Copenhagen Layover Guide: Best Things to Do in 24 Hours
Their in-house operations, management, technical teams, and flight crews support customers around the clock. The Titan's cabin crew team is known to be highly skilled and focused on every detail to ensure the highest standards of care are being served to the passengers. A known aviation company is a good starting point for every aspiring flight attendant. If you are about to apply and start your journey as a flight attendant you must learn the qualities and requirements needed, continue reading this.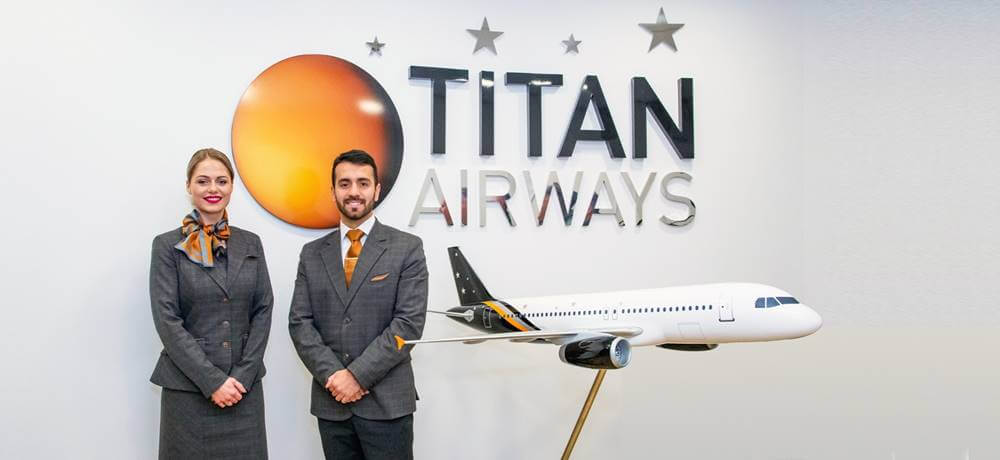 List of Requirements and Qualifications to Become a Titan Airways Flight Attendant
At least a high school graduate, or has finished GED
Must be fluent in English, knowledge of other languages is an advantage
Minimum age of 18 years old
Should be granted unrestricted access to live, work, and travel in different countries and in the United Kingdom.
Must be able to pass a complete medical exam, which includes testing for hearing and vision.
Must be fully vaccinated from COVID-19 disease.
Minimum height of 5 ft to 6ft; The weight should be strictly proportionate to height
Must be in good physical and mental health
Must be competent to swim 50 meters
In particular take note of the fact that Titan requires cabin crew to live no more than a 30-minute commute from London Stansted airport, and that you are required to have a full driving license and access to your own car.
Must be versatile and flexible, with a dedication to providing outstanding service
Must pass the following tests: a drug test, DOT fingerprinting, a criminal background check, and a 10-year employment check
Must be willing to relocate immediately to the allocated base
Standard appearance
Visible tattoos and piercings are  not allowed
A customer service experience is required
Must be able to provide evidence of their past positions' high attendance, dependability, and timekeeping.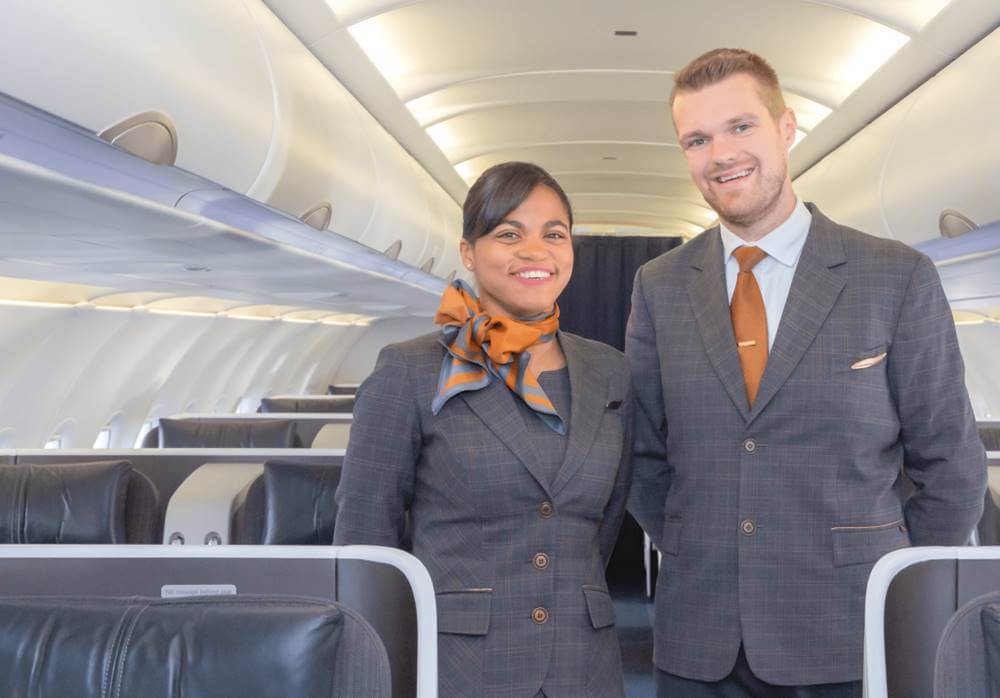 Application Process
Step 1: Go to Titan Airway's career page. You can go here:https://jobs.cabincrewwings.com/browse-jobs/?search_keywords=titan&search_location=
Step 2: To apply, click the link. You will be redirected to the "Recruit" online recruitment platform where you must create a free account in order to start your application.
Step 3: You must first fill out your personal information, which includes a section where you must affirm that you don't have any criminal record. Your employment and educational histories, as well as the contact information for references, are included after this.
Step 4: Once done, you will be required to respond to some straightforward yes/no screening questions just to ensure that you comprehend and satisfy the fundamental requirements for the work.
Step 5: After that, if you pass the first phase of the application, you will receive an email invitation for the next phase, which is the assessment date, time, and location. Usually, this invitation may take a little time to be sent due to a large number of applicants.
This assessment day will include:
Registration
A group "Ice breaker" exercise, group discussion, and problem-solving tasks
An Interview
Step 6: If you pass the initial phase, you will be moving on to another interview. It is better to have preparations ahead of time.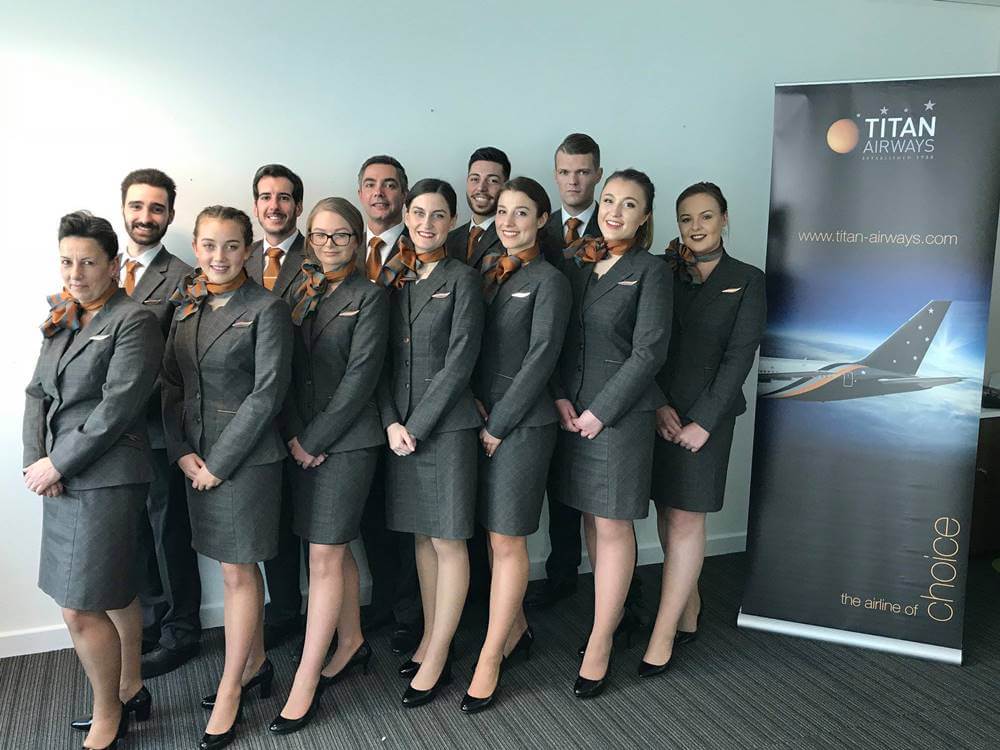 Salary and Benefits
The average salary of a Flight Attendant at Titan Air is ranging from £31,212-£33,979.
Other benefits of working at Titan Airways  may include:
Comprehensive training where your skills will be enhanced
Several good level benefits for employees
Secured future working for a financially stable airline
Good working environment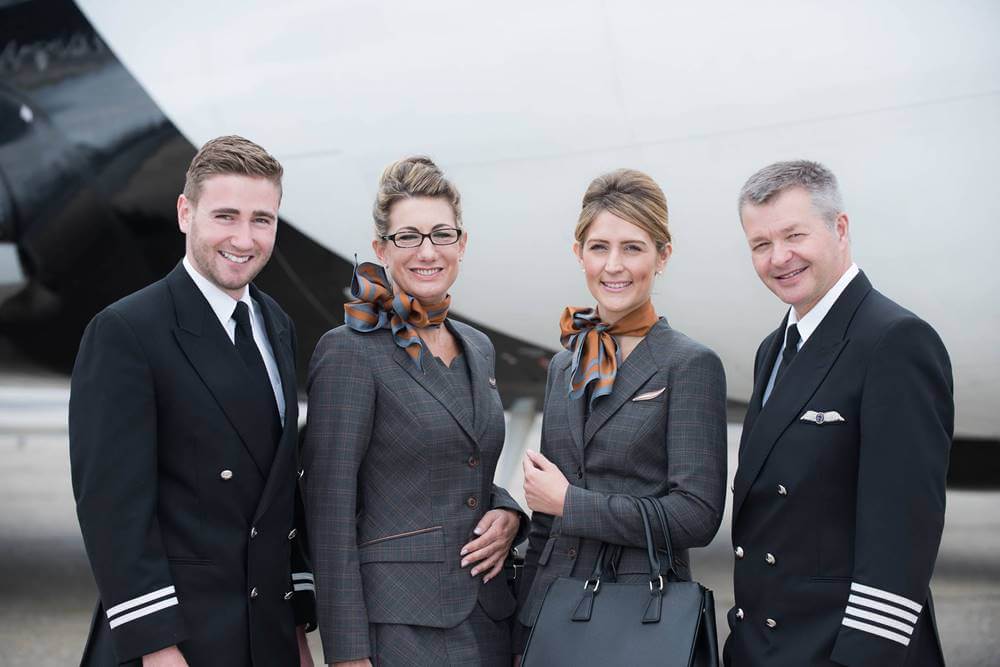 Videos: Titan Airways Cabin Crew
Titan Airways represent the United Kingdom with pride.  As a well-known airline in the country, they assure to make their country great by serving a quality service to every customer. In this video, you will be able to see the cabin crew team's attributes towards passengers such as being hospitable, warm, caring, emphatic, and kind which are company's key to its success.
Photos: Titan Airways Cabin Crew Uniforms
Check out these pictures of Titan Airlines crew so you can see what they look like in uniforms:
Frequently Asked Questions
Here are some common questions and answers about the job requirements as a cabin crew for Titan Airways:
1. How does the salary of a Flight attendant at Titan Airways compare with the base pay salary?
The average salary for a Cabin Crew is £49,367 per year in the United Kingdom, which is 52% higher than the average Titan Air salary of £32,399 per year for this job.
2. What is the exact location of Titan Airways?
The headquarters of the British charter airline, Titan Airways is at Enterprise House at London Stansted Airport.
3. How long does the interview for the Flight Attendant position in Titan Airways do?
This interview will normally last around 20-30 minutes.
4. What specific subject is commonly asked during an interview?
It typically includes further inquiries to determine your suitability for the position.
5. Does Titan Airways have a good working environment?
Yes, the company also prioritizes its employee's well-being.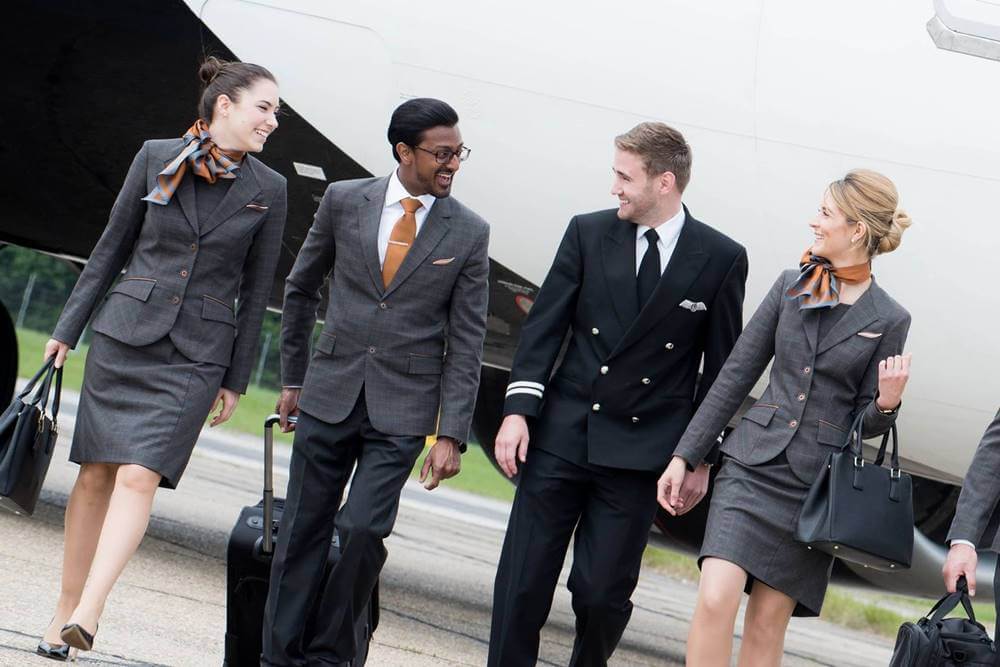 Summary
Air travel is always evolving. Hence, flexibility and adaptability are oriented at all times along with the conduct of great kindness and care. Being an effective flight attendant, you just need to understand the value of teamwork which is achieved by having several positive characteristics.
If you think that you are one of the qualified aspirants to work with Titan Airways, what are you waiting for? Start your journey and fly high with Titan Airways.