One of the most rewarding jobs in the world is to become a flight attendant. You get to travel and see different places while working and meeting new people every day. If you want to build a career as a cabin crew and be part of a well-established airline company, Egypt Air could be the right choice for you. You don't just make your dream come true, but also honor your parents for having a flight attendant in the family.
Also Read: 9-Day Trip to Greece: Athens, Santorini, and Milos
But before anything else, it's important to understand how you can boost your chances of landing your dream job. You need to know the basic requirements for Egypt Air cabin crew and prepare for the interviews. Keep reading to learn about the qualifications, application process, salary and benefits, and some tips to stand out in the recruitment event.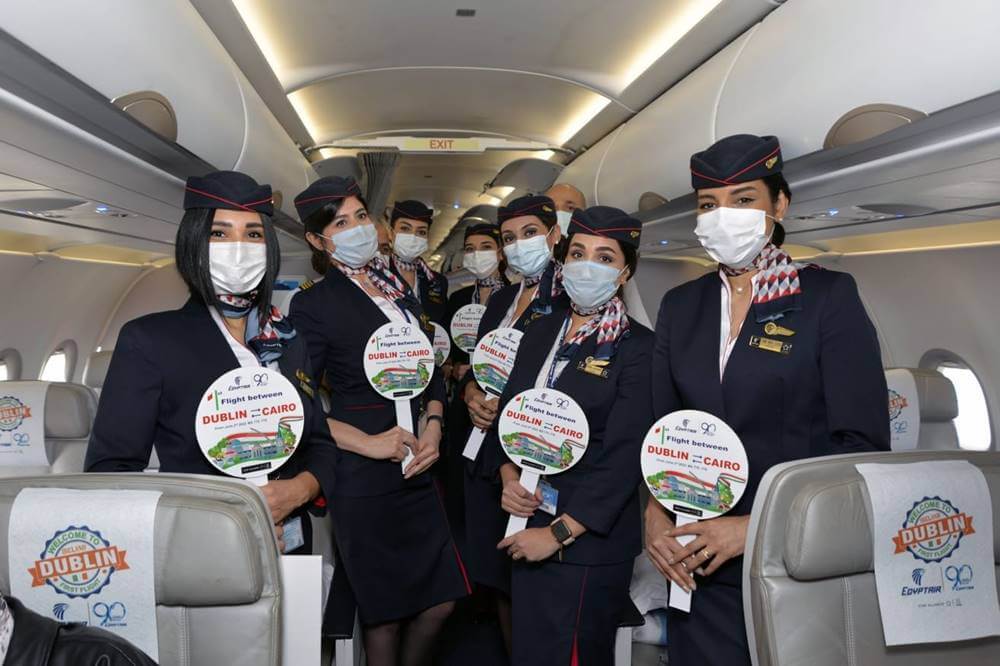 List of Requirements and Qualifications to Become an Egypt Air Flight Attendant
At least a high school graduate or with higher educational background.
Can understand English and speak the language fluently.
With a height of 158 to 190 centimeters.
At least 18 years of age.
Can swim without a flotation device.
-5 and +5 eyesight.
No visible tattoos and piercings.
Great customer service skills.
Weight should be proportional to height.
Can easily reach the emergency equipment.
Medically fit and has a presentable appearance.
Can professionally handle customer complaints.
A valid passport and other travel documents.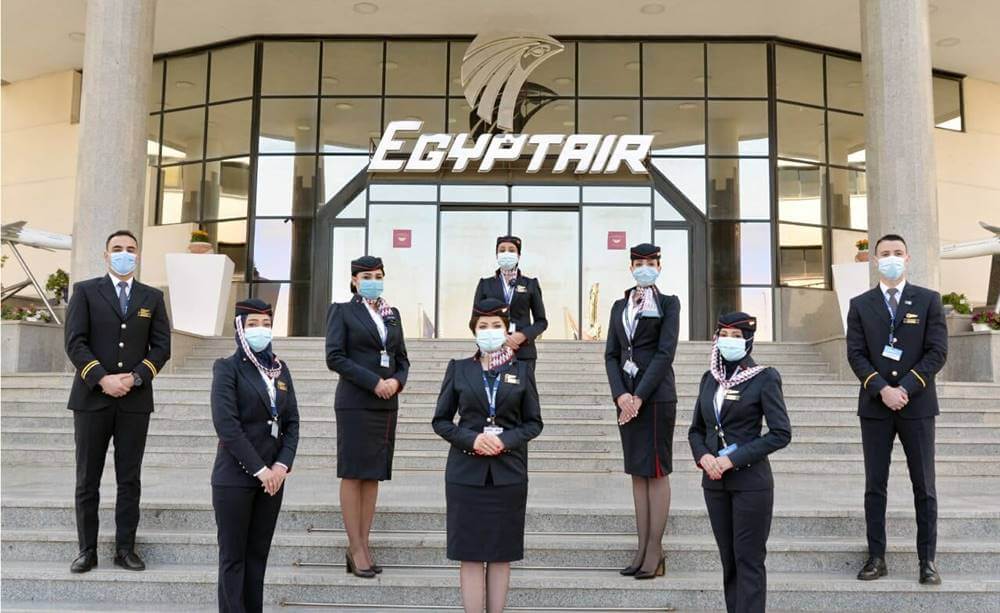 Application Process
Step 1: If you want to apply and qualify as Egypt Air cabin crew, visit their official website and register for their qualifying course.
Step 2: Make sure to check out the prerequisites before registering for the course. The duration is 10 days – 8 days of online learning and 2 days of practical training, for a total of 50 hours. You will perform for the practical training on simulators.
Step 3: Book early because slots are limited and comes with "First In, First Served" basis. After registration, you need to come for interview.
EgyptAir offers high quality training for their cabin crew in Egypt including initial new hire training, upgrading, recurrent, and re-qualification not only for flight attendants but also to pursers and instructors.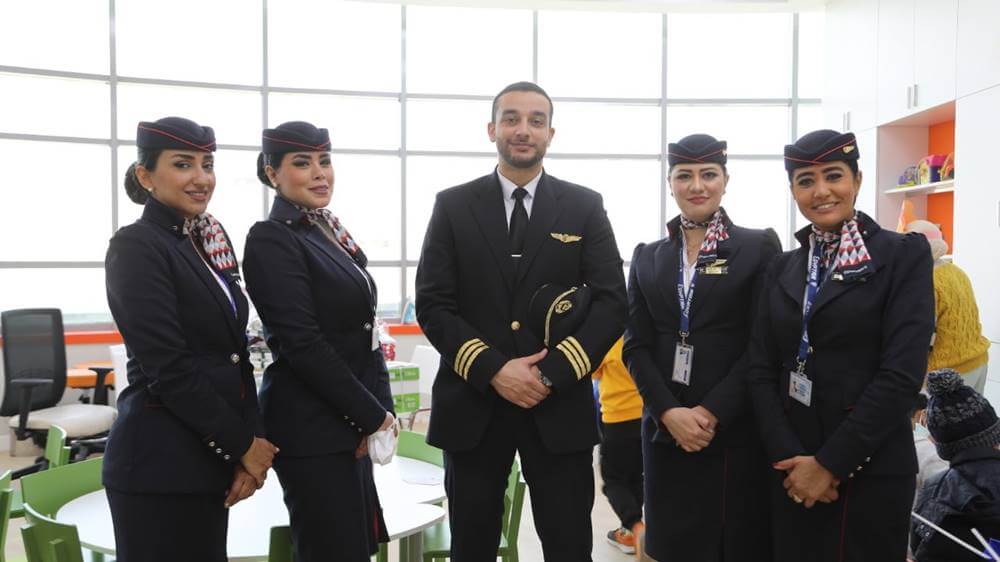 Salary & Benefits
Egypt Air offers a competitive salary for flight attendants, which is around EGP 4,500 on average per month. However, flight attendant salaries in Egypt typically ranges from EGP 3,070 to EGP 9,030 depending on skill level and flying hours and per diem. With Egypt Air, you can earn up to EGP 96,000 per year as cabin crew member.
For the benefits, flight attendants are usually given medical and social insurance, transportation allowance, overnight hotel accommodation, food expense reimbursement, free flights, and travel opportunities and benefits for family. With all these perks of being a member of Egypt Air cabin crew, there are more benefits to enjoy as you add more years to your career as flight attendant with this massive airline company in Egypt.
Video: EgyptAir Training Center Cabin Crew Training
This video showcases the comprehensive training program that future cabin crew members of Egypt Air will undergo in order to complete the recruitment process. The training academy aims to produce the best and the brightest candidates to fulfill the role of a topnotch flight attendant in Egypt. The video practically demonstrate what you should expect from the application and training process.
Moreover, you will get a glimpse of how you can become a reliable and customer service-oriented cabin crew member that provides satisfying service to both local and international passengers. For 10 days, you will acquire new skills that are essential in performing the duties and responsibilities of an Egypt Air flight attendant.
Photos: Egypt Air Cabin Crew Uniforms
Check out these pictures of Egypt Airlines crew so you can see what they look like in uniforms:
Frequently Asked Questions
Here are some common questions and answers about the job requirements as a cabin crew for Egypt Airways:
1. Can I apply even if I only know basic English?
One of the basic requirements and qualifications for aspiring flight attendants for Egypt Air is fluency in the English language. You need to communicate well with others using English. Understanding other language is a plus.
2. Do I need experience in customer service to become a flight attendant?
It's a strong advantage to have an experience in customer service as you are required to serve the needs and safety of the passengers throughout the flight.
3. Are tattoos and piercings not allowed in Egypt Air?
Any visible tattoos, facial piercings, and extreme hair color are strictly forbidden for Egypt Air cabin crew members. You need to have presentable and professional appearance since you will represent the airline in front of the customers.
4. Is there a minimum height requirements for Egypt Air flight attendants?
You need to have a height of 158 to 190 centimeters in order to qualify as Egypt Air flight attendant.
5. What is the eyesight prescription for aspiring cabin crew members for EgyptAir?
Your eyesight should be -5 and +5, and you need to be physically fit to perform all the duties of a cabin crew member.
6. Am I qualified if I can't swim without a flotation device or life jacket?
One of the most important safety requirements for flight attendants is to be able to swim even without a flotation device in case of emergency. You should learn how to swim on your own if you want to qualify as a flight attendant for Egypt Air.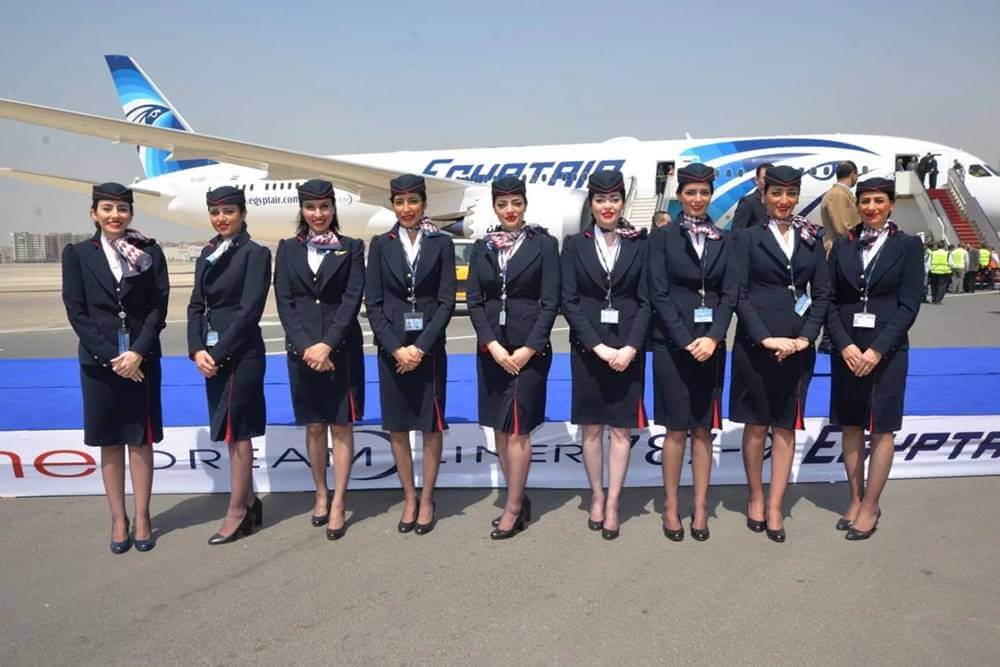 Summary
Before you decide to attend a recruitment event for flight attendants in any airline company in Egypt, make sure to understand all the requirements and qualifications needed for the job. Check your documents, skills, and experiences in order to assess how you can ace the interviews and training. One thing that most airlines look for in most candidates is the ability to solve problems and be passionate in helping customers from all walks of life.
More importantly, you have to be brave and knowledgeable in the safety measures and guidelines that the airline implements. Your top priority is to keep everyone safe in the airplane while traversing miles and miles of distance from Egypt to other parts of the world. So, are you ready for your interview? Good luck in all of your endeavors!