After a long time, I finally have a good and long vacation leave! This time, we travelled to Greece, exploring Athens and its vibrant city life; then we took a flight to the beautiful island of Santorini to relax; finally, we went to Milos, known for its stunning beaches. It was an amazing 9-day trip!
I am thankful that I still have a flight attendant job after what had happened in the last 2 years when the pandemic struck and travel has been put to a complete stop. Many flights were canceled and many crews were made redundant. But now that travel has resumed and many flight attendants were rehired, the flying hours have drastically increased and my roster has been full ever since.
That's why I'm glad that I got to take this holiday again.
Greece has always been one of my dream destinations especially when the travel time is just a few hours away from the UAE. I have been to Athens before but only for a few hours on a stopover. I remember going up to the Acropolis and being mesmerized by the beautiful Parthenon.
This time, we arrived in Athens early in the morning and went straight to our hotel in near Plaka and Monastiraki Square.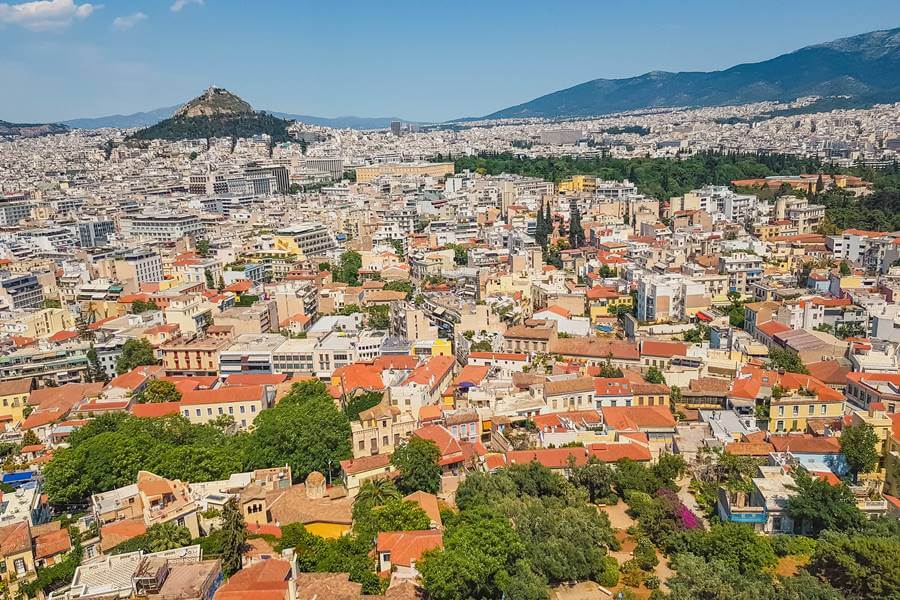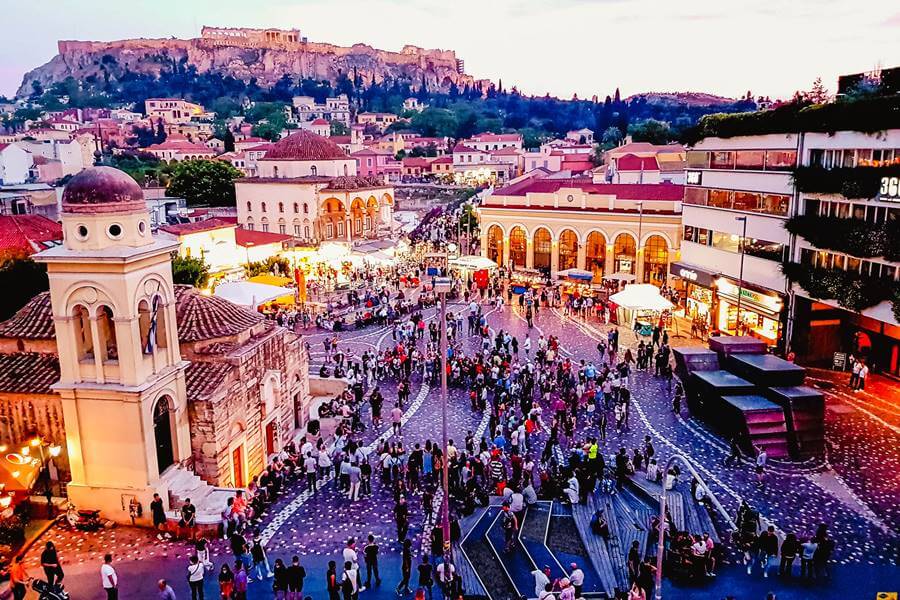 Athens – Plaka, Acropolis, and Monastiraki Square
Athens is the capital of Greece and it is also one of the oldest cities in the world. The city is full of history and culture. There are so many things to see and do in Athens. We spent 3 days exploring the city and we only scratched the surface.
Some of the highlights of our trip include going up to the Acropolis, visiting the Temple of Zeus, wandering around Plaka (the old town), checking out the Monastiraki Flea Market, and eating lots of delicious Greek food!
The Acropolis is a must-see when you are in Athens. It is a large hill in the center of the city that is home to some of the most famous ancient ruins in the world including the Parthenon. We bought our tickets in advance online which allowed us to skip the long ticket line.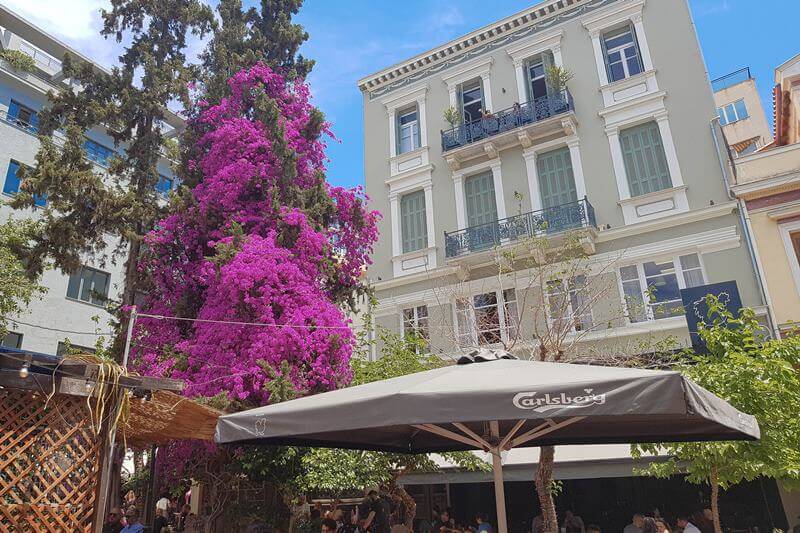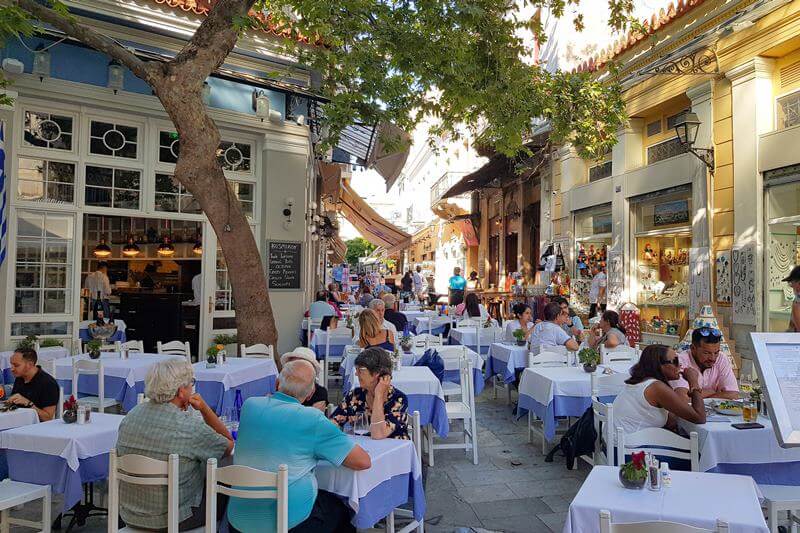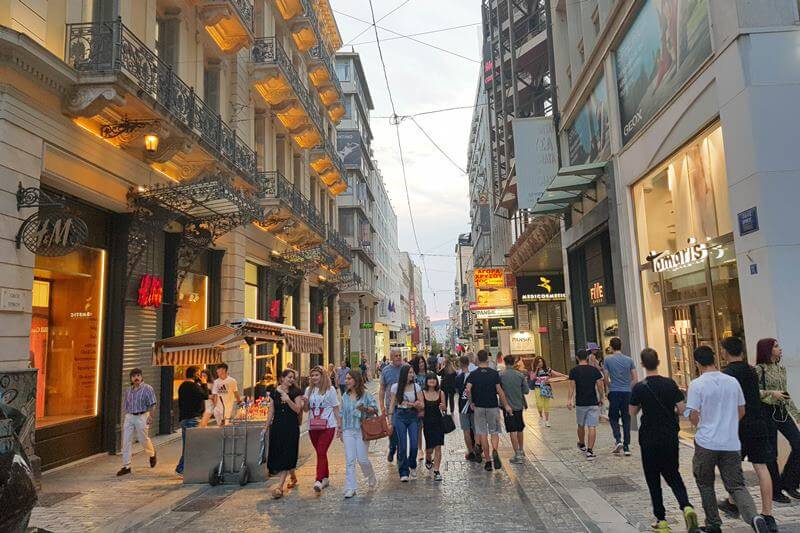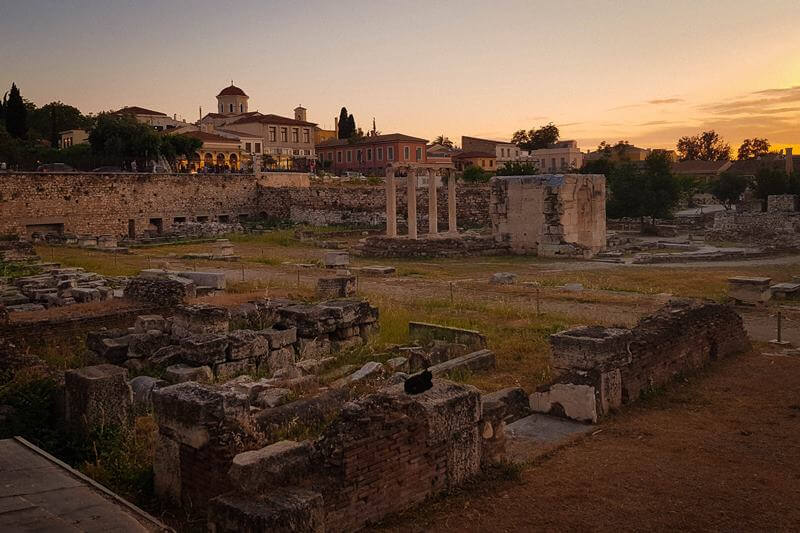 Santorini – Beautiful Scenery
We took a flight from Athens to Santorini via Aegean Airlines. We were on standby mode wherein we got better-discounted flight tickets albeit we had to wait for an available seat. We waited at Athens airport and got the flight next to our supposed schedule. Despite the delay, we were glad that we scored a great deal (part of the perks of being a flight attendant) on our airline seat tickets.
Anyway, we spent about 3 days in Santorini island. This is a beautiful island with breathtaking views. The most popular thing to do in Santorini is to watch the sunset from Oia. It is known for its white-washed houses with blue roofs that line the cliffside.
We also took a day trip to the nearby volcano and hot springs. This was a great experience! We were able to swim in the warm waters of the springs and tour the volcanic lands.
I was a bit worried that Santorini would get a bit overrated because it's really a popular destination. However, even if there were lots of people, the beauty of this island still shone through. So if ever you're doubting about a trip to Santorini, you shouldn't as it's really worth exploring!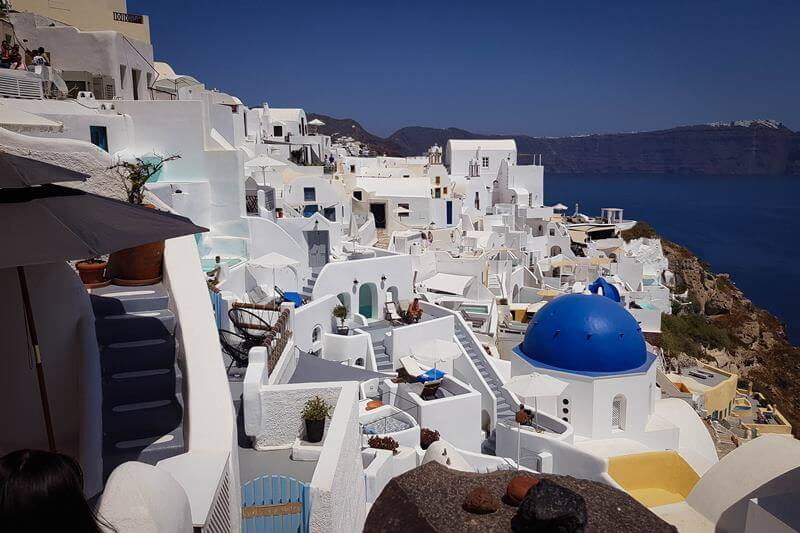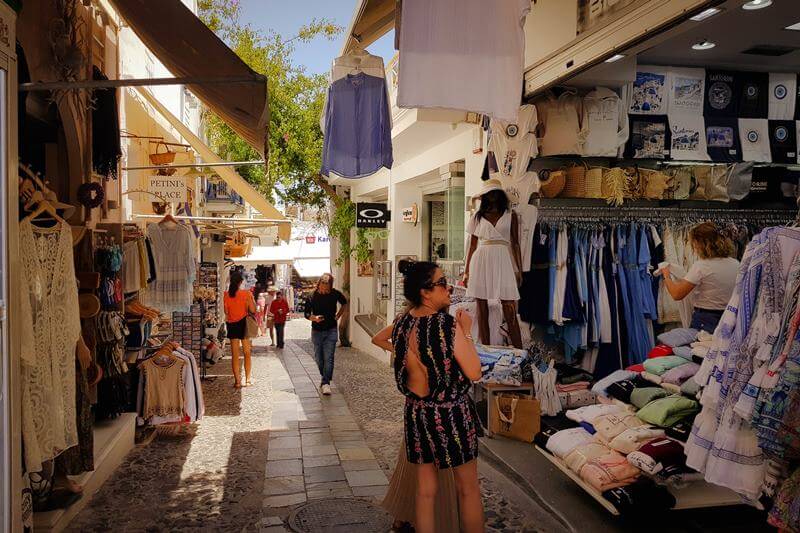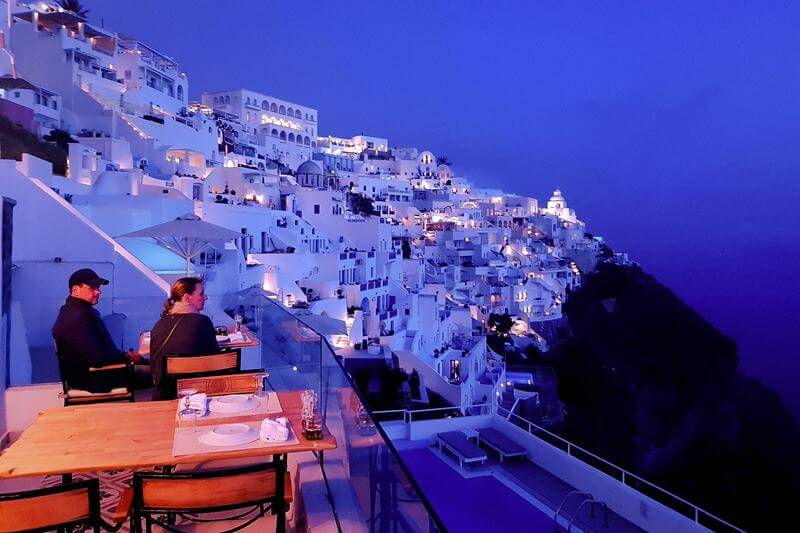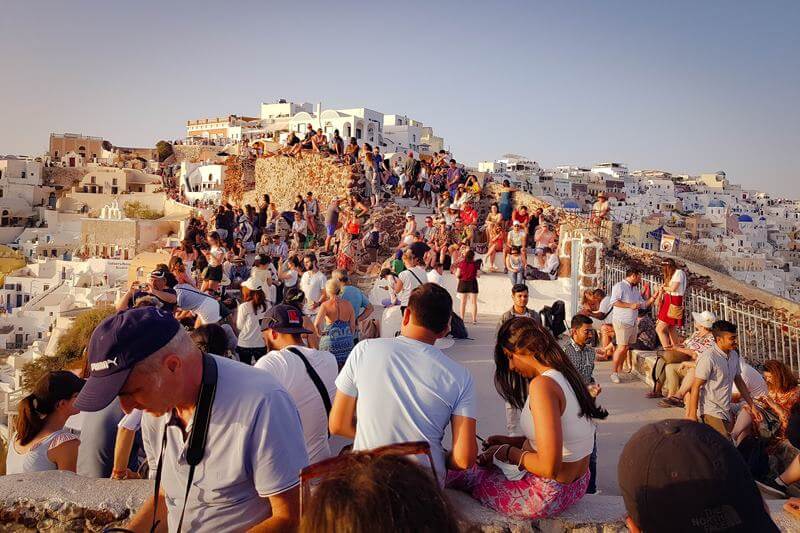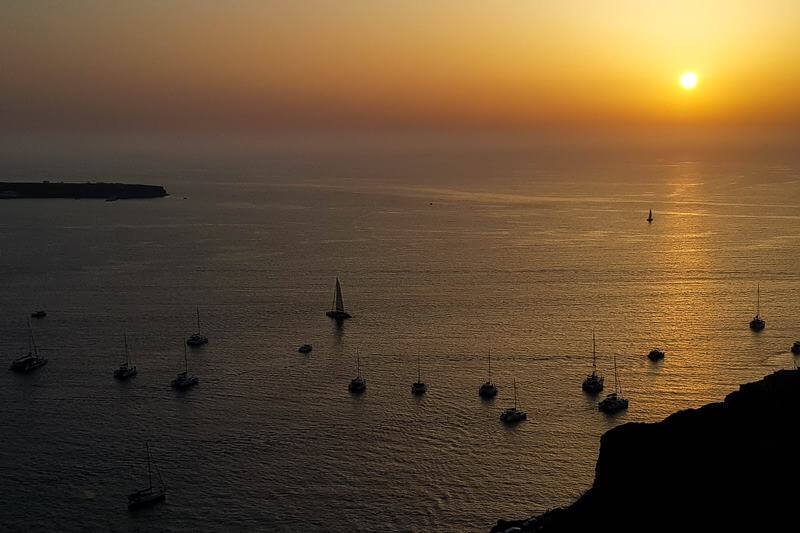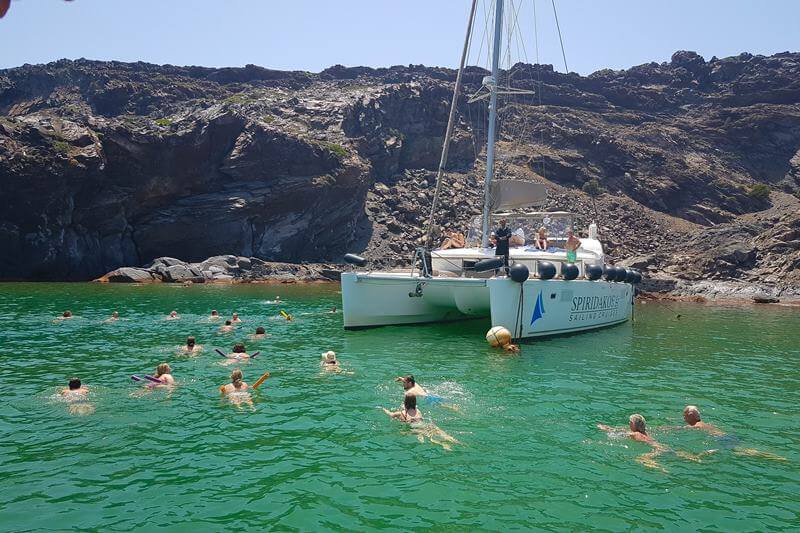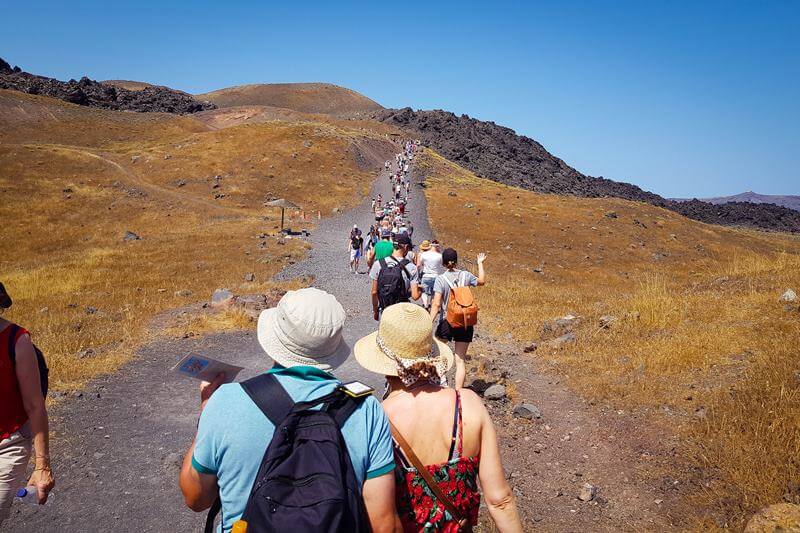 Milos – Stunning Clear Waters
From Santorini, we bought Sifnos Jet (SeaJets) ferry tickets that took us to the island Milos. We stayed in Adamas area, only spent about 1.5 days here, and wished we had more time.
Milos is a small, beautiful island that is known for its stunning beaches. Some of the most popular beaches on the island include Sarakiniko Beach, Kleftiko Beach, and Firopotamos Beach. We also visited the Klima Village, an old and colorful fishing village, and stopped by for a seaside lunch in Pollonia.
We swam in the clear waters of the Aegean sea in Milos. I was surprised that the water wasn't salty and it didn't hurt the eyes. While the weather was hot, the water was really cool and made it refreshing to take a dip.
We booked a car rental service, our first time to drive a car outside our own country, and toured the island in a small car. It was a great experience because we get to pick the places we want to check out and we weren't rushed. If you have an international driving license, I recommend renting a car in Milos so you can explore the island at your own pace. Fire up Google Maps on your phone.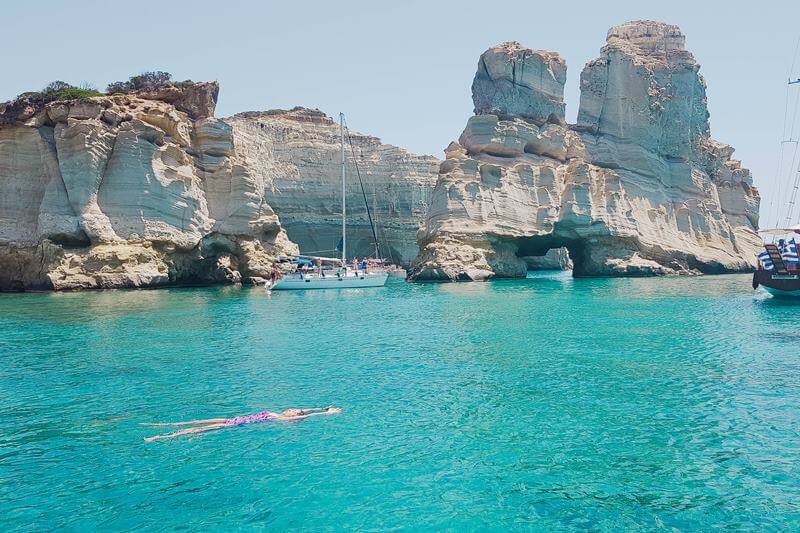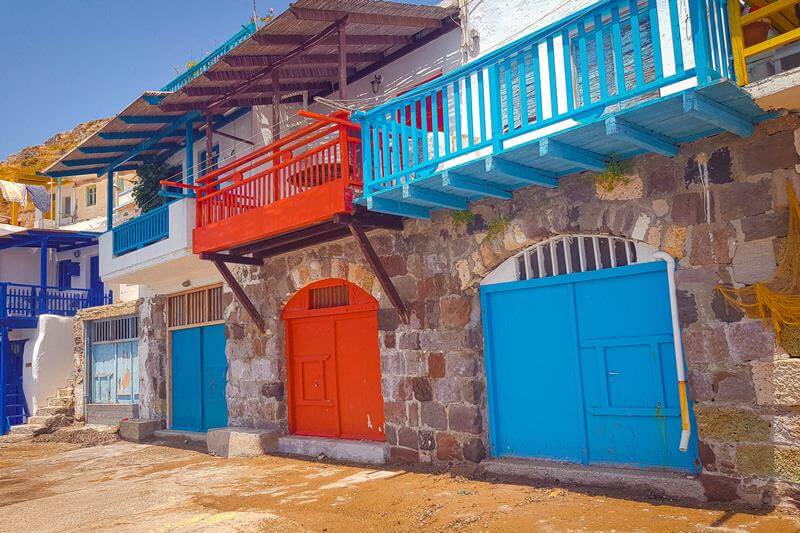 Greek Food
Aside from the beautiful destinations, Greece has plenty of fresh and delicious food to offer.
Some of the Greek dishes that we tried include Souvlaki (grilled meat skewers), Gyro (meat served in a pita with vegetables), spanakopita (spinach pie), dolma (stuffed grape leaves), moussaka (eggplant and meat casserole), Greek salad, grilled octopus, and of course, Baklava (a sweet pastry).
What I like best about Greek cuisine is that the food is not too heavy and it is very fresh. The vegetables are usually local and seasonal and the seafood is fresh!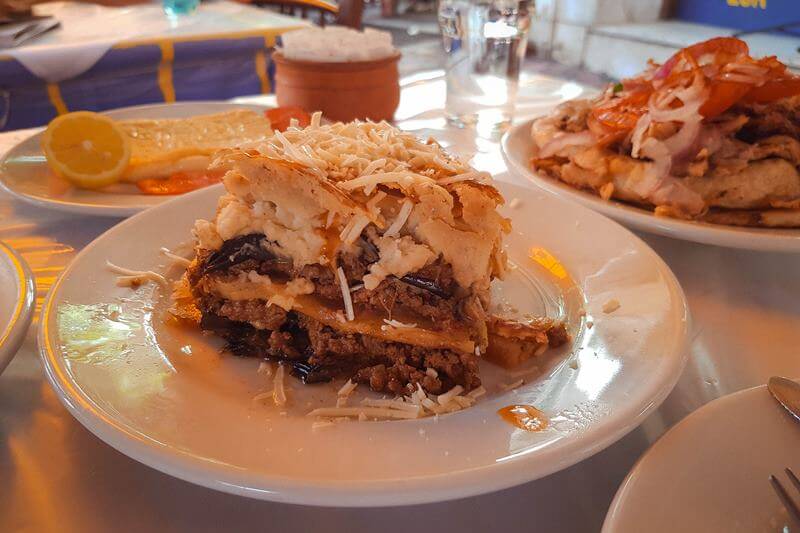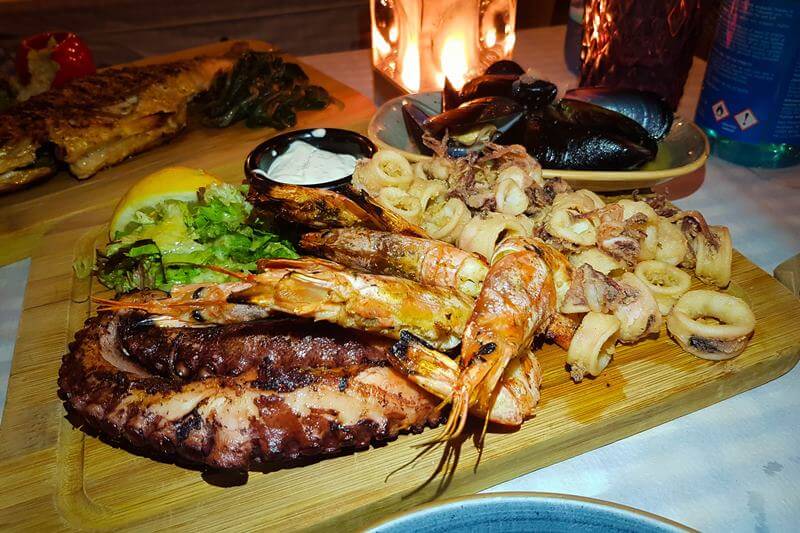 10 Tips when Travelling in Greece
Here are some tips if you plan to travel to Greece and the islands in the Cyclades:
1. Greece is a large country with plenty of islands. If you only have a limited time, I recommend visiting Athens and one or two of the popular islands such as Santorini or Mykonos. We skipped Mykonos even if it was nearer to Santorini in favor of Milos Island.
2. I would recommend renting a car if you are planning to explore the islands. This will give you the flexibility to go at your own pace and explore off the beaten path.
3. Make sure to try some of the traditional Greek dishes such as Souvlaki, Gyro, Moussaka, and Baklava. The food is fresh and delicious!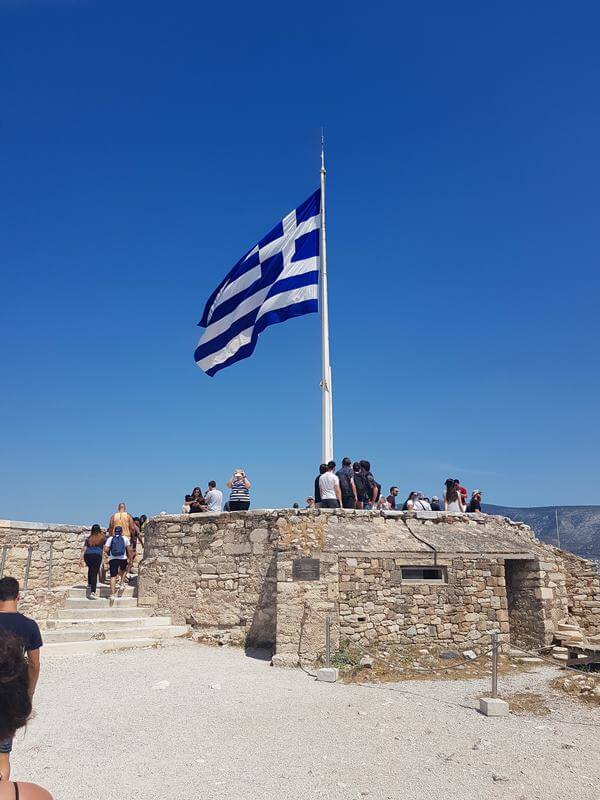 4. Greece is known for its stunning beaches. Pack your sunscreen, swimwear, and towel so you can enjoy the sun and the clear blue waters.
5. Athens is a large city with plenty of things to do and see. I recommend spending at least 1-2 days here.
6. Santorini is one of the most popular islands in Greece. It is known for its beautiful scenery, great food, and stunning sunsets. I recommend spending at least 2-3 days here.
7. Milos is a small but beautiful island that is often overlooked by visitors to Greece. It has some of the most stunning beaches on the Aegean Sea. I recommend spending 1-2 days here.
8. WiFi internet is available in the hotels. But if you need internet on the go, I recommend buying Data Sim from Athens airport. I paid about 35 EUROS for a 30-day 18GB data plan and it helped me while doing my tasks online in between flight/boat trips. It also helped us when heading to the destinations.
9. Use Google Maps to help you navigate around the islands and to find the best beaches.
10. Greece has a lot of steps! Be prepared for some physical activity when climbing up and down the stairs in Athens, Santorini, and the other islands.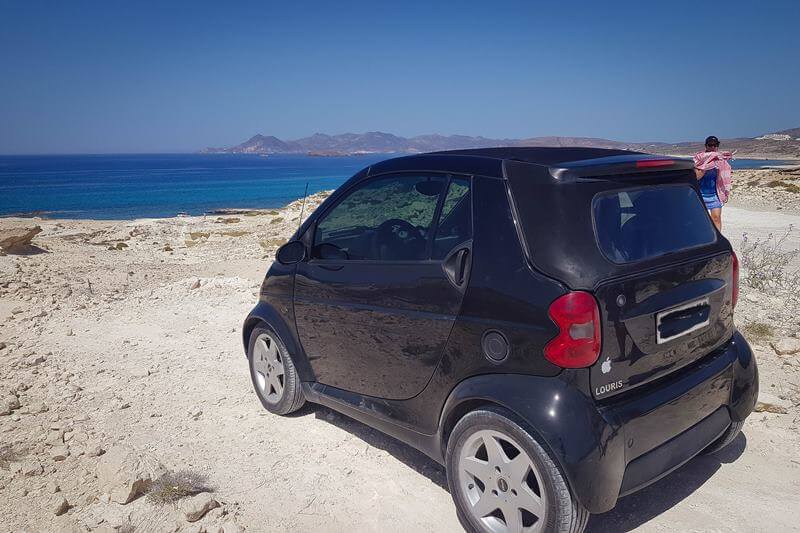 Summary
What a wonderful trip to Greece! We loved Athens and the ancient ruins. The views from Santorini were breathtaking, and we enjoyed swimming in the clear blue waters of Milos. What an amazing experience it was to explore these beautiful islands and learn about their history.
It was an amazing 9-day holiday exploring Greece. If you're looking for a great vacation destination that's not too far away, I would highly recommend this country- you won't be disappointed.
This trip to Greece somehow sparked my desire to blog about my travel experiences. I will be blogging about my trip to Athens, Milos Island, and Santorini very soon.
I didn't realize that Greece had so much to offer until we explored this place. Overall, it was an amazing trip! I'm already looking forward to my next Greece adventure.