Ukraine International Airlines was founded in 1992 by the Ukrainian State Association of Civil Aviation and GPA – the world's largest aircraft lessor. It is an international carrier of independent Ukraine. Over the course of 15 years, the airline has attracted top-tier strategic and financial investors. The Ukrainian government's stake in the company was transferred to the State Property Fund in 1995.
Also Read: Cabin Crew Meaning: What it Means to Work as a Flight Attendant
The organizational model of a public-private entity enabled UIA to leverage all shareholders' strengths, seize a diverse range of business opportunities, and adopt the best maintenance, operation, service, and management practices from its international partners. UIA's initial goal was to establish nonstop operations between Ukraine and Western Europe and successfully implement a point-to-point carrier strategy. If you want to work with this aviation company, they have a user-friendly career website with two options for sending an application.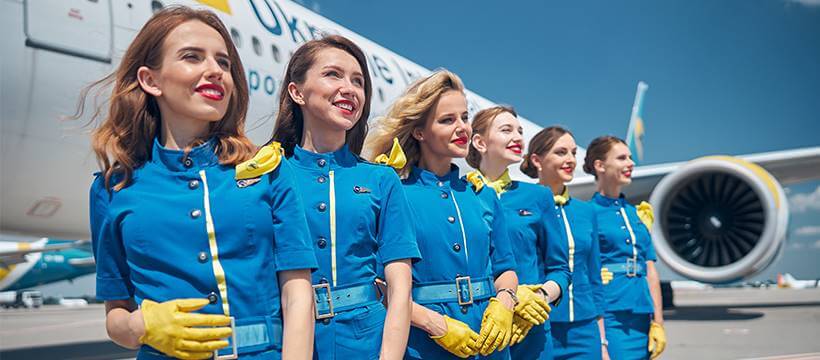 List of Requirements and Qualifications to become a Ukraine International Airlines Cabin Crew
The position of a flight attendant is filled through a competitive process. All candidates go through the following stages of selection:
Questionnaire Data Analysis for Eligibility
Personal interview with the selection committee
Psychological Test
English Language Proficiency confirmation
Medical examination.
Requirements:
Higher education is required (a bachelor's, specialist, or master's degree is required).
Fluency in Ukrainian, Russian, and English is required.
Pleasant appearance;
Absence of visible tattoos, scars, and piercings, as well as brace systems and speech defects;
sociability, benevolence, diligence, endurance, ability to work in a team, flexibility in communication with different people, high level of stress resistance
Possessing a foreign passport
Swimming ability
Men's military registration (presence of a military ticket or registration certificate).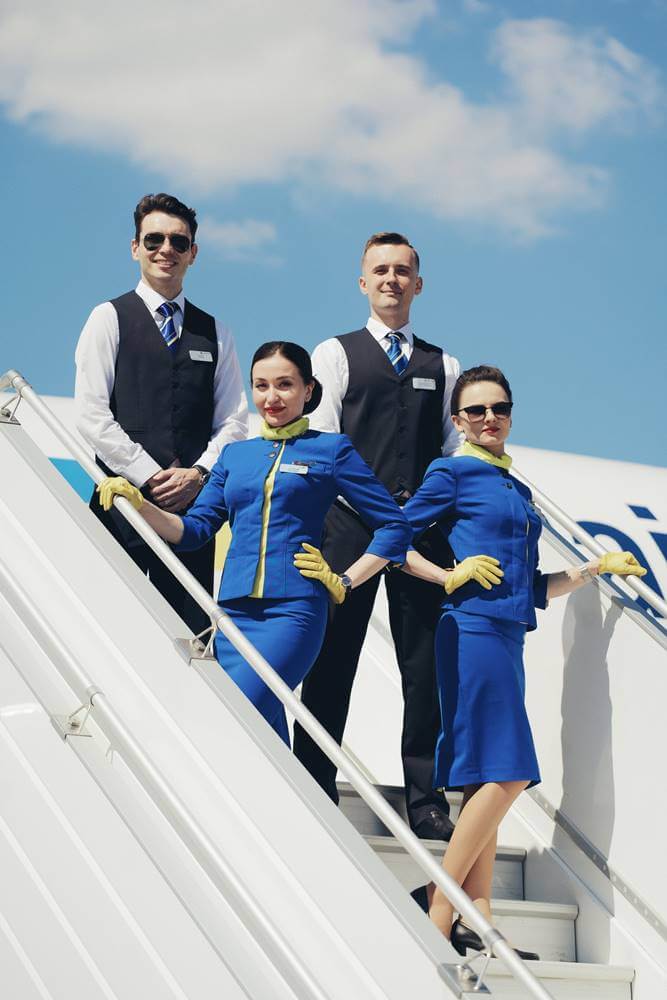 Application Process
Step 1: To apply for a flight attendant position, you can go here: https://www.flyuia.com/ua/en/about/career
Step 2: Click on the "Flight Attendant" button and you will be led to a page where you will see the application link. Click on "this form".
Step 3: Complete the form by filling in necessary information such as your personal info, level of spoken language proficiency, and work experience.
Step 4: Attach your picture at the bottom part of the application. Your picture must be decent and appropriate for the position you are applying for. Note that the maximum file size for the picture is 3Mb.
Step 5: Check for possible errors before submitting your application. Then Click on "Send Request"
Step 6: Wait for them to send you a message confirming your application. This may take a while since airlines receive a lot of applications online.

Salary and Benefits
Ukraine International Airlines give its flight attendants an opportunity to earn a salary up to UAH 20,000 per month during the adaptation period and UAH 26,000 per month after the trial period.
Training on the Boeing 737 and Embraer 190 aircraft types, with the issuance of a model certificate;
Medical Insurance
Airport Transportation
In-flight meals
Uniforms and more.
Get discounted airline tickets for employees and their family members
Video: Review: UKRAINE INTERNATIONAL AIRLINES – WONDERFUL FLIGHT!
This video is a vlog review of Josh Cahill about his having a wonderful flight with Ukraine International Airlines (UIA). Josh mentioned that UIA's cabin crews are very nice and helpful. A part of this video reminisces a nightmare flight in 2020 wherein the Iranian military shot down one of UIA's plane having mistaken for a cruise missile. This incident killed 176 passengers including the cabin crew.
Photos: Ukraine International Airlines Cabin Crew Uniforms
Check out these pictures of UIA crew so you can see what they look like in uniforms:
Frequently Asked Questions
Here are some common questions and answers about the job requirements as a cabin crew for UIA:
1. Is a high school diploma accepted at UIA?
A lot of airlines have basic qualifications of being a high school graduate in order to be a cabin crew. But UIA is quite different, higher education is not only their preferred education requirement, they require aspiring flight attendants to have at least a bachelor's degree.
2. Can I contact UIA to check on my application updates?
Most airlines do not entertain application status inquiries. Take note that application review can take some weeks or even months. While waiting for feedback, practice possible interview Q&As and start researching the company.
3. Should I send my CV with the application form?
UIA provides two options for applicants, you can just send your CV through email. The second option is to fill up their online application form and attach a picture.
4. I'm fluent in Russian and Ukrainian Languages, but not in English. Can I still apply?
Apparently, no. In order to apply as a flight attendant for UIA, you have to be fluent in Ukrainian, Russian, and English.
5. have a tattoo, can I still apply?
UIA doesn't allow applicants with visible tattoos. Meaning if a tattoo can be hidden under the uniform, it will be accepted.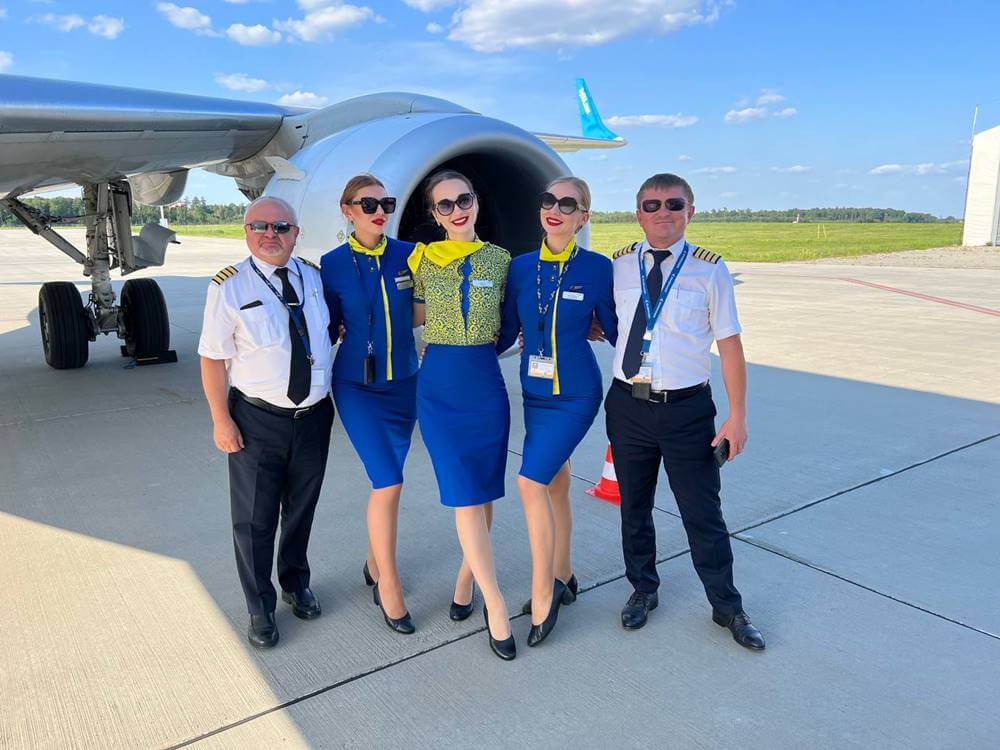 Summary
Every week, UIA operates over 1100 scheduled flights. The UIA fleet currently consists of 41 aircraft in various configurations, including 28 medium-haul Boeing 737 NGs with an average age of 9.7 years. Sales, tariffs, cargo, technical, flight operations, ground handling, cabin crew, finance, administration, e-commerce, HR, marketing, and other specialists make up UIA's team. All of these departments work together to achieve UIA's main goal: to provide customers with a safe, punctual, and dependable service that meets the highest international quality standards. This is the reason why they hire highly skilled and competent professionals who are eager to contribute to UIA's success.
Do not ignore this airline's opportunities for cabin crews if you consider yourself to be energetic, ambitious, and qualified. If you enjoy aviation, and if you want to join a professional team at Ukraine's leading airline, go to their website now and check for a Flight Attendant vacancy.