As a potential candidate for a flight attendant position, you may encounter a question during the interview, "What makes our airline different from its competitors?". This question may seem simple, yet it is a vital one. The recruiter is not only interested in your knowledge of the airline's branding and services but also in your understanding of the company's values and how you can contribute to them.
Also Read: How to Answer: Why Do You Want to Work for our Airline?
As a flight attendant, the job role is to maintain the safety and comfort of passengers throughout their flight. It's important to demonstrate how well you understand the airline's specific standards, policies, and procedures that make it special from its competitors.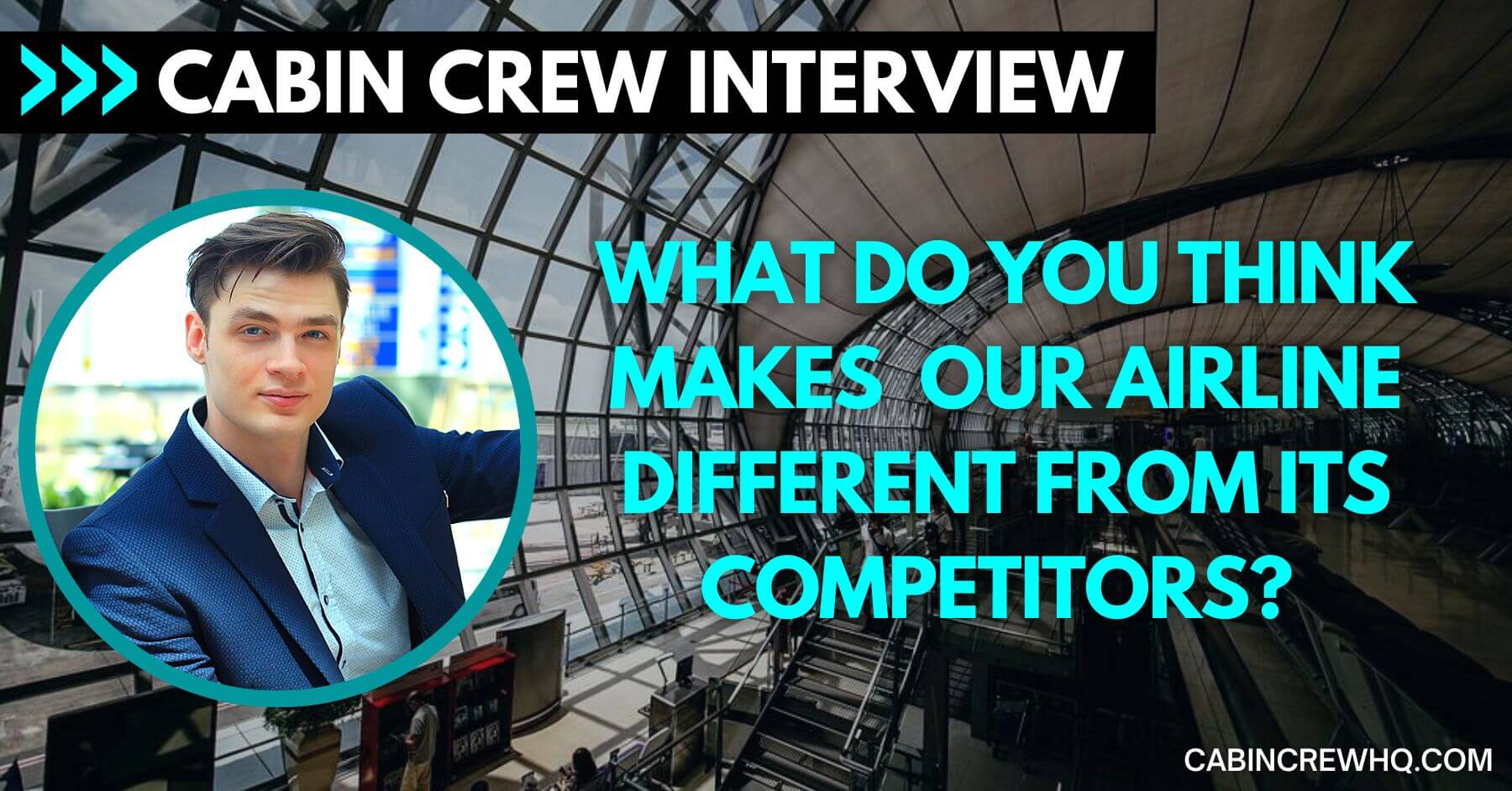 Why Airline Recruiters Ask This Question
The interviewer is assessing your research qualities, skills, awareness of the airline industry as a whole, and your ability to distinguish the unique qualities that set this airline apart from its competitors. They are interested in knowing how well you understand the company and how you can contribute to its success as an employee.
After all, you should have an idea of why you want to work for the airline and what makes it unique.
Other Variations of This Question
Some other variations of this question include:
How do you think our airline is different than other airlines?
What makes us unique compared to other airlines?
What, in your opinion, sets us apart from our competitors?
Why did you choose to apply to this airline?
What do you know about this airline that attracted you to apply?
How do we differ from our competitors in your opinion?
Step-by-Step Guide in Answering this Question
Do Your Research: Before going into the interview, spend some time researching the company and their services. Familiarize yourself with their brand and what sets them apart from other companies in the industry.
Personalize Your Answer: In addition to reviewing their website and offerings, tailor your answer by highlighting personal experiences that you have with this particular airline or similar ones. For example, if you've had a positive experience on a flight with this airline before or heard great things about their customer service, you can emphasize this in your answer.
Show Enthusiasm: Demonstrate that you understand the company's values and have a positive attitude towards their services. Show enthusiasm for working with them and let your passion shine through.
Sample Answers to What Makes Our Company Different from Other Airlines?
Here are some sample answers to the question "What makes our airline different from its competitors?"
"Your airline has an outstanding reputation for safety and reliability. You also have one of the best loyalty programs in the industry which rewards customers for their continued patronage. Furthermore, you employ some of the most experienced pilots within the industry who are able to get passengers to their destinations on time and in a safe manner."
"Your airline has an impressive track record of providing superior customer service. From my research, I understand that you are dedicated to ensuring passengers have a pleasant experience through attentive staff, comfortable seating, and an array of entertainment options onboard. Additionally, your generous baggage allowance policy is something that sets you apart from other airlines."
"I chose to apply for this airline because I wanted to be part of an organization that is dedicated to providing exceptional service. Their goal of ensuring passengers feel safe and comfortable on board is something I strongly believe in and am passionate about. This company has a commitment to excellence that sets them apart from other airlines in the industry."
"I noticed that this airline has a reputation for excellence in punctuality and exceptional customer service. These values align with mine, and I am proud to pledge my support to them by providing an exceptional inflight experience for passengers"
"The airline is a leader in the aviation industry for its comprehensive training programs for employees, which demonstrates its commitment to developing and supporting its staff. With my skills and experience, I am confident I can add value to the company and contribute to its success."
"I believe what sets this airline apart from other competitors is its commitment to customer service and satisfaction. From my research, I saw that the employees go above and beyond in order to make sure their passengers have a positive experience. This aligns with my personal values of providing quality service and making sure customers are satisfied." "Your airline has been known for its outstanding safety record and rigorous training programs for all staff members. This ensures that everyone working on board your planes is knowledgeable about the company's policies and regulations, as well as their own roles on the plane. In addition, I appreciate the fact that your mission statement emphasizes inclusivity and diversity – something I strongly value.
I admire the airline's environmentally conscious policies and initiatives to reduce its carbon footprint and commitment to sustainability. I am passionate about such causes and would welcome the opportunity to work for an organization that shares my values.
The airline's innovative inflight entertainment system caught my attention as it has a wide range of multicultural movies, music, and TV shows, providing a unique and personal experience for each passenger. I am certain that this enhances every passenger's inflight experience and would love to be part of such an amazing inflight entertainment team.
The airline's commitment to diversity and inclusion is one that truly resonates with me. I look forward to bringing my own diverse experiences and background and contributing to the company's progress towards more significant diversity and inclusivity initiatives.
These sample answers demonstrate how well the candidate understands the company's values and how they can contribute to its success as an employee. By researching the company prior to the interview, applicants can show recruiters what makes them stand out from other contenders. Remember to be sincere and enthusiastic when answering this question.
Tips and Reminders
In case you are ever asked a question similar to this one, here are some tips on how to answer it:
Be specific and provide examples rather than generalizing.
Research and understand the airline's core values, and services and compare it with its competitors.
Be concise and answer in a calm and confident tone.
Use impactful and engaging vocabulary.
Highlight your own skills and experience and how it aligns with the airline company's values.
Show your enthusiasm for their mission statement and initiatives.
Do not badmouth other airlines or speak negatively about them.
Do not make grand claims that you cannot back up with experience or examples.
Do not use clichés or platitudes such as "To me, customer service is paramount" without explaining why this matters to you.
Questions to Ask Yourself to Help You Answer
If you are still unsure how to approach this question, here are some questions you can ask yourself to help guide your answer:
What impressed you about the airline company and its values?
How did their branding and services stand out compared to the industry players?
What value can you add to the company?
What values or initiatives does the airline have that closely align with my own personal values?
How can I demonstrate my knowledge of their commitment to customer service and safety?
What unique experience, skills, or expertise do you have that align with the airline company, and how will they benefit the business?
Also Read: How to Answer: Tell Me About a Time You Overcame a Challenge
Examples of Bad Answers
While it is important to show enthusiasm and knowledge, avoid using the following answers:
"Your airline has a great reputation."
"I don't know much about the airline company, but I applied anyway."
"I saw that your company had some job openings and decided to apply."
"I like your airline's branding."
"I think working for your airline would be a great career opportunity..
Video: What do you know about our airline
Here's a video clip that talks about how to answer the question what you know about the company and how to structure your answer:
Summary
In conclusion, being asked what you know about the airline company can be a daunting task. However, with proper research and preparation, it is possible to craft an effective answer that showcases your knowledge of their core values and initiatives as well as how your own experiences and skills align with them.
Remember to remain sincere in your response while also highlighting any unique expertise or experience you have that may benefit the organization. With this approach, recruiters will see why you are the perfect fit for their team.