Aeromar is a Mexican airline based at Mexico City International Airport. It was established in January 1987and started its regular operations from the Toluca International Airport on November 7 of that same year. It operates a daily average of 70 flights with the punctuality of over 93% through a fleet of (3) ATR-42 and (7) ATR72-600 turboprop aircraft, with capacity for 48 and 68 passengers, respectively, at 19 national and 2 international destinations.
It has operated continuously for more than 34 years. The airline also operates scheduled services to destinations in Mexico and San Antonio in Texas, USA, and offers charter cargo and mail service to these destinations.
Also Read: How to Answer: What are Your Strengths?
Flight attendants are also team players that contributed to the company's success over the years since its inception. They play a crucial role and they are considered brand ambassadors of the company. They are the best customer service and care provider and the passengers can attest to that.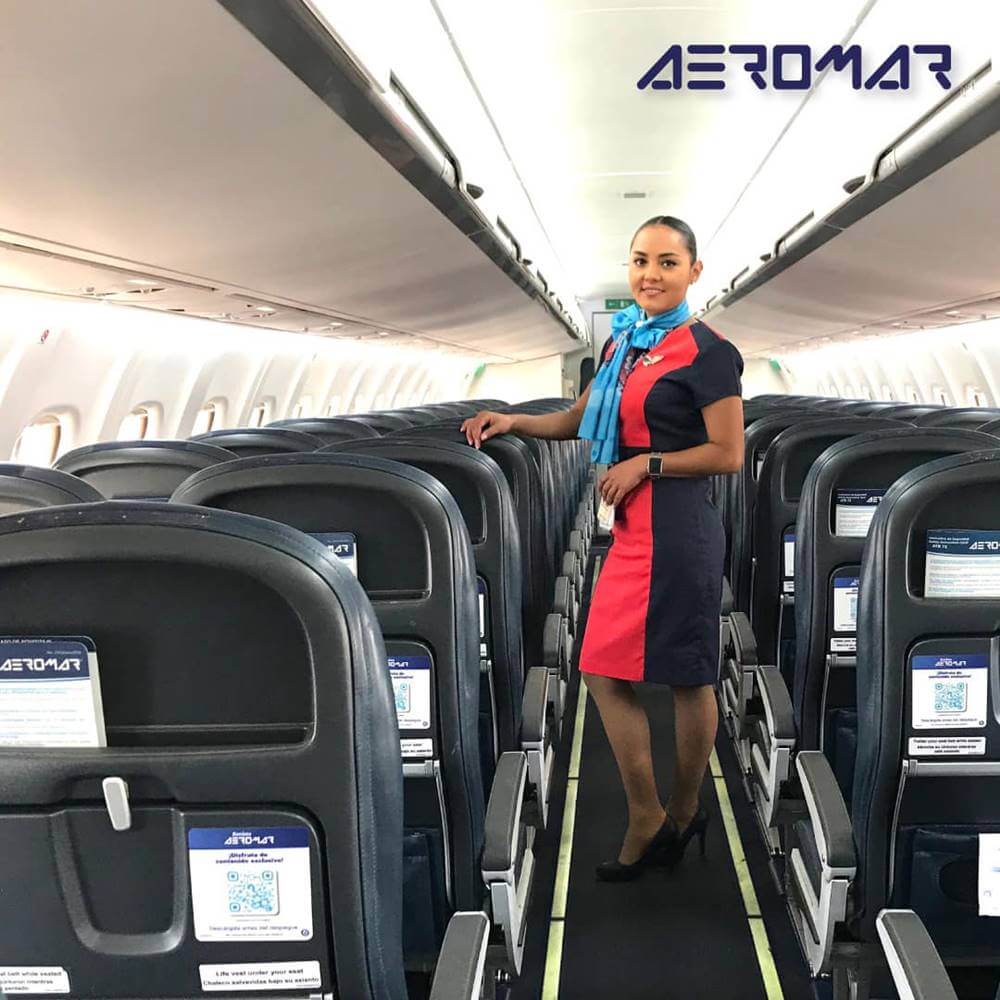 List of Requirements and Qualifications to Become an Aeromar Airlines Cabin Crew
Flight attendants are valuable resources to the aviation company. Some of its duties and responsibilities include directing customers to assigned seating and checking carry-on items to ensure luggage meets requirements, preparing and delivering food and beverages, communicating emergency safety procedures and showing passengers where to find and how to use the equipment, and overseeing and inspecting the cabin, passengers, and facilities for safekeeping before, during, and after departure. They also administer special assistance to disabled people, unaccompanied minors, and the elderly. Due to its wide range of duties and responsibilities, the airline is looking for individuals who can carry on the demanding job of a flight attendant and possess the skills that are essential for the position.
Below are the criteria that candidates must meet when applying for the flight attendant position.
Candidates must demonstrate superb interpersonal and communication skills.
Fluency and proficiency in other foreign languages are highly desirable.
Must hold a valid passport.
Prior work as a flight attendant or in customer service is an advantage.
They can think critically and de-escalate high-pressure situations.
Can provide excellent customer service and remain attentive to client needs.
Have the capacity to resolve conflicts and passenger grievances.
Can swim.
Weight is proportionate to height.
Excellent grooming standards.
Can work in flexible times, schedules, and long periods.
Must be willing to relocate to meet operational demands.
Be able to pass a background check.
No visible tattoos on any part of the body.
Have a clean criminal history record.
They must demonstrate physical stamina, specifically the ability to stand and walk for extended periods, as well as the ability to lift luggage.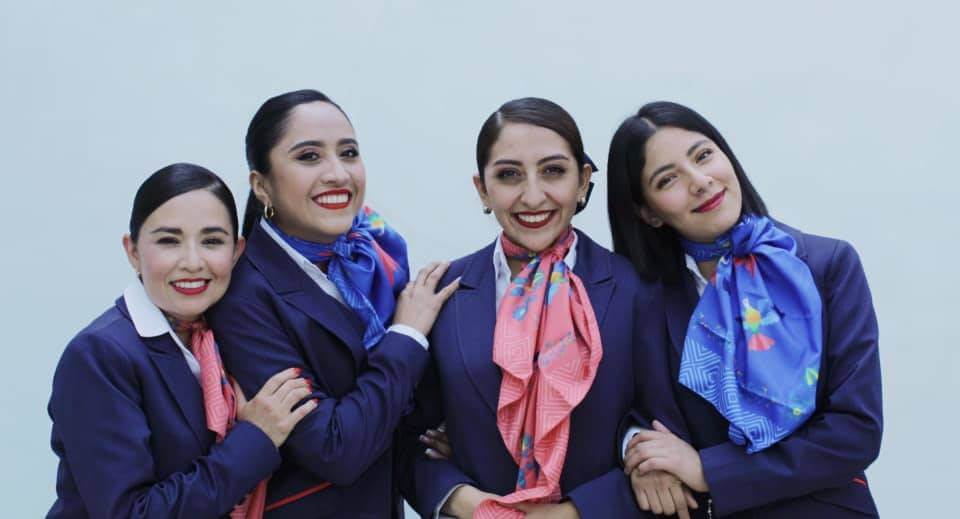 Application Process
Here is a step-by-step guide to help you with your application.
Step 1: Visit the company's official website here – https://www.aeromar.mx/.
Step 2: Scroll down and click "Job Bank" to see available positions or job vacancies.
Step 3: Look for a flight attendant or cabin crew position available and apply.
Step 4: Wait for a response. You will be soon contacted after a successful application.
Step 5: Prepare yourself for an interview, exam, background checks, and tests as required by the company before commencing work.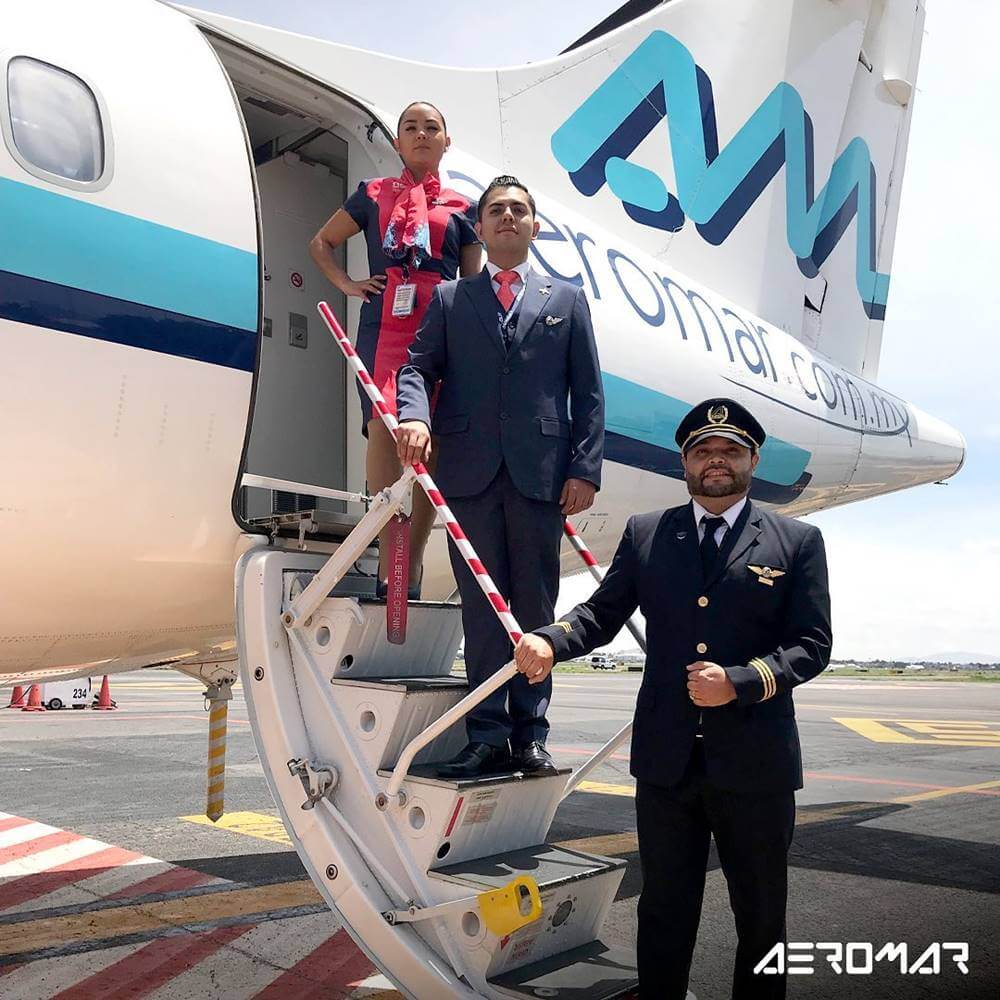 Salary & Benefits
Flight attendants' salaries are based on experience and they receive traditional benefits like participation in group health insurance and 401(k) plans. They also receive free domestic and international flights and discounted flights for family and friends. They also receive allowances for meals and hotel stays while working away from home. The company also offers opportunities for career growth and development and access to travel across countries and various destinations for free while working.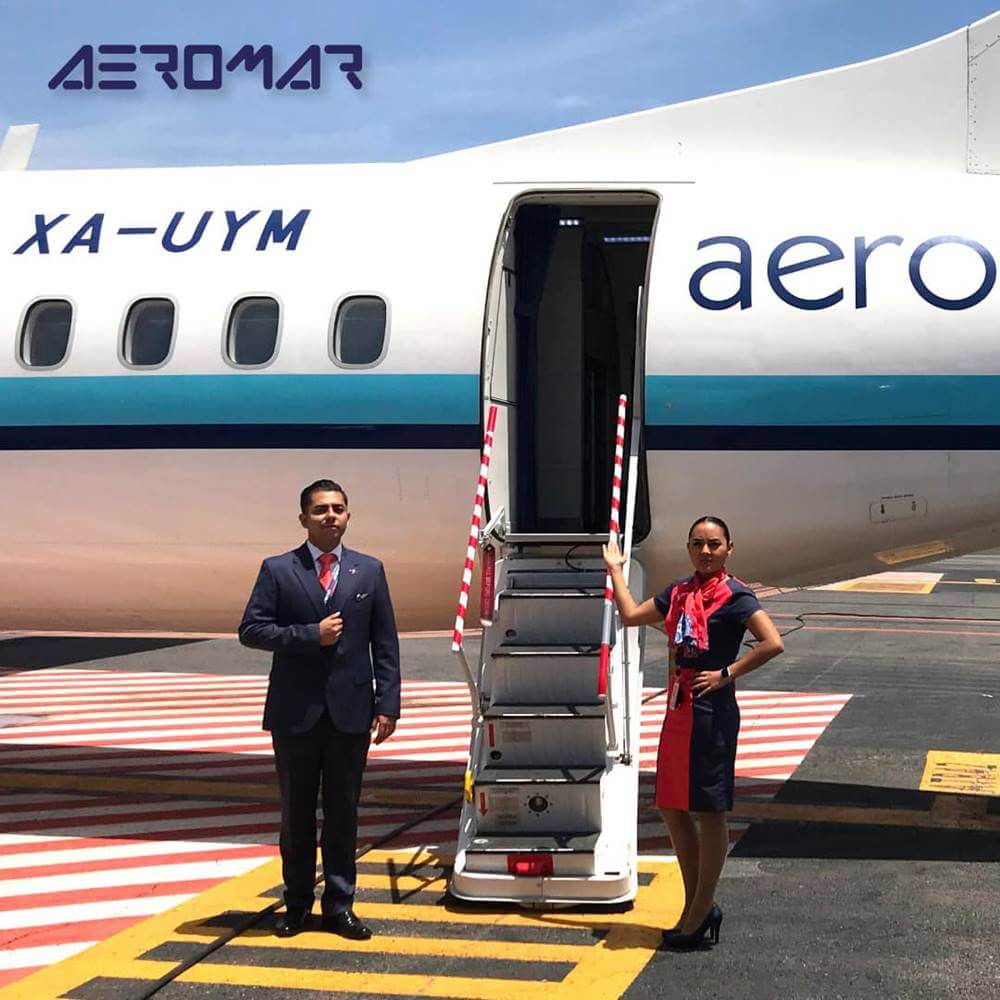 Video: Inside Mexico's Regional Airline – Aeromar
This video was uploaded by a YouTube vlogger that goes with the username "Noel Philips".
This video will give you a short tour of the airport and brief information about the airline and how the employees assist the travelers from the airport to the boarding pass until the aircraft. Inside the aircraft, you will the salient features of its cabin and the quality of its seats as well as the services they provide while in flight such as serving some snacks and drinks. Hence, through this video, you will get an insight into the airline's vision and mission towards excellent service on any of its flights. If you want to get to know more about Aeromar, you can check out their website here- https://www.aeromar.mx/.
Photos: Aeromar Air Cabin Crew Uniforms
Check out these pictures of Aeromar Airlines crew so you can see what they look like in uniforms:
Frequently Asked Questions
The following are some of the common questions asked about Aeromar Airlines flight attendants.
1. Are there any physical requirements and attributes I have to possess to become eligible for a flight attendant position?
Some of the physical requirements for a flight attendant position include a normal weight that is in proportion to height and excellent grooming standards.
2. What language(s) must I speak when applying for a flight attendant position at Aeromar Airlines?
You must be fluent and proficient in English and the native language of the country. The ability to speak multiple foreign languages is an advantage.
3. Can I still apply for a flight attendant position even if I have visible tattoos?
Visible tattoos are not allowed while wearing the cabin crew uniform.
4. What characteristics or personalities does Aeromar look for in their flight attendants?
They must be energetic, and enthusiastic, and have excellent communication skills and a customer service approach. They must also be flexible in working in flexible schedules, and longer periods, and can adapt to a fast-paced environment.
5. Where can I apply for a flight attendant position at Aeromar?
You can apply through the company's website. You just need to visit the Careers page here – https://www.evaluatest.com/aeromar/evaluate/IUEvaluacion/AeromarBolsaTrabajo.asp and check out their current job vacancies.
6. Do I need to know how to swim to apply for a flight attendant position?
The ability to swim is required especially in case of an emergency.
7. Do they require previous experience when applying for a flight attendant position at Aeromar?
The airline does not require previous experience but it is an advantage if you had a prior experience as a flight attendant.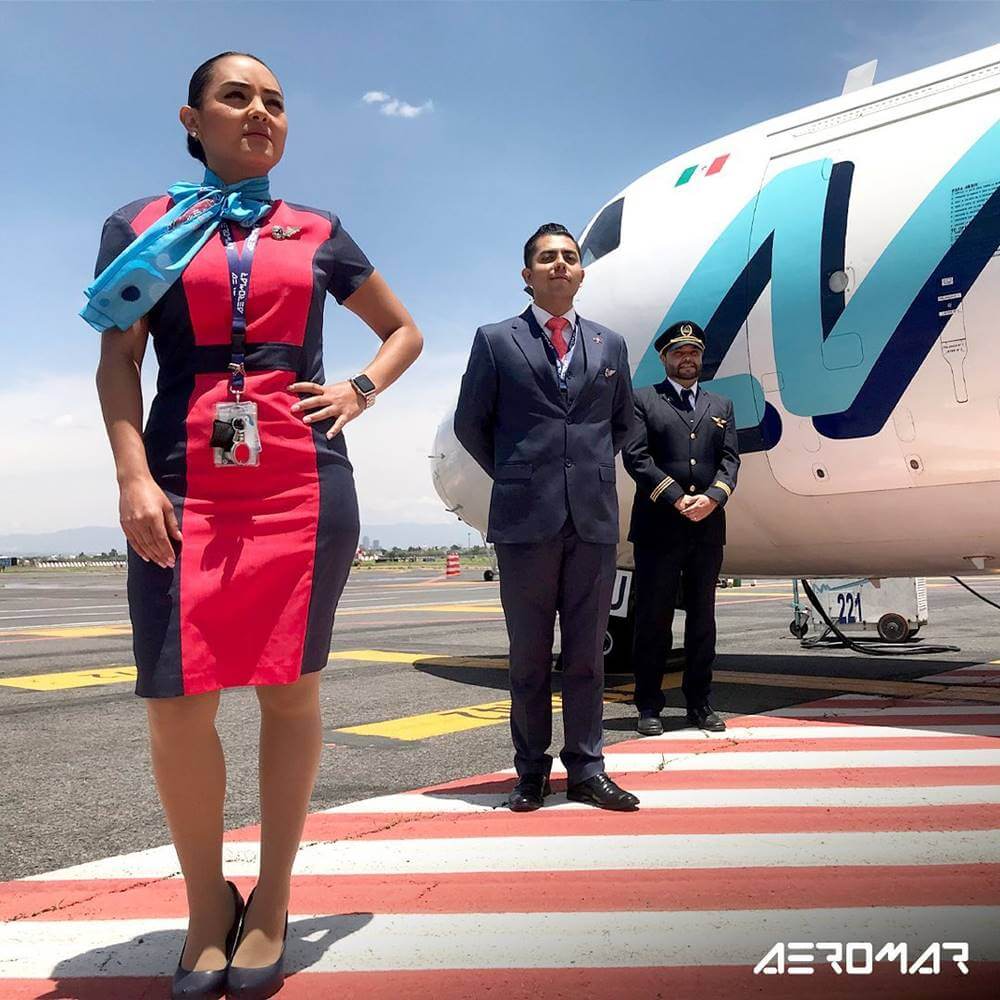 Summary
Overall, the job of a flight attendant is very physically demanding. It requires standing and walking for long periods and working during weekends and holidays. It also has a wide scope of duties and responsibilities especially in providing comfort and ensuring the safety of passengers in the aircraft. Some of their duties and responsibilities include ensuring the safety of all travelers, preparing and serving foods and beverages, engaging in preflight analysis with pilots and crew to talk about flight specifics, and compliance with all aviation governance, guidelines, and requirements.
In terms of requirements and qualifications, it is not as stringent compared to other airlines. You just have to be fluent in English and the native language of the country, your weight is in proportion to your height, and you have excellent customer service approach and communication skills. The ability to speak multiple languages is also an advantage as well as a prior work experience as a flight attendant or any customer service-related work.
Hence, if you think you have the skills and knowledge that the airline is looking for its flight attendants, do not hesitate to apply when an application for a flight attendant position is held open. Just keep updated on their job postings and job vacancies here – https://www.evaluatest.com/aeromar/evaluate/IUEvaluacion/AeromarBolsaTrabajo.asp.