If you want to work as a cabin crew for Air Corsica, there are a few requirements you'll need to meet. First and foremost, you must be at least 18 years of age. You'll also need a valid passport and a good level of physical fitness. Additionally, you should have excellent customer service skills and be able to speak both French and English fluently. Finally, you'll need to be able to pass a criminal background check. If you can meet all of these requirements, then you may just have what it takes to become an Air Corsica flight attendant!
Also Read: Paris Layover Guide: Best Things to Do in 24 Hours
Formerly known as CCM airlines, Air Corsica is a french airline that prides itself on its affordable fares and excellent service. From their headquarters in Ajaccio, the airline company carries passengers to 18 destinations across 5 European countries. Currently, Air Corsica is operated by a team of 660 dedicated employees who work and contribute to their part towards the company's success.
On the other hand, flight attendants in Air Corsica should have the skills necessary to perform all their obligations and assigned tasks. Aside from these competencies, flight attendants should also have personal qualities that will help them to surpass challenges such as emergencies and disagreements on board. Also, they should have leadership and interpersonal communication skills for them to have effective discourse with other cabin crews as well as the passengers.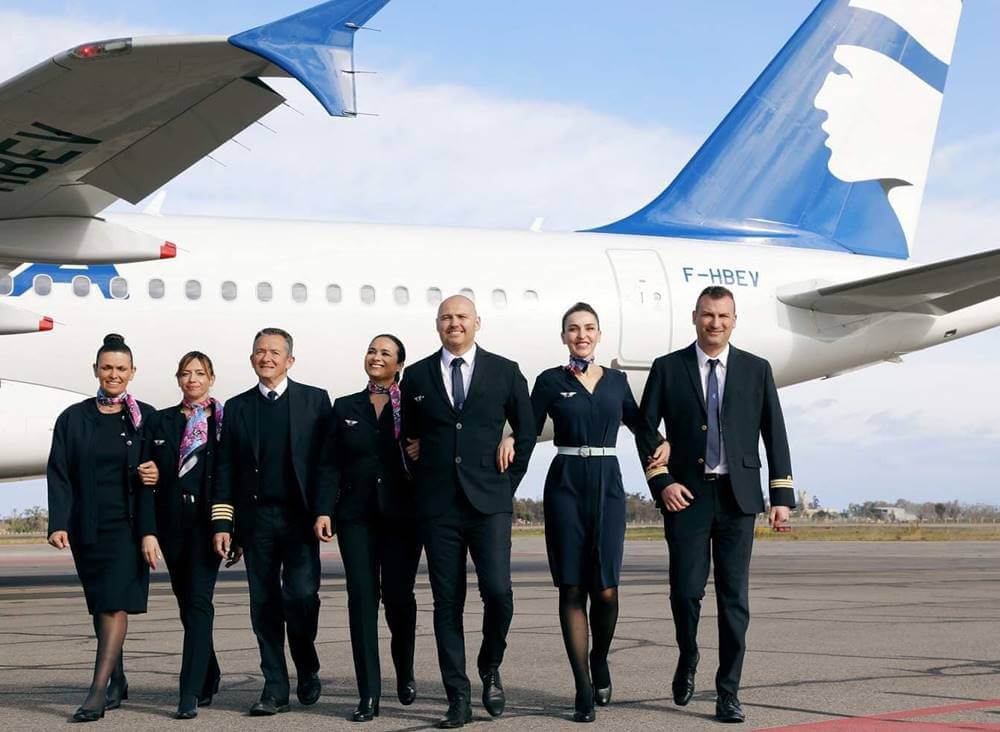 List of Requirements and Qualifications to Become an Air Corsica Cabin Crew
Flight attendants play a pivotal role in ensuring that everyone on board lands safely to their destinations. That is why Air Corsica implements a stringent recruiting procedure. Listed below are the qualifications that applicants need to meet:
Completion of English course or Certification of TOEIC (Test of English for International Communication)
At least 18 years of age
At least a bachelor's degree level
Valid Passport
Ability to pass a medical examination, preferably CEMPN (Centre d'Expertise Médicale du Personnel Navigant) or a medical certification from a class physician 2
Certification from a professional lifeguard indicating the applicant's ability to perform the following exercises: dive, jumpstart, static swim, hands out of the water for 30 seconds, and  execute backstrokes using legs propulsion only up to 25 meters
Submission of criminal record
Eligibility to participate and complete the Air Corsica Cabin Crew Training Program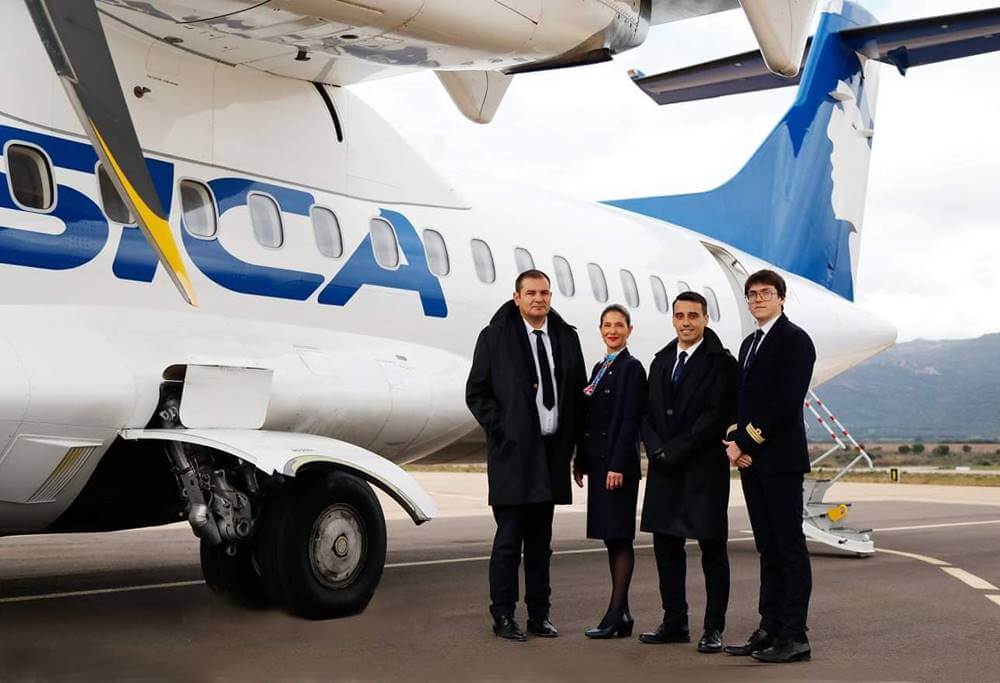 Application Process
Step 1.  Submit your resume or Curriculum Vitae
Qualified individuals as mentioned above, can send their resume or Curriculum vitae and the letter of motivation to this email address, send your CV and letter of motivation to: recruitement@aircorsica.com.
Step 2: Wait for the interview
Once the flight attendant job has vacant positions, applicants who meet the criteria and qualifications will be invited for a scheduled interview. Be sure to practice your English speaking skills, especially in formal discourse as this will mostly affect the outcome of your interview. Most importantly, conduct research beforehand about formal applicants' experience as well as the background or history of Air Corsica
Step 3: Pass all the necessary requirements
Make sure to prepare all the prerequisites necessary for the recruitment as mentioned above such as your bachelor's diploma, passport, medical certificate, and criminal background check.
Step 4: Attend the Cabin Crew Training program
The airline company focuses on the rigorousness of the cabin crew program in order to ensure a high-quality service provided by the employees, especially the flight attendants. This training program is a product of the collaboration of OPCALIA and CCA training as supported by Air Corsica. Before being completely hired by the airline, you must first accomplish the required 390 hours of training which will cover comprehensive courses and practice of English communication, public speaking, hospitality management, and tourist reception.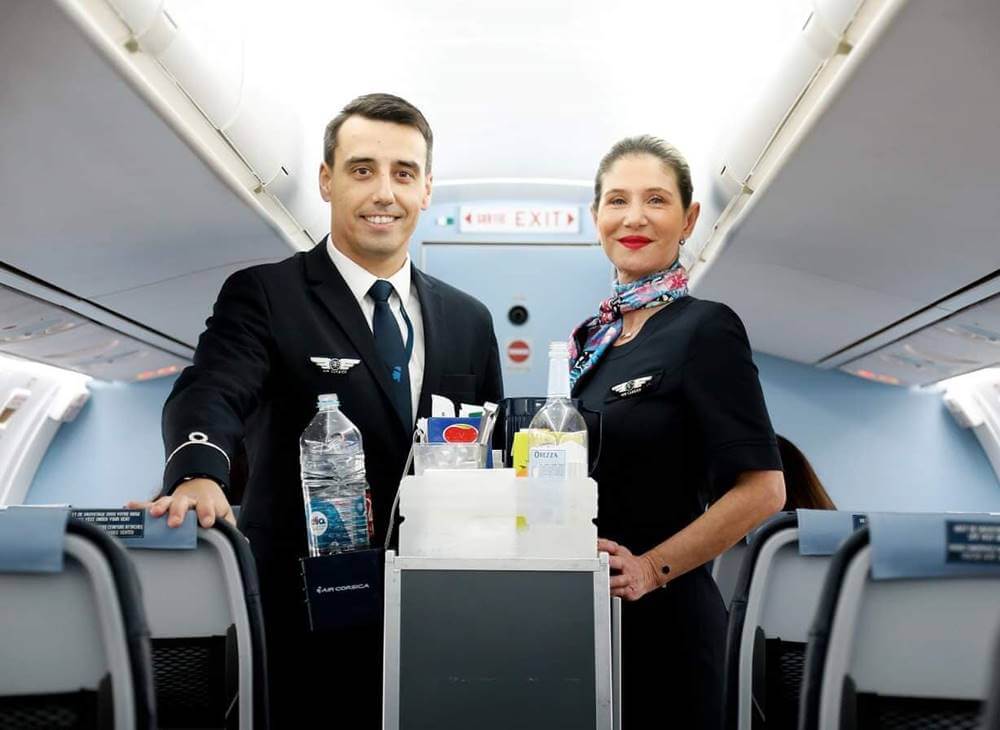 Salary and Benefits
Average Salary of  16,200 EUR per year
Travel packages
Medical Insurance
Paid sick leave
Pension and/or retirement plans
A workplace where employees have multiple opportunities to grow their career and personal life
Life Insurance
Video: An Everyday Routine in Air Corsica
If you are curious about how will your routine be like once you're employed at Air Corsica, you can check this video:
Cabin crews and technicians arrive an hour before the planes are checked for safety and maintenance. A senior pilot who was one of the earliest employees during the pioneering stage mentioned how the company progressed into one of the leading airlines in France. Over thirty years of service, the company's worth increased from 10 million to 200 million EUR which is due to the company's public mission. Through the years, Air Corsica managed to lower the prices to make it more affordable for the community people. As it continues to expand, Corsica decides to collaborate with international lines to keep up with the competition.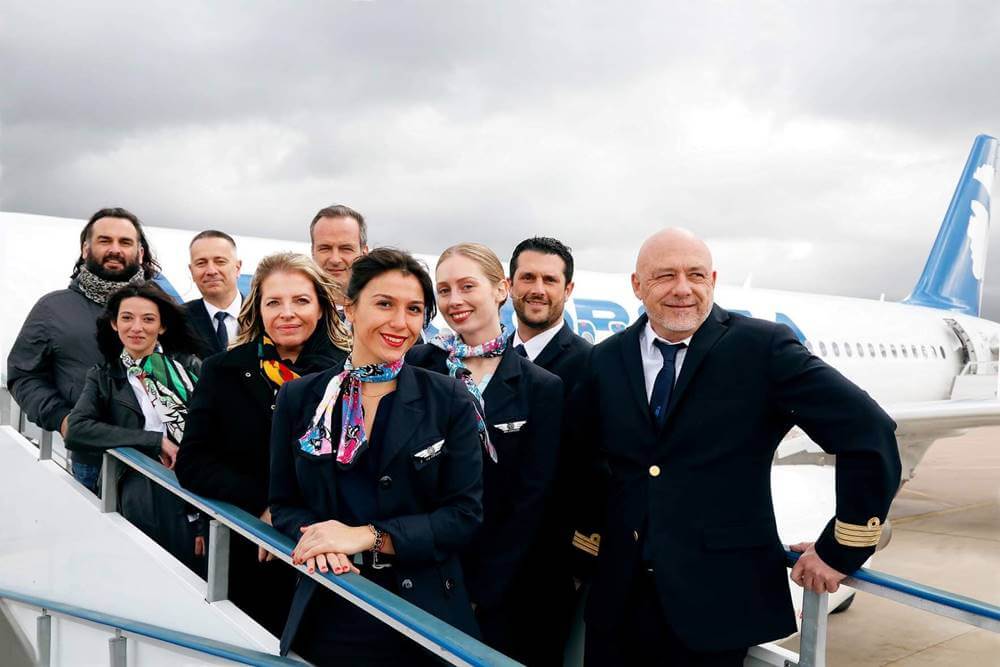 Photos: Air Corsica Airlines Cabin Crew Uniforms
Check out these pictures of Air Corsica Airlines crew so you can see what they look like in uniforms:
Frequently Asked Questions
The following are some of the common questions asked about Air Corsica:
1. Are flight attendants in Air Corsica allowed to have piercings and tattoos?
As the face of Corsica, flight attendants should present themselves in a professional manner. Multiple piercings and noticeable tattoos are prohibited by their policy as well as bizarre hairstyles or makeup.  Just as Air Corsica emphasizes cabin crew training, they also give high value to the appearance or ambience of the airline company as reflected by its employees.
2. Does Air Corsica accept applicants who only have a high school diploma or equivalent education?
Air Corsica requires all of its applicants to have at least a bachelor's degree before their application.
3. What are the aviation services offered by Air Corsica?
Air Corsica operates on domestic and international flights and 30 annual seasonal routes at 16 various airports which include Brussels Sud-Charleroi airport, Belgium. Approximately, Corsica transports 1.6 million passengers yearly across the Caribbean.  Moreover, their fleet of 11 aircraft (  six ATR72-500s with 70 seating capacity and five Airbus A320s with 180 seating capacity) are supervised and served by 660 regular employees. In addition, applicants should consider their proximity to Corsica's headquarters in Ajaccio or their 3 bases in Marseilles, Nice and Paris-Orly.
4. What languages should I learn when applying to Air Corsica?
Since this airline company is based in France, aspiring flight attendants in Air Corsica should be proficient in conversing in French. Also, they require a formal certification such as the TOEIC to assure that qualified applicants can keep up with the global standard regarding the English language.
5. What are the routines or preparations included during the Air Corsica Cabin Crew Training Program?
English course
Public speaking
Training for effective communication
History and heritage of Air Corsica
Short course for Wine and Gastronomy
Air Corsica Tariff
Hospitality management training
Conflict management to develop empathy and handle disagreements or adversities
Training for tourist reception
6. How long will the Cabin Crew Training Program last?
In partnership with OPCALIA, aspiring flight attendants in Air Corsica will undergo a rigorous CCA training of 390 hours in Ajaccio, Corsica.
7. What are the duties and responsibilities assigned to flight attendants in Air Corsica?
Effectively handle the influx of customers during peak periods such as holidays and summer vacation
Contribute to the innovation and advertisements of tourism in the country
Ensure the safety and comfort of the passengers
Assist passengers  with special needs such as the elderly, pregnant women and PWD
Demonstrate safety procedures and protocols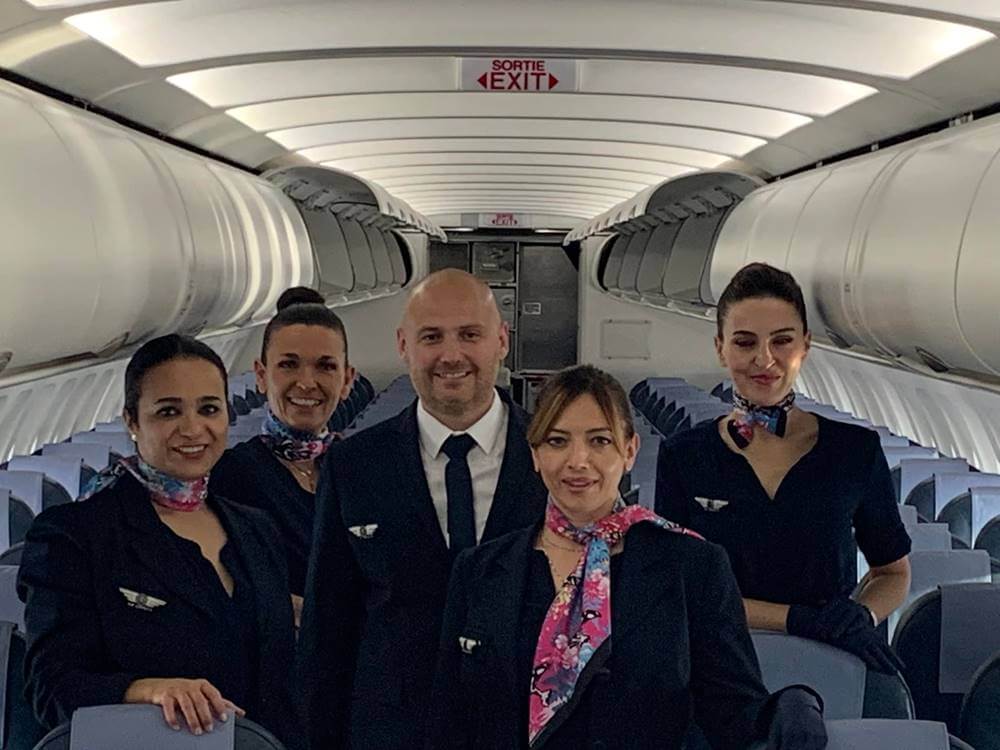 Summary
Flight attendants play an important role in the airline industry. They are responsible for the safety and comfort of passengers during flights. Air Corsica is a regional airline based in France that offers flights to destinations in Europe and North Africa. The airline is currently seeking qualified candidates for the position of flight attendant. Candidates must be at least 18 years old and have a high school diploma or equivalent. They must also be fluent in French and English. In addition, candidates must have excellent customer service skills and be able to work well under pressure. Interested candidates can apply online or in person at the Air Corsica office.
Flight attendants are assigned to challenging journeys thousands of feet above the ground. If you are eligible for all the qualifications presented above, then you can send your application to Air Corsica and be a part of their team as they fly every day across the Caribbean. Just be sure to make sufficient preparations since their training is rigorous and their policies are stringent. I hope this article has helped you gain insights.