People often start their aviation careers as cabin crew. With several benefits in this industry, more fresh graduates and experienced employees are considering applying as a cabin crew.  Whether you want to travel or have an aviation career, working while flying is an exciting challenge. Getting an internship or additional training before applying. Though it is optional, it can give you an edge over other applicants.
Also Read: How to Answer: What are Your Weaknesses?
As we all admit, everyone wants to experience the benefits of being a cabin crew. Aside from getting paid while traveling and hotel perks, being a cabin crew allows you to meet different people from different cultures. It will also practice your smart posture and verbal communication skills. Some of the perks that a cabin crew receives are discounted flight tickets, medical benefits, and a flexible schedule.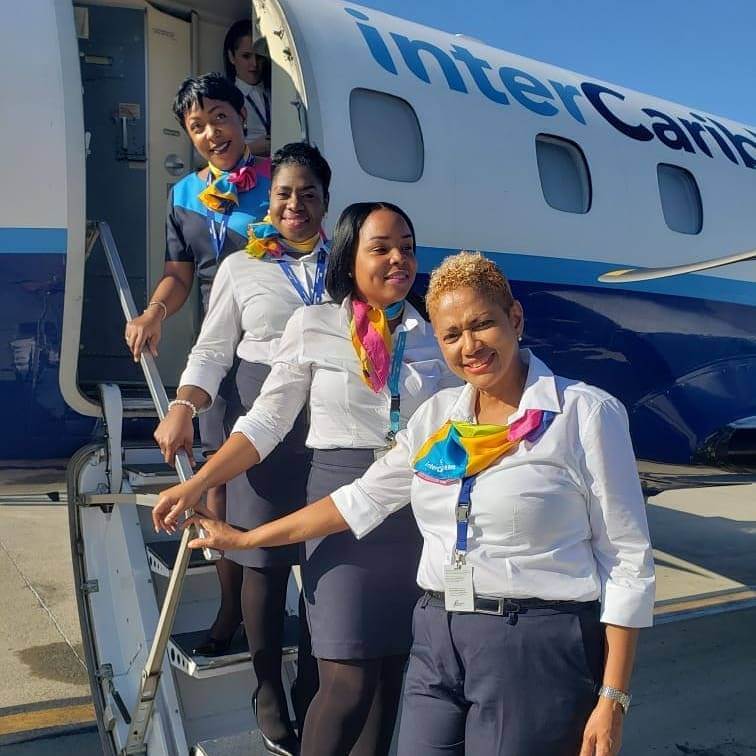 Overview of InterCaribbean Airways
InterCaribbean Airways is based at Providenciales International Airport and is flying around the Caribbean Islands with more than ten destinations. Its network of flights includes Antigua, British Virgin Islands, Cuba, Bahamas, Dominica and Dominican Republic, Puerto Rico, Grenada, Barbados, St. Maarten and St. Vincent and Grenadines, and Haiti. InterCaribbean Airways is also the only non-Jamaican airline that flies people in Jamaica domestically.
Starting as InterIsland Airways in 1991, the airline company was rebranded in 2003 as Air Turks & Caicos, and eventually rebranded as InterCaribbean Airways in 2013.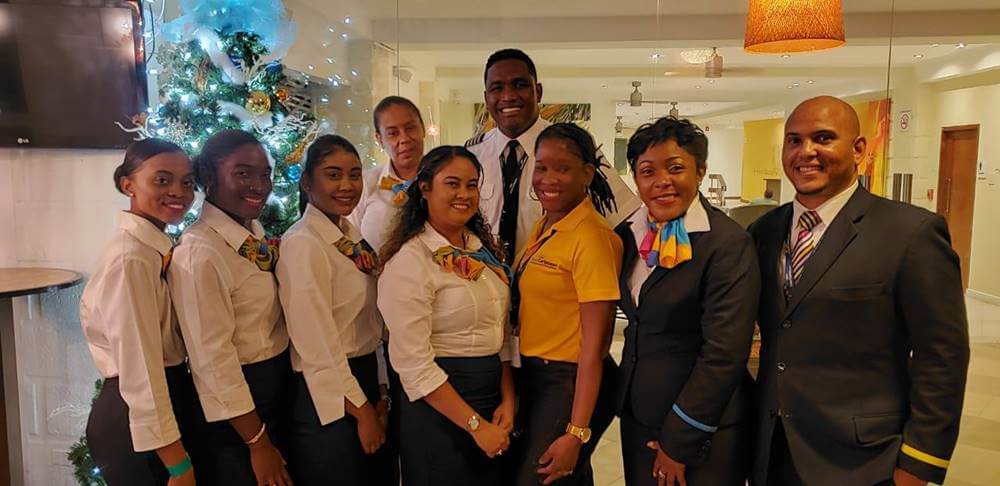 Responsibilities
The main duty of a flight attendant is to ensure the safety and comfort of the passengers. Since all airlines are required by law to deploy flight attendants during flight, almost every protocol and practices among all airlines are similar.
Pre-flight Duties
Flight attendants are required to attend the pre-flight briefing with the pilot to have the relevant information about the flight such as flight duration, route, and weather expectations. Before passengers board the aircraft, flight attendants check the emergency equipment, food and beverages, and the cabin.
Boarding of Passengers
As passengers start to board the plane, flight attendants are expected to give a warm greeting to create attachment and let every passenger know that they can be approached when they need help. They also direct the passengers to their assigned seats and help them with their luggage in the cabin.
Safety Demonstration
Before the aircraft takes off, the flight attendants perform a safety demonstration – locating the emergency exits, vests, and oxygen, how to properly fasten the seatbelt, and how to use emergency equipment. They also check the overhead cabins and seatbelts before take-off. People seated near the emergency exits are also instructed what to do during an emergency.
During Flight
Aside from safety, flight attendants should make sure that every passenger is comfortable. They are also expected to serve the preferred meal and beverage for every passenger or provide blankets and eye covers for long-haul flights. They also need to deal with passengers with special needs and those with unruly behavior to prevent disturbance to other passengers.
Emergencies and Security
Flight attendants are trained to perform first aid, protect the cockpit, inform the passengers should there be any untoward incident during the flight, and direct evacuations during emergencies. Sick or injured passengers should also be given extra care and attention.
Before Landing
Before landing, flight attendants will check once more if every seat belt is properly fastened, no one is inside the lavatory, and all passengers are seated. Cabins should be checked to ensure that all luggage is properly stowed.
Disembarkation
As passengers leave the plane, flight attendants thank every passenger for choosing their airline company and assist and instruct passengers when leaving the plane. Once all passengers are out, flight attendants submit reports on any incidents that may have happened during the flight and check the cabins if there are any left pieces of luggage.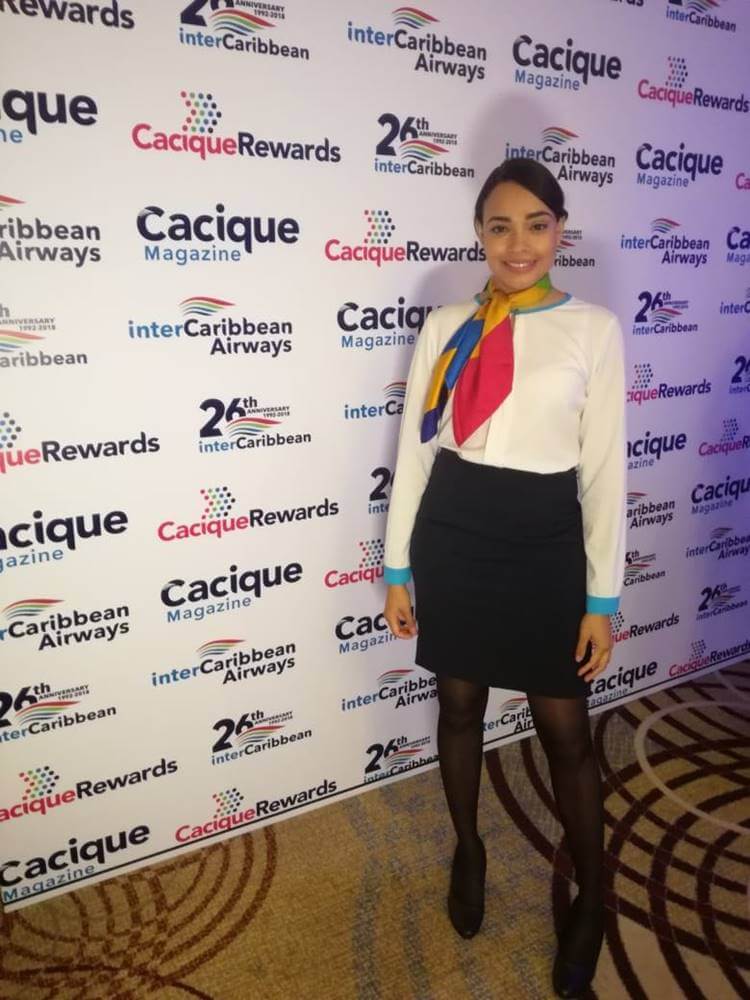 Qualifications
Applying for InterCaribbean Airways needs specific qualifications to ensure that an employee is fit for the job. If you are applying for a flight attendant, there will be additional skills needed as these flight personnel address emergencies which may risk the safety of all passengers.
In some airline companies, only those who have graduated with bachelor's degrees are allowed to apply for a cabin crew position. Check these qualifications to know if you are eligible and fit for the job.
Language Spoken
 Applicants are required to be knowledgeable in the Spanish and English languages. They should also have proficiency in writing, reading, and speaking both languages.
Education
People who wish to apply do not have to be a graduate of the hospitality or tourism industry. With a high school diploma or General Education Diploma, you will be able to have a chance to experience the perks and benefits of being a flight attendant of InterCaribbean Airways.
Age and Related Experience
Those who are over 18 years old may apply for the position as long as they have at least 2 years of experience in face-to-face customer service.
Health Requirements
All applicants should have 20/20 vision with glasses or contact lenses. You should also have the ability to remain calm during emergencies. You should be able to walk properly back and forth on the aisle to assist and attend to passengers' needs.
Personality and Scheduling
Must be confident when wearing the InterCaribbean Airways uniform and deliver the expected delightful experience from the airline company. Since flights are around the Caribbean islands, you should be available to work far from home for at least three days, work during holidays, weekends, and last-minute scheduling.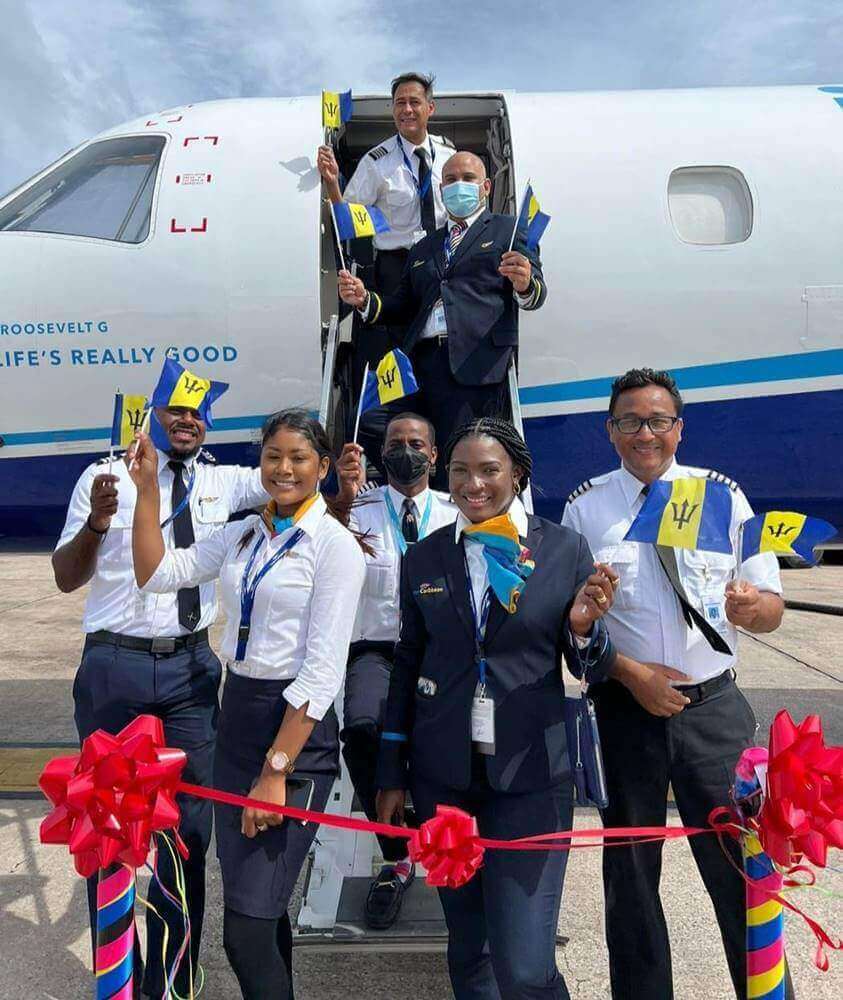 Documents to Prepare
Since you are expected to be in and out of all the countries where InterCaribbean Airways are flying, certain documents are required for you to legally enter and exit a country. Aside from travel documents, all basic requirements when applying for a job should be available once requested.
Curriculum Vitae and Credentials
Like in other job applications, a comprehensive resume is needed that lists all your accomplishments, personal details, and work experiences. Aside from the CV, credentials to prove your education and certificates from other training and previous jobs should also be prepared.
Passport and Travel Documents
Before you apply for the job, ensure that your passport is valid for up to 12 months or more. This is needed to apply for visas for legal entry and exit in each country.
Photographs
Being a cabin crew is a professional job. You need to have a full-body photograph to show that you will be able to carry the InterCaribbean Airways uniform properly.
Vaccination Documents
As part of the Covid-19 health protocol, all applicants should be fully vaccinated to ensure the safety of co-employees and passengers.
Where to Apply for InterCaribbean Airways Online
There are recruitment schedules available in different areas of the Caribbean. You may also apply directly to their headquarters and wait for your scheduled interview. Online applications can also be done through the career page of InterCaribbean Airways' website by CLICKING HERE. Other recruitment websites publish available positions of the airline company.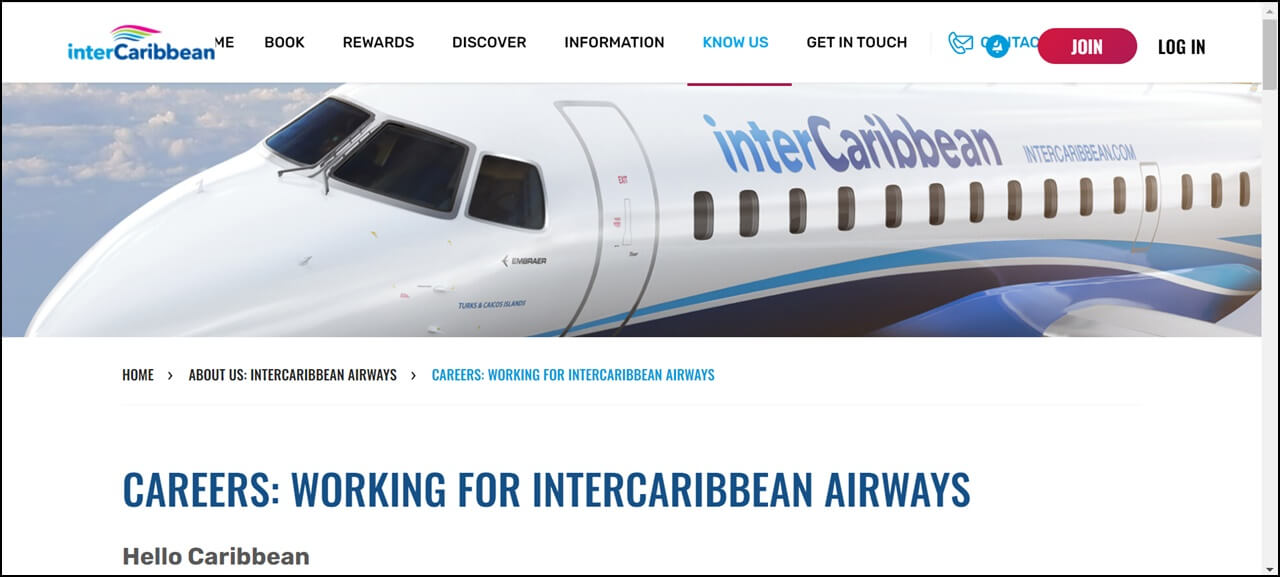 How to Become a Cabin Crew for InterCaribbean Airways
Just like any job hiring, one must follow the process of application to have a seamless job application experience. An aspiring InterCaribbean Flight Attendant is expected to do the following:
Step 1: Prepare your requirements ahead of time and make a checklist to know if they are complete.
Step 2: Update your documents, especially your curriculum vitae as it would summarize all your data including past job experiences.
Step 3: Head to the airline headquarters or send your application online.
Step 4: Wait for the recruiter's call to confirm your application and your interview schedule.
Step 5: Study the possible interview questions which can be found online. Usually, questions on different airlines are similar. If you have applied to other airlines before, you will have an idea of how an interview goes.
Step 6: Wait for the InterCaribbean Airways officer to contact you, confirm your employment, and prepare you for your training and deployment schedule.

Monthly Salary of InterCaribbean Airways Cabin Crew
Knowing how much you should receive will help you decide whether to take the job or not. A typical cabin crew from InterCaribbean Airways receives up to 1,560 USD a month. However, the lowest pay is 530 USD depending on how recent your flights are. Apart from the monthly salary, housing and transport benefits shall also be received.
Video: Message from InterCaribbean Flight Attendants
This video talks about how flight attendants are appreciated and how excited they are in meeting the passengers again.
To know more about the company, you may visit the InterCaribbean Airways website.
Though InterCaribbean Airways only flies around Caribbean islands, the airline company has 4 aircraft which can carry up to 50 passengers, 10 aircraft with 30 passenger seats and lavatories, 9-seater Britten Norman Islander, and an ATR aircraft.
Photos: InterCaribbean Airways Flight Attendant Photos
Check out these beautiful pictures of InterCaribbean Airways Flight Attendants in uniform. If you wish to picture yourself being a part of this company, check out these photos to give you an idea about working for this airline:
Frequently Asked Questions
Now here are the frequently asked questions about InterCarribbean Airways and the application process for the company's flight attendants:
1. Is a drug test required to apply for an InterCaribbean Airways cabin crew?
Yes. Part of the recruitment process is passing a drug test
2. Is there a height requirement for the job?
Yes. An InterCaribbean Airways flight attendant should be able to reach the cabin easily.
3. What skills are important for the job?
Since you are attending to the needs of the passengers, your customer service skills should be excellent. You should be confident in talking to and answering passengers' questions and concerns without keeping them waiting.
Contact Information
INTERCARIBBEAN AIRWAYS
Headquarters: Provedinciales International Airport at the Turks and Caicos Islands
Website: https://www.intercaribbean.com/
Email: hr@intercaribbean.com
Phone Number: +1(649)-941-4459
Facebook: https://www.facebook.com/interCaribbeanAirways/
Instagram: https://www.instagram.com/intercaribbeanairways/?hl=en
Twitter: https://twitter.com/interCaribbean