If you are flying to or from the UK, chances are, you are seeing Aurigny a lot. Aurigny is a known name in the aviation sector because of its resilience and dedication to serving its passengers with the best possible airline experience. 
Also Read: Aurigny Airlines Flight Attendant Salary and Benefits
Founded in 1968, this Guernsey-based airline has not only facilitated vital connections within the Channel Islands but also reached beyond, creating significant gateways to the UK and Europe. But beyond its flight paths and fleet details lies a vibrant work culture. The airline values teamwork, commitment, and impeccable service, which is the reason why its name stands out in the industry. 
This article delves deep into the details of the airline, offering you an exclusive insight into its rich history, operational facts, and the unique environment that defines life at Aurigny.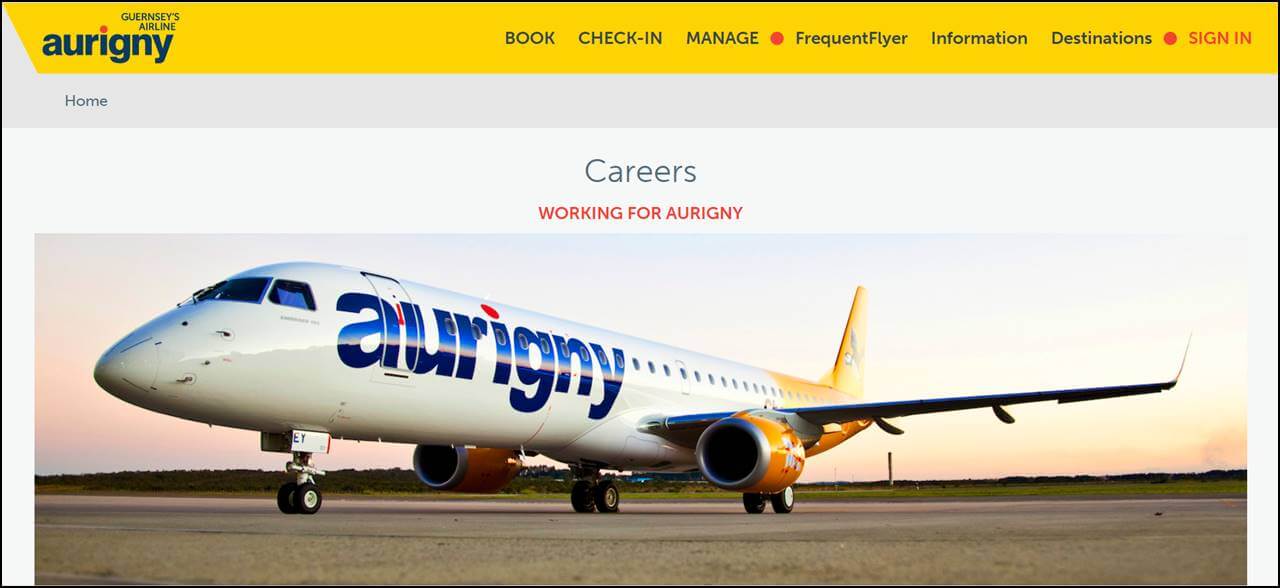 Quick Facts
Airline Name:

Aurigny

 
Airline IATA Code:

GR

Headquarters:

Bailiwick, Guernsey

Founded:

January 1964

Number of Destinations:

13

 
Fleet Size:

7

Fleet Types:

RUAG Aviation 228 NG, ATR 72-600, Embraer 195

Location Hubs/Bases:

Guernsey Airport (Bailiwick, Guernsey)
Brief History Overview
In 1968, Sir Derrick Bailey started an airline called Aurigny Air Services right after British United Airways stopped flying from Alderney to Guernsey. At first, it used small planes to fly passengers between three islands: Guernsey, Jersey, and Alderney. Since a lot of people are utilizing the airline, they flew about 45,000 passengers in just a year. 
In 1971, the airline purchased a bigger place–the Britten-Norman Trislander. This allowed them to fly even farther, to places in France and England. In 1977, it became the first airline to prohibit smoking on all its flights. A few years later, they joined Anglo Normandy Aviation and started delivering mail. By 1999, they were flying to big cities like London and Amsterdam, but they stopped going to Amsterdam after some time due to limited demand. This showed that they grew from a small island airline to a regional one.
Products and Services
Booking Flights: Aurigny provides an online booking system, allowing passengers to effortlessly plan their journeys. By entering travel dates and destinations, users can view all available flight options. This platform showcases prices, timings, and seat availability, ensuring travelers can make informed decisions. Plus, it offers flexibility, letting passengers adjust their plans if needed.
Frequent Flyer: Loyal travelers with this airline can benefit from their Frequent Flyer program. Each flight taken accumulates points, which can be stored and later redeemed for discounts, special privileges, or even complimentary flights. It's an excellent way for regular fliers to maximize their travel benefits and get the most out of their trips.
Business Plus: Tailored especially for the business traveler or those desiring added luxury, Business Plus offers an enhanced travel experience. This package ensures passengers can enjoy priority check-in, avoiding long queues. Additionally, it comes with an increased baggage allowance and ensures passengers have access to the best seating options, guaranteeing both convenience and comfort.
Duty-Free: In-flight Duty-Free shopping is a highlight for many. While soaring above, passengers can indulge in shopping for a variety of products, from luxury perfumes to delicious chocolates, all tax-free. It's not just about buying; it's about enjoying exclusive deals that aren't available on the ground, making the journey even more memorable.
Gift Vouchers: Think of a gift that lets someone explore new destinations. Its gift vouchers are perfect for this. These vouchers can be purchased and then gifted, allowing the recipient to use them for booking flights or accessing other services. It's a thoughtful present, ensuring the gift of travel and adventure.
Onboarding Services like SkySnacks: Flying isn't just about reaching a destination; it's about the journey. It ensures this journey is pleasant with services like SkySnacks. Passengers can choose from a curated menu of delicious snacks and refreshing beverages, ensuring they remain satiated and comfortable throughout their flight. It's a small touch that greatly enhances the in-flight experience.
Work Culture
At Aurigny, working is a mix of fun and adventure. You can imagine flying to different places like the U.K., Ireland, and Europe while working with some cool and nice team mates. It's based on an island called Guernsey. Living there is like being on a long vacation– it's peaceful, the people are super friendly, and there are lots of beautiful spots where you can just walk and relax.
Now, about the job hours: if you start working early in the morning, you'll begin at 6 AM and finish by 1 PM. But if you work in the afternoon, you start at 1 PM. and end at 9 PM. Expect that this may change slightly depending on the flight schedule chosen. One of the best things is that no matter how long the day is, you always get to sleep in your own bed at night. Only once in a while, if there's a special flight (called a charter), you might need to sleep somewhere else. According to its employees, this doesn't happen often. All in all, working for this company sounds like a positive experience for most of its employees. 
Benefits for Employees
Training and Development:

It deeply values the growth of its employees. Through their High Flyers Programme, they not only equip you with the skills needed for your job role but also focus on your personal development, ensuring you reach your fullest potential both in and out of the workplace.

Travel and Discounts:

Working with this airline comes with the exciting perk of reduced-rate travel, allowing you to explore the world without burning a hole in your wallet. Additionally, employees benefit from discounted rates on car rentals, and hotel stays globally, making their travels more affordable and enjoyable.

Paid Leave and Absence Support:

Recognizing the importance of work-life balance, it provides its employees with paid holidays. Moreover, during times when you might need to be away, the company offers supportive measures to ensure your well-being and smooth return to work.

Medical Insurance:

Health is wealth, and it acknowledges this by providing its employees with medical insurance. This ensures that you have access to quality healthcare whenever needed, safeguarding your well-being.

Company Pension Scheme:

Thinking of the future, it offers a robust pension scheme. Both the employee and the company contribute to this fund. What's more, members of this scheme receive enhanced benefits like superior sickness pay and additional financial support in the unfortunate event of death while in service.

Location and Parking

: The company's setting outside the city hustle (in Guernsey) offers employees a serene work environment. Plus, no more parking problems. it provides dedicated staff parking, ensuring convenience from the moment you arrive to when you depart.
Video: Cockpit Full Flight with ATC: Aurigny ATR72, Manchester to Guernsey
Here's a video that takes you on a journey from Manchester to Guernsey. You'll see the whole trip from inside the cockpit and the main cabin. Plus, World Aviation HD gives a cool shot of the plane taking off. During the flight, you can check out the awesome views of England, the English Channel, and a breathtaking landing in Guernsey. And if you're curious about pilot chatter, the video includes all the air traffic control (ATC) talks throughout the trip.
Summary
In summary, Aurigny seems to be a fine airline that doesn't only take care of its passengers but also its employees with all the benefits and positive working relationships. Whether you are interested to know more about this airline or you want to research first before onboarding one of its flights, we hope this article provides you with what you are looking for. 
Contact Information
Company Name: Aurigny
Address: Aurigny Air Services Ltd, States Airport, La Planque Lane, Forest, Guernsey, GY8 0DT, Channel Islands
Telephone No.: +44 1481 267267
Website: https://www.aurigny.com
Facebook: https://www.facebook.com/aurignyairservices
Instagram: https://www.instagram.com/aurigny_gsy
Twitter: NA