Blue Islands is a notable airline that's made its mark in the aviation sector. Originating from the Channel Islands, this airline has grown to serve multiple destinations, bridging communities and ensuring travelers reach their destinations with ease. Whether you're a frequent flyer or just looking to learn more, Blue Islands promises a blend of efficient service and unique travel experiences.
Also Read: Blue Islands Airlines Flight Attendant Requirements
While its main office sits in Forest, Guernsey, the company's registered office is found in Saint Anne, Alderney. The airline primarily flies routes within the Channel Islands and extends its wings to various destinations in the UK and Europe, using Guernsey Airport and Jersey Airport as their main hubs. For a while, starting in June 2016, it flew under the Flybe name. However, this collaboration ended in March 2020 when Flybe faced some business challenges.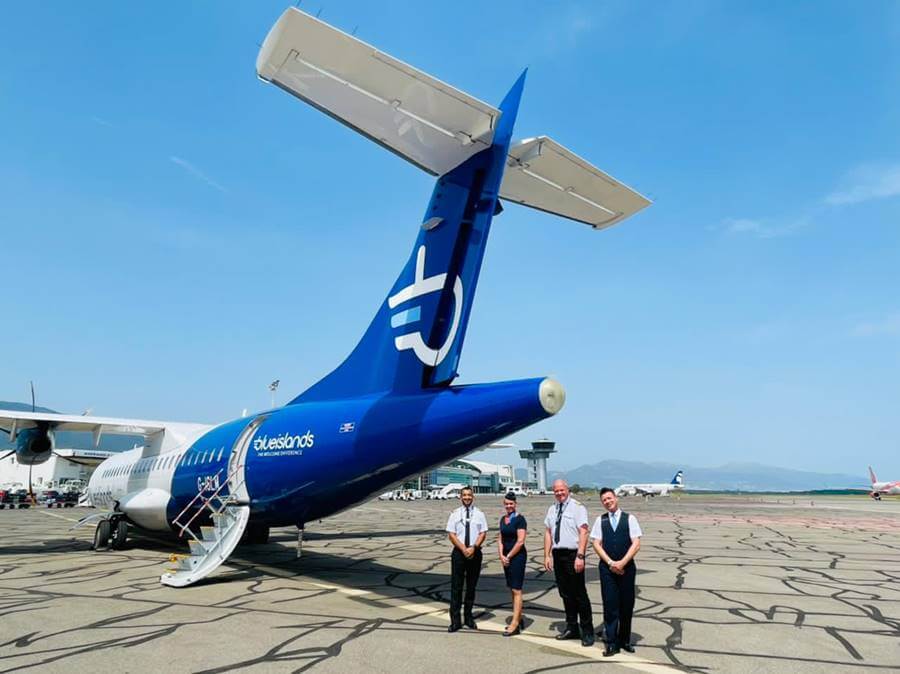 Quick Facts
Airline Name:

Blue Islands 

Airline IATA Code:

SI

Headquarters:

St. Peter Port, Guernsey

Founded:

1999 (as Le Cocq's Airlink), 2003 (as Rockhopper), 2006 (as Blue Islands)

Number of Destinations:

12

Fleet Size:

5

Fleet Types:

ATR 72-500

Location Hubs/Bases:

Guernsey Airport (Bailiwick, Guernsey), Jersey Airport (Jersey, Channel Islands)
Brief History Overview
Blue Islands has its roots going back to 1999, even though it was officially established in 2001. Originally, it began as a modest venture by Le Cocq's Stores in Alderney, known then as Le Cocq's Airlink. Their primary focus was transporting fresh goods from Bournemouth, located in southern England, to the island of Alderney. By February 2002, they expanded their services to regular flights on the same route. A few months later, in August 2003, they decided to go by the name 'Rockhopper'.
In 2004, there was a significant shift. Healthspan Leisure took over the ownership. With this new leadership in 2005, the airline added Jetstream aircraft to its lineup, signaling growth and expansion. January 2006 marked another milestone: they moved their main base from Alderney to Jersey. Today, their headquarters sit in St. Peter Port, Guernsey, specifically at Healthspan House, The Grange. Owned entirely by the Healthspan Group, it underwent another transformation. In February 2006, the airline said goodbye to 'Rockhopper' and embraced the name 'Blue Islands'. This name change was perfectly timed with the arrival of their 19-seater BAe Jetstream 31 aircraft and the launch of new routes, including one to the Isle of Man.
Products and Services
Bank Holidays:

It knows that bank holidays are special days when most people get a day off from school or work. So, if you're planning a trip on these days, they've got flights ready for you. This means you can take a short vacation or visit family and friends without worrying about missing your flight.

Fly Rail:

With the Fly Rail service, it makes your journey smoother. After landing from your flight, you can hop right onto a train. This service connects your air travel with train rides, so you don't have to wait or find a different way to your final destination. The train costs as low as £36. 

Car Hire:

Don't have a car at your destination? No problem. It has a Car Hire service. This means that once you land, you can rent a car right away and drive to wherever you need to go. It's super convenient, especially if you're visiting places that are far from the airport. You can get up to 15% off with this service.

Booking flights

: The airline offers flights to various places. This is their main service, helping people like you travel from one city to another. Whether you're going on vacation, visiting family, or just exploring, it has a plane ready to take you there. 
Work Culture
At Blue Islands, employees are treated with care and commitment. The company sets the bar high when it comes to training, ensuring every employee in every sector receives top-notch guidance and knowledge. One of the standout perks of working here is the staff travel benefits. After you've completed your probationary period, you're entitled to some of the best travel deals that are truly unbeatable. Not just that, it boasts a professional environment where every member, including the management and human resources, is approachable and fair. The company also offers a decent salary, complemented by a generous amount of holiday time, ensuring work-life balance for all.
Benefits for Employees
Thorough training & further opportunities for career development

: At Aurigny, employees dive into comprehensive training that not only ensures they're ready for their roles but also sets them up for advancement. The company believes in nurturing talents and paving the way for future growth and opportunities.

Receive continued support and feedback

: Communication is key at Aurigny. Employees are consistently in the loop, receiving regular feedback to help improve their performance. This continuous support ensures that they feel valued and have the guidance to excel in their roles.

A competitive salary together with a benefits package

: When you work for Aurigny, you're rewarded with competitive pay. But it doesn't stop there. Benefits like staff travel privileges, holiday time, healthcare, and life cover underscore the company's commitment to its employees' well-being and satisfaction.

Full or part-time positions with a varied roster pattern

: Flexibility is crucial, and Aurigny understands that. Whether you're seeking full-time engagement or a part-time role, the airline offers varied roster patterns to suit different needs, ensuring a balance between work and personal life.
Video: Blue Islands Launch Highlights
Blue Islands is making a grand comeback. Now, the airline is offering services to a diverse range of destinations, including Jersey, Guernsey, and major airports like Southampton, Exeter, and Manchester, to name a few. This video chronicles the exciting journey of its relaunch, marking a new chapter in its aviation story.
Summary
Now that you've read this article, we hope that we helped you find some significant details about Blue Islands. Whether you're someone looking for Blue Island flights or a person who wants to know how it is to work for this airline, you've got all the information you need. It's definitely known for its aviation services, and it's great to know what's happening behind its flights. 
Contact Information
Company Name: Blue Islands
Address: Blue Islands, Jersey Airport, St Peter, Jersey JE3 7BP
Telephone No.: 01234 589 200
Website: https://www.blueislands.com
Facebook: https://www.facebook.com/blueislandsofficial/
Instagram: https://www.instagram.com/blueislandsofficial/
Twitter: NA