If you are looking for more information about Wizz Air, you've come to the right place. Wizz Air is originally branded as Wizz Air Hungary Légiközlekedési Zrt., originating from Hungary. Currently, it is known as the leading multinational budget airline, with its headquarters located in Budapest. 
Also read: Wizz Air Airlines Flight Attendant Requirements
Although the airline doesn't represent Hungary as its flag carrier, it's well-known for its extensive feet, with operations in 54 nations. It operates on several continents, including Europe, North Africa, the Middle East, and South Asia. If you've heard about Wizz Air Holdings, it's actually a subsidiary of this airline.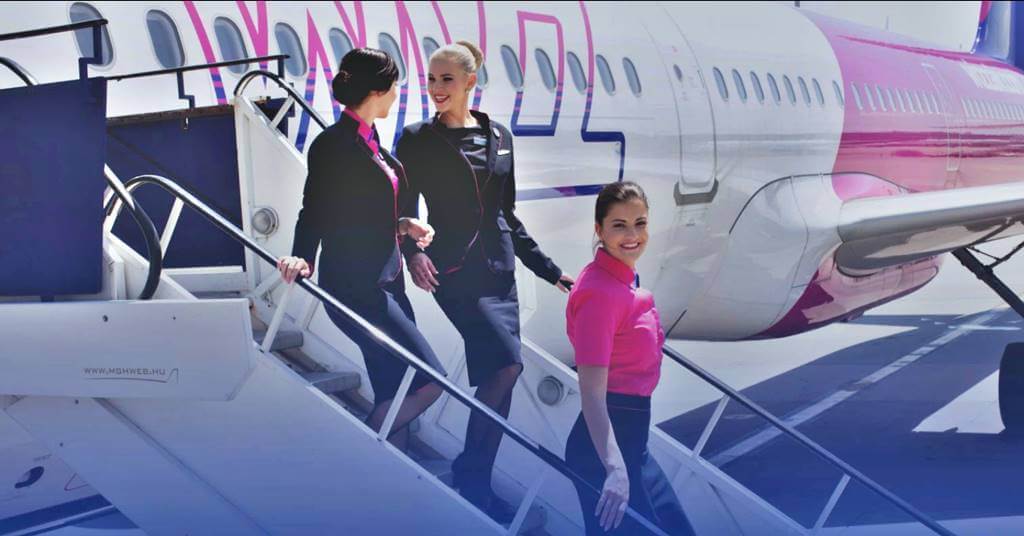 Quick Facts
Airline Name:

Wizz Air

Airline IATA Code:

W6

Headquarters:

Budapest, Hungary

Founded:

September 2003

Number of Destinations:

194

Fleet Size:

184

Fleet Types:

Airbus A320, Airbus A321, Airbus 330, Boeing 737 NG/Max

Location Hubs/Bases: Abu Dhabi International Airport (Abu Dhabi, UAE), Belgrade Nikola Tesla Airport (Belgrade, Serbia), Bucharest Henri Coandă International Airport (Bucharest, Romania), Burgas Airport (Southeast Bulgaria), Catania–Fontanarossa Airport (Catania, Sicily), Avram Iancu Cluj International Airport  (Cluj-Napoca, Romania), Craiova International Airport (Craiova, Romania), Debrecen International Airport (Hajdú-Bihar County, Hungary), Gdańsk Lech Wałęsa Airport (Gdańsk, Poland), Iași International Airport (Iași, Romania), Katowice Wojciech Korfanty Airport (Katowice, Poland), Kraków John Paul II International Airport (Kraków, Poland), Kraków John Paul II International Airport (Balice, Poland), Kutaisi International Airport (Kutaisi, Georgia), Larnaca International Airport (Larnaca, Cyprus), London Gatwick (London, England), London Luton Airport (Bedfordshire, England), Milan Malpensa Airport (northern Italy), Naples-Capodichino International Airport (Naples), Rome–Fiumicino International Airport (Fiumicino, Italy), Sibiu International Airport (Sibiu, Transylvania), Skopje International Airport (North Macedonia), Sofia Airport (Sofia), Suceava Ștefan cel Mare International Airport (Suceava, Romania), Timișoara Traian Vuia International Airport (Timișoara, Romania), Tirana International Airport (Albania), Tuzla International Airport (near Tuzla, Bosnia and Herzegovina), Varna Airport (Bulgaria), Venice Marco Polo Airport (Venice, Italy), Vienna Airport (Vienna, Austria), Vilnius International Airport (Vilnius, Lithuania), Warsaw Chopin Airport (Warsaw, Poland), Copernicus Airport Wrocław (southwestern Poland)
Brief History Overview
Wizz Air was founded in September 2003, with Indigo Partners taking the lead in investments. Indigo Partners is known as an American private equity entity with a focus on transport investments. At the helm of it is CEO József Váradi, who formerly led Malév Hungarian Airlines. The airline's official registration is with Hungary. 
In May 2004, it embarked on its maiden voyage from Katowice International Airport. Later after that, in 2015, the public was able to start trading the company's shares on the London Stock Exchange. In a significant move in 2017, the airline revealed intentions to inaugurate a UK segment–Wizz Air UK. This move aimed to capitalize on the landing slots that became available when Monarch Airlines went under that year. 
After successfully gaining an AOC and a Type A Operating Licence from the CAA, the new division initiated its operations in 2018, utilizing British-registered aircraft. This year posted significant milestones for the airline as it projected the employment of around 100 staff for its UK division on top of its license acquisition.  Thereafter, the airline shared its strategy to breathe life back into its subsidiary, Wizz Air Ukraine, three years after its shutdown. 
To date, its major operational hubs are situated at the Budapest Ferenc Liszt International Airport and London Luton Airport, with services extending to 194 global airports.
Products and Services
Budget-friendly flights

– The airline offers cost-effective air travel, providing passengers with an affordable option for reaching their destinations without compromising on quality or safety. You can easily check the destinations available on its website. 

Affordable hotel bookings

– On top of the flights you can book with the airline, you can also reserve your hotel with Booking.com and get 5% of your booking value back as WIZZ credit. This is readily available on its website. 

Car rental services

– For those needing car services, the airline offers a chance to reserve your car with Rentalcars.com and get a % of your booking value back as WIZZ credit. 

Airport transfers

– For easier transport from the airport to your hotel, Wizz Air is providing airport transfers with more than 100 routes. You can easily book taxis and buses on the website. 

Airport Parking

– If you need to park your car while you are on the way to your chosen destination, the airline has it covered for you. You can easily save up to 60% when you avail of its airport parking services. 

Travel planner

– This is an additional service that you can avail of from the airline's website without a fee. This will easily help you discover the airline's destinations and be inspired, from great budget breaks to the best beach holidays.
Work Culture
Working for Wizz Air comes with numerous benefits that reflect its commitment to employee satisfaction. Employees enjoy a competitive salary along with ample opportunities for professional growth. The airline's diverse routes mean that staff often find themselves traveling to appealing destinations, and working alongside friendly colleagues from places such as Hungary and Ukraine further enriches the experience. Communication within the team is streamlined and effective, ensuring a cohesive work environment.
Its organizational culture is praiseworthy, with a particular emphasis on work-life balance, allowing employees to maintain harmony between their professional and personal lives. Management is supportive and fosters a positive atmosphere. The vibrant pink planes are a unique aspect of working flights, adding a dash of fun to the workday. Additionally, the scheduling is considerate of employees' preferences, offering choices between morning and afternoon shifts. 
Benefits for Employees
A competitive salary

– Offering a salary package that stands out in the industry, Wizz Air ensures that its employees are well-compensated for their expertise and dedication.

A stable job at a continuously developing company

– It provides a dynamic work environment brimming with vibrancy while ensuring job stability in a company that's always evolving and growing.

Work-life balance

– Employees can capitalize on exclusive travel discounts, allowing them to explore WIZZ destinations on their own time, making travel more accessible and enjoyable for them and their loved ones.

Complete and free Cabin Crew training

– It invests in its staff by offering comprehensive cabin crew training at no cost, ensuring they are well-prepared and confident in their roles.

Working according to a monthly published schedule

– Employees benefit from a structured work environment, with schedules published monthly, allowing for predictability and better personal planning.
Video: Wizz Air tested Sustainable Aviation Fuel supply at Budapest Airport
In May 2023, Wizz Air collaborated with Budapest Airport, MOL, and Neste to pioneer the commercial trial of sustainable aviation fuel (SAF) in Hungary. This initiative aligns with the larger vision of the aviation sector to curb CO2 emissions. Additionally, the endeavor is geared towards readying the fuel distribution system at Budapest Airport in anticipation of the EU's SAF integration directives set for 2025.
Summary
Wizz Air not only stands tall due to its storied past but also its forward-looking approach in offering cutting-edge products and services to its passengers. Beyond mere transportation, they ensure a holistic flying experience. What sets them further apart is their unwavering commitment to employee welfare, offering various benefits that underscore their importance to the organization.
Contact Information
Company Name: Wizz Air
Address: Laurus Offices, Kőér street 2/A, Building B, H-1103, Budapest, Hungary
Telephone No.: +48322132916
Website: https://wizzair.com/
Facebook: https://www.facebook.com/wizzair/
Instagram: https://www.instagram.com/wizzair/
Twitter: https://twitter.com/wizzair