British Airways is a UK-based global airline that has been a cornerstone of international air travel for decades. With its extensive network, exceptional service, and rich history, the airline has solidified its position as a leading flag carrier of the United Kingdom and one of the most esteemed airlines in the world. 
Since its establishment, the airline has remained dedicated to connecting people, destinations, and cultures while consistently setting the standard for innovation and passenger experience excellence. 
Image: British Airways
Quick Facts
Airline Name:  British Airways
Airline IATA Code: BA
Headquarters: London, England, UK
Founded: March 31, 1974
Number of Destinations: 183
Fleet Size: 257
Fleet Types: Airbus A319-100, Airbus A320-200, Airbus A320neo, Airbus A321-200, Airbus A321neos, Airbus A350-1000, Boeing 777-200ER, Boeing 777-300ER, Boeing 787-8, Boeing 787-9, Boeing 787-10, Airbus A380
Location Hubs/Bases: Gatwick Airport (London-Gatwick), London-Heathrow Airport (Heathrow)
Brief History Overview
Founded on March 31, 1974, British Airways resulted from a merger between two renowned British Airlines: British European Airways (BEA) and British Overseas Airways Corporation (BOAC). A commitment to expansion and innovation marked the early years of the airline. This included new and more robust aircraft such as the Concorde supersonic jet, which symbolized the embodiment of luxury air travel and technological advancement. Its progress continued throughout the 1980s and the 1990s, earning a reputation for extensive routes, world-class inflight amenities, and quality service.
Despite facing challenges in the 21st century, the company managed to navigate through industry shifts and changing passenger preferences with adaptability and resilience. It prioritized sustainability efforts, investing in more fuel-efficient aircraft and implementing eco-conscious activities. Its partnerships and strategic alliances through the years have further cemented its place as a leading global carrier, with its legacy being a symbol of reliability and quality in the aviation landscape until today. 
Products & Services
Global Connectivity.

British Airways boasts an extensive network of destinations, connecting travelers to cities across the globe. This allows passengers to explore diverse locations and cultures. 

Cargo Services

. The airline provides reliable and efficient transportation of goods worldwide to cater to businesses' shipping needs. 

Premium Cabins

. Cabin classes include First Class, Club World (Business Class), and World Traveller Plus (Premium Economy), providing tailored amenities and comfort to suit travel preferences. 

Personalized Service

. True to its commitment to quality service, the airline offers personalized assistance for passengers with reduced mobility and attentive inflight service so each traveler's needs are cared for.

World-Class Lounges

. Travelers can relax in British Airways' exclusive lounges that come with comfortable seating, business facilities, and complimentary refreshments that'll help them unwind before flights. 

High-quality dining

. Passengers enjoy a sophisticated dining experience, ranging from gourmet meals to fine wines. 

Inflight entertainment

. The airline's cutting-edge entertainment of music and TV shows helps keep passengers engaged throughout the flight. 

Wi-Fi

. Selected aircraft offer inflight connectivity so passengers can work and browse the internet throughout their journey. 

Partner Services.

British Airways collaborates with a network of partner airlines which enhances its offerings with joint ventures and codeshare agreements to provide customers with a broader choice of destinations and routes. 
Work Culture
British Airways has a distinctive work culture that combines tradition with innovation, promoting its commitment to exceptional service. With an unwavering customer-centric approach, every employee is dedicated to providing an elevated passenger experience for everyone. The airline freely embraces innovation and change, ensuring that it remains at the forefront of modern technologies and aviation trends. 
Diversity is also championed and celebrated in the company's work culture. It believes that a global team brings diverse perspectives, which fosters a rich environment of respect and inclusivity. Similarly, this cultivates a collaborative spirit within the workforce, encouraging various departments to work seamlessly together. 
The company puts a premium on its employees' professional growth as well – one which underpins the airline's success. For this reason, employees are offered abundant opportunities for skill enhancement to foster personal and collective development. This culture of unity, resilience, and unity has allowed the airline to overcome challenges and continue to thrive.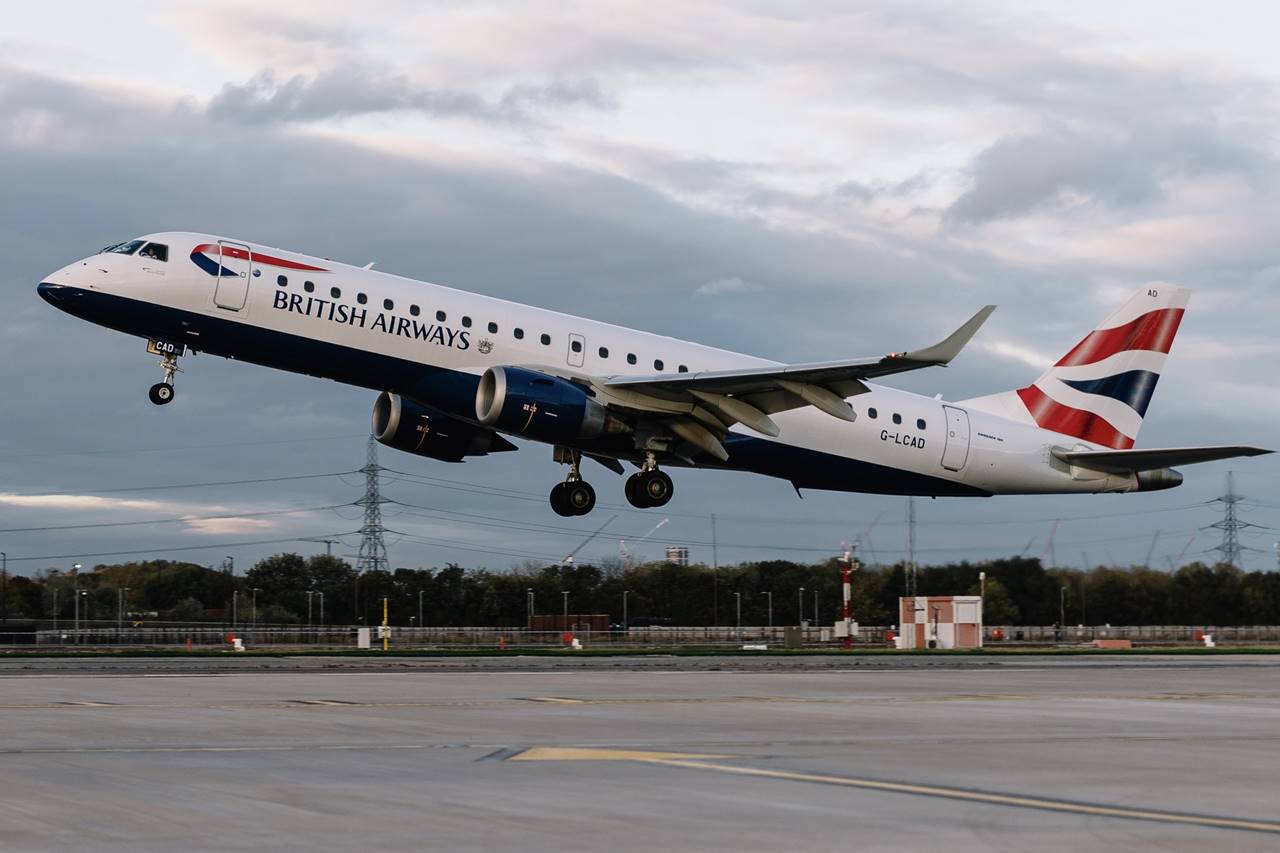 Benefits for Employees
Competitive Compensation.

Employees are offered competitive salaries that align with industry standards and their respective contributions. 

Travel Privileges.

The airline offers employees complimentary or discounted travel perks, allowing them and their family members to experience the joy of flying with British Airways. 

Retirement Plans.

The company also offers pension and retirement savings plan options so employees can have financial security for their future. 

Health and Wellness.

Comprehensive health insurance plans are in place for employees at the company. This includes medical, dental, and vision coverage to ensure that they and their respective family members can access the health services they need. 

Professional Development.

Employees can upskill and grow professionally by taking advantage of training, workshops, and development opportunities provided by the company. 

Employee Discounts

. The company offers employee discounts on various products and services, from travel-related expenses to retail and entertainment. 

Diversity and Inclusion

. British Airways values diversity and inclusion, which is why it strives to create an environment that celebrates and respects each employee's perspective and voice. 

Community engagement.

The company follows a culture of giving back, evident in its Flying Start flagship charity program. It encourages employees to give back to the community through charitable initiatives and volunteer opportunities to drive a sense of purpose. 
Video: British Airways: Fuelled by Love
This emotive video tells the heartwarming story of an airline employee who goes above and beyond, embodying the spirit of British Airways' dedication to its passengers. It mainly narrates the employee's genuine care and consideration for passengers, elevating their flying experience from ordinary to extraordinary. This encapsulates the airline's ethos of going the extra mile to create special moments for travelers. It also shows that human connection and compassion are among the airline's core values – some of which are considered vital in the aviation industry.
Summary
With over 100 years of experience in its belt, British Airways has evolved into a symbol of excellence in the aviation landscape. From its commitment to exceptional customer service to its pioneering methods in embracing sustainability and technology, British Airways remains a global leader when it comes to quality air travel. 
Contact Information
Company Name: British Airways
Address: British Airways, Plc. Waterside PO Box 365 Harmondsworth, UB7 0GB United Kingdom
Telephone Number: 0344 493 0785
Website: https://www.britishairways.com/
Facebook: https://www.facebook.com/britishairways/
Instagram: https://www.instagram.com/british_airways/
Twitter: https://twitter.com/British_Airways