If you want to join the Blue Islands flight attendant team, there are a few things you need to know. First and foremost, you must be at least 18 years of age and have a high school diploma or equivalent. You'll also need a valid passport and the ability to speak English fluently. In addition, you should be able to swim and have experience with first aid. If you have these qualifications, you'll be well on your way to becoming a Blue Islands flight attendant.
Also Read: How to Answer: What are Your Strengths?
Blue Islands is an airline based in the Channel Islands. It operates services to destinations in the United Kingdom, France, Ireland, and Jersey. Its main base is Jersey Airport. The airline has been in operation since 2002 and currently employs around 165 people. Since its inception in 2002, Blue Islands has been a staple airline of the Channel Islands, providing reliable service to tens of thousands of passengers every year. Based out of Guernsey, in the heart of the English Channel, Blue Islands offers flights to Jersey, Southampton, and London-Gatwick, among other destinations.
Aside from that, the airline's flight attendants are known for their friendly and professional service. In addition to providing excellent customer service, they also play an important role in safety procedures on board the aircraft. They are also known for being friendly and attentive, and they strive to provide a high level of service to all passengers. Read on to learn more about the company and its requirements and qualifications for becoming a flight attendant.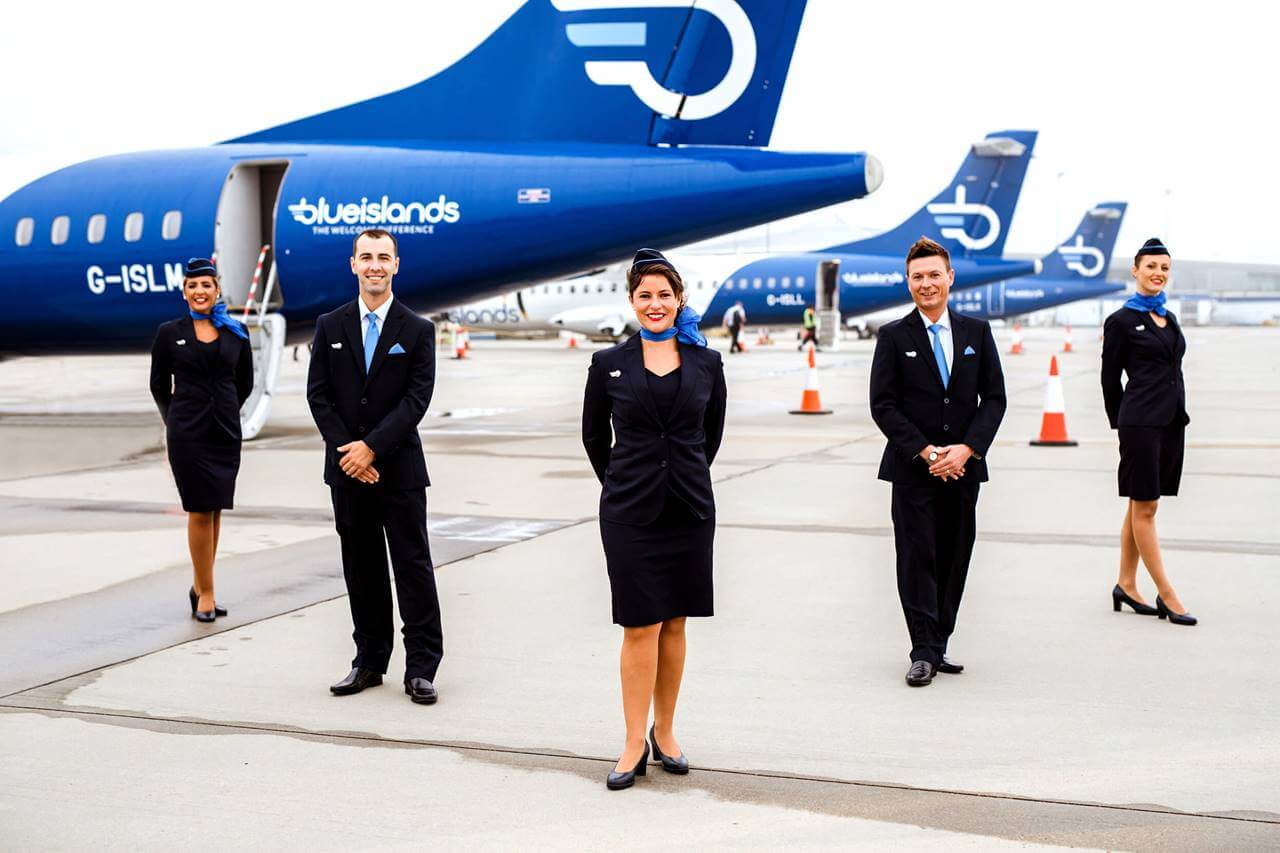 List of Requirements and Qualifications to Become a Blue Islands Cabin Crew
Before applying, interested individuals must know and meet first the requirements and qualifications set by the airline. Hence, to proceed with the application process, you must first meet the following requirements and qualifications of Blue islands for the cabin crew position:
You must hold a valid UK or Republic of Ireland-issued passport or EU passport with granted UK (or UK Common Travel Area) settled status.
You must be 18 years or above (this is a regulatory requirement).
You must also have the ability to swim.
You must also be able to join their initial training course.
You must be in good shape and standard of physical fitness.
You must have a valid COVID-19 vaccination certificate.
You must also have to complete a Cabin Crew Medical Examination following UK CAA requirements.
You must also be able to provide references to satisfy a 5-year background and criminal record check, to gain an airport security pass.
Ideally, you must have a minimum of twelve months of experience in or wish to thrive in a front-line, customer-facing role.
For a Senior Cabin Crew position, you must have at least 12 months of continuous flying experience within the past 36 months.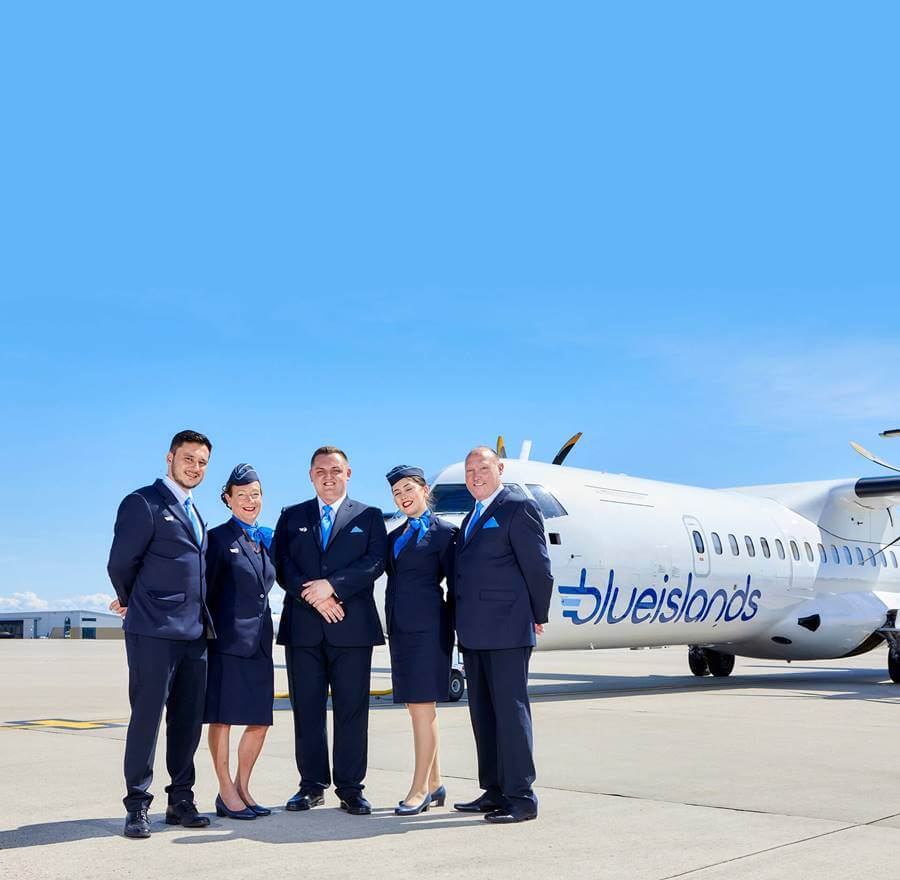 Application Process
Here is a step-by-step guide to help you with your application.
Step 1: Visit the Careers page of the company through their website here.
Step 2: Read the job specifications and qualifications and assess yourself if you have met the said requirements for the position you are applying for.
Step 3: Submit your application  with your cover letter and CV through the email provided here.
Step 4: Wait for a response.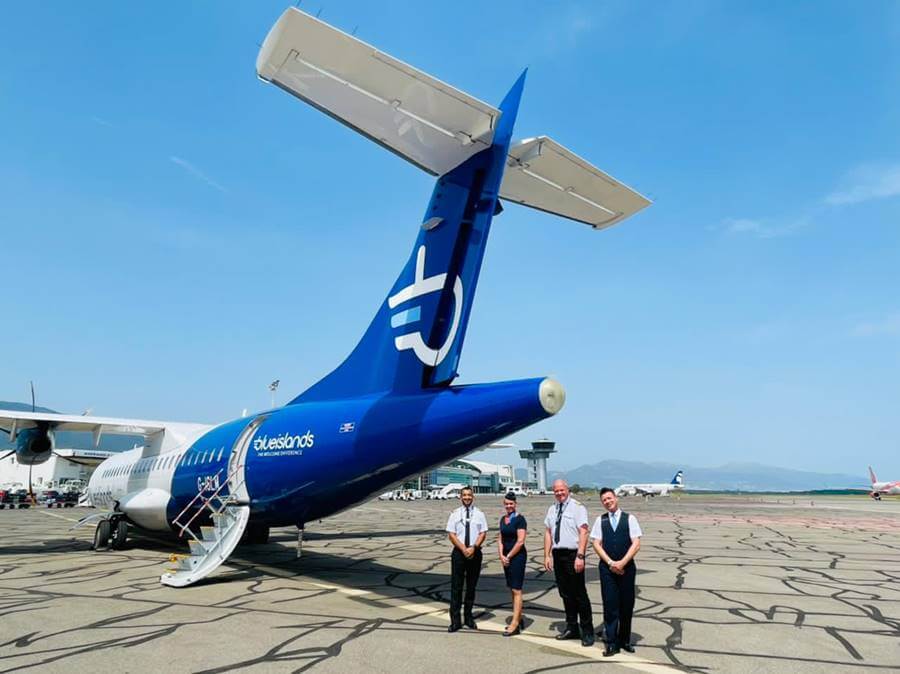 Salary & Benefits
The company also offers competitive salaries and benefits packages for their employees, including their flight attendants. They also offer an opportunity for career growth and development by providing thorough training and other further opportunities. Their flight attendants also enjoy some perks such as staff travel, generous holiday entitlement, and life cover.
Aside from that, upon joining the cabin crew team, you will receive a £2,000 Joining Bonus which includes £1,000 on successful completion of the initial Cabin Crew training course and another £1,000 after 12 months of service (the Joining Bonus will be pro-rata for part-time team members).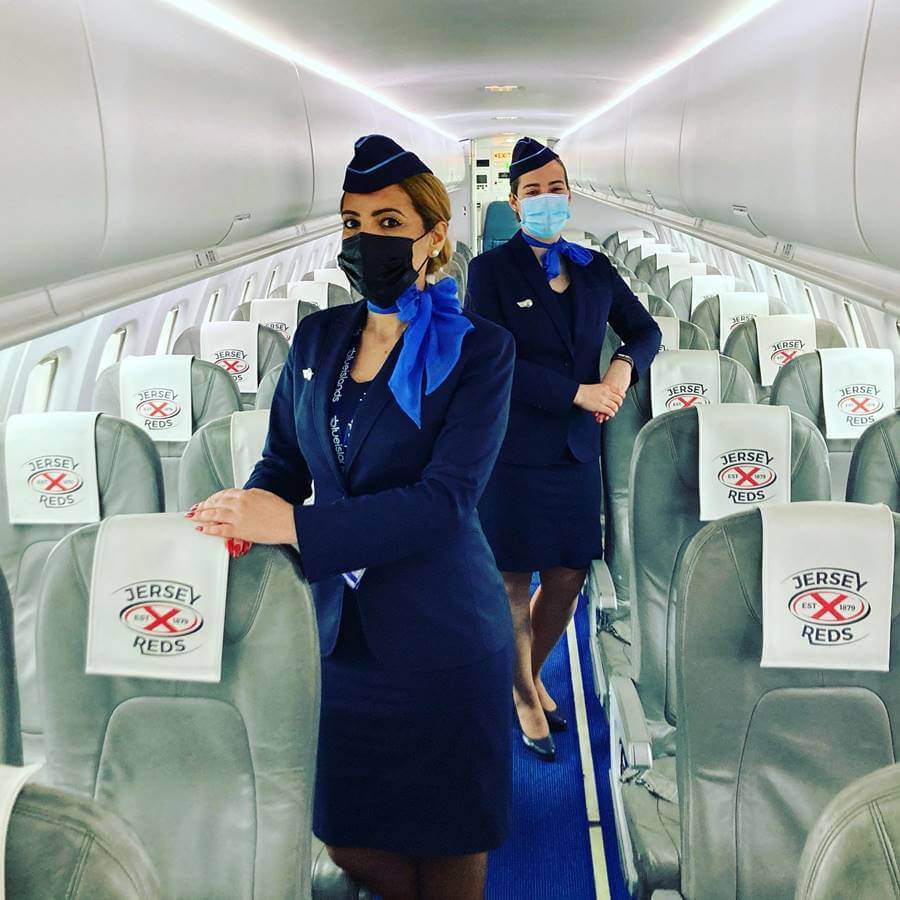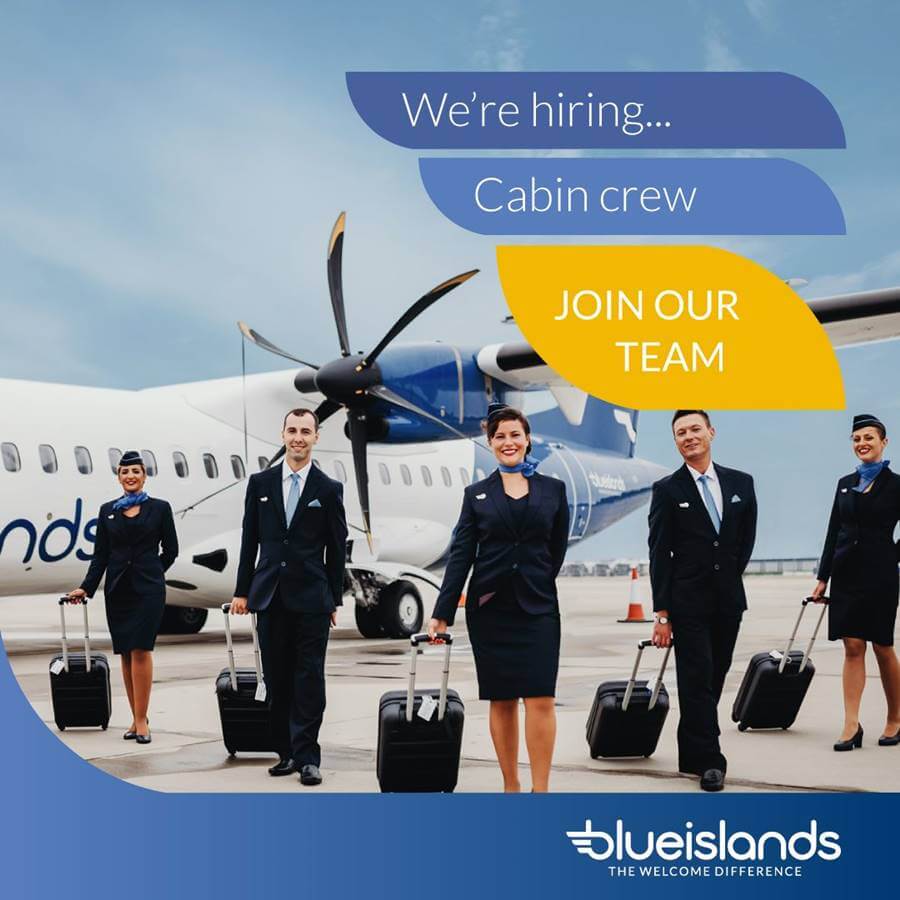 Video: Blue Islands: Your safety and wellbeing is our number one priority
This video is very insightful to passengers and to those aspiring flight attendants wanting to join Blue Islands' cabin crew team. Here, the CEO of the airline and other personnel explained the recent adjustments and changes they made due to the Covid 19 restrictions.
It was also shown in the video the precautionary measures the airline is thriving for to achieve everyone's safety and well-being. The new features of the aircraft were also introduced such as the cabin and the duties of the flight attendants to achieve their goals.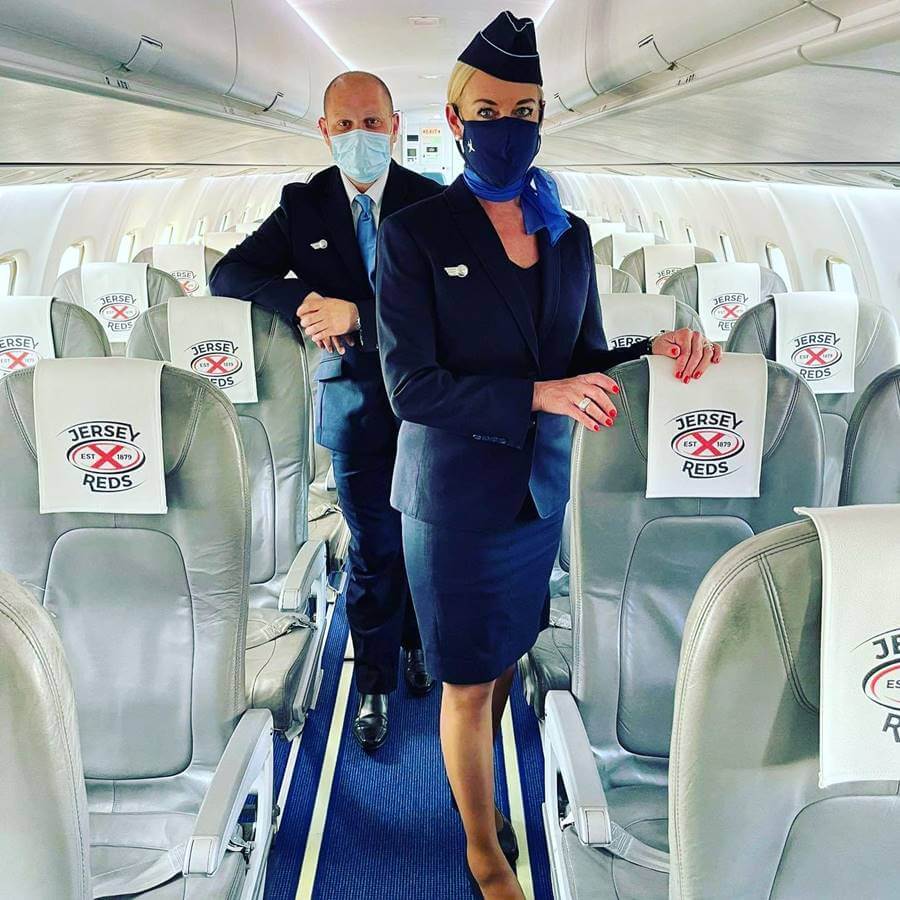 Photos: Blue Islands Airlines Cabin Crew Uniforms
Check out these pictures of Blue Islands Airlines crew so you can see what they look like in uniforms:
Frequently Asked Questions
The following are some of the common questions asked about this airline:
1. Do I need to have customer service experience to apply to be a Blue Islands flight attendant?
Customer service experience is ideally good if you will try applying for Blue Islands' flight attendant. Although it is not required by the company, having experience in dealing with customers is an advantage.
2. Is there an age limit to becoming a flight attendant?
You must meet the minimum age requirement of 18 years old before you consider applying for the position.
3. How much experience do you need to be a Blue Islands flight attendant?
Ideally, at least 12 months of previous experience in customer service is an advantage. However, if you have zero experience in customer service, you can still apply as long as you can handle customers professionally and with hospitality.
4. What are the physical requirements to be a Blue Islands flight attendant?
You must be in good shape and physically fit and healthy to apply.
5. Can I become a Blue Islands flight attendant if I have tattoos or piercings?
Although it was not stated in the list of qualifications above, having visible tattoos or piercings while in a cabin crew uniform is not allowed.
6. What type of personality is best suited for a career as a Blue Islands flight attendant?
As a flight attendant, you must have a warm and positive attitude towards other people. You must also be patient and stay calm in any situation.
7. How can I become a Blue Islands flight attendant?
You must meet the set standards such as the specified requirements and qualifications above, before applying for the position. You can submit your application with your cover letter and CV through the email address provided here.
Summary
Blue Islands is hiring Flight Attendants to join their team. The ideal candidate will be a team player with a positive attitude and a strong sense of customer service. They will also be responsible for ensuring the safety and security of passengers during flights. Interested candidates should submit their resumes and cover letter to Blue Islands via the online application process.
To be a flight attendant for Blue Islands Airlines, applicants must have an EU passport, be willing to relocate to the airline's hub on the island of Guernsey and complete an online application. There are no specific requirements in terms of education or experience, but applicants should be able to demonstrate excellent customer service skills and a positive attitude. If you possess these qualities and would like to work for an airline that is known for its amazing customer service, then Blue Islands may be the perfect place for you. It will be a rewarding experience.
However, it's important to remember that not everyone is cut out for the job. It takes a special kind of person to be a successful flight attendant, but if you are passionate about your dream of becoming a cabin crew member, you have to keep moving and do it anyway. As long as you have the flight attendant qualities, and meet the requirements and qualifications above, you can apply.