If you want to become a flight attendant for Aurigny, there are a few things you'll need to meet the requirements. You must be at least 18 years old. You'll also need to pass a background check and have a valid passport. If you meet all of these requirements, you'll need to complete Aurigny's online application and participate in an interview. Once you've completed these steps, you'll be one step closer to beginning your career as a flight attendant with Aurigny!
Also Read: 5 Common Answers to Why Do You Want to Be a Cabin Crew?
Aurigny was eventually nationalized by the State of Guernsey in 2003 in order to maintain its critical connection to London, and it proceeded to grow by flying to other cities in the United Kingdom. A neighboring Channel Island carrier based in Jersey Blue Islands attempted to buy the airline in July 2010, but the proposal was rejected by Guernsey's Treasury and Resources.
Interested in joining this airline? Well, Aurigny needs friendly and eager for success FAs to work in their fleet in any way imaginable and beyond the scope of work. You must take pride in providing excellent customer service both internally and externally, and you need to be eager and able to adapt to change. As a flight attendant, you need to report to the Cabin Crew Manager and will be in charge of all security and safety obligations while the aircraft is in the air, and up until it lands.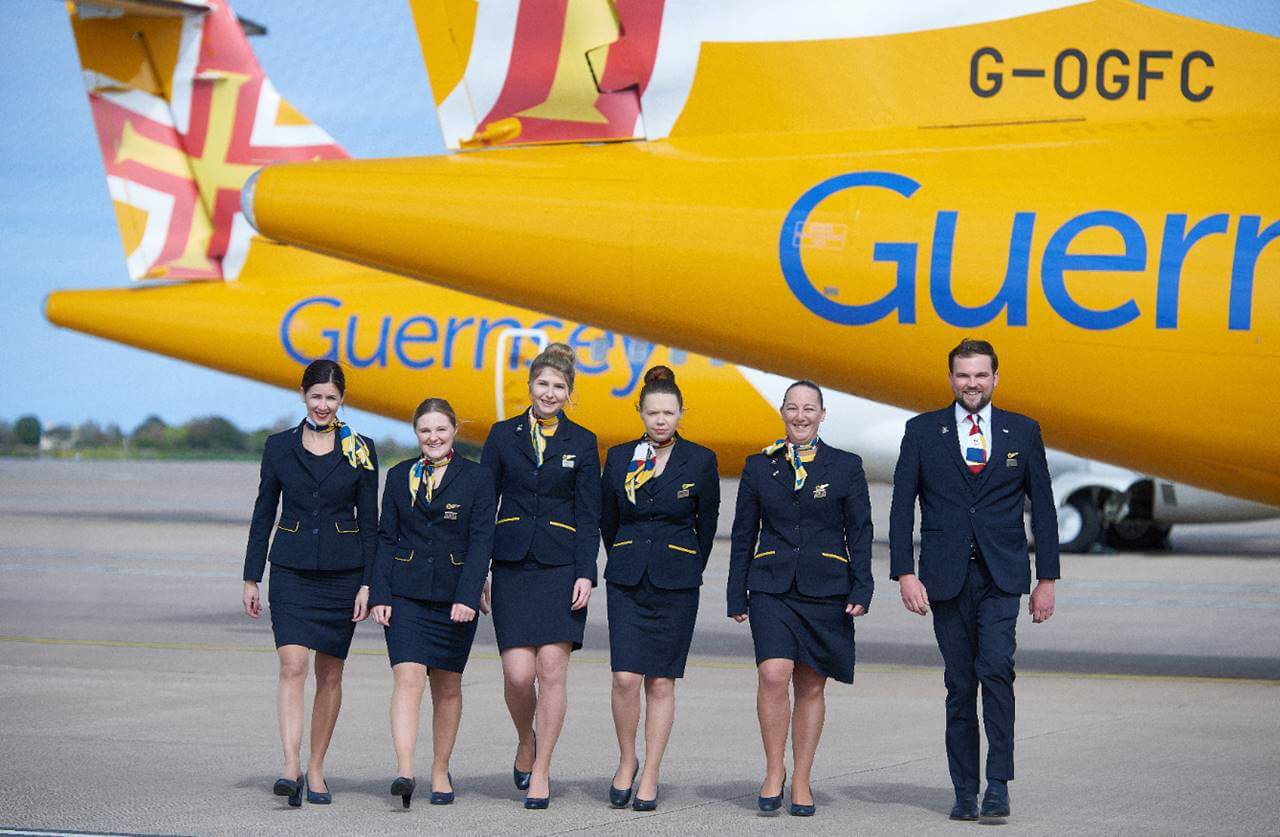 List of Requirements and Qualifications to Become an Aurigny Flight Attendant
You must be at least 18 years old.
You must be at least 1.58 meters tall.
Must have a current passport that allows you to travel freely throughout Europe.
Possess a valid Guernsey Residency qualification as well as a Right to Work document.
Have a strong grasp of the English language, both written and spoken.
Be able to swim without assistance
Be able to pass pre-employment assessments.
You also need to present a 5-year continuous employment history to get a security pass
Aurigny also accepts Senior Cabin Crew. If you are applying for this specific position, the following requirements must be met:
Everything listed in the requirements section above will apply to senior cabin crew applicants. The only difference is that senior cabin crew applicants must have a minimum of 12 months of experience working as a flight attendant, either at Aurigny or any other airline.
Other qualifications are:
You must know that Aurigny Air Services prioritize safety and security, it's a premium for every passenger.
You must be dedicated and willing to provide exceptional service every time.
Capable of dealing with difficult and demanding situations in a discreet manner while remaining resilient throughout. It can't just be an emergency, sometimes you need to deal with harsh passengers.
Genuinely love passenger encounters and put the passenger first in all you do.
Respect and empathy for other cultures and backgrounds, as well as treating everyone as an individual.
Ability to remain cool and concentrate under duress and in emergency situations.
Capable of developing professional relationships with all of your coworkers in order to provide exceptional customer service.
You are in charge of the following:
Always take part in pre-flight briefings
You must guarantee that all operational safety, security, and health and safety obligations are carried out to the highest standards and in accordance with EASA/CAA, Aurigny Air Services, and all relevant legislation.
Provide exceptional customer service in accordance with the airline's service standards and behaviors.
You need to serve as a role model for Aurigny Air Services to crew, colleagues, and passengers by wearing proper uniform standards.
Serve, sell and offer duty-free beverages.
You need to be neat and presentable at all times. Maintain a high standard of personal appearance, presentation, and behavior.
To establish effective working relationships with colleagues because this will help you and the whole fleet to cooperate and become productive.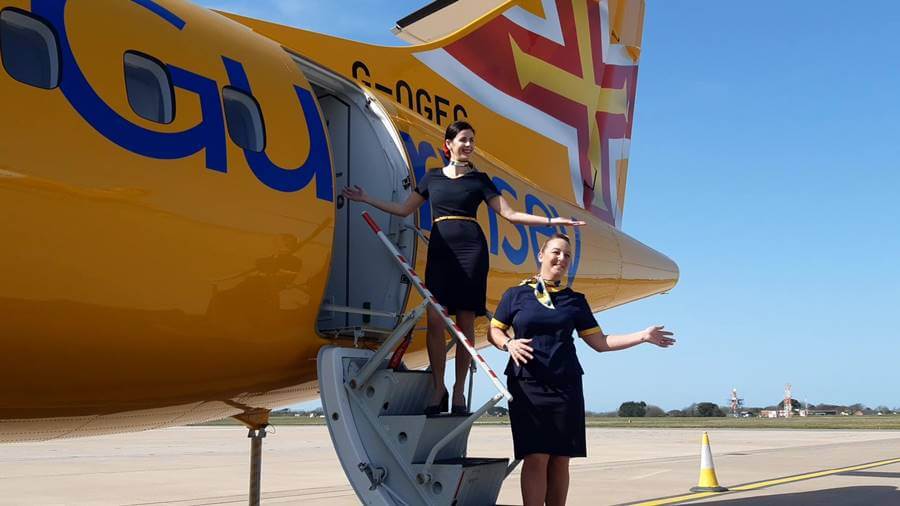 Application Process
Here is an overview of the application process to become a cabin crew member for Aurigny:
Step 1: Go to Aurigny's website and look for a Flight Attendant job opening. You can go here: https://www.aurigny.com/#flight-search. Scroll down to the bottom part of the website page and select "Careers"
Step 2: On the Careers page, you will see an Online Application Form. Read and provide all the necessary details. This form includes the position you are applying for, your Complete Name, Email Address, and Address.
At the bottom part of the application form, there will be questions that you need to answer, which is mostly about residency status in Guernsey.
Step 3: After reviewing all the details you've provided, click "Next"
This page will ask you how and where you saw the job posting. The Online Application form has 10 steps. The last step will be the submission of documents.
Step 4: After submitting your online application, wait for the airline's invitation for an interview. Just be patient because this will take some time since a lot of applications are being reviewed by the recruitment team.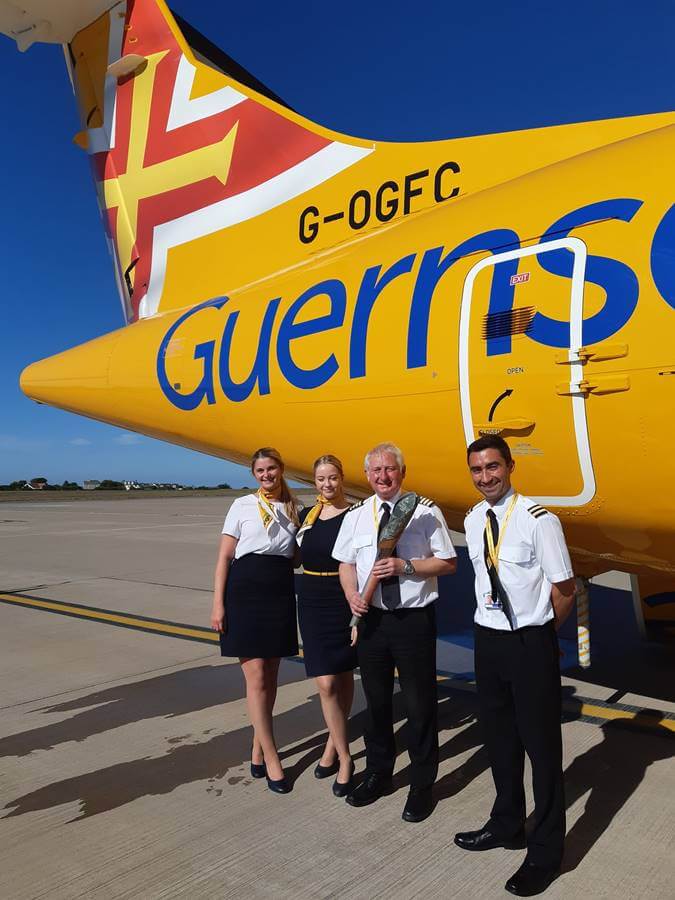 Salary and Benefits
Aurigny doesn't discuss salary rates and benefits packages for its employees in public. This will then be discussed during the orientation or before the training starts.
Video: Aurigny Cabin Crew Recruitment
This video shows how the Aurigny recruitment process takes place. Different scenes wherein cabin crew applicants and instructors do the actual drill for training.
Some of the drills are escaping planes through inflatable slides, putting out a fire using a fire extinguisher, as well as resuscitating someone who is in danger. In some parts of the video, you will see how flight attendants demonstrate safety precautions inside the actual flight.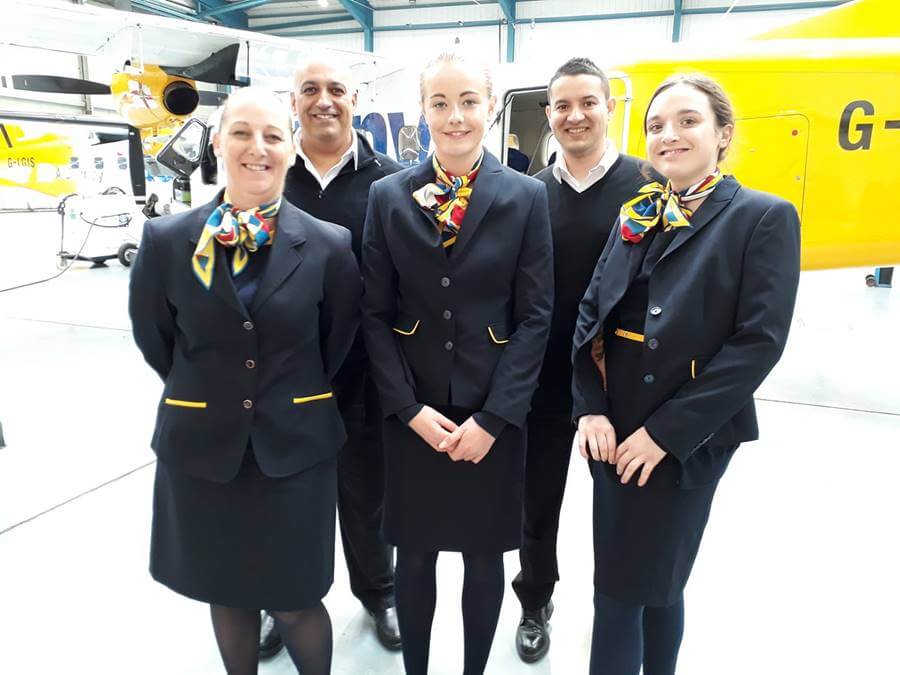 Photos: Aurigny Airlines Cabin Crew Uniforms
Check out these pictures of Aurigny Airlines crew so you can see what they look like in uniforms:
Frequently Asked Questions
The following are some of the common questions asked about this airline:
1. Can I apply for a senior cabin crew position even without experience?
No, this position is only applicable to those who have 12 months of experience as a flight attendant.
2. Where is Aurigny located?
This airline is in the United Kingdom.
3. I don't know how to swim, will they teach us?
One of their requirements for aspiring FAs is the ability to swim without assistance. So you cannot join Aurigny.
4. Is there a maximum age for FAs?
There is no stated maximum age for applicants. But they have a minimum age requirement which is 18 years old.
5. How to know if my online application form was in?
You will receive a notification from their recruitment team, this may take some time, be patient.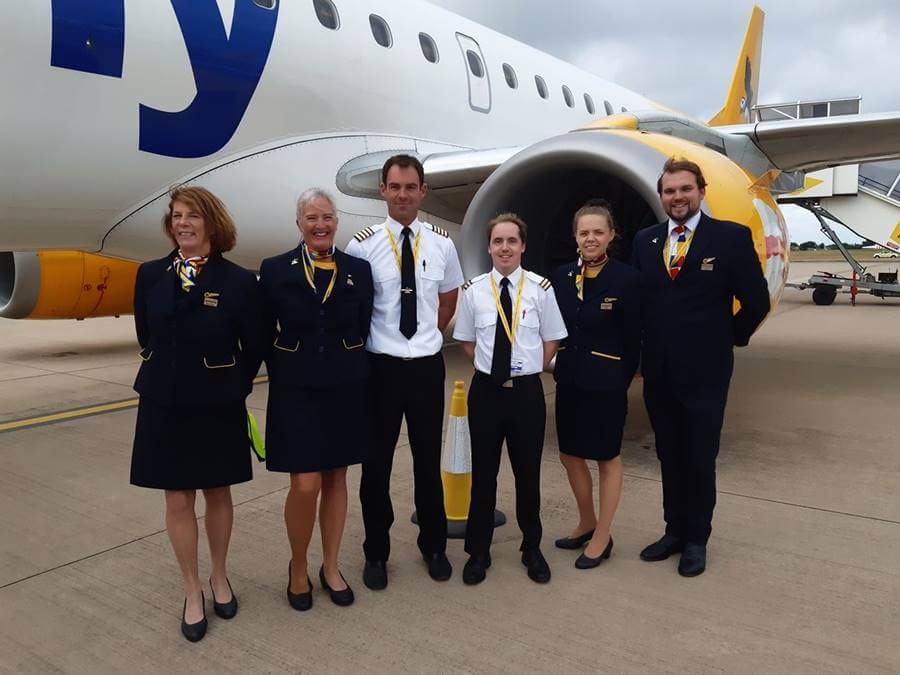 Summary
Some airlines have a rough start, some started smooth and went bankrupt. This airline was able to stand for years and remains as it is.
This is an amazing opportunity to travel the world and experience new cultures while working on board one of our modern aircraft. If you have the flight attendant qualities, try your luck in this airline.
The ideal candidate will have a passion for customer service, excellent communication skills, and the ability to work well under pressure. In addition, they will be responsible for providing a safe and comfortable journey for passengers. Good luck!