Ever since it started it's first flight in 2002, Blue Islands is continuously growing and expanding its market. With the high demand for air travel, there is definitely more room for business growth which eventually means more cabin crews will be needed, among the many other personnel necessary to run the aviation industry.
Also Read: Athens Layover Guide: Best Things to Do in 24 Hours
The job of a flight attendant comes with much adventure as much as challenges. You will meet people from all walks of life, travel the world and have many fun and exciting experiences. They say no two days are ever the same when you work as a flight attendant. If you want to be a part of the Blue Islands cabin crew team, here are some of the requirements you should know.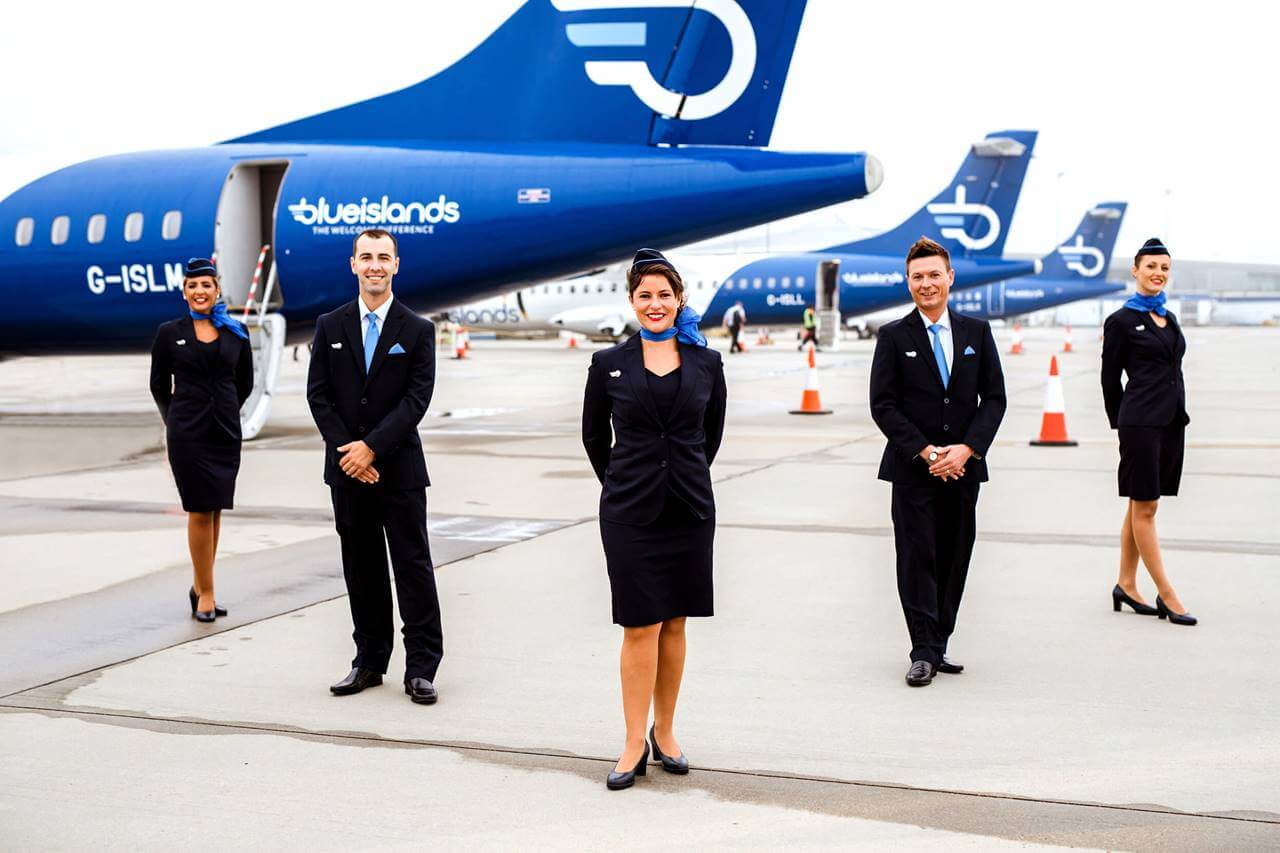 Overview of Blue Islands
Blue Islands started as Le Cocq's Airlink in 1999. It primarily supplied perishable goods headed to Channel Island from Bournemouth, Christchurch. In 2002, it flew its first passengers to and from Alderney and Bournemouth. During its first year as a passenger carrier, it flew around 10,000 people. It changed its name to Rockhopper the next year and increased its number of flown passengers to 20,000.
Just in 2006, it adopted the name Blue Islands and established its base in the Channel Islands. It flies through different areas in Europe, such as France, Ireland, the United Kingdom, and Jersey. As it was recognized in the same year as a regional carrier of the Channel Islands, it increased its passengers to 63,500.
In the succeeding years, Blue Islands increased its number of ATRs and improved its passenger experience. It adopted the Flybe franchise having its crew. Unfortunately, Flybe closed in March 2020, and the airline company restored its Blue Islands name. It redesigned its website and continued serving passengers again.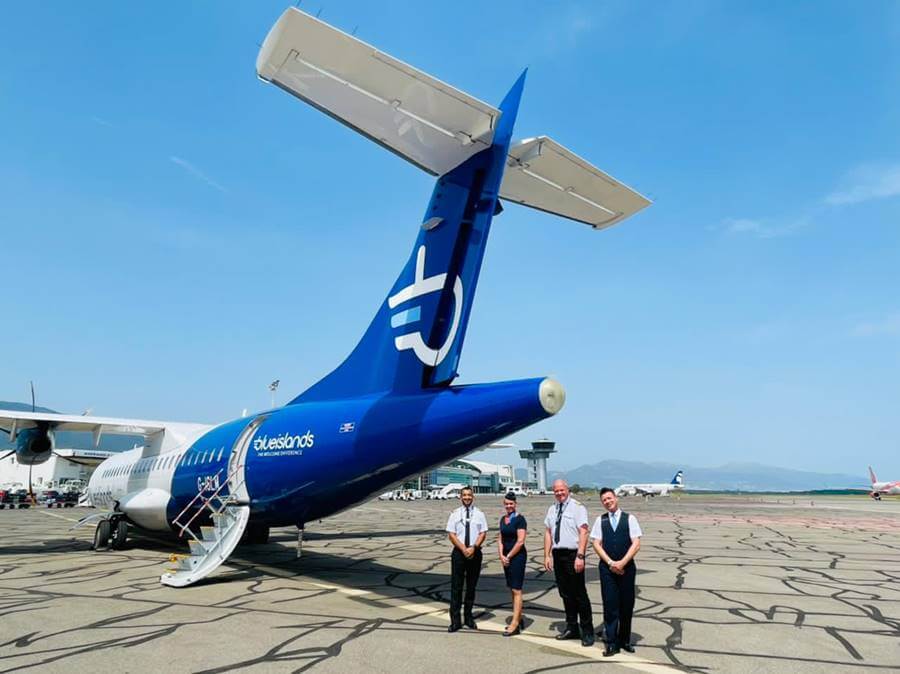 Responsibilities
During every flight, Blue Islands cabin crews are expected to serve passengers a professional and approachable service. They play an important role in ensuring the passengers' safety during the whole duration of the flight. You are expected to have a friendly and attentive attitude toward every passenger onboard.
Some of the responsibilities of the Blue Islands cabin crew are the following:
Conduct a safety check before passengers board the aircraft and ensure all the seats and aircraft floor is clean.
Have a pre-flight briefing with the pilots and other cabin crew. You also need to study specific information about the flight since there are passengers who might ask questions.
Greet passengers as they board the aircraft.
Help passengers with their luggage in the overhead cabin and lead them to their respective seat numbers.
Demonstrate safety measures, including the use of emergency exit doors. You also need to explain the passenger's participation when he is sitting next to the emergency exit door.
Demonstrate emergency measures, including oxygen masks and life jackets.
Serving the needs of all passengers. It includes food, beverage, eye masks, and other possible needs during the flight.
Answering all passenger inquiries about the route, arrival time, and other questions related to the flight. Sometimes, new visitors to a country ask questions about what to expect as soon as they arrive or places to go and see. Usually, the answers to these questions are provided at the pre-flight briefing.
Giving first-aid to passengers who need emergency assistance.
Supporting passengers with special needs, such as those who have babies and small children, elderly, and disabled passengers.
Prepare a post-flight report which will be checked by the pilots and will be submitted to the airline office.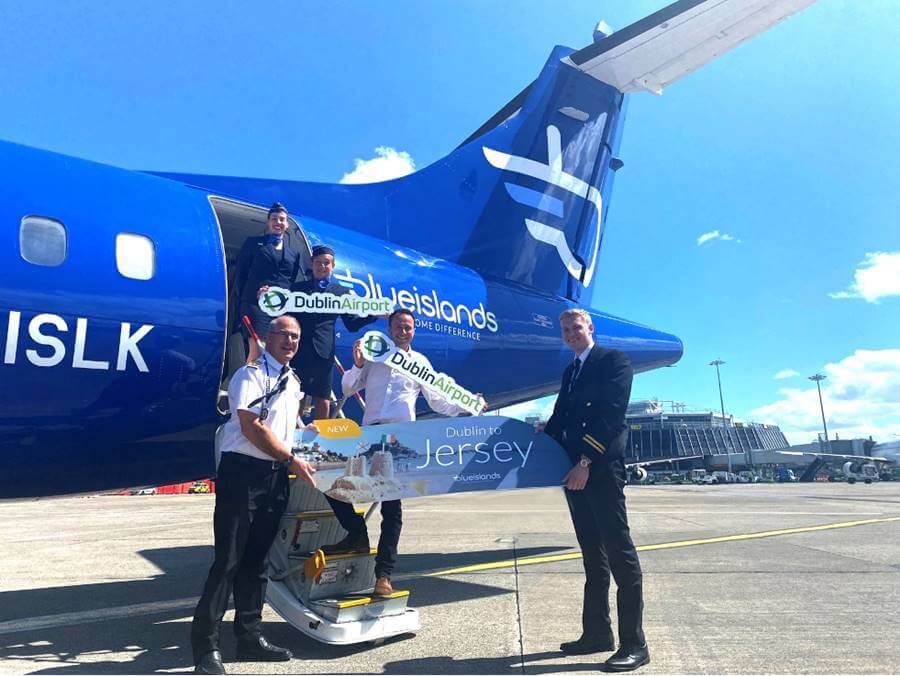 Qualifications
Meanwhile, here are the qualifications to become a cabin crew for this specific airline. Make sure that you have these qualifications first before you submit your application.
You need to have a valid UK or Irish passport or an EU passport that has granted the UK settled status.
Vaccinated against COVID-19 and have a certification to prove it.
Completed a Cabin Crew Medical Examination following the UK CAA requirements.
Available for the next batch of initial training.
Must be 18 years old and above. This is a regulatory requirement and cannot be negotiated.
Have good physical fitness and can swim.
Have character references that can be contacted for background checks during the last five years.
A criminal record checks to obtain an airport security pass.
Has a minimum of twelve-month experience in the frontline or customer service industry.
Additional Requirements For Aspiring Blue Islands Cabin Crew
Have a well-groomed appearance.
Have a good vision that can be corrected using contacts or eyeglasses.
No facial piercings other than on the earlobe.
Have no tattoos in sight. All tattoos should be covered with the Blue Islands cabin crew uniform. Otherwise, your application will be disqualified.
Must have excellent English language skills, both oral and written.
Should be able to stand for long periods, even when wearing heels.
Should be knowledgeable in cash handling, including other currencies.
Should be confident all the time and can deal with different kinds of people.
Be able to attend to certain situations calmly and quickly.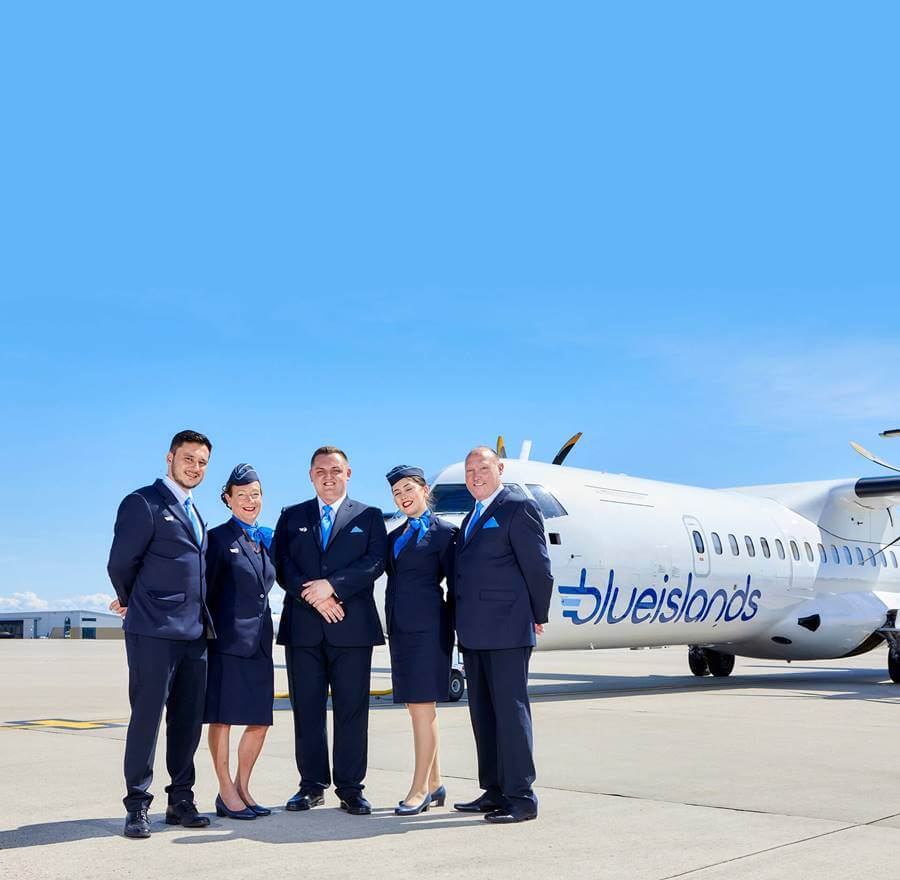 Document Requirements to Prepare
If you think you've got what it takes and are more than qualified to do so, you can head on to the next step: preparing your application. So, what do you have to prepare exactly? Of course, the selection committee will require you to submit a bunch of files that can prove some of the qualifications above. Here's the list that we have curated for easy understanding.
Updated Resume
Birth certificate
High school diploma
Updated dental and medical records
Valid passport
Where to Apply for a Job at Blue Islands Online
To ensure that you stay updated on everything about Blue Islands, we suggest you take frequent visits to their website. On their careers page, it can be easier for you to track should there be any changes regarding your application process, document requirements, and much more.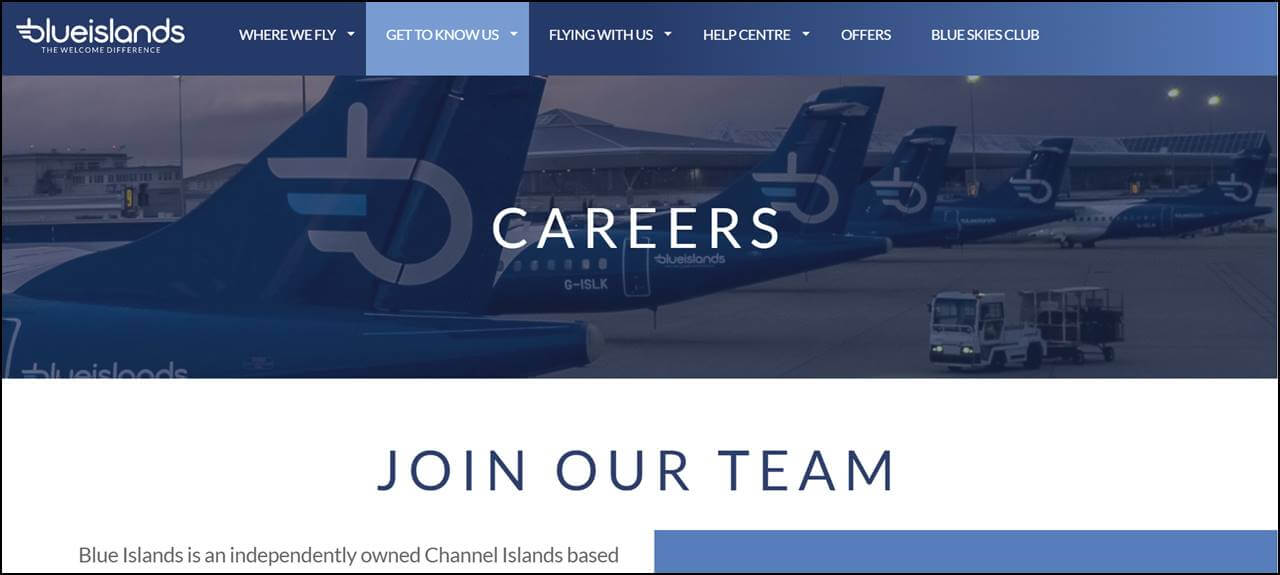 How to Become a Cabin Crew for Blue Islands
Below is a step by step guide on how to submit your application online for the role of cabin crew:
Step 1: Apply Online
Go to Blue Islands' main career page at https://www.blueislands.com/careers/. Towards the bottom of the page, click on "COME AND JOIN US" then select "CABIN CREW" option on the next page.
Read through the requirements and qualifications. Assess yourself if you can meet the requirements and be qualified for the position.
Step 2: Email your Application or submit your CV using the form provided online
After going through the job description, you can apply by emailing your cover letter and CV to careers@blueislands.com.
Alternatively, you can submit your CV through the form provided on the same careers page.
Step 3: Wait for the company's response
If you meet Blue Island's requirements, you will receive an invitation for an assessment day. On your scheduled assessment, make sure to come in professional attire and make yourself presentable. This will have a huge impact on your application since you will be assessed on how professional you can look.
You will also be interviewed by the recruiter about yourself and your previous experiences. Make sure to answer the interview questions honestly and as confidently as you can. Your communication skills will be evaluated during this process.
Sometimes, there are certain activities during the assessment day that evaluates how applicants work individually and in groups.
Step 4: Blue Islands Flight Attendant Training
Wait for your application results after a few days or a few weeks. After successfully passing the interview and other assessments, you will be invited to attend Blue Islands Flight Attendant Training Program. The training course will cover the subjects of safety, emergency, medical and customer service.
There will be both theoretical and practical courses as well as assessments to test your understanding. Only after passing the training course will you get your flight attendant license and be scheduled for your first flight.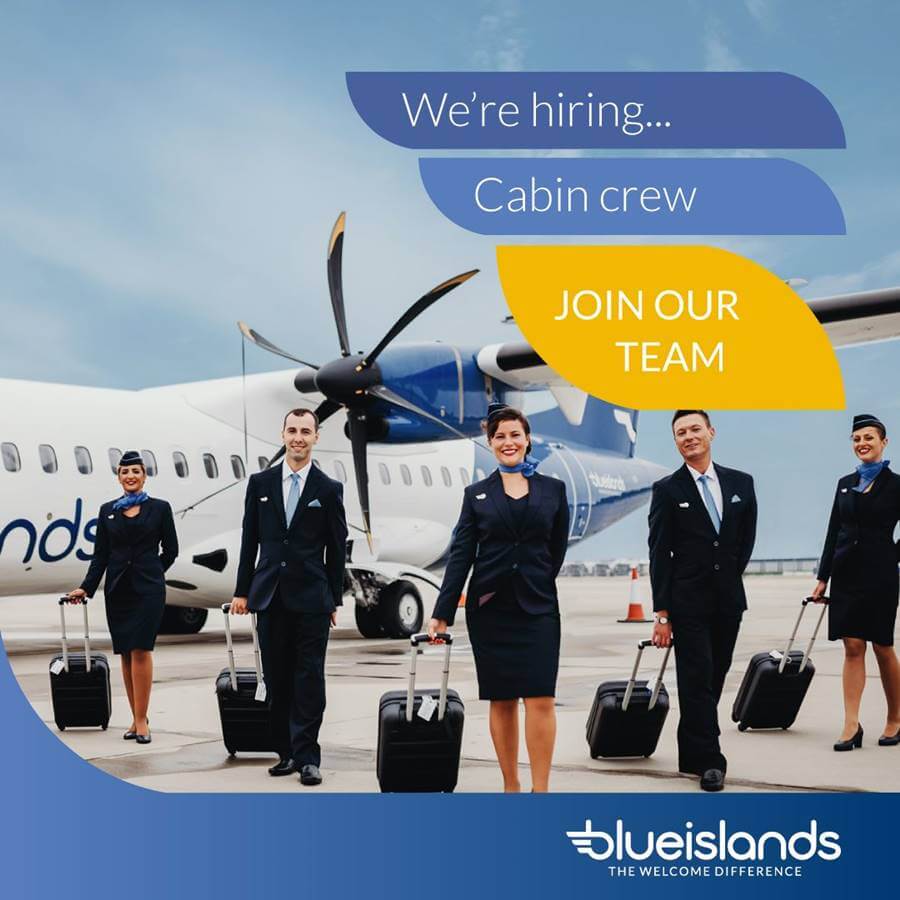 Monthly Salary and Benefits of a Blue Islands Flight Attendant
Blue Islands offers a competitive salary to its airline crew. A newly-deployed cabin crew can receive a £1,000 bonus after they have finished the initial training course. In addition to that, they can receive another £1,000 after a year of service. If you have not completed the 12 months, it will be pro-rated depending on the months you have spent working.
Aside from the huge bonus and competitive salary, successful applicants may also look forward to the following benefits:
Continuous support on career growth
Free training on personality and career development
Staff travel
Holiday premiums
Life Insurance
Video: Enhance Wellbeing On Board Blue Islands
As an aspiring cabin crew in Blue Islands, your priority is the well-being of the passengers during in-flight. This video will give you an idea of how to keep the aircraft safe from viruses. It also shows the preventive measures of Blue Islands before a passenger boards the aircraft. You will require the passengers to wear face masks on board, offer hand sanitizer, and ensure that passengers are seated at a distance.
Photos: Blue Islands Flight Attendant Photos
Check out these photos of Blue Islands Flight Attendants in uniform. As you can see, the uniform is meant to be stylish and functional at the same time. It also helps preserve the individual's and the company's image of professionalism and excellent attention to detail.
Frequently Asked Questions
In case you want to know more about how you can apply as a Blue Islands cabin crew, here are some of the most common questions:
1. Should I have front-line or customer service experience before applying at Blue Islands?
Though it is not required, having work experience that requires you to attend to customer needs is an advantage. You are already familiar with how to deal with different types of customers as you go on board.
2. Can I apply even at Blue Islands if I have a tattoo?
Yes, as long as the tattoos are not visible when wearing the Blue Islands cabin crew uniform.
3. Should I attend a cabin crew academy before I submit my application at Blue Islands?
Ideally, having a cabin crew academy certificate will open up your expectation of becoming a flight attendant. It is not required, but it can help you confidently answer the interview questions and how you can professionally present yourself during the assessment day.
4. Is working at Blue Islands worth it?
Definitely, yes. The airline company offers a competitive salary and numerous benefits for its employees.
5. What primary skills should I have to apply as a Blue Islands cabin crew?
Customer service skills are required since you will be interacting with the passengers and will be in charge of their experience on board.
6. What if I did not have any COVID-19 vaccine?
To follow the international standards on COVID-19 safety, all applicants are required to be vaccinated.
7. Is there on-site recruitment for the Blue Islands cabin crew?
As of the moment, applicants are encouraged to submit their applications online. Further instructions on the interview and assessment process will be sent to you if you are shortlisted.
8. Is a medical examination done from another country enough?
Blue Islands follows the requirements of the UK CAA. Your medical examination results should be within their requirements.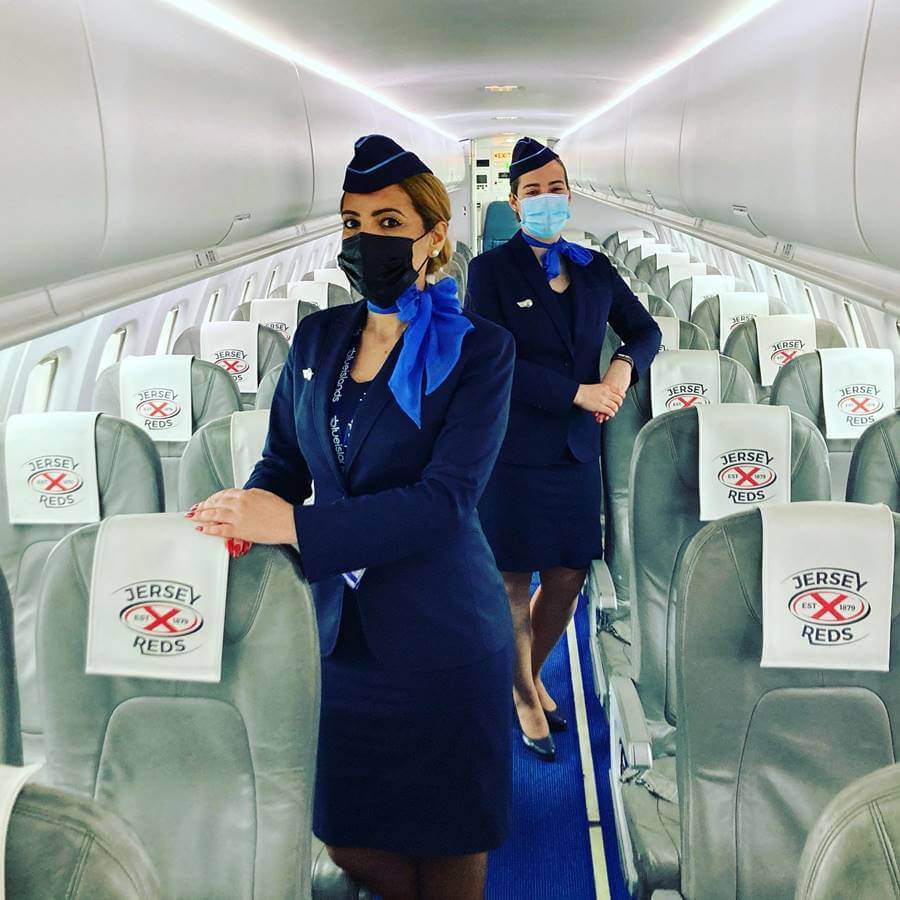 Summary
Being a Blue Islands cabin crew requires you to be friendly and approachable all the time. You should be able to have a positive attitude for the whole flight. You should also understand that you will be one of the most responsible persons during an emergency, so you should be able to handle them professionally. Applicants can go straight to Blue Islands' career page to start their cabin crew application.
Contact Information
BLUE ISLANDS 
Airport Office: Blue Islands, Jersey Airport, St. Peter, Jersey
Telephone Number: 01234 589 200
Website: www.blueislands.com
Facebook: https://www.facebook.com/blueislandsofficial/
Instagram: https://www.instagram.com/blueislandsofficial/?hl=en