When you go in for your flight attendant interview, the hiring manager is going to be looking at what you're wearing. You want to make sure that you are dressed appropriately and professionally. It's also important to wear comfortable shoes since you may be on your feet for long periods of time. Depending on the airline, you may be invited just for an interview or you may have a whole assessment day that ends with an interview for shortlisted applicants. In this blog post, we will give you some tips on what to wear for the cabin crew interview.
Also Read: Also Read: How to Answer: Why Should We Hire You?
Keep in mind it's not just about looking the part — you also need to be prepared to answer tough interview questions. The interviewer will want to know why you are interested in becoming a flight attendant, what experience you have that could help you succeed in the role, and how well you handle stress. Be sure to practice your answers ahead of time so that they come out as confident and articulate when asked during the interview. Remember, you need to look comfortable and confident both in your outfit and in your answers.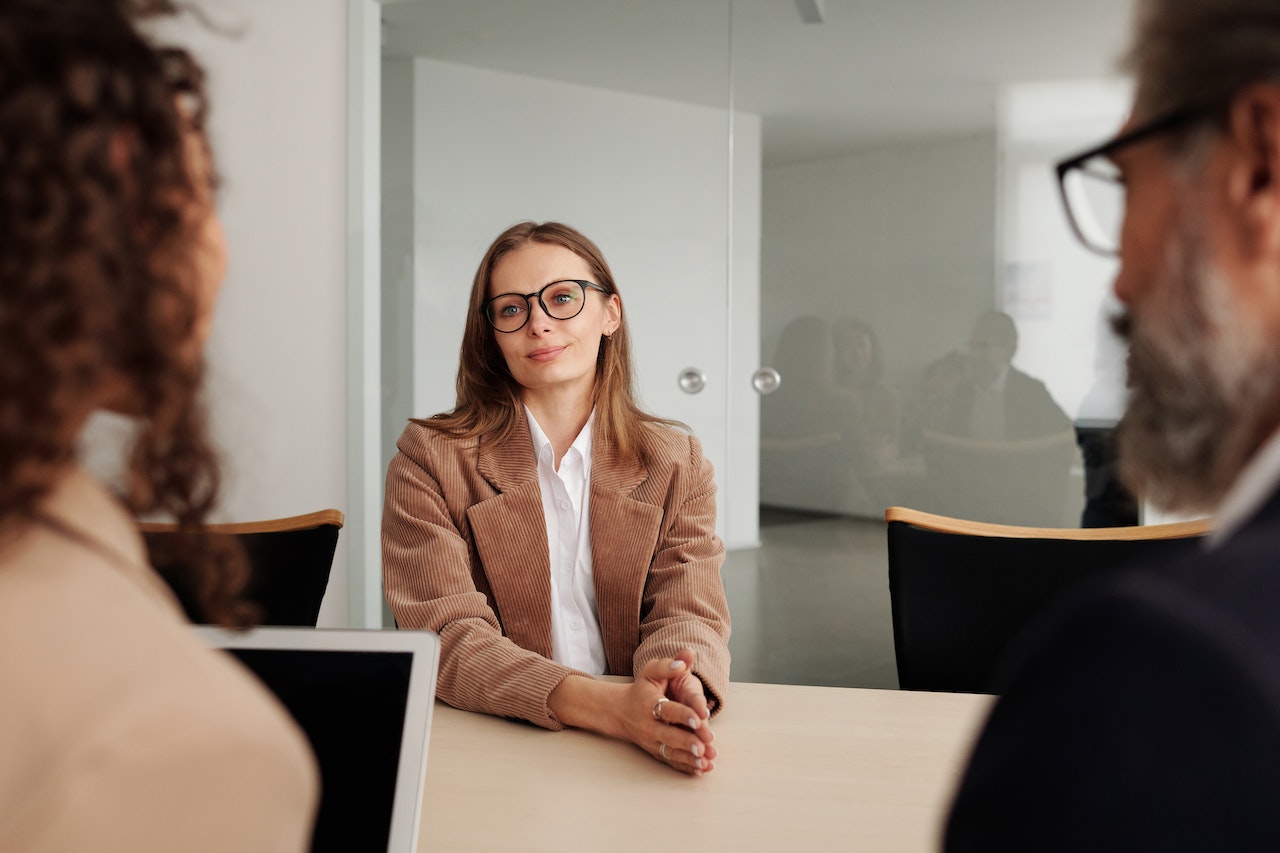 What to Wear for Flight Attendant Interview
When it comes to dressing for a job interview, first impressions are everything. As a flight attendant, your professional appearance is essential to the overall experience of passengers. For a job interview, it's important to dress comfortably yet stylishly. A simple dress or blouse paired with tailored pants or a skirt is a safe bet. Avoid too much jewelry or bright patterns, as you want the focus to be on your performance during the interview. When it comes to shoes, opt for closed-toe pumps or loafers – definitely no flip-flops or sneakers!
Overall, make sure your attire is clean and pressed, as this shows respect and attention to detail. With the right outfit, you'll impress your potential employer and have them ready to welcome you aboard their team.
Also Read: How to Answer: Tell Me About a Time You Dealt with a Difficult Customer
How to Dress for Your Body Type
When it comes to dressing for your flight attendant interview, what's most important is showcasing your body in the best light. First, make sure your outfit fits properly and isn't too tight or too baggy. Always opt for clean, polished looks and avoid distracting patterns or overly trendy pieces. In terms of what to wear specifically, for a petite frame, a blouse and pencil skirt or slacks with heels can accentuate your shape. For a curvier figure, a wrap dress or fitted jumpsuit will flatter your curves while maintaining professionalism.
Taller individuals have more leeway in terms of what they can wear but aim for flattering silhouettes like an A-line skirt or tailored pants paired with a blazer or button-down shirt. At the end of the day, confidence is key – so choose what makes you feel good and shows off your unique assets!
What Colors are Best to Wear
When it comes to what to wear for a flight attendant interview, it's important to stick to neutral colors. You want to look professional and put-together, so steer clear of loud patterns or bright colors that may be distracting. Stick with solid blacks, whites, and grays in shades like charcoal or navy. These colors exude professionalism and will make you stand out positively. It's also important to make sure your outfit is well-fitted and wrinkle-free.
Take the time to iron or steam your outfit before the interview so that you can look polished and put together from head to toe. Remember, first impressions count! Looking confident and well put-together can give you the edge in landing the job as a flight attendant.
Also Read: How to Answer: What are Your Weaknesses?
Accessories that can help you look Polished and Professional
Are you preparing for a flight attendant interview and want to make a stellar first impression? The right accessories can take your outfit from ordinary to polished and professional. Make sure to wear neutral, streamlined shoes that are comfortable for walking and standing. A sleek leather or faux leather bag in a neutral color will add an extra touch of sophistication. Invest in a high-quality watch – not only is it practical, but it also adds an element of elegance to any outfit. Finally, consider wearing a scarf or statement necklace – these pieces can tie your entire look together while also adding a pop of color and personality. With these tips in mind, you'll be fully prepared to impress during your flight attendant interview.
Hairstyle
When it comes to styling your hair for a flight attendant interview, there is one important consideration to keep in mind: professional appearance. Avoid bold or excessive styles that may distract from your overall look. Choose a low-maintenance style, such as a sleek ponytail or a simple bun, that still looks polished and put-together. Keep hair out of your face by sweeping it away from the forehead or tucking it behind your ears. And make sure to give your hair an extra brush before arriving at the interview to eliminate any pesky flyaway. Remember, first impressions are key in securing the job, so strive for a polished and uncluttered hairstyle that complements your outfit and exudes confidence.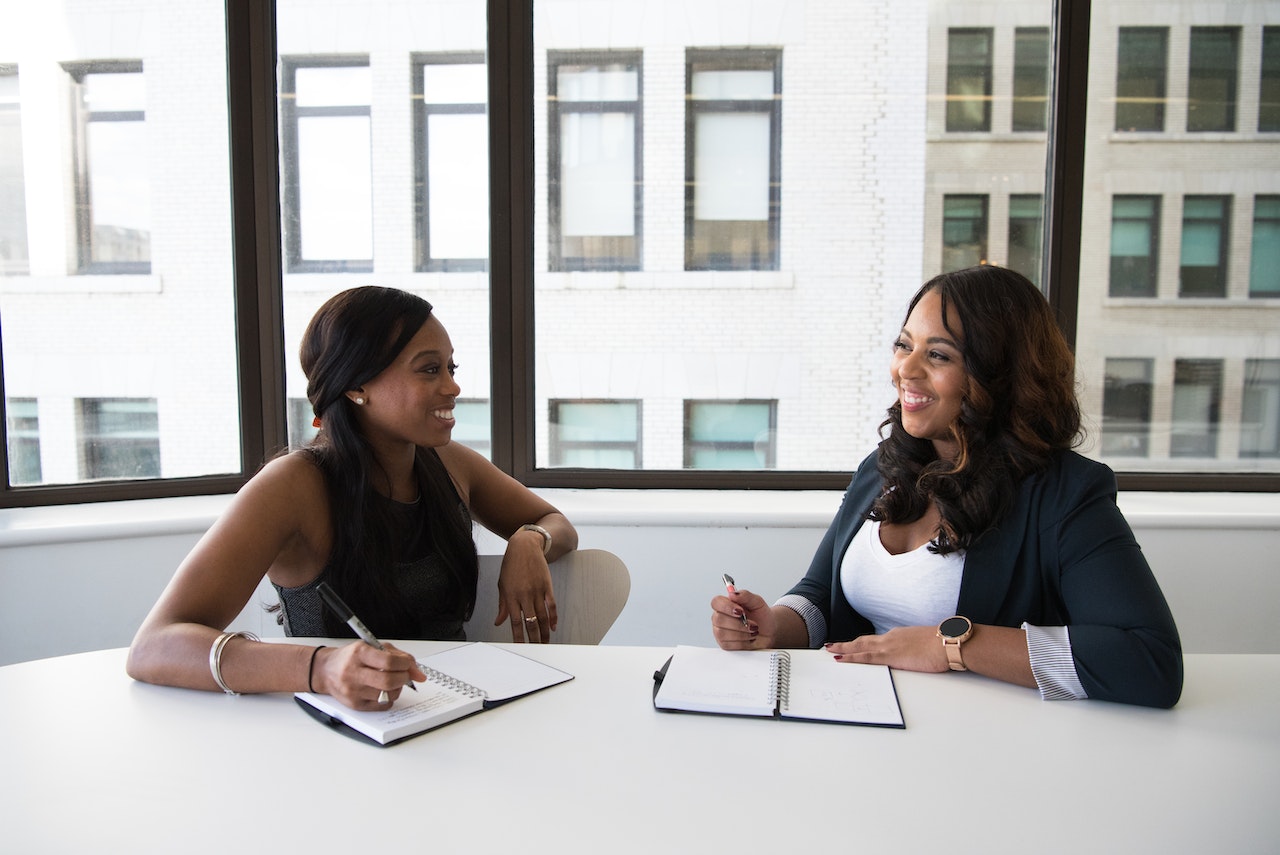 Should you put on Makeup?
As for makeup, feel free to wear what makes you feel confident and put-together, but avoid dramatic looks or anything that might be a distraction. Glitter and heavy contouring may look great on Instagram, but it's not appropriate for a flight attendant interview. Remember, your goal is to show how you will positively represent the airline and enhance passengers' experiences. Choose a polished yet understated look that allows your personality and qualifications to shine through.
Also Read: Are Cabin Crew Tattoos Allowed? Flight Attendant Tattoo Policy
The Do's and Don'ts of Dressing for an Interview
Do's
Wear heels, Mary Jane's, or flats
Do Wear a blazer, cardigan, or jacket
Do wear watch
Do carry a handbag
Do fragrance lightly
Do polish your shoes
Do Neatly trim your nails
Don't
Wear sneakers, flip-flops, or any type of open-toe shoe
Wear a hoodie, sweatshirt, or ripped jeans
Wear heavy bracelets or any type of noisy jewelry
Wear a backpack
Wear too much perfume or cologne
Have chipped nail polish or long nails
Also Read: 15 Must-Have Qualities of Cabin Crews
Why is it Important to Dress Appropriately for an Interview?
The way you dress at a job interview can make a huge difference in the impression you make on a potential employer. When deciding what to wear, it's important to consider the company culture and dress in something that aligns with their values and expectations. Showing up in a sloppy or overly casual outfit can signal to the interviewer that you're not taking the opportunity seriously. In contrast, dressing in a professional and polished manner shows that you're organized, motivated, and ready to put your best foot forward. In industries where appearance is particularly important, like flight attendants or fashion industry jobs, it's crucial to dress in the attire expected for the role. Wearing the uniform or outfits that showcase your sense of style can show the interviewer that you understand the industry and are prepared for success in the job.
Overall, dressing appropriately for an interview is a simple yet valuable way to make a positive impression and demonstrate your respect for the opportunity at hand.
Also Read: How to Answer: Tell Me About Yourself
Summary
When it comes to what to wear for a flight attendant interview, remember to dress professionally and avoid anything too flashy or dramatic. Choose an outfit that is comfortable yet well-fitted, and make sure your shoes are polished and your nails are neatly trimmed. Add a few simple accessories, such as a watch or statement necklace, to tie your look together. And don't forget to style your hair in a way that looks polished and professional.
Also, remember to be yourself. The airline wants to get an idea of who you are and how you would fit into their team, so don't try to be something you're not. Let your personality shine through and show them that you have the skills and drive necessary for the job. With these tips in mind, you'll be sure to make a great first impression and secure the job of your dreams. Good luck!