Are you an aspiring cabin crew at OWG Airlines? Applying for this airline which offers several benefits such as free travel, is undoubtedly hard to resist. However, it is worth noting that working as a flight attendant goes beyond glamorous trips. A qualified OWG cabin crew must be willing to undergo rigorous training and put passengers' comfort and safety as the highest priority.
Also Read: Venice Layover Guide: Best Things to Do in 24 Hours
If you consider working as an OWG flight attendant, there are some requirements and qualifications you should meet. One of the basic requirements to become a cabin attendant in OWG Airlines is to present a high school diploma and be 18 years old. Read on to learn about the qualifications and requirements of applying for a cabin crew position at OWG Airlines.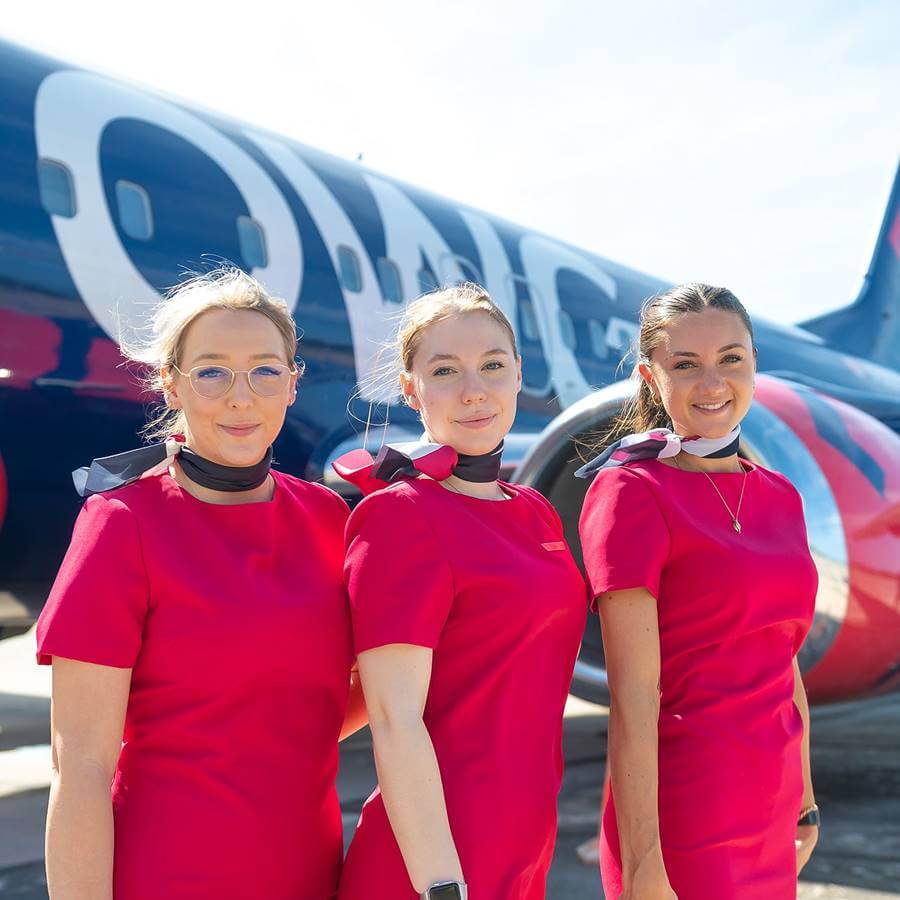 Overview of OWG (Off We Go) Airlines
Nolinor Aviation has the newest aviation division called OWG or Off We Go Airline. This airline is situated in Quebec, Canada and serves the Southern part, including Mexico and Cuba. OWG Airlines' ultimate goal is to reduce the complexity of the airline industry to its most fundamental components. And contrary to popular belief, OWG Airlines is not only a low-cost or ultra-low-cost airline.
OWG Airline strives to provide the best experience possible for its passengers by prioritizing their comfort and providing them with a high level of care and attention while on the flight. Furthermore, Off We Go Airlines is also the home of famous flight attendants.
Many passengers have complimented the quality of the in-flight service and the company's attention to detail. Their flight attendants are regarded as the best in the industry for their dedication to passenger satisfaction and comfort.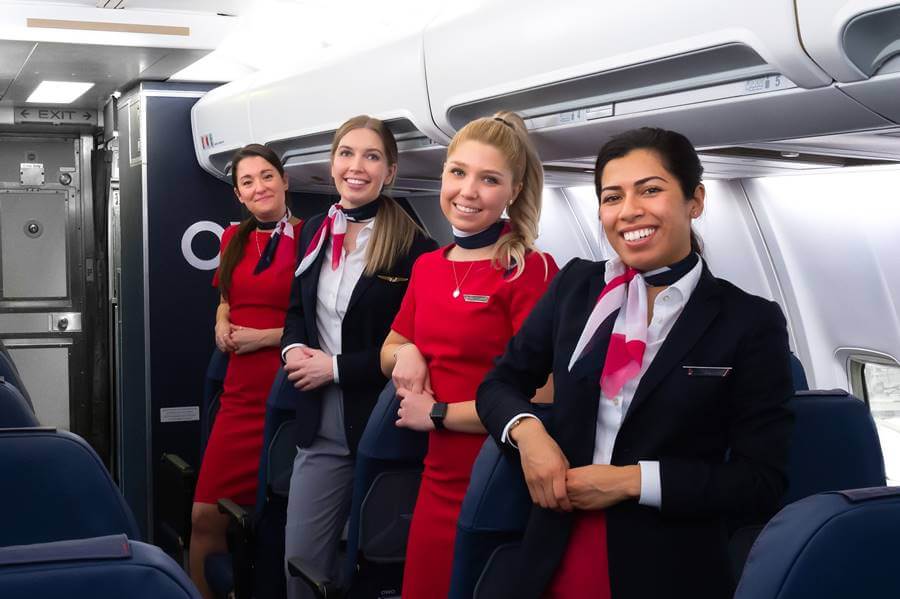 Responsibilities
Once you get hired as a flight attendant of OWG Airline, you will be responsible for the following tasks:
Maintaining the standards to ensure that your services are of consistent quality.
Maintain composure to handle things when situations turn awry.
Ensuring that all passengers, including those with special needs (children, elderly, and PWD), are accommodated.
Able to keep calm even under pressure, manage difficult situations and create sound decisions.
Assisting those in need of finding their seats or getting their belongings.
Perform safety and security checks before takeoff.
Flight attendants, as the airline's representatives, make the passengers feel welcome and at ease during the flight.
Qualifications
As a Nolinor Aviation division, OWG Airlines has the exact requirements for its flight attendants. To be considered for the role of flight attendant at OWG Airlines, candidates must have the following qualities:
Those applicants who speak Spanish will be highly considered.
Applicants must be able to communicate effectively in verbal and written forms of the target language.
Candidates also need to demonstrate successful interaction with the passengers.
They must be at the base or within 75 kilometers of the airline.
Applicants must have flexibility in their schedules.
Applicants must also have a current passport.
Canadian citizenship or permanent residence status, or the equivalent, is required.
All applicants must show that they can communicate well in English.
Everyone who applies must be at least 18 years old.
Document Requirements to Prepare
If you meet all the qualifications mentioned above, your next step is to prepare the following materials before applying to OWG Airlines for a position as cabin crew:
Valid travel documents (passport)
3R professional headshot picture
2×2 ID picture
A diploma or equal certification
Your updated resume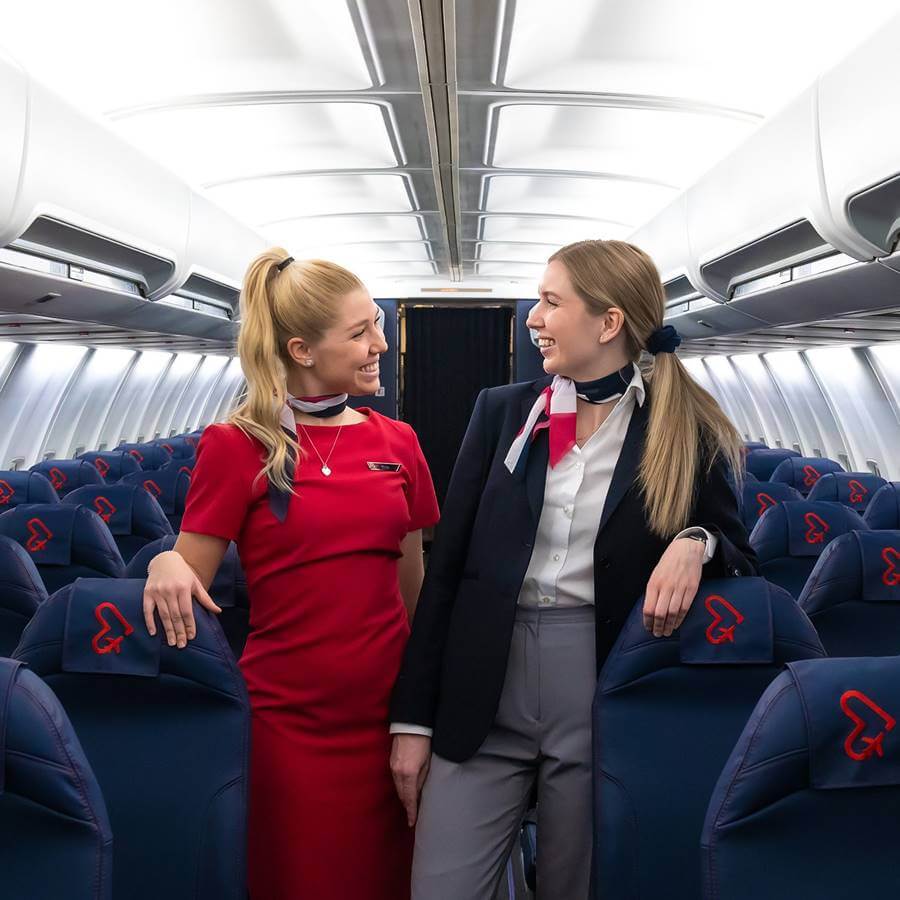 Where to Apply for a Job at OWG (Off We Go) Airlines Online
To ensure that you stay updated on everything about OWG Airlines' recruitment news, we suggest you take frequent visits to Nolinor Airlines' Career Page. OWG Airlines is a division of the Nolinor Airlines and you can view job vacancies in the company by directly visiting OWG's parent organization – Nolinor Airlines.
Click here to access Nolinor Airlines' Careers Page: https://nolinor.com/en/career/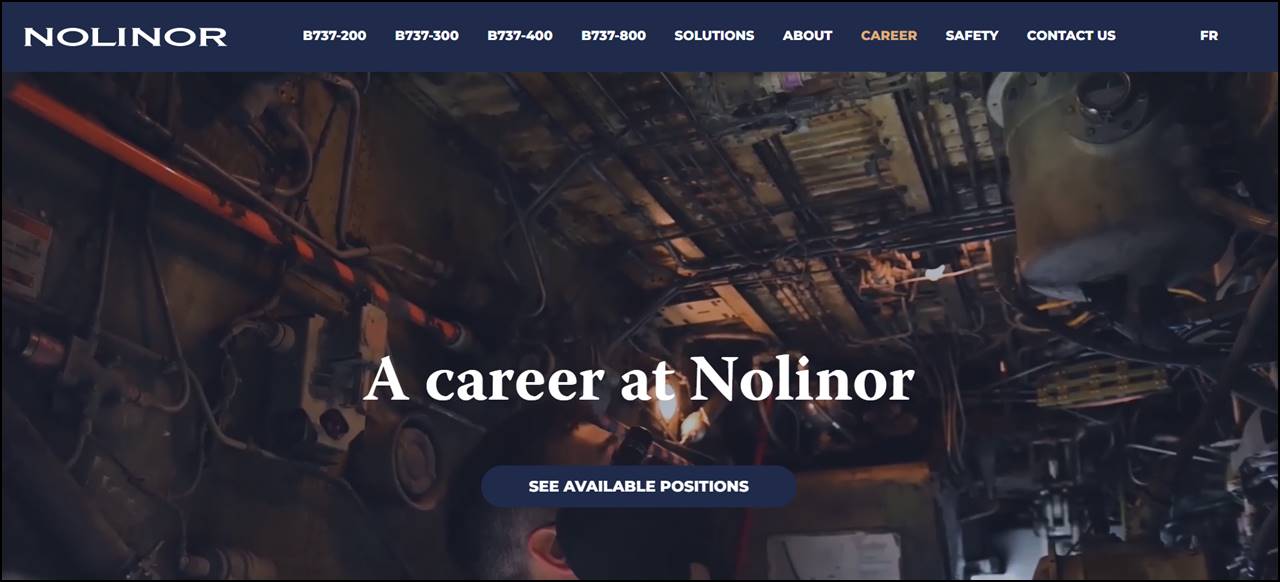 How to Become a Cabin Crew for OWG (Off We Go) Airlines
After preparing all the necessary documents, your next step to becoming an OWG cabin crew is to proceed to the application process. To help you, here are the step-by-step instructions to apply for a cabin crew position at OWG Airlines:
Step 1: Upload your Resume Online
Visit the Nolinor Aviation Careers' page at https://nolinor.com/en/career/ to access job vacancies at OWG (Off We Go) Airlines.
After clicking their Careers page, candidates will be redirected to a new page that shows information about the job position. After reviewing the job details, click "APPLY NOW". Doing so will show a pop-up message requiring you to type in your email address and upload your updated resume. Before proceeding to the third step, review the details you enter and ensure that you put your active contact information.
Step 2: Wait for the company's response
Once you have submitted all the necessary details and documents, you should wait for the company's response. When you are qualified for their first screening phase, their staff will email you your screening schedule.
While waiting, you can use this opportunity to prepare for your possible interview and other assessments. You can also read about the company to have a general knowledge and awareness which you can show to the recruitment team that you have done your due diligence. 
Step 3: Screening Process
During the screening process, they will check your height, eyesight, and BMI. In most cases, the screening staff will require you to walk barefoot to assess your height. An initial interview might also be conducted at this stage. Make sure to dress comfortably and professionally to give a positive impression.
Step 4: Interview Stage
If you are lucky and qualified to pass the screening, you will be given a pass to proceed to the formal interview. At this stage, aside from the standard interview question and answer setting, a panel of judge will also watch and assess how you walk and maintain composure even under pressure.
Step 5: OWG Flight Attendant Training
If the company decides to hire you for the position, they will offer you a four-week paid training. Furthermore, you also need to pass their medical pre-employment examination.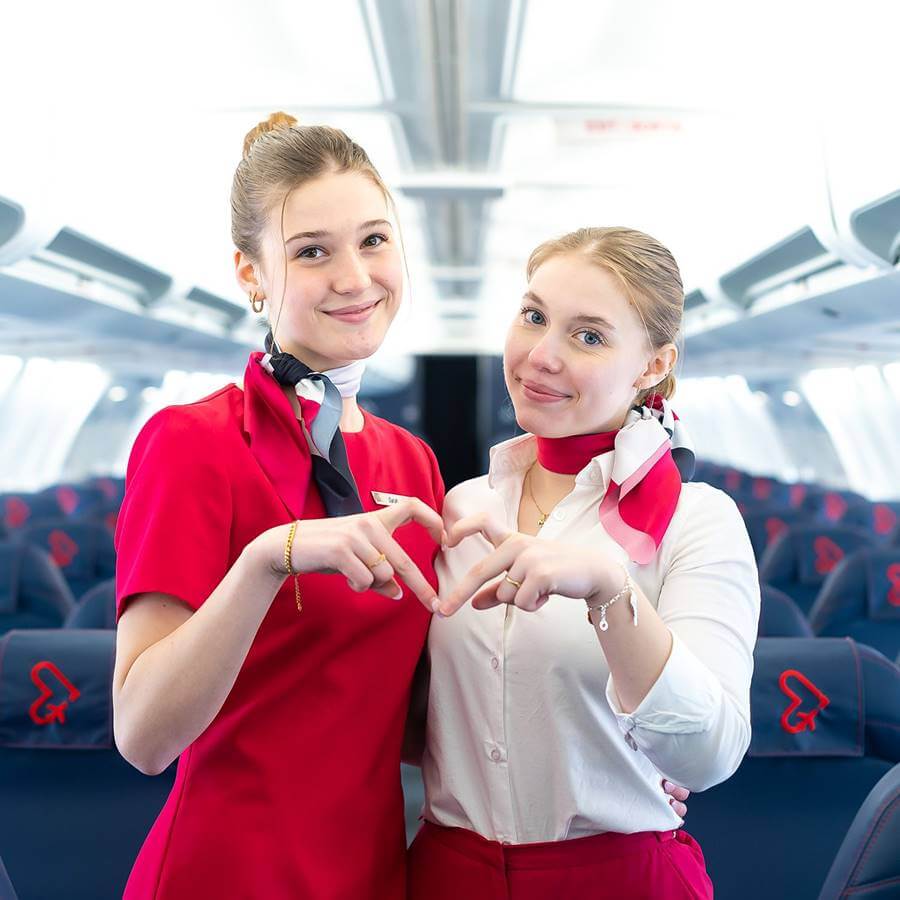 Monthly Salary of an OWG (Off We Go) Airlines Flight Attendant
The salaries of a flight attendant at OWG Airlines are higher than the average. In fact, the pay for new OWG Airlines cabin crews was raised in May 2022. With this increase, flight attendants at this company can now earn 45,000 US Dollars yearly.
The salary increase was the company's way of showing their flight attendants some love amid the COVID-19 outbreak and recognizing the worth of their efforts. In addition, after working with OWG Airlines as a flight attendant for two years, one might anticipate earning a yearly income of 50,000 US Dollars. They are also entitled to participate in the company's pension plan, a profit-sharing program, and health insurance.
Video: Cabin Crew Interview Questions and Answers
If you want to be more prepared with the interview process in any airline you are applying for as a cabin crew, this video is a must-watch. The uploader will teach you what you should and should not do when answering the interviewer's questions.
The following are the topics covered in this video:
Photos: OWG (Off We Go) Airlines Flight Attendant Photos
Check out these photos of OWG Airlines' Flight Attendants in uniform. As you can see, the uniform is meant to be stylish and functional at the same time. It also helps preserve the individual's and the company's image of professionalism and excellent attention to detail.
Frequently Asked Questions
If you still have queries about applying as a cabin crew at OWG (Off We Go) Airlines, you can find the frequently asked questions and their corresponding answers below. This will help you better understand the airline and its application process.
1. What specific personality qualities of an aspiring flight attendant OWG Airlines look for?
OWG Airlines is looking for a new addition to its team of beautiful, handsome flight attendants with a pleasing personality like other airlines worldwide. Aside from that, another quality of an aspiring cabin crew that will catch OWG's attention is the patience in attending to passengers' needs and requests.
2. Do I need customer service experience to be a flight attendant at OWG Airlines?
Yes, having at least a year of experience in customer service is an edge for aspiring flight attendants at OWG Airlines. Aside from that, you also need to be flexible with your working schedule and must speak English and Spanish fluently.
3. Does OWG Airlines offer training? If so, what training do they offer?
Unlike most airlines in the aviation industry, OWG Airlines offer paid training. This is done to help new flight attendants to learn and acquire the skills necessary to provide passengers with the best flight experience. The training comprises classroom instruction and hands-on application.
4. I have a tattoo; does OWG Airlines allow that?
Although applicants with tattoos are allowed to apply at OWG Airlines, those candidates with visible tattoos that cannot be covered with cabin crew uniforms are considered disqualified.
5. Is there a minimum customer service experience required by OWG Airlines to become the company's flight attendant?
No. But having at least a year of experience in customer service will be preferable.
6. What is the minimum age limit to apply as an OWG Airlines flight attendant?
OWG Airlines only accepts potential candidates at least 18 years old.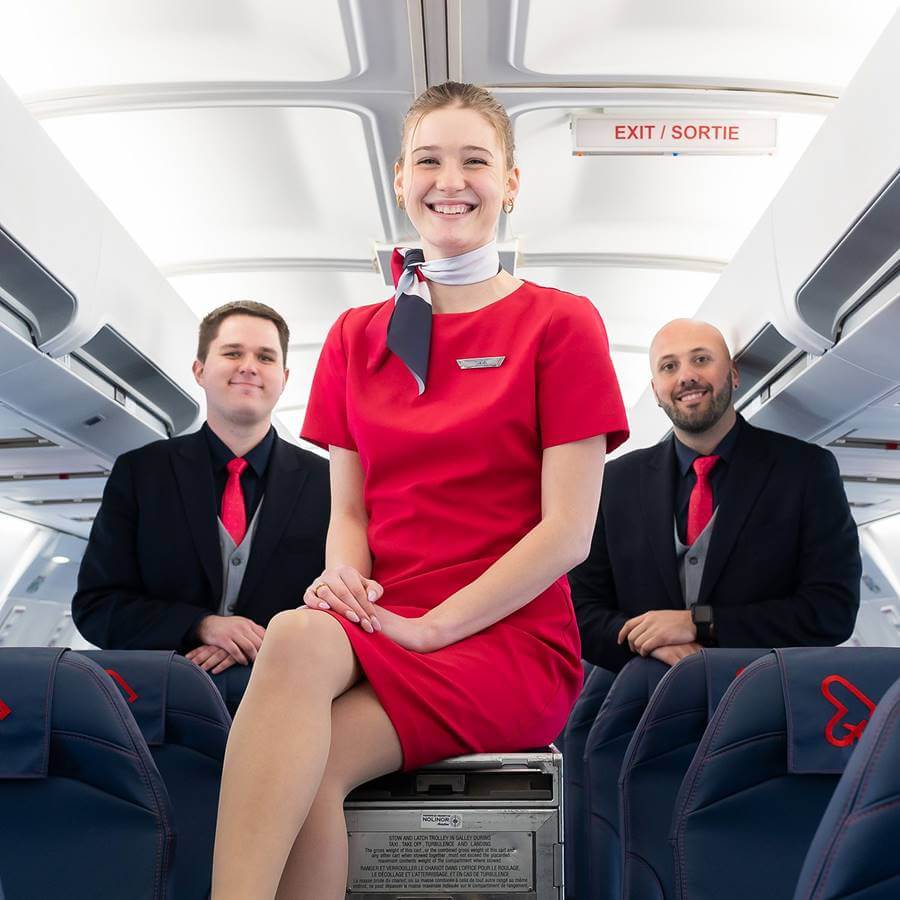 Summary
To become an OWG Airlines flight attendant, you must qualify and meet the company's minimum requirements. You must have a clear criminal background check, an ID, a valid passport, and a high school diploma. You will also need to be fluent in English and willing to relocate to a city with an airport that the airline uses.
OWG Airlines flight attendants' job is to look after everyone on board's safety. The ideal candidate is someone who can get along with people and sincerely desires to provide superior service to passengers. OWG Airlines is looking for applicants who are serious about their development and willing to do the work necessary to reach company goals.
Contact Information
OWG (OFF WE GO) AIRLINES 
Address:  1600 Rue Louis-Bisson, Mirabel, Québec J7N 1G9, Canada
Telephone Number: (905) 882-3687
Website: https://owg.com/en/
Facebook: https://web.facebook.com/OWG/?_rdc=1&_rdr
Twitter: https://twitter.com/OwgVoyages
Instagram: https://www.instagram.com/owg/?hl=en