Azerbaijan Airlines (AZAL) is the national carrier of Azerbaijan. It was formed after the country's independence in 1991. Before that, the airline was operated as a part of the Russian airline Aeroflot. Currently, it operates scheduled services to destinations across China, the CIS, the Middle East, and Europe. It has a total route network of 40 destinations in 25 countries. The airline is also a member of the most prestigious civil aviation association – the International Air Transport Association (IATA).
Also Read: How to Answer: Why Do You Want to Work for our Airline?
Flight attendants have also played an important role in Azerbaijan's success from its inception. They are one of the most valued resources of the company and they are key drivers to attaining the set goals and objectives of the airline. They are professional and the best in their field and carry out the job as expected from them.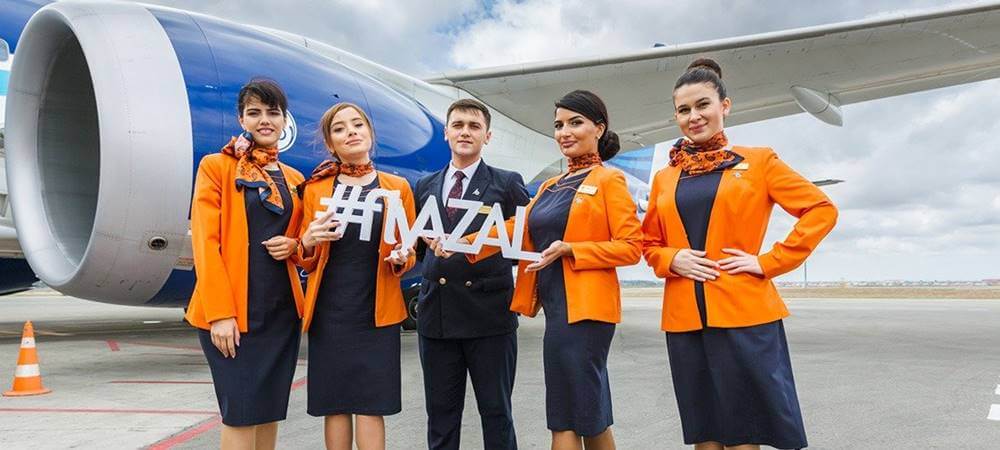 List of Requirements and Qualifications to become an Azerbaijan Airlines Flight Attendant
Flight attendants have lots of duties and responsibilities. These include ensuring that all of the passengers on a flight are following safety regulations and performing a wide range of tasks including demonstrating emergency procedures, directing passengers, and performing safety checks. Hence, Azerbaijan Airlines are looking for individuals who can do the demanding job of a flight attendant and has an excellent skill set as the job requires.
Below are the criteria that aspiring individuals must meet to become eligible for the position.
The minimum age requirement is between 18-30 years old.
Must meet the minimum height requirement of not less than 160 cm and not more than 180 cm.
Candidates must be with a high school degree.
They must also be fluent in English and Azerbaijani. The knowledge or ability to speak other foreign languages (Russian, Arabic, Chinese, etc.) is an advantage.
Additional requirements include communication skills, as well as the absence of visible tattoos, scars, and birthmarks.
They can swim.
They can adapt to sudden changes in the working environment.
Have the ability to remain calm under pressure.
Have amazing interpersonal skills and organizational skills.
They can solve disputes and complaints of passengers.
Their weight must also be proportionate to their height.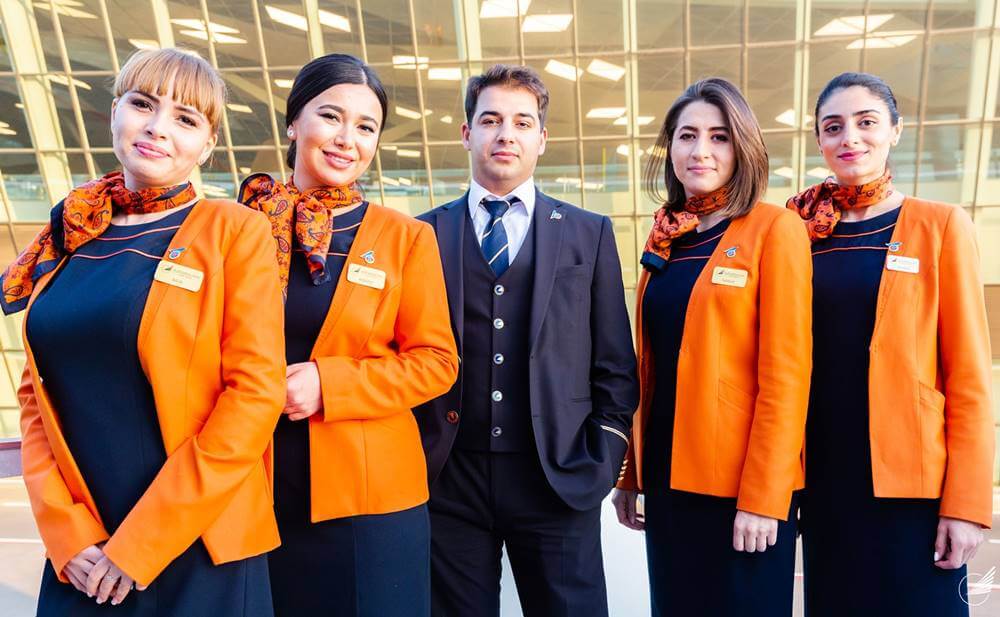 Application Process
Here is a step-by-step guide to help you with your application.
Step 1: Visit the company's website here – https://www.azal.az/en/.
Step 2: Hover the cursor to the "About" section and click "Career" to see the job vacancy.
Step 3: If the flight attendant position is not on the list of job vacancies, apply by clicking the "Submit your application" button.
Step 4: Fill out the application form completely and accurately.
Step 5: Wait for a response from the hiring team. You will be contacted after a successful job application.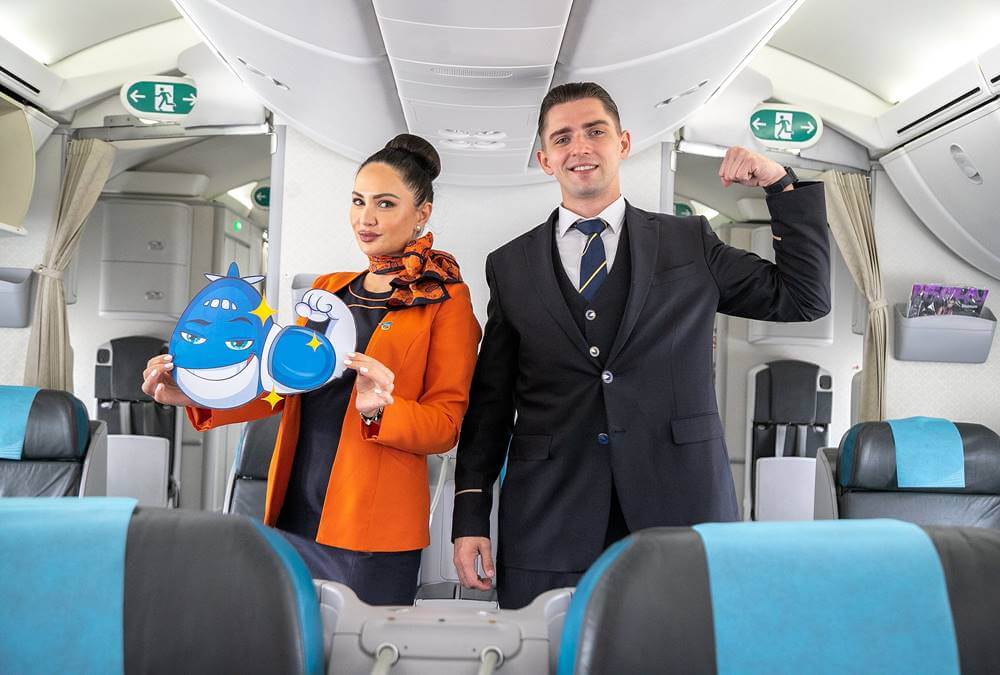 Salary & Benefits
Flight attendants at Azerbaijan Airlines receive competitive salaries and benefits packages. They also have the opportunity to travel around the world for free while working and they have flexible time and work schedules. Aside from that, they enjoy some travel perks, discounts, and allowances. The airline also offers opportunities for career growth and development. Hence, the airline is a great start and opportunity to grow your career because they provide training before commencing work to prepare and equip you with the necessary skills and knowledge required for the job.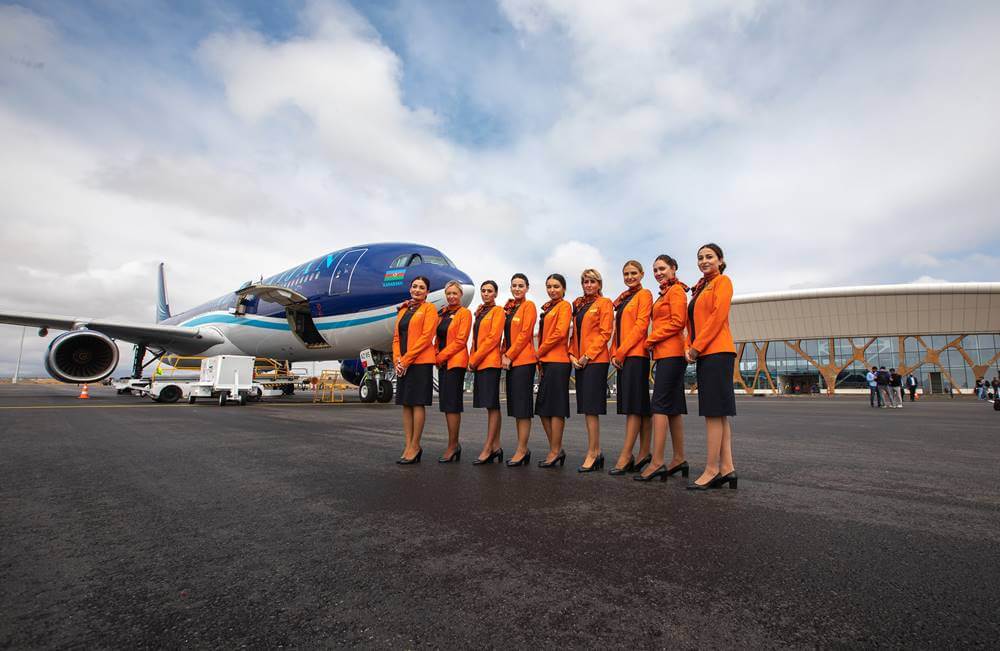 Video: A Look on the Inside of Azerbaijan Airlines
This video was uploaded by a YouTube vlogger on his YouTube channel.
This video will take you on a little tour of the airport and the aircraft featuring its cabin and the salient features of its amenities. You will also have a sneak peek at the schedules and how the airline provides service to its passengers. In this video, the uploader with the username of "Wingin' it! Paul Lucas" shared some information about the aircraft he'll be flying with and a brief background about the airline. Hence, this video is quite helpful and you can learn one or two things from here.
If you want to keep updated with the job vacancies, you can visit their website or just apply here- https://www.azal.az/en/about/career.
Photos: Azerbaijan Airlines Cabin Crew Uniforms
Check out these pictures of Azerbaijan Airlines crew so you can see what they look like in uniforms:
Frequently Asked Questions
The following are some of the common questions asked about Azerbaijan flight attendants.
1. What is the minimum age requirement that candidates must meet when applying for a flight attendant position at Azerbaijan Airlines?
Candidates must be between the age group of 18-30 years old to qualify for the flight attendant position at Azerbaijan Airlines.
2. What language(s) must I speak when applying for the position?
You must be fluent in English and the native language of the country. The ability to speak other foreign languages such as Chinese, Russian, and Arabic is preferred.
3. What is the minimum educational requirement at Azerbaijan Airlines for the flight attendant position?
Candidates must at least have a high school diploma.
4. Is there a minimum height requirement required for the position?
The minimum height requirement is not less than 160 cm and not more than 180 cm.
5. Can I still apply even if I have visible tattoos?
Visible tattoos are not allowed while wearing the cabin crew uniform. Hence, candidates for a flight attendant position must not have visible tattoos on any part of their body.
6. Where can I apply at Azerbaijan Airlines for the flight attendant position?
You can apply on the company's official website found on its Careers page. You can also check out their other official social page account to keep updated with the current job openings.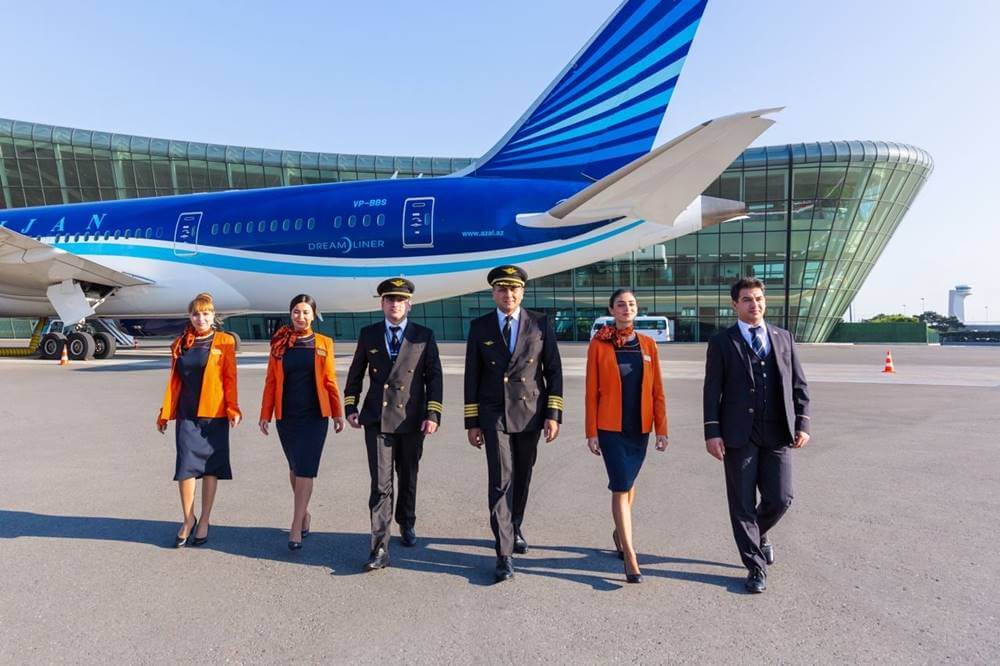 Summary
In conclusion, working as a flight attendant is a very demanding job. It has a wide range of duties and responsibilities and it requires a long period of standing and doing all the errands inside the cabin to maintain the safety of everyone. Some of their duties include demonstrating safety and emergency measures, such as the use of oxygen masks, seat belts, and exit doors, and providing information and support to ensure the safety and comfort of passengers. They also welcome passengers, verify their tickets, and directing them to their seats, and respond to passengers' questions about flights, travel routes, and arrival times. Aside from that, flight attendants also offer support to passengers with special needs and lead passengers in case of emergency, and give first aid to passengers if necessary.
In terms of the requirements and qualifications, the airline looks for individuals who can meet the minimum age and height requirements. They must also be fluent in English and the native language of the country and must meet the educational requirement of at least a high school diploma. Other requirements are the skill set that candidates must possess which can be learned during the training course. Hence, if you have met all the requirements mentioned above, do not hesitate to send your application now and get the chance to be part of Azerbaijan Airlines.