Azul Airlines is Brazil's 3rd largest and fastest growing aviation company in the country since its establishment in 2008. Since then, they've constantly developed their services to give the best flight experience and at the same time cater to the needs of their employees. If you want to become part of the cabin crew team of Azul Brazilian airlines, please check out the requirements for the role below.
Also Read: Athens Layover Guide: Best Things to Do in 24 Hours
In order to give the best-personalized service to the clients, Azul airlines needed cabin crews who share the same passion and principle such as flight attendants. They're looking for committed individuals who can help Azul Airlines in ensuring their competitive place in the aviation industry.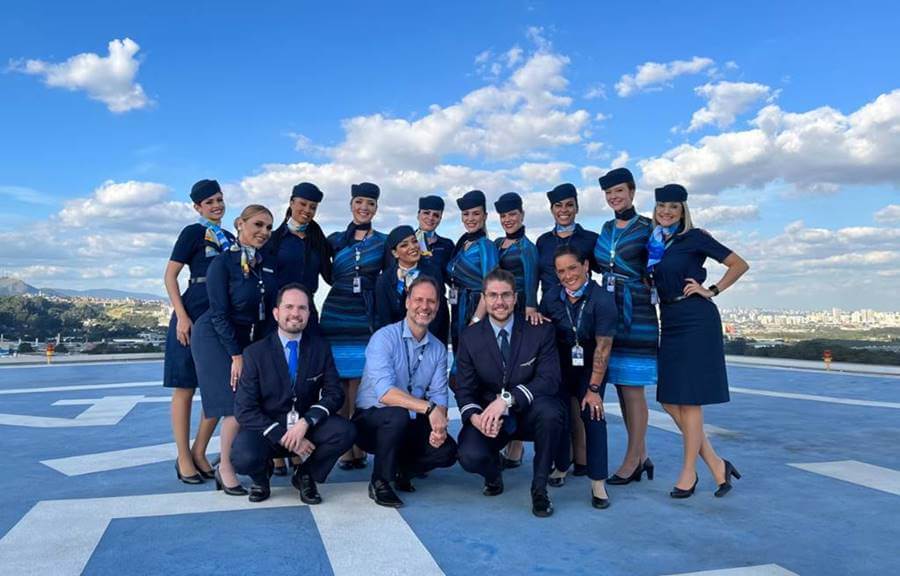 List of Requirements and Qualifications to Become an Azul Brazilian Airlines Flight Attendant
Azul Airlines humbly emphasizes how their achievements and success were a product of the crew's dedication and work. If you think you can contribute to these accomplishments as well, and meet all the qualifications listed below, then Azul encourages you to send them an application.
At least 2 years of work experience
Ability to lead and inspire others
Ability to work harmoniously with other cabin crews
Proficient in Brazilian and English
Can communicate effectively in Brazilian and English in both spoken and written
Fluency in Spanish or completion of advanced Spanish course
Flexibility to work on irregular schedules, holidays, and on-call duties
Physical endurance to stand for long periods
Commitment to working in all scheduled shifts
Exemplary personal qualities such as decisiveness and a positive attitude towards work
Ability to work efficiently while under pressure, especially during emergencies
Ability to manage stressful situations
Physical strength to lift and stow away baggage
Excellent interpersonal and communication skills
Valid Aeronautical Medical Certificate (CMA)
Certificate of Technical Knowledge (CCT)
Technical Qualification Certificate (CHT)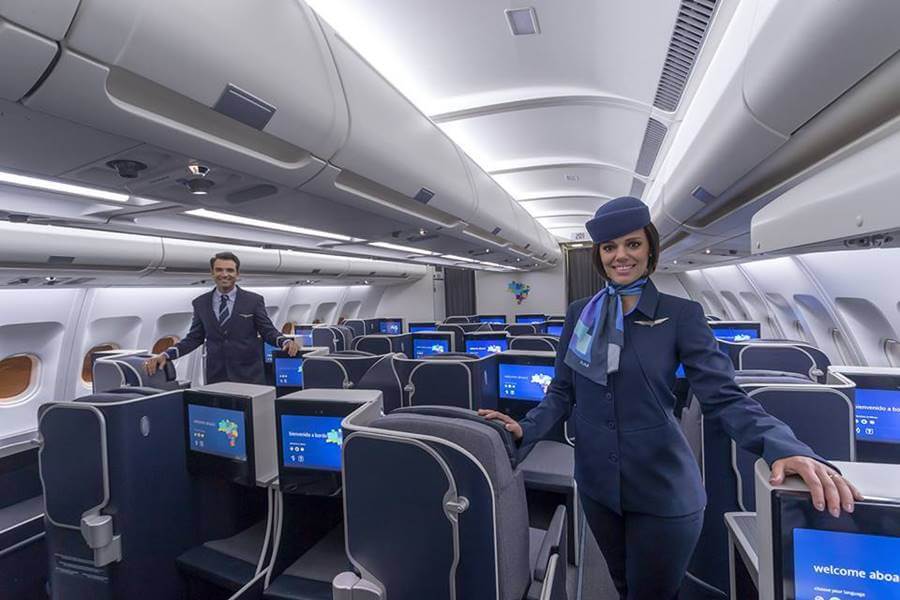 Application Process
Step 1: Prepare all the necessary documents
Before submitting your initial application, prepare a digital and printed copy of the necessary documents such as your personal CV or resume, cover letter, ID picture, valid passport, Diploma, and other certifications. Your initial assessment starts here so be reminded to carefully and professionally fill your portfolio.
Step 2: Submit your application online.
You can submit your application online through their email address: careers@voeazul.com.br. Fill in the name of the job position that you are applying for on the subject of the email. Also, do not forget to check their career website for the newest announcements and changes in the hiring process: https://www.voeazul.com.br/en/about-azul/careers
Step 3: Get ready for an interview
If your application requirements impressed the recruitment team, you will be shortlisted to have an interview with Azul Airlines. Dress and act professionally through the interview process. Nonetheless, you don't have to act pretentiously to ace the interview, you just have to show your authentic self. Conduct further research about the company's history, background and other information about aviation. You can also prepare by doing mock interviews on questions that might be addressed such as "What are your strengths and weaknesses?", "What is your motivation for becoming a flight attendant", and "How do you act or behave under pressure or stress?".
Step 4: Participate in the flight attendant training program organized by Azul Airlines
In this final step, Azul Airlines will need to make sure that all of its candidates are fully equipped before they start on board. Here, you will be taught in-depth information about aviation, safety procedures, first-aid, and customer service.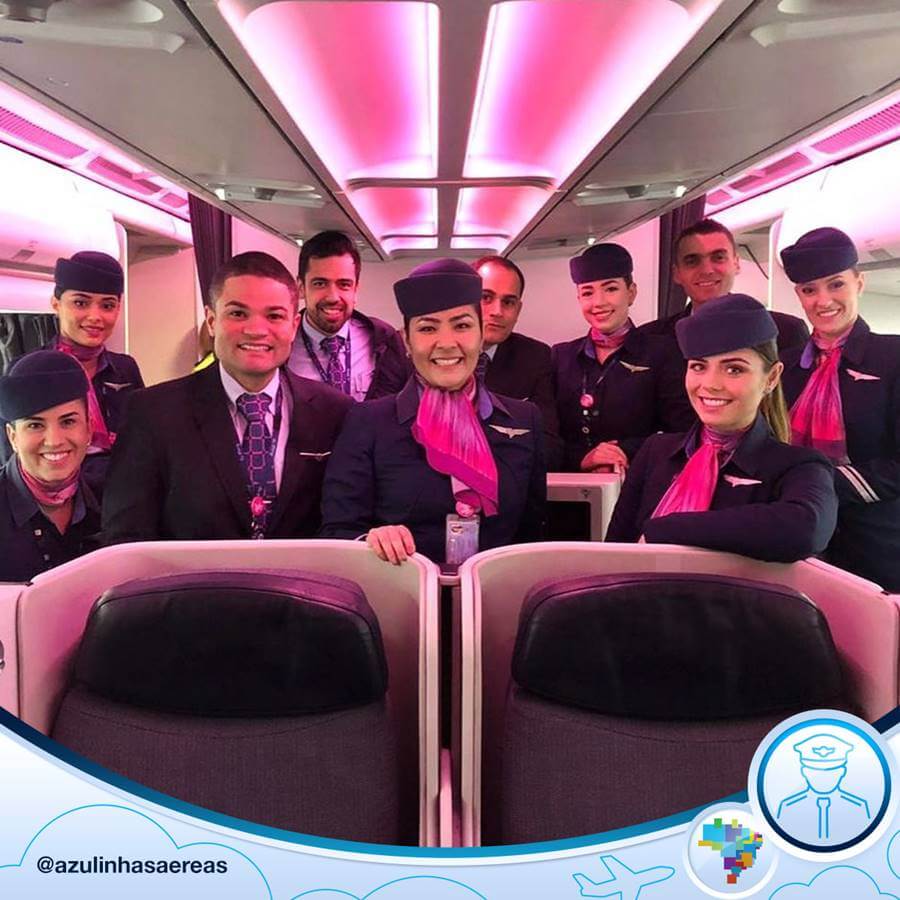 Salary & Benefits
Average salary of 5,980 BRL monthly
Paid Holidays and vacation leave
Sick leave pay
Travel and flight discounts and packages
Life and Medical Insurance
Video: Inside the Flight Attendant Training Program in Azul Airlines
Watch Carioca NoMundo, a popular Youtuber, featuring and trying to also undergo the flight attendant training program inside Azul Airlines:
He first introduced one of the instructors, Douglas Barros who welcomed and showed him the lessons and activities candidates learn throughout the training program. They first started with "safety", as it is the utmost important thing in aviation. The whole training facility looked like a university with classrooms and students who were flight attendant candidates. To make the lessons more realistic, there are even Embraer cabin mock-ups and other equipment used in the aircraft of Azul Airlines.
"Observe, perceive, attend" or OPA is one of their customer service mantras.  If a client is eating something, but the flight attendant seems to observe that he has nothing to drink, they offer him water. Yes, they refer to them as clients, to make a more professional and personalized approach to their customer service.
As reminded by the instructor, even if there is an available safety video on board, it is also necessary that every flight attendant knows how to demonstrate the safety procedures. During the training, they were also taught how to use safety equipment such as oxygen masks and life vests. Moreover, there were also roleplays on how to do first-aid or how to attend to a client who needs immediate medical attention.
If you are genuinely interested in applying to become a flight attendant at Azul Airlines, you can watch this video of the actual training program. It covers the lessons from welcoming the clients to guiding and assisting them during the landing.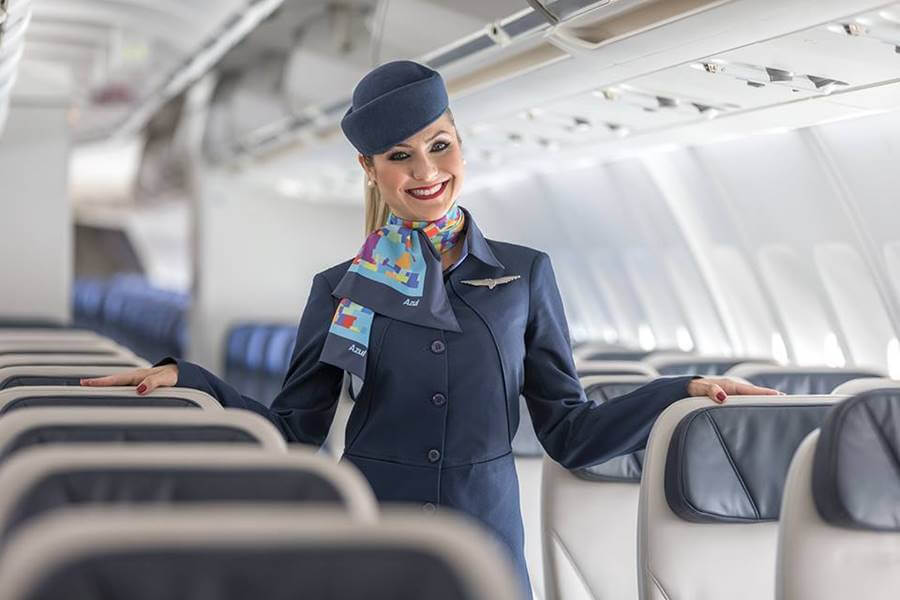 Photos: Azul Brazilian Air Cabin Crew Uniforms
Check out these pictures of Azul Air Airlines crew so you can see what they look like in uniforms:
Frequently Asked Questions
The following are some of the common questions asked about Azul Airlines flight attendants.
1. Does Azul Airlines accept applicants with tattoos and piercings?
Although most airlines do not allow any visible tattoos for their cabin crews, Azul Airlines made a recent announcement regarding the employee's standard appearance. They now allow flight attendants, even pilots to wear ear and eyebrow piercings as well as tattoos. In addition to this, they were also allowed to wear sneakers. This is to prioritize the cabin crew's comfort while doing their duties and responsibilities on board.
2. What kinds of aviation services does Azul Airlines offer?
Azul Airlines offer scheduled flights to 100 domestic and international routes across South America, the United States of America and Europe. Moreover, Azul also provides charter flights to accommodate business and military trips, humanitarian works and other events.
3. What languages should I learn when applying as a flight attendant at Azul Airlines?
All aspiring flight attendants in Azul Airlines must be able to speak and write proficiently in English and Brazilian. Furthermore, they also require flight attendants to be fluent or to take advanced lessons in Spanish. Multilingual candidates also have an advantage during the application period.
4. Do they accept applicants with criminal records?
No, they require a clean criminal record for all of their applicants.
5. Does Azul Airlines accept applicants without in-flight experience?
Azul Airlines require at least 2 years of work experience for all flight attendant applicants.
6. Is the flight attendant job application open to all nationalities?
Yes, applicants from all around the world are welcome to apply as flight attendants at Azul Airlines. However, applicants must take note that they need to have all the documents necessary for them to legally work and travel in Brazil and all the routes served by Azul Airlines.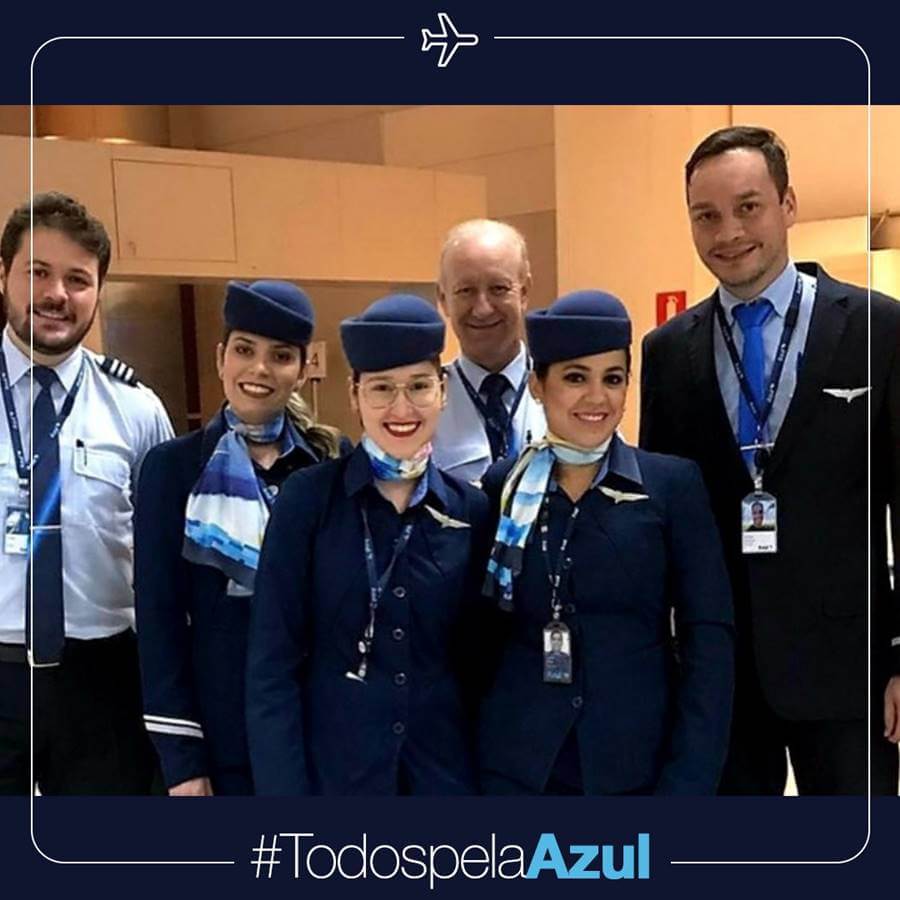 Summary
Azul Airlines has gained a world-class reputation in the aviation industry. With this being said, they pay more attention to their recruitment process and only hire the most qualified amongst the candidates. First, create a professional portfolio and submit it to their email address: careers@voeazul.com.br
The application period requires patience so do not forget to review and practice during the waiting time. There are a lot of informative videos, such as the one featured above, that will give you further insights into the application process, including the flight attendant program.